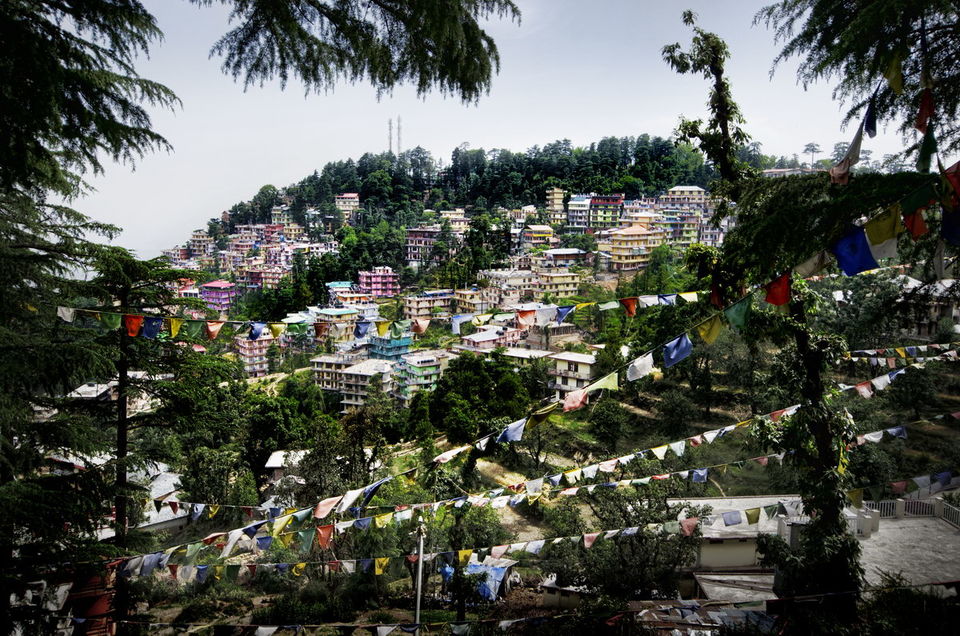 I can summarize the Mcleodgunj travel experience in just 2 words – relax and eat.
I have visited few religious destinations in my lifetime (unwillingly in most cases) and I have always left it with a feeling of mad crowds and no divine sparks within me. Hence I was looking forward to the Mcleodgunj trip for scenic mountains and great weather rather than getting any insights into the Buddhism or Tibetan culture.
Surprisingly this was the first time in my life that a place made me curious about the religion. The trip started for us with an evening walk around the Mcleodgunj market and the first cultural exposure for us was hearing everywhere in the market the soothing chants of "Om Mani Padme Hum" (means that through the practice of a path that is a union of love and compassion with wisdom, you can transform your impure body, speech and mind into the pure exalted body, speech and mind of a Buddha). In fact after a while I realised I was humming the chants without even realising what I was doing. There were trinkets and sculptures to buy through the market but that was not really our agenda.
For our first dinner we headed out to Dharamkot which is a short drive from Mcleodgunj and went to 'Trek and Dine' which comes highly recommended not just from online references but also friends who have been there before. The place serves reasonably good continental cuisine but more importantly has a great vibe. The place was filled with foreigners and sometime during the evening the conversations merged and became random gathering which was absolutely fun.
The next day we spent the morning at the Dalai Lama Temple Complex. Its great how without even understanding anything about Buddhism, we felt one with the place and it brought a sense of serenity. We also met a wonderful lady from USA who has been living in Mcleodgunj for a while and she told us about the principles of Buddhism.
A long leisurely lunch was at the Common Ground Café. It is located off the main Mcleodgunj market and is a great family run place with a very cozy sitting arrangement. Food was average but it has a great selection of books and one can sit and relax for a while here.
From there we headed to the Norbulingka Institute which is located around 45 minutes away from Mcleodgunj and we had to hire a cab from the market to reach. It is a wonderful place and once inside you feel transported into a different land and time. We took a guided tour of the Norbulingka Institute (You can ask for guides at the entrance) and it is an amazing way to get exposure to the world of Tibetan arts and culture. They also have a shop from which you can buy some of the items that the artists inside the institute make, lovely things but a tad expensive.
Dinner was at the very famous Moonpeak Thali. Great place to sit outside and watch the sunset among the mountain. Their vegetarian Himchali thali was brilliant and a definite must try. We finished the evening with two helpings of their hot ginger lemon honey which is in a league by itself.
We skipped the tourist attractions like Bhagsu Falls, Bhagsunath Temple etc as it's a place we definitely want to go back to for a longer visit as its one of those rare places which brings you closer to your inner peace.