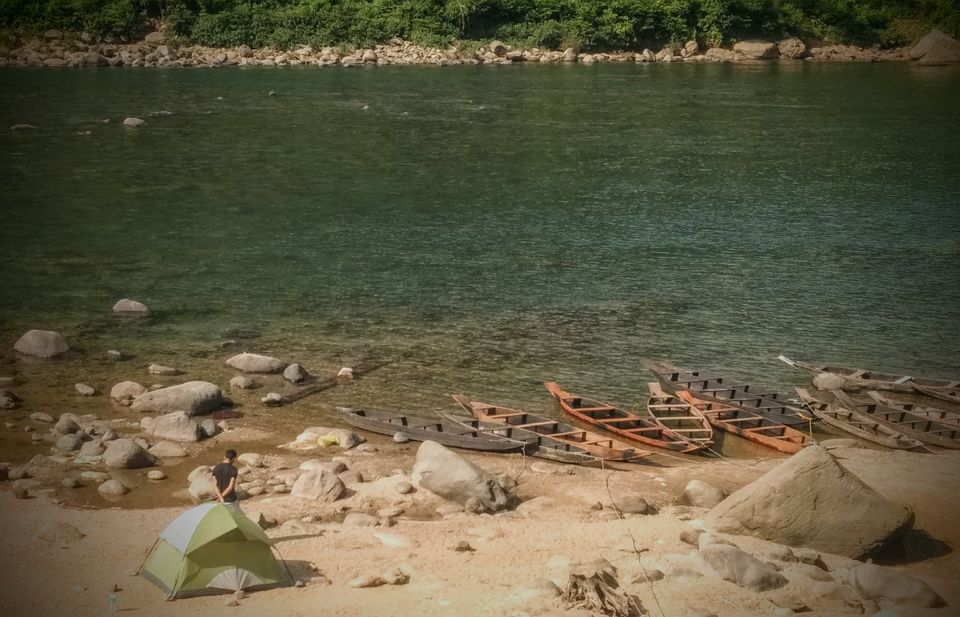 After the night was spent chilling next to the river, the morning sun allowed us to measure our bearings. In between the road where the car was left, and the beach where this photograph was clicked; the village is nestled on the hill-slope with many descending trails spiraling towards the Ungmot river. Unlike other destinations on the banana pancake trail, the hippie vibe present here was not due to young foreigners or chic cafes or 420 salesmen (or the existence of all three eluded us) but maybe because you could picture a nonconformist nature lover spending months here without a care in the world.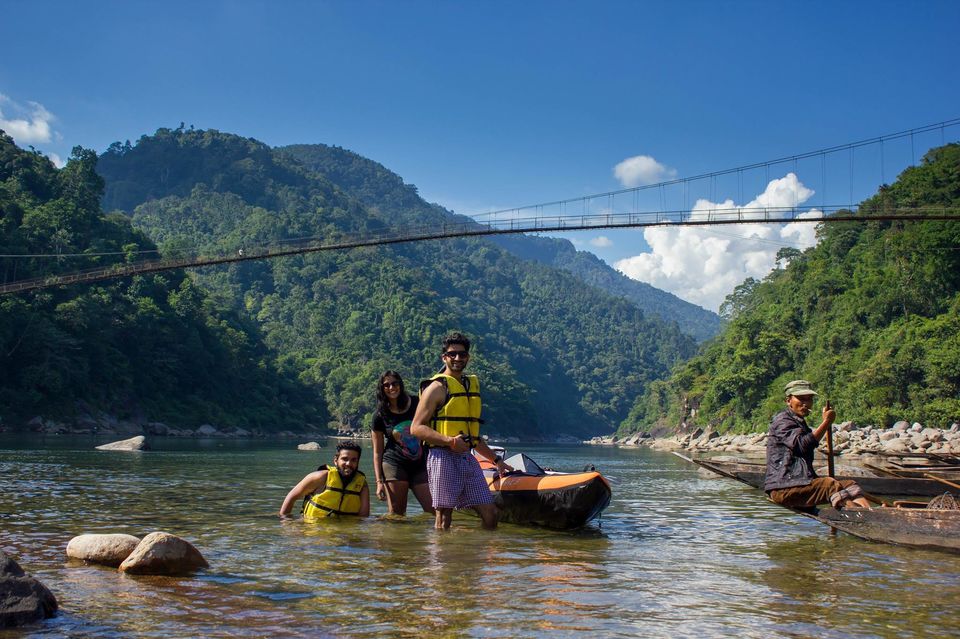 If one is new to kayaking, the river will make it evident within a matter of seconds; but it's an ideal place to start. After an exhilarating session with the paddles, we swam across the river, the visuals giving testament to how clear and serene the water really was.
Not sure to what extent time has changed this village, but if you plan on visiting - do reach on time if you want a homestay or remember to carry your own bloody tents!
For more anecdotes/photographs/trip details, you can connect via https://www.instagram.com/crorestoexplore/
Factoring in decently sized rucksacks, a two man alpine tent is barely enough for two to get a good night's sleep. How about a chain of events where you have to fit in three?
If you happen to be in Meghalaya, heading over to Dawki is an absolute must. In pursuit of a crystal clear still-water river which seemed too good to be true on the internet, we left for the hill-town after spending the day at a well known touristy village - Mawlynnong. Reaching late at night with little knowledge of the place was definitely not the brightest of our ideas! Regardless, we followed ambiguous directions from a local and continued down the road, unknowingly exiting the town, straight towards the Indo-Bangladesh border. Back then it wasn't so hilarious, being stopped by the border patrol, who inspected our car with a flashlight before 'asking' us to fuck off.
Backwards was the only option, along which, I witnessed my first ever "Welcome to India" banner. Oblivious to the fact that lady luck had finally decided to join our party of three, we spotted a narrow road which was ascending before disappearing into darkness. It's hard to recall what the signboard looked like, but it labelled the direction as 'Shnongpdeng'. The name sounded familiar and seemed to collaborate with the aforementioned directions we got back in the town. Albeit the consensus - "a narrow broken road like this could hardly lead to anything", the familiarity of the name was enough for us to explore this route. Every single curve of the road would heighten the suspense and every single rickety wooden bridge we almost didn't cross would intensify our doubt. We drove on and lo & behold, we saw signs of inhabitation! We still hadn't figured out how to pronounce it's name but man were we happy to reach Shnonpgdeng. In a region where the sun sets by 5, it was a big deal to find a shack open post 11. The fact that he only had one small tent to give was just an insignificant predicament.