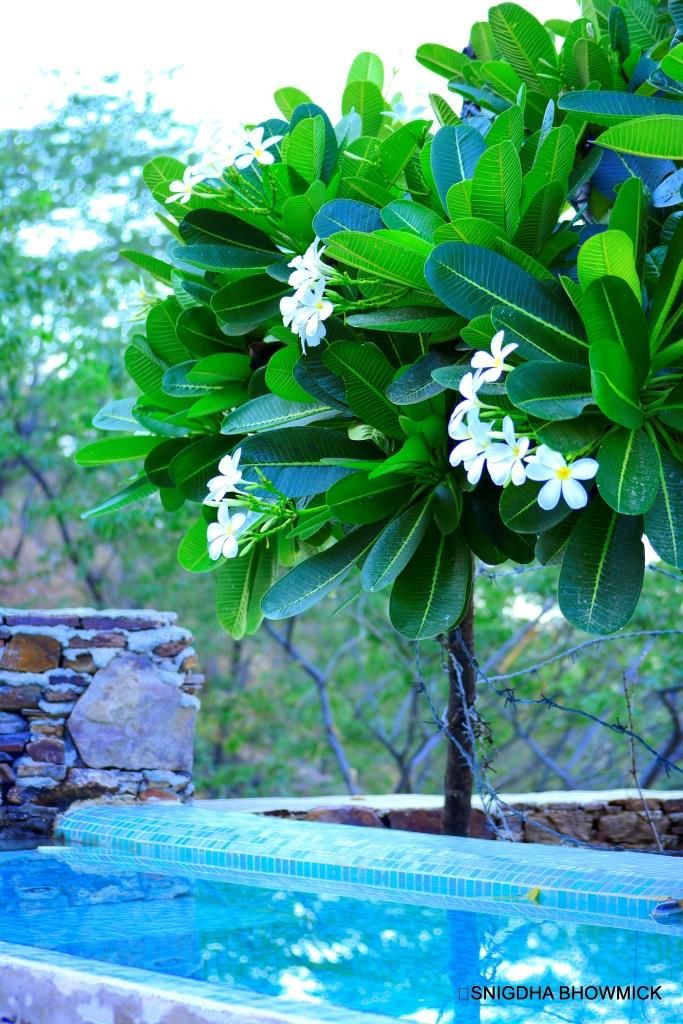 The busy corporate lifestyle eats into your head. The tall towers, the honking cars make life a maddening haze. Take a break, come to the lap of nature at Neemrana Fort Palace. Located at a convenient distance of about 120 kilometres away from capital on the Delhi-Jaipur highway, Neemrana Fort Palace reinvigorates all your senses. The fading sunlight, the architectural behemoth of the fort blow your mind away as you uncoil and share some delightful moments with your loved one. Drink tea on the Hawa Mahal Terrace, dip your feet in the swimming pools with a bottle of wine or just find a spot for yourself in the picturesque gardens, you will surely be not wanting to go back.
Built from the remains of the 15th century Fort of Prithviraj Chauhan, this dilapidated fort has been transformed into a luxurious hotel. Roam through the pages of history as you see architecture coalesce from different eras. But, it's the way that 21st century architecture has also been amalgamated into the fort that impresses you tremendously. The Fort is split into two distinct areas, the old and the new wing. Although the stone from the mountains may have a different colour, but the royalty that transcends the place leaves you spellbound. Comprising of 71 rooms split over 14 levels, each room has a story to tell. With the story comes a different name and a different layout. Rest assured, none of your multiple stays at Neemrana will be same. Ranging from double occupancy to a suite which can house 7 people, the rooms at Neemrana are a symbol of grandeur indeed. Our room is on the extreme right corner of the Fort on the 12th level, Gajendra Mahal.
A beautiful view of the fort with the mountainside gives out the royal feel whenever you step out but the lighting in the night has its own charm altogether. Our room consists of a queen sized bed of ornate quality but the most endearing elements are the two swings in the room. One which can double up as a bed and another acts as a seat. The room exudes bespoke royalty with elements from the former king and his family being displayed. The philosophy of the place is that you are here to unwind and reconnect back with you thus, there are no televisions present in the rooms. The view outside is breath taking anyway. Our room has its own private Jacuzzi which affords you to lie back and enjoy the crispy nights.
Being a fort as compared to your traditional hotel means you have to walk. Walk through perfectly manicured gardens, swimming pools filled with crystal clear water, through a maze of ways to get anywhere. It will indeed be a privilege to get lost in the paths of the Neemrana Fort. Along with the 71 rooms and a maze of pathways to get around, Neemrana Fort Palace also houses an Amphitheatre for performances, one main dining hall, numerous places to lay out their buffet, a spa and fitness centre, two swimming pools, one Rajasthani specialty restaurant MahaBhurj and their newly opened baby, Kanak Mahal serving up a cornucopia of European and Japanese flavours. A huge banquet for hosting marriages and conferences rounds off all the requirements of a top Hotel. No place ever leaves a mark without the hospitality. Good ambiance, beautiful locations can never rescue a place with bad hospitality. This is where the Neemrana group towers above their competition. You are truly made to feel like a king, not only by the ambience but by the behaviour of the sharply dressed staff. From escorting you around the myriad of walkways to ensuring impeccable service at the restaurants, the staff at Neemrana ensure that your stay is one worth remembering. Some activities to keep you busy throughout your stay include a camel cart ride to their farm, a stay at their Mud House, a zip line across the mountains or an old fashioned trip across the neemrana village in a heritage car. Our suggestion would be walking through the fort, getting lost and finding new ways. A special thank you to Mr Vipul Rawal (Resident Manager) and Mr Vivek Shukla (Manager- Housekeeping) for an extensive tour of the property.
Let's move onto the evening's pleasantries. The Rajputana families have been known to handle huge amounts of alcohol so the Bak Bak Bar(soon to be renamed as RajMahal) quenches your thirst. Done up in soothing shades of blue and white, this modern bar with the comforts of an old English Pub is resplendent with luxury. Order up your favourite single malt or a glass of wine, sit down or wander out into the Hawa Mahal, the evening suddenly seems better. Anand Kumar(Assistant Manager F&B) and Gajender rustle up some classics and some innovations. The Rusty Nail hits the mark while they crank out their bar tendering skills to concoct a Glenlivet 12yr old with banana liquor with smoked butter and orange peel. Surely a place to spend your sundowner.
Dinner and Lunch are lavish affairs with the buffets being set out in different parts of the fort. Set out in the open with dim candle lights to accompany you, it truly transforms your nights into something romantic. The food speaks immensely about the amount of hard work being put in. Ranging from continental to Indian dishes, soups to desserts, a hearty meal at their buffets are a lavish way to end your day. The Breakfast takes place at the JalGiri. A spread that keeps you filled up to face the day. But, their true hidden gem is Kanak Mahal. A restaurant born probably out of necessity of handling a huge expat crowd, Executive Sous Chef Pinaki Swarnakar does a stellar job indeed. With previous experience at the JW Marriott and Taj group of hotels and training at Japan, he cooks up a storm with his Japanese imported ingredients and local ones sourced right from their farms. There is no over rated Sushi on offer as Chef Swarnakar impresses you with some clean cut flavours.
So next weekend, come down to Neemrana Fort for a taste of royalty. They have a day tour costing INR 1600 on weekdays and INR 1900 on weekends which are inclusive of a lunch buffet and a tour around the historic fort.