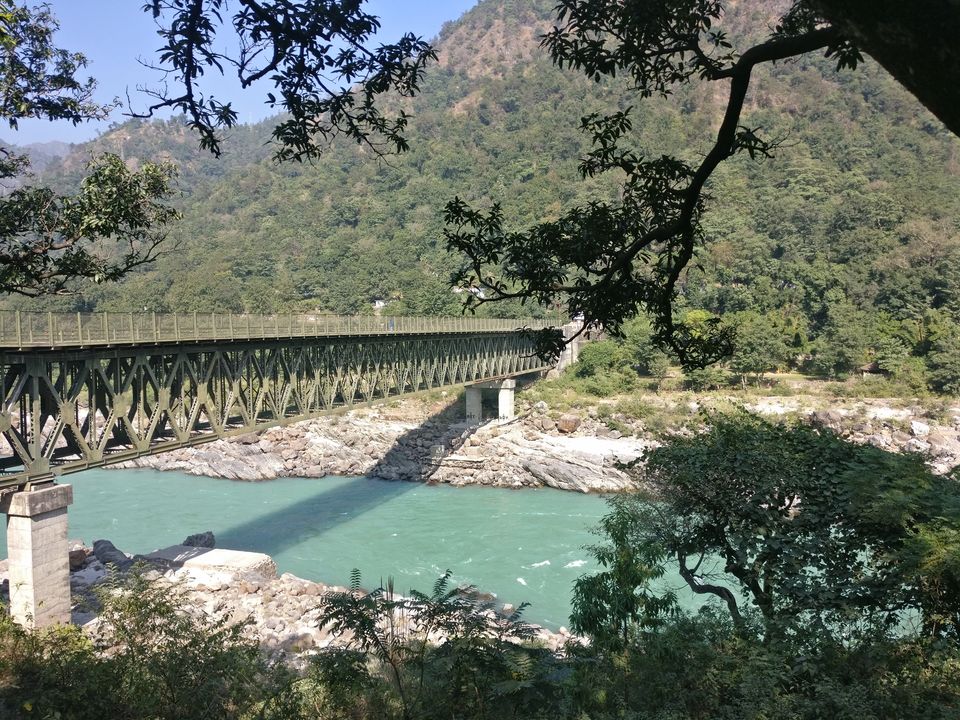 "There is no WiFi in the mountains, but I promise you will find a better connection"
Hey travellers!
Third time's a charm? Oh! Well.. you'll see.
Checklist:
1. Destination - Rishikesh ✓
2. 3 Crazy girls ✓
3. Catch the bus to Rishikesh ... Umm. Okay.
6:30 pm (Noida)
This is the place where I work. Running scripts vigorously so that I can leave for a trip which I have been dreaming for 7 years. Now, don't get me wrong, Rishikesh wasn't my dream destination, but traveling in an all-girls trio with my soul sisters to some place nice has been one.
I manage to leave my workplace and do last minute packing at my place. I have been running late since my RM has been an A-hole. However, I manage to meet my girls at 8:15 pm and we book a cab to the metro. We shove ourselves inside the cab, my friend starts stuffing w**d between her boobs, I am mixing whisky inside a plastic bottle with coke and my other friend is contacting the bus operator because today we have a strong feeling that we might just miss our bus.
By the time we reached the station, we have contacted the operator to hold the bus for us (to which he replied that it'll leave sharp at 9:35 pm after waiting for 5mins), we have hidden the stuff in the right places, and have created a cocktail that'll make us dizzy in the bus.
We somehow run and catch the train. I am constantly checking the Delhi Metro App as to how much time it is going to take us to reach Kashmere Gate and every time it tells me 40 mins. It is 9:00 pm and to that if I add those such constant mins, there will be literally much wow on our trip. My friends are kidding about us missing the bus, and we have all sorts of jokes going on. We have specifically shopped for this trip (we had matching trekking bags -_- ) and I was in no mood to start the trip by missing a bus.
We went underground at some point and had to switch trains. At this point it's 9:25 pm, 10 more mins and we might never be able to catch this bus. There are four more stations before we reach our destination. I am praying to the universe to send the train ASAP!! We board the second train.
The announcement is finally made - "the doors will open on the right", and I swoop through the crowd, running, hopping, striding steadily through a vacant platform, check out and climb the staircase as fast as possible. I look behind and my friends try to catch up with me. I'll introduce you to my friends, but right now I have a bus to catch :P.
We had decided to distribute the work - I'll run and catch the bus, hold the bus for them, my friends will buy snacks, cold drinks and cigarettes. I am asking roadside vendors for directions and frantically running on the road (I was boarding a bus from Kashmere gate for the first time). I am running like a Ninja, crossing dividers and finally I find the check-in gates. I pass through the crowds and call the driver, ask him where the bus is. I am panting, the reception is bad, but I somehow understand the directions. I continue to run. The driver asks me to reach the exit gate where the buses depart. At this point I have no clue where my girls are. A bus passes right by me at the exit gate and past that I see the bus-conductor collecting his slips from a counter. I meet him, catch my breath and ask him which bus is it. He points to the one right in front of me. I call my girls, direct them to find me, I do a weird dance of hands in the air so that they can locate me. Finally they spot me and I am standing right in front of the bus just to ensure we all board the bus together.
My girls join me and we board the bus, load the luggage - one of us had a trolley too! Everyone else is seated, we take a sigh of relief that finally we made it. We feel rejoiced and then try to settle. We look for our seats and one of them is already occupied. My friend kindly asks the gentleman to get up, and he does. We then look for the second seat and its vacant, so my friend secures that one. The third one is also occupied and when I ask the fellow traveler to give me back my seat, he says it's his seat. I ask for the ticket, he shows me a message. I check the date - correct, the seat number - correct. I ask the conductor to look into it. My booking was via RedBus - and at times online bookings can clash - I knew this is one such case. But its not making sense. I ask the conductor this bus is for Rishikesh right? There is a unanimous roar that yells out loud - this bus goes to Dehradun!
Our minds are in a tiff. What the fuck happened. All this marathon led to boarding the wrong bus??? The driver pointed to this bus, and I had confirmed it twice from him which one is it exactly. He had said a fucking YES to this one!! We ask them to stop, and take us back, but they refuse to do so. Instead they drop us in the middle of a fly over. I have no clue where we are exactly. I call the driver again and yell at him. He taunts me that am I a fool to not read a big Dehradun written on a dirty board and shabbily placed behind a windshield. He asks me to stay put, and my girls are behind me knowing for sure that there is no way we will get on the bus to Rishikesh. I run back towards the bus station and see a bus coming in the opposite direction.
Finally the bus stops, I board the bus (this time the right one). My girls behind me notice and jog towards the bus. At last we find three vacant seats, a bus going to Rishikesh and three girls breathing their lungs out.
We are amazed at our luck! Now let me introduce you to my girls, now that we have all settled in.
Meet Damballa - another name for the devil. She is smart, strong, witty and gutsy. Works in an MNC, is a shopaholic, somewhat a stoner and has been my survival kit for over 7 years now. As you'll read, you'd know Damballa a little more.
Now the other one has a mind of the devil and a heart of an angel. She is Ronove. Ronove is stronger in the mind, she is chirpy all the time, but harsh to reality. She is basically beauty with brains. Almost impossible to get her into peer pressure, her opinions are strong and even after 7 years of friendship, this trip made me discover her a little more.
So Damballa, Ronove and I cuddle together in two seats (Ronove is quite skinny). We talk and drink in the bus. While the bus travels through Karnal and roads we are not even aware of, we talk. We talk about guys, love, life, office, family and in general everything we have not been able to catch upto because of our perfunctory lives.
By the time the bus stops Ronove was tipsy, my bladder was full and Damballa was hungry. We ate some good chinese. JanRath buses are quite comfy and cheap. Value for money and their stoppages are at decent places where a female can use the washroom comfortably.
A 30 min stoppage and we resume our journey. I chuckle to that thought and take my seat. This time we doze of into oblivion in our dreams.
When the bus halted we realized we need more jackets and we had arrived at the Rishikesh bus stop.
4:00 am (Rishikesh Bus Stand)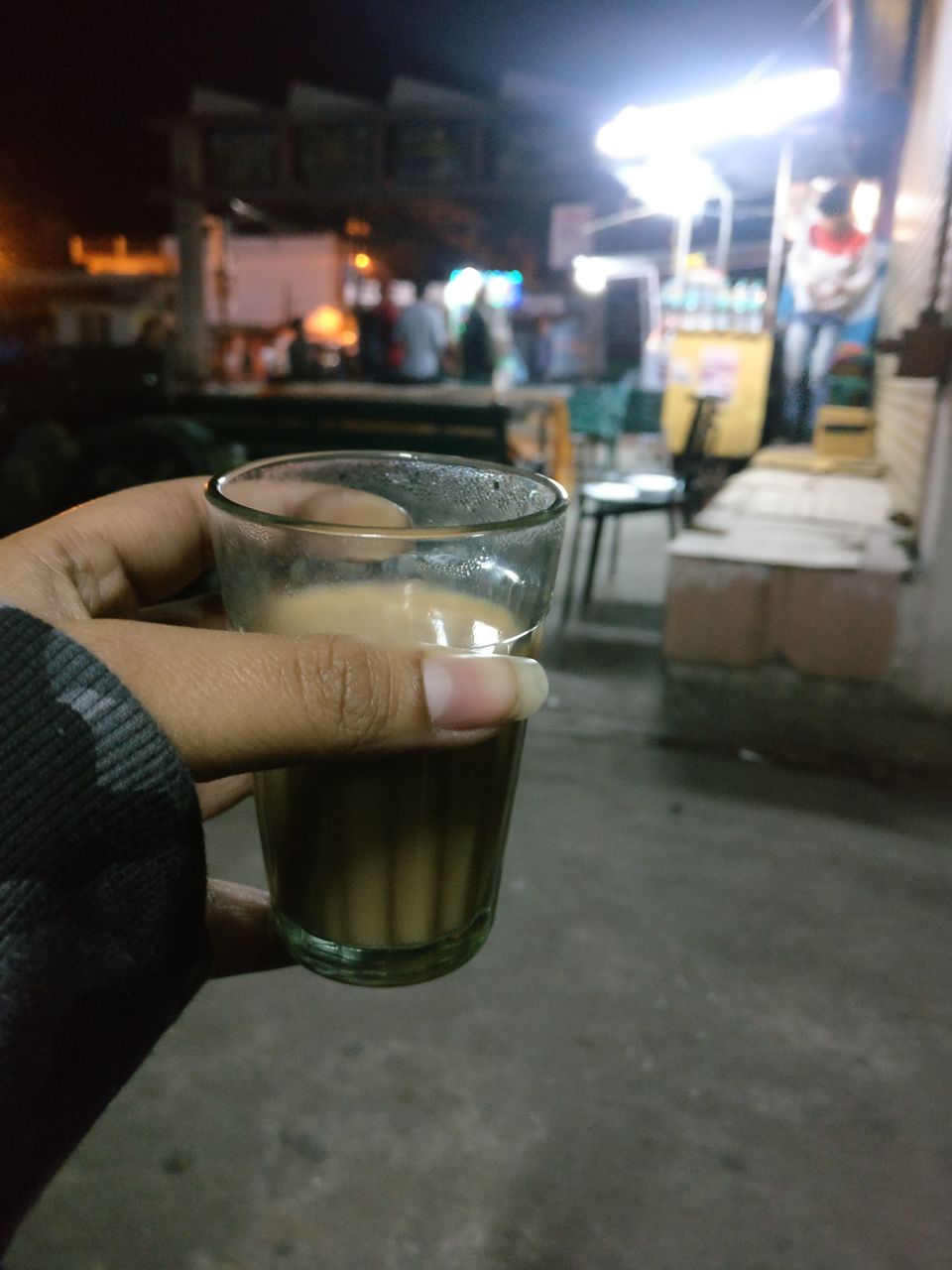 Some good tea to warm our bodies and we inquired as to where we need to go and what buses to take. Some locals guide us to take the local/ordinary buses (20-30 bucks) and we do exactly that. We were supposed to get down at Shivpuri. Our camps were established here and all the fun adventures were supposed to begin from here too.
The bus ride was interesting, since we sat with the driver. A short 40-60 min ride in full speed and darkness and we were already on an adventure it seemed. We got down of the bus after a bridge. I contacted someone from the camp and they asked us to stay put where we were. It was quite chilly so we smoked up some cigarettes.
Dawn had arrived and we noticed a crooked bridge below the one we were standing on. It was partly broken and a small tributary was flowing beneath it. The wind was strong. We climbed down mud made steps along with our luggage. The wind blew right into our faces. When the wind struck my face I felt awaken. There is something you must know before you judge my poetic and cliche writing. When I left Delhi, I was furious. Furious with my life and fate. I was mad at my fucked up luck that never worked in these 24 years. Things in my life were more than complicated. So when I sat at the brim of the bridge, I realized that life is simply testing me. Nature was talking to me and I was trying to understand its gist. It asked me to move on with life. Not from it. A lot was going on that was out of my hand. Uncontrollable, vulnerable that's how I felt when I left Delhi. I ain't a soul that enjoys loss of control. On the contrary I like things, people, situations, relations all organised.
I realized that I have been unreasonable, naive and stupid. My girls joined me and sat besides me. I give them a glance, take a sigh of relief. They don't know what goes inside my head all the time. No one does actually. The demons, the saints they all speak at the same time. I hold their hands and smile at the wind. The wind has taught me what love is - Never visible, but always around. We stay put in silence. I lost track of time but got interrupted when a guy asked us whether we had arrived from Delhi. He gathered our luggage and took us below the crooked bridge. On our left were many olive green tents. We walked for 5-10 min and crossed a planked bridge over the tributary.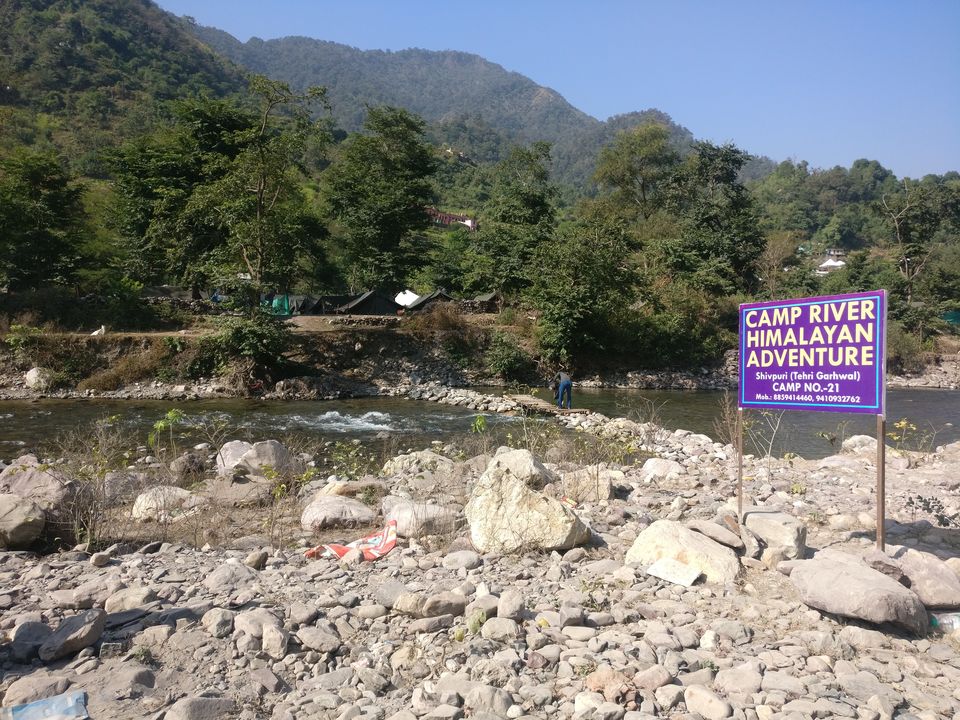 It was around 6 am when we arrived. We picked up a tent. Three beds, with some warm blankets and that was all. The washrooms were interesting. Three pots that have a zipper enclosure. Out of those only one worked fine. A mug by the toilet side and wash basin was away from the toilets. There was a single bathing area that had a huge tub (the ones used for washing clothes). Breakfast was served - some super spicy egg bhurji and aloo parathas with salted butter.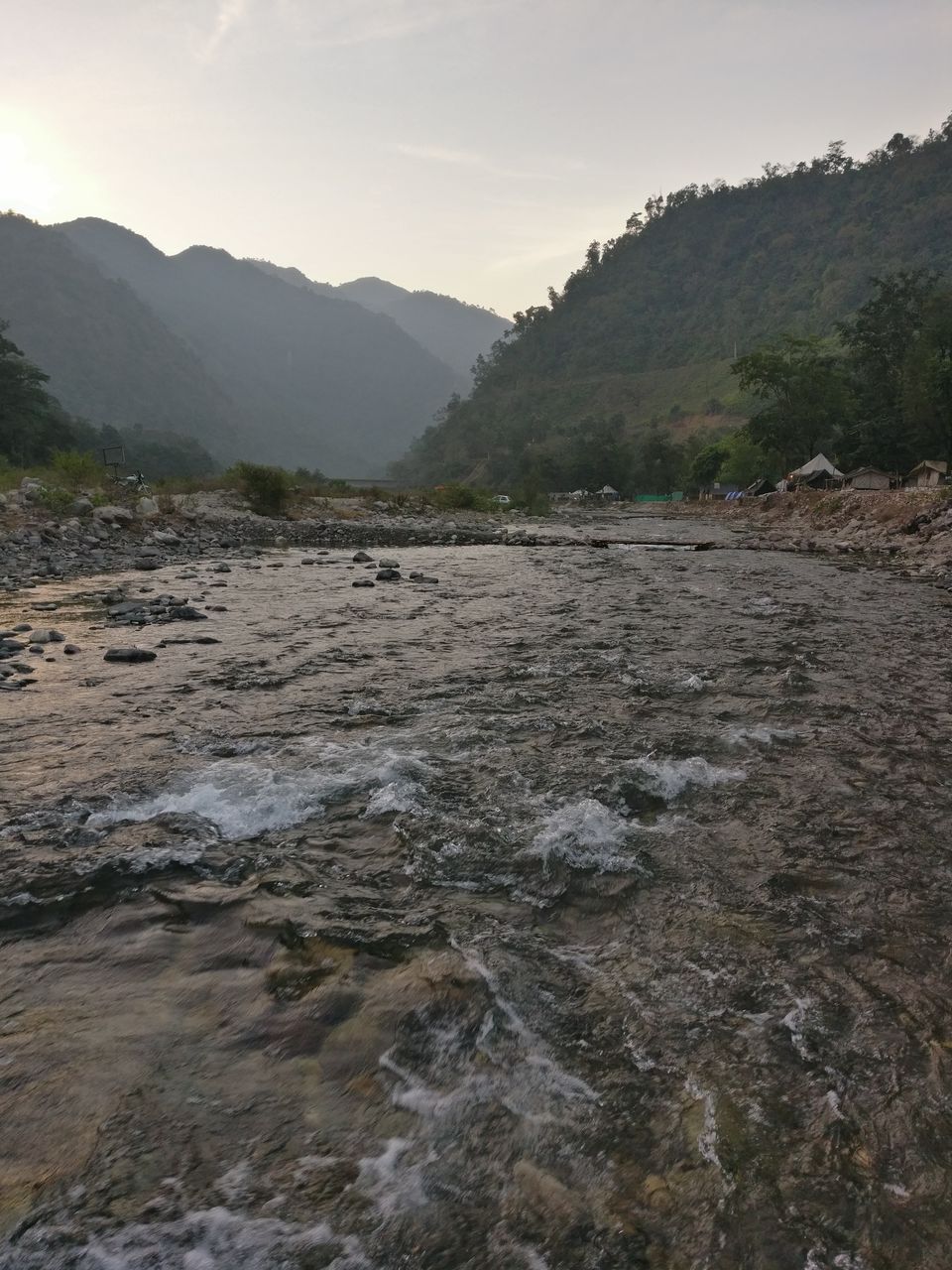 We decided to take a nap before going for rafting.
I put some Hans Zimmer music so that we can doze off to sleep, and soon we had dozed off.
It was 12 noon when the guys at the tent woke us up. The after nap felt like a major hangover scene. It took us a while to get out of those blankets. We put on our shorts and t-shirts for rafting, loathed ourselves with sunscreen lotion, packed our valuables securely and left for our rafting adventure.
There were only us three for the rafting adventure, along with a guide and his friend. We were standing at the very same bridge where we were dropped off. The raft was loaded over the carrier of the Sumo. We were carrying a single spare phone - just in case we lose it during rafting, we'd be able to make peace with it.
We had decided to do the 16 km rafting since god knows when we'd get the opportunity again. The camp staff did advice us to first do the 8 km rafting since it will be our first time - but we unanimously decided to go for the longest route. There is another one that is of 22 km but this one is meant for professionals and takes around 2-3 days to complete since there are overnight halts.
A quick ride to the point from where we had to begin rafting and I see a serene river welcoming us for a new adventure. The Ganges - the mighty river of this country. Offering not only the calmness it posses but also the fierce aggression it holds.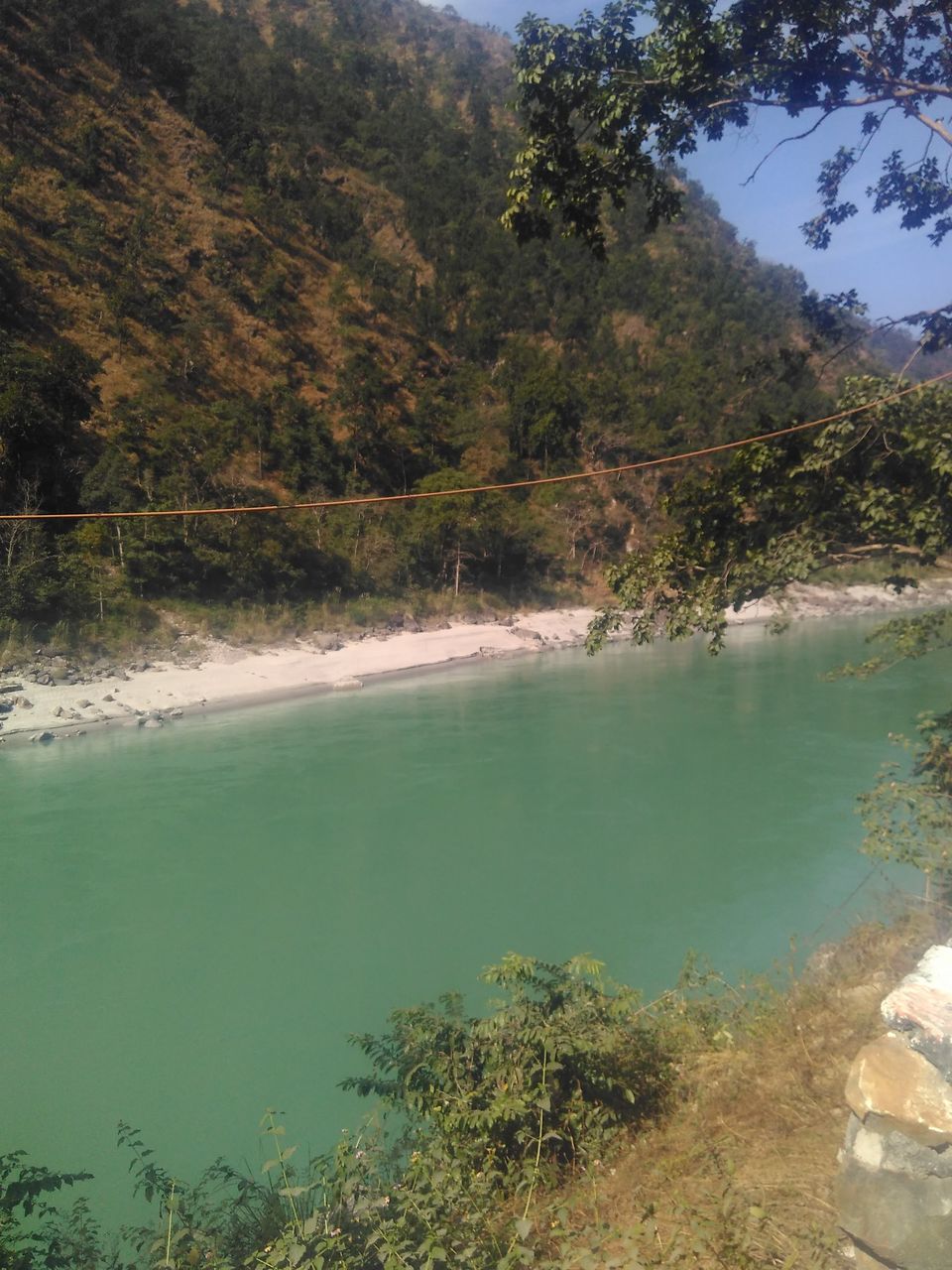 Today, we longed the Ganges to be as fierce as possible. The guide was really good. He was instructing us well, was funny and interactive. We were all geared up. Gajendra (the guide) told us all kinds of do's and don'ts. The ways to row the raft. Things to do in a rapid, things not to do in a rapid. How to halt, and what to do in case the raft topples. There were many instructions that were being told us. I missed out a few because I was worried how on earth will Ronove manage to row because she is very skinny. Damballa and I exchanged looks that said - we're gonna die today. We sat in the raft. The unknown guy and I took up the two fronts of the raft on each sides. Behind me was Ronove and on the right end was Damballa with the guide in the center-end of the raft.
We chanted 'Ganga Maiya ki Jai' and with the blessings of the gods/universe we started our rafting journey. The initial hour was like a trial run. Learning how to row correctly, the movement of the body required and to hear carefully to the instructions and commands of the guide.
Each rapid has a name and some of them have logical reasons to their names. The three blind mice, the butterfly, the golf course etc. are just a few to name. Gajendra from time to time kept telling us funny, interesting stories. We clicked pictures at some places. At times he allowed us to dip into the Ganges and body surf along. After every successful rapid we rejoiced by singing in chorus 'Yo baby, yo baby, yo baby'. Seems funny but is a hell of an energy booster. The month of November has some slight winds. The water is shit cold- but once you take a dip, the body goes numb and gets used to it.
The golf course rapid was the most fierce one. Our raft didn't topple, every time a rapid arrived we were rowing even more energetically. We arrived at the last point from where cliff jumping is done. It's called the maggie point. There isn't really much to say here. Huge rocks from where you can jump off into the river. Loads of maggie stalls and quite a rush. There is no harnesses or safety strings attached when you jump of that cliff. It is quite slippery too. The feeling of free fall in the air for those split seconds does make you pee in your pants. Splash! - and from the water you rise back up. Remember to fall straight because if you don't the water will hurt your face badly like it did to Damballa. I jump then Ronove does and then Damballa. I am giving a hand to Ronove since she does not know swimming. By the time Ronove is floating near the rocks, I see Damballa lose her senses. I go up to her, and check on her. Her lips were bleeding. I thought she lost a tooth but it was all okay, the water had just cut the insides of her mouth. She decides to stay put while Ronove and I go for the second dip.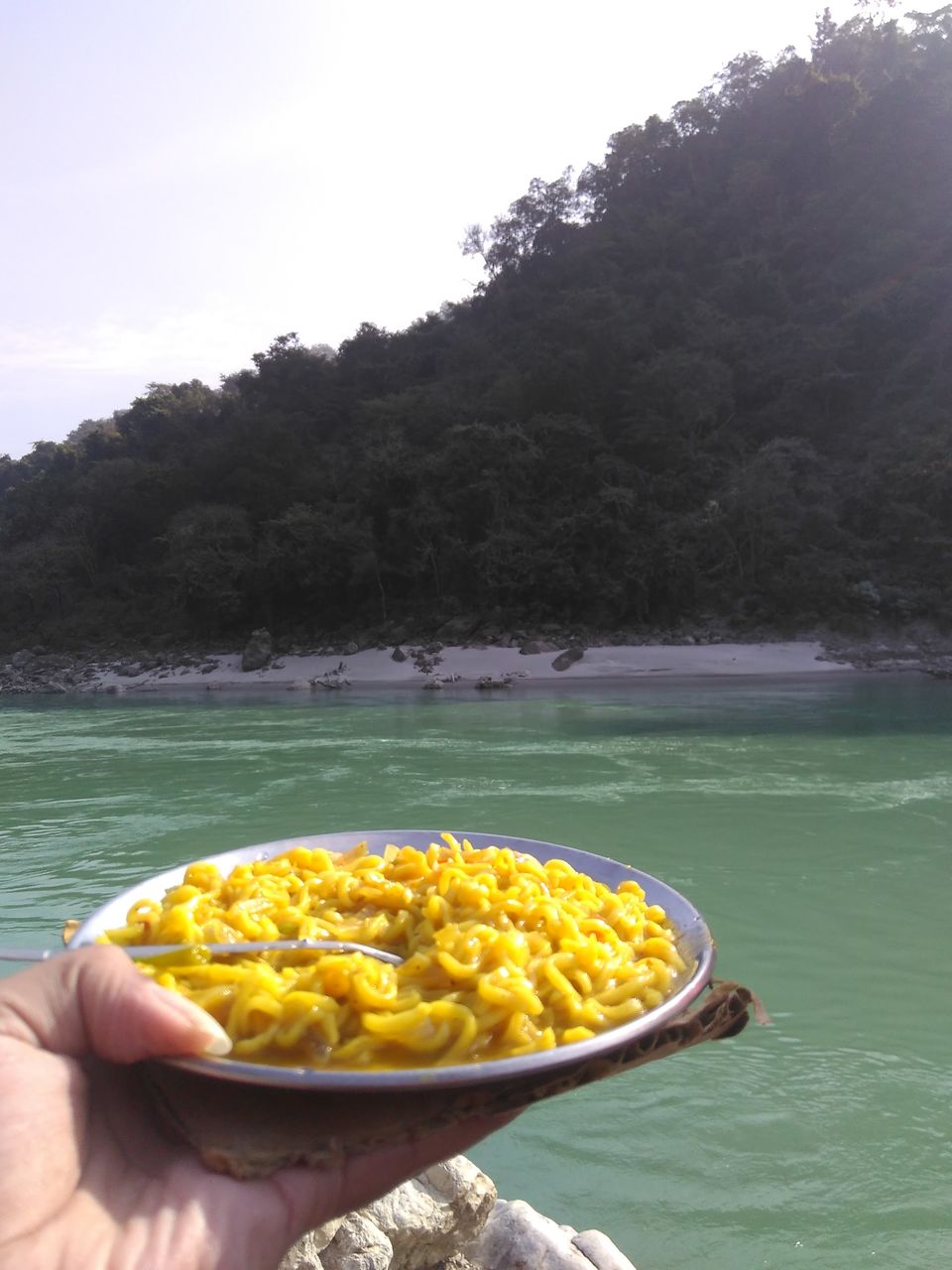 We eat some hot spicy maggie and smoke two over priced cigarettes. We get down of the maggie point and started rowing the last 2-3 kms left. Soon we arrive to the last point and take a sigh of relief.
The white sands by the river feels really great. I remove my slippers and feel the warm sand. Arms are aching and irrespective of the sunscreen we applied, we are pretty much two shades tanned. We arrive back to the camp via the same Sumo and decide to take quick showers. A few more camps have been occupied but we are the only girl gang present there.
We take another nap but this time we don't need any Hans Zimmer music to doze off. I wake up to the sound of some loud music (I'd rather honestly call it noise in Punjabi) and realize that it is way past dusk.
It's around 7 pm and there are hot steaming Pakoras and masala peanuts waiting for us on a table in front of our tent. The bonfire is lit and I have rolled some joints. We still have the whisky-coke cocktail and Ronove is trenchant on consuming that.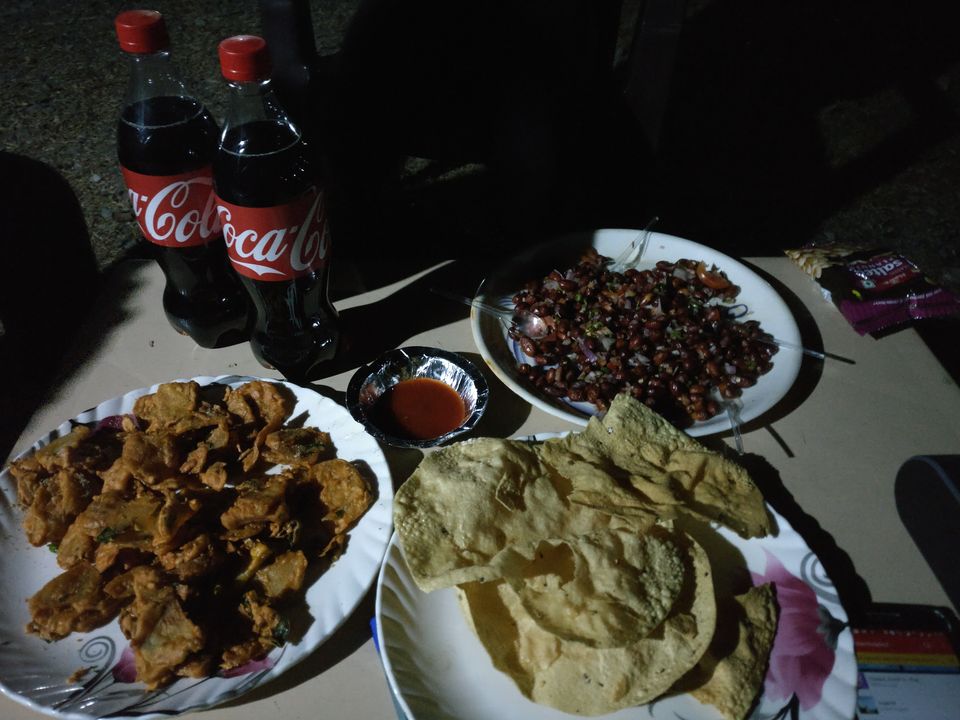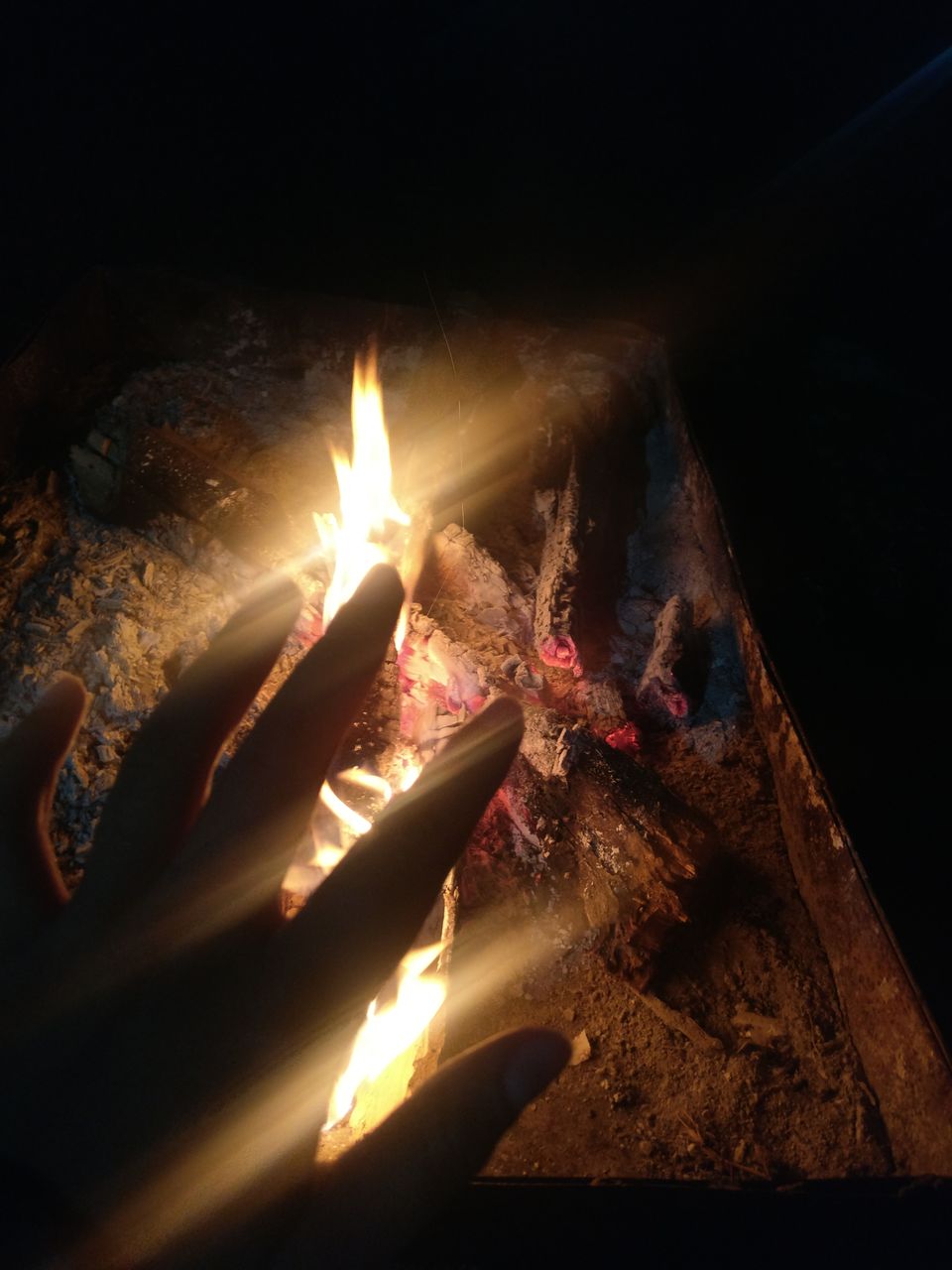 The joint peaces me out. The whisky energizes Ronove. We are playing 'Antakshari' and Ronove is having the time of her life. She is dancing and shouting and simply rejoicing her time with us.
I make some more bonfire and the dinner is served. We've had plenty of snacks so we eat just a little. Ronove trips 1-2 times while hitting the loo to which Damballa laughs at. While she is managing Ronove - I am lost in oblivion. Thoughts, feelings, wishes, desires, regrets? Nope. No regrets. Just me and my super workaholic brain that just never stops.
We decide to go to bed and maybe checkout the night sky at around 12 am. However after Ronove passes out in sleep, Damballa and I really don't have the energy to even get our toe out of the bed.
7:00 am (Tent)
It's a new day and we have the most important action item lined up for us. Bungee Jump. Yes - Rishikesh is all about adventure sports and we had come with a determined mindset to do India's highest (83 mts.) Bungee Jump. I woke up my girlfriends and managed to get all tidy and cleaned up. We ate very little as we didn't wanted our bungee video to have projectile vomiting in it.
Before we checked out, we sat by the river and sun bathed a little. The light breeze, the spotlight of the sun and the cold flowing water felt perfect in that moment. We clicked a few pictures and then decided to pack and leave.
We decided to find our own way to Jumpin Heights. We asked a little here and there. Walked on the road for a while with the boombox playing out loud. People passing by us looked at us with questionable looks. A few offered lift (even if they weren't headed in our direction). We saw a zoomcar from Delhi with 4-5 guys (good looking guys) probably headed in the same direction.
I asked for some directions and where we can find a sharing cab. Suddenly saw an empty innova pass by with a local driver. I called out loud enough for him to apply the breaks. Asked him where he was headed and that could he drop us on the way. He dropped us from where cabs could be passing by (charged nothing in return).
The red zoom car was visible at many intervals. The DL on the number plate told me exactly where they are from. They were checking us out. So were we. I inquired a policeman about Jumpin Heights. He instructs us to ask for a ride whoever passes the road. The girls sit while I stop random cab drivers and politely ask them to give us a lift in exchange for some money. One of them agrees. ₹200-₹250 bucks and we quickly hop into one of the cabs. The ride is 30-40 min long. The camps also offer cabs to Jumpin Heights for ₹800-₹1000 bucks, but we were on a low budget trip - and this turned out to be quite fine.
1:30 pm (Jumpin Heights)
On my right is Jumpin Heights written in big, bold, orange and graphic letters. We stare the sign for a few seconds and then go inside. The guys ask us to wait. There are couches where people have to sit and watch a video that tells about each ride. Do's and don'ts. Eligible and ineligible people for these rides. Process. Etc etc. Quite explanatory.
We get our bookings confirmed. After a few minor booking formalities we sit in the cafe and watch recorded and live video of people bungee jumping. Damballa and Ronove are talking a lot about it. They are discussing what will happen or can happen, will they be able to do it or not. The thing is, at Jumpin Heights you will NOT be pushed at any cost. You will get ONLY 2 chances to jump. If you are UNABLE to jump, you will get NO refund.
There are three types of rides at Jumpin Heights:
1- Bungee Jump
2- Flying Fox (single, dual and triple seater)
3- Pendulum (single, dual seater)
We decided to first do flying fox. It is the longest zip-line, almost 1 km long. It's not scary. We took the triple seater. Not a must do. We did it as a warm up. Once that was done we waited to suicide aka bungee jump. While we were sitting in the cafe and discussing who goes first and all, we saw the red zoomcar guys enter the cafe. Turns out they are in for bungee jump too.
Damballa and I calm our nerves by smoking a cigarette. I must say I was nervous and quiet. I wasn't claiming I'd jump at one go. Nor was I thinking of doing it at the second attempt. We had smoked only half a cigarette and our names were called out. Damballa and I stored rest of the cigarette and we decided, if we finally do this, we'd smoke this together. We were supposed to walk to the site. 3 girls with an accelerated heartbeat are waiting to jump of a plank. Crazy much? Found one of the cute guys from the red zoomcar waiting for his turn. I was going first. Damballa second and then Ronove. The cute guy was going before me. Now while you read my blog I can tell you how I became all gregarious and managed to get the guy talking and interested in me. However, I will then also have to tell you that when he met my hot friend Ronove later, he was much interested in her! So let's just skip this part. :P
It was now my turn to show some guts. Before I went in, I asked one of the technicians that had there been any casualty before and he replied - no. That was relief. I was double checked. I was greeted by two guys from New Zealand. He asks if I am ready. I say yes, but my heart, brain, knees everything else says no. He tells me he will count to three and say bungee and then I will have to jump. I say okay. I slowly move towards the edge. My heartbeat has accelerated and I am 100% not sure I want to do this or not. I move further and further, little baby steps and reach the edge. I know this is it. I know now I will have to either let it all go, or carry all the weight with me forever. I can let my pain go away and I must. I think two things in my head. He says bungee. I fall off the edge, into the air swinging, swaying and yelling. It's beautiful down there. The cliff, the green river, the white sand. It is mesmerizing.
I have the widest smile and my happiness is unexplainable in words. I realized how important life is! There are so many experiences we miss out. There are so many pleasures we still need to go through. Of course the same journey will also comprise of many unwanted experiences but in the end it is all worth it.
I was pulled back again because of inertia and I came down again. I yelled and cheered and enjoyed every second of it. Soon I was pulled down and greeted by two other employees at Jumpin Heights. They gave me a 'I've got guts!' badge and a bottle of water to calm my nerves.
(http://www.jumpinheights.com/)
My friends too did it in the first attempt and we rejoiced together once all of us were done with the bungee jump ! There was now a major strike-off on each of our bucket lists.
Around 4:00 pm (Jumpin Heights)
We collected out certificates, videos and our luggage. Damballa and I finished our left out cigarettes and we rolled up a thunderbolt. The three of us were delighted with joy. We smoked up a couple of joints with the Zoom Car guys. It was in this moment the cute guy met Ronove and they both kicked off with each other. Laws of attraction I tell you.
We said our goodbyes and took leave from that place, feeling proud and content. We also took a lift from the Jumpin Height's bus service. They close off by 4pm and then drop their employees via bus. The driver was kind enough to give us a lift for a mere 50-100 bucks.
On our way to Laxman Jhulla we checked out the markets of Rishikesh. Loads of interesting things to buy if you are not on a budget trip. We did buy 'Madhubani Paintings' - a style of painting very famous in Bihar. Madhubani Paintings are painted using only natural colors extracted from flowers.
We were starving and we decided to quench our hunger. We ordered banana and nutella crepes and apple flambe at the German Bakery (a must go place). The laxman jhula was right behind us and so was The Ganges. It was dark and temple lights had lit the entire city. We took a sweet picture on the famous Laxman Jhulla and then went to Freedom Cafe.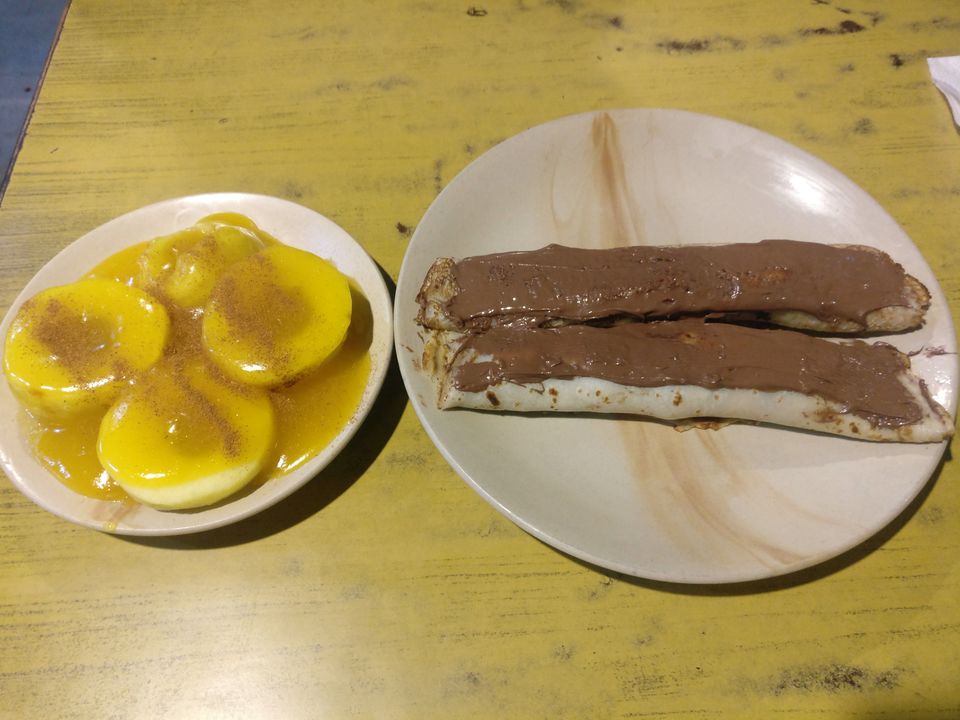 A great place to sit and relax and enjoy the serene Ganges. The temple bells add a soothing effect in the air and the tasty food of the cafe satisfies a voracious human being. We relaxed there with our bare feet and just sat there for a while. I had a slight tiff with my girls, but we made it up soon. I guess we were all just very tired with all the travelling from the past two days.
We took an ambassador to reach the bus stand. Costed us 200 bucks since by 7-8 pm everything closes. Soon we were back in the Volvo that was going to take us back to the noise and reality.
Rishikesh has a lot of things to explore. In a short span, this is all the adventure we could have and for now, hasta-la-vista reader!
Keep travelling.
"Life is either a daring adventure or nothing at all" - Helen Keller
All pictures are clicked by me and in no manner should be used anywhere else.
For queries/collaborations please contact blogitraveller@gmail.com
Please shower some love. Wishlist.Share.Follow!
Frequent Searches Leading To This Page:-
weekend trip to rishikesh, weekend holidays to rishikesh, weekend travel to rishikesh, weekend couple tour to rishikesh, girls trip to rishikesh