One of the iconic countries of Europe, the French Capital and I am sure Paris is pretty much one of everybody's favourite destination in the west. To me Paris was offering an insight to the culture, tradition, lifestyle of Europe and it was my first destination to get a taste of the European way of living. Dominant history, spectacular art, gorgeous gardens and boulevards, iconic monuments, delicious food and top notch brands offashion so much associated with this city and it exactly served its expectations to the tourist in me. Of course, its super expensive but that was the challenge to live in a developed city with a budget and make the most of it. Well, first things first for an Indian passport holder getting into Paris would require a Schengen Visa. VFS Global was my to go for getting my formalities done to obtain the visa. Flights to Europe can be very expensive if booked last minute as it is to many places around the globe and hence I had well planned this and pre booked my flights saving a considerable amount of money. Playing with a budget I could afford Air France airways which is a super comfortable airways with great seats, leg room and they serve delicious meals too. Here, again I opted for flying out of India mid week with a bonus of flying out on Diwali night, this is a hack I use to get my flights cheap. Flights are generally cheap on festivals and on mid week (Tuesday or Wednesday). Also another thing here is to choose your destination carefully. I was also going to be travelling to Italy after France however flights to Paris were cheaper than Italy(Milan, Rome, Florence etc.). Just a Google search of 'Bangalore to Europe' would give you so many options and you could choose among the cheapest.Air France had a direct flight to Paris from Bangalore avoiding the lay over again making it super convenient. The flight from Bangalore to Paris cost me 225 Euro(INR 18,000). With latest entertainment available to me at my seat my flight to Paris was super comfortable. Big shout out to Air France management and their team. They have done a commendable job.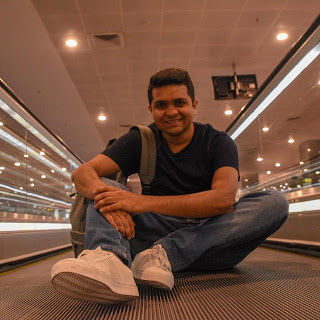 Touchdown Charles De Gaulle airport, I was excited to embrace the Parisian culture. A four day transportation pass at the tourist information desk cost 28 Euro(INR 2240). Alternatively, tickets in set of 10's or 20's can be bought depending upon the duration of stay in Paris and usage of the public transportation, a single ticket which can be used once would cost 1.90 Euro(INR 152) where as a carnet or a bunch of 10 would cost 14.90 Euro(INR 1192) these tickets can be bought at Metro or RER stations from the vending machines and can use it on all modes of transport such as Metro, RER and bus. However, these tickets cannot be transferred from Metro to RER or to Bus or vice-versa (make sure you get your ticket validated before your journey and each ticket is validated for 90 minutes from validation). I was largely dependent on public transport and therefore I opted for the transportation pass which covered my commuting out and about Paris via Metro, RER and Bus. It makes manoeuvring around the city hassle free and very convenient. These transportation passes/visitor pass depending upon your stay in Paris could be opted at the airport or at any Metro or RER stations. However, there is a tourist trap associated with this pass. Unfortunately I was victim to the trap. So, while selling the pass the person at the counter had not informed me to have my name or photograph stuck on it. I was just given the pass and told that I was good to go. On my third day I was checked while leaving the Metro station and I was fined 35 Euro(INR 2800) for not having stuck my photograph on the pass. I feel that I should have been informed about these things when I was purchasing the pass or I should have been sold the pass only if I had a photograph with me. However, I had to succumb to another person's fault and pay a ridiculous fine because at the end of the day I was a tourist in another country and I have to respect their law and rules. I would urge all those travelling to Paris or any other city in Europe(which might have a similar rule) to keep this in mind it and stay alert when it comes to validation of your ticket or pass or keep in mind my experience to avoid a lowsy fine.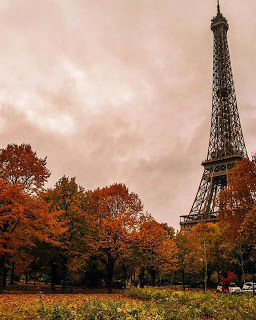 Well, when it comes to weather in the French capital you are in for unexpected days if you choose the less popular period of late Autumn like me to travel. Dominantly it is going to be cold and is the best time to show off your coats, jackets, mufflers and caps (one of the reasons I loved visiting Paris, during late fall). However, during my stay I did enjoy the winter sun on a few occasions and did explore the city on an absolute cloudy and gloomy day. Yes woollens are a must and apart from that your hostel or hotel will provide you with umbrellas if it's raining or snowing. Now, in Paris the language spoken widely is French, here Google translate was my go to app when it came to communicating with some shop vendors to ask for directions etc. However, in my experience I did meet a lot of people with whom I could communicate in English making things easy.
Accommodation, staying in this City can be very expensive however it can be beaten with if you look at options such as Couch Surfing or Airbnb's or hostels if you are travelling solo like me. Staying in hotels can be super expensive and it can eat into your budget tremendously. As an alternative Airbnb's can be opted for half the cost of a hotel. When it comes to staying in hostels a good option would be Les Piaules which cost me 95 Euro(INR 7600) which was not too bad in a place like Paris. The vibrant social life in hostels is a great way to make friends and meet people from around the globe which was a bonus for an novice travel blogger and content creator like me I would say. Also, Couch Surfing is one amazing way to save money and living with a local is always a good option in any country or city in the world. Locals give you the best insights of their city and help you by showing you around pockets of the city which you as a tourist would not be able to explore. Paris is Europe's Couch Surfing capital and I believe it is an awesome way to get to know the city better. Also, if not staying you can always hang out with locals and get a pretty good insight of the city. Another option could be Airbnb experience where locals design activities based on their likes and show you a part of the city which a regular city tour would not offer you. I opted for both Couch Surfing hangouts and Airbnb experiences and explored Paris in a totally unique way.
All in all budgeting in a place like Paris can be tricky But you can more or less manage byliving in hostels or Airbnb's where you have access to a kitchen to cook a meal can save a lot of money. Some hotels also have breakfast included which is a good option to fill your stomach before you head out to explore the city. Hanging out with locals as mentioned earlier is another point. When it comes to clothes a carry on baggage always does the trick and you can always do your laundry at the hostel or Airbnb. Again backpacks or small suitcases are easy to carry around and they save you the trouble of using taxis. Taxis are super expensive and one of the worst ways to explore the city cause you get to see nothing. Having a rough idea of what you intend to do in the city also helps you in getting things rolling.