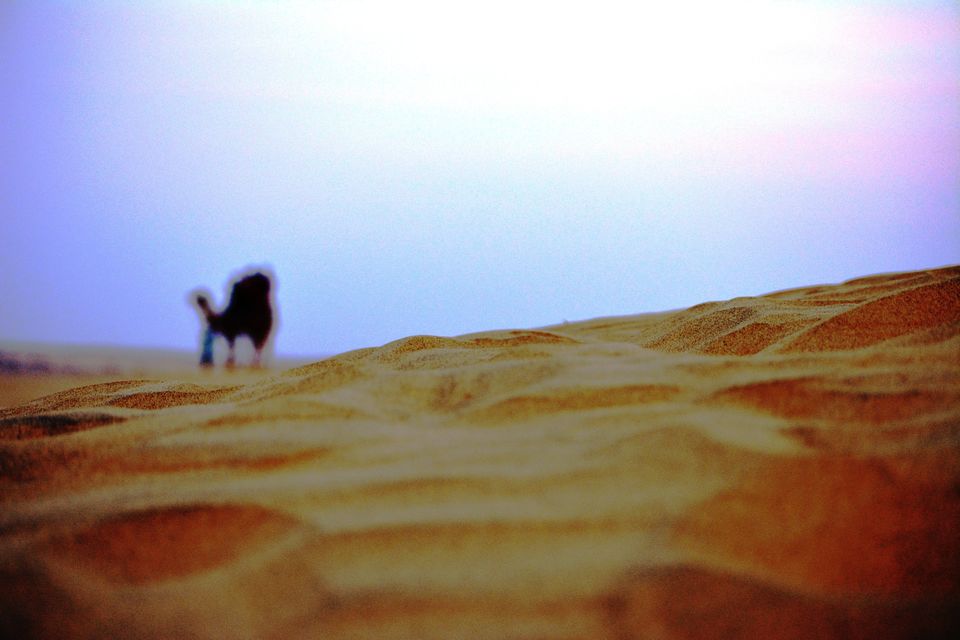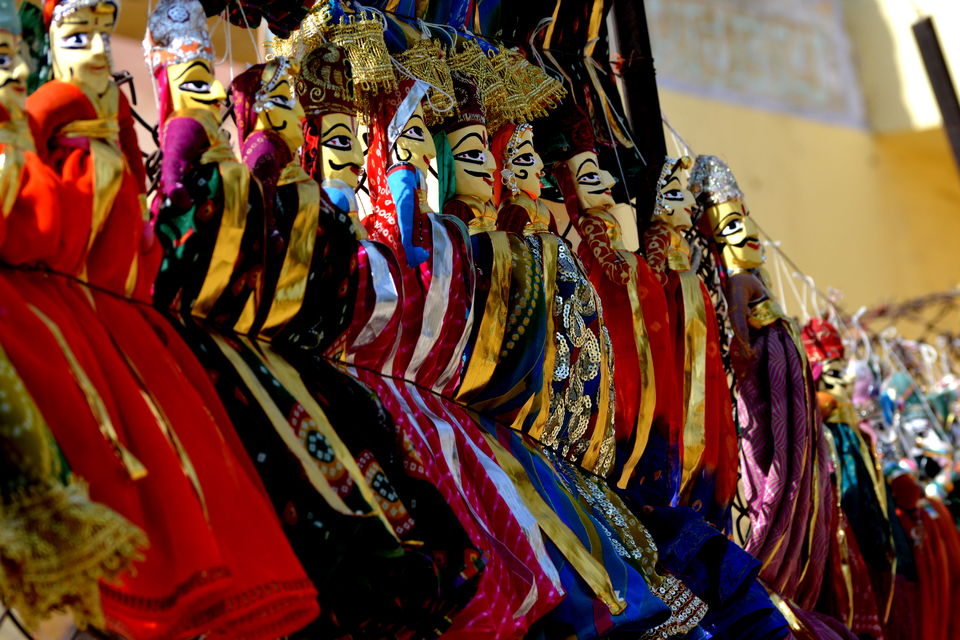 Beautiful Architecture Faded with time

Mandore Garden was once the capital of Rathore. It has enormous collections of temples and chhatris. They were constructed in the honorable memory of all the rulers of that period. It also consists of an Ravan temple, which the locals believed as the native place of Ravan's wife Mandodari.

We reached to this very beautiful place around 5 pm, special thanks to Air India which got delayed by an hour. The place went dimmed when we arrived, as a result we couldn't capture the scenic beauty of the wonderful place through my lens. Although, I will suggest you to visit this wondrous place early where you can get adequate light. Also, there are grey patches all over the garden which made us little insecure to roam around when it was dark. Never the less, our Driver, Punamchand escorted us within the garden. He even shared the information of the garden and reason of its establishment.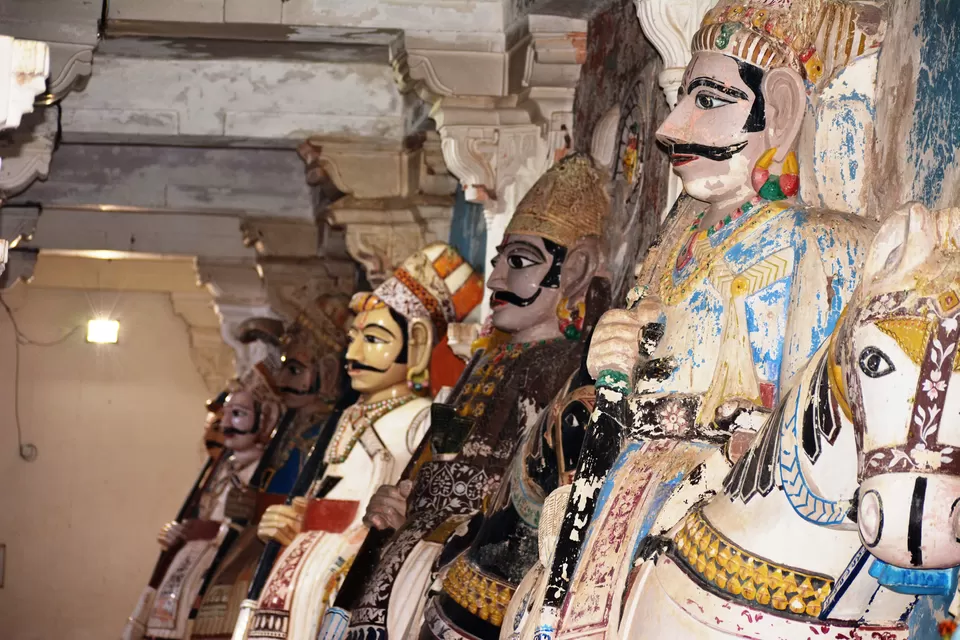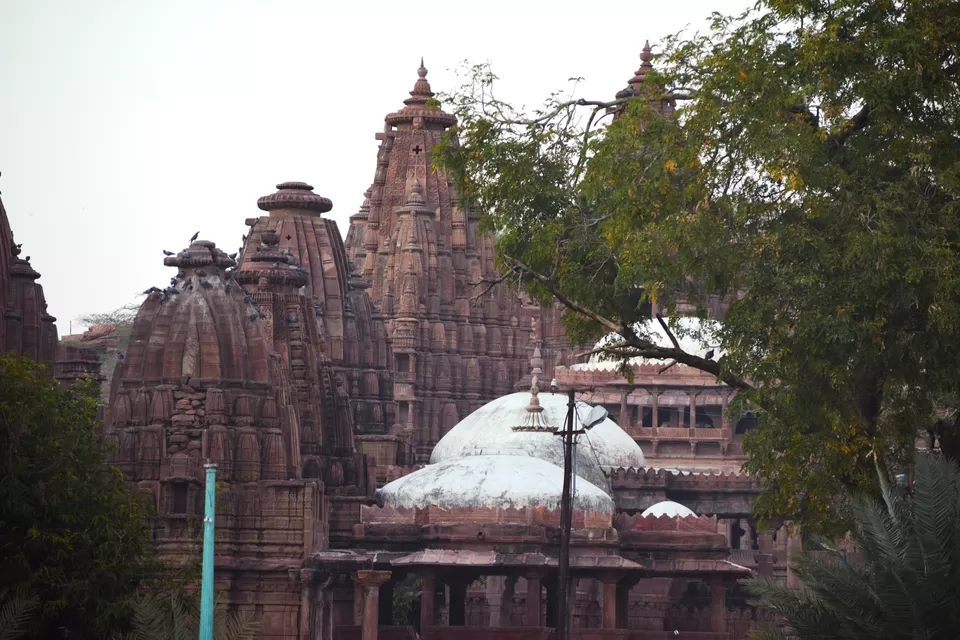 Post that we headed for Indique Restaurant. To be honest, the establishment is in middle to the busy bazaar of Jodhpur. All the roads connecting the resto is pretty narrow. Although you get to see many blue colored traditionally made typical houses. Since this was the first time we visiting Jodhpur, everything seemed beautiful for us. Even the chaotic traffic.

As for Indique, soon as you step inside, you will feel the luxury of Rajasthani culture. It is a Kothi that has been setup and converted to an restaurant. We preferred sitting in the open terrace where we were the only Indians. (not bragging, it actually do not enjoys many Indian Crowd). One can enjoy a very beautiful view to the Mehrangarh Fort on one side and Clock Tower (Ghanta Ghar) on the other side. That's the main attraction to the place. We loved the atmosphere along with the mystique view it holds but the taste of the food was the biggest upset for us. This is one of the biggest reason for Indians giving it a miss. Its menu is costly compared to other places we visited (mentioning them shortly). After some hour or so, we came back to our hotel aka KOTHI.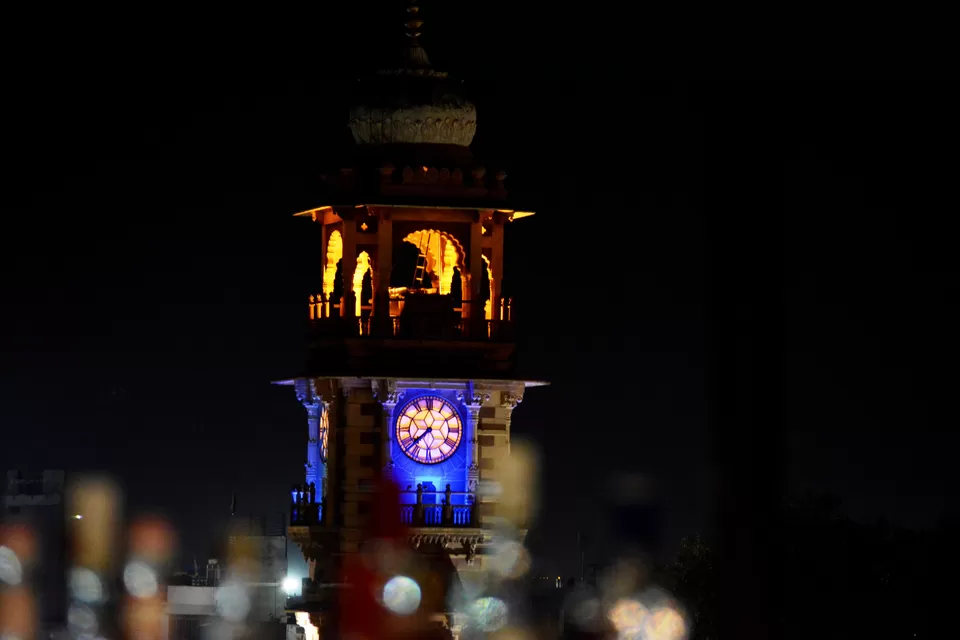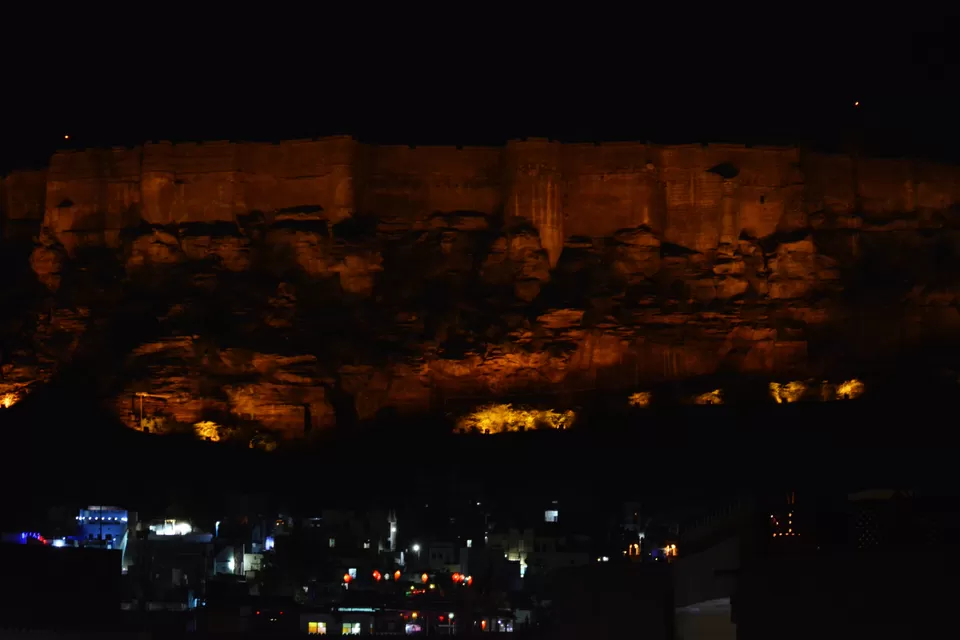 Well, the reason I am putting up the details of our stay post first day tour is because, All thanks to Air India. We reached Jodhpur at 4:30 PM which at the first place scheduled for 3 PM. We got checked in, dumped our stuffs in our room and went straight for our tour.

To my personal belief, it is the best 4star property that you can experience at Jodhpur. Both of us were welcome with smiling face prolong with managed heritage property. Many antique pieces all across which depict the establishment made long ago.

The rooms were very spacious fitted with all basic requirements. Even the closet were piece of antique wood material and made us feel like home. We called it a day while we admired the royal beauty it possessed within.

Next Day, we woke up early to experience the peaceful, silent and positive side of Jodhpur city and enjoyed the sunrise from the rooftop of the KOTHI. As a long day was in planned and we required a much needed re-energizer to rejuvenate. The reason I am saying this is, we went straight for this trip post our wedding and this morning act as SANJEEVNI for us. After all the admiring of the morning sunshine, we finished up our breakfast and headed for our move towards Kumbhalgarh Fort.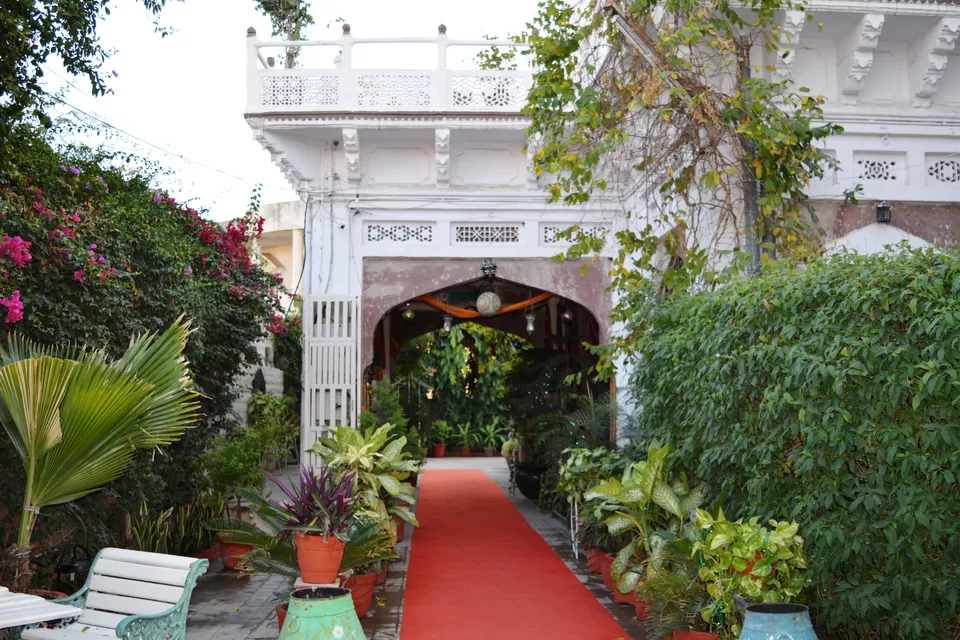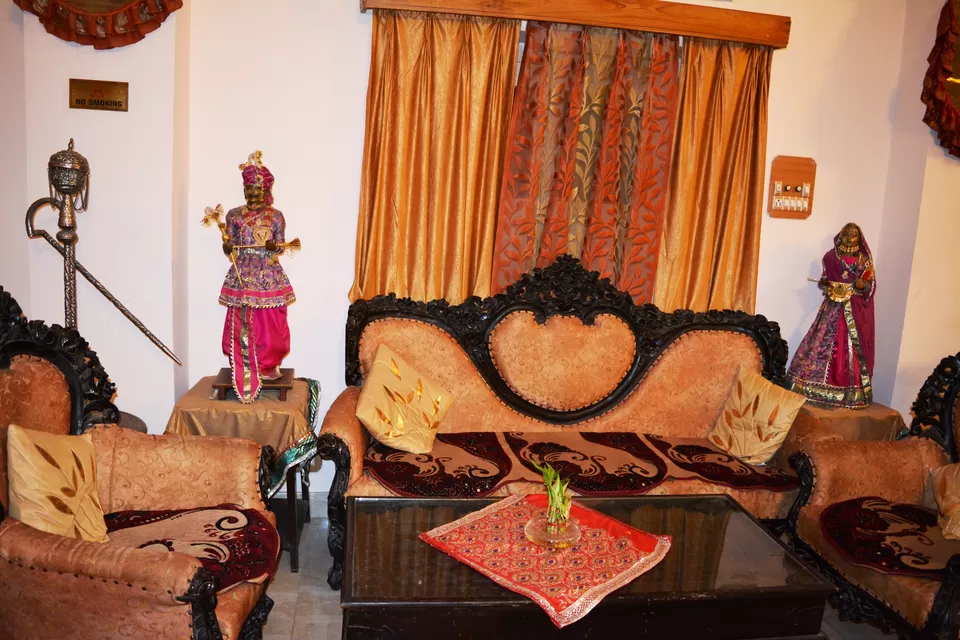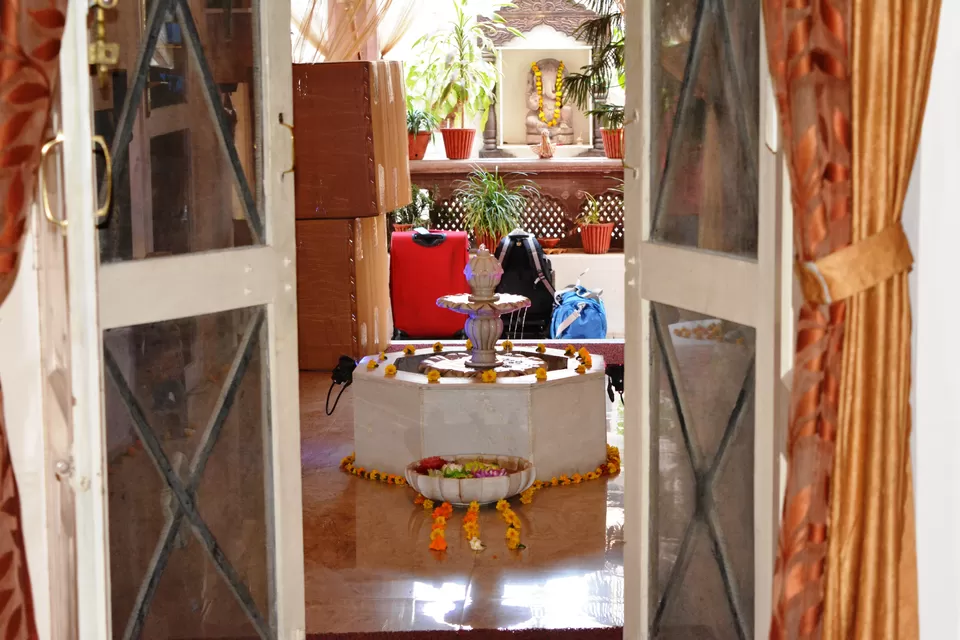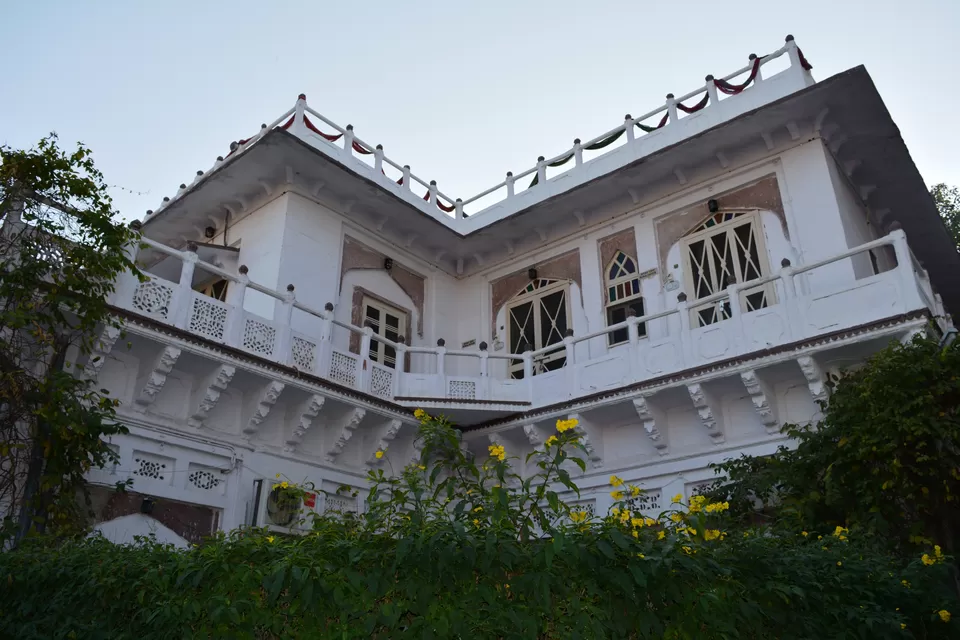 Majestic Wall of Kumbhalgarh

China has Great Wall, India's answer to it is KUMBHALGARH Fort. It is some 200 odd KM from Jodhpur nearing Udaypur. So an early start to the place was essential. One of the best thing about Rajasthan is its road connectivity and condition of roadways. It is the best that you can ask for. Be it small villages that connects the main highways or the highways in itself.

We went pass many native villages while admiring the raw side of Rajastani culture. Both men & women holds clourful clothes which makes them picture ready all the time. I sometimes felt like I by mistake have visited some movie set (Paheli).

We reached around 11:30 at Kumbhalgarh. It was high up in the hills and hot. Not that we were expecting for. Soon as we moved out of the cab, I started clicking photographs. To be honest, I have never seen such huge overlayed monument ever before. To be specific, it is the second largest wall in the world after great wall of China.

It consist of the main Fort and few Jain mandir spread across. Its a must to carry umbrella and adequate drinking water. Apart from 3 odd shops right in front of the entry gate, there is nothing much than pigeons and visitors.

We headed back for few remaining spots to check on back at Jodhpur as all places for visits close done by 5PM. Not to miss is the Kachori on the way. One of the best chutney and kachori I have ever had.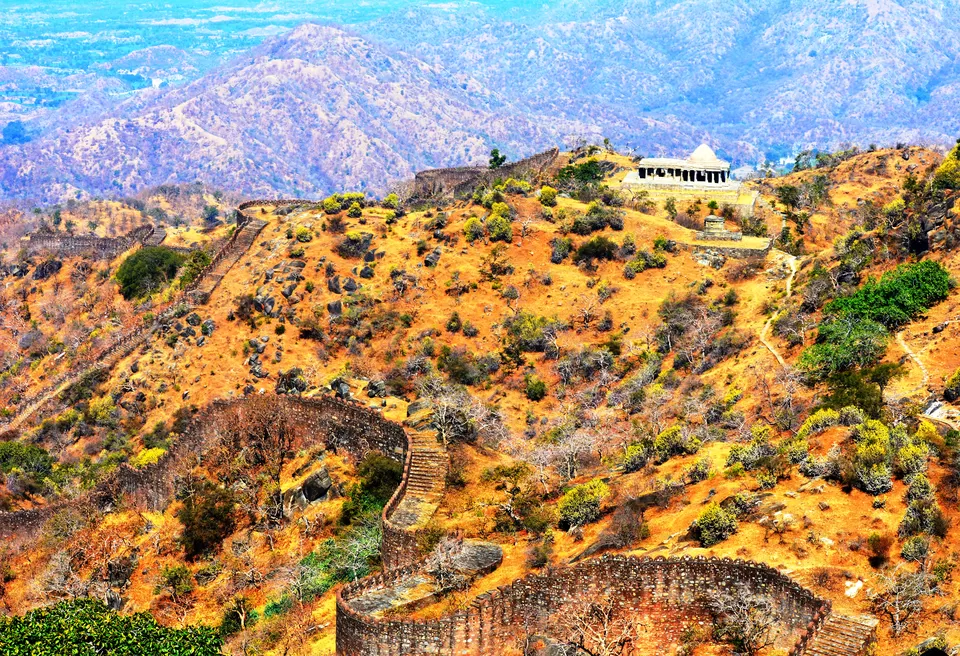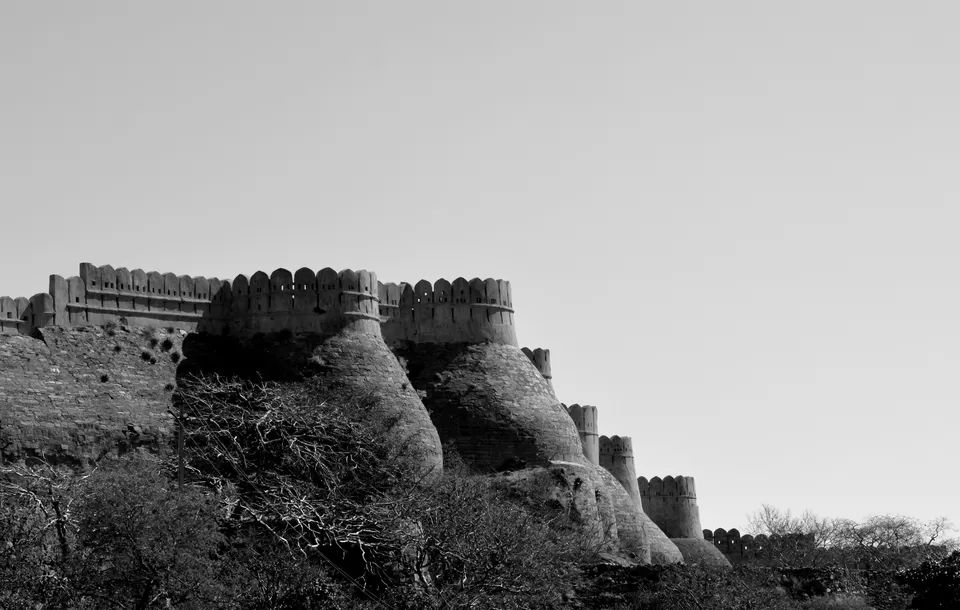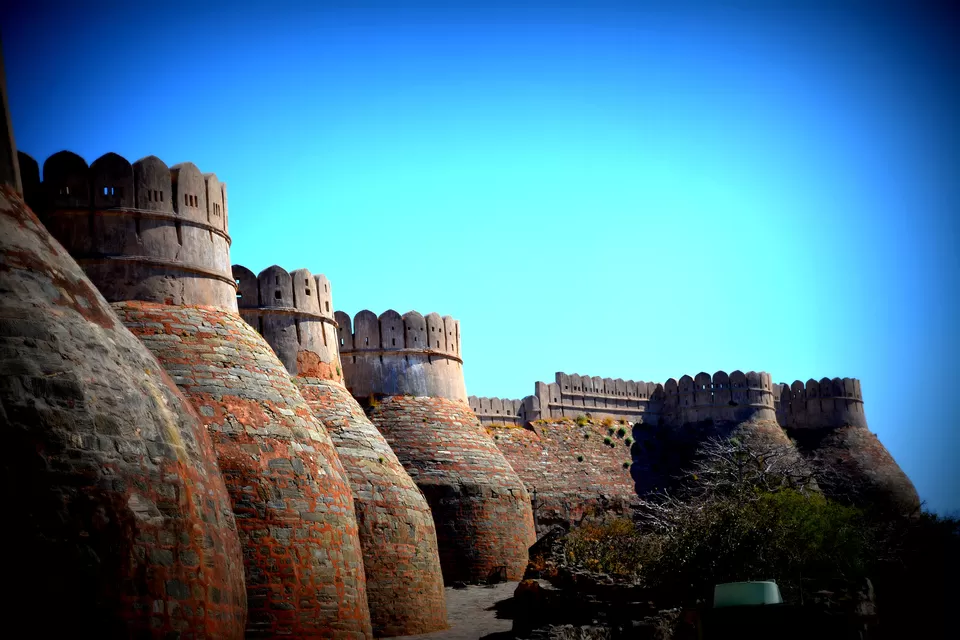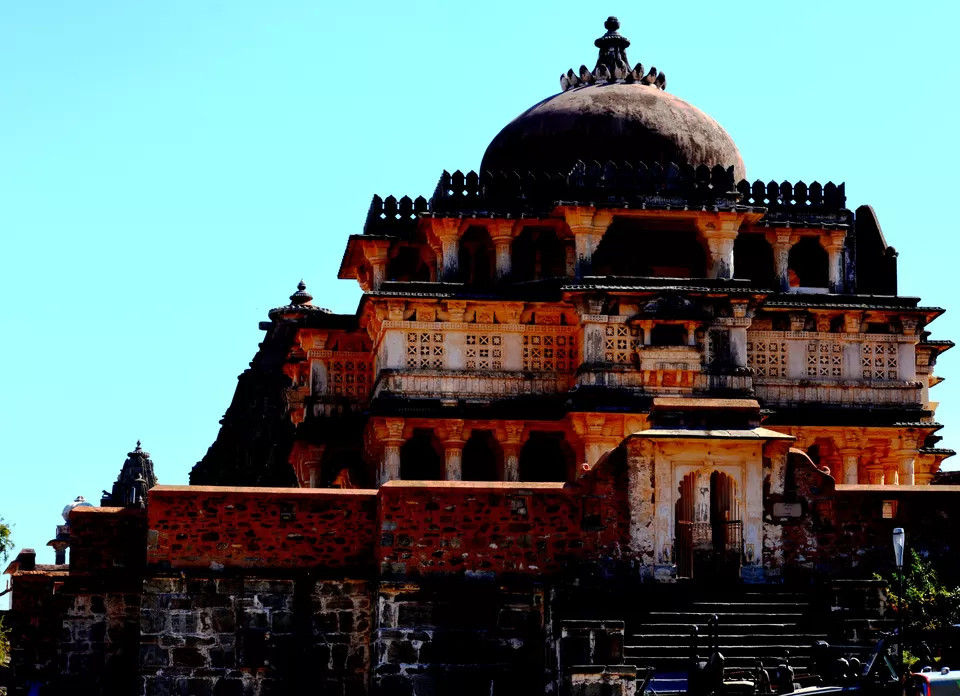 Pride of Jodhpur- Mehrangarh Fort

By the time we reached Jodhpur back it was already 5PM. Since we were leaving for Jaiselmerh the next day, we refused for not making a visit to Mehrangarh Fort.

But our cabby had already promised for that he will help us see Mehrangarh at any cost. We were stopped by security personnel at the entry as closing time was over and people who are still inside awaited to move out. But very few people know that Mehrangarh Fort have a Durga Temple which is still available for visit as the evening arti was performed around 5:30. With the assurance of not clicking photographs (photography is a time taking skillset we got the permission to enter.

It is perhaps the Best In Condition than any other forts in India. It is still owned by the Royal Family of Jodhpur and not by Govt. Of India. That's the reason why Christopher Nolan chose the same for Dark Night shoot. Very well maintenance of all antique pieces plus the perquisite view of the BLUE CITY. Even the sun set view is too good.

After good 40 odd minutes, we left for our Kothi for fresh-up.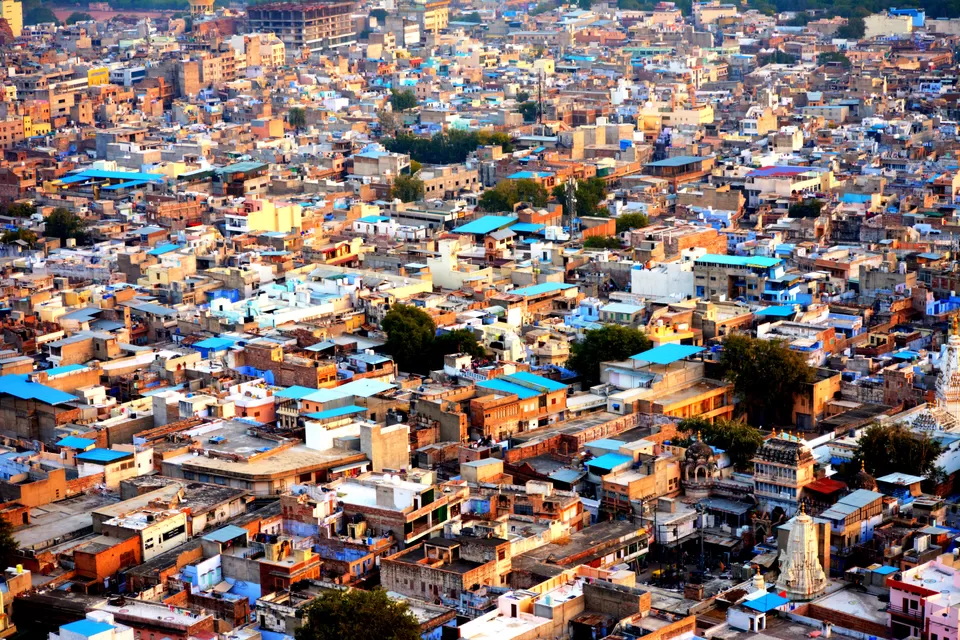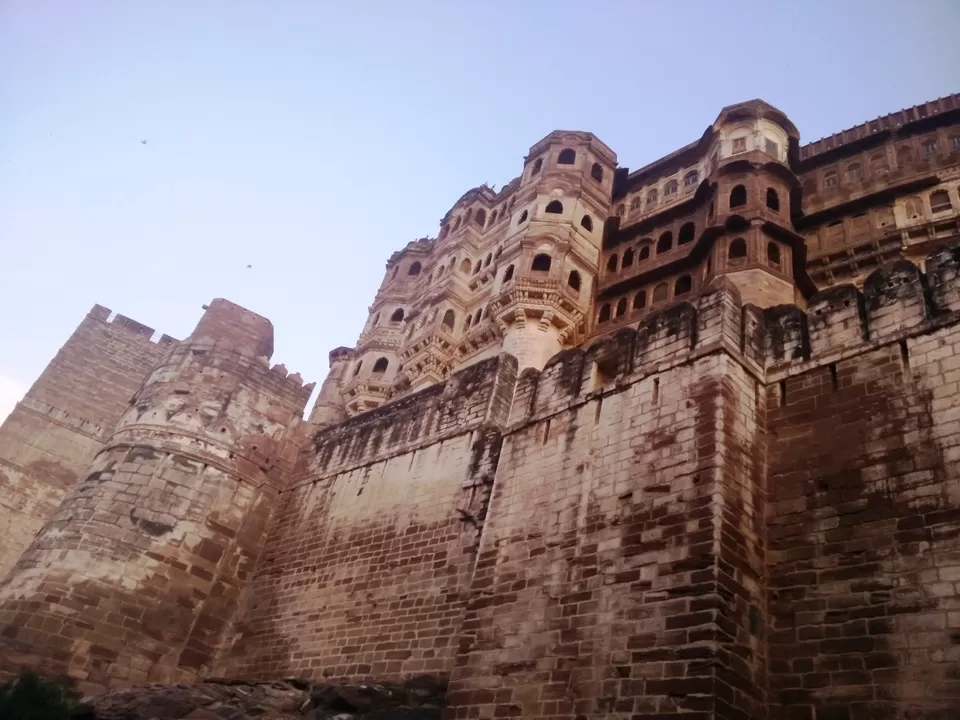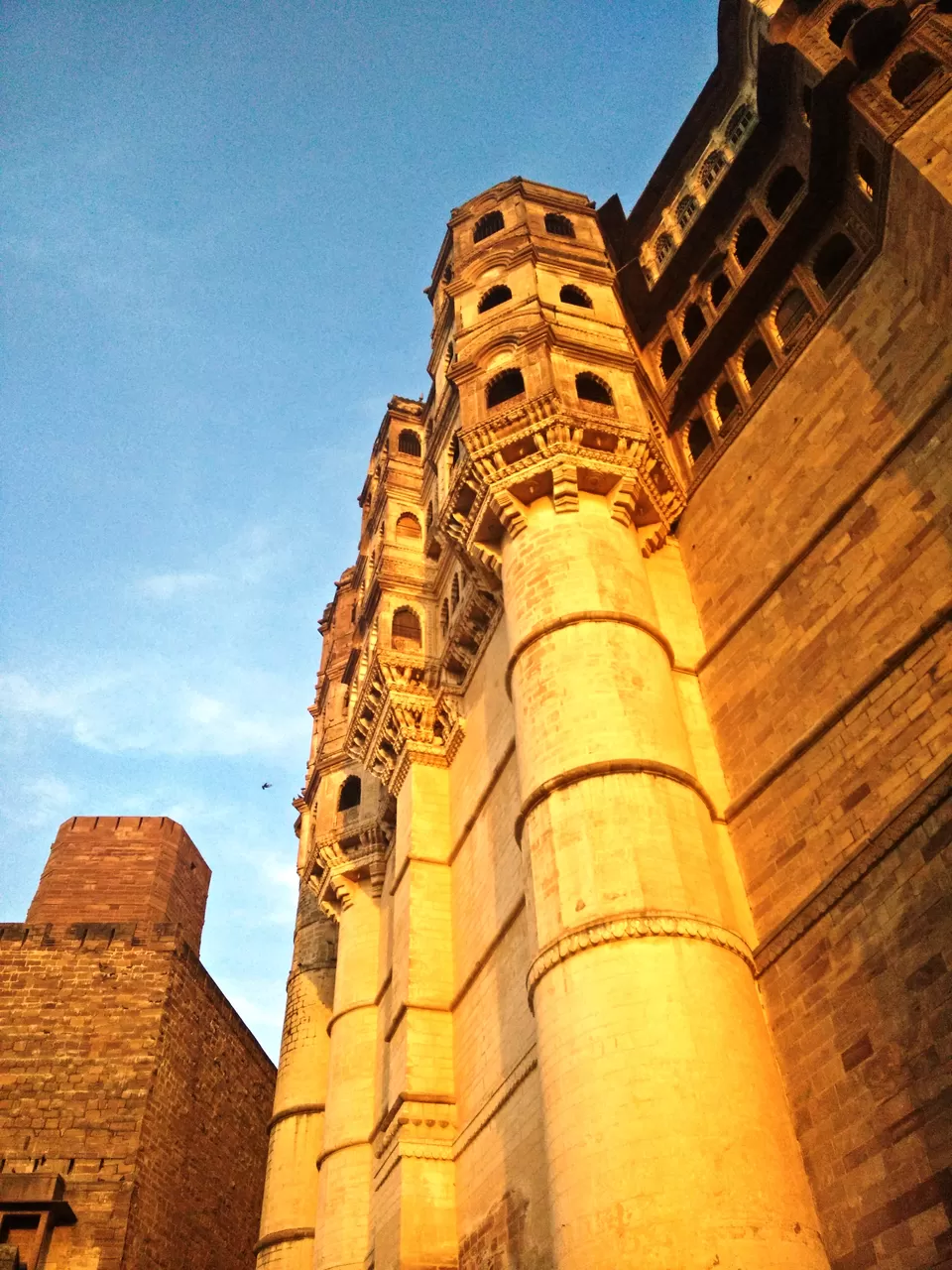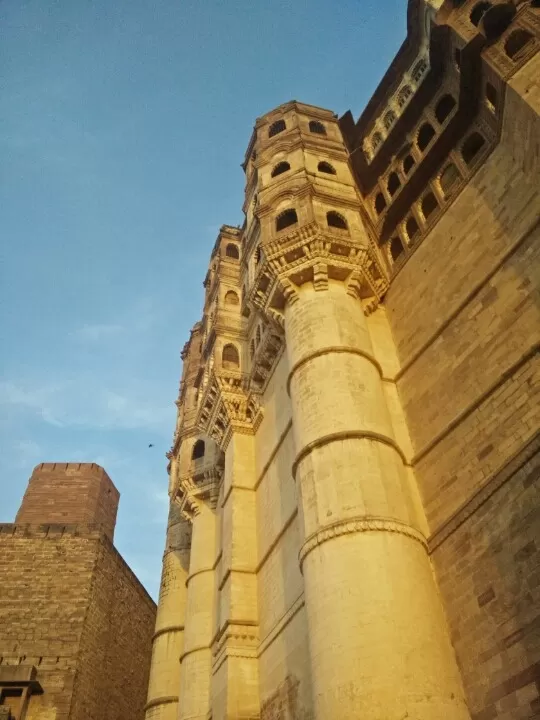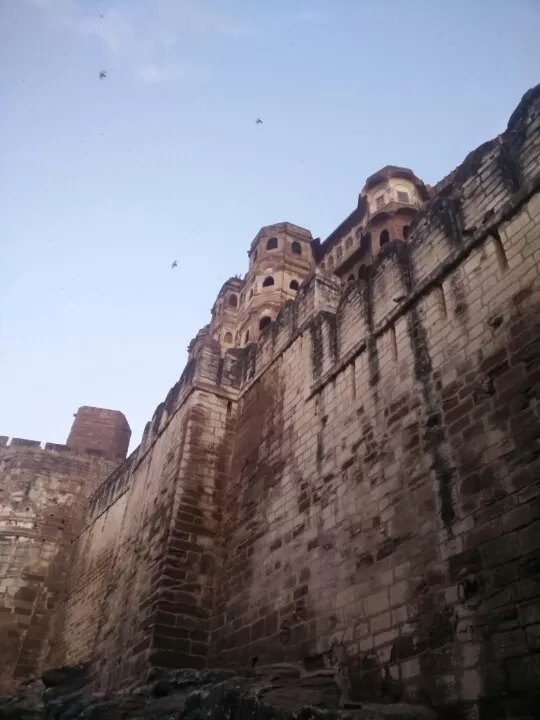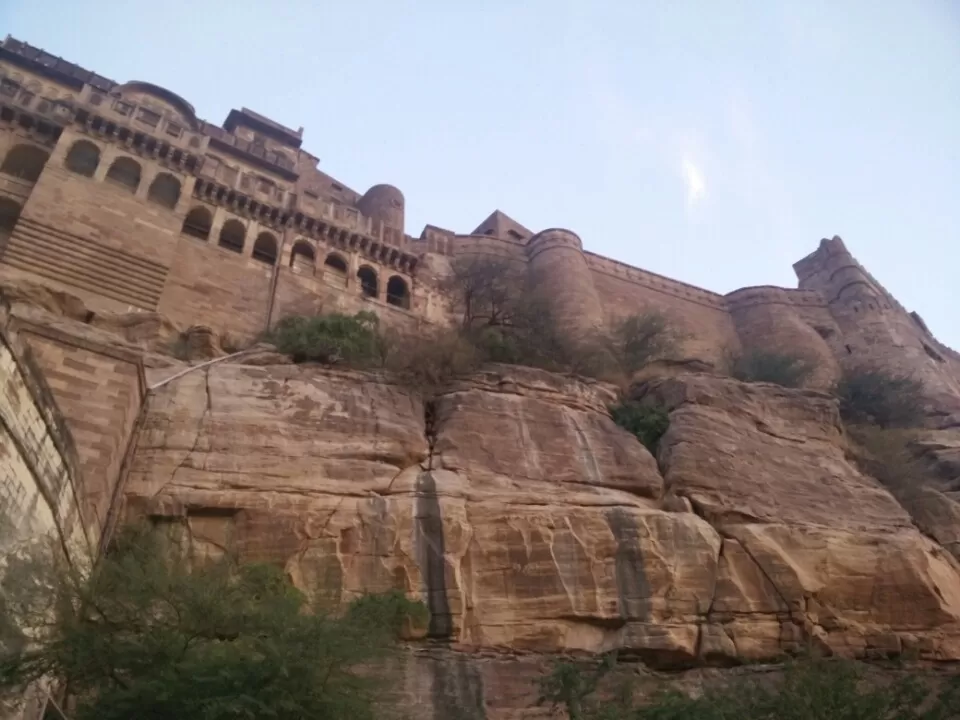 Can't ask for more. The essence of Royalty
Dude, I belong to a middle class Bong family and for me Hanuwant Palace is like Paradise. I cannot forget that Brisk, Candle Night punched with Sufiana and mouthwatering dinner ever in my life. What a view, what a place, God to be true. I have already made my table booking so things were all in place. My wife felt like princess and we enjoyed every moment of the night. On one side, we can see the Mehrangarh Fort and on to the other Umaid Palace glittering like gold in the dark night. Two live musician who where playing sufi music. I requested for a classic bollywood punch with music from "Roja" dedicating it to my beloved wife.

We had Virjin Mojito to start with followed by paneer tikki. As for dinner, we had very famous Waqri Parathas and Laal Maas. This is the best place to have laal maas in Jodhpur, a must try. We ended our royal dinner with Shahi Tukra & Ghevar with Raabri. As its said in bengali, "Our royalty comes with the food first, rest all follows".

We ended our day with lot of memories to cherish in the years to come by. The next day we were heading for Jaiselmerh.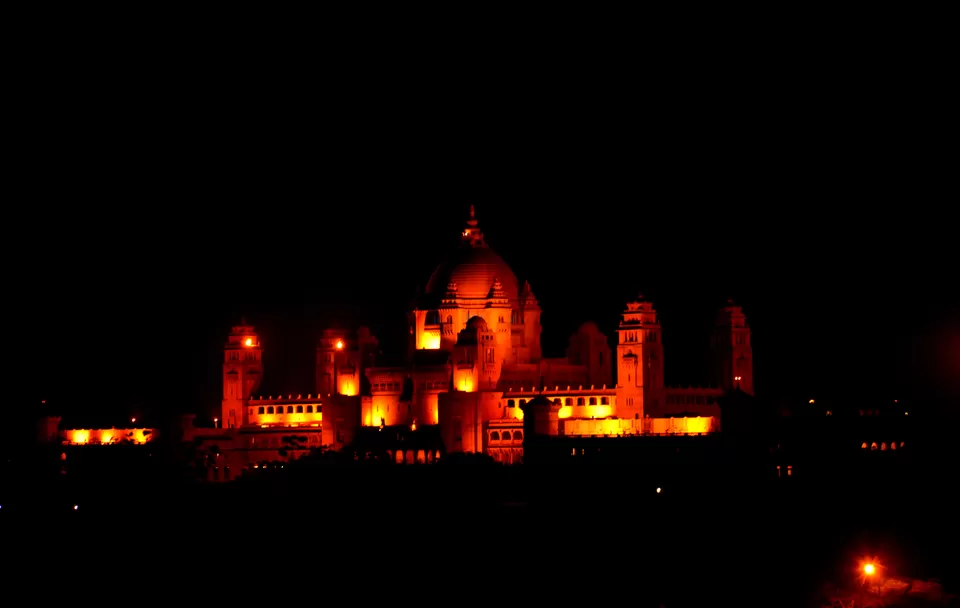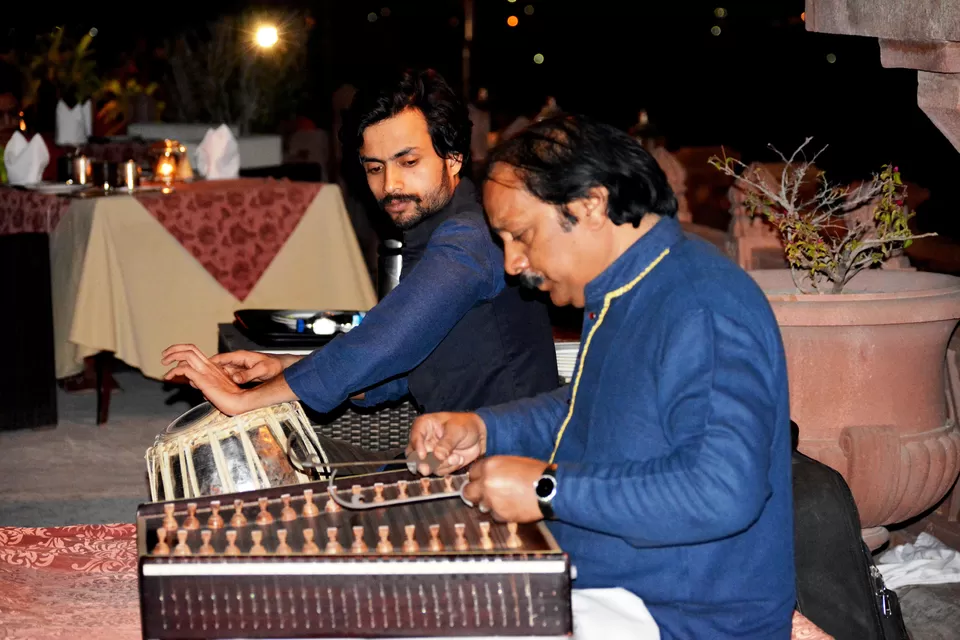 We traveled from Jodhpur to Jaiselmerh via Delhi-Jaiselmerh Exp. We reached Jaiselmerh around 12 PM where we have planned to head towards Sam Sand-Dunes. Our cabbie Jamserh suggested that we should visit Gadisar Lake and Patwao ki Haveli on our way.
A place heavenly for Photographers

Gadisar Lake is a place very close to the railway station. Nice lake with sandstone architecture and many street hawkers selling colouful rajasthani art-piece.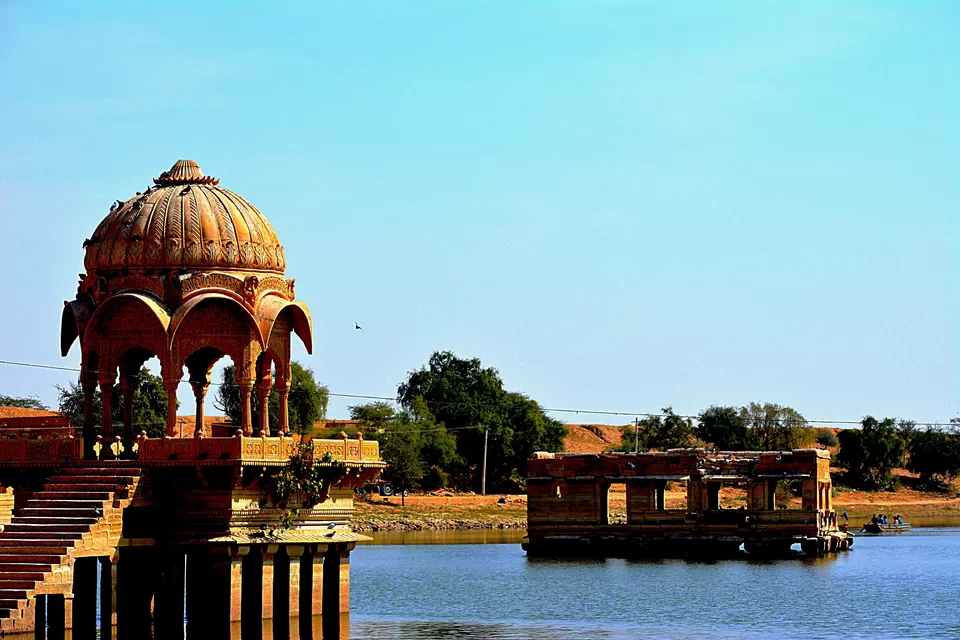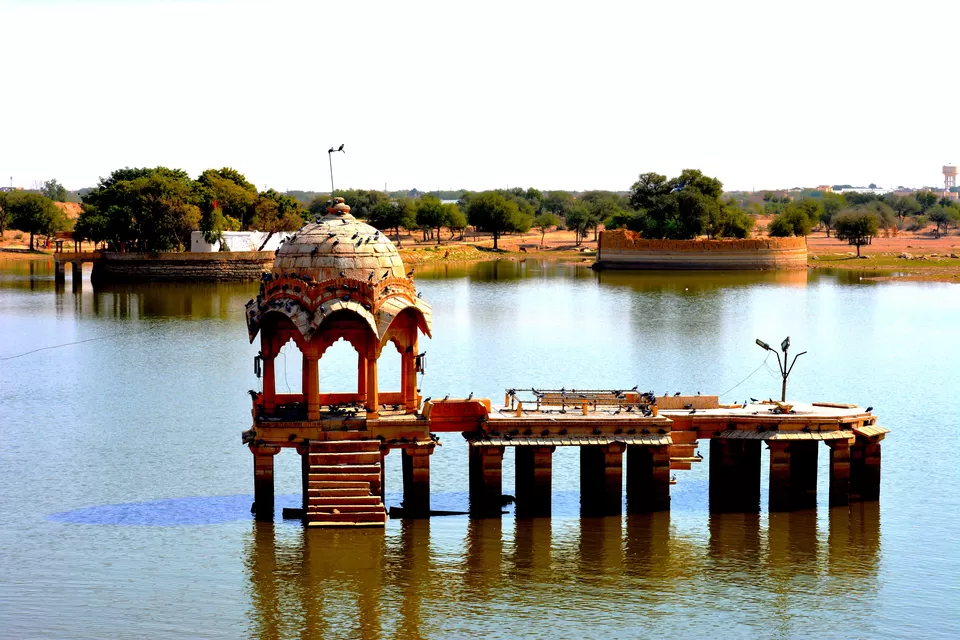 Another masterpiece is Patwao Ki Haweli. There are all total 5 hawelis, one of which is managed by Govt. Patwas were business men of 18th century who rose to great height. All the 5 haweli's were built for 5 sons of Patwao. Later misery hit them and they flew from the given place for better opportunity outside.

We preferred visiting the Govt. undertaking haveli it as we were looking for less crowd. The security personnel guided us through the whole haveli and all its key highlights. The view from the haweli of the Jaiselmerh fort is tranquilizing.

After some 40 odd minutes, we headed for Sam Dunes. Sam Dunes is some 50 KM from Jaiselmerh City. Once you pass by the city, comes the real Thar Desert. Big wind mills, red hot, mirage all across and tents far away.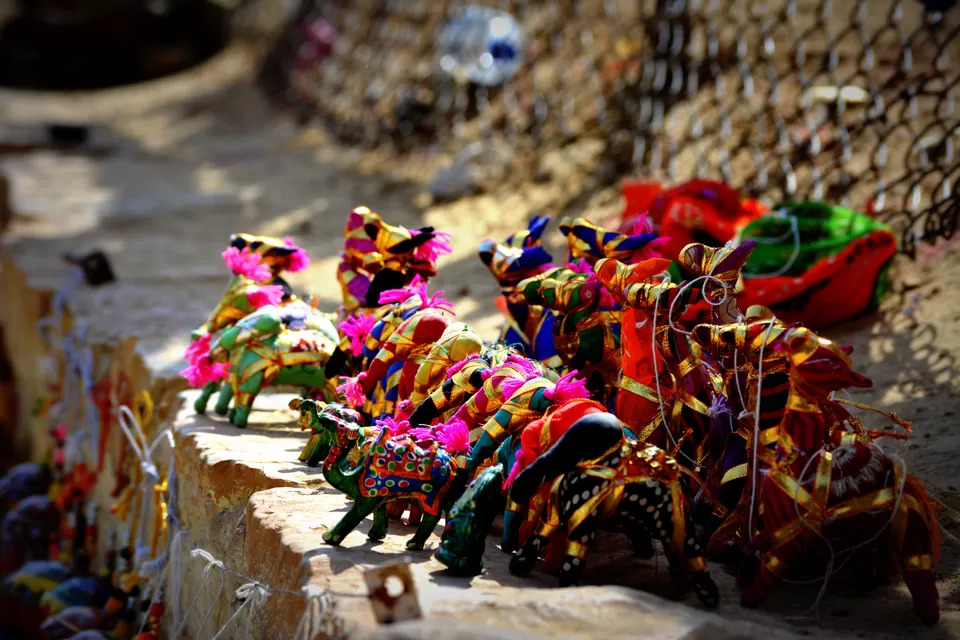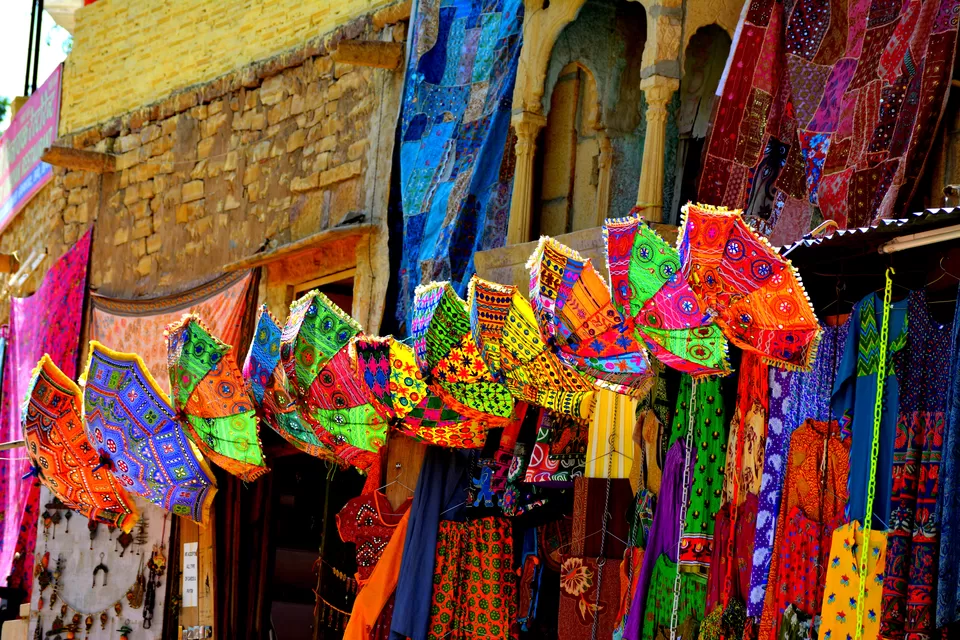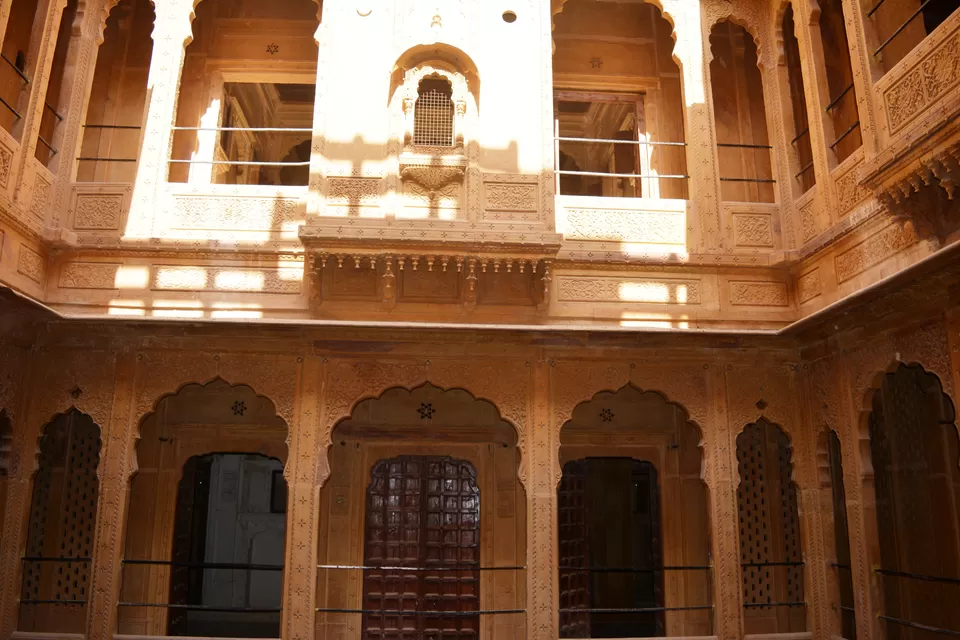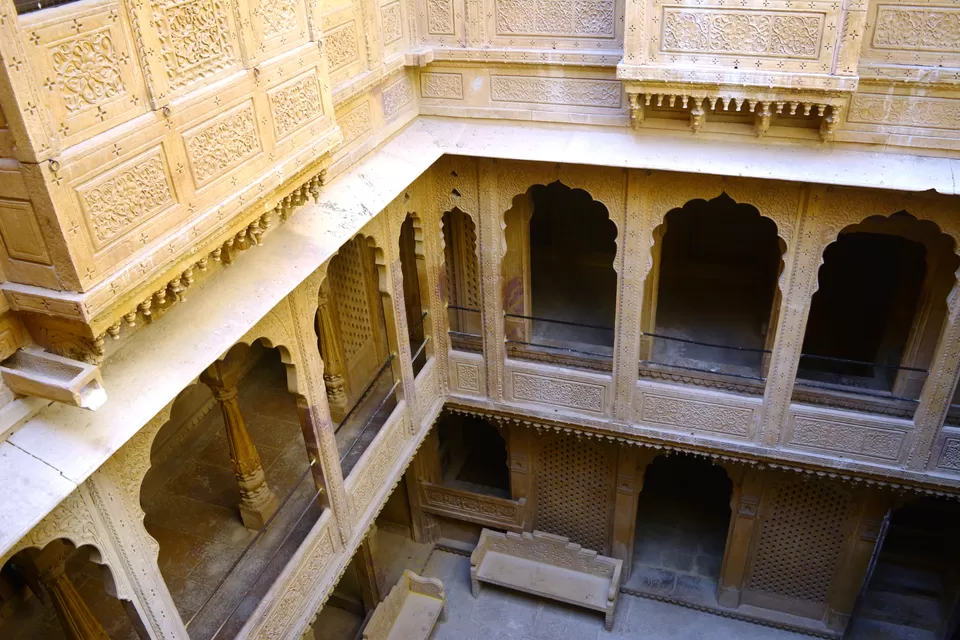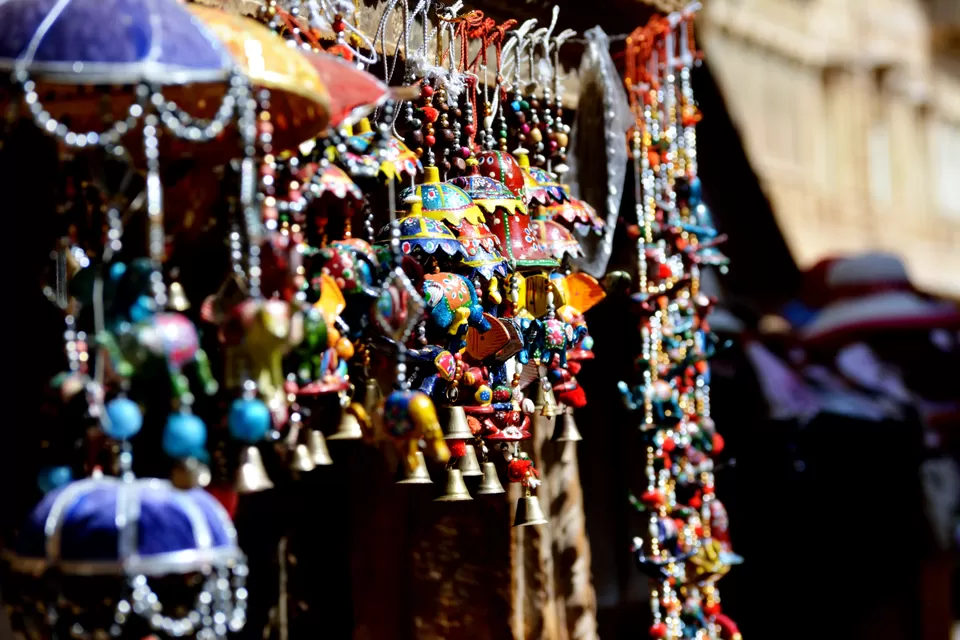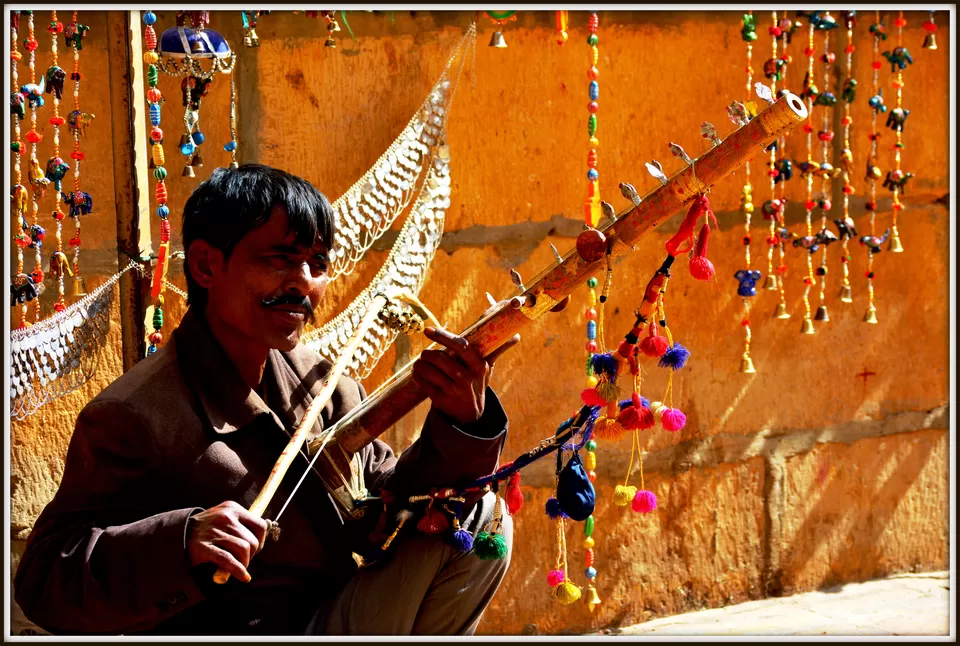 Exotica in the middle of the Desert

We reached around 2 PM to the place. It was hot. However the people at Marla Heritage were very nice. They have 3 types of rooms, Swiss Tent, Semi Swiss and Cottage. All the three variety are evenly placed. We preferred Semi Swiss as we felt that nights in the middle of the desert will be uncomfortably numb. All the rooms are quite spacious and has bathroom attached. We took shower and headed for our Jeep Safari.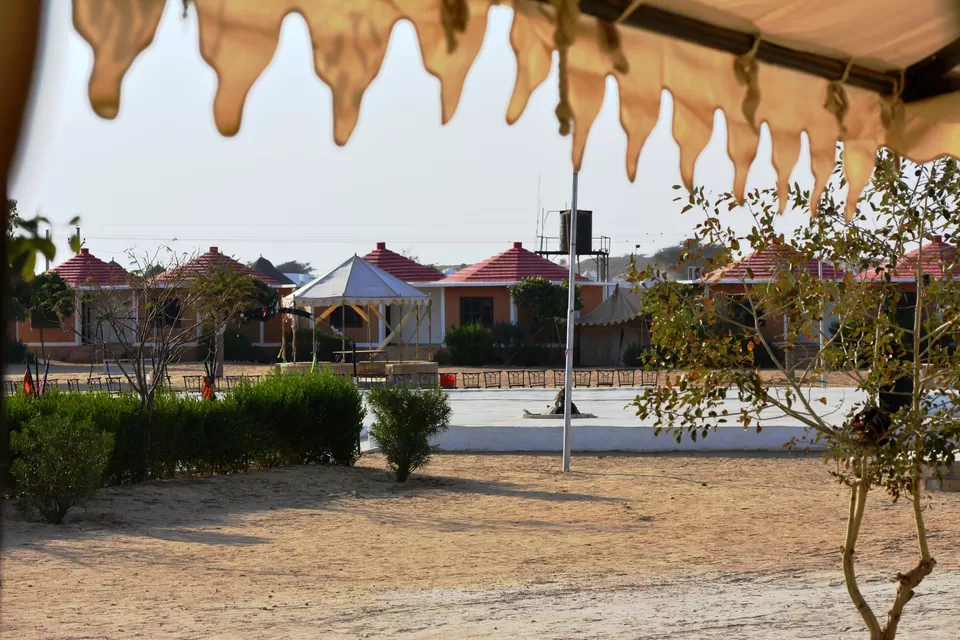 Action Packed & Amazing Desert Safari

I hardly believed that Mahindra Thar is a full time SUV. Plus I never expected how enthralling desert safari can actually be. The camp makes arrangements for Safari rides (INR 1200 for 1 Safari).

They took us deep into the desert where we saw for the first time flying cars in the middle of the sand dunes. We almost spontaneously knew that we have made a crazy deal with this. Full throttle, the drags, flying sands, drifts & OMG. For almost 20 Min we have just saw what we have never experienced or even heard before.

We had a break for snacks at a small tea stall. We had maggie and tea made from camel milk. We also had a chance to see an act from a street player who had a very unique and old music instrument. There were even folk dancers on the other stall showing their skills. After some 15 min, we again boarded back and the crazy show resumed after. Later we came back to the camp after some 40 min.

Post that we went for camel safari (complimentary with camp booking) for the sunset view. With the slow moves, we reached to a point where the sun sank down in the golden thar desert. It was lighter dark and we headed back to our camp for the remaining activities there.

Once we reached our camp, the camp representative asked us to join the evening folk dance show and music night. We freshen up and headed towards the center of the camp where proper sitting arrangements were already placed. There were many visitors who came just to see the event. The bonfire was lit and came the dancers and acrobats on the backdrop of the folk music, Amazing and Mesmerizing. Hot tea and snacks were served in between to refuel up.

With the night gazing high, we had an awesome veg Rajasthani dinner and called it a day.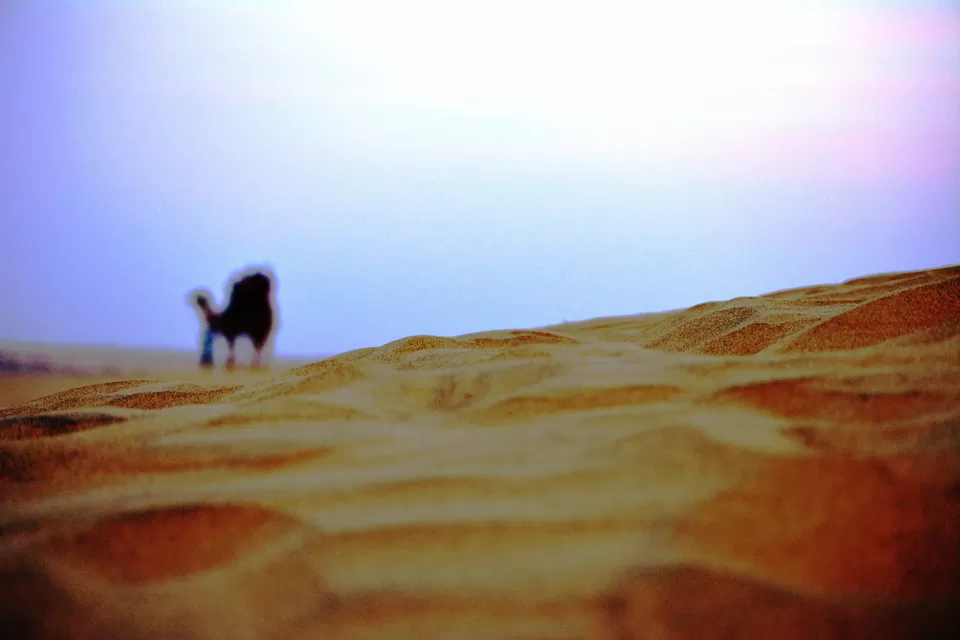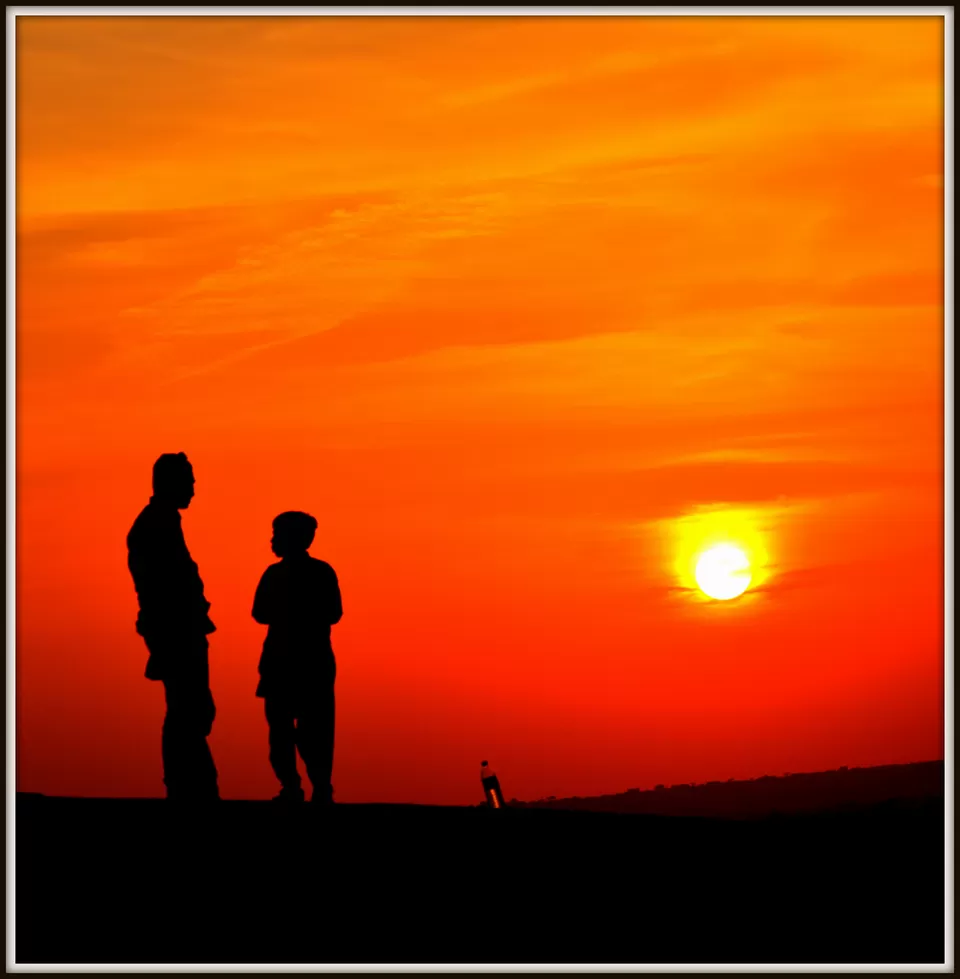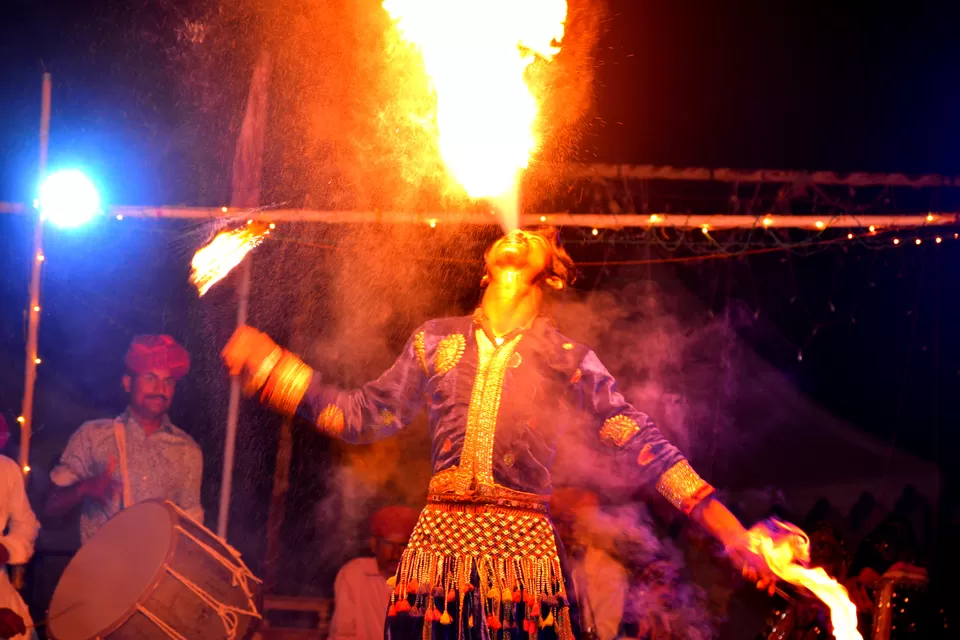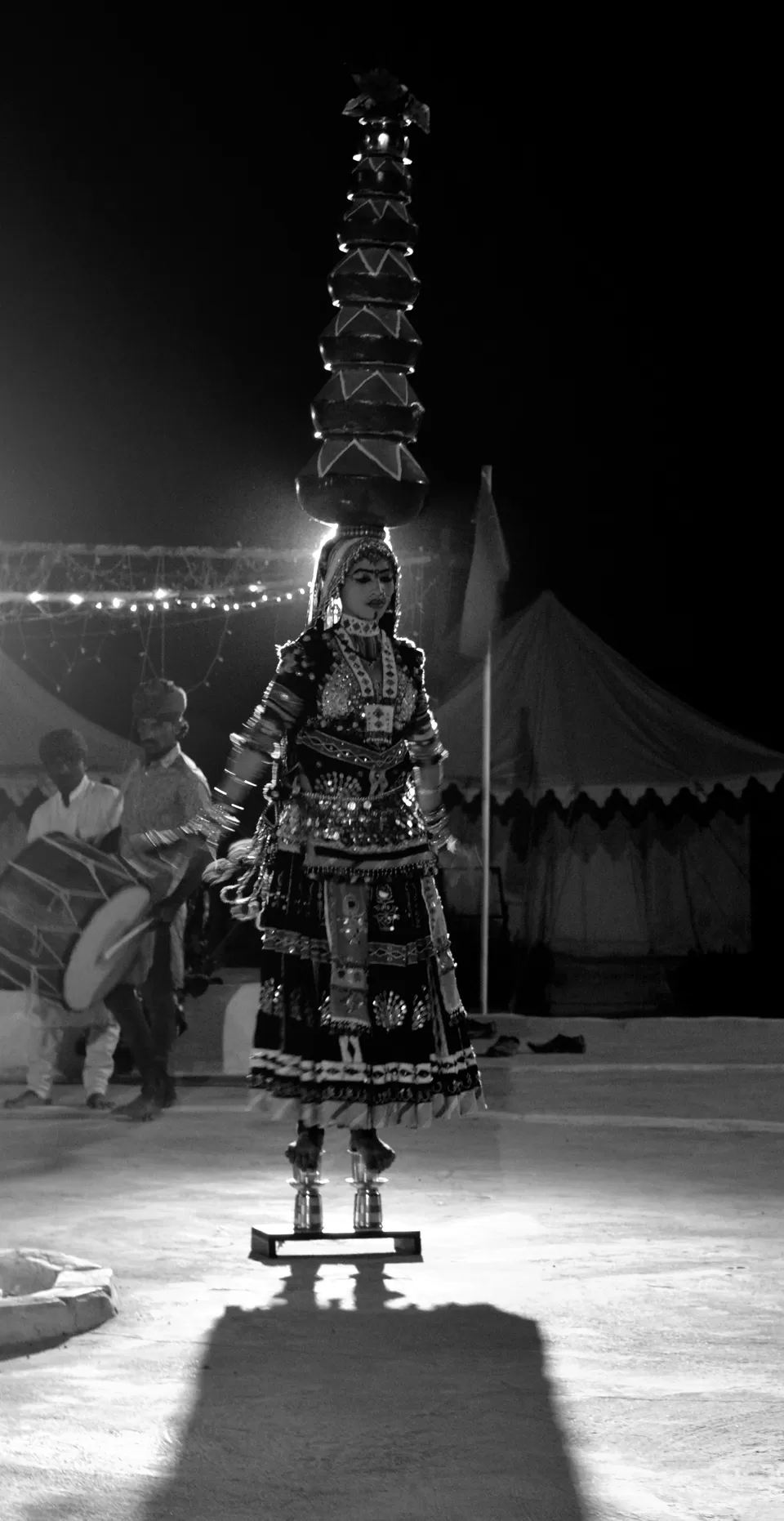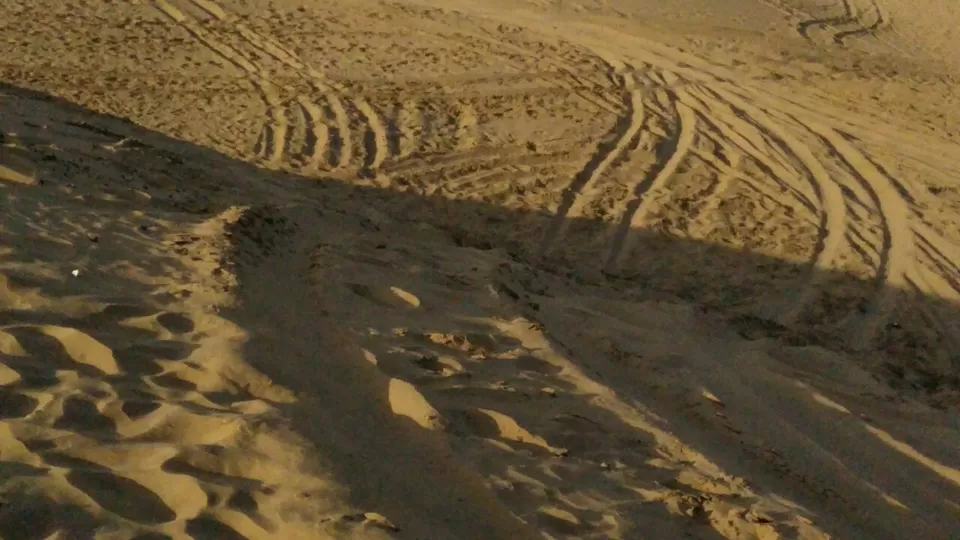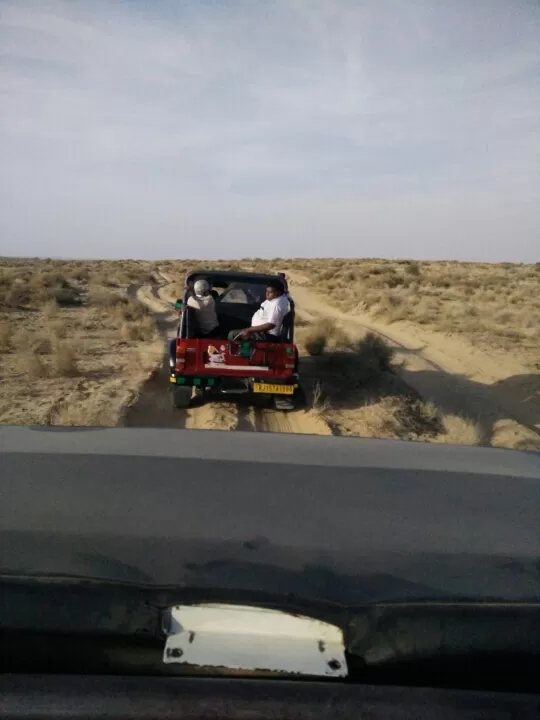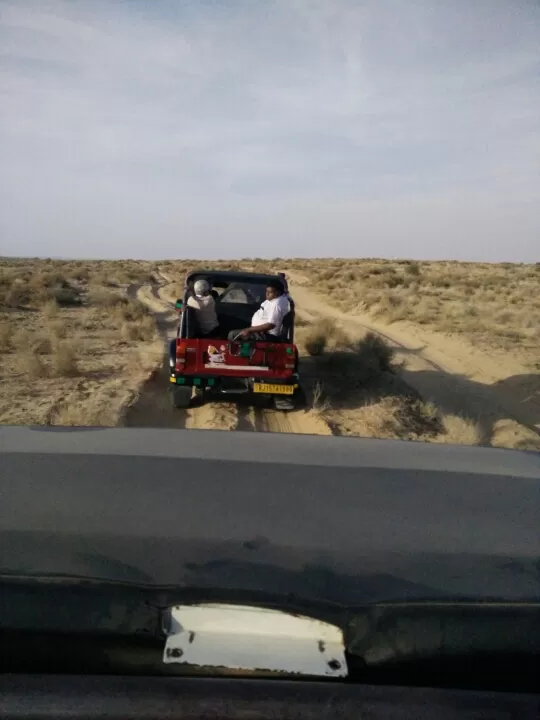 The Abandoned Haunted Village

Next morning, we finished our breakfast, packed our bags and headed towards Bada Bagh. However in middle, we headed for Kuldhara Village (abandon ghost village) which is some 35KM from Sam. The setup is more of an ancient village with great maintenance depicting the time frame of its establishment, but nothing much to explore.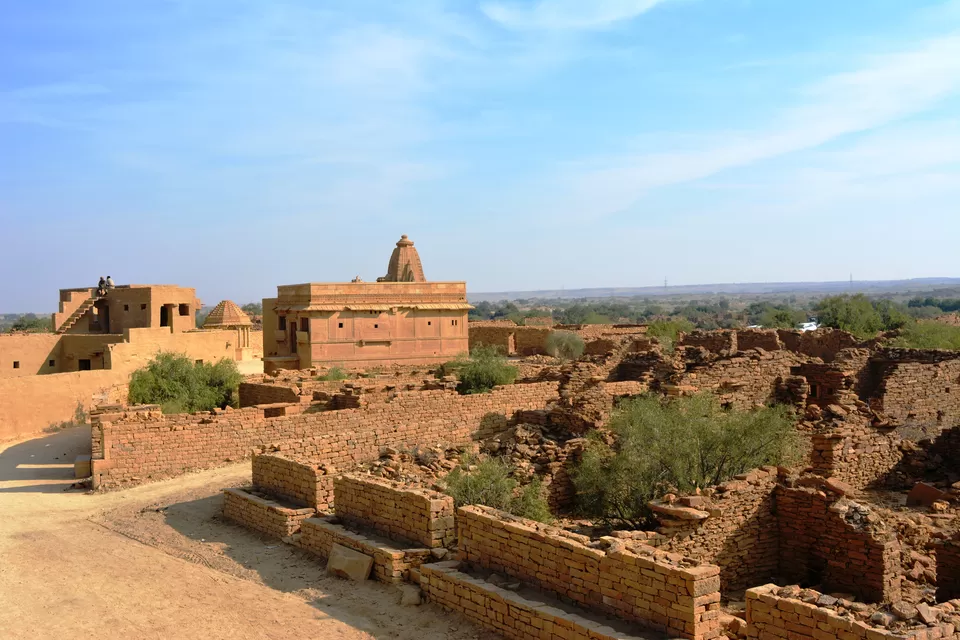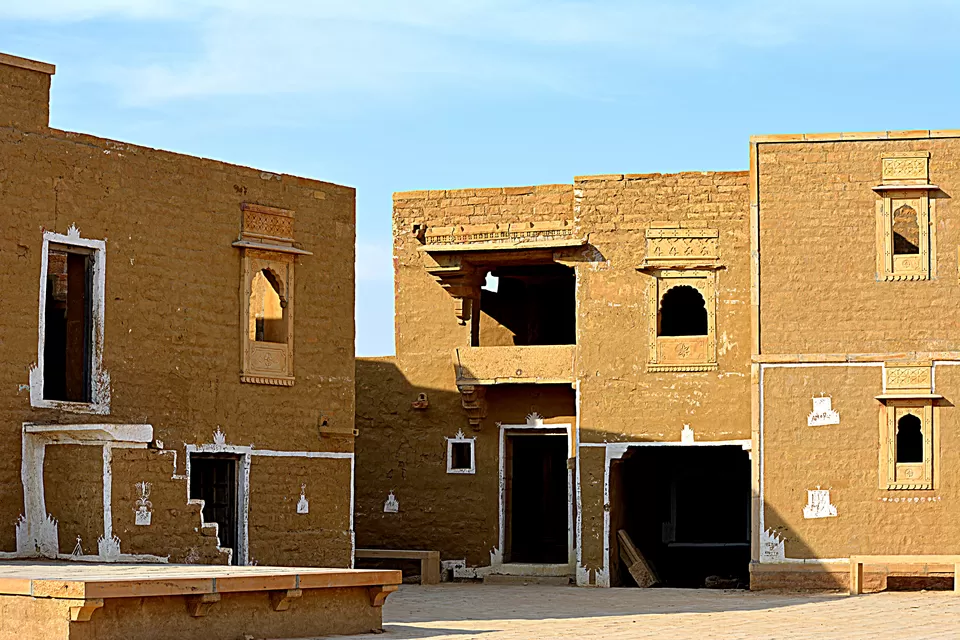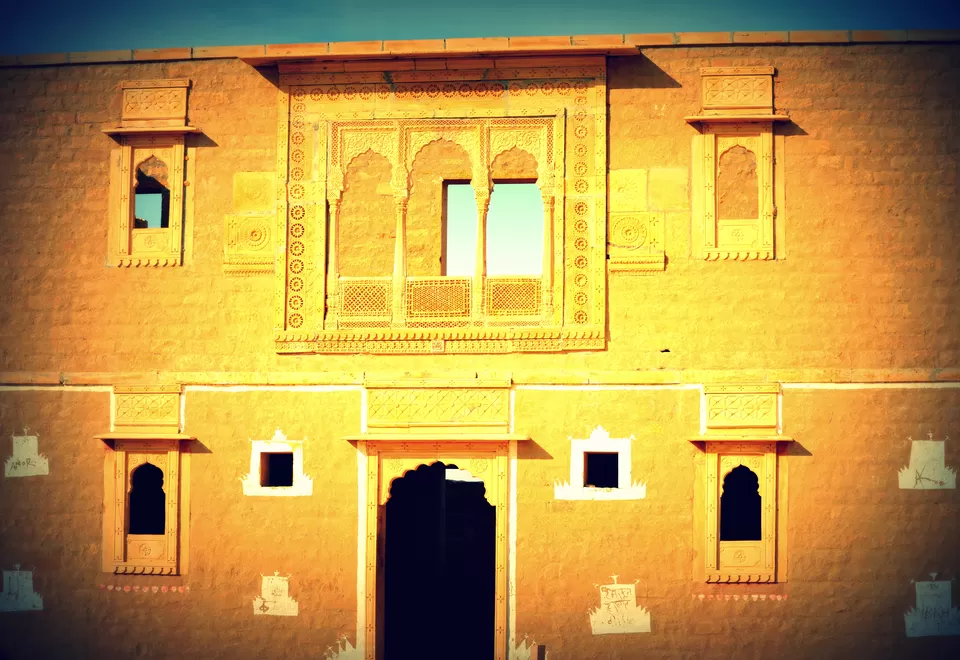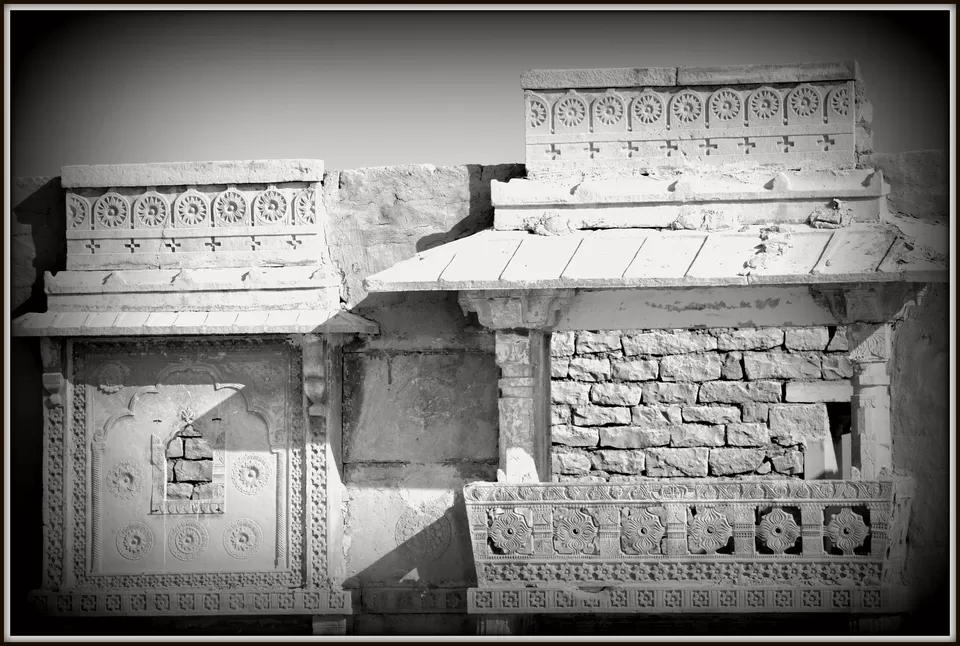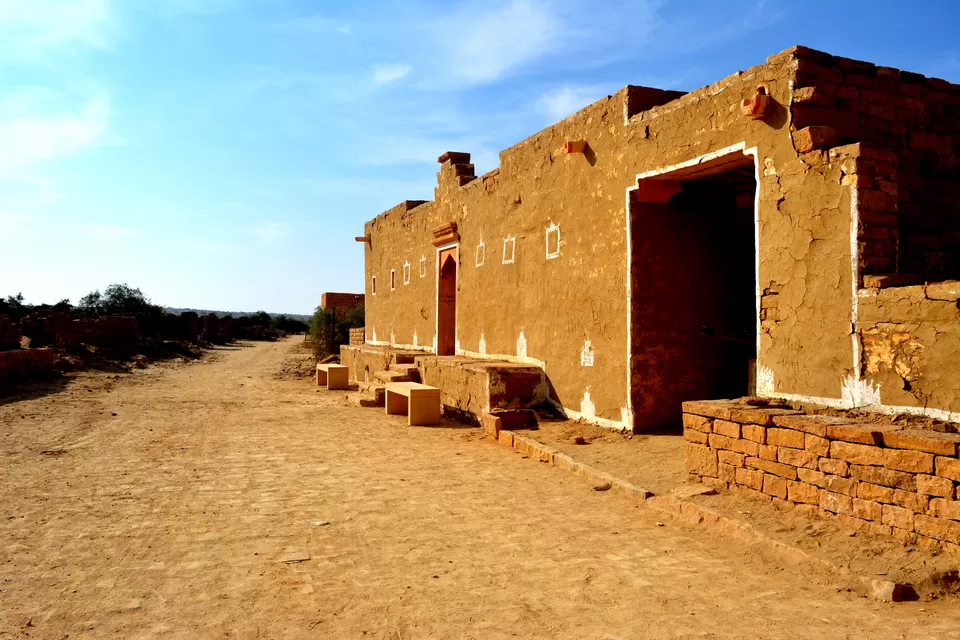 Some More Chhatris
We reached Bada Bagh and it was pretty easy to recognizable from many movie scenes. Amazing art work and a blessing to photography. We were mostly busy clicking pictures of the place all the time. Not much can be written about except but pictures.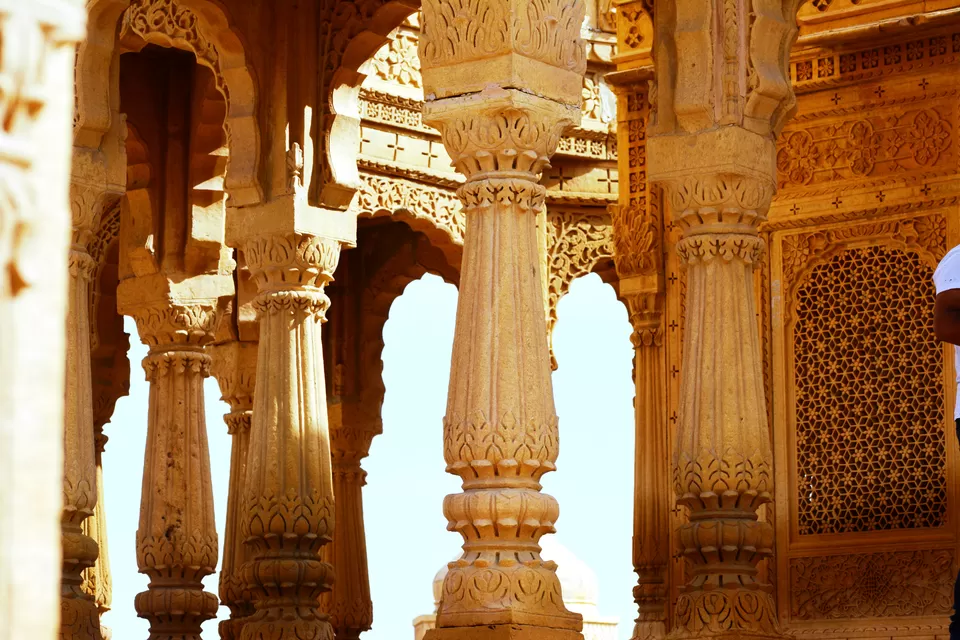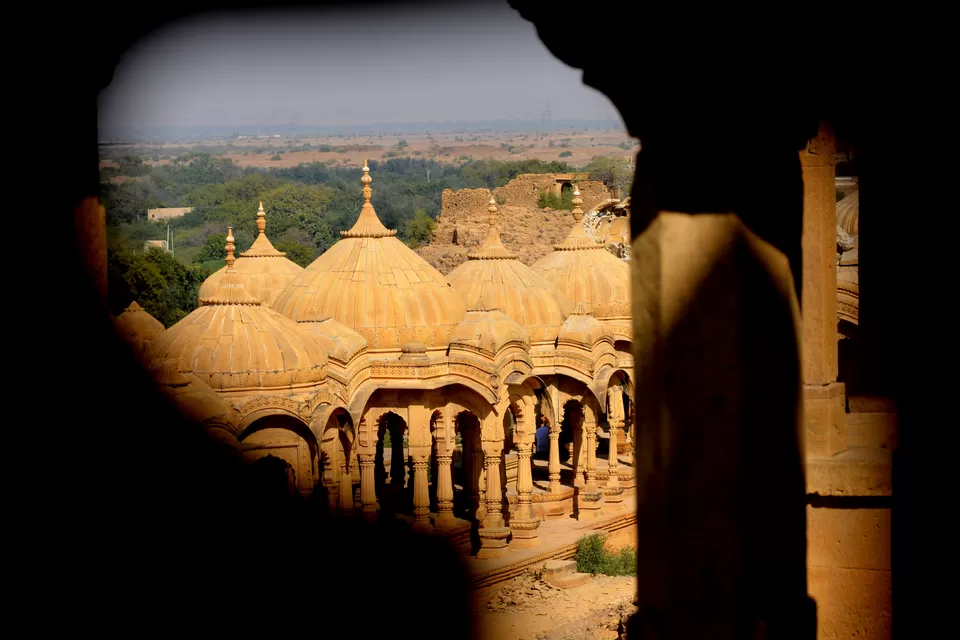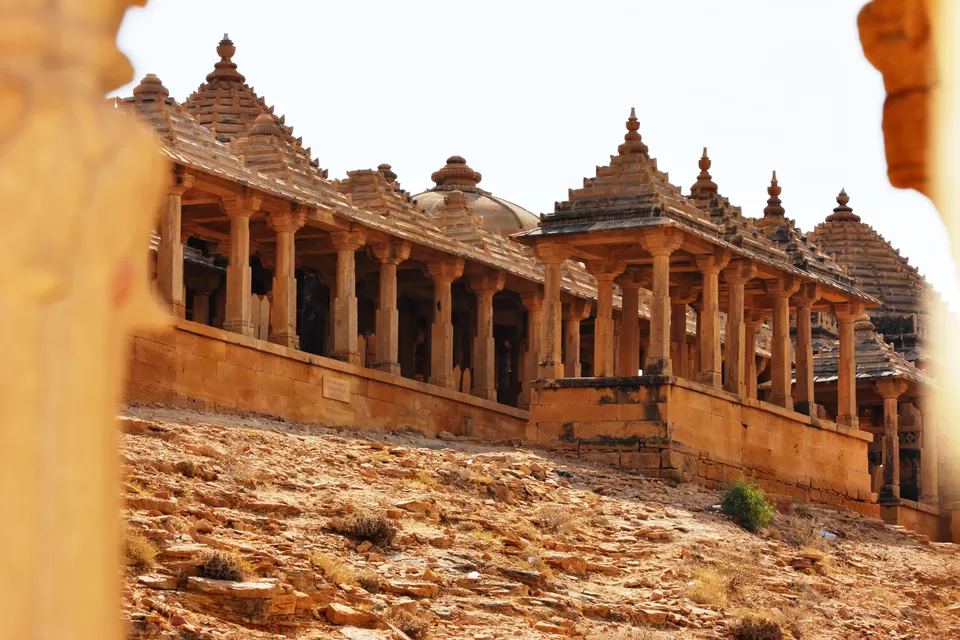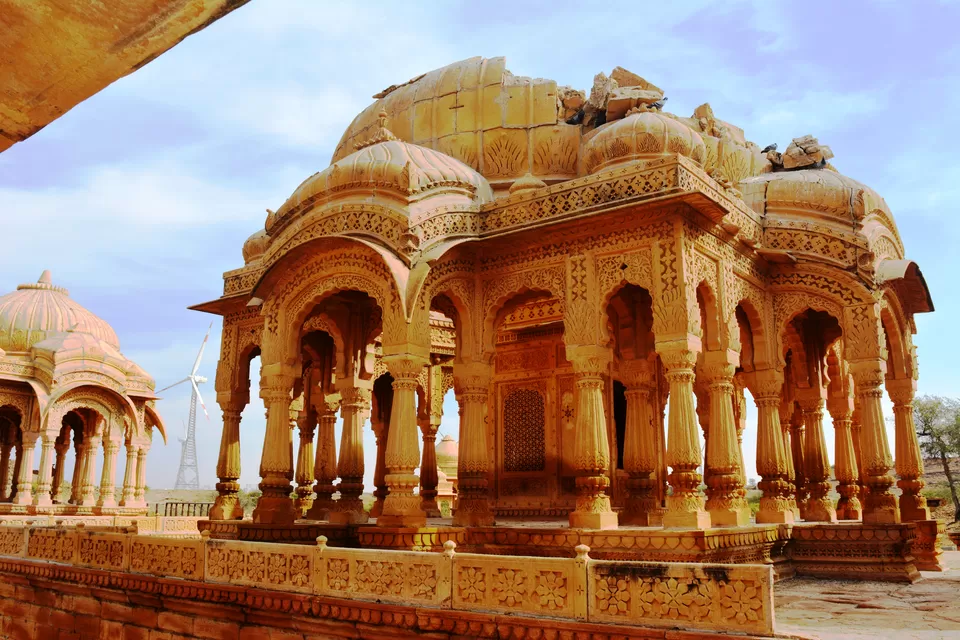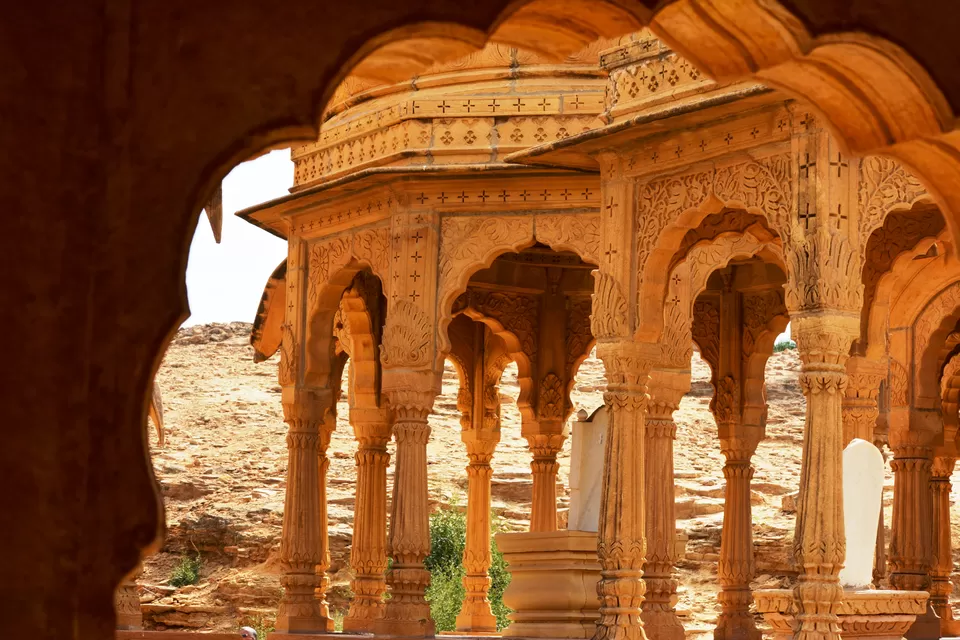 Nostaljia at Sonar Kella (Jaiselmerh Fort)
For any bong movie freak, Satyajit Ray is god and Jaiselmerh Fort has a special place due to the same. So we were super excited for the same. The fort is build up over a mountain and has the main Jaiselmerh city within. Everything outside the fort wall is the result of modern development.
Will not share much about the structure or architecture of the fort as it is quite similar to others, but it consist of very well guided and tagging of each place to look-around which make very easy to maneuver. The view from the roof is outstanding. One can see the hole city from it.
Later after completion, we moved to a Govt. store for some shopping. One can get to buy the yellow stone materials such as glass to drink water, curd making plates, etc. It is the similar stone which is used in the Golden Fort.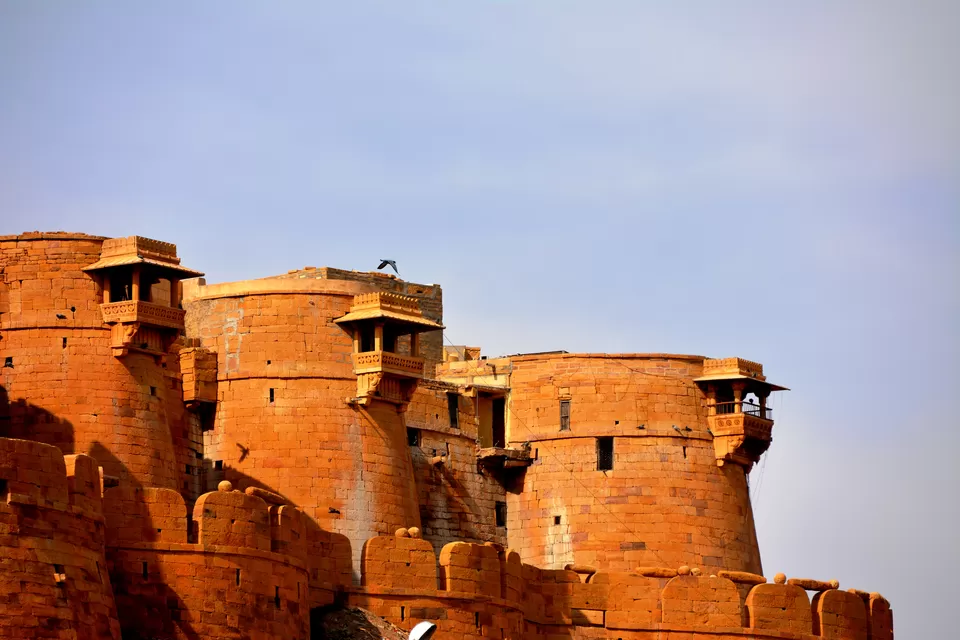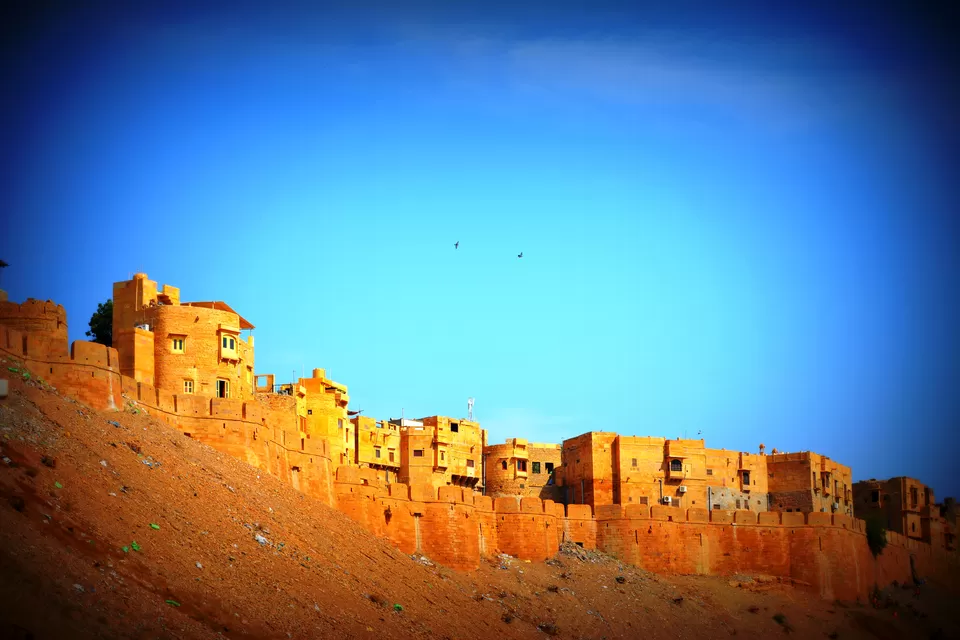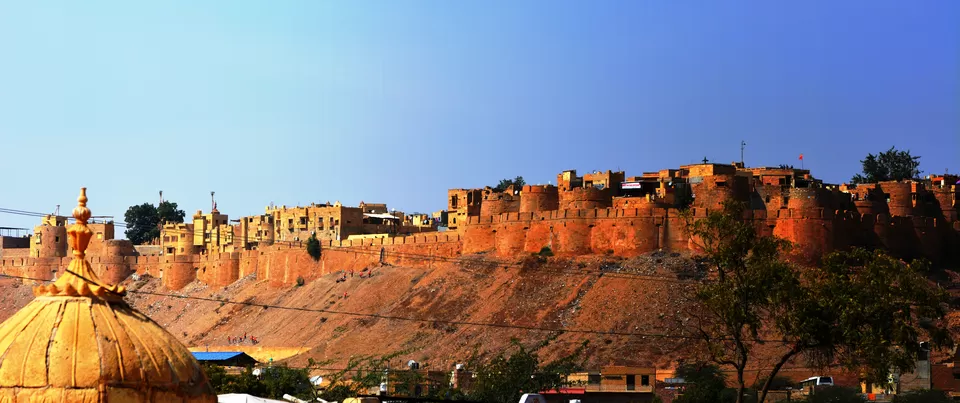 More Food More Memories
One last stop before we head back to our normal life was The TRIO restaurant. Its the best that you can have in Jaiselmerh and our ultimate destination had to be the best one. Very close to the fort and serves exquisite food. The setup is also very well maintained which is why foreign travelers prefer this place. We for the one last time had Laal Maas along with Naan and Bud. We even packed our dinner so that we do not miss Rajasthan on our way back to home.
Post our lunch, we headed for railway station and finally bid adieu to beautiful Rajasthan for such colourful memories to cherish for our remaining life.
Few things to make a note, both Jodhpur and Jaiselmerh are not that commercial as compared to Jaipur and others. So you find less fake peoples. Plus people have value for their words. So always make clear communication of your requirement and you will find a bliss while you travel.
Plus personal experience suggest, Jodhpur is a bare minimum 3 day stay. We missed Umaid Bhawan Palace which we have planned for next year.
Jaiselmerh is a 2 Night 3 days trip. We did not planned for Tanot Mata Temple so we got it all covered under 1 Night stay.
Lastly if you like to use my contacts, here are the details below. To be honest, both my CAB's were too good to be true.
For Jodhpur- Mr. Puran Singh Gehlot: 7665308172 & 9799858614. Cost: 4300+ (Toll & Parking) for All places. Car: Honda City.
For Jaiselmerh- Mr Jamsher: 9660234286.
Mr Ali (Owner- Malra Heritage Camp): 9928254863.
Not to forget my best buddy @suvojitroy who did all the hardwork for finding the best available places and the itenary. As said, he painted we relived.. ;)