Bharatpur is a very small town in Rajasthan & close proximity to Delhi (227 kms). Most famous for the Keoledeo Bird Sanctuary which is home to a large number of bird species & all migratory birds that come here to breed & nest.
Since, the place is quite small with not much to do apart from visit the Bird Sanctuary, we opted to stay at Laxmi Vilas Palace. Traveling with a toddler, hygiene and availability of good service for all baby related needs has become a top priority while scouting for hotels to stay at. So we chanced upon this Heritage hotel which is a 120 year old palace converted into a hotel.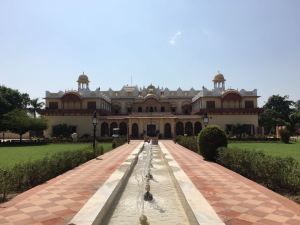 Situated on a land as vast as 40 acres, it has a very old world charm to it with all the intricate hand painted designs on the walls and artistic chandeliers & decor. The hotel also has a new section being built which is surprisingly called Laxmi Nivas Palace. (Didn't find much sense in naming the new section any different as the entrance is the same for both old & new property). So next time you're looking for hotels in Bharatpur don't get confused by the names, both are part of the same property. Just that the new section is a little pricier as it has all modern amenities too. So here's my take on the stay.

Good for:
It's a great place to unwind and enjoy a day doing nothing as it has an amazingly clean open air swimming pool
Sit and enjoy a great conversation in their cosy dining room style bar
Enjoy a meal in their 100 odd capacity restaurant
Wake up early in the morning to view the beautiful sunrise over the palace and some yoga on the balcony
Take an ayurvedic massage at the Spa located near the Swimming area.
Though they don't offer room service, but if you're traveling with a child like I did, they will go a little extra mile to provide milk and other requirements for a child in the room.
Very hospitable staff and a clean, hygienic hotel.
Not so good:
Since it is in very close proximity to the sanctuary & has many trees within the property too, expect a lot of small insects in the room. Best is to keep lights switched off most of the time when not required. That way you will have lesser guests (read: flies) in the room.
Food if okay, nothing to write home about. With such a big property and considered among the best, I would expect much better food quality. Please totally avoid Chinese cuisine here.
Price range: INR 7000 per night (double sharing)
This blog was originally published on 'Diaries of a Wanderlust'