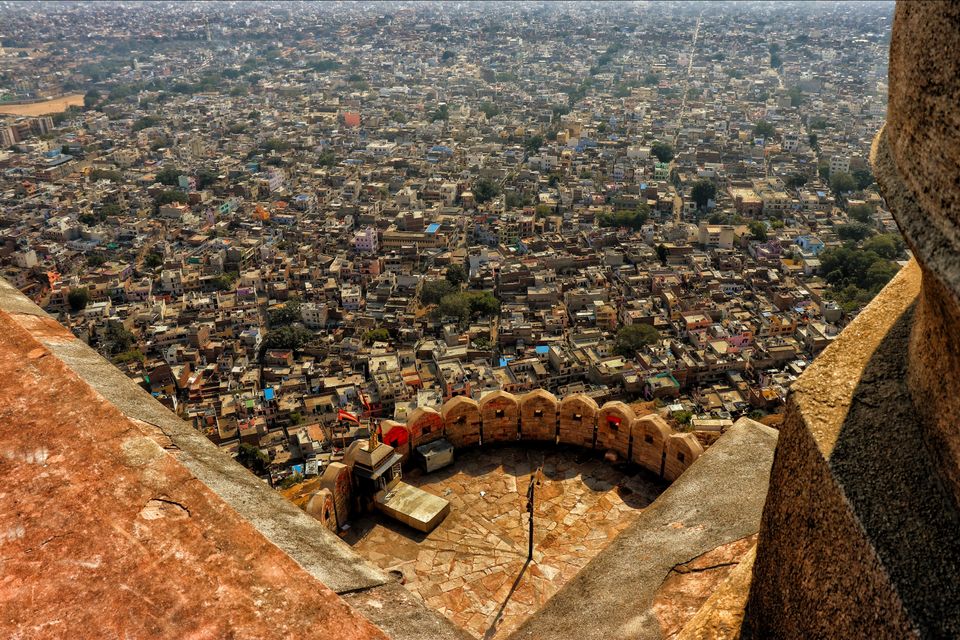 From very young age, I have always been fascinated by National Geographic documentaries on travel. I have always looked up to good looking hotels, eating at fancy restaurants. But unfortunately, I didn't get much opportunities to travel because of studies, but travelled to few general places like Shimla, New Delhi and Kasauli. I still thank my father that he took me those places and sowed the seed of travel in my body. Now I have become 21 and I'll share my experience of my trip to Jaipur.
Being an intern I wanted to spend my saving of first month and therefore planned for a 3 day tour to Jaipur. It was 26th January and I left for a Jaipur early morning at around 4:00 after facing denies of majority of friends. Therefore, the trip started as a solo trip but had some twists and turns coming ahead.
26th morning my feet landed in Jaipur and the feeling of alone in a city of another state where I don't know anyone shivered me. But then I moved ahead, checked In and had an amazing day was waiting for me. I took some rest and left for general places like the City Palace, Jantar Mantar. The places amazed me with their richness in history. After I visited The Jal Mahal and took some great nights shots and ended my first day.
The 2nd day I was joined by Gurkirat (office-mate) and his 2 friends. We went to see to visit Nahargarh Fort and Amer Fort. Naharagrh gave the best aerial views of the Pink City. It was then I realized I can't even explore 1% of the whole city in 3 days. Such a big city it is. We then headed to the less travelled Sambhar Lake which is around 70 kms away from the city. It was totally an arid land with no sense of living untill many kilometers. It was really scary but then the night views over shadowed the scariness. It was a midnight close to that day.
TRAVEL CHANGES TOUR PERSPECTIVE
It doen't matter where you have been brought up but you get to respect the culture of other places as well. The trip gave me thirst to know more about new places. I wanted to experience people of other states as well, which led to my next trip to Rishikesh.
TRAVEL BRINGS YOU CONNECTION
I always heard that during travelling you get to meet different personalities. My case was nothing special, I got to meet Shubham Dhawan and Parwinder (Gurkirat's friends). We all had great discussions. I learned a lot of things from them. I should say life lessons. That trip had many things to offer me. Productive talks they were.
The final day starts with the visit to Hawa Mahal being the most famous tourist place of Jaipur or even Rajasthan. No doubts on the architecture, it was amazing. But I found the forts better than that. Gurkirat and his 2 friends went back Delhi but I had 4 hours to kill, so opened Book My Show app and found that there is Literature fest going on. To my surprise I got to know that Jaipur Lit fest is one of the biggest in the world and tops the Asia's list. I had to go there. I had some glimpses of the fest and it was the end from my side for the trip. I took the evening train to Chandigarh to go back to my home because I took a holiday for 4th day. After all who wants to go office back after such an amazing experience.
TRAVEL GIVES YOU INDEPENDENCE
Though I spent a lot on the trip because I didn't knew about hostels. I used Uber there and spent major chunk on Taxi. But I took it as a teaching to me that helped me figure out cheap ways to stay and eat cheap food. The trip taught me that I can make a trip as luxurious as big or a hell cheap with 3000-4000 bicks only in my pocket. I then started to save for my further trips and turned my next trip to Rishikesh within 3000.
The trip made many changes in me.
It motivated me to work more hard because the everything goes side by side. If I do my work with joy, I will cherish the moments of life.
The trip made me greedy and filled me with the greed to travel.
Follow me on Instagram for cool shots : instagram.com/magicalmanan18