X: "So where are you off too this time ???? "
Me: "Bundi & Jhalawar"
X: "Ohhh, where is this?"
Me: "Rajasthan"
X: "Rajasthan? Bundi sounds somewhat heard ….. but Jhalawar, no!! Whats there to see?"
"X" here stands for people I had conversation with before my trip and to me, the conversation was not surprising. Bundi has more foreign tourists than domestic while Jhalawar does not feature on tourist map as yet ….. Its an unexplored jewel of Rajasthan.
Jhalawar, earlier known as Brijnagar & Chaoni Umedpura, is the 'land of Jhalas' (a clan of Chauhan Rajputs). In fact its named after its founder, Jhala Zalim Singh a dewan from Kota.
We had clubbed our Bundi trip with Jhalawar and I must confess its one of those trip I cannot stop talking about. We had taken a cab to Jhalawar (with a stop over at Kota for lunch) and that evening / night we rested. The next day we left early after breakfast and explored the small town till lunch time as our return train was in the evening.
Below is a sneak peak into what all one can do in Jhalawar. An individual post on some of them shall follow soon, one by one, so remain glued ????
GAGRON FORT
Our first stop was the Gagron Fort — massive with awe inspiring architecture and still not in the tourist radar! In fact we were the only people (tourist) there ???? The UNESCO had declared it a World Heritage Site in 2013 and thereafter restoration work had begun (now almost done). Thanks to them, hopefully, we will now have the fort and Jhalawar on the tourism map. The fort is a wonderful example of a Jal Durg (Water Fort) because it is surrounded on three sides by rivers Ahu and Kali Sindh. Dargah of sufi saint Mitthe Shah is just outside the fort. Also the monastery of saint Pipa, a contemporary of saint Kabir is close by.
CHANDRABHAGA TEMPLES
The 7th century Chandrabhaga temples, on the banks of river Chandrabhaga, are under ASI but there are barely any tourist / visitors here. The temples are an example of beautiful sculptures, carved pillars, bulbous domes and chisel work. The most famous of them is the temple of Sitalesvara Mahadeva (not under ASI) and being taken care by a pujari (priest) family for generations now.
SURYA (SUN) TEMPLE, JHALRAPATAN
This 10th century Sun Temple or Padma Nabha Mandir, situated in the heart of Jhalrapatan, is famous for its shikhara (peak of a temple) which is 96 ft from the ground, its marvelous architecture and sculptures. The main idol under worship is of god Padmnabh or Vishnu.
HERBAL GARDEN, JHALRAPATAN
This place is green and offers lots of tree shades ???? A stroll in the garden may not hurt but you can give it a skip. The garden would interest people with serious orientation for botany & Ayurveda.
OUR STAY - RTDC GAVDI TALAB
Jhalawar does not have many options to stay. We found this property to be the best deal especially the open spaces and the fantastic views of sunrise and sunset. The manager of the RTDC was very helpful and guided us well. He also helped us arrange a cab for touring the town and finally a drop to the station. The rooms are basic but decent. The food freshly cooked, simple but good. I really hope the property sees boom time with more tourists opting for a trip to Jhalawar.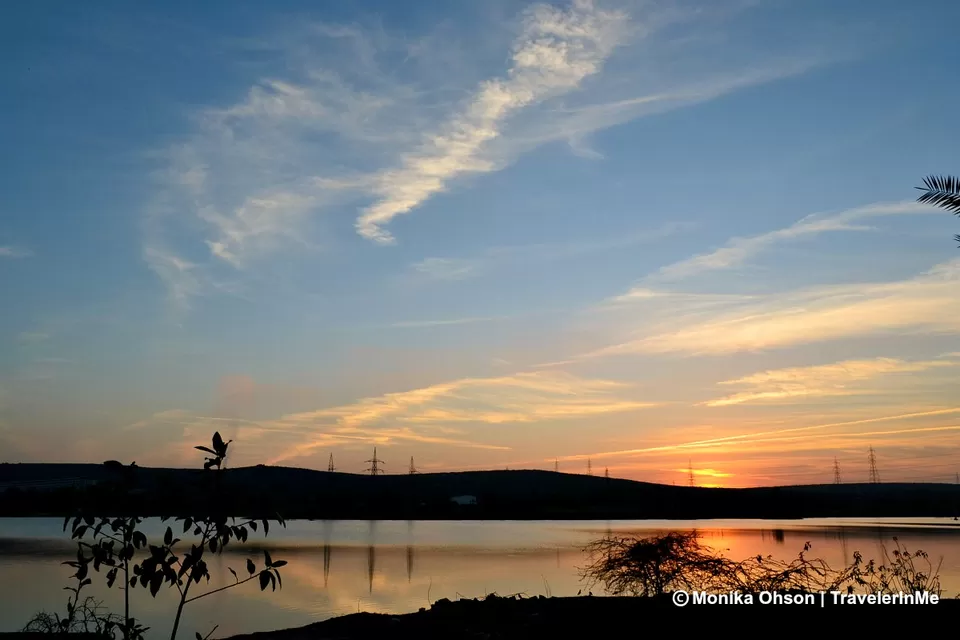 These are the few main places we could manage in half a day! If you plan a longer stay you can also visit Shantinatha Jain temple, Jhalawar fort, Government Museum, Navlakha fort, Dwarkadhish temple, Bhawani Natyashala and the Buddhist caves of Kolvi.
This winter do plan a long weekend trip to Bundi – Kota – Jhalawar . A trip seeped in history and unexplored grandeur of Rajasthan! Read about my Bundi trip here
....and, if you like what you just read, do 'like it' & 'share it'. Also do not forget to 'follow' to remain updated about newer posts!
HAPPY TRAVELLING!
Monika Ohson / TravelerInMe
This was first published in TravelerInMe
Frequent Searches Leading To This Page:-
best tour packages in rajasthan, rajasthan family tour packages, rajasthan travel packages, rajasthan trip packages, rajasthan tour package for family, honeymoon packages in rajasthan