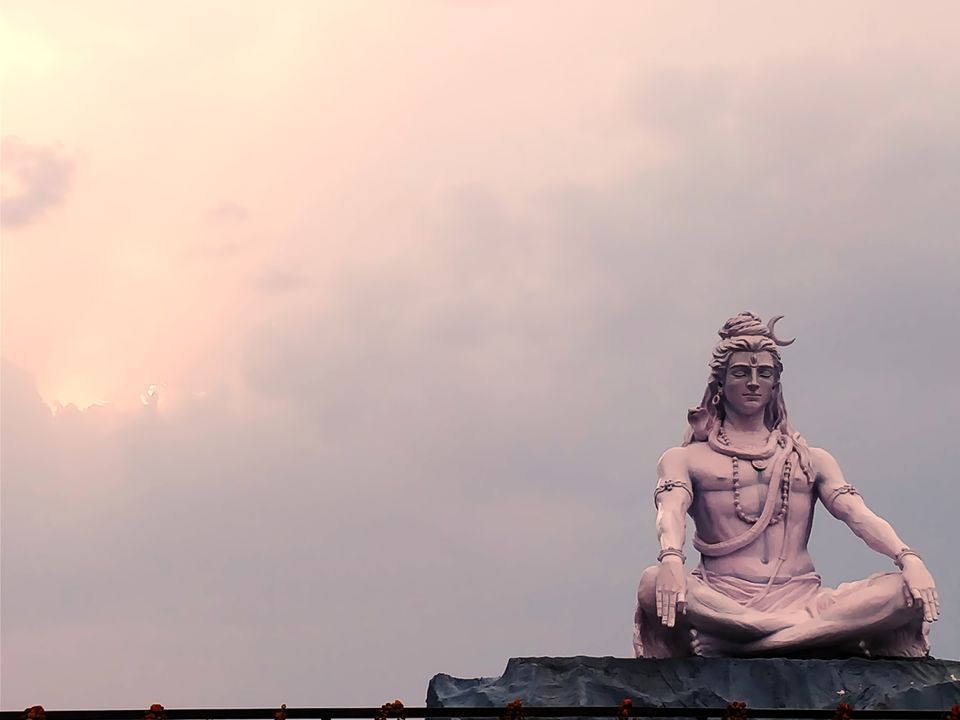 So this one day I decide that I have to take Mom on a trip and after watching Qarib Qarib Single mom always mentioned about going to Rishikesh and staying at Parmarth Niketan Ashram.
It was decided then, Rishikesh it is and I started planning by making bookings at the Ashram.
Our trip started by a train journey to Haridwar as we stayed there for a night. Oh I so love train journies, the comfort, the view when you pass so many cities. How many times I have thought of getting down at a random station rather than my destination, haven't done it yet but maybe someday ;)
In Haridwar we went to harki pauri for obvious reasons and then to Mansa Devi. I usually dread any kind of rides and already had preconcieved notions of not being able to go via ropeway. But did that at it was absolutely not bad.
The next day we decided to travel via train again to Rishikesh and I was amazed how much that costed us, 10rs Say whaaatttt!!! So cheap it was and I was happy that we dropped the idea of booking a cab and taking the train as that would have burnt a hole in the pocket as compared to a 10rs train journey :P
We reached the Ashram on time and had all the formalities done. It was a beautiful and a calm place to be, away from all the city chaos and we had river Ganges flowing from right in front of it. Thus I spent most of my time sitting at it banks my feet dipped in the cold water and all the thoughts crossing my mind with no destination to reach but to reach a certain point of calmness.
Next I took a dip in the river which I made sure to do everyday till I was there and changed out of our morning clothes.
We had our lunch at Choti wale which is a common restaurant that you can find in every lane of Haridwar and Rishikesh. I was craving dal makhni so we had that and the taste was really good with all that floating butter on it 🙃
After a satiating lunch we roamed around went to some ashrams, you can always find sadhus sitting and singing or playing any musical instrument bringing in the vibe into the atmosphere.
Next we went to Beatles Ashram and to our luck the weather was amazing which made our walk to the place worthy. The Beatles Ashram is also know as Rajaji Tiger reserve and it charges minimal entry amount 'which I don't remember'. The place has beautiful lushness all around which makes it a great place to relax or even do yoga. It has various structures made in which graffiti and paintings are done by artists. There is a complete room dedicated to the Beatles in which there are life size paintings of them on the wall, so I had to take pictures for sure.
As it was a long walk to the Ashram, we came back and decided to have an ayurvedic body massage within the Ashram and man it was the best decision made 😇
Then we ended our day by attending the evening Ganga aarti which is organised by the Ashram everyday and sitting there beside the river listening to the hymns was an overwhelming feeling.
The next morning we attended a yoga class in the Ashram and had the food there in the canteen itself. The food served in ashram is satvik and I was not sure if I would like, but I had it and will say that it was good indeed.
Then we headed towards lakshman jhula and again decided to walk all the way to it. The weather was good and scenery and simplicity of the city was all the bit enjoyable with a stroll.
We reached lakshman jhula clicked some pictures, it was much crowded as compared to Ram jhula and I enjoyed taking pictures at ram jhula much because of the space I got to capture the scenery. Next to lakshman jhula there was German bakery where we had our food which was again pretty good and like this we spent our whole day strolling and shopping in the market.
One thing I liked best about the city is that, you will not pass a single person without a greet even if you don't initiate one. Especially the people from different countries are so warm, welcoming and sweet to you that you have to have a smile when they smile and say Namaste!
It was a great trip with Mom, relaxing in every way possible and that is why I always heart Rishikesh ❤️
The last day we attended a ceremony we were invited to by our neighbours in the Ashram who have organised it, because of my mom and then I realise that she is more social then I can ever be 😅
After attending that we boarded our bus to Delhi and ended our trip.
P.s. I would still prefer a train journey than a bus
journey