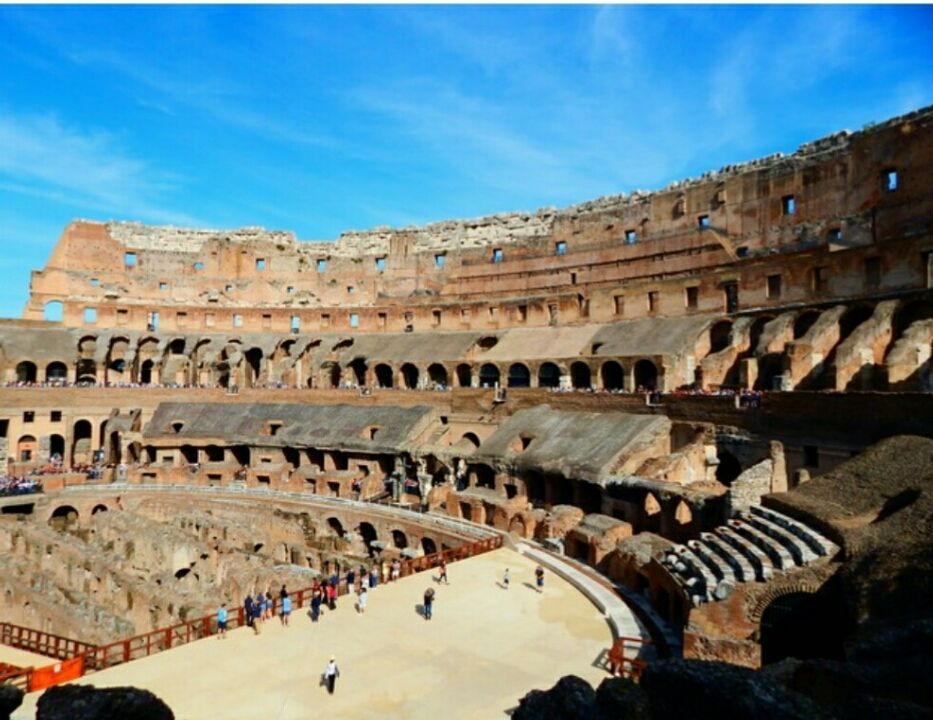 This 5 part series on "The Unconventional Honeymoon" talks about our first self-planned and self-arranged Euro Trip. In our short-but-sweet trip of about 7 days we covered Paris, Brussels, Bruges, Amsterdam and Rome. This was about 4 months after our wedding when my husband had to visit Toulouse, France for work. We happily jumped at the opportunity of converting this business trip to our Its-Never-Too-Late Honeymoon.
As it involved staying at Airbnb accommodations, walking tours around city centres, city travel by local transport like trams, buses and trains, boat tours and cycling around perfect landscapes, this was indeed an unconventional honeymoon, but definitely the perfect one for us.
This is Part 5/5 of this series. For the other parts check out the following links:
Ever since I came across the Roman Empire, its tumultuous ups and downs and the mind-blowing architecture it gifted to the world, I have wanted to visit Rome, The Eternal City. It has been given this name because the Roman people thought that no matter what happened to the world, no matter how many other empires might rise and fall, Rome would go on forever. And they couldn't be more right.
We reached Rome in the evening and took the train from the airport to our
Airbnb
appartment. After checking in we decided to head out to explore Rome by night. We hopped in a metro and reached The Colosseum which looked massive as compared to all the pictures I had seen. The brightly lit wonder shone in the night sky. We were in awe of its utter magnanimity. We proceeded to have dinner at one of the numerous roadside cafes lining the street right opposite. And there was no doubt regarding what to order. The quote 'When in Rome, do as the Romans do' made perfect sense as we happily welcomed ourselves to the land of pizza and pasta. The pasta, though a bit bland for my Indian palate, was good. But the fresh pizza, with its ocean of mozarella and tomato sauce was heavenly. After dinner we walked around the ruins dug in the city for sometime and then returned to our appartment.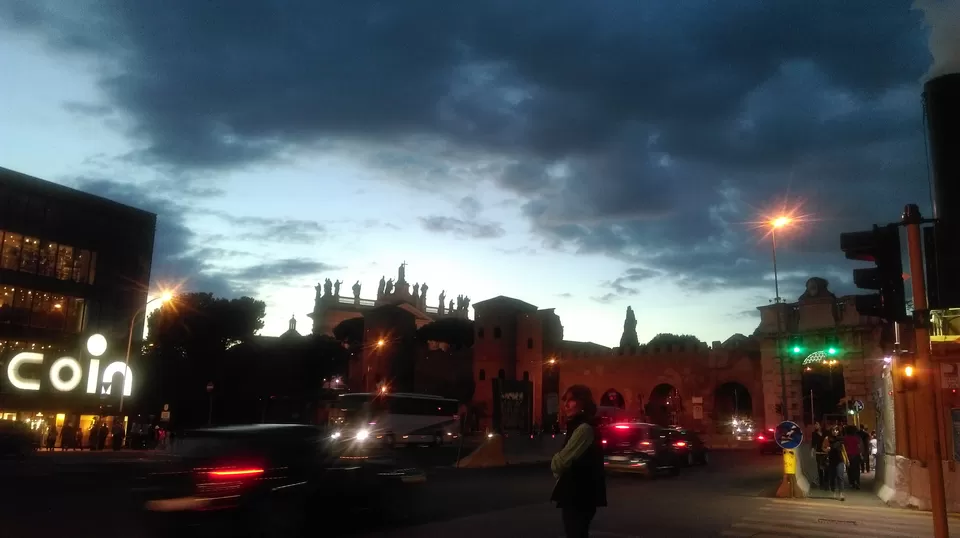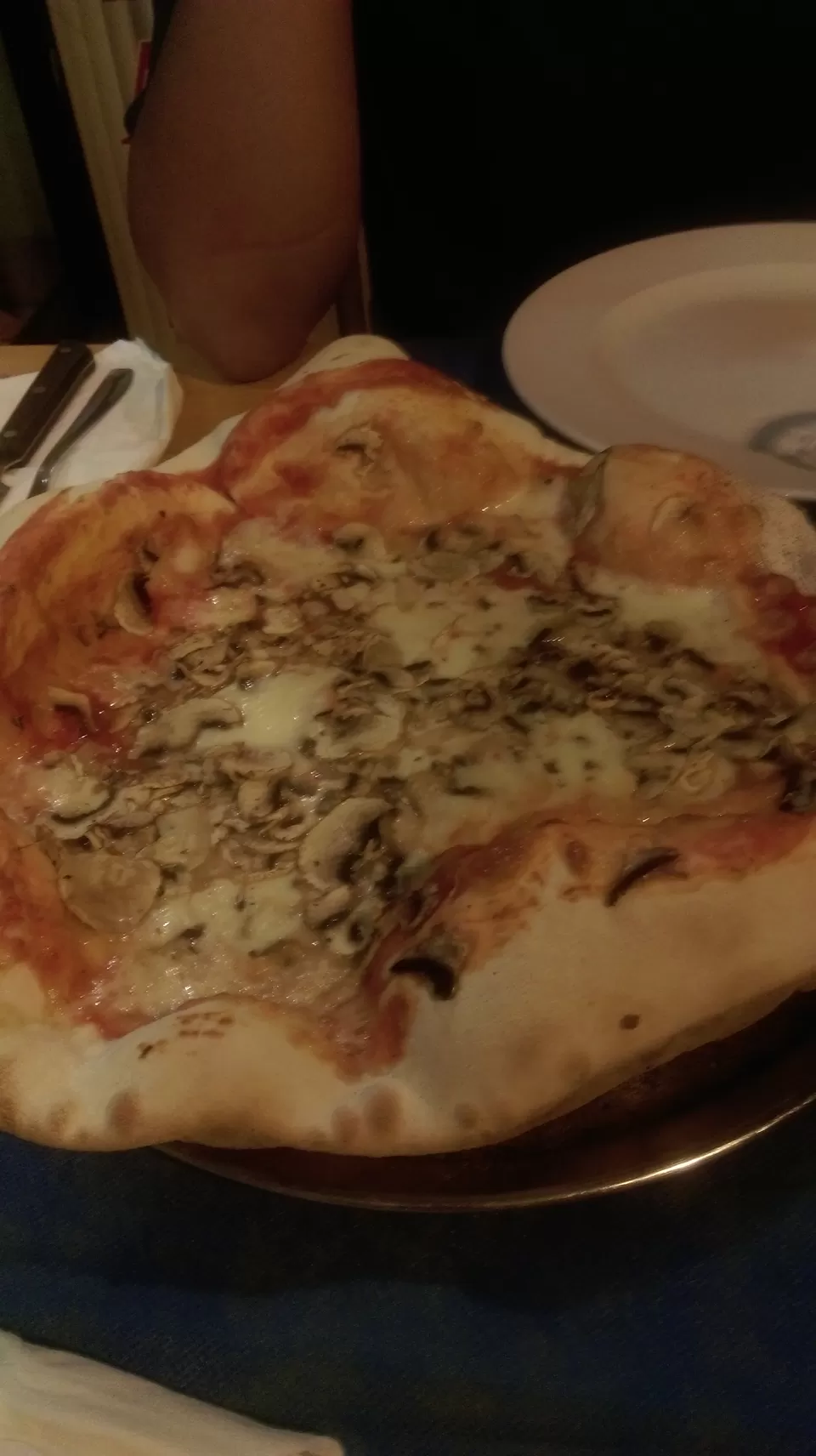 This was our last day in Rome and also on this trip as we were flying back to India at night. In order to utilize our day to the fullest, we lined up at Colosseum as soon as the gates opened. It was almost tough to digest the fact that this massive ancient mega-structure built centuries ago still stands tall in our modern world. Entering the amphitheater, I briefly slipped into history where crowds of the order of 60,000 people gathered to watch gladiator battles and other stuff. Oh what times they must have been ! I was brought back to the present by scores of tourist rushing across the alleys and stairs. The impressive arena where heroes once stood and the intricate labyrinth of galleries underground were a sight to behold. This iconic masterpiece holds valuable significance in the history of Rome and is an inseparable and indispensable part of the city and its culture.
Next we visited the Arch of Constantine and the famous Palatine Hill and Roman Forum. It would be impossible for me to name each and every monument we came across because there were just so many. We just walked around soaking in the history all around us.
Walking further around the city we came across the Vittoriano monument which is a very impressive structure. We relaxed a bit near the steps and enjoyed street music. We walked past many excavations next to the roads. Next we went to Trevi Fountain which was unfortunately closed for restoration. But we could get a view of this breathtaking fountain from the transparent barriers. After that we had lunch near Piazza Navona which is one of the loveliest squares in the city. We had a billion Gelatos while roaming around Rome. In my defense, it was unusually hot for September.
Then we headed to the tiniest walled country Vatican City. We decided not to visit Sistine Chapel and the Vatican museums. Both of us are of the opinion that its far better to spend all our time out on the streets, people watching, or trying different cuisines, or doing random stuff, as compared to staring at pieces of art on museum walls. So we joined the sea of people gathered at St. Peter's Square and had a relaxed afternoon. We walked leisurely around St. Peter's Basilica and enjoyed the clear blue skies and our nothingness.
Then we returned back to Italy and Rome and headed to the famous Spanish Steps. It was almost metaphorical that the Piazza di Spagna overflowed with people just as the boat in Fontana della Barcaccia overflowed with water. Joining the crowds we bought some souvenirs at the markets and walked around some more in the old street with yellow houses.
And then we bid goodbye to Rome. It served as a perfect end to our trip. No matter where you are in the city, you would find a monument of historic importance at a stone's throw away, even next to a Mc Donalds. The rustic old-world charm of the historic city of Roma and the modern beat of the lively Italian Capital city Rome strike a perfect balance and walk hand-in-hand as the world applauds in enchantment.

Our must-not-miss list for Rome :

1) Evening strolls to see the lit-up monuments

2) Loads of Gelatos

3) Pizza and Pasta

4) Walk around Palatine Hill and Roman Forum

5) Inside tour of Collosseo