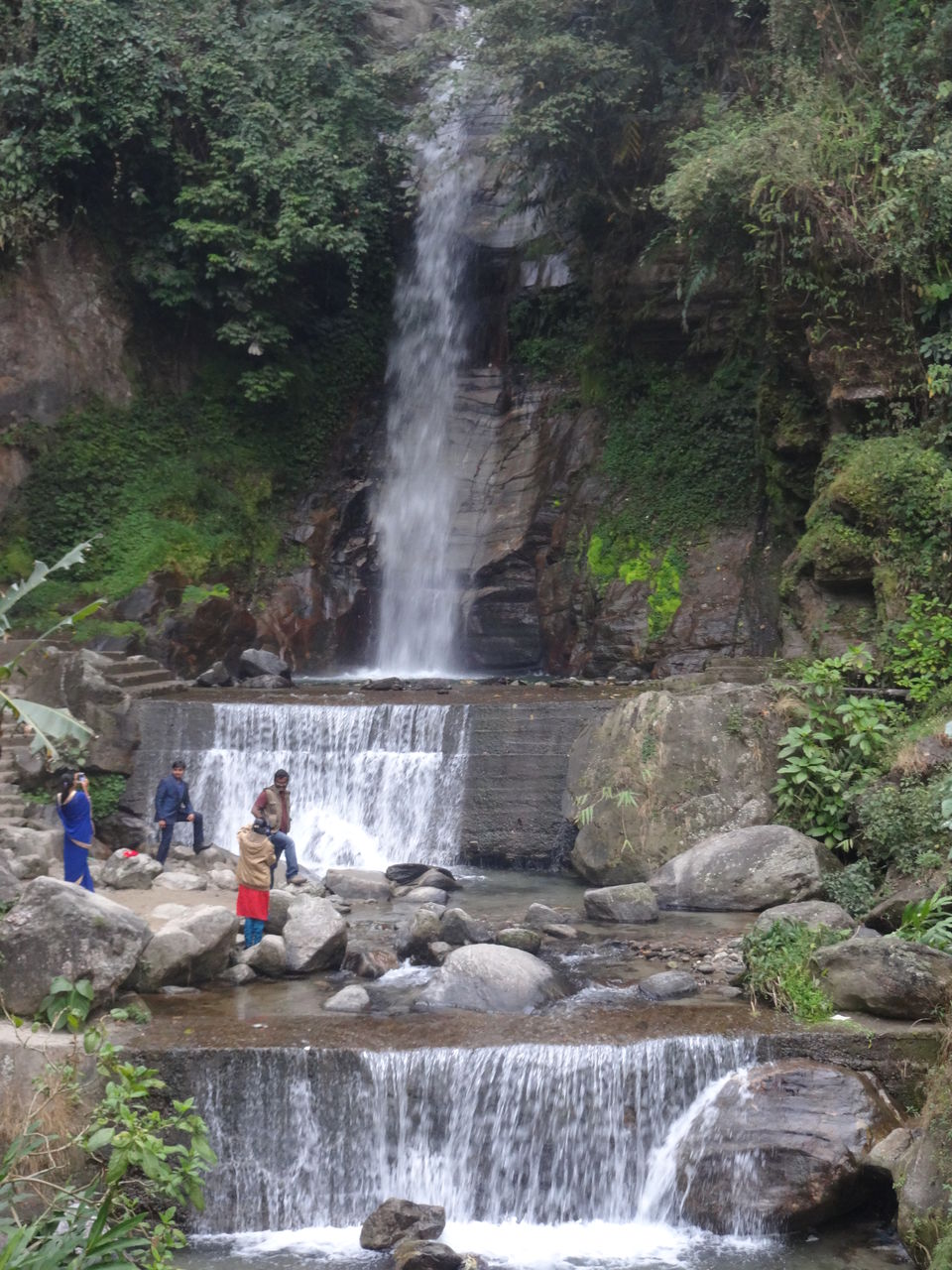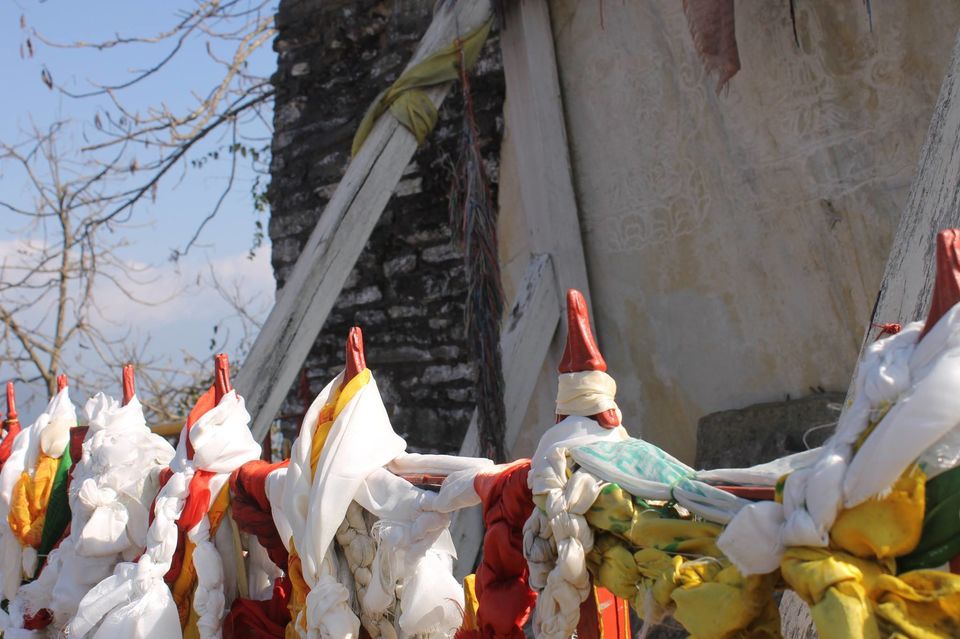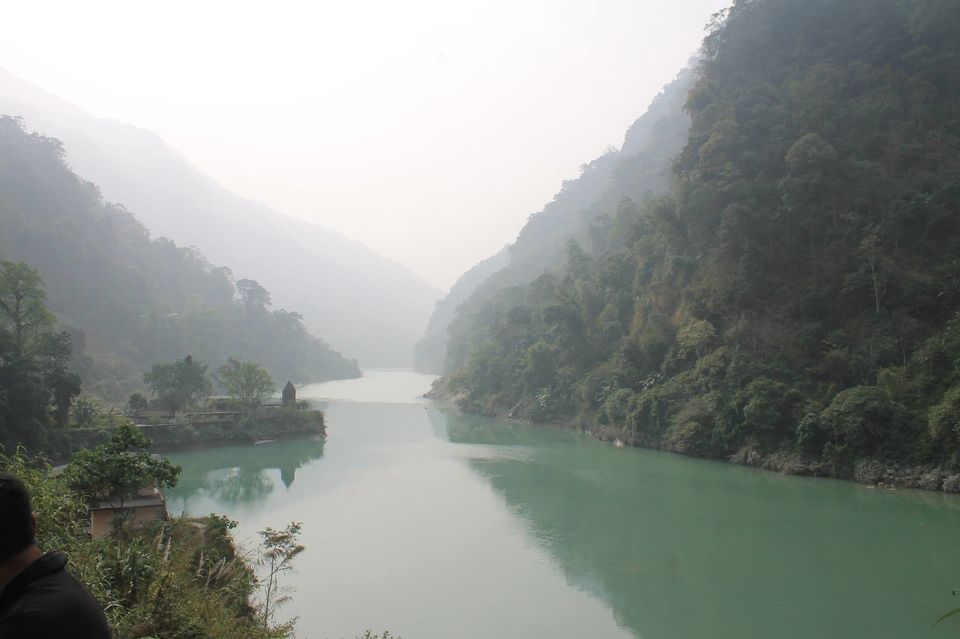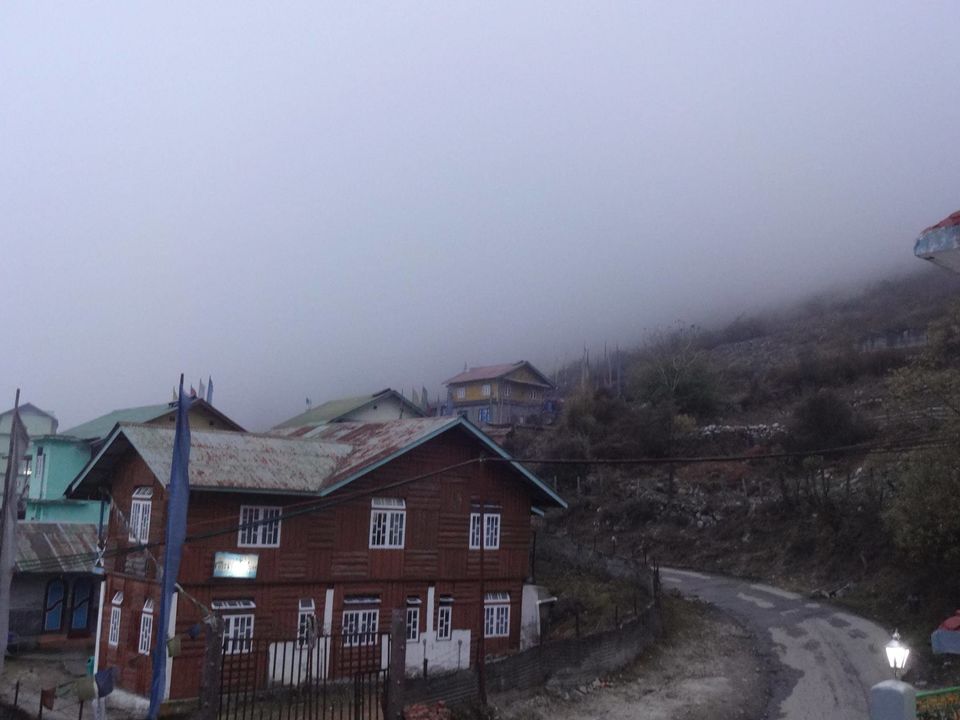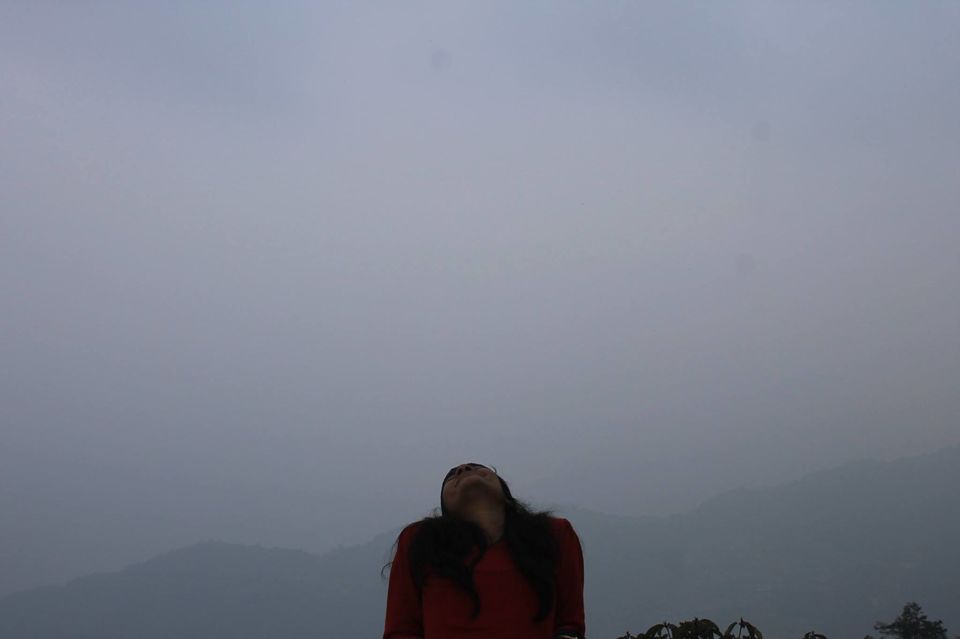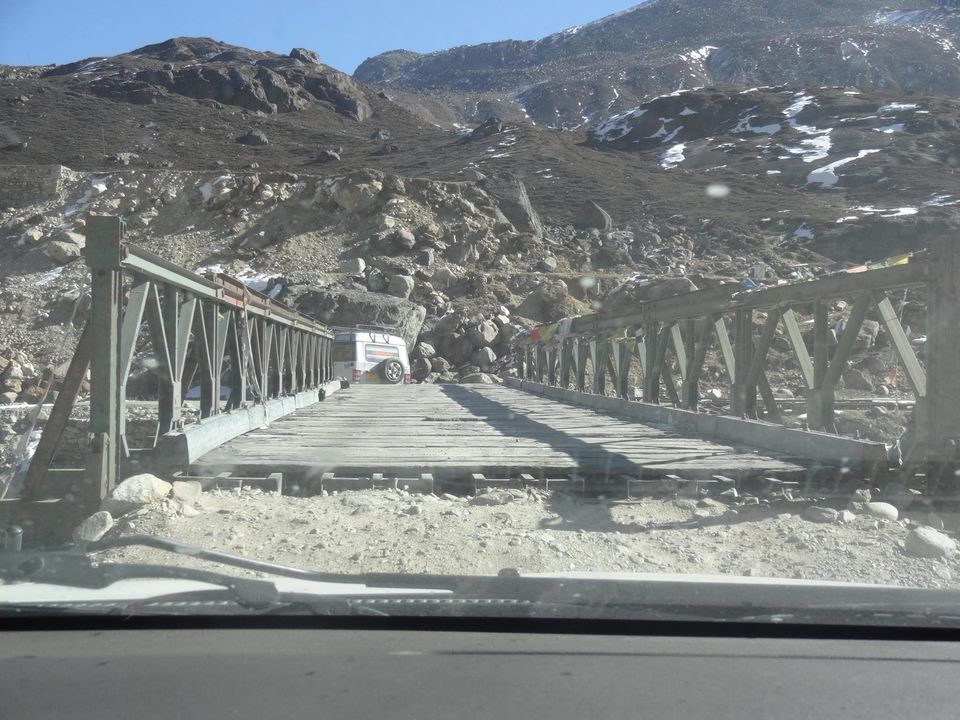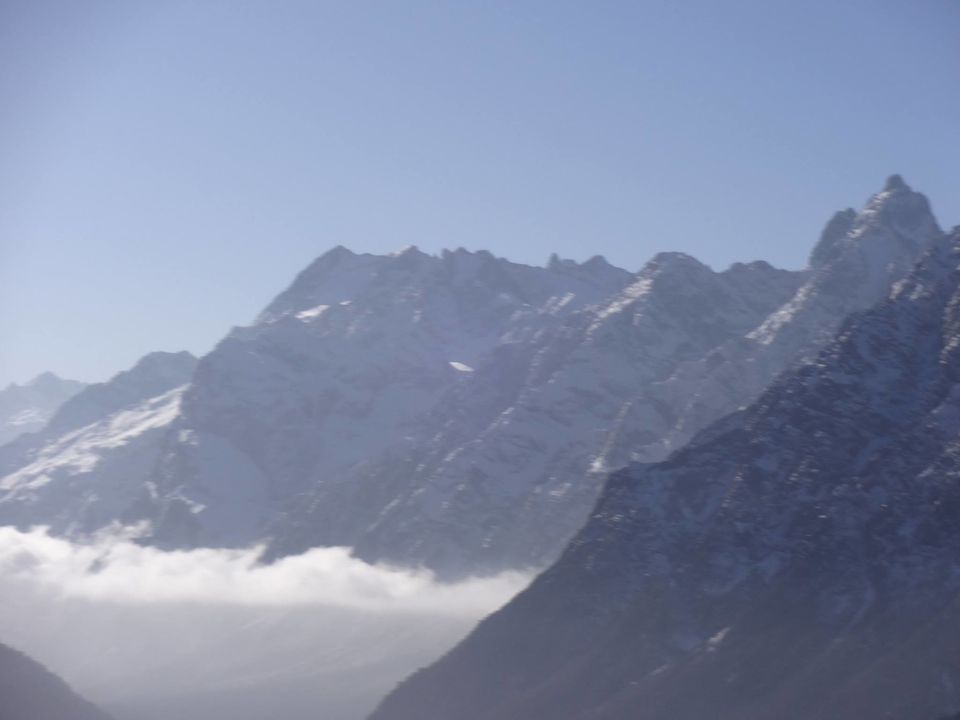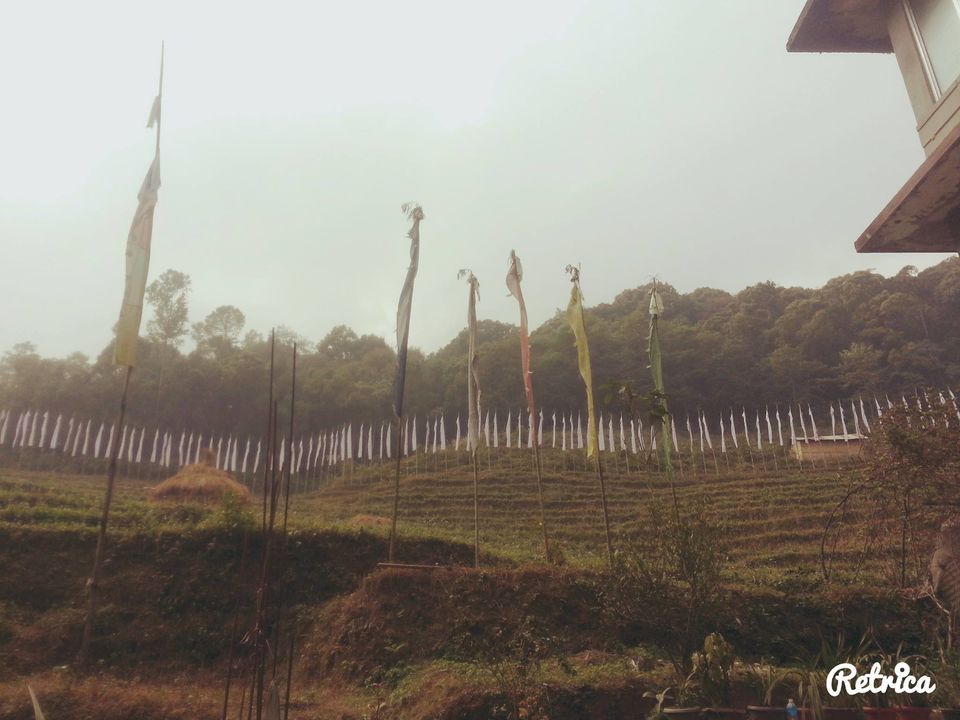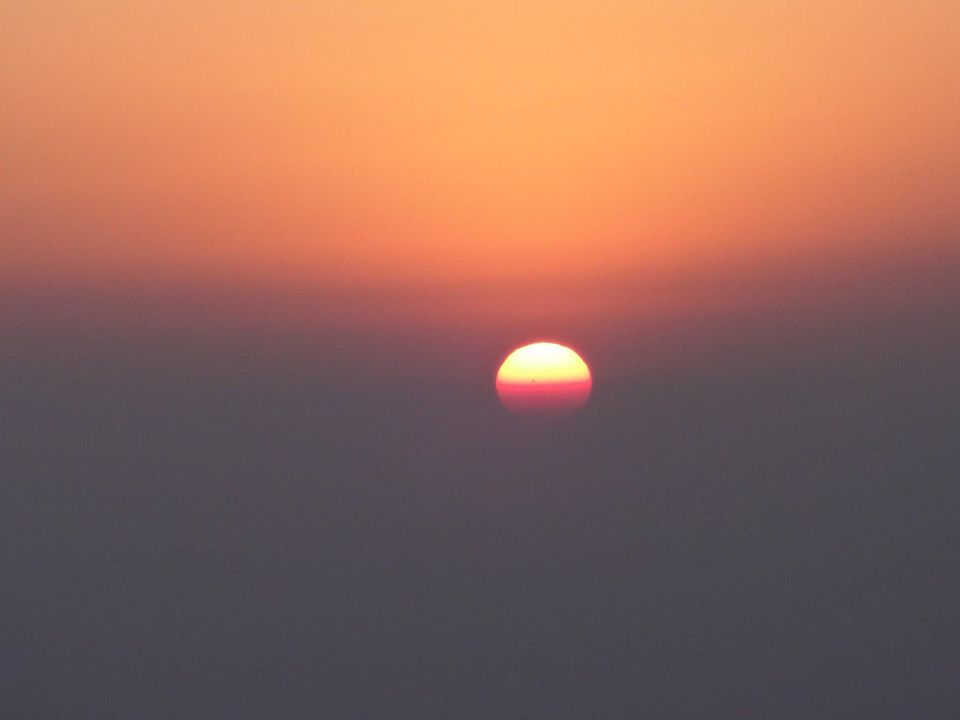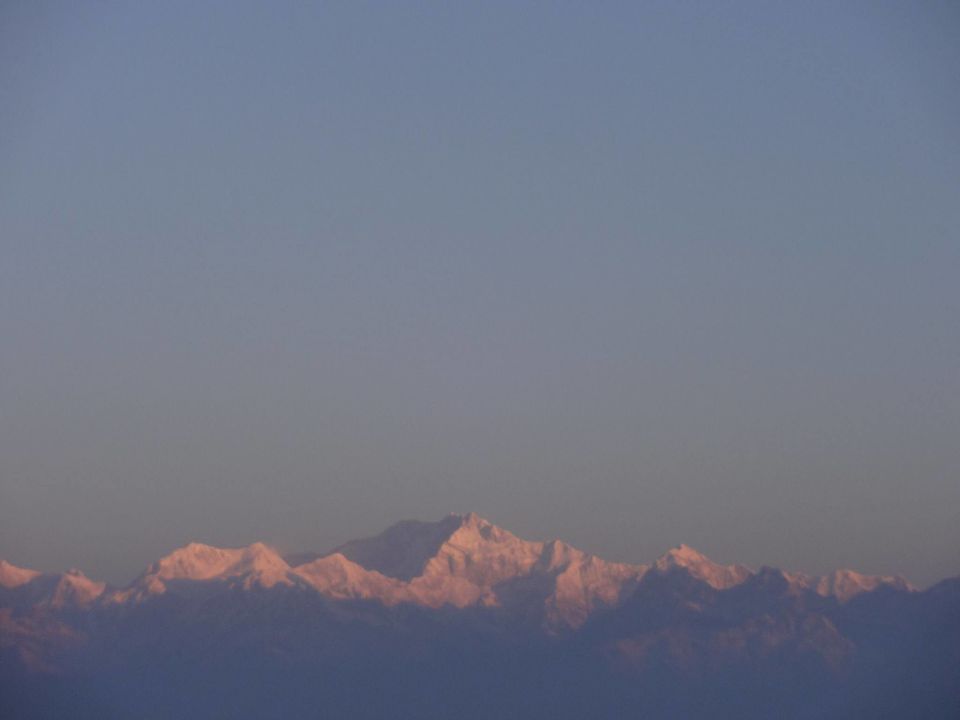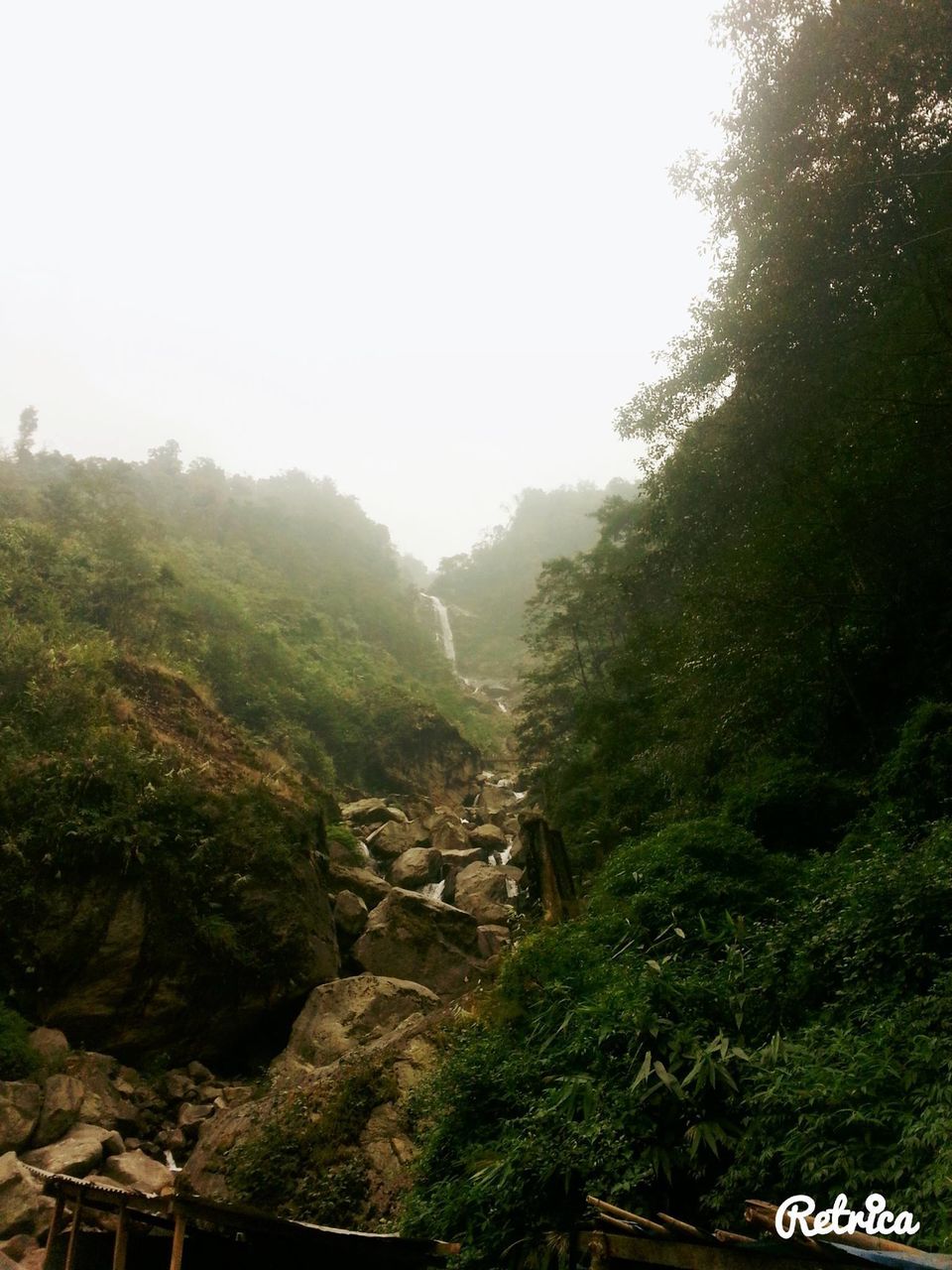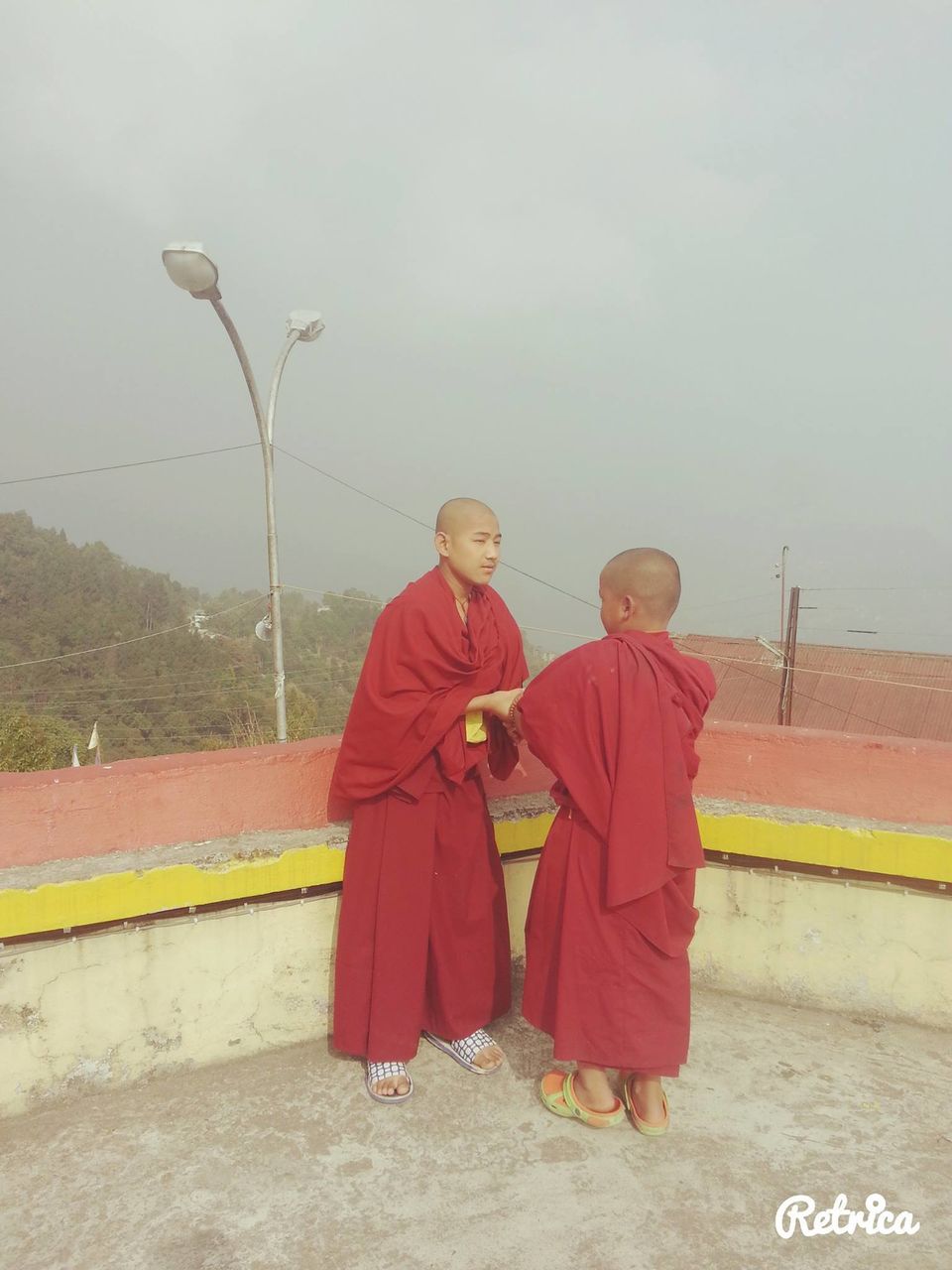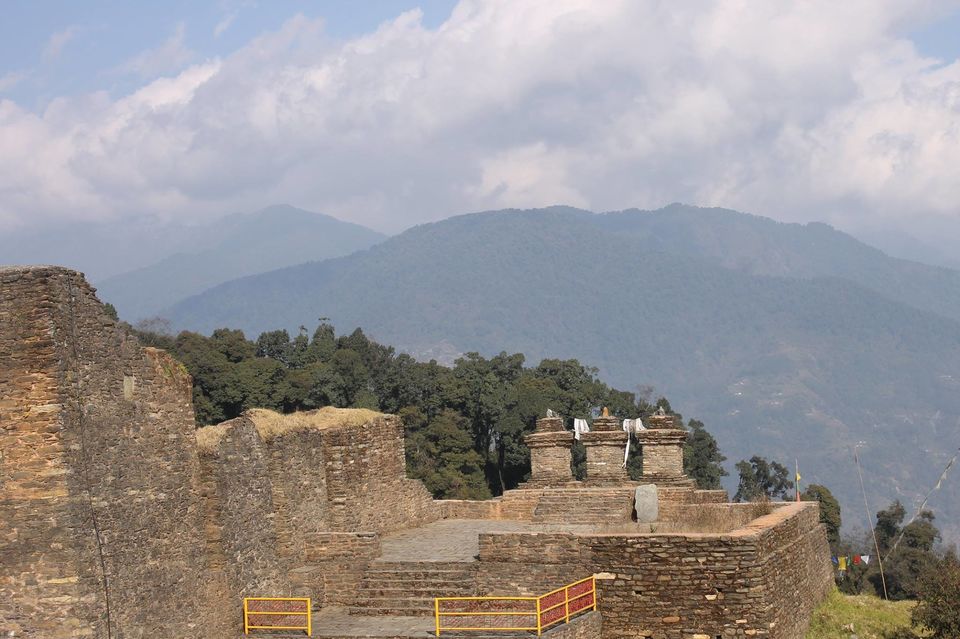 Had an authentic experience which was customised and tailor made to our interests.Sikkim in true sense is heaven on earth, its paradise. It's a state with organic beauty. Journey started from Bagdodra to Gangtok via cab. This was a road journey of more than 1200 km in the mountains. The state with mountain terrains all across the stretch you can last view with naked eyes.
At sharp 5:00 pm the sky will be as dark as it's 10:00 pm in Mumbai. The cab drivers are Hindus and they speak Nepali fluently with fair skin and Tibetan features. We reached Club Mahindra resort at 9:00 pm. The resort is located in the outskirts of the beautiful Gangtok city. It's the month of December in the far north east of the country the chilling cold breeze just took me and my hubbies breathe away. This was the first hand experience of this year's winters. Resort staff's hospitality was amazing.
They welcomed us with traditional Tibetan khatas, a piece of silk white cloth in form of garland which symbolises the pure heart of the giver and warm towels and herbal tea with fragrance of warmth. With mouth savouring buffet we had a good sleep all set for an adventurous drive to Nathula Pass next morning.
We were lucky that on Sunday, the pass was open and our permits were ready. In the freezing cold we started our trip. Almost whole of North and East of Sikkim roads are maintained by our hero's from BRO. Crossing the beautiful route we reached Nathula at 14,000 feet above sea level. The chilling cold will make your nose red like joker and hands will be as cold as ice. At 14,000 sq. feet restaurant we ate Hot spicy Samosas, Momos, Maggie soup, hot tea and coffee.
After some refreshment we climbed the small path holding rope strings which lead to the China India border.
At the top we met Chinese soldiers and our strong soldiers.  We shook hands with them. Even in these hard winters they were taking care of our mother India.
Salute to their hardship. It's an experience worth capturing in our eyes because at the end we cannot take pictures for memories to be posted on Facebook wall. Let's respect this rule coz it's for our safety.
From Nathula border we headed to the Baba Mandir. This temple is built @the height of 13000 in the memory of Jawan Harbajjan Singh. Water kept in his shrine for 20 mins can cure any illness. This is a belief like many other Indian rituals. We were extremely tiered so we couldn't go to Old Baba Mandir which is on hill top and believed to be authentic.
After quick darshan we then moved to the enchanting Tsomg lake.
 The sun rays were direct and it can hit your eyes bad.
 We took ride on beautifully decorated yaks by the localities. In the season time the ride can be as expensive as Rs.500 per person.
 While moving to Gangtok we all were tired and we were missing our beds badly to lay our heads down and sleep tight
Gangtok as a city should be benchmark for Swatch Bharat campaign. It's rightly said that people makes the place. Each individual keeps this town clean and follow this policy as if it's birth duty. I'm in love with the spirit of the people, I wish all across the country people were ready for clean India. The sightseeing started with rope-way which gives bird eye view of the green and clean Gangtok.  From the top one can see people enjoying the sun, following their daily chores, clothes drying in the sun on rope, cars looking like miniature models. The ride was approx 1 km to and fro. This ride was a new and different thing for all of us.
We then moved to visit biggest Monastery  Rumtek. En-route to Rumtek we even got to meet localities and visit their home.
This day was celebrated as Dussera for Loosong community, family members were preparing meal. They told us about the festival, even took us through their home. Homes are well-furnished and small garden or balcony full of plants is common. 
Orchids and other ornamental plants were beautifying the home from outside.  After a quick sip of homemade tea we continued our journey.
All across the roads one can see prayer Flags. A prayer flag is a colorful rectangular cloth, often found strung along mountain ridges, in high places such as the tops of temples, monasteries, Stupas, and mountain passé and peaks high.  Prayer flags are of two type's colourful ones which bring peace and harmony and white horizontal flags which are placed 108 in numbers on death of a Buddhist monk.
Rumtek monastery is one of the Asia's biggest monasteries, it was full of lamas who were here to study Tibetan, Sanskrit, English and preaching's of Buddhism. There was also an inbuilt hostel and a mess. As per custom each one of them carries their own food bowl and they mix everything and eat. Lamas of all age groups were their kids, youth to old. It was a pleasure talking to them and observing their lives. After few clicks and walk down the monastery we moved to the next place.  Banjakri falls has picturesque landscape all around.
It's a must visit because the fall has white water gushing from the top of the cliff and it has an experience worthwhile. We got sprinkles of it on our face.
Keep your Cameras charged, as there are many locations to capture scenic beauty.  Here we got a choice to eat from a pure vegetarian or a non -vegetarian kiosks which serves momo both fried and boiled, Maggie and chow mien.
After feeding our bellies we targeted Kashi viewpoint, Ganesh tok and Hanuman Tok. On this fine evening from top of the Tashi view point we got a sweeping view of snow-capped Mountain Kanchenjunga and also panoramic view of Sikkim. 
We could see peaks dazzling with the change in clouds. The overhead view of Gangtok city and the steep narrow roads between the mountains refreshed our eyes.
It feels so great inside when the cold breeze touches your nose and reaches your heart.
Hanuman tok and Ganesh tok are situated on top and they have their own religious reviews maintained by BRO. Day 3 was almost over and our driver left us at MG Marg, famous shopping destination. 
Do note, Sikkim drivers are quite clear and  they follow shift basis even if you have hired a private cab.
He dropped us at the cultural and shopping street of Gangtok. The long stretch of street has many shops where you can shop for woollens, Tibetan artefacts etc.
There are many good restaurants like Roll House and Bakers Cafe. We missed visiting Baker's Cafe which has an authentic European feel.  We also got a choice to eat at domino's and CCD. On MG marg there are two pure vegetarian restaurants - Parivar and Rasoi are not worth trying, rather one should grab quick bites from other outlets around.
This street leads to Lal market which has cheap Chinese woollens for sale. After grabbing Hot Choco lava cake we moved back to our hotel.
Next Day, early morning we were ready to move to Lachung - "most picturesque village of Sikkim". The distance between Gangtok to Lachung is of around 125 kms but this will take around 4-5 hours as it's located on the extreme north of Sikkim at an elevation of 9,600 feet and the roads are in poor condition owing to frequent landslides.
This road trip has been most beautiful till day, while driving in the mountains we could view lifeline of Sikkim - river Teesta moving along with you throughout and multiple water falls in between with greenery across the stretch. 
This beautiful village is perched at the craggy banks of river Lachung which meets Lachen to give rise to Teesta River. While journeying towards Lachung we get to cross many suspension bridges connecting man to ridges, which happened to build by BRO. We reached magnificent Lachung at 3:30 pm, our stay was reserved at The Royal Lachung.  The Hotel staff greeted us amazingly, with hot tea and gobi pakodas. The food was as good as it was cooked at home, served us hot and mouth-watering meals in chilling cold of Lachung. The hospitality of the hotel staff  was just woww they were extremely courteous.
Rooms are spacious and clean. Bathrooms are BBBiggggg.  This hotel offers a great view of Lachung and on walking distance helipad is located. It's close to the route which leads to Yumtang valley and Zero Point. Thus, location is a plus point.   Room Heaters are available on chargeable basis of Rs. 200 each worth buying at least 2 in ultra-cold winters.
Definitely I would recommend this over other expensive options because at high altitude we search for necessities than luxuries. And necessities were catered here with no conditions. 
We went for a short walk across the village and helipad. This walk is one of the most memorable part of the trip it was short yet the view is still live in my eyes. Those small coloured huts with smoke rising from the chimneys and foggy twilight, ufff its classic experience. Then the sunset with the darkness rising we could see the small huts with dim yellow light bulbs on the hillock.
Wanted to stay whole night out and just live the village but the chilling cold was not allowing us.
At 8 :00 pm after the dinner we were snoring in our peaceful beds.
Early morning after eating Poha and Tea we moved to the Zero Point, the destination for which we came. Zero point is situated at 15,300 feet and is close to Indo - Chinese border. To visit Zero Point we require permit, approvals are taken by cab driver.
The Route towards Yumthang and Zero Point is picture perfect with snow-capped mountains and roads all across the journey. The fresh snow on the trees and rocks is my biggest weakness and it's the reason of true happiness within me.
Our cab driver told us that this area usually has perennial snow but now due to increasing heat the snow has reduced to manifolds. At this point I felt bad because this adverseness is caused due to manmade destructions towards nature. But for us even this was unperturbed beauty.  Yumthang valley is one of its kinds in India. During the month of April and May, this valley is a riot of colours with rhodendrons of myriad colours blooming.   Unfortunately we couldn't experience it in December.
On the route there's a point where you can buy the gumboots and plastic gloves. It's highly recommended because at Top nothing will save you from harsh conditions. After buying 4 pairs of boots and gloves @ a cost of Rs 200 we sat back in our cars and travelled to Zero Point.
Zero Point is a beautiful place with frozen river amidst the snow-capped mountains. On a panoramic view of the place by your eyes you will see only Snow and sparkling frozen river.
We couldn't stop ourselves playing from snow thus me and my hubby were enchanted by the charm of it. We were walking on the frozen river while capturing memories on camera roll we were enjoying the best place on earth.
Suddenly my feet broke the frozen ice and within fraction of seconds I and my husband both felt down in the stream. We were only visible from our heads, holding the ICE to save us from sinking in the glacial water. The only thing we remember was BACCHAOOOO …… BACHHAOOO…. and more of it on top of our vocal cords
I clasped the Ice and came out of the devilish water, clutched love of my life he was still inside. He was trying to come out like a fish which has been taken out of water. And then the saviours came, our defence force. Three of the Border personal came they took us out and made us walk with our numb limbs.
It was a moment when I realised how important life is. I'm traumatized with this experience till day but this will be a life time story for both of us worth discussing with kids for generations ahead. Profoundly only brandy with hot water kept us alive at that altitude to keep off the cold. Soldiers strictly guided us not to take heat from the heaters because we may have to cut our limbs else. They told us to keep rubbing our hands and body will generate heat on its own
From here with wet bodies and clothes we moved back to our cab. The brandy was doing remarkable effect within. Two hours of journey back to the hotel was troublesome but we were happy that we were saved and all is well with God's grace.
Heady, invigorating and exhilarating, words would fail to explain the experience of being at Zero Point
For the next few hoursi,,,>... we were silent with no more clicks :P.  We moved to Hotel, stuffed ourselves with food and progressed to Gantok. We were in our own peace within. Next day before starting our journey to Pelling . We happen to visit this place early morning on special recommendation by our driver – laxman who is an ex. Football player. I'm so thankful that he suggest us this place which is 10- 15 min's walk from MG Marg. This place will just revitalized us, made us feel how much we miss in the hustle and bustle of city life.  Rising early morning was difficult because of laziness but when we saw the spectacular view of clouds floating over the stadium and colourful jersey's all across the stadium. It refreshed us. The stadium is well maintained. Track pants and T shirts are must for entry. Football is the key sports played. When I saw girls playing in the ground, I just wished if i ever got this opportunity before. Best part of the stadium was - its cleanliness. Everywhere it's written - it's your property, help us in keeping it clean. Now I feel how important are the sports to our lives.
We went back to hotel to get ready and then move to Pelling via Namchi. Adios to Gangtok!!
Pelling is nestled at an altitude of 1,200 feet; it has cold which is different from North and east Sikkim. Enrooted to Namchi we saw many Tea estates, here we clicked many pictures. The roads were narrow and steep. We visited Sai Mandir and famous Chaardhaam.  We were stunned by the gloriousness of Chaardham.
It has main Shiva Temple of 100's feet and replicas of twelve Jyotirlingas, Badrinath, Jaganath, Dwarka and Rameshwarm. This pilgrim centre offers one platform to all devotees and all the priests are salaried. Thus it's another factor which makes you feel proud of the state. The restaurants within the pilgrim premise serves relishing vegetarian - without onion garlic / Jain food.  I'm mesmerised by the hospitality of people and would definitely remember everyone forever.
I met this young boy who was not more than 14 years he served us food with meticulousness, he was soft spoken and looking at him I just thought why he is here, when his age is to study.  But every time we cannot make choices. So had to leave the thoughts and move.
We reached Pelling in evening and stayed at Norbu Ghang resort. We stayed in a cottage which offered us magnificent view of Mountain Kanchenjunga on early morning. The hotel staff was courteous and welcoming.
A guy named Keval offered us excellent service. He made our visit worth; since it was cold he ensured that we have comfortable stay. He layered the bed with three blankets and offered us additional three quilts so we can wrap ourselves and have a good sleep. To offer this service he had to go almost 4- 5 times downstairs but he always had a smile on his face. He tried tested Heater to ensure its warm and cosy in night.
We even tried Sikkimese Tongba which is the traditional drink brewed locally in Sikkim made from whole grain millet that is cooked and fermented. The fermented millet is kept in a large tumbler made of bamboo and then filled with boiled water. A bamboo straw is then used to suck the water and alcohol from the fermented millet. You can keep adding water as you keep drinking the Tongba, until it is finished. It's a potential drink with royal flavour.
We had a peaceful sleep that night, all thanks to Keval.  Next day we woke up early morning @5:45 to get first glimpse of Kanchenjunga. Our driver Laxman suggested this he told us not to miss the opportunity of seeing Kanchenjunga from Pelling.
Was curious to wipe the mist from the window panes and get the glimpse of Mountain peaks. To absorb a clear view we came out of the room were able to eyewitness breath-taking view of ostentatious Kanchenjunga. It was a tranquil feel. Woww!
After an awesome hot breakfast we backpacked ourselves for sightseeing. We first visited Rabdentse Runis, a historical monument.  In past Rabdentse was the second capital of Sikkim which was destroyed by the gurkhas from Nepal these ruins are quite magnificent.
This place will surely be neglected by tourists especially when drivers says – it's of no use walking for around 1.5 kms and then you will only witness broken stone structures.
But believe me the trail to the Ruins is most attractive. With every step you will feel there's some hidden treasure ahead. The path gives a feeling of walk in dense forest.
Overhead there are these long trees, can inhale the fresh fragrance of herbs and leaves. The sloppy ground, curved pathways and sun rays diffused in form of beam guides you to the destination. It was a walk to remember forever. 
In between when one losses its pace, you will find some interesting quotes quoted by Archaeological Survey of India like-
Do not get tired great excitement is awaiting, fatigued? It's only 100m now.
Reading these boards our excitement levels were rising, what will our eyes witness next? And yeah! It was mesmerizing from there. Could view broken architecture all around, From top we got views of the Kanchenjung hill ranges and surroundings on one side and the mountains and valleys on the other side were visible.
Next to the ruins of the palace there were three pillars like structures called as chortens, Chorten is a Bhuddhist shrine where members of the royal family offered incense to the deities.  Those progressively derelict structures whisper more stories than any book ever read. It gives a vivid account of the past. This is the closest to history book I have been. I was able to listen to an untold enchanting tale of the magnificent ruins.
There were even flags, mauli and cloth pieces tied on the railing. We even tied a band with a wish in heart. I think these all were like wish bands tied with faith of wellbeing.
We clicked many pictures at the heritage site after that we started to move back to our Car. Way back even our friends were waiting for us because they don't wanedt to walk so much. But we still feel they should have walked with us.
We had really little time to visit limited number of places in available time. Thus, we now headed towards Pemayangtse monastery which is one of the oldest and famous monasteries of Sikkim.
The Monastery was a three floor establishment, which was open for visitors on all days. There was an entry fee of Rs. 20 each. This was the first time we paid fee to enter a monastery. Reason being, it's a Monastery cum Museum.
The inside of the monastery was cold and dark. We could sense deep silence everywhere.
On the ground floor, there was a large prayer room filled with idols and other antiques.
The walls were covered with colourful paintings of Buddhist gods and goddesses. Most of them were sitting in mediation position.
After exploring the ground floor we took the stairs and went to the first floor. The stairs were made of wood and are very steep. They are risky too; do take care because I and another fellow tourist fell down. It was not that bad though.
The first floor also had a similar prayer room with various idols and forms of the main deity from Tibetan Buddhism.
The adjacent room to the prayer room was sort of a mini library. The room was filled with stacks of ancient scriptures and scrolls.
In the middle, there was a large idol of Lord Amitabha sitting in Padmasana. Oil lamps were burning in front of him and it created a magical atmosphere in the room.
On the third floor we could meet artists who were hand painting walls and decorating it into various colours and golden glazes. We were lucky to experience virgin handcraft.  There was also a small room with a collection of artistic, cultural, historical objects from Tibetan culture. We could smell the aura of history with these artefacts.
From here we moved to Singshore Bridge. It's a 200 meter long suspension bridge which is considered to be Asia's second highest bridge. It was really high and really long. It was shaking when any vehicle was crossing by as it's a hanging bridge. The wind blows heavy and while walking we could feel the swing.
Somewhere within there was also a fear of falling down if it breaks though that's one the rarest of possibilities. Standing in middle of the bridge we got an excellent view of the Valley down and streaming river from the hills that looked like a thin blue ribbon from there.
Wish I was a lifestyle photographer then I could have captured those shots of a model sitting down on lonely a road/ bridge and contemplating.
Here I was imagining myself as one of them and my hubby as a famous lifestyle photographer. Who has a cowboy look and she has a cigarette under the lips. She is gazing down the bridge into the valley.
Ha ha ha ha  :D I was enjoying this place to the core with the best photographer of my life. He captures my rarest of unseen emotions in most beautiful form.
It was 2:00 pm in the noon,this was our last destination in Sikkim territory, we were embarking our journey towards Tea city – Darjeeling.
Our driver told us that it will take around 2-3 hours to reach there and also we will be now going down the hill and then again we will rise over the steep attitude. Throughout the trip we could experience the air pressure in Eustachian tube falling and rising. Ears could feel pain internally.
The experience was far beyond this pain.
We crossed the borders of the two states at around 3:00 pm via a small suspension bridge, through which only 1 vehicle could pass at a time.
This bridge was weak and appeared old too. There were taxis passing by with large number of passengers on sharing basis, these taxis were overloaded.
As we crossed the bridge we could feel the difference between two states. West Bengal was dry and temperature was increasing. Road conditions were deteriorating; there was even difference in the vegetation around. I was thoughtful about the how the change which my eyes could witness in  2kms of distance. Probably it's because of political environmental changes.
As our car was passing by the village we could see females wearing traditional dresses and big Bindi's, Some Tea pickers going at work, some on their way to the tea factor…
We reached Darjelling at 4:30 pm and our Hotel was located near the Tiger point. My friend and his wife were staying in Mayfair which was at the end of Mall road.
Due to paucity of time we selected top picks of the city to visit.
Our first choice was Glenary's before we end for the day. Glenary is located on the hill top in middle of the famous Nehru road. This place was especially recommended by our driver; we being coffee and tea lovers couldn't manage to say NO.
It was Christmas time and the whole place was beautifully decorated with Christmas trees, wreaths, garlands, ornaments, tableware, lights, stockings which transformed Glenary's into a festive wonderland. It has the classic British style ambience
The wooden floors and linen tablecloths add to the classy atmosphere. And there's booze to go with it all.
There is wonderful seating area behind with several tables and chairs laid out. From here we could get marvellous views of the mountains and the valley with sip of famous Darjeeling herbal tea pots.
Many foreigners were sitting who were reading books, chitchatting and enjoying their inner peace.
We were extremely hungry as we skipped our lunch due to long journey and we wanted to reach Darjeeling before dusk. So without any delay we quickly placed the order for a Medium Tea Pot, Cappuccino, Veg Puffs and Sizzler. We enjoyed our snacks and seized the strong aroma of hot brew.
At Glenery's we had an amazing experience, we now started walking down the Nehru road for shopping woollen items including shawls and  pashminas, scarves, caps, leather items, and lot more.
Almost all the shops has fixed prices, they do not negotiate much; they are expensive too.
It was 6:30pm now and the darkness was rising. Our driver asked us to move back to hotel because it's located at an opposite end of the town and will take around 45 minutes to reach there.
We stayed in Sterling Holidays Silver Oaks which is located in secluded place of the town. This is one of the most finely developed properties of Sterling chain. The resort offers serenity and the sheer views of the nature. The bustling crowd of the hill town is making the town overpopulated.
From this resort Ghoom Monastery and Tiger Point are in close proximity.  The resort has central heating system, which was much needed.
After a quick hot water bath we went to have dinner in house restaurant.
They serve excellent assortment of a dinner and breakfast buffet at a cost of Rs 750 per person. If one needs al-carte` then it's available as room service. This was a good idea to avoid any service issues and I liked the approach of being transparent.
We had relishing food, the restaurant head was friendly. He provided bespoke service; we liked the gallant service of other staff members too.
For sightseeing in Darjeeling one need to have the local taxi, thus our driver had arranged for us the coordinates of the local driver.
We had to wake up early @ 3:00 am to witness sunrise from Tiger Hill. Before sleeping we called the hotel reception for a wakeup call in morning, and that was sharp.
I was extremely sleepy and was not able to push myself. I told my husband that it's too early to get out of bed for me I'm not coming. Though I wanted from inside but laziness was overshadowing my inner will.
And then from the cosy blanket I could see my hubby getting ready for the day.
 Certainly that was a push, when he was about to say me byee cyuu with sarcasm on his face I told him wait don't go I'm coming.  Yipee finally I was out of my bed and was geared up to see the snow clapped mountains.
At sharp 3:45 am we were out of the Hotel, our Darjelling local driver was waiting for us.  It was shivering cold, covering my nose and ears we sat in the car.
I was asleep in the car and suddenly my husband woke me up to see the fleet of cars which were heading towards tiger hill. At 4:15 the roads were choked , I was not able to believe my eyes. How can it be possible?
We finally reached the summit at 4:25 am. At the summit there's a pavilion with three different floors each floor has different ticket price. Either pay Rs.10 to stand in the pavilion grounds or warm up in one of the heated lounges in the pavilion's 1st and 2nd floor pay Rs20 to Rs 40.
When we reached the only available choice was either ground floor or the open courtyard.
I suggest to simply find a ringside spot in the open courtyard in front of the pavilion, from where the views are equally grand. Thousands of people come to witness the spectacular view of sunlight over Himalayas.
There were hundreds of women coffee sellers, who clamber on to the first few Jeeps of tourists leaving from Darjeeling on the sightseeing for a Free Lift. They serve them with hot snacks and Tea/Coffee upon arrival, albeit not free, but for a small price.
It is a welcome relief for tourist to savour the hot tea in early morning hours to keep off the cold. They earn their daily livelihood. It was a day's exercise for us but it's an every day's job for them. We could observe the hardships of these people.
Outside the courtyard in the form of multiple rings people were standing waiting to gaze the Sunrise.  There were groups of friends who were whistling, wailing, singing in chorus. To keep off the cold they were jumping in harmonised form. This was real fun. There were few couples who were snuggling and cuddling in the blankets/ shawls while waiting to get the glimpse. Photographers were ready to capture the moments with their high – end tripods and lenses.
It was a moment to observe the spirit of people.
No one has witnessed this moment before; they all were unaware about the beautiful glimpse they will get. People were even taking selfie's with the dark blue sky in background. We all were waiting for the King to rise and visualise the impact it can create.
At around 5:55 am, we saw a streak of light flashing from the right hand side which was rising above the horizon. Just before the sun comes up, the peaks begin to emerge.  Sunrays were growing in an impeccable form; simultaneously on Left hand side we saw the radiance of sunlight falling on mountain peaks and a crimson coloured landscape was visible across.
Sun was spreading its multicolor hue on the snow-capped peaks of Kanchenjunga. It was the magical play of the sunrise. We couldn't take our eyes off the dazzling snow peaks of Kanchenjunga.
Within minutes of the spectacular view, now the crowd started moving back to their cars. The roads were jam packed. Thus I suggest that one should park the car away from the tower at the entry point only, from their exit will be easy.
On our way back we dropped at Batasia Loop and Ghoom Monastery.
Right outside the Batasia loop there were stalls set up early in the morning by the locals selling hot steamed and fried dumplings. The aroma was enough to make us hungry within.
In the centre of Batasia loop garden, war memorial has been constructed to honour the sacrifice made by Gorkha soldiers in the wars fought post-independence. We missed seeing old Himalayan beauty; world famous toy train making its way through the loop and around the garden.  On the tracks there was woollens flea market, which was on temporary basis since, toy train was not
There were few guys with telescopes who charge Rs. 20 to view mountain ranges, we gave it a try. My husband was lucky he even got view of Chinese border the, Nathual Pass and Nepal.  I couldn't see anything because of the vapours concentrated over the lens. There were few people who were busy trying traditional local attire of their choice and then get a professional shoot.
I can imagine the feeling within. This whole process is a fun affair. It builds beautiful lifelong memory over canon paper….
I couldn't resist my shopping desire  when finally I could find the pearl white coloured woollen cap,  I tried negotiating a lot. But the female found the wanting inside me so she didn't even reduced Rs 10.
Indian women's shopping traits will always remain their irrespective of where we are. So I went all across the loop searching for the similar alike cap. But to my surprise I couldn't find one.
I kept my ego aside and I came back to her. With low heart I asked her to pack it for me. I gave her the money and told her thoda sa to kam kar dete……
Though internally I was happy as I got my desired woollen falling cap.
From here we now moved  to Ghoom monastery, the streets were packed with vehicles.
Was too sleepy and tired till then..
So I just entered the shrine area..made myself comfortable on one of the seating areas. Could find the eating bowl, the book stand and some religious artifacts.  I simply closed my eyes and was seating in front of the statue praying for wellbeing and peace. It was peaceful experience.
Sikkim diaries was about to finish.  It was the last destination.  I felt like a child who feels empty when holidays are about to finish. Sadness was visible over my face, was feeling deserted because somewhere I knew now I have to wait for a year to TRAVEL and explore the new land..
I found some connection with Sikkim and its people. Loved the greenery around, the style of people speaking – haan to. aayega to etc.  My driver's everyday tales fascinated me to discover this place more and more.  
This place encouraged me explore the natural environment and culture in a way very few people ever do.
It offered me the healing elements of nature, to the fresh air, beautiful mountains, flowering valleys, and crystal clear streams; it just reduced the effect of urbanized and unbalanced lifestyles for months to come.