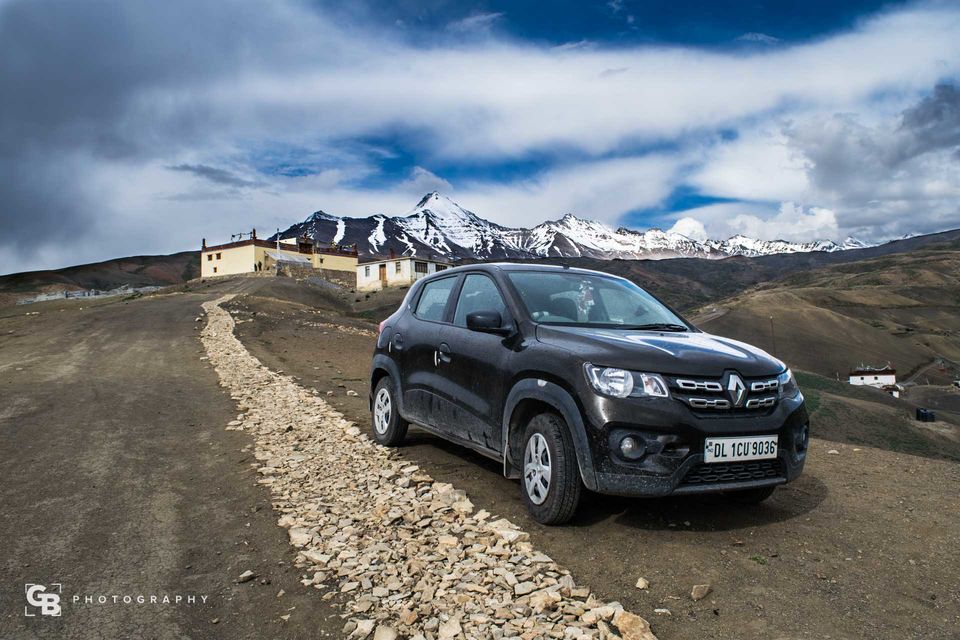 We began our journey on 24th June 2017, whereas the planning for the trip was already in process since few years. After looking for travelling companions, I finally decided to go with my brother and sister by our car - Kwid.
Yes, you are thinking right, it is an insane plan to drive a Kwid to Spiti valley (everybody told us so) but I was confident of my driving skills and also had no choice as I wanted to go by my own conveyance so that I could explore Spiti in my own way. Hence we finally headed towards an adventure of a lifetime!
Day 1-2: 24th-25th June 2017
We had planned to start early from our home in Kaushambi, Ghaziabad but we managed to start only at 7 A.M. After we hit the road I saw that so many Delhiites were leaving Delhi as if it were hit by a Zombocalypse! Because of the traffic we reached the famous stop for travellers i.e. Murthal at 9:00 A.M. We didn't stop there as after so much traffic in transit the road ahead of Murthal appeared to be clear (at least for some distance). After reaching Panchkula we were stuck in traffic jam again. It was just the beginning!
We were amidst the mountains in some time but along with traffic. We were to reach Narkanda by the end of the day for stay, but due to traffic it looked difficult to even reach Shimla in time.
It was 5 P.M. and we neither halted anywhere to rest nor had lunch. Then we saw a 'langar' going on due to some festival. My brother and I were driving alternately and we grabbed the langar on the go. We reached Shimla by 8 P.M.
We then thought of staying there for the night, but there were no rooms available. So we just had Dinner there after a hectic day (the only break of the day).
Since we had no option to stay, we headed to Narkanda at around 9 P.M. and after having experienced the availability issue we booked a room at Kinnaur / Kalpa in advance for 25-26th June'17.
After reaching Narkanda at around 11 P.M. we searched for a room but again didn't find any. It was dark and cold and there was no place to stay so we headed towards Kalpa.
From thereon 'the night was dark and full of terror' as we had to go through the infamous Indo-Tibetian highway. The road till Rampur was very good and we were driving @ 50-60 km for 2 hours period with little halt after that.
We reached Rampur and were looking for a place to just halt but failed to find that too. We then headed further for 2 hrs till Sungra where it started to rain. At Indo - Tibetian highway rain is deadly and it was night-we were damned!
We crossed that dangerous part and as soon as it was over we found a temple and waited there for the rain to cease.
After 1 hour rain stopped and we drove continuously till Kalpa, enjoying the view after sunrise as it was not looking scary now.
We finally reached Kalpa after 25 hours of drive and as soon as clouds dispersed we were awestruck by majestic mountain Mt. Jorkenden!
We rested at hotel which we got earlier, thank God! After sleeping for few hours, we explored the local areas. The scenic beauty there was simply awesome and the sunset was truly amazing.
We had dinner at the hotel and got to know through the staff that there's a shortage of petrol at Kaza and it takes around 3-4 days to replenish.
We became cautious and the next morning we first got our petrol tank full before leaving for Nako. The petrol tank in Kwid is very small so we were already carrying a 30L can along with us.
Day 3: 26th June 2017
At the last station before Kaza, we headed towards Nako. After Kalpa the roads were bad for most of the part. We were in the classic Indo-Tibetian Highway - without asphalt, without stability. We had breakfast at a small shop in Moorang. You can also halt at Spello which has more options.
Along the way there was river Satluj till Khab where there is a confluence of Satluj and Spiti. From there we took the sudden elevation into the heights. Our first destination was Nako where we visited Nako Gompa at around 2 P.M. It was not open completely, but we explored the area. From there we went to Nako Lake and Nako Village. It is a small place but the artifacts in the village were very ancient and I felt like I was caught in the past!
After having light lunch, we headed towards Tabo but in between there was our first nallah - the mailing nallah, which was supposed to be our first obstacle. Luckily its water pressure wasn't much and we comfortably crossed it.
Afterwards it was a beautiful descend.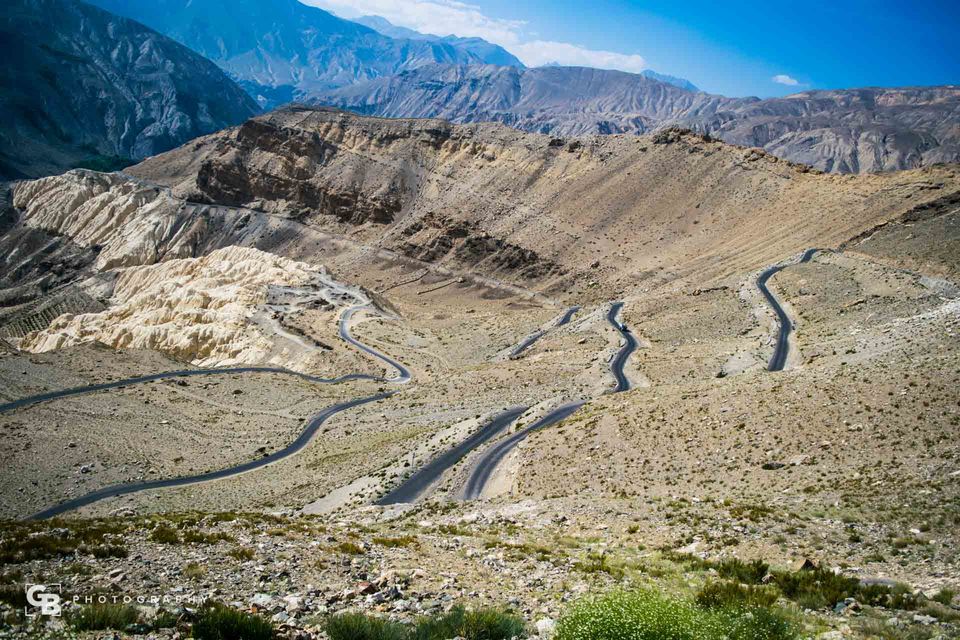 We reached Tabo around 6 P.M. We had planned to stay further, at Dhankar, but since the day was too tiring, we decided to stay at Tabo for the night.
Finally the night for which I had waited for long was here - a moonless night in Spiti without cloud cover. As soon as we stepped outside in the dark, we found ourselves under the mightiest thing I had ever seen, even mightier than the Himalayas or anything else - The Milky Way Galaxy!
At first glance it looked like an ordinary bunch of clouds, but it was actually the galactic centre of our Milky Way galaxy.
The special thing about Spiti is that it feels like another planet, like Mars, because of the terrain and the peace. It's the best experience one can ever have.
After stargazing & photographing for several hours, we stayed at TABO overnight.
We headed towards Dhankar Gompa, which is situated at an elevation of 3,894 metres (12,774 feet) in the Spiti Valley above Dhankar Village. It's an amazing place to be at, with amazing views which seem more like a painting than a real place. After Dhankar we reached KAZA, the heart of Spiti as it is at the center of Spiti valley and all the places are connected through it.
After having lunch we headed towards Langza, where we were supposed to stay tonight.
Road to Langza was deadly as we rightly heard, but I enjoyed the thrilling drive at 4200 m altitude. On the way to Langza it started to drizzle and we got to a pass which is very scenic and road to langza started to seem like a road to heaven!
Langza was very different from other places in Spiti. It was like an oasis amidst the desert. So we booked a homestay and headed towards Hikkim and Komic. The rain had stopped and the view was as clear as it could get. It was the most beautiful drive.
Hikkim is a small place and it has the highest post office in the world. We then reached Komic village which has two monasteries, one new and the other old. New one was closed but we got to see the old one. The road to Komic village is the highest motorable road to a village in the world and it was something to feel good about!
After that we headed back to Langza at our homestay where people were very friendly. As we explored the area, we started to feel tired along with a slight headache. Yes, as you might have guessed, we were starting to feel the altitude sickness. The night before, we'd stayed at TABO which was at an altitude of 10761.15 ft. and according to the rule, after 10,000 ft. one should only stay at 12000ft and gradually increase altitude of 2000ft/night.
But we were at 14,500 ft. At dinner time we lost out appetite and felt fatigue, nausea, and headache. I had planned to capture Milky Way and the Buddha statue that night but my body and weather didn't support the plan. However, I managed to capture something else which was beautiful in a different way.
I slept that night in discomfort, without taking any medicine so as to adapt to the altitude.
Day 5: 28th June 2017
From now on there were clouds at all times. We headed towards Kaza and booked a room for the night and rested there for some time as it was an easy day.
We then visited Key Gompa, which is the largest monastery of Spiti and is also its highlight. As I entered the monastery and looked at the landscape, I felt something special and different. It felt as if I belonged there. I felt a very strong 'Deja Vu' about me being there. We then explored the monastery and headed towards Kibber and Chicham. Kibber is a village which has a wildlife sanctuary and a very unique patterns of mountains. On the way to Chicham we witnessed something scary. There was an under constructed bridge on which we could see the depth of the valley and we were at a canyon, a doppelganger sorts of the Grand Canyon.
We went back to our hotel and rested and prepared for the next day.
Day 6: 29th June 2017
This day, we had to reach Chander Tal and had planned to stay there at overnight. I had my tent and sleeping bags with me. Way to Chander Tal was long and Kaza was the last petrol pump before Manali, so we tried our luck at petrol pump at kaza (which is highest petrol pump in the world) but there was no petrol since 3 days and people had already lined-up for it.
We checked our reserves and decided to go further. We drove the car in neutral while descending and wherever possible otherwise, it saved us a lot of fuel.
The day was long but beautiful. We were to pass Kunzum la and were expecting snow there, but we experienced something different. It is at an altitude of 15059 ft. the highest during our trip. It started raining with the winds so fast that it made the clouds move very freely.
It was heavenly! I can't explain it in words.
We a got a little delayed and headed towards Batal where we had to have lunch. The roads now were very unstable and were even collapsing. We had our lunch at the famous 'Chacha – Chachi' dhaba. They were a happy couple without any connection to outer world, I guess that's part of the reason why. Uncle's sense of humour was great. We asked him about the road conditions towards Chander Tal, to which he replied in a sarcastic way, and we got the feeling that it will not be wise to go further at the moment. So we stayed at their homestay.
Now we were planning to cross the infamous Rohtang Pass the next day and we knew that the flows of nallah increase during the daytime, so we decided to leave early.
Day 7: 30th June 2017
We left Batal at 4 A.M. as we couldn't afford any delay. We were driving on a path made of pebbles, no traction, no even surface to drive and that too in dark. We kept moving steadily and cautiously at a speed of not more than 20kmph as we couldn't go any faster.
The sunlight was gradually increasing. We were relieved a bit, but not for long. We got stuck on the way as the path forward had collapsed and several big stones were on the way. We then took the stones lying around and paved our way. I always make my brother & sister get off the car in situations like this.
It was just the beginning of the obstacles that we are about to face.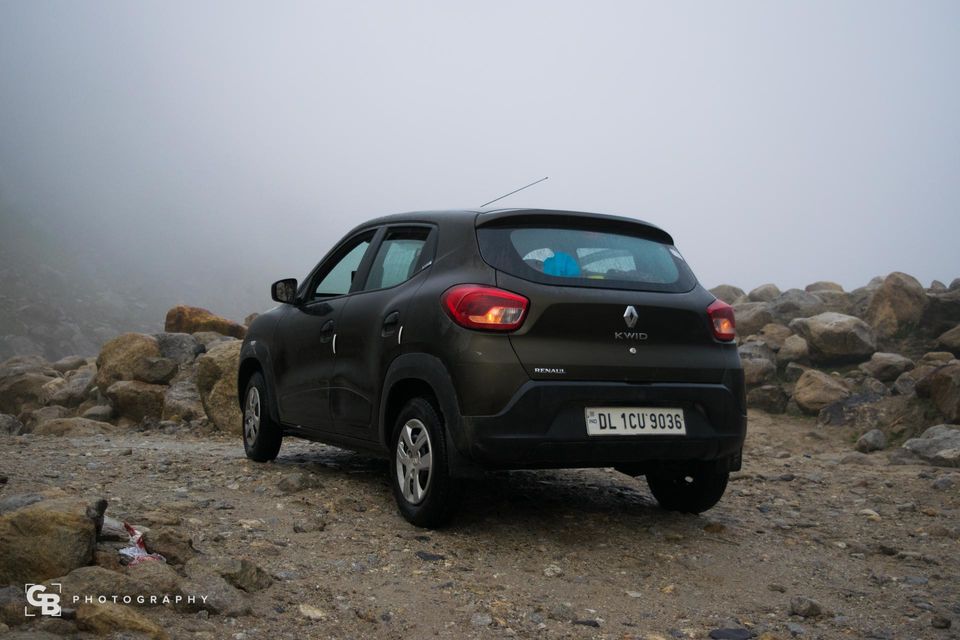 After moving forward a little we got our first nallah of the day. The special thing about this nallah was that it was huge and it was flowing on whole path. So i just revved the engine so as to achieve power and started to climb the overflowing nallah, moving on pebbles and water. It was very difficult and as I was reaching uphill, the power of car started to diminish and I barely made it through the nallah. If I would have stopped in between then I would have been stuck there for several hours as there was nobody around to help for miles.
So stopping was not an option. Momentum was the only way.
We had encountered several nallahs thoughout our path, but now it was muddy. Luckily the mud was during the downhill trail, so after drifting a bit on a cliff on one side, I managed to pass this mud hurdle.
It had been 2 hours already, and we had managed to cover only 25 km. We were aiming to reach Gramphu (where Rohtang pass starts) to take rest, but that seemed to be far. As we proceeded along the path, we encountered another huge nallah/waterfall. As i stopped before the nallah to check the depth and way out of the nallah, suddenly a boulder rolled and hit our car. I was in the car, shocked about the thing that had happened, but my sister panicked seeing it happen in front of her. We managed to cross that nallah with someone's help but the condition of our car was already bad with broken parts under, unknown to us. The whole way was dreamy & heavenly. We saw horses running along with us on water as we were also driving on a path full of water and pebbles.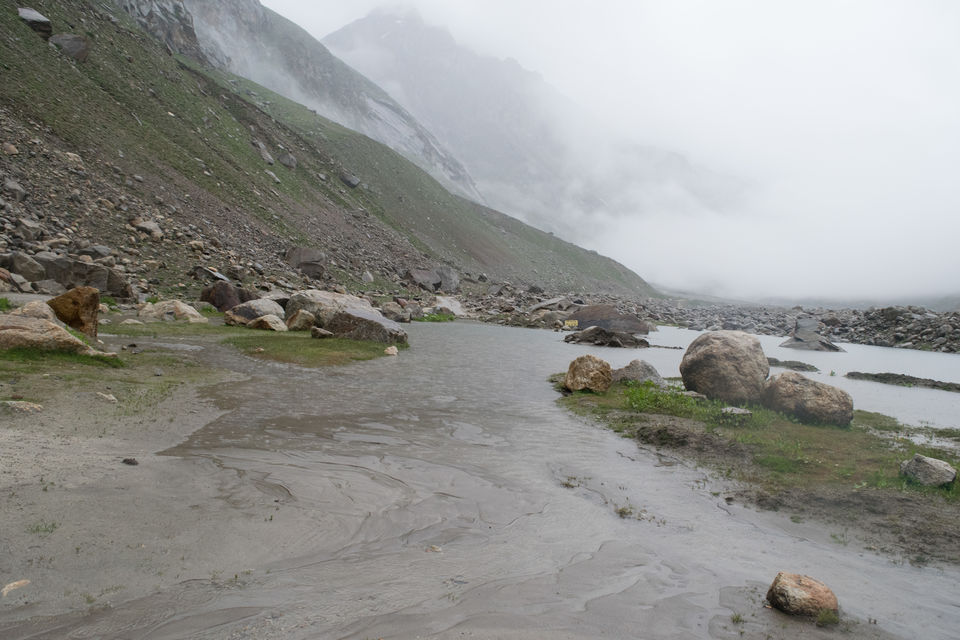 At one time after crossing a nallah, I was waiting for my brother & sister to catch up when I saw a duster coming towards us. I had a feeling that this is the guy my brother had a conversation with yesterday. He had a 4X4 Duster and he was travelling solo. So we stopped him for help and he willingly helped us. My brother & sister got on his Duster which made me relieved a bit. Now I was alone in my car ready to take risk, which presented itself too quickly.
The biggest obstacle above us was an elevated road with a snake-like shape and covered with 3 ft. of mud. I revved the engine before ascending the hill as I needed as much power that I could muster for momentum because if the car stopped once, it wouldn't have been able to produce enough power to overcome both mud and elevation. A 4 -wheel drive vehicle is necessary for such trails. But we had no choice. So I launched for the road, attaining as much speed as I could, drifting and slipping through mud.
Now there was the first hairpin bend uphill. This is when any vehicle needs maximum power. Only the edge of the road had less mud, so I opted to drive on the edge drifting through the hairpin bend with life threatening risk of falling off the edge, but at least I was alone.
I covered 2-3 hairpin bends before I lost all the momentum and got stuck. I went out of my car and waited for the Duster to come. Even 4X4 was barely enough for this terrain as it was also drifting a bit. The guy helped me by pushing the car from the back. As I got back on the track, I was ready for another round, and this time I ought to cover as much as possible. So this time I took edges of the road and covered 3-4 hairpin bend before stopping in front of 3ft Mud. As i came out of car to assess the situation, I saw what we were seeking, a proper road, and yes it was the infamous Leh-Manali Highway.
It may sound absurd to others, but we were relieved to see the Leh-manali Highway.
So now pushing wouldn't have helped, so we took out the rope that we had brought took for such scenarios and tied one end to Duster's back and one end to Kwid's front (now i know why the towing hooks are provided at the back for duster and at the front for Kwid). Also, we placed stones in front of our tire so as to provide traction, we then pulled our Car with Duster while giving a push from behind and it finally moved. We almost reached the highway when the rope broke! However, the rope had already done its job, and we were finally at the asphalt. We thanked the man and parted ways as he was going to ladakh via the Zing Zing bar.
So we started another task - to cross Rohtang pass and reach our hotel in Manali. The roads uphill till Rohtang were not in the best shape this side, but yes they were there.
We were moving uphill, we could see all the trucks and vehicles lined up at the top, and we were moving slowly due to traffic and bad condition of roads. Since it was getting troublesome to drive uphill, my brother & sister sat on a truck going to Manali.
And then I overtook a truck from the cliff side (sign of a very bad mood). Luckily, I got ahead and the road was clear furhter.
Finally reaching Rohtang, I halted my car and waited for my brother & sister to arrive. I calmed myself by taking a sip of mountain dew and yes it felt really great, as if I had done something that was not doable! People were enjoying while I was watching them as they were unaware of what awaited beyond.
We got united and went ahead. Soon after, there was a point where all the cars had stopped because of a rockslide. There was a big rock on the road and everyone was just waiting for help when suddenly more rocks start to fall and everyone panicked but not my brother Sarang (i need to mention him after his heroic task). He went to move the rock all by himself so that way could be cleared, that might seem to be a stupid move but looking at him the officer managing there came forward to help and both of them moved the rock aside enough so that traffic could be cleared. Then everybody quickly moved ahead of that point safely.
At that point our adventures got over (at least for this trip).
We reached our Hotel and spent the remaining day like an ordinary day.
Day 8: 1st July 2017
We left the hotel at 8am for home. We reached home at Kaushambi at 11 pm.
For all the Roadlapse of the the trip check out below
https://www.youtube.com/watch?v=5r8Or1aG6X8&list=PL3qMXQcFg-XV-czoLJVNDU9bd3_ubAiit