Long Long Time ago, Somewhere in North Campus, Delhi
A bunch of guys in an MBA college came up with this concept, Trip Alpha! Simply put, you just land up at the railway station, look at the departure board, just hop onto any train that looks interesting enough and thus Trip Alpha would begin, a journey without any bookings, itinerary or destination.
5 Years Later, Somewhere in Gurgaon
A 28 year old guy, in an office cubicle, has just come back from his first solo trip and is suffering from serious PTSD (Post Travel Stress Disorder). He asks his cubicle mate to ensure he doesn't end up quitting the job that day. By the end of the week, he hadn't; but what he did end up doing that week was to book another trip.
And this one was going to be his version of Trip Alpha; A Trip on which he would end up being mortally scared, land up in a new city at night with nowhere to spend the night, not once but twice, wake up one morning with no recollection of the previous night, trust all his possession in the hands of strangers, meet a guy in a local bar claiming to be spying for the CIA in his country, run into strange looking reptiles and survive to tell this tale! Ohh yes, and did I mention, surviving an elephant stampede, becoming a guinea pig for a hair removal cream and have a guy ogle at my legs for an uncomfortably long time and say, 'You don't look Indian'
Day 0 of the Trip, 9:30 PM, 7 kms from Colombo International airport
The Tuktuk Driver says that the route he is taking is indeed the shortest route; and all I can think about is the headlines in the next day's local paper;
Later in the evening, I was in Sigiriya, the town which has nothing more than the famous Lion Rock, and that is more than sufficient, if you ask me. It is quite a climb to get to the top, and it is supposed to have a great view of the surrounding areas; the reason I use the word supposed is, I never got to see as far as I could, because it started raining while I was climbing and I don't have a reason to complain, I got the mightiest view possible, the clouds over those ruins, and then they clearing, what more could one ask for!!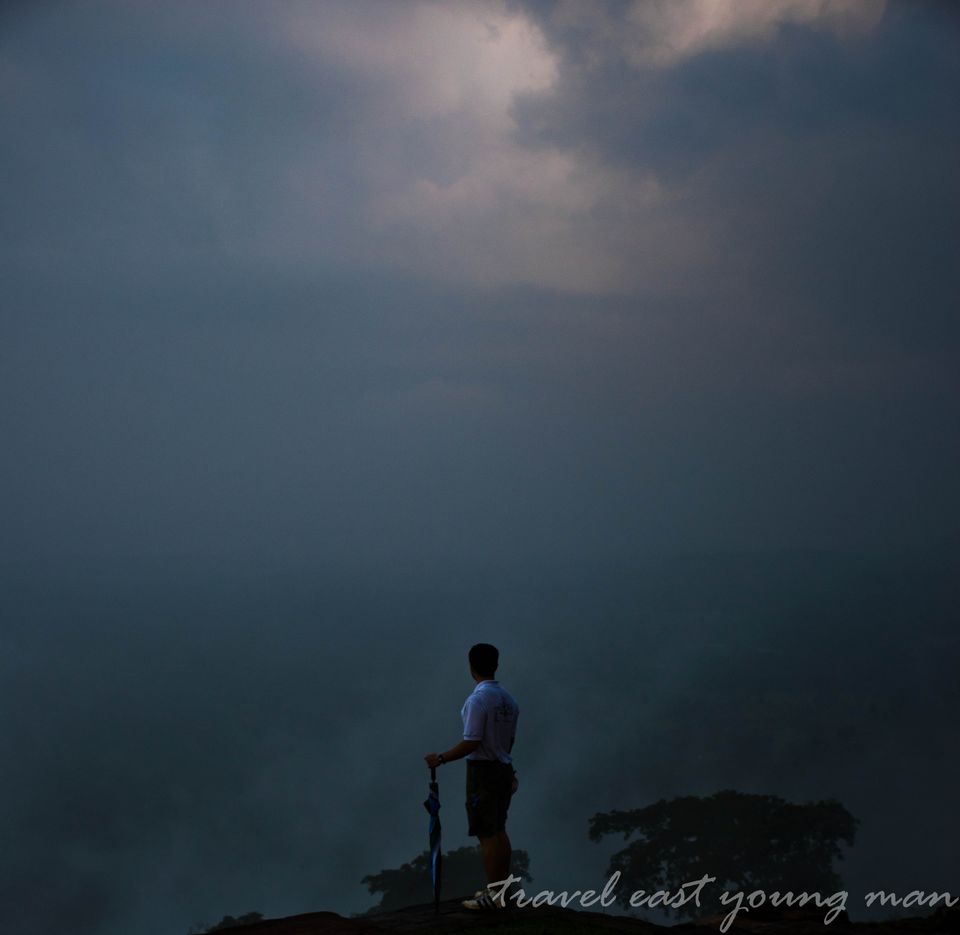 'Indian Tourist's body found in bushes 10 km from the Bandaranayake International Airport in Colombo'.
It all seemed like a bad idea, a very very bad idea and it had just started. 45 mins earlier, I had landed in Colombo with my backpack, day bag, my passport and with only 1 reservation for the entire trip, this night's , (purely because you need to enter an address in the 'Visa on Arrival' form) and only a faint idea of what the next 9 days were going to like.
It seemed to unravel immediately after stepping out of the airport, the supposed shuttle wasn't where all the travel guides said it should be, I ended up taking an auto to my guesthouse for the night, got so scared during the ride that I ended up switching my phone's data services on international roaming ( I never buy a local sim or an international SIM) and to my relief and good fortune, the tuktuk driver wasn't lying and he did drop me at my guest house.
Over the next 9 days or so, I went around, what is called the cultural triangle; Anuradhapura, Dambulla, , Sigiriya, Pollanaruwa & Kandy, Galle, Mirissa and survived to tell the tale!
Day 2
I had just gotten off a bus from Anuradhapura, with little or no clue about what I was going to do next. I was in the town of Dambulla, the sight of the famous Cave Temples.
I had no intention of staying the night in Dambulla, so taking a hotel room was out of the question, so I simply walked into the first shop, I saw, and asked the lady at the counter, if she would keep my bag for me while I go visit the cave temple, she said yes and I left my bag and went to visit the temple. It is another story that I almost forgot which shop, I had left my bag at, and had to search quite a bit before I could find it.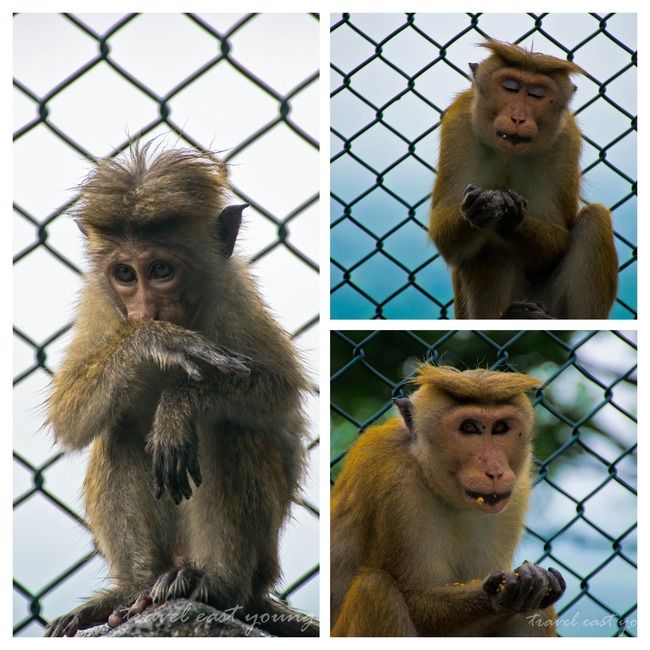 This day typifies of what it is like to travel alone and without a plan! I started off from my guest house, planning to scale the second, less illustrious (and did I mention ,free) rock in Sigiriya, and then, changed my mind on my way, turned back, got my backpack from the guest house. As I was having breakfast, I got chatting with some taxi drivers who told me that Pollanaruwa, which I wanted to visit, but was flooded, until a couple of days back, was fit to visit. I changed my plan, then and there and decided to go to Pollanaurwa. Before I said goodbye to Sigiriya, I made a new friend, one who was a bit shy, as you can see from the pic below!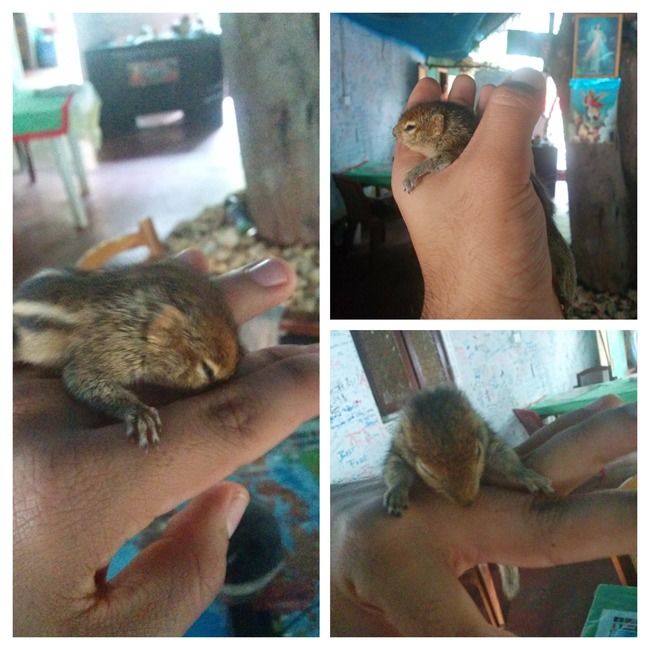 Talking about view, I was on my way inside the Lion Rock complex, walking absent-mindedly along a gravel path and suddenly, not less than 5 feet away from me. Well, it is probably the most scared, I have ever been!! Well, not really, I just ended up uttering that phrase atleast 20 times on this trip.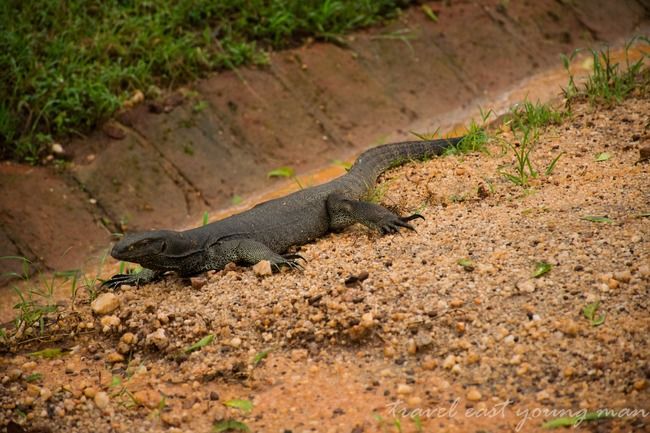 On my way back, I had what I can probably describe as the most scared I have ever been of the dark. I was walking along a dark road back to my guest house. When I say dark, I mean dark, absolutely dark. With sound of insects coming from the adjoining woods. And you know what was the worst thing, you would suddenly feel relieved when a vehicle would be seen (with its bright headlights) approaching from a distance, but it would be momentary, the moment the vehicle went past, it would be pitch dark. God is my witness, how I managed to reach the guest house without getting a heart attack
Day 3
And this is turning out to be quite a long post, but such was the trip, full of interesting sights and tales, so I will leave the rest for a subsequent post.
Until then, Live Long & Travel Far!
Frequent Searches Leading To This Page:-
Sri Lanka tour best time to visit, Best Sri Lanka places to visit, Sri Lanka tour itinerary, Sri Lanka honeymoon trip, 4 days tour packages Sri Lanka, Sri Lanka beach tour packages