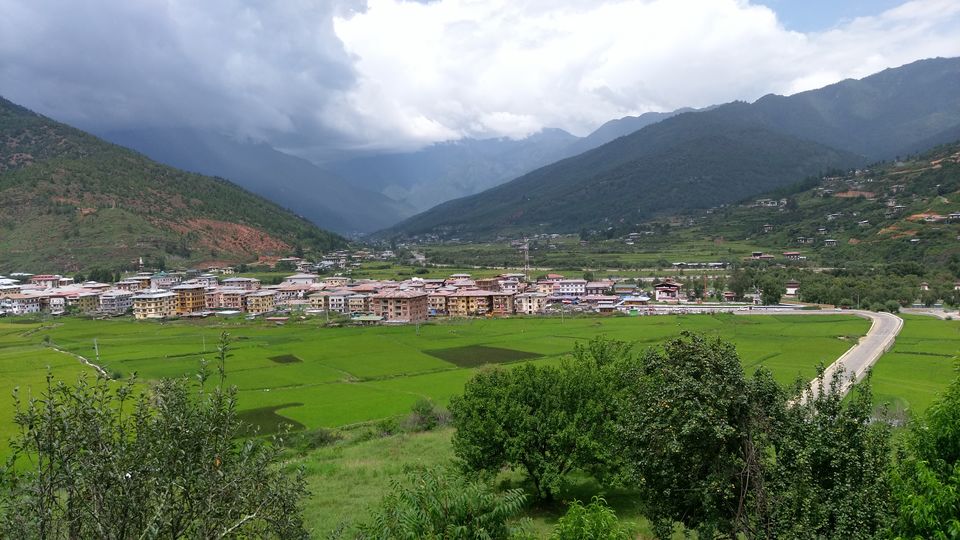 Thimphu is the most beautiful city as well as the quaint capital of Bhutan. It presents a unique blend of cultural day life as well as the modern nightlife. The city is amazingly decked with tranquil monasteries, ornate architectural buildings and lined vibrant streets where the local cultural programs are held. You can enjoy day life by exploring monasteries, Dzongs, sightseeing places, doing adventure activities. And the nightlife includes clubs, bars, pubs and shopping centers where people are coming here to enjoy which are not that common in other parts of the country. Breathtaking views of mountains, serene monasteries and a unique blend of modern lifestyle and cultural heritage make Thimphu a must visit destination in Bhutan.
A brief idea about the capital of Bhutan, Thimphu-
My last year trip in December to Thimphu, Bhutan was essentially a myth-busting exercise. It was definitely one of the best spontaneous trips, with no travel plan at hand and a plenty to see and experience. Before this trip, I always thought that capital cities are generally equipped with hustle and bustle, high-rise buildings, crowded streets and heavy traffic. But my Thimphu trip proved me wrong by presenting different picture with its lovely landscape, warm-hearted people, without a traffic light and ornate Bhutanese architecture buildings. My Bhutan-Thimphu tour was about 12 days and believes me, these 12 days was giving me the best feelings ever.
Some of the best places in Thimphu you should visit while traveling in Winter-
As my personal point of view, winter is the best season to explore the natural beauty of Thimphu. As this time, the mountain wears a blanket of snow; the valley becomes colorful as the varieties of flowers are in full bloom. I spent the first few days exploring the most popular sights in Thimphu, which I have mentioned below-
• National Memorial Chorten
• Dochula Pass
• The Weekend Market
• Zorig Chusum School of Traditional Arts
• The National Folk Heritage Museum
• Zangthoperi Lhakhang
These above-mentioned places of Thimphu city must be included in your itinerary if you are traveling during winter. I can bet you these places will blow your mind.
Exciting adventure activities to do in Thimphu-
I must say it is the place where you can get the best thrilling experience. However, there are a lot of things to do in Thimphu, but if you want more appropriate ones, then I will recommend you some activities which I had personally experienced in my Thimphu trip. I have mentioned those activities perfect for winter seasons-
• Paragliding
• River-Rafting
• Mountain biking
• Kayaking
• Canoeing
More things about Thimphu you must know-
Thimphu is just not a place just exploring sightseeing places and enjoy thrilling adventure activities, it has something more extra than any other places:
• The lively nightlife of Thimphu was mainly attracted me by its colorful pubs, clubs, bars and shopping centers. Club Ace, Mojo Park, Space 34 etc are the best places where you can enjoy your nightlife.
• You must taste local cuisines of Thimphu to get the mouthwatering taste. Ema Datshi, Kewa Datshi, Shakam Paa, Jasha Maru etc are the most delicious food I had ever eaten.
• Thimphu is also famous for its local art crafts. So you should not leave Thimphu without buying some unique souvenirs like Thangkas Painting, Singing Bowl, Mala Beads, Bhutan Handicrafts, Wooden Products etc.
• Thimphu being a capital city, it houses many resorts, hotels as well as homestays for a comfortable stay. But I recommend you before choosing, you must research the particular accommodation.
Lastly, I m providing some useful information/tips for travelers:
• You should carry your passport along with your Voter ID Card to travel to Bhutan.
• Indians do not need any visa or advance application before entering Bhutan.
• If you are traveling during winter months, you must carry woolen jackets, mufflers, shocks, hand gloves, shoes, woolen shawls etc. You should also carry umbrella or raincoats, as rains are quite uncertain.
• You should carry also your needed medicines for your crucial situations.
Overall, I must say Thimphu tourism gives me a memorable trip for a lifetime with its alluring nature as well as warm hospitality.