India has a rich history dating back to as far as the Indus valley civilisation. It is quite natural for such an ancient civilisation to be a land of historical monuments each of which are a wonder in itself. Parallel to the contest of the seven wonders of the world was conducted a contest in July 2007 by The Times of India which was titled as the 7 wonders of India. There were many monuments that participated in this and the winners were decided by the majority of the votes. So here are the seven wonders of India, in all their glory.
Located in Shravenbelgola, the 57ft high statue of Lord Bahubali was made in 983 AD out of one carved single block of granite and stands majestically on top of a hill with natural beauty adding to its awe. The colossal monolithic statue of Bahubali also called Gomateshwara is of great religious significance because Jains believe that Bahubali was the first to attain moksha. Every 12 years thousand of devotees come here for the Mahamastakabhisheka, a spectacular ceremony where the thousand year old statue is anointed with milk, curd, ghee, saffron and gold coins. Gomateshwara is one of the tallest statues of the world and should be seen to appreciate the craftsmanship of people of those times who carved out this tall statue without any modern technology!
Best time to visit: October to March.
Timings: It's open throughout the day, from sunrise to sunset. There aren't any set timings.
Entrance fees: It's free for all.
Where to stay: There aren't any places to stay near the statue. However, you can stay in Hassan, the nearest town, and take a day trip to see the Gomateshwara statue. Hassan Ashok and Hotel Southern Star Hassan are some good options you can check out. You can find some more stays here.
How to reach: Nearest airport is Bangalore, 165 km away, whereas nearest railway station is Hassan, only 50km away. Regular buses run between Bangalore to Gomateshwara and Hassan to Gomateshwara.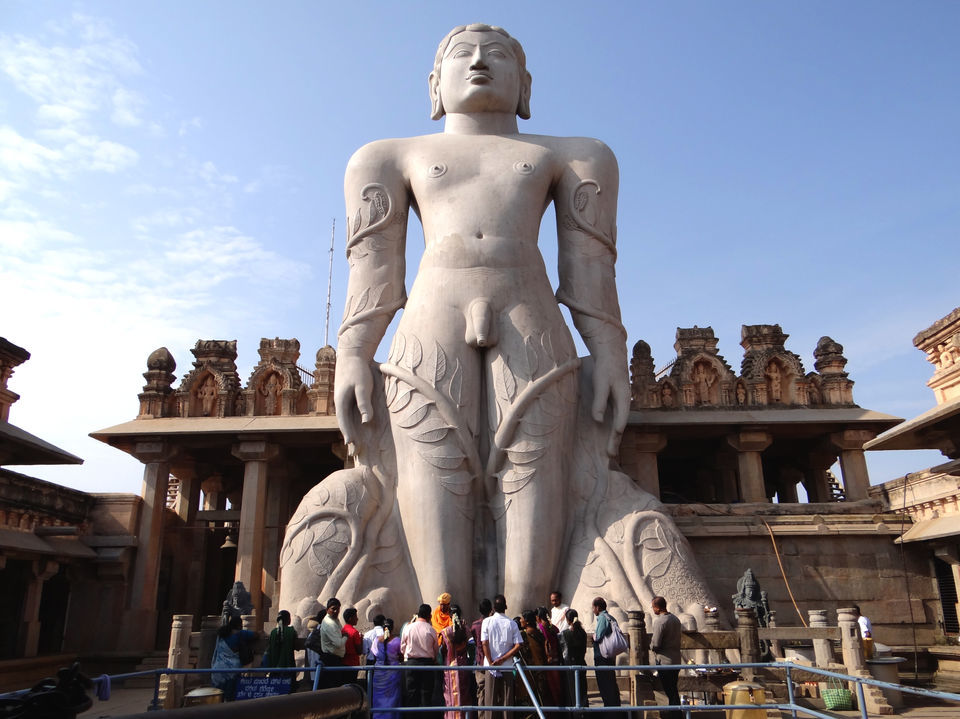 One is engulfed in sanctity as soon as one enters the Golden temple. The Golden Temple Amritsar India (Sri Harmandir Sahib, Amritsar) is not only a central religious place of the Sikhs, but also a symbol of human brotherhood and equality. Everybody, irrespective of cast, creed or race can seek spiritual solace and religious fulfilment without any hindrance. It also represents the distinct identity, glory and heritage of the Sikhs. The four openings to the temple are an indication of the openness of the religion. It is very rightly said that visiting the golden temple is a matter of experience and not description!
Best time to visit: September - November and February - April.
Timings: You can visit the Golden Temple through out the day.
Entrance fees: Entry is free for all.
Where to stay: Ramada Amritsar and Hyatt Amritsar are some of the best hotels in the city. You can check out more options here.
How to reach: Amritsar's international airport is connected to all major cities in India as well as abroad. The nearest railway station is Amritsar City with direct trains from Delhi, Jaipur, Mumbai and other major cities. There are buses that run between all big cities of Punjab and Amritsar as well as between Delhi and Amritsar on a daily buses.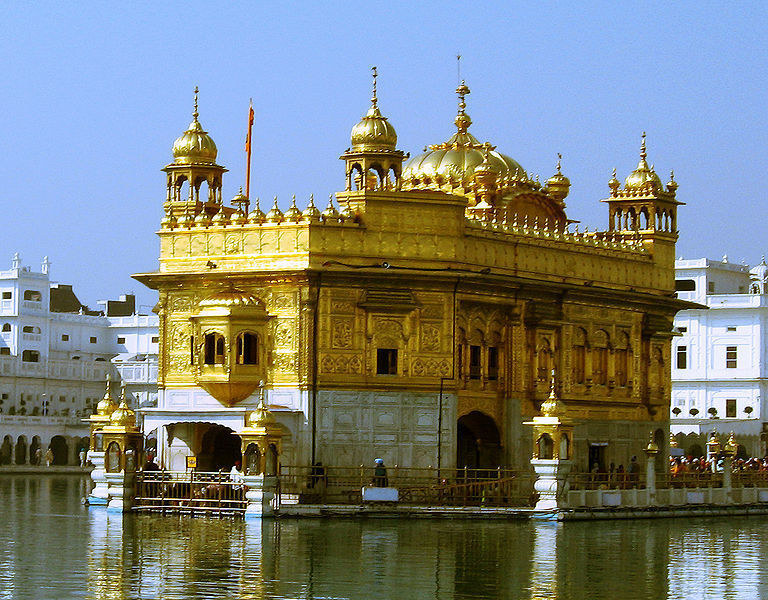 Also listed as first among the 7 wonders of the world, the grand Taj mahal has attracted people from far and wide for its breathtaking beauty. Considered as the epitome of true love, the Taj has brilliant optical illusions in its architecture. The very sight of this tomb fills you with an air of magnificence and the surrounding garden only adds charm to the monument. Throughout the year, Taj Mahal remains a buzzing place with people ready to pay exorbitant amount to witness its beauty in the full moon night. Taj Mahal shall ever remain the best gift bestowed on India by the Great Mughals!
Best time to visit: October to December and February to March.
Timings: Every Day, (except Friday), sunrise to sunset. You can visit the Taj Mahal at night also, between 8.30pm to 12.30am, on full moon night two days before and two days after.
Entrance fees: During the day - ₹750 (Foreigners), ₹510 (Citizens of SAARC and BIMSTEC Countries), ₹20 (Indian), entry free for children below 15 years of age. . For the night visit - ₹750 (Adult, Foreign), ₹510 (Adult, Indian), ₹500 (Child 3-15 Years, Indian & Foreign), entry Free for children below 3 years of age.
Where to stay: Courtyard by Marriott and Double Tree by Hilton are great luxury options. You can check out other options here.
How to reach: The nearest international airport is New Delhi. There are regular trains and buses that run between Delhi and Agra. Uttar Pradesh Transport Corporation as well as private bus operators have around 10-12 buses daily whereas there are around a 100 trains that run between the two cities of a daily basis.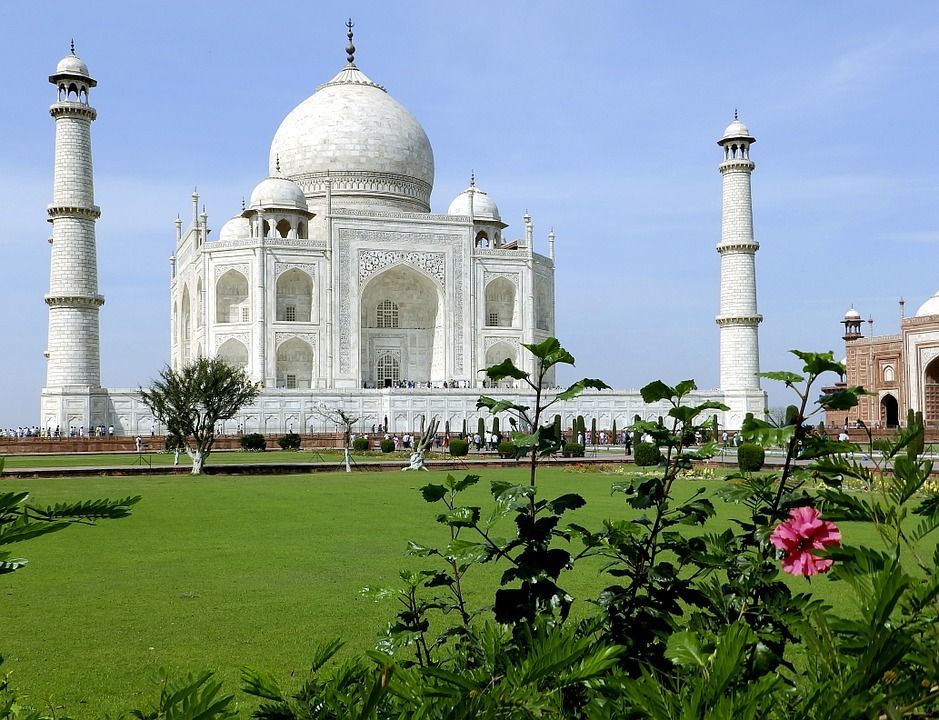 The once forgotten ancient city of Hampi has been brought to life again by recent archaeological excavations. The ruins of the ancient city of Hampi are strikingly, unexpectedly even eerily beautiful. This 16th century capital of the kingdom of Vijayanagar lies on the banks of river Tunghabhadra and is surrounded by stark rocky ridges and mammoth boulders seemingly precariously balance on each other. The vast spaces are silent but the ruins are eloquent. The bazaars, the temple, the boulders everything will take you back into the past and will once again make you fall in love with the astonishing art of India!
Best time to visit: November - February.
Timings: Vittala Temple, Zenena Enclosure Elephant Stable & Lotus Mahal and Queen's Bath - 6am to 5pm. Heritage Museum, Hampi Bazaar - 10am to 1pm & 3pm to 6pm. Archeology Museum at Kamalapura - 10am to 5pm (closed on Friday) and Virupaksha Temple is open from sunrise to sunset.
Entrance fees: Vittala Temple, Zenena Enclosure Elephant Stable & Lotus Mahal all have one ticket that costs ₹30 for Indians and ₹500 for foreigners. Heritage Museum, Hampi Bazaar, and Queen's Bath have no entrance fees. Archeology Museum at Kamalapura has the entrance fees of ₹5. Virupaksha Temple has the entrance fees of ₹2, however the still camera fees is ₹50 and video camera fees is ₹150.
Where to stay: Hospet is the base town for visiting Hampi. Vijayshree Heritage Village and Malligi are some popular stay options in Hospet. You can check out more here.
How to reach: Hospet is the base town for visiting Hampi. The nearest airport to Hospet is Bangalore, 334 km away, and from there you can either take a train or a bus to Hospet. Hospet has its own railway station as well as bus stand. Between Karnataka State Road Transport Corporation and private operators, there are around 20 buses daily between the two cities. There are five daily trains between Bangalore and Hospet.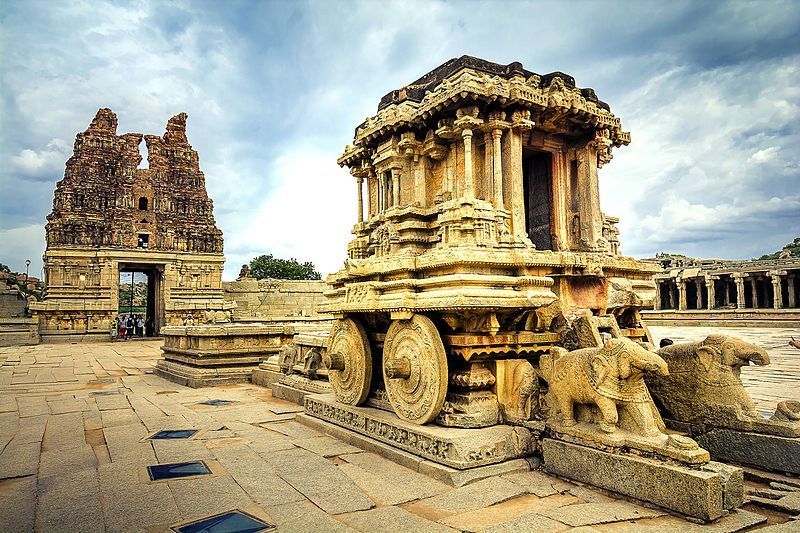 Rabindranath Tagore has aptly eulogised the temple as 'Poetry in Stone'. Conceived as a grand chariot drawn by seven horses, with 12 decorated wheels on either side, the temple is dedicated to the Sun God. It is believed that the seven horses are a representation of the seven days of the week and 12 wheels depict the months of an year. the temple is partly in ruins but the intricate stone work and colossal size are awe inspiring. There are three beautiful sculptures of the Sun God on the northern, western and southern facades of the temple tower. The sculpted scenes include the king holding a conference, couples in erotic poses, dancing women, hunts, battles, family scenes, sailors on voyage and so on. Each of this sculptures is significant like the voyages depict English sailors coming to the harbour and making the so called Back Pagoda as their landmark. The beautiful culture and history of the Orissa is beautifully depicted in the Konark festival held every year in the month of December where the beauty of this Sun temple increases many fold. The Konark temple marks the culmination of the temple building architecture in Orissa.
Best time to visit: September-March
Timings: 6am - 8pm
Entrance fees: ₹10 for Indians, ₹250 for foreigners and free for children aged 15 years or below.
Where to stay: Most people either stay in Puri or in Bhubaneswar and visit Konark on a day trip. However, there are some humble lodges and homestays near Konark temple that you can stay at like Surya Inn.
How to reach: The nearest airport is Bhubaneswar at a distance of about 64 km. Bhubaneswar has direct flights from places like Delhi, Chennai, Hyderabad, Bangalore, Kolkata and Nagpur. The two nearest railway stations are Puri, about 33 km away, and Bhubaneswar. State buses, tourist buses, taxis, private coaches and hired cars are easily available to reach Konark.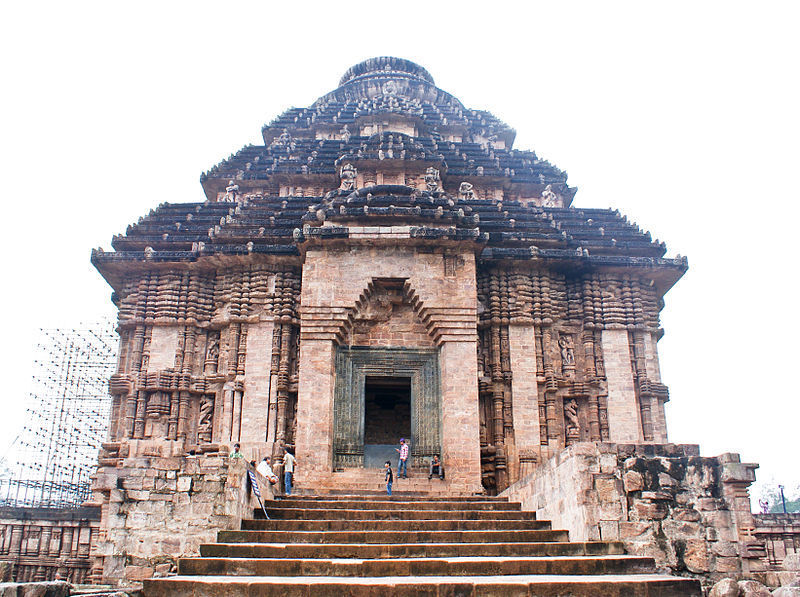 Standing sixth among the 7 wonders of India, the city of Nalanda is one of the oldest established cities of India. The ruins of the glorious past mesmerises one even today. The name Nalanda resonates as an inspiration to anybody who heard about this place as the nurturing ground of the first residential international university of the world for great learning during the era when most of the other countries of the world were at the very nascent stage of development. The district, well-connected by network of roads and railways, had been a cradle of multiple religious evolutions. Apart from Buddhism, the Jainism, Sufism and Hinduism have also flourished in this region with the patronage from the generations of benevolent rulers. Now again Nalanda has an established open university attracting students from all over the country, thus symbolising the relevance of past in the present.
Best time to visit: October to March
Timings: 9am - 5pm
Entrance fees: ₹5 for Indians, ₹100 for foreigners.
Where to stay: Rajgir is the base town to stay at when you wish to visit the ruins of Nalanda Univeristy. Hotel Nalanda Regency is a good, decent option to stay at. You can see more options here.
How to reach: The nearest airport is Patna, 89 km away and the nearest international airport is Delhi. Nearest railway station is Rajgir, only 12km away, however, Gaya (95km away) has easier connectivity with major cities in India. Rajgir is the base city for visiting Nalanda. Daily buses run between Patna and Nalanda, Gaya and Nalanda and even Rajgir and Nalanda.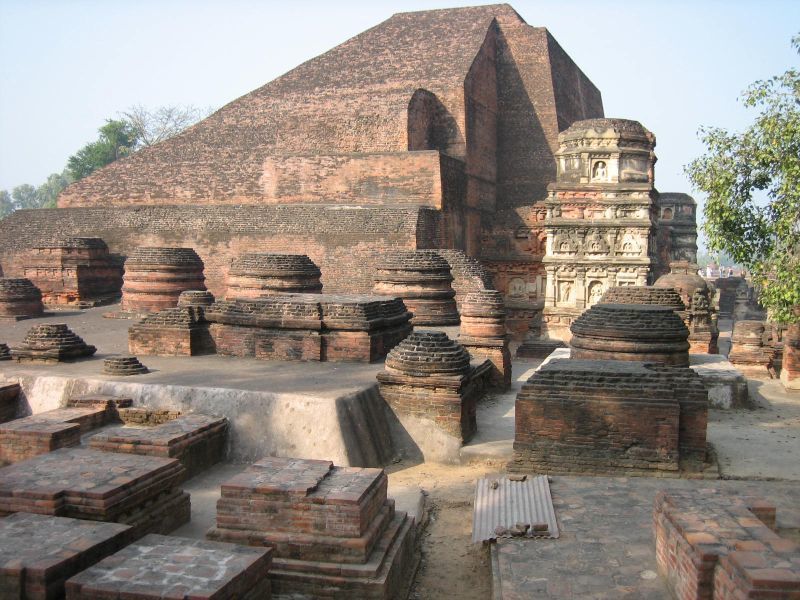 Right in the heart of the country is located the most explicit and eloquent depictions of lovemaking carved in stones on the walls of the alluring temples of Khajuraho. The three groups of temples- Western, Eastern and Southern with the Western being the largest group are a pleasure to the eyes. This seventh wonder makes you wonder the skilfulness that must have been required for such intricate detailing. People from far off land come this small town just to feel the beauty of these temples and to fetch an answer to the question of why the erotic images are carved on the walls of the temples! Khajuraho temples are indeed living works of art!
Best time to visit: November - April
Timings: 8 am to 6 pm
Entrance fees: ₹30 for Indians, ₹500 for foreigners and free for children below 15 years of age.
Where to stay: Radisson Jass Hotel is a popular place in the city. Other than that, there is also Zostel, one of the most popular hostel chains in India. You can check out more stay options for Khajuraho here.
How to reach: Khajuraho has an airport that is connected to all big cities like Delhi, Mumbai, Hyderabad etc. Khajuraho also has a railway station with great connectivity to all major cities in India. Khajuraho is connected by road to cities like Jhansi, Orchha, Bandhavgarh and Chattarpur.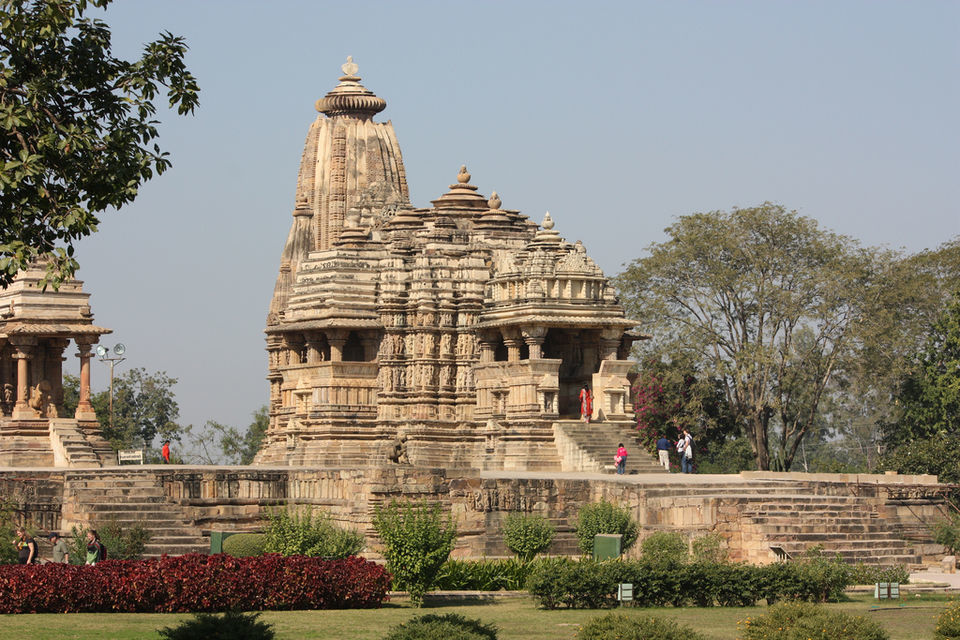 The seven wonders of India are just examples to show what a multicultural land India is. These magnificent,glorious pieces of architectural genius are sure to take you back in time only to remind you of the epithet 'The Golden Bird'and make you realize that India stands aptly to this eulogy!