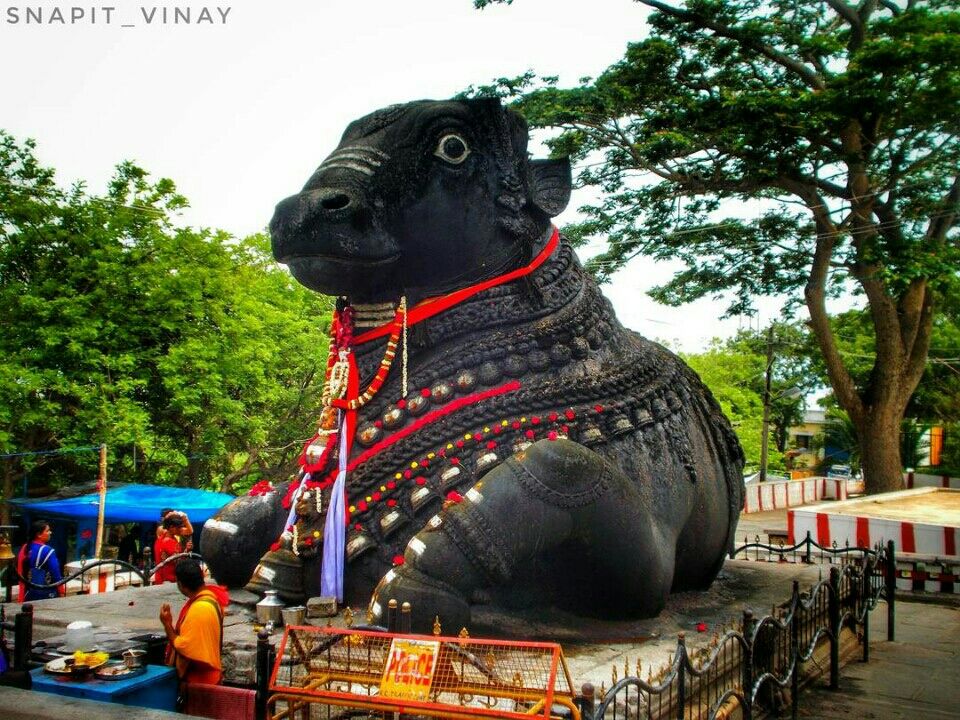 I Woke up at 5:00 in the morning even before the sound of my alarm. This is the straight third day I woke up even before the alarm rang. What I understood from this is all you need to get up early in the morning is to have some purpose or an excitement of doing something you like and saying yourself to wake up at particular time before sleeping. As I woke up I heard the rain drops dropping on metal sheets which were used as roof cover for a house or shop which was beside the room where I stayed. It was still dark outside & I couldn't see clearly whether it was drizzling or pouring down.
If you don't read the full story you don't have the whole experience.
Day 1 - https://www.tripoto.com/trip/my-way-to-mysore-day-1-5a2da4f40a780
Day 2 - https://www.tripoto.com/trip/my-way-to-mysore-5a2d9824a1e1b
Day 3 - https://www.tripoto.com/trip/my-way-to-mysore-day-3-5a2db23534dc3
It was still raining as I went on to finish my brush and bath deciding to leave as soon as it stops raining. I dressed up and went out to have a look and it was drizzling a bit and looked like it will stop in some time.
I left my room at around 6:00 am and left to city bus stand which was 7 minutes walk using Google maps.
The roads were wet, clean and empty.
The shops along the road were closed.
The tea stalls were buzzing with men.
The birds were flying and chirping.
The clouds were creeping away and
I was walking and walking.
After a quick walk I was in bus stand and that day I felt I was as lucky as Bangladesh winning a cricket match against India because the bus which was going on my way looked like it was waiting for me.
I got into the bus and sat down. After some time conductor came to collect ticket and I asked for a day pass giving her a 100/- rs note. To my surprise she asked for change of 50 rs/-. I was stunned to know that the price of a day pass in such a nice bus and flexible transport is as low as 50 rs/-. I felt that I had already won the day. After about 5-10 minutes the bus left towards its destination so was I.
Chamundi hills :
Ride through ghat roads.
Sri Chamundeshwari temple.
Viewpoints and sunset point.
Things to do :
Trekking from down to top of the hill.
Climb around 1k stairs and reach temple.
Lookout for viewpoints.
After an awesome, fast and fresh air filled bus ride to the top of the hill at about 3300 ft I reached chamundi hills. This was the main reason I decided to travel their twice in three days. I straight away went towards the temple to take a quick look at the crowd and as I thought people were already waiting in queue even though the temple gates were closed. I stood in front of the temple feeling the cold wind blowing on my face and watching monkeys which were playing on the temple building.
After 10 minutes I left towards the hill point which was called as secret sunset point as per google but I visited it twice in the morning and it was worth it both times. After a quick walk on the stairs I reached my resting point. There was already a guy sitting there enjoying his morning listening to old Hindi classics. I joined him without an invite and I think he was not concerned with an unexpected guest entering his territory. I sat their looking at the city below me and feeling the fresh morning air listening to an unknown playlist of an unknown guy. After sometime the stranger left and I listened to passenger while the cold wind was smoothly sweeping my face.
I left back to the way I came from to have my breakfast and go to my next destination with a thought in mind that it might be closed as it was raining all night. Came back climbing the steps and walked for some time & I was at a point where there were small hotels with school benches as seats. I chose the one which was crowded and ordered a plate of vada. Everything about it was bad. It was cold. Chutney was watery and curry was creepy. I ate it looking at others and listening to their cursing of food. I left from there as a bus which I was waiting for had arrived.
I Checked the way to my destination and waited for the journey to begin. People stroll into bus one after the other and along the way came ticket collector and after sometime the main guy appeared and the faces of the passengers glowed. After a thrilling ride from hill top to all the way down I stepped down the bus at JC nagar. I waked for 5 minutes and I was at my next destination Sand sculpture museum which was still closed but some guys were waiting which was a good news for me. I glanced at the flex which was placed at the entrance which had pictures of articles, newspaper etc about the creativeness of a girl who made impossible into possible.
Mysore Sand sculpture museum:
Unique and interesting museum.
Amazing Sand sculptures.
Nearby chamundi hills road.
After sometime a mini traveller bus arrived with a malayali family. The entrance opened and the family rushed in. I took a ticket and went in. There stood a huge pile of sand which had sculptures carved with an elegant and awesome way. It was so real and creative. The way she had done the work we could see how much effort she had put in to make it all possible. I was amazed as I took a tour around the area. I saw Ganesh idol, horses, laughing Buddha, horror theme, Santa Claus, mermaid theme, Islam theme, save animals theme etc and all were fantastic. I was happy that I had got a chance to look at that beautiful work.
Sri Ganapathi sachidananda ashram :
Lots of temples
Birds park
Bonsoi Garden
Lots of walking
I came back to city bus stand and took another bus to reach ganapathi sachidananda ashram which was my next place to visit. Found the location after a bit of confusion. This place had a birds park especially parrots, garden where small tress were kept as exhibants and a gallery where huge collection of variety of things gifted to swamiji from all over the world by his followers were organized in two floors. It was so huge and had lots and lots of things. It would have taken whole day if I had closely observed all the things. I took a quick look around the area and observed those which were asking attention. Came out after a quick walk and walked out to bus stop to take a bus for my next location.
After some waiting the bus arrived and I spent my journey looking at the streets, shops, people walking beside the road. I had to walk a bit after reaching the bus stop to reach jaganmohan palace. I walked in from the gate towards the ticket room and along the way I saw the malayali family waiting there. I went to collect the ticket but was greeted with a disappointment. There was a power failure and entry was not allowed. I thought to wait but the guys there were waiting for above 45 minutes. I came out and made a decision to visit rail museum and come back here after that.
Rail museum:
Vintage trains collection.
Historical Bogies and engines.
Get into interiors and feel the journey of Indian railways.
I booked an ola auto as there were no direct buses available and I had to walk more. After a journey of about 15 minutes I reached rail museum. Took tickets and entered the train world. Not a big place but a quick walk around 30 minutes exploring the journey of indian railways from the beginning to future. Few old trains were kept for exploring. Big engines, beds, dining table, study table, cozy seaters could be seen. Not very well maintained place but if given attention could be a great prospect as a tourist spot. I left the place after a quick walk around the park.
Jagan Mohan palace and art gallery:
Paintings, carvings and artifacts.
Great collection
Life of Mysore kings
Took auto back to art gallery and this time power had came back and I went to collect ticket and treated with a good news. I kept my camera in my backpack as photography was restricted. As I entered the hallway the renovation was in process and had to go to other entrance. I was welcomed with a big painting of the king who stayed there. There were paintings, photographs, furniture, things of kings era. The paintings of raja Ravi varma and others were so marvelous that I stood in front of them observing them closely at that perfectness. I thought how much effort they might have put to get them done. I enjoyed the whole walk inside the palace looking at paintings of kings, their family, art of legends whose work was so elegant that i was mesmerized with each painting. After about an hour or so I came out with a smile on my face, with peace of mind and hunger in my stomach.
I wanted to eat delicious Mysore food one last time before I leave. Searched for nearby hotels in maps and found some and decided to go to a nearby cafe after reading positive comments. First sight all I could see is full house and mostly dosas on the tables. I wanted to have proper lunch. Found place after some waiting. Sat there and looked at menu and ordered my food which consisted of 2 kulcha, pander koftha and ghee rice. As I waited for my food I kept looking at people having good and crowd coming in and moving out. M food arrived. Dig into it and enjoyed it. Ordered rasmalia after completing my main course. Delicious it was. My tummy was happy so were my other parts of the body.
Walked to my room and had rest for some time until I woke up to see the time was around 4:15 pm. I had to catch train to Bangalore at 5:00 pm and I had to board a bus in Bangalore at 9:00 pm. I hurriedly packed my bag and left the place. Looked out for auto but found none. Booked Ola auto and reached station at 4:55pm. Train was about to leave and I ran as fast as I can and cruzed into the train without confirming about the train and then when the train started leaving the station I asked a co passenger whether the train was going to Bangalore or not and I was relieved after a positive indian yes nod from him.
PICS OF THE DAY :