Travel. As a kid, I would sit in front of the television set, watching traveling shows on discovery channel. And then I would turn around and tell my sister, "This is what I want to become when I grow up."
My sister is both a traveller and a writer. She travels solo often and this year she gifted me a trip to Himachal. I decided to make the trip as cheap as possible. Cheap, yet not compromising on the fun.
On this trip, I traveled to Malana, Kasol, Tosh and trekked to Kheeraganga. I had already been to Kasol, Chalal and Manikaran once and the vibe that the place has was very comforting.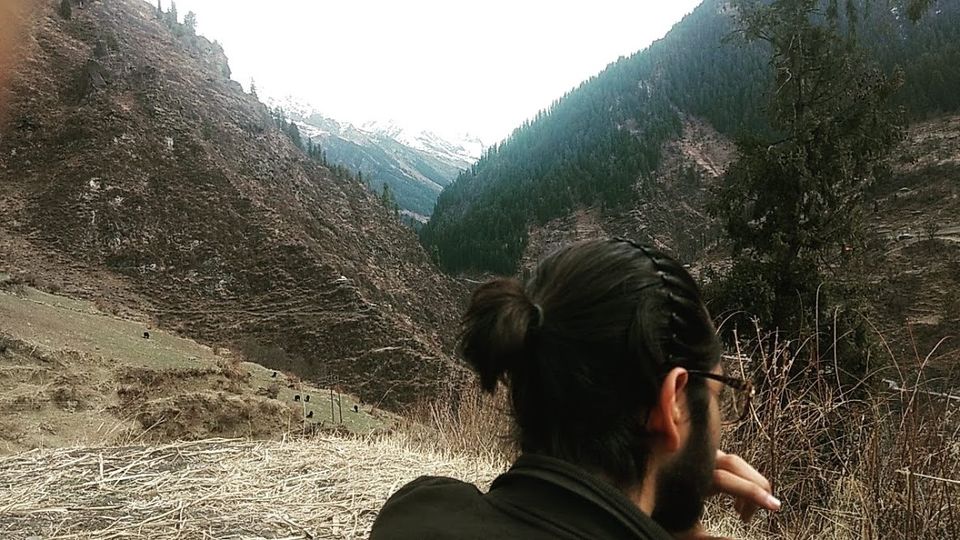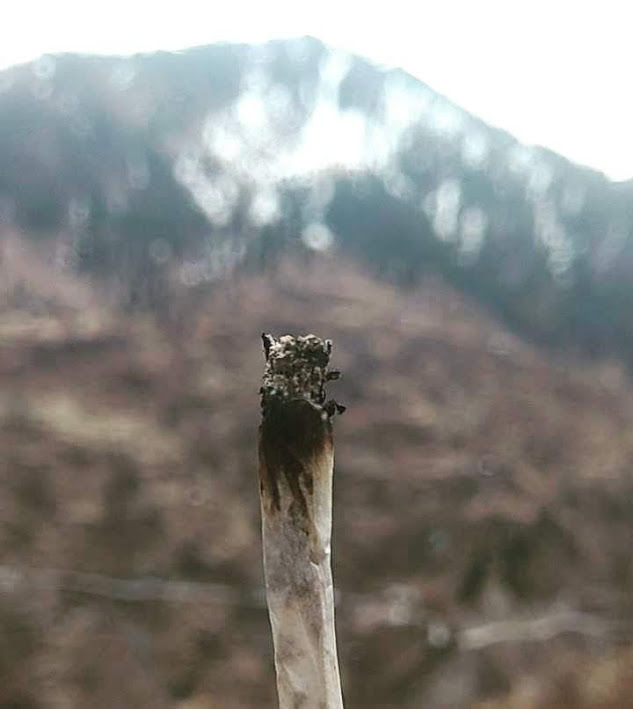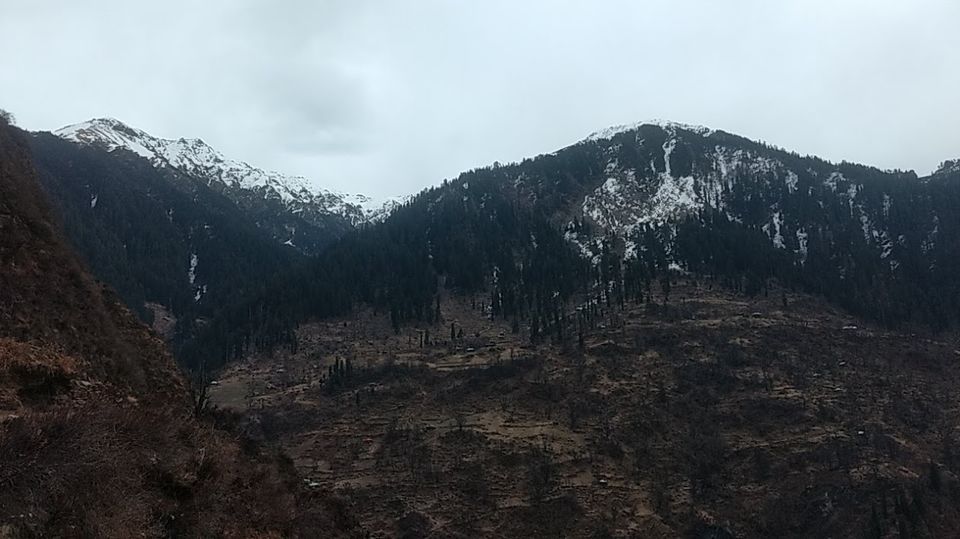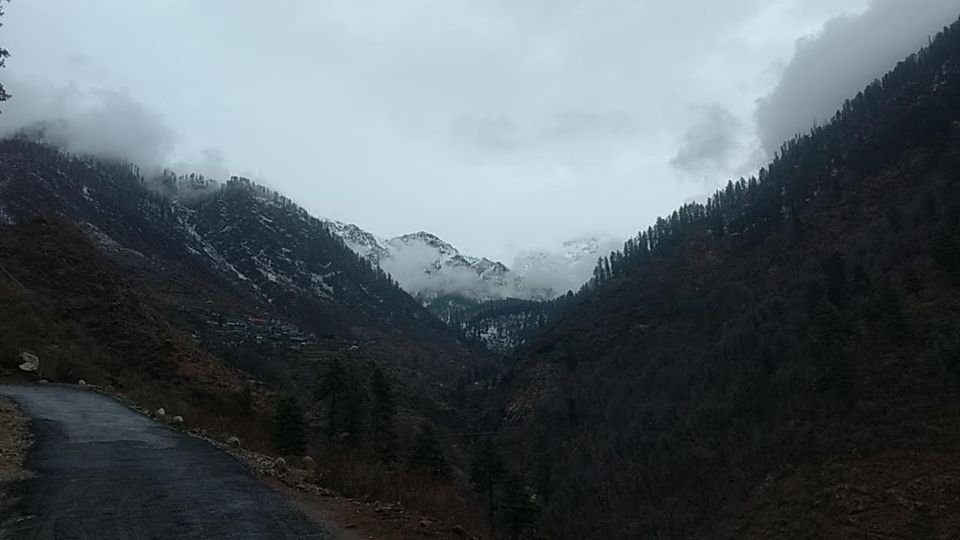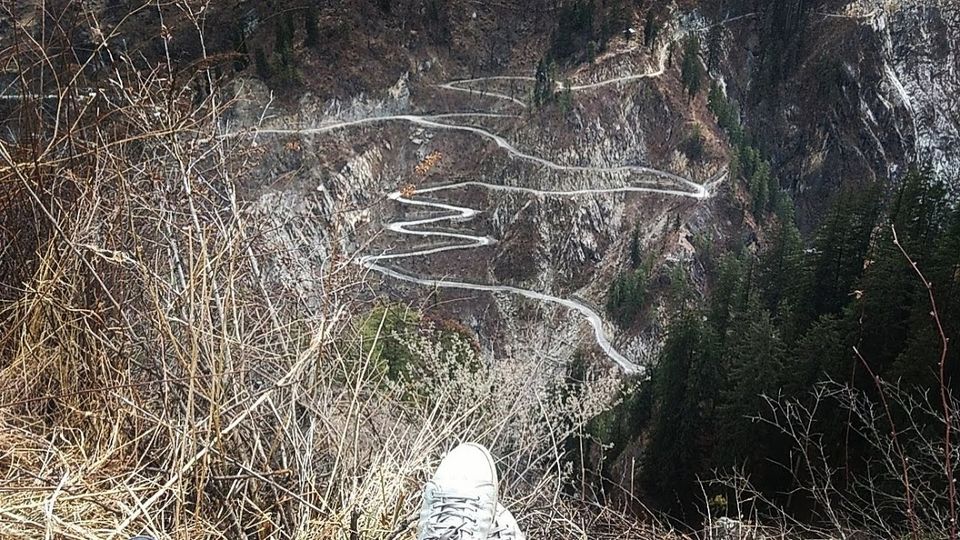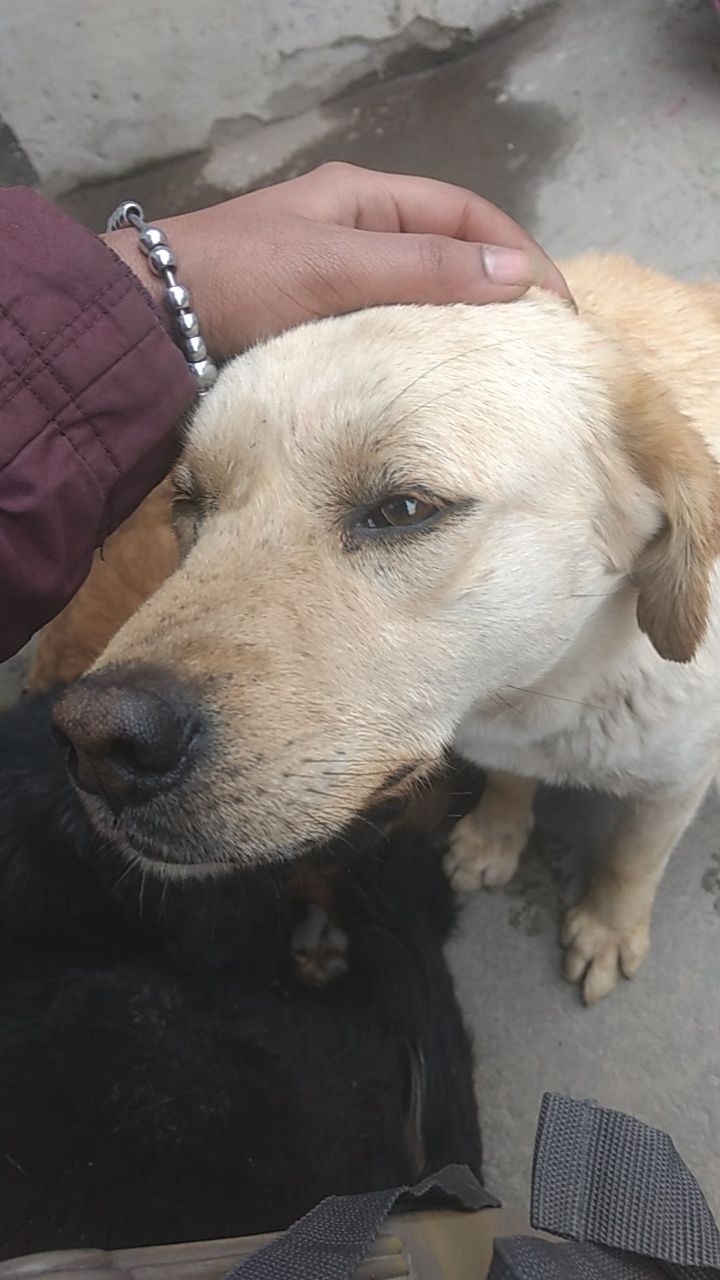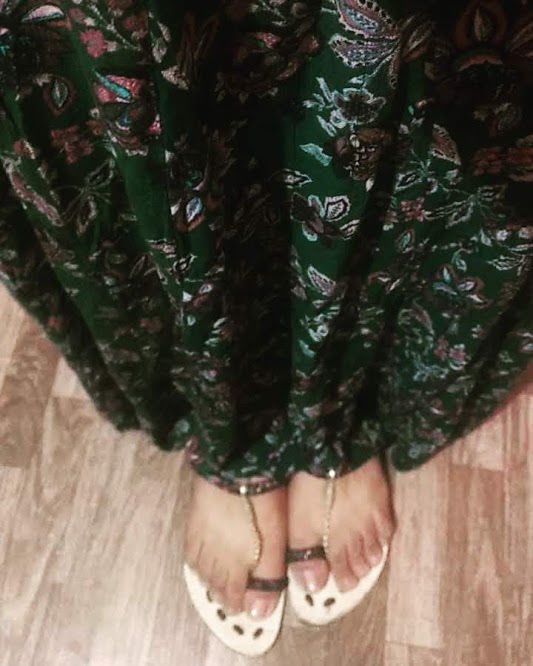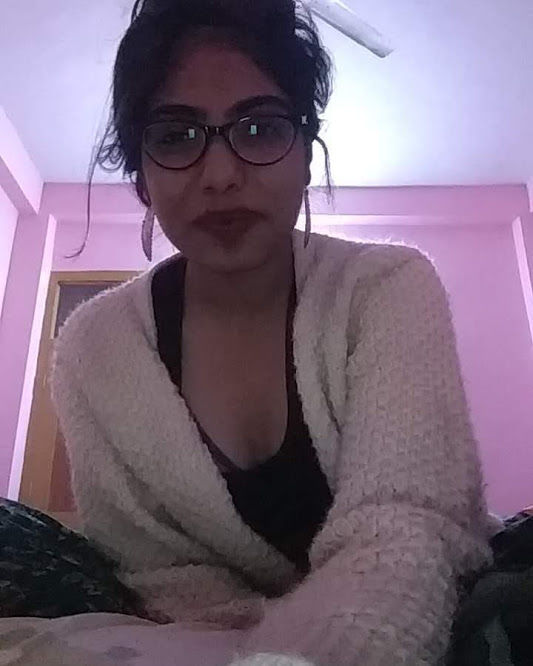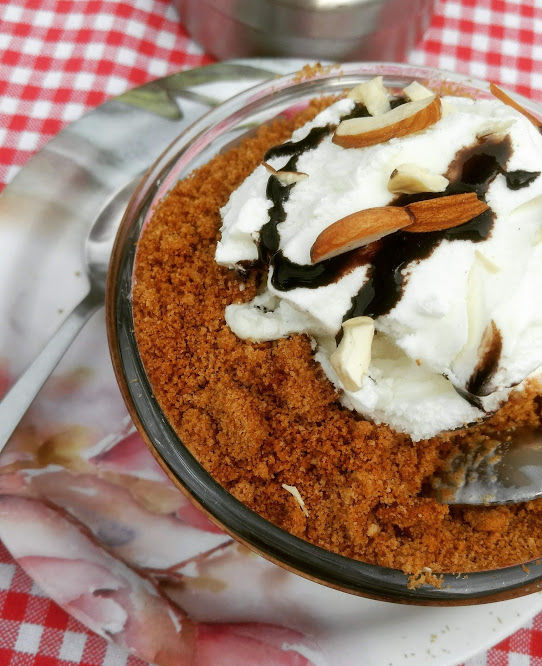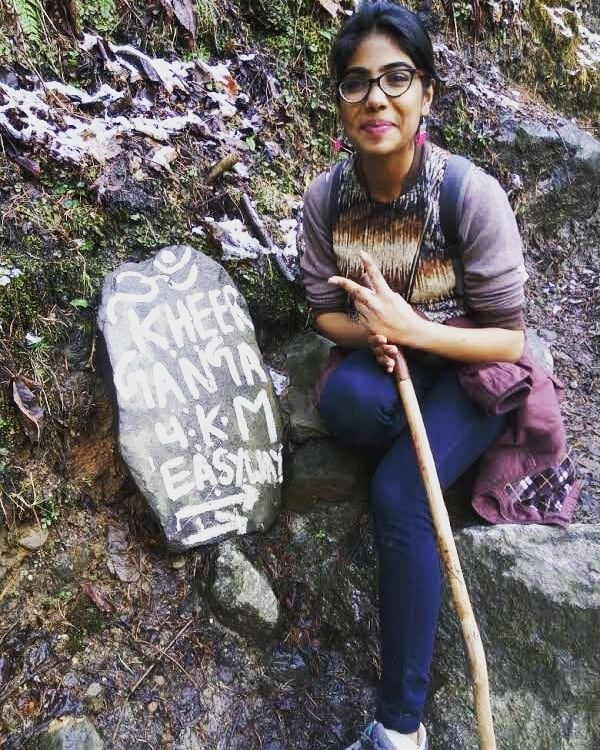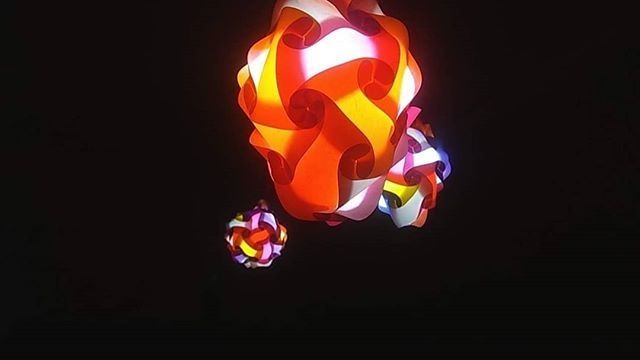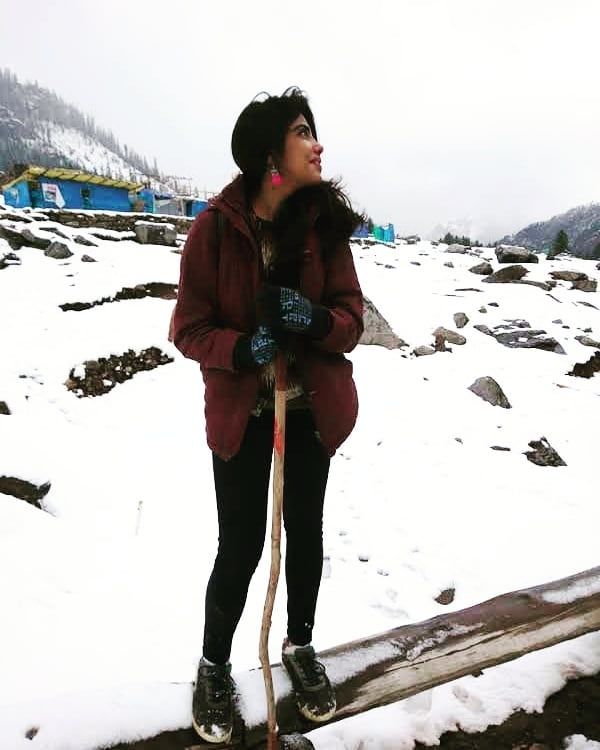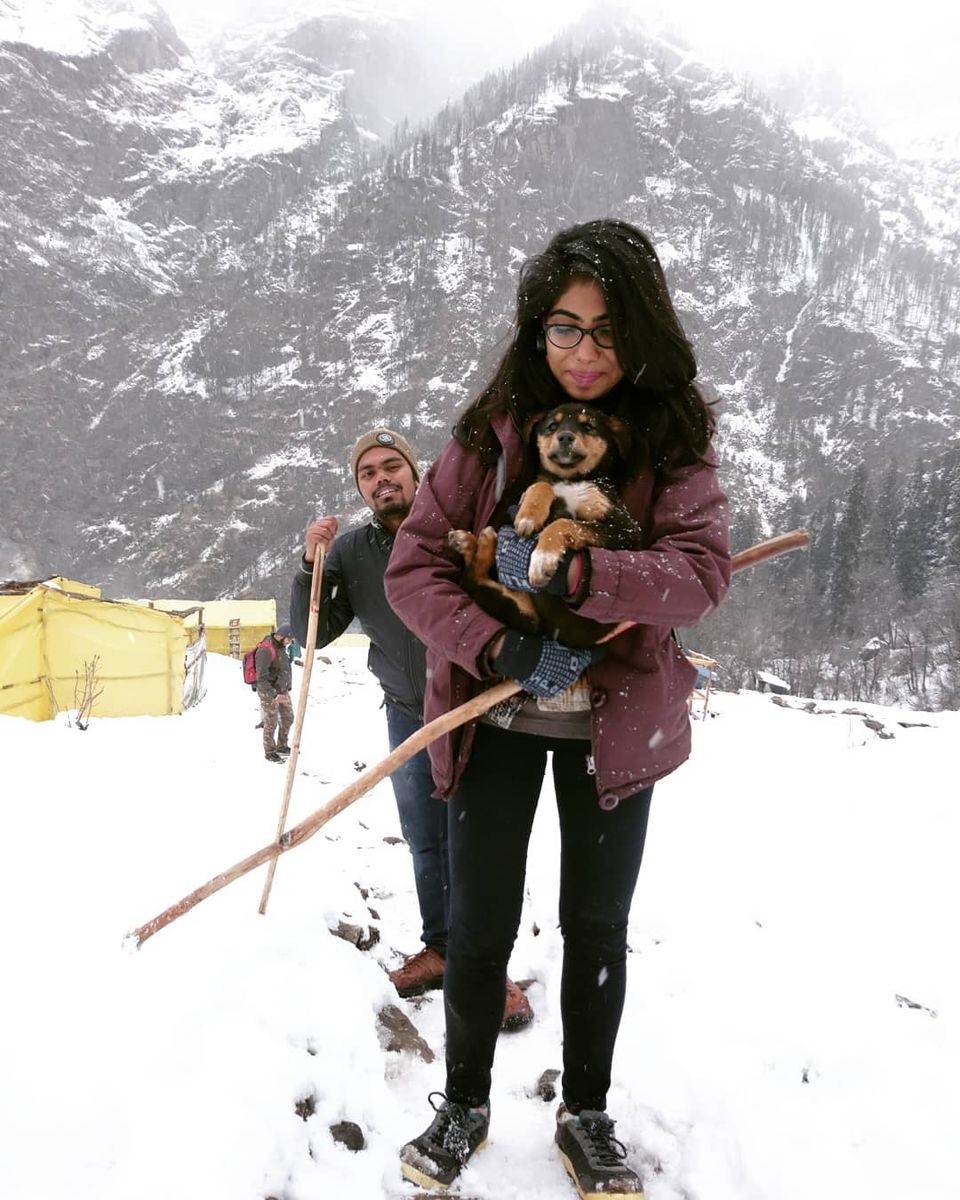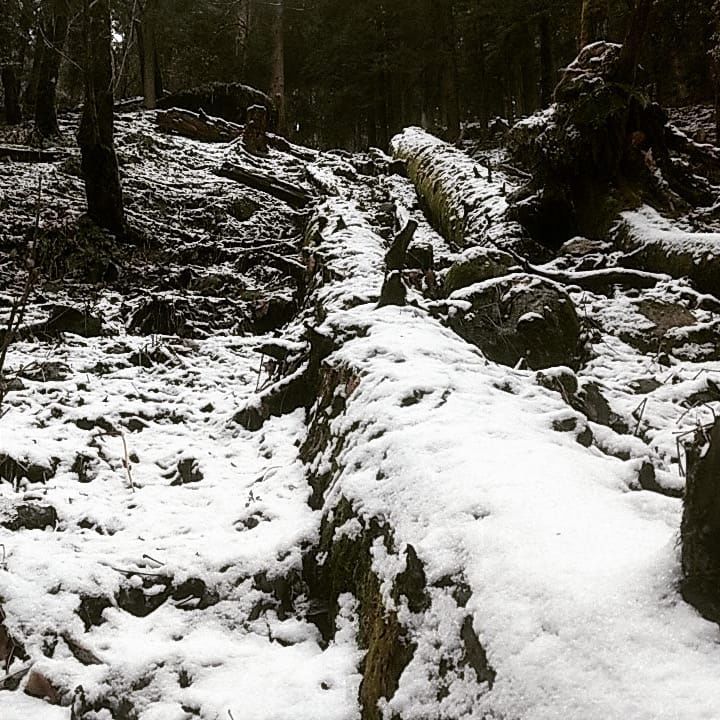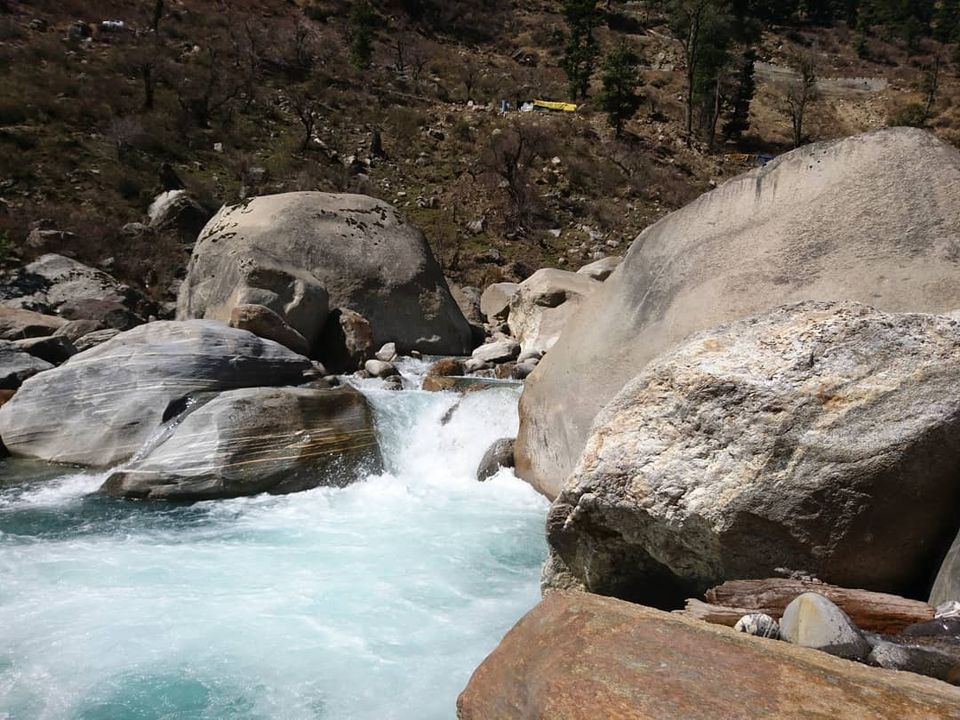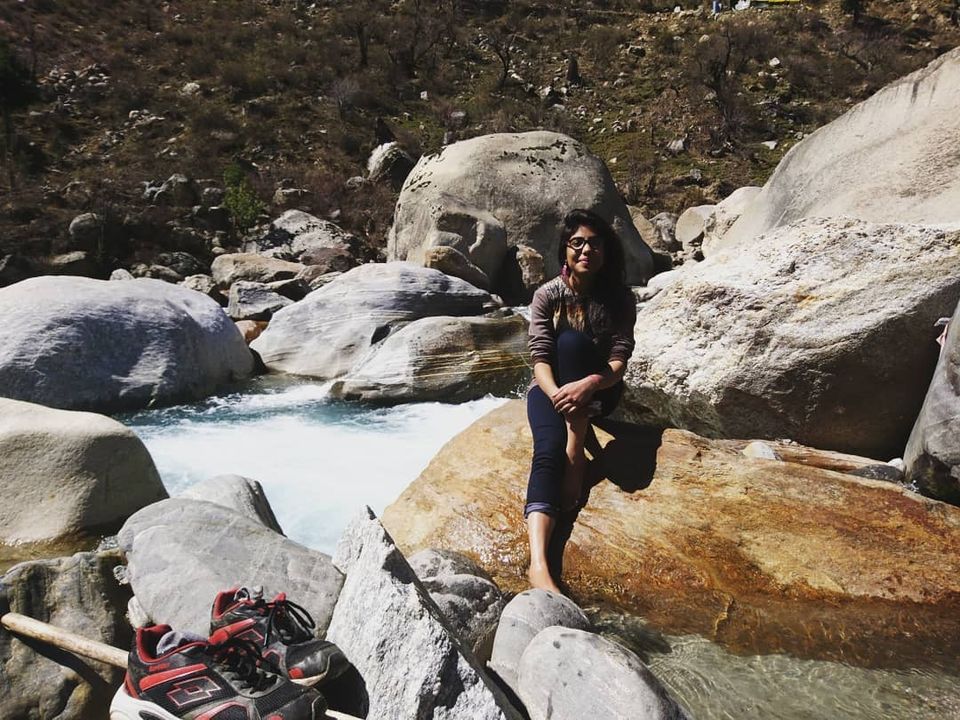 My journey started with a local bus from Kashmere Gate, New Delhi to Jari village. The ticket cost me 650Rs, which is half the price I would've paid had I travelled on a Volvo. The bus left the stop at 7:30 and I reached Jari at 8 in the morning. Luckily I got a window seat and enjoyed the view all the way.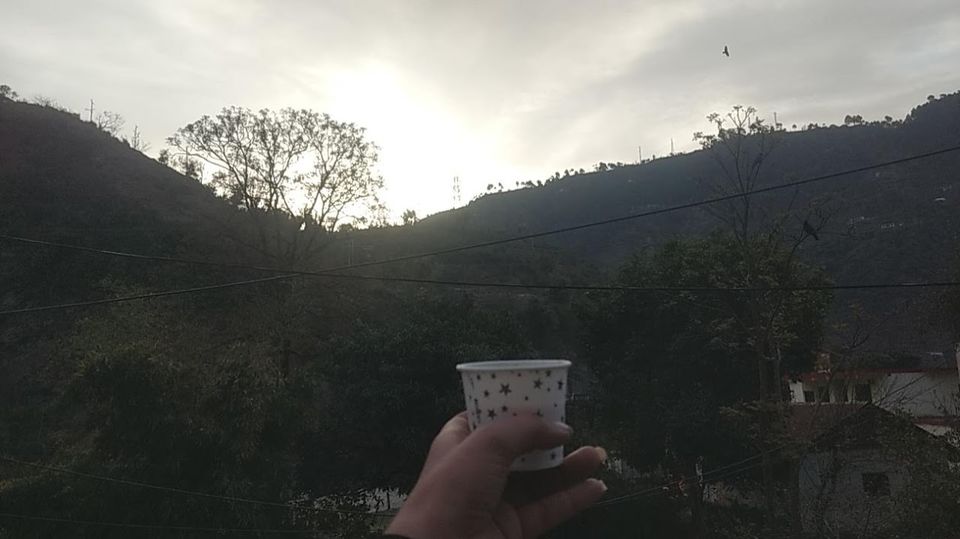 Jari village is at a distance of 1.5 km from Malana Power House. You can take a taxi from Jari to Malana for 800 bucks.
I reached Jari at 8 in the morning. When I inquired in Jari how far Malana was, a local store owner told me that it was 12km from there and that I could easily walk it. I like walking and I like saving money, so naturally, I decided I wasn't going to take a taxi.
I met another traveller at the Jari village bus stop and we decided to go to Malana together. He had just seperated from his friends, who were on the same bus. They were sleeping and forgot to get down. But he was determined to go to Malana, and decided he'd meet them tomorrow.
We walked for the next 7kms towards Malana. I had a big backpack on me and it was tough to walk uphill while carrying it. My fellow traveller claimed it was a lesson for me to never bring big bags for traveling. All he had in his bag for clothes was a pair of tracks, a raincoat, a sweater and a spare t-shirt. This is one lesson that I certainly took to heart!
We met a group of people who were also going to Malana on our way. They had a Van and offered us a lift. I was a little hesitant at first to travel with four strangers, all men; but after interacting with them we decided it was safe enough. I still kept my bag closer to me, in case I ended up needing my pepper spray on the way. We reached the taxi stand in about half an hour and then started walking on our way to Malana which was another three kms down the road. This road first went downhill and then uphill. It was a fun journey spent talking to this fellow traveller of mine and the strangers who gave us a lift.
These strangers informed us about the customs of Malana that we had both already read about.
People in Malana are strict about their customs. A few years back, Malana met with harsh climatic changes. The natives felt that excess tourism was harming their culture. The tourists that travelled to Malana came there mainly with the purpose of acquiring Malana Cream, and did not respect the place. Commercialization has been a problem to the people in Himachal Pradesh for long now. The natives often complain of the trash that the tourists leave at Himachal. Malana was closed to travellers for a while and opened again with restrictions.
As soon as we reached Malana, we took a round around the main village. It is prohibited in Malana to click photographs. It is also prohibited to touch anything or anyone, so we cautiously went around the village. Something you'll notice as soon as you enter Malana, is that it is not a very clean village. It is not as developed as Kasol and Manikaran are. But it is a first hand experience of a real village life. Where kids play around in the area outside their houses and everyone seems carefree. The villagers will try and sell Malana Cream to you, and it is not considered illegal in the village. If someone is interested in buying, then a sample is put on a rock by the villager and picked up by the traveller, this is done to abide by the rule to not touch each other.
In Malana, there is only one resort in the village that provides rooms to travellers. It is at the entrance of the village and is called "Mountain View Resort", they also provide food over there. The cheapest rooms cost 600 bucks. A full plate of fried rice or pulao, enough for two people costs 180Rs and a cup of tea is sold at 40Rs.
We decided to stay in Malana for the night, because the night sky was too beautiful to leave and because we were really tired. We shared the room and the food. The room had wooden floors and wooden walls, it was a beautiful and warm room. Before settling in for the night, we spent our evening sitting at a roadside tapri (small store with tin roof) of sorts, right outside the main village. We sat with the owner (who was not a native of Malana) and shared cups of tea, a joint and bowls of stories, around the little fire they had set up.
They told us about the relationship between the people from Grahan village and Malana. Of how they both worshipped the same deity i.e. Jamblu Devta, and had a good camaraderie amongst their people. Of how it was believed that half of the year the diety lived in Malana and the other half in Grahan. It was a rare story of comradeship between communities, that we barely get to hear in the so called "New world".
We took a round of the whole village the next day, sat down at the corners of cliffs. The zig zag roads of Himachal Pradesh were visible through these cliffs. We left Malana at around 11 am for Kasol. After a 3km walk we reached the taxi stand, and that's when it started raining. The locals believed that it would snow the next day, but we had to leave for Kasol.
The taxi charges from Malana to Jari are 800 bucks. We had to convince one of the drivers to take us to Jari for 500 bucks. We reached Jari village in around 30 to 40minutes and then waited at the bus stop for the bus to Kasol.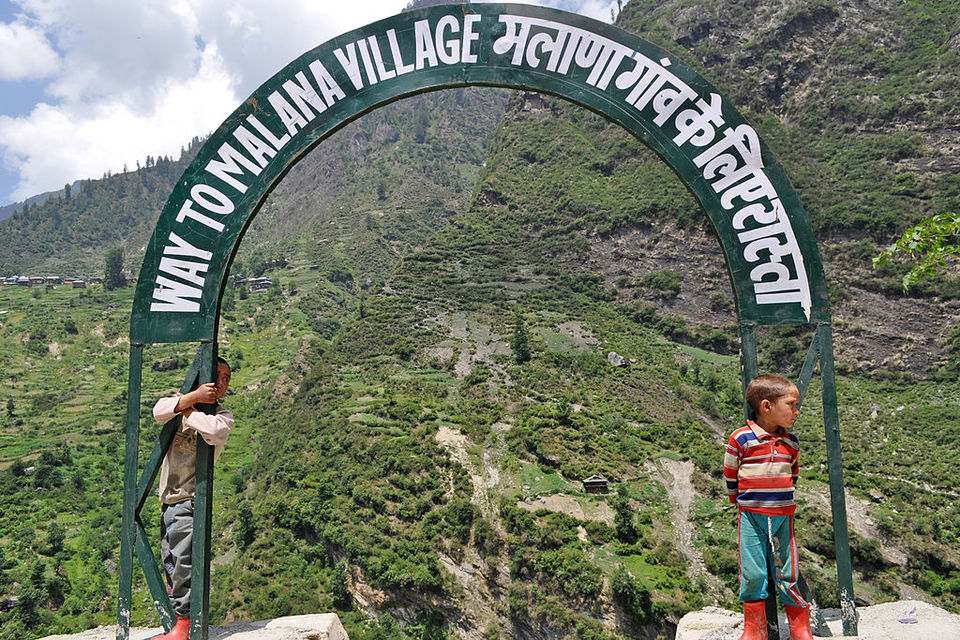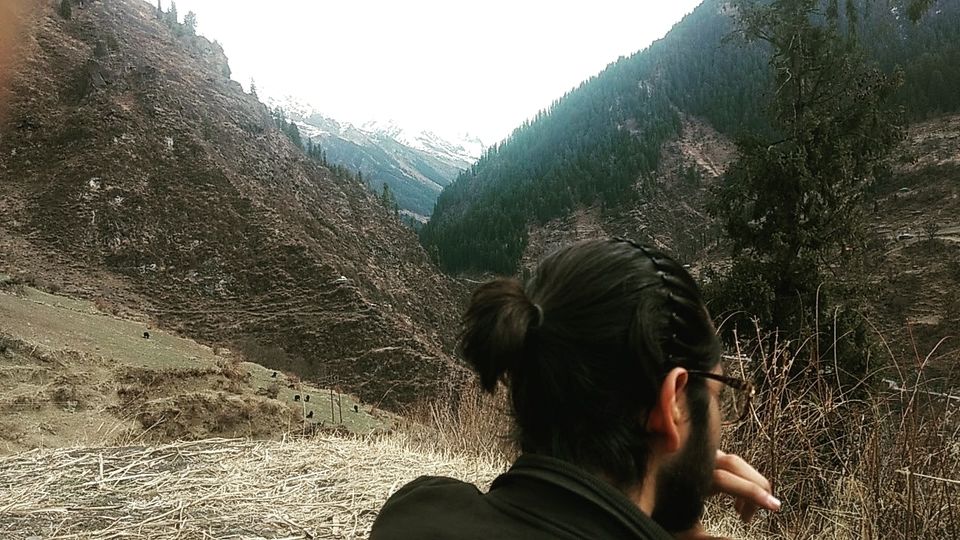 Local buses in Himachal Pradesh are really a God's blessing. While a taxi driver takes 500 or even more from Jari village to Kasol, we only paid 15 bucks per passenger on the local bus.
On my last visit to Kasol, my sister and I had stayed at Sony Cottage. It is a resort with it's own café and the view of Parvati river. If you want to both sleep and wake to the sound of the river, it's a great place. The prices for the rooms however, start at a 1000 bucks.
We got off at the bus stop on Kasol. We were greeted by Kasol with heavy rainfall. It is a pretty colorful village that stands out against the backdrop of snow covered peaks.
Kasol is divided into two parts, Old Kasol and New Kasol. And is a small village near the Parvati River. It is called 'Stoner's Paradise' and is often visited by people who are looking for a carefree vacation to chill.
My fellow traveller had decided he'd leave for Pulga village that day, while I decided to stay the night in Kasol. We went to have our last Lunch together.
After our meal, he took the last bus as decided and we said our goodbyes. We are not in touch with each other anymore. He's a stranger I met. One, I don't think I'll ever forget.
As soon as he left, I went to the German Bakery to get myself a hot piece of chocolate cake. I finished my cake and then started my journey towards finding a cheap room in Kasol. The cheapest rooms in Kasol cost about 400 bucks, you can bargain to make it 300.
Right in front of Sony Cottage is another Resort. It is owned by a cyber café owner, who has a shop on the main Street. Since it was late and I told him I couldn't pay more than 300 bucks, he agreed to lend me a room that was actually rented at 600 bucks. It was a cozy room. With pink walls.
I took my first shower in 2 days and dressed up in a long skirt and a pretty cardigan to go have a cozy meal at the Sony Cottage. The clothes were definitely out of place, but a part of a self love mission I'm on. After a fairly satisfying meal of Banana pancakes and garlic bread with a cup of chai warming me up, I went back to my room. Decided to leave for Tosh the next day and slept till 9 the next day.
Piece of Advice: If you're a fan of desserts and ever visit Kasol, do try "Shalom La Malkha" or "Hello to the Queen" at any of the cafés. It is a big bowl of sweetness but it's worth it.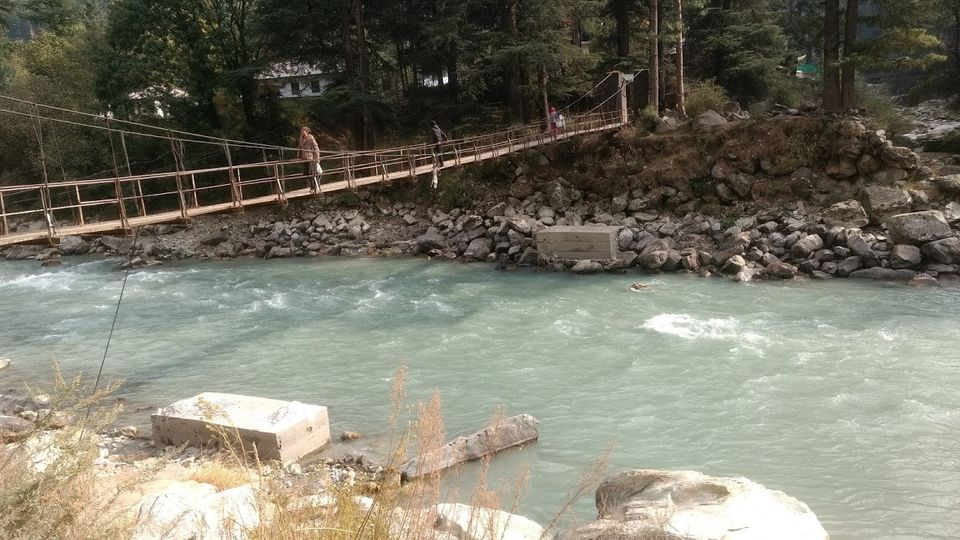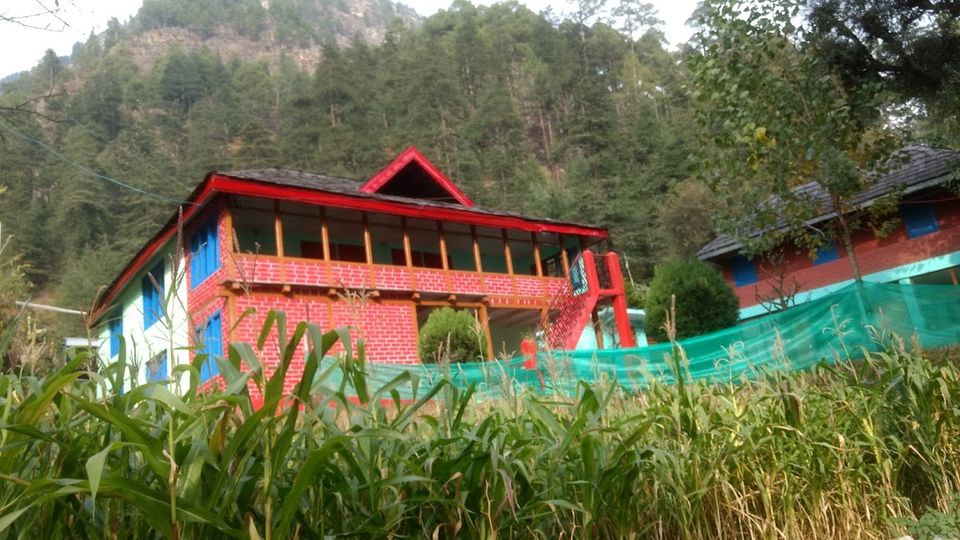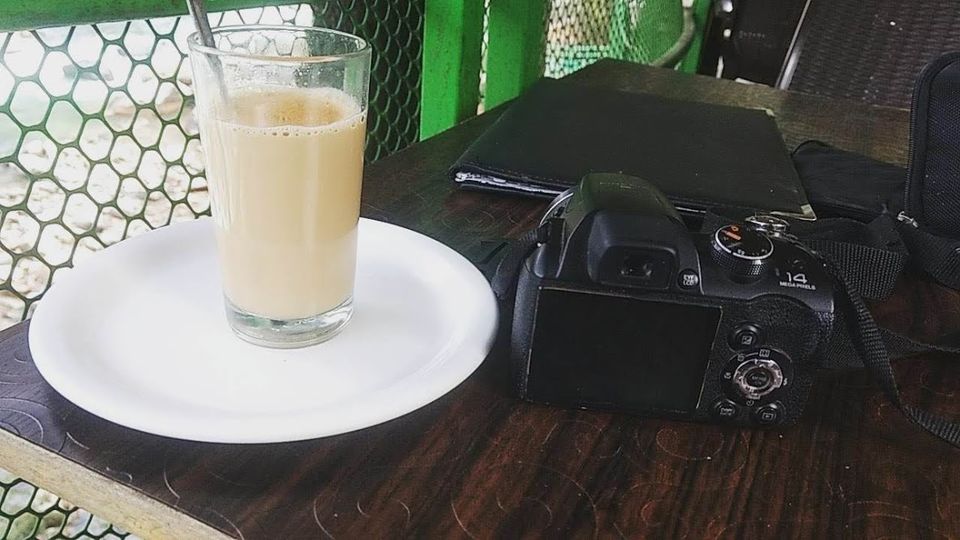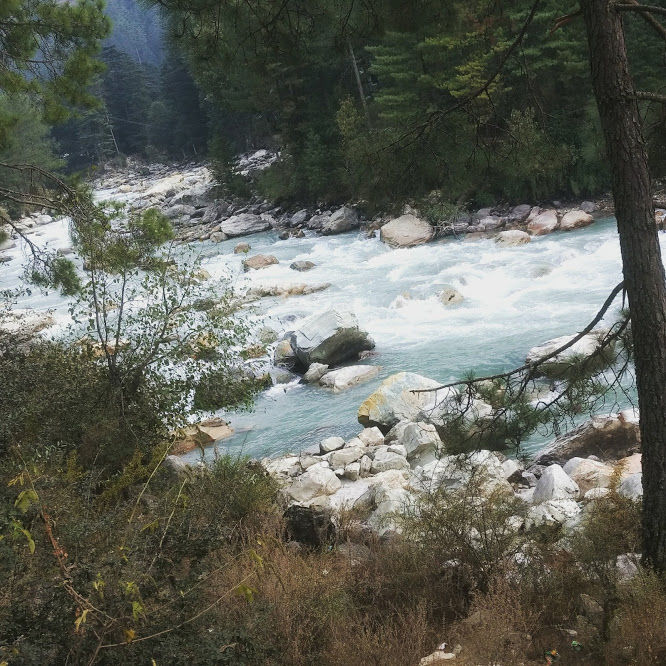 Like I said, the first thing that solo travel taught me, is that one must always pack light. So before leaving for Tosh, I ditched my backpack, left it in the safekeeping of the cyber café owner after paying for the room and took a bus from Kasol to Bersheni. Tosh is often called mini Kasol, because the ambience here is similar to Kasol. However, Tosh is less commercialized and at a higher altitude. The temperature here often drops below zero degrees.
On our way, we stopped for fifteen minutes in Manikaran. I've been to Manikaran before and decided that I would come again if I am left with time on my hands after Kheerganga.
On my bus I met another person. He was with a group and asked me how it felt like to be traveling solo. I told him it was fun. He asked me, "doesn't it get lonely?" I told him it was my first solo trip, so I was no expert to answer his questions. But till then, I hadn't felt lonely. He nodded his head. We talked all the way to Bersheni and exchanged numbers when we reached our stop. He and I still talk every once in a while.
At Bersheni I started towards the way to Kheerganga and was handed over a stick to help me trek for 30 bucks. I wasn't sure if this was a good expense at the moment. But it turned out to be one. I met another guy over here, another solo traveller. He said he was staying in Kalga village till tomorrow. He knew someone there, who would guide him to Kheerganga. He was going to start the trek on the next day, we said our goodbyes and walked towards our ways.
After you walk uphill for a while, you see a café. Next to the café a way goes downward towards a bridge that leads to Kheerganga. There are markers stating the distance and the way, all the way to the top.
People coming back from Kheerganga and the locals around asked me to not trek to the top on the same day, considering it had snowed heavy on the last day and only trekkers who had done this before were going forward. After a lot of thought, I decided it would be better to leave for Tosh. Quite of few of these people wished me luck, when they came to know I was traveling alone.
Tosh was a 3km walk uphill from the way to Kheerganga. While I got lots of love from some people, a guy I met at the cafe turned out to be quite discouraging. He told me that since I was a solo traveller and a woman, I should take a taxi to Tosh. I ignored him and walked to Tosh and reached there in about 45 minutes to an hour.
The first thing I saw was a tapri and went in for some tea. I saw some dogs there and sat around the fire that was set up.
I walked all the way to the Top in Tosh after I was done with my tea. Both because I was looking for a cheap room and because I wanted to see the view from the top. And damn, was it worth it. The view from Tosh is mesmerizing.
I also wondered at how shepherds managed to take the cattle from one place to another in such small lanes on the corner of a mountain. Hats off!
Just like Malana, there was a religious ground in Tosh that was not open to tourists. And a big Compound at the centre near the temple, where kids played.
German bakeries in Himachal are a saviour. While nobody was ready to rent me a room for less than 400 bucks, the owner at German bakery, who also had his own resort, rented me one for 200. I got it for cheap because he had just came back to Tosh from a trip to Delhi and had just opened shop. The room was on the first floor, had windows on two sides, a small bed, one socket and was made of all wood. It looked classy but wasn't that warm and a bit unkempt too. Specially considering that the temperature went as low as -6 degrees in Tosh that night.
Airtel was the only network available in Tosh. For the first time on my trip, I felt so disconnected from the world, that I felt a bit lonely. That only lasted for half an hour though, because then I went to German Bakery for dinner and chai. The cafe owner was a really sweet guy, he let me sit near the heater. He rolled a joint with Tosh Hash as I had my dinner and we watched a dance show on Sony Tv. I left for my room at around 11 and was glad to have stayed in Tosh that day.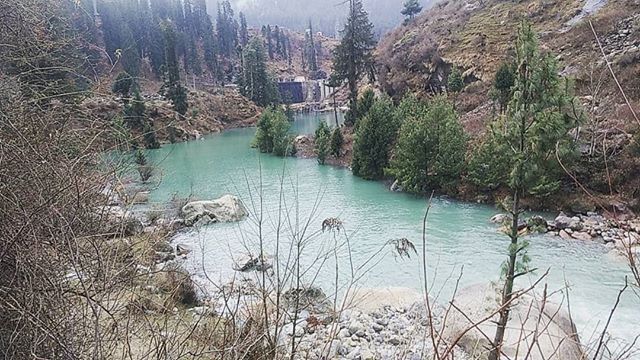 The next morning I paid for my room and food and decided to leave for Kheerganga. I went to the tapri on the entrance for Tosh and heard three men conversing with the owner about Kheerganga. They were determined to complete the trek in a day while the owner told them that it was a 14km trek and since there was a snowstorm at the top the previous day it going to take them 2 days. I talked to the three men and told them I was going to Kheerganga as well. They were on two bikes and offered me a lift, which I gladly accepted.
After keeping the bikes in the safekeeping of the nearby café owner, we started on our way to Kheeraganga. The solo traveller I had met a day before (the one who stayed in Kalga), joined us in our trek. It took us 4 and a half hours to reach the top.
While trekking we all got to know each other. We spent the trek singing punjabi songs (which was made possible by Mi phone's wonderful battery life) and sharing chai at stops.
Later that night we also played games with one another to pass time with no battery and no network.. Truth and dare, give a word.. silly games that helped us understand each other. Some people were reserved (Raquib!), some thought it'd be a good idea to get the perspective of strangers on their problems (Manish and Pankaj!) and others were just curious (mostly Me and Tushar!).
We found a dog on the way and he followed us to the top.
The view on the top was unlike anything I'd ever seen. Due to heavy snowfall in the past few days, there were only a few patches of soil visible. At some places the fresh snow was knee deep. We threw snow on each other for a while, clicked some photographs, stood still to take the beauty in and then started uphill towards the hot spring. None of us took a bath, we just washed our hands. We did not have spare clothes and we thought if we'd take a hot water bath now, the cold would become unbearable.
We had been told that the room and food at the government dharamshala at the top was the most affordable. So instead of exploring a place to stay, we settled for the dharamshala. This was a mistake. Later that night we realised that while our room cost us only a 1000 bucks, for the stay of 5 people, their food and fuelwood.. it was the coldest room ever. We couldn't sleep properly, and had to get rid of the fire due to excessive smoke.
The tents below were much warmer, we realised this on our night stroll on the top.
At 9 on the top of Kheerganga we had a snow fight. My fingers swelled up so bad that they remained a bit swollen due to water retention even a week after the trip. Other than that, I realized I had just made some good friends.
It was how a stranger was ready to lend me his glove because I was shaking and couldn't find mine. How they decided to go out in the snowstorm to the nearest tent cafe, because I need chai before I sleep. How I felt safe with them, even protected. How as soon as we reached the room I was given my own space. These are things that fill my heart up with warmth.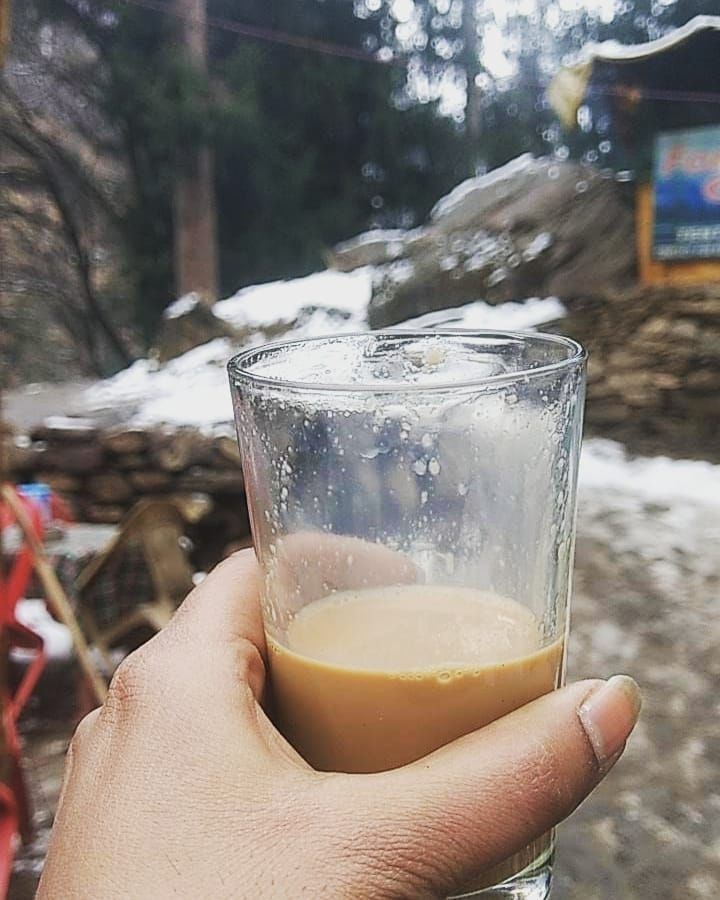 We wanted to reach back home early after our restless sleep that night. And so we woke up at 9 and started on our way to down the trek before anyone else. Another mistake. The snow was icy and slippery. Out of the 5 of us, two almost fell off of the mountain. We met a few locals on the way. They were carrying stock for food on their back and a gas cylinder too, towards the top. While we were wearing branded shoes and still slipping, they were wearing juttis of leather and making their way uphill easily. We were have breathing problems walking, while this was a regular task for them. They helped us out on a tricky curve before leaving.
While two people were quite ahead of me and the other two a little behind; I finally found some solo time during my trek.
Like I said, I love walking. My favourite place in Delhi is Sanjay Van. On certain days I've walk for 10 kms without breaks, so as soon as the snow melt away, I increased my pace. And soon I was at the river that flow at the bottom. I removed my shoes and dipped my feet in the ice cold water and waited for others to come.
After sitting next to the river for a while, and eating maggie at the cafe. We got on the bikes, said our goodbyes to Pankaj, the fellow solo traveller and made way our to Kasol. While eating maggie, we had decided that the guys were giving me a lift to Delhi, while they stayed in Greater Noida. I had agreed, this was going to be my first ever bike journey and I wasn't going to let it go.
We picked up my bag from the resort at Kasol and for the next 600kms, only rested to eat and let the bikes get rest.
From Kasol to Bhuntar to Mandi to Chandigarh to Murthal. It was one hell of a journey.
The mountains on the road were shining with lights coming from houses. The sky was lit up with thousands of stars and the roads curved so much that you couldn't see beyond a few metres ahead of the bike.
I was glad I was riding with Tushar, because Raquib rode blindly. I did not want to die at the end of my trip. Not this way. Not on a bike. However, we did, only nearly, miss being crushed by a truck.
We stopped thrice on the way, twice because we were hungry and once because I was feeling uneasy. These men I hadn't known two days ago, took great care of me and were very gentlemenly.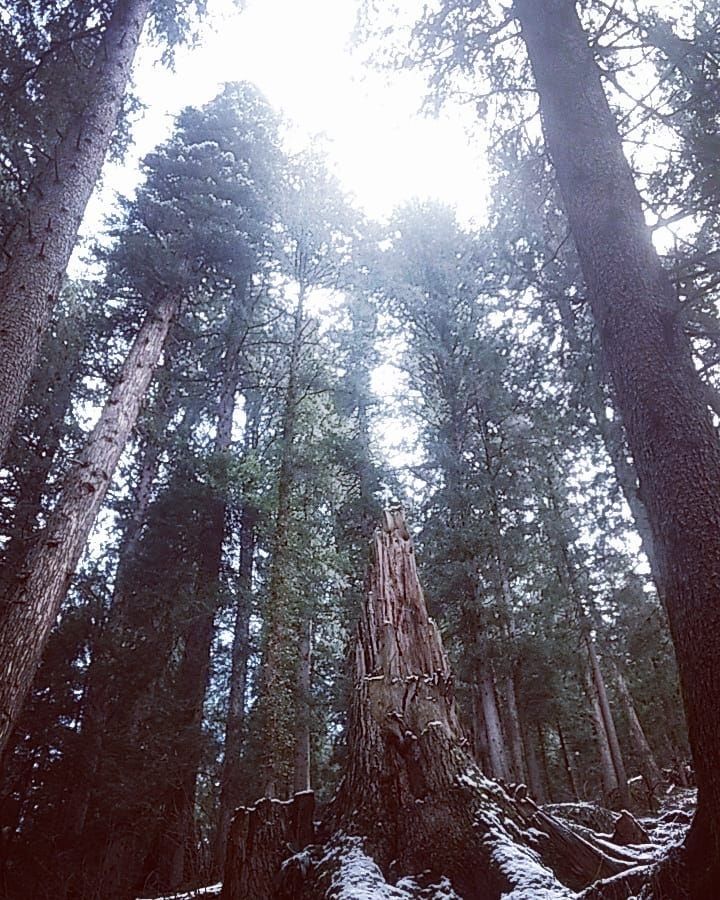 At 3 in the morning we reached Murthal. Murthal is a famous stop for truck drivers with it's lavish dhabas. Amrik Sukhdev is one of the most famous dhabas here. I was too tired and ended up sleeping on a highway on the bike. So they finally decided I had to try the chai at Amrik Sukhdev. By this time my face was all dirty with dust and smoke and my throat was dry. We sat down and ordered 4 cups of chai.
As soon as we were done with our chai, we left Murthal for Kashmere Gate. They dropped me at the metro station. I said my goodbye to Tushar, who I was riding pillion with. While I couldn't meet Raquib and Manish because they were way ahead of us. This was not the last time I met them though; we've been friends ever since. These men I never knew. These men I'm glad I met.
I boarded the metro at 5:15 and was home at 6. I said Hi to my roomies. All my glow from Himachal had turned to dust that stuck to my face. Like the sweet people that they are, the first thing that they said to me after a week of being away was, "You look horrible." I shrugged, went to the washroom and damn! Did I look horrible. I washed my face, as much as I could and went to sleep. I did not wake up at all till 5 in the evening.