The double-decker living root bridge located in Nongriat, Cherrapunji is an extremely popular location to trek to, and one that I'm sure a lot of you have been eyeing for some time now. A hike away from the root bridge lies Rainbow Falls, a hidden secret that you must visit if you're a water baby!
Rainbow Falls is a small but thundering waterfall in the middle of Nongriat jungles that creates a stark blue lagoon which looks as if it's been filtered and photoshopped multiple times. The natural placement of rocks and the fall is so perfect, that during daytime, the falls are drenched in rainbows. It's a vision right out of our childhood imagination. Although you still can't slide down the rainbow, you can attempt to catch it, and that sight in itself is pretty magical.
Getting There:
Taking the starting point of the journey as Shillong, to reach Rainbow Falls, you will first have to reach Nongriat Village in Cherrapunji, which is only 75km away and takes about 2hrs. You can either start your journey at 5am, so that you can start trekking by 7am, or reach one night before and enjoy the peace of Nongriat Village.
There aren't any hotels in Nongriat, however, there are homestays you can call to book in advance. The homestays are pretty basic, but will give you a local experience. You can contact Serene Homestay which has all amenities that you may need for a stay and freshly prepared, delicious food! Ph: 096152 52655.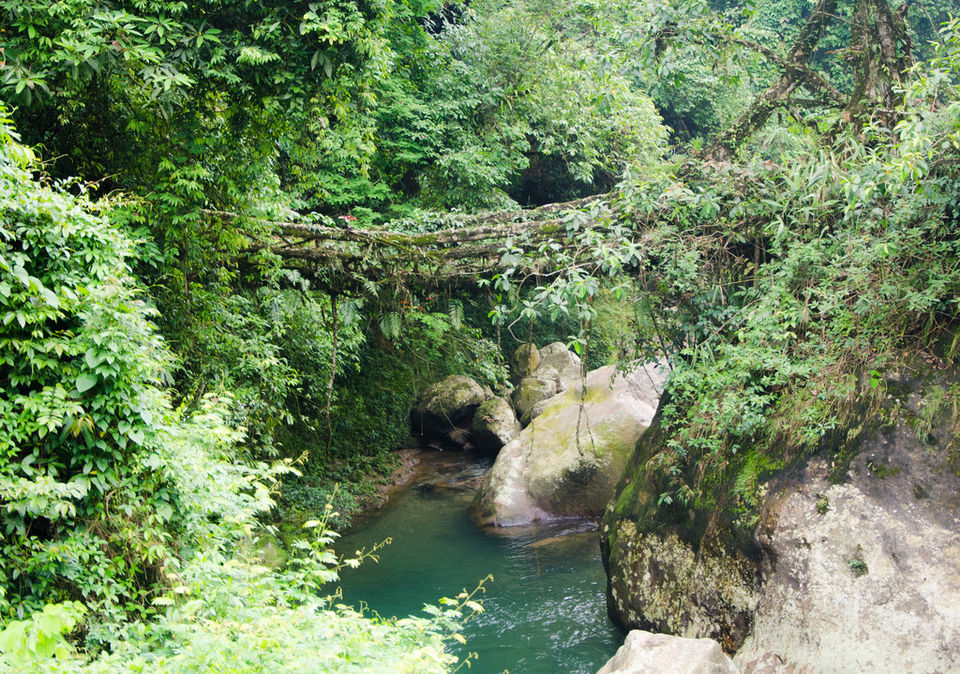 The 2 hour trek to Rainbow Falls begins right at the end of double-decker root bridge, beyond which the route is well-marked. However, this hike is not a cake walk; the path is rocky, uneven, muddy; has steep descends, climbs and steps throughout the way. Through this trying hike, what will keep you motivated is the sound of the rumbling waterfall that will tease you and keep you going. The thick forests will finally open into the majestic sight of the Rainbow Falls, which is known to be spectacular, but raucous, at the same time.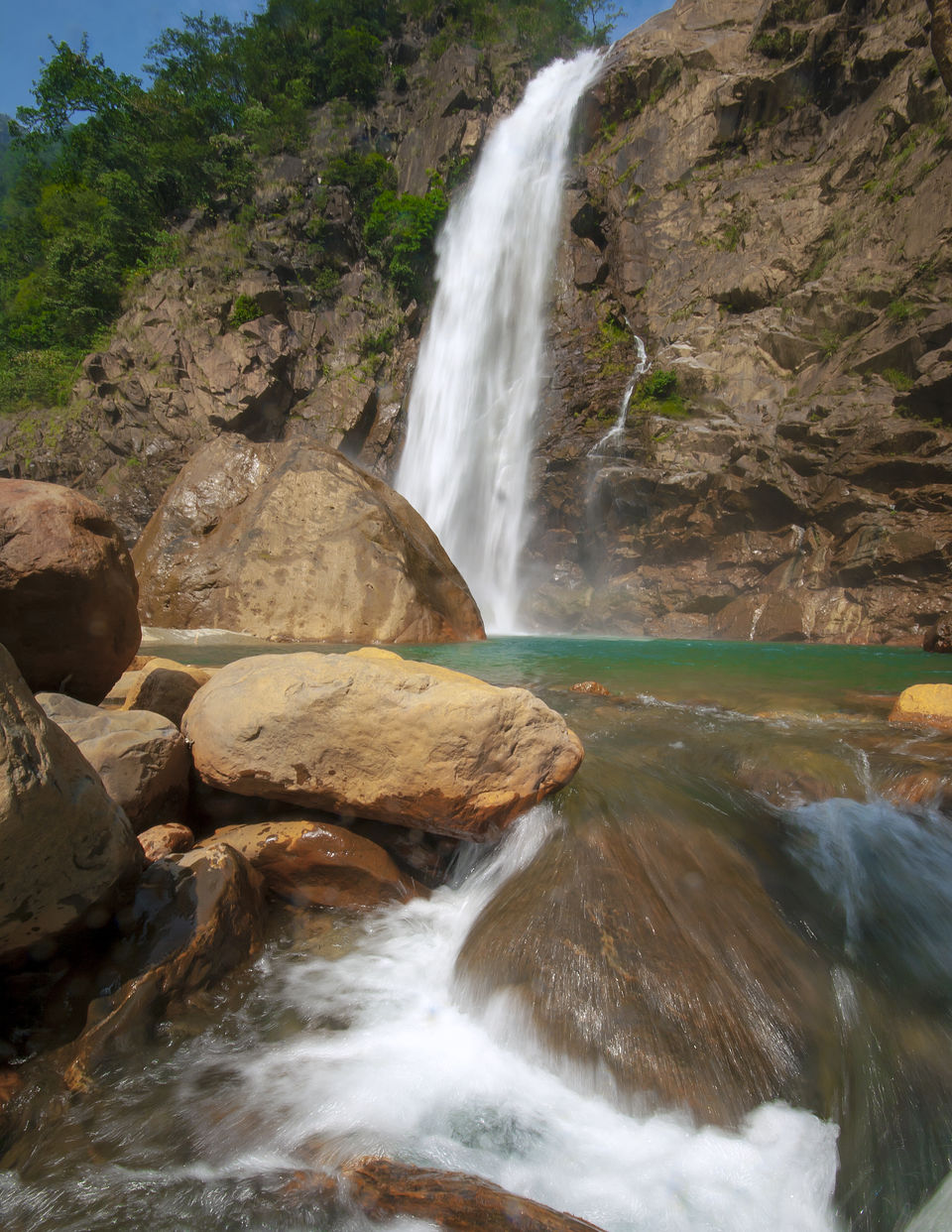 Can You Jump In?
Once you behold the majestic sight of the falls, you may want to instantly dive in, but please note that the water falls with high velocity and it is dangerous to stand right underneath it. However, you can take a swim in the icy-cold pool at leisure! Remember, that the rocks leading to the pool are sharp and slippery, so be careful.
Best Time to Visit:
You can visit Rainbow Falls anytime of the year except Mid June-August, because this is the time that Meghalaya receives enormous amount of rains. During summer, the temperature is warm and comfortable; the sun shines bright too, so there are always high chances of spotting a rainbow.
Love visiting offbeat, hidden paths around the country? Share you story with a community of 25million+ travellers on Tripoto and get a chance to be featured on the Facebook Page! For more travel inspiration, check out Tripoto's YouTube page that is sure to give you a serious case of wanderlust.