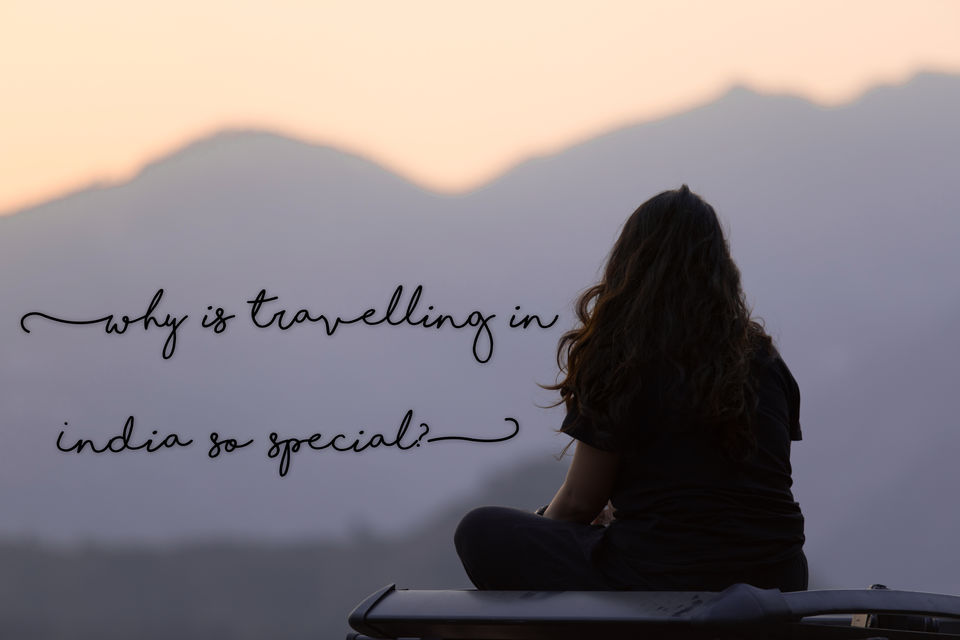 I have been exploring various parts of the world, hopping from one place to the other, whether on the web or actually visiting them. I read up on them, I get to know them, I have seen the way people live, what people eat, what they are capable of, the animals that they co-exist with, and more.
Yes, there are places I've fallen in love with and the ones that I wish to personally greet someday but if there's a country I would never give up on for any other- it has to be my India. India brings about this calmness in all the chaos, it makes you see the truth of life and how things are. It makes you see beauty and sadness at the same time. And, it's perfectly capable of making you feel all sorts of things at once. The adrenaline rush that comes from travelling in local buses or jumping into fresh glacial water, it comes from witnessing the annual spectacle of Durga Puja or attending a camel fair in Rajasthan. It's omnipresent - the smell of cultures, languages, food, intertwined together to come together as one. As one huge country that accommodates about 2 billion people.
So here I am, listing down a few reasons out of a billion that make travelling in this world within a world that is, India, so sacred, so adventurous and mostly, so heartfelt. Let's begin:
1. India, no matter how ill reputed in the world in regards with women safety, is actually pretty safe to travel in.
Yes, it's very hard to convince Indian parents to let their girls go out and venture about, wherever they'd like. But to think of it, it's not really their fault. We, as youngsters tend to see the world through social media where travelling is more or less a 'trend', a 'lifestyle', a 'way to find yourself' but our parents? They watch the news on the idiot box that is turned on every evening for our mothers to watch Saas Bahu soaps and for our fathers to watch Aaj Tak. They see rape cases, murders, abductions, scams, you name it. They see it all. And, I am not saying that it's misleading. It just sells. And it fills up their sulci and gyri (grey matter) with the same. It's upto you to find a way to let them believe that the world is not all that bad. Hit and trial.
The secret ingredient that one requires to make the most of one's travels in India (or anywhere else to be honest!), is to trust. It is a two way street, people are curious about you and you, about them. They stare, but they usually mean no harm. Trust in the fact that people are kind everywhere you go. You can ask for help from anyone and you'll be given more than you could have wanted. I understand mothers taught us to never take anything from a stranger. But, really, every time I have gotten anything from a stranger, it's been at an important moment when I needed something the most. Precautions are surely a necessity but that doesn't mean that it's impossible to travel in India by yourself. Go ahead and look at this beautiful world, it's waiting for you. And, don't do it because it won't cool that you don't travel in this new age of social validation. Travel because you want to know what lies beyond; what lies beyond your societal box, your religious views, your comfort zone and there'll be a world that'll come gushing at you, ready for you to embrace it.
2. The variety of landscapes
I can't stress enough on the fact as to how we are so privileged to be born in a country that has EVERYTHING. From mountains to rainforests, and plains to deserts, from ghats in the East to the ghats in the West, from beaches to plateaus, and highlands to islands, you'll find it all here. From the deep orange sands of the Rajasthan Desert, the tropical waterways of Cochin or to the serenity of the national parks where rhinos, tigers and birds abound, India's contrasting environment does not fail to inspire.
Waterfalls, canyons, and valleys, cold deserts, metropolises, and jungles, rivers, wetlands and salt deserts, tea gardens, mustard fields and everything in between - all here, in this one, huge chunk of the world. :)
3. The people
I fall in love with people everywhere I go in India, their kindness, their generosity and ways in which they come together to make you feel comfortable above all else will make you have faith in humanity. Humble, warm, and trustworthy, whether you're in a small town of Madhya Pradesh or a remote village in Kashmir, people make India what it is. There's so much love in everyone's hearts but that only really comes into play when you begin talking to them, when you sit down with them and listen to their stories, legends and their struggles. People are a huge aspect of the place that you're visiting; they are the true representation of the destination. Get an insight into their lives and then you'll know how a family of six survives at the Pakistan Occupied Kashmir border, or how a small businessman from a small village in Rajasthan started making carpets, or how a tribe in Chattisgarh is trying to protect their forests from private companies. People are the heart of the place you visit. And, everyone will tell you something you had no clue about. And with India, everyone can discuss anything with a chai and sutta. :)
4. Jugaad - a concept that probably doesn't have a synonym or a translation for, in the English dictionary.
I'll be honest with you, I've had the funniest instances while travelling across India. The fact that most things are usually so unorganised or maybe, chaotic, lure me into travelling even further. It keeps my fears at bay and lets me blend in easy. And, the optimism that people carry in their hearts and know that everything is possible, it makes it all the more adventurous. Suppose a bus breaks down, you'd be able to figure something out with others or if people are caught up in a landslide, they'll find a source of entertainment to keep themselves occupied. Jugaad is such a free-willed concept and so widely spread across the entire Indian sub-continent, which essentially means that you create a solution with limited resources for a problem. Everything is possible and no one gives up easy! I am unable to find any pictures referring to Jugaad but I know you all get what I'm saying. ;)
5. The history
India has oscillated between dynasties of all kinds before the British arrived, and a lot of the remnants are some of the most integral archaeological sites in the world, those gems that people from all over the world come and visit. You'd be wrong if you think that I am only referring to the Taj Mahal in the north or the Victoria Memorial in the east or The Tirupati temple in the South or Mehrangarh Fort in the west. Whether it's the mysterious Sun Temple at Konark or the forts in Maheshwar, whether it's a monument as famous as the Safdarjung Tomb or the Khajuraho Complex of Temples, everything has a delightful history to it. And, do you know why it's so important? Because history has a huge role to play in why people behave the way they behave, in why their culture is the way it is. Which is also why a person from North India has slightly different values and opinions than someone from the South of the country. It's very interesting to see and realise that we still, exist in harmony despite the differences.
6. The food
No matter where in India you venture out, I guarantee you wouldn't complain about the food (provided you're not fussy!). From Kashmir's Wazwaan to Himachal's buckwheat pancakes, from Chaat in New Delhi to the Tundey Kebabs in Lucknow, from Poha Jalebi in Madhya Pradesh to Vada Pav in Maharashtra, from Ilish in West Bengal to Biryani in Telangana, from Dosai in Tamil to Appam in Kerala, the food that India has in store for each one of us is insane! Oh, and I could never forget the food of the North Eastern states of our country - some of the most underrated culinary adventures you could ever have! From pork to silkworms, from beef to bamboo, North East is a delightful stroll for someone who'd want to take a walk in the Garden of Food-eden. And, the best part - you never eat alone. :)
7. Values
I'm not going to brag here but being a part of an Indian society comes with its pros and cons. Some people are liberal, the others are conservative; some are open-minded, the others are unexposed. But, in between all these different worlds of people, what maybe, always exists, are values. I love how there is a set of values that people value. People here, value hospitality. People value their guests. People value their families, above all else. It's a constant source of inspiration to see how much people value all of these things and how loyal they are to their values. Of course, there are times they stray. But, whether it's a small village with a population of 130 people in Ladakh or a coastal beach town in Odisha, the values and the hearts would sing the same melody. :)
And, when all of it intertwines together, magic is woven across twenty nine states and seven union territories of India, giving it meaning. Meaning, that can not be expressed or explained. Meaning, that can only be felt. Meaning, that makes me wonder, why I smile, overtime I think about my adventures across India. Meaning, that makes me sure how special travelling in India really is. :)
What are your opinions on the same? What makes India so special? Tell me in the comments. Additionally, reach out to me on www.instagram.com/srish_teee and help me with my theories as I travel and list down my observations in a flowery manner. You'll have to be patient as I can be a big pain in your ass. Thanks for reading x
Love,
Srishteee