So I've been wanting to go on a solo trip since forever, but there was something that always stopped me from doing it. May be it was the fear of travelling alone in a completely different part of the country, I just kept delaying it. Finally, in October 2015, I packed my bags and was off to Udaipur, Rajasthan (India).
I'll give you a little bit of history about this place. Also known as the city of lakes, Udaipur, was founded by Maharana Udai Singh II in 1568. Because of its palaces, lakes, and various other scenic locations, it is one of the most beautiful cities in India. Rajasthan being a desert, Udaipur is the only city with a so many lakes. If you really want see beautiful architecture and want to experience the pure tradition and culture, then this place must be on your list. Apart from its lakes and scenic beauty, Udaipur is also known for its Rajput-era palaces.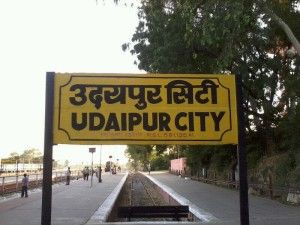 After the monsoon showers, the climate becomes pleasant and worth visit. If you are planning your trip, I would suggest the time between September to February. Even during its coldest months, the days are bright and sunny, which would make your trip pleasant. I arrived Udaipur city at around 4:00 pm in the evening. It was a 14 hour long journey and I was very much tired, but all of that just flew away in a fraction of seconds as soon as I had a look outside my window. I had a room facing lake Pichola. That view was something indeed! The sky looked picturesque in the evening.
Udaipur is a not a very big city, and the best way to explore is on foot. It has small lanes which are always packed with tourists vehicles, so I would suggest the best way to explore is to just walk around the see the beauty of palaces and lakes. I'll give you a few highlights of the places that one should surely visit.
Highlights (Special things to do in the city)
* Spend some calm time at the lake side: Lake Pichola, Fateh Sagar Lake, Udai Sagar, and Swaroop Sagar are considered some of the most beautiful lakes in Rajasthan. Spend some time there watching the tranquil water.
* The famous string puppet show is a must watch. This is an integral part of their culture and can be enjoyed at various places in the city. For example, Bharatiya Lok Kala Museum, Bagore ki Haweli.
* If you've visited Udaipur and not picked up the traditional Jootis and Mojdis (traditional footwear) from the local market (Manek Chowk and Hathi Pol Bazaar), then your trip is a waste!
* A few delicacies which are a must try: You must surely try the famous Pyaaz Kachori, a famous Rajasthani snack that can be enjoyed at a lot of places in Udaipur. It is made of onions filled in a deep fried dough.
A snack which contains chilli and potatoes filling, called Mirchi Bada, is often served with tomato, mint, or tamarind chutney. If you have a sweet tooth, Ghewar, a traditional sweet, is a must try.
* Watch the splendid and breathtaking sunset at Sajjangarh, also known as the monsoon palace, with your loved one.
* You can pose for pictures at the Saheliyon ki Bari, near the beautiful fountains. This place was constructed by Maharana Udai Singh for his princesses.
* Visit the City Palace Complex to get marvelous views from its highest point. You will need at least an entire day to see whole of that place.
Hotspots of Udaipur
* Being in the city of lakes, if you haven't visited the beautiful lakes yet, then you're surely missing out on something very beautiful. The Pichola lake: Originally built by Maharana Udai Singh II, this lake has two islands, Jag Niwas and Jag Mandir. It is at a 3-miles distance from the railway station. This lake is surrounded by hills and its major parts are covered by greenery. The sunset and the whale-hills (resembling the "Whale" in appearance) on the south-east of lake pichola, is a must watch for the tourist. The Fateh Sagar lake: Interconnected with the Pichola lake is this another beautiful fateh sagar lake. This magnificent lake gives different feelings at different time-morning, afternoon, evening, and night, it gives a new feeling everyday every time. During rains, this lake overflows-profusely lit with mercury lights, it gives a colorful and spectacular view. Ransagar lake, swaroop sagar lake, udaisagar lake, and dudh talai lake are some other lakes which make this city-in true sense-the CITY OF LAKES.
* An amazing specimen of the blend of natures beauty and man skills-Nature has provided scenic beauty of lakes and mountains, man has enhanced its beauty by building huge palaces around it. The city palace: Built on the east coast of lake pichola, this beautiful palace is a series of palaces. You can get panoramic view from its balconies. The palace contains many antique paintings, decorative furniture and utensils. The Lake palace: Situated on the Jag Niwas island in lake pichola, this palace is built with marble. It was originally built as a summer palace, but is now a luxurious hotel.
* Maharana Pratap Memorial: Located on the "Pearl Hill" is the memorial of the Rajput here, Maharan Pratap with a bronze statue of Maharana, with his horse chetak. The path towards this hill is covered with beautiful gardens-Japanese rock garden is one of them.
* Shilpgram: This village located at the northwest of Udaipur, hosts one of the largest crafts fair in India. People from different places in the country have their stalls showcasing their art and crafts work. One of the important objectives of Shilpgram is in the sphere of increasing awareness and knowledge of rural life and crafts, specifically, for the younger generation. Special emphasis is laid on workshops for children on arts, crafts, theatre and music.
* Udaipur Solar Observatory: This is the Asia's only solar observatory and is situated on an island in the middle of the Lake fateh sagar.
* Udaipur is famous for temples and shrines: These are a depiction of superb sense of art, architecture and sense of the people who dedicated their soul, money and mind in building these superb temples. Here is a few list of temples that must be on your list if you visit Udaipur-Jagdish temple, eklingnath temple, jain temples, nathwara, nagda temple, and many others.
A few tips and tricks to guide you through your journey
How to get there
There are regular flights from Mumbai and Delhi to Dabok Airport, also known as Maharana Pratap Airport after the son of Udai Singh, which is 25km northeast of the Udaipur city center. A cab from the airport to the city would cost about 700-800 INR. A few hotels might also arrange for your pick up from the airport. There are no local buses from the airport, so the best option would be a prepaid taxi.
Where to stay
There are a lot of budget hotels to stay. Most of them are located near on the lake side. An average hotel would cost about 1500-2000 INR per night/room. Whereas, a luxurious 5 star may cost 5000-7000 INR per night/room. Most of the hotels will have travel desks and will guide you through your stay in Udaipur.
Where to eat
After every 100 meters, you would find a Cafe that would serve both, traditional as well as other cuisines. I would insist on trying the traditional meal that would get for around 100 INR, it's really delicious and has the real taste of Udaipur. (Please have a look at the mouth watering picture below.)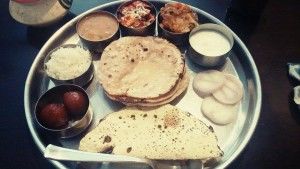 It was my first solo trip, and I've had the time of my life! Made new friends, met new people, explored the entire city on foot, and more importantly, discovered myself. I would like to share a couple of more pics of this beautiful place.