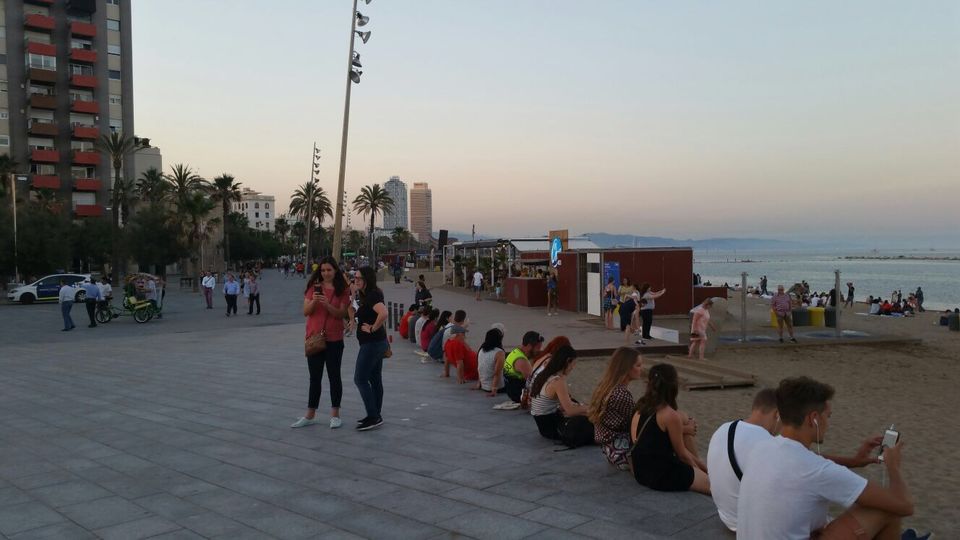 One of my favourite things about travelling is getting to see different kinds of people. Seeing people on the street and trying to imagine their lives brings out the storyteller in me. This art requires patient observation, but makes for a fun exercise.
Besides, just sitting and watching calmly, the everyday life in a given city explains its very essence and character. It also gives me room to imagine how each of my days would have progressed if I lived there. All in all, it broadens my perspective and helps me think out of the box – isn't that what travel is all about?
If you've never taken some time off from monumental tourism to sit and observe the life of a busy city, on the street-side or a public square, then you have missed out on the must-dos of travelling. Here is a list of places around the world that are great for people watching, not because they are full of people, but because they have a mix of people in a small area.
Technically it isn't a square, but an intersection of 7th Avenue and Midtown Manhattan. If you ask a New Yorker, he or she would try and stay away from this place as much as possible. The reason is that it is too crowded, which is precisely what makes it a hot-spot for people watching.
Grab a seat at one of the small tables on the square or on the famous red TKTS steps. On any given day, or night, you will see for yourself that it is literally at the crossroads of nationalities, ethnicities and classes. On a typical day, Times Square is flocked with sharply dressed locals marching to work and hundreds of tourists who are constantly gaping upwards to take pictures of the iconic buildings.
As the sun starts to set, naked cowboys, costumed characters, acrobats and showtime performers add to the crowd. And if you are ready to be awake in the city that never sleeps, watch the world's largest digital art exhibition when the huge billboards in Times Square are synchronised just three minutes before midnight.
Rome is synonymous with pizzas and piazzas. While countless places are claiming to have the best pizzas in the city, when it comes to the quintessential piazza of the eternal city, it has to be Piazza Navona. The erstwhile athletic stadium transformed into a bustling market and then to a public square.
It lies at the dead center of the typical Roman tourist trail. In the middle of the piazza sits a large fountain of four rivers from across the world–Nile, Ganges, Danube, and Plate. Just like the fountain, the piazza is the place to see people from all over the world.
Tourists come here for the delicious food and to unwind when they are tired of trudging along the cobbled Roman streets. It is also the place where locals come to hang out with friends or spend a long lazy afternoon. Unlike New York, where you see fast-paced energetic people, here you see them relaxing and enjoying their dolce far ninete moment. The centuries-old buildings, vintage stores, and artisan workshops encourage you to stop and experience the square. You can see portrait painters and street artists hawking their wares at Piazza Navona. Some can also be seen playing the violin. Take a seat at one of the cafes on the square, enjoy a drink or some gelato and pose for a portrait painter as you sit and relax.
If you are in Istanbul, after the call of the last azaan, when the bazaars and the monuments are closed, walk down to Istklal Street, where the entire city is heading.
It is advisable to beat the crowds and go a bit early, find a café, sip cay (tea) or smoke some nargile (hookah), and sit back and relax. What begins after the sunset is the epitome of a street fair. A million people take to the streets and a stretch of 1.5 km turns into a crowd-laden spectacle.
No matter which season it is, you will see a flood of people brushing up against each other, elbowing their way to find a café to sit. All sorts of people from all over can be seen here. From street singers, musicians, hawkers, beggars, policemen, and refugees to tourists, locals and stray cats—you name it and they are here.
This street was supposed to be a pedestrian boulevard, but there are cleaning vehicles, police bikes, scooters, delivery vans and an occasional tram that forms a part of the crowd. The street curls around high fashion boutiques, old-style shops seedy rooftop bars, grungy student caverns, underground clubs, art galleries, cinemas, and a variety of buildings. Istiklal Street is a microcosm of Istanbul and captures its essence brilliantly.
The temples of Angkor are at the doorstep of Siem Reap, which is the reason tourists from all across the globe come here. But once they are done with temple hopping, they all come to the party hub of the city – Pub Street. The whole street is blocked to traffic post the evening as it starts to get crowded. Restaurant seating overflows on the streets and so does the music coming from the night clubs.
Head upstairs to any of the open sections of the two-story restaurants and have a panoramic view of all the action happening from there. From atop, the street appears to be a bizarre foodie circus. People can be seen eating everything from fresh produce and fried ice creams to crispy tarantulas and crocodile hamburgers. There are fish spas and foot massages at almost every step where patrons' tired, templed-out feet are being cared for. A local artist plays traditional Khmer music each night. Most of these local bands are landmine survivors from the country's dark past.
The Las Vegas Strip deserves a mention when we talk about people-watching. It is one of the top must-do activities here. It has 40 million visitors a year with one common objective – to let their inhibitions down and have some fun. After all, what happens in Vegas, stays in Vegas!
If you walk all along the Strip beside the themed hotels, you'll see a variety of people. The crowd ranges from women with a hijab, bridesmaids in gowns, glamorous models, men wearing high-heeled shoes and nearly naked hunks. There are tourists publicly gulping down alcohol, dancing with strippers, celebrating a win from a casino or parading with their shopping bags, sipping colourful drinks from long souvenir glasses. The things that are illegal everywhere else in the world can be seen happening openly in Vegas.
A night spent watching people out to indulge in iniquity might not make for the most pious trip, but it is still recommended, for it will be a night imprinted in your mind for quite some time.
A street that is relatively sleepy in the day gets wedged by hordes of scantily clad girls, flamboyant ladyboys and gyrating pole dancers after dusk. In the crowd, you can spot hedonists gaping as they would in a candy shop and pretty Thai women giving 'come hither' looks to lure men.
Numerous touts are trying to sell the number one attraction of the street, the ping-pong show, to regular tourists who have come for things that aren't steamy or sordid. The night market jutting out from the main street has a maze of street-food stalls selling pad Thai, grilled meat, fresh fruit juices and cheap beer. A visit to Bangla Street is essential on the bucket list of things to do in Thailand.
The thriving beach scene of Barcelona is what gives this city a unique character. Just minutes away from the city center, the Promenade's modernity is what stands out immediately. It is surrounded by alleys dotted with Gaudi's Architecture, Latin quarters and Gothic churches. And all of them open out to a large 4.2 km stretch along the beach that was constructed ahead of the 1992 Olympics hosted by the city.
Take a seat at one of the roadside cafes to enjoy churros or flavoured ice-creams and do some people watching. The place is a Mecca for skateboarders, dog walkers, paddleboarders, rollerbladers, volleyball players, and sculptors. It is lined with fine-dining restaurants, casual diners, surf shacks, and boasts a swanky nightlife. There is a festive vibe that you can appreciate any time of the day.
It is impossible for anyone to be in Paris and not venture to the banks of the Seine River. There are floating restaurants, discos and cafes along with free benches for travellers and people-watchers who don't want to spend but wish to enjoy the same view.
Get your own wine and food take a seat on the stone quays that run along the entire length of the river and enjoy the show. No matter where you sit on the bank, you can see a musician, magician, poet, painter, philosopher, novelist, architect, lover, picnicker, sunbather, and jogger. Besides watching people on the walkways, you can also see happy tourists that are riding on boats marvelling at the Parisian cityscape.
A section of the pedestrian bank is converted into an artificial beach with palm trees, beach chairs, and chaise-lounges. This beach is a favourite hangout spot for the locals. Of course, anywhere along the Seine you choose to sit, you'll find lively crowds, lots of see-and-be-seen action, and the best vantage points for scoping passersby to catch the latest Parisian trends.
Get travel inspiration from us daily! Save our number and send a Whatsapp message on 9599147110 to begin!
Think we missed out on something? Tell us about it in the comments below. Or write about it here on Tripoto and earn Tripoto Credits!
Frequent Searches Leading To This Page:-
Turkey Holiday Package, Tour Packages Turkey, Family Tour Packages For Turkey, Holiday Packages For Turkey, Best Turkey Tour Packages, Holiday Packages To Turkey From Mumbai, Turkey Tour Packages Price