A slack budget of 3000 ₹ and a packed backpack led me to the brink of an adventure, in Chakrata, Uttarakhand!
Yesteryear, sometime in summer, I was reading about the Jaunsari tribe of the Jaunsar-Bagwa region of Uttarakhand, tracing their history back to the Mahabharata and Polyandry. The Jaunsaris claim to be direct descendant of the Pandavas and hence, the polyandrous roots. This is where, curiosity kicks in!
Jaunsar—Bagwa Region:
It is in Chakrata, where only Indian Nationals are allowed to visit. This is where I started to think about going.
It is surrounded with cascades of mountains, red rhododendron woodland, a roaring waterfall, trail to the campsite of Chaurani: famous during the days of the Raj; and it's a no "mall road" hill station. Well, this is where, I started packing my bags!
The trip kick starts from ISBT Kashmiri Gate. Most importantly, since we are focusing on budget travel, I will be specifying the price at every stage.
This story is about how you can experience the extraordinary on an ordinary shoestring budget.
A local contact suggested a home-stay in village, Singor, near Viraat Khai. It is a settlement, 30 km afore Chakrata. Most importantly, it is far more pocket-friendly than a stay in Chakrata.
Singor, is as calm as the mountains can get. It is certainly a visual plunge to overlook at the Doon valley on one hand, and cascades of mountains, on the other. The village has a traditional outlook and is still inhabited by the Jaunsar tribe. Wooden pahadi homes with corn soaking the summer sun: lazily hung up on little windows, and villagers offering lunch and Chaang, was indeed a pleasant welcome-home gesture!
It is one of those villages, in which time has stood still, rather slow. The phone network is replaced by village gatherings and hearty conversations, under an old oak tree.
It is amazing, how my quest for bluer skies and breezy mountains led me to Singor. In what quickly slipped away as just an 8 hour road trip, raising me to an altitude of 7000 ft.
Note:
—I enjoyed my cosy stay there for 2 nights and 3 days. The cost I incurred was Rs. 1000, in toto
—The family I stayed with was so generous, they fed me to bits
—There are no registered home-stays here, but the villagers are tourist friendly and usually have a separate room for guests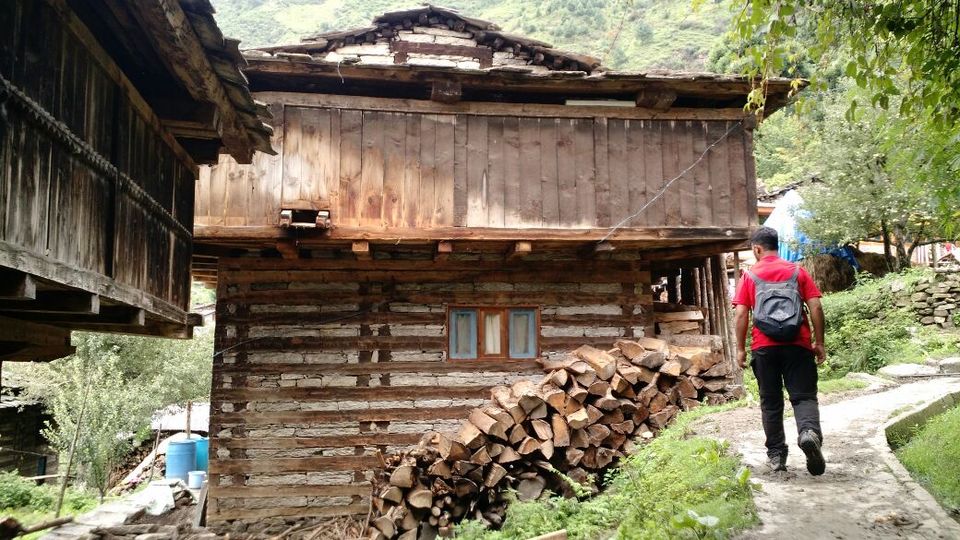 How to get there:
Delhi - Dehra Doon:
—Hop in the local bus and plug your ear phones on
—Enjoy the "uhhhhs and ahhhs" of a six hour bumpy bus ride for just Rs.290 to reach Dehra Doon
Dehra Doon- Vikas Nagar- (Viraat Khai) Singor
—I booked a shared cab from Dehra Doon bus station to Vikas Nagar(38 km/2 hours)
—Cost from Dehra Doon to Vikas Nagar Rs. 40
—You can get a direct taxi from Vikas Nagar to Singor in Rs.100 to 200 (depends, on how well you bargain)
—In case there is no direct taxi to the village, Singor, take a ride till Viraat Khai market. This should cost you around Rs.100 to 50. And from the Viraat Khai market, hike to the village. It is just 1 km
Stay:
There's a reason why they call it the "Tiger Falls"! The water roars unabhashedly, when it falls on a 100 meter pool of water below! It is a waterfall set at an altitude of 3612 ft, and is said to be one of the highest in Uttarakhand.
How to reach:
—Hike up to the Viraat Khai market. It is just 1 km away from Singor
—Hire a shared taxi from the Viraat Khai market to Chakrata (30 km away). It should cost you around Rs. 100 to 200
—From Chakrata start the trek to Tiger Falls
Trek
The starting point of this 7 to 8 km trek is Chakrata town. The gradient is easy with some downward slopes. Patches of forest and distant view of villages, keeps the traveller's heart humming!
What to eat?
There is a canteen near the Tiger falls. Mountain Maggi and chai, are all time favorites, there!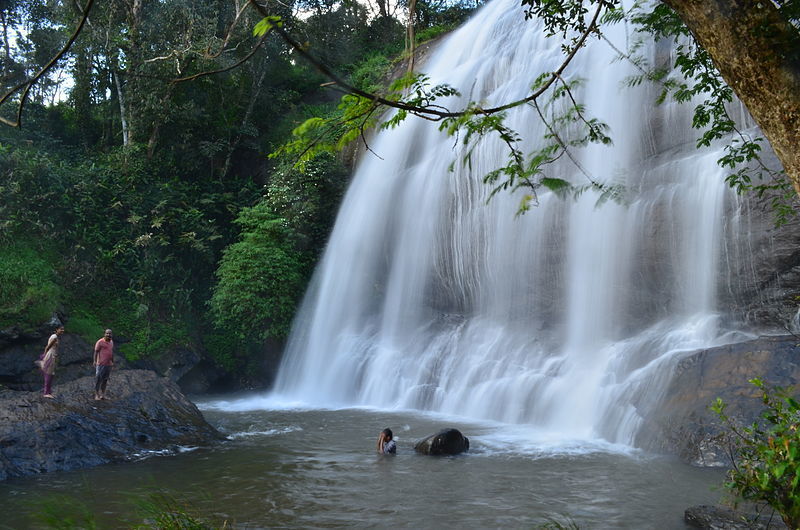 What to explore:
1. Tiger Fall:
Altitude: 3612ft
Gradient: easy
Time: 5 to 6 hours
2. Chaurani:
Altitude: 6397 ft
Gradient: Moderate
Time: 5 to 6 hours
How to reach:
Singor – Viraatkhai Market (15 -20 minutes) – Chaurani (2- ½ Hours)
Trek
From Singor it takes around 4 hours to trek to Chaurani (6397 ft). It is a famed campsite from days of the British Raj. It is a moderate trek, negotiating with some steep patches in between.
Viraat Khai market is the starting point of this trek. I hiked up to the Viraat khai market in around 15 minutes. It's an easy hike. Starting with a 20-25 minute walk on the road, one needs to be careful about, an inlet in the forest.
This forest welcomes hikers with a thick cover of rhododendron, oak, and pine trees. It takes around 1.5 to 2 hours. Fortunately, it is a single trail, so it doesn't need much asking around. The forest cover clears to unfold the view of a trail of mountains lined up together, one after the other, on the both the sides. And thus, these sleepy alpine alleys lead to Chaurani.
There is an ancient Shiva Temple amidst the pine forest. Ahead of that, is a viewpoint, around 1.5 hours. It unfolds in a panoramic view of snow clad mountains on one hand and the Shivalik range, on the other.
From the Shiva Temple, I descended back to Chaurani in around 30 to 40 minutes to reach the road head in the Viraat Khai market.
What to eat?
There is no food stall there in the middle of the jungle, so it is advisable to carry lunch.
3. Sunrise point:
An easy 20 to 25 minutes hike from Singor leads to a table top cliff near the Viraat Khai market. It is just like one of those photographs with a blanket of clouds, rising like silvery fumes, from the mountains.
So I am saying, Chakrata is a lesser known paradise. It is a haven for those who want to push the snooze button and pause for a breath! It indeed is an extraordinary experience in an ordinary budget of just Rs,3000. In winters, it even snows there, so what are the chances that you are thinking of packing your bags?
Frequent Searches Leading To This Page:-
Chakrata Uttarakhand package for family, honeymoon packages enquiry, how to travel from delhi to chakrata, delhi to chakrata bus booking, which places to visit in uttarakhand, hotel in sonprayag uttarakhand, uttarakhand tourism tenders