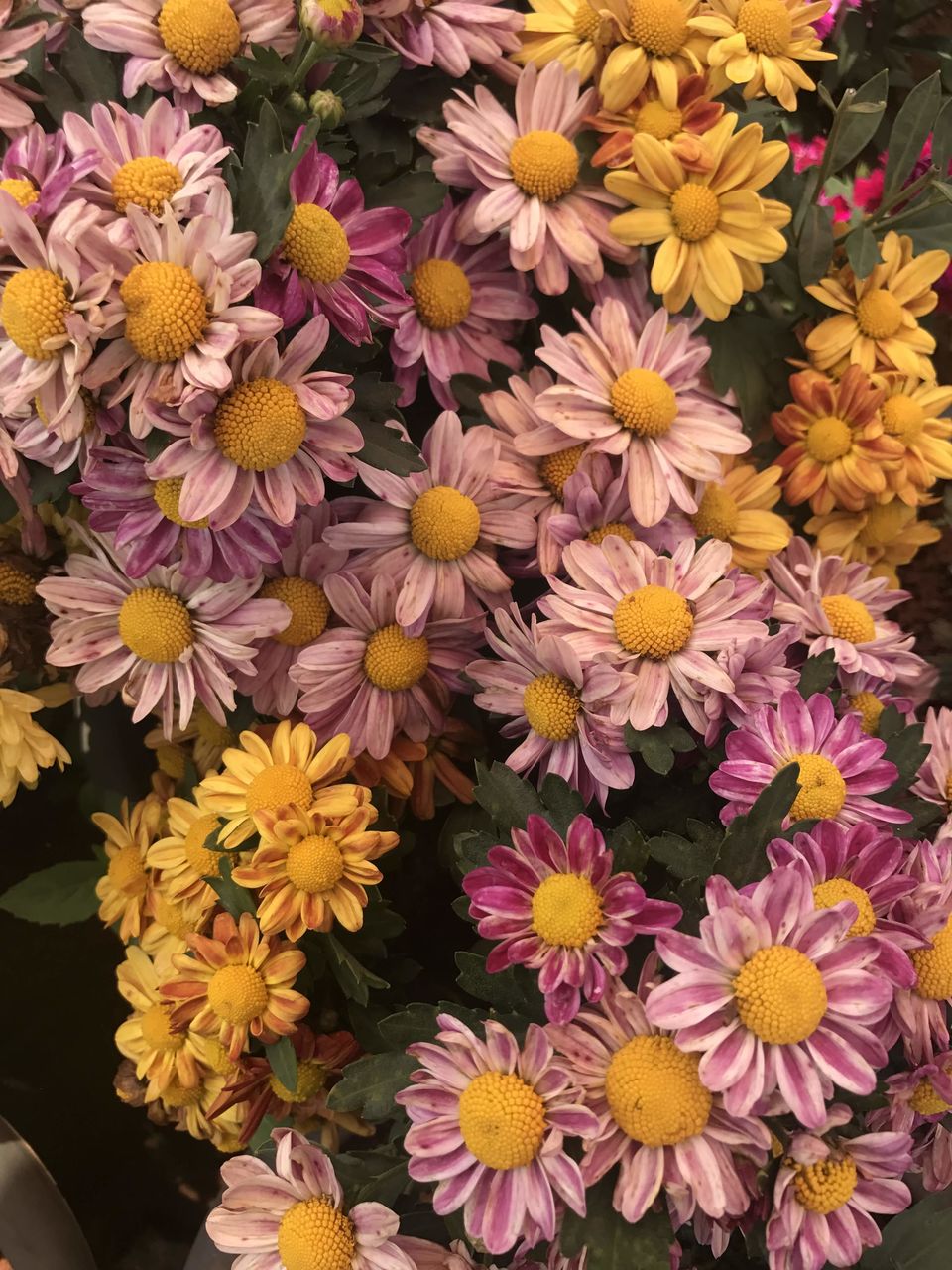 This trip was planned last minute. If you have time ( planned in advance and booked here) and money to spend, check out this place for at least one night - Jungle Beats.
We left from Bangalore on a Wednesday night for Wayanad. It is a 6 hour journey. We reached around 5 : 30 am on Thursday. Luckily, our hotel was just 350 meters away from the bus stop.
We stayed at iCon Residency for INR 550 per night
We booked hotels and buses ( INR 1500 both the ways) on Goibibo.
Our day one started at 7 am on the same day. We spotted an auto guy right near the bus stop. He charged us INR 1500, 1600 AND 1800 for day 1, 2 and 3 respectively. We also had to pay for his food. We were fine with it initially but later on it added a lot to our expenses. So its better you clarify with the drivers beforehand only
Day 1 :
Stop 1: Banasura Sagar Dam
Entry fee: INR 60
Time spent : 30-45 mins
We reached here around 9: 30 am and after taking the tickets, we had to walk almost 500 meters to reach the dam's top. We did a mini trek and reached. This dam is a Asia's 3rd largest earth dam. I googled but still did not get the meaning. I thought I'll visit this place and check.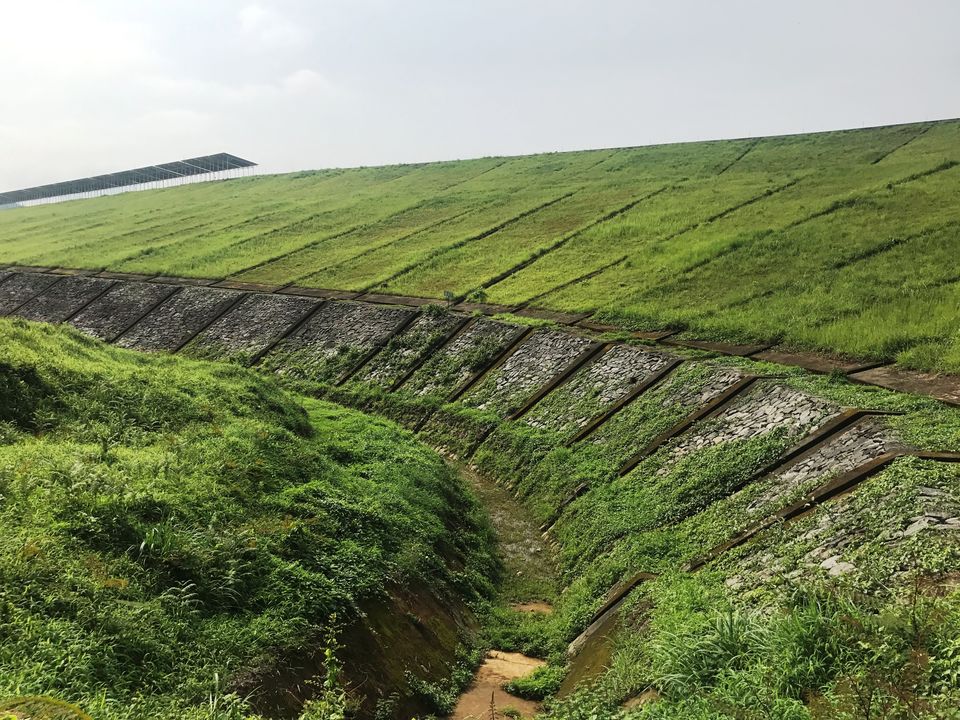 On top, there were a LOT OF flying insects!!! A lot! We used my umbrella and ran through them.

I was eve teased here. So be fully dressed and always be with someone.
There are a lot of things to do here viz., kayaking, horse riding, etc. But since it was very hot ( Yes, at 10 am in the morning ! ) , we skipped all those things.
There was a flower garden below the damn. This place was well kept.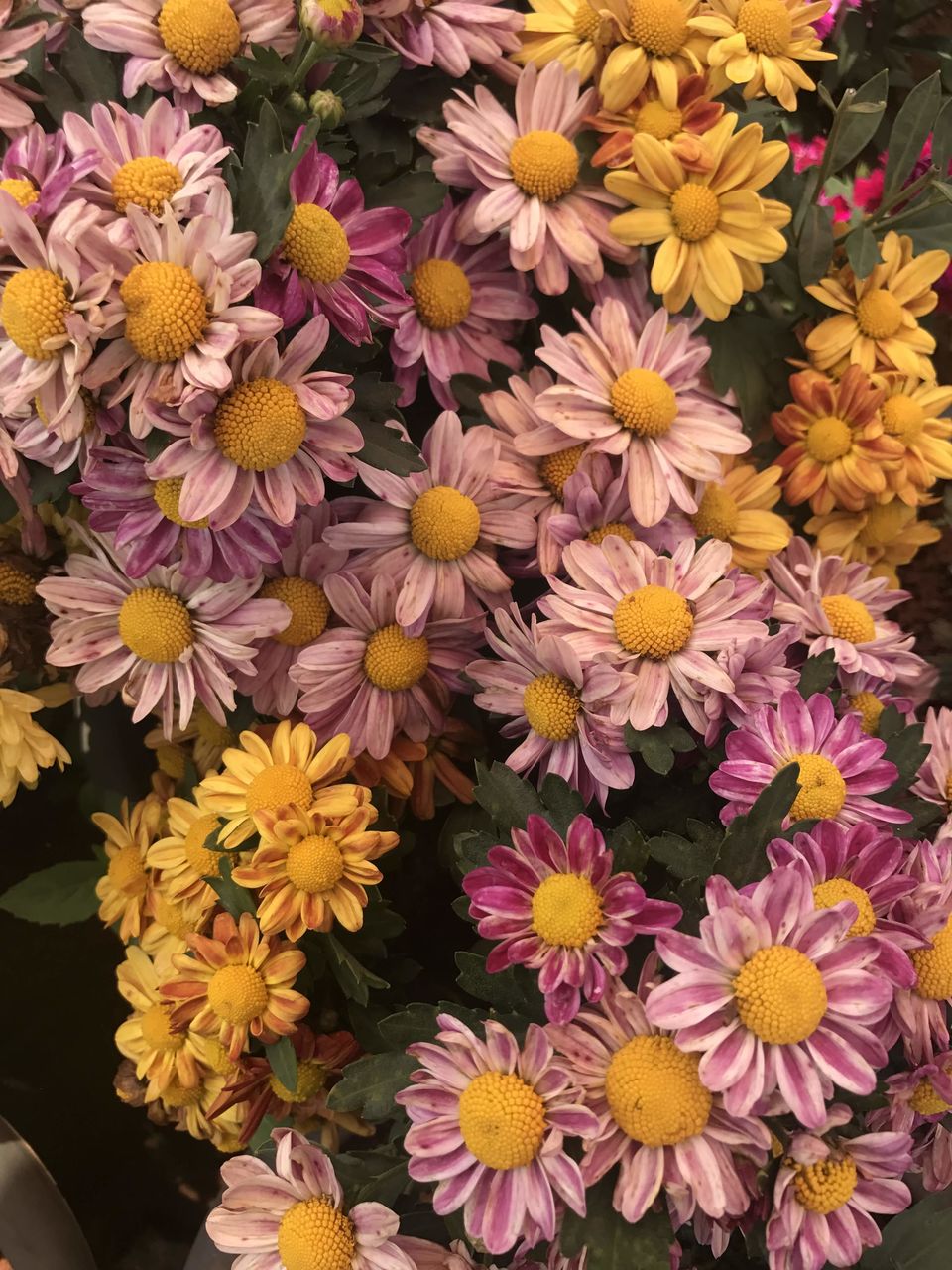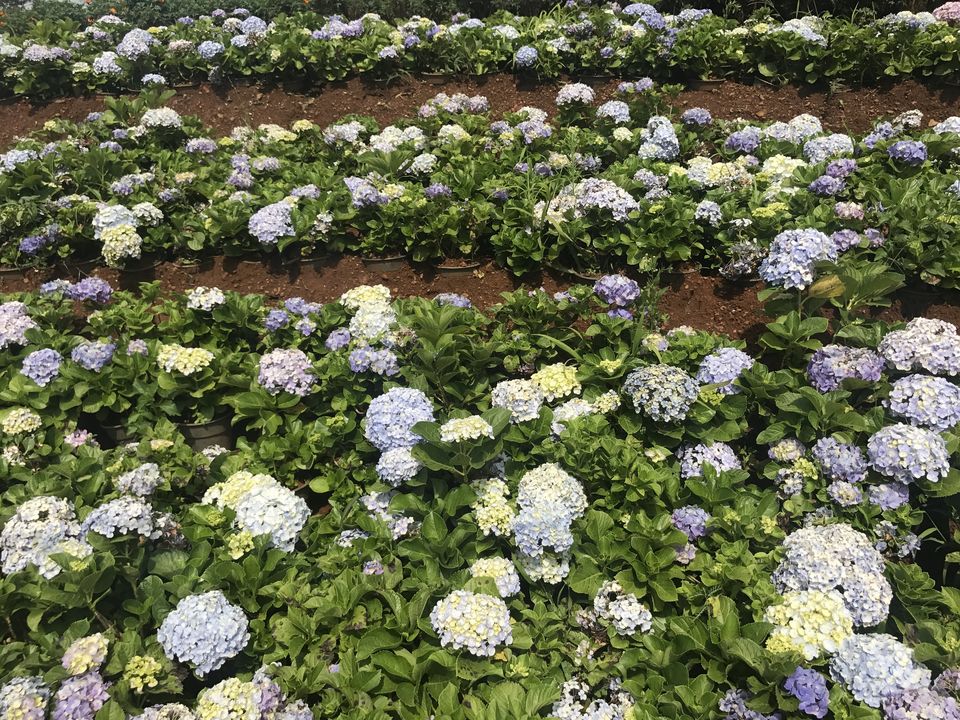 Personally, you can skip this place.
Stop 2: Karlad Lake
Entry cost: INR 60 per person
Time: 20 mins
I had read that this place is less crowded than Pookadu lake. Hence, we went here. There is nothing to here apart from boating. There are tents here for you to stay ( You can Google and check the details ). It'll be pleasant to stay opposite a lake. We chilled here for sometime.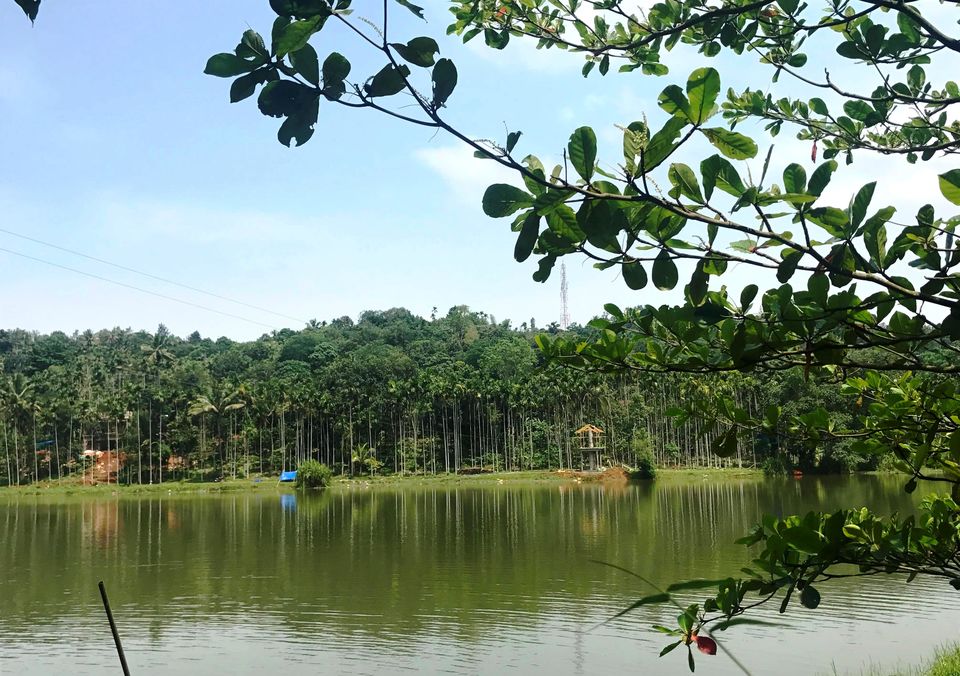 Stop 3: Bamboo Rafting.
This WAS THE BEST HAPPENED TO US IN THE TRIP.
Cost: INR 1200 for 2 people
Time: 60 mins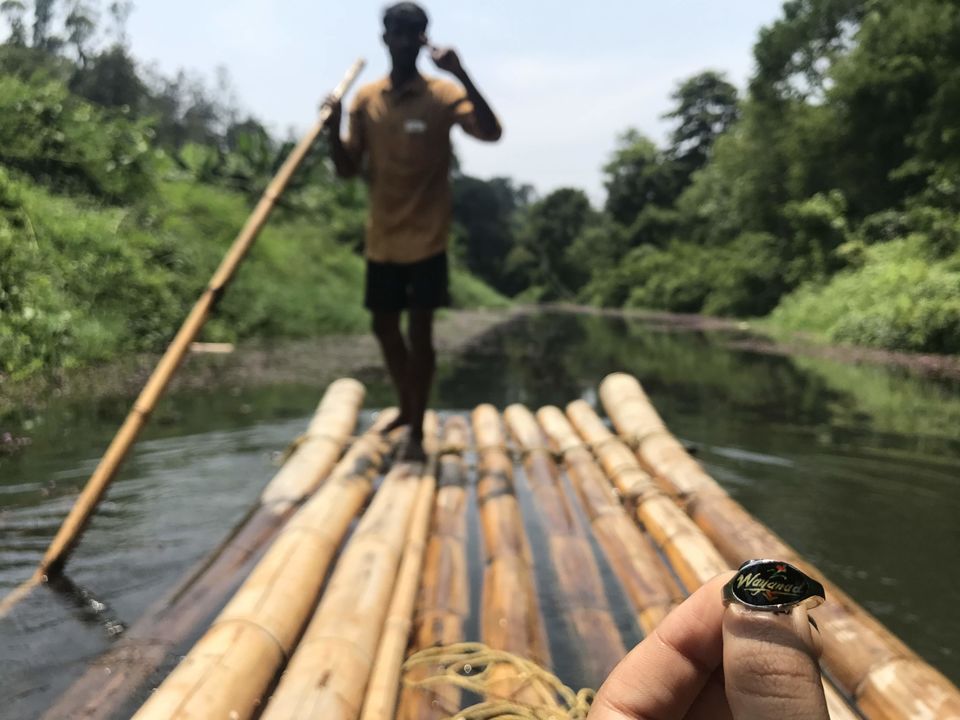 We wanted to avoid this because the bamboo rafts did not have a cover to protect us from the sun and it was really hot ! The auto guy head us talk about this and conveyed the same to the rafting guy. He arranged a raft with a roof for us in the same cost.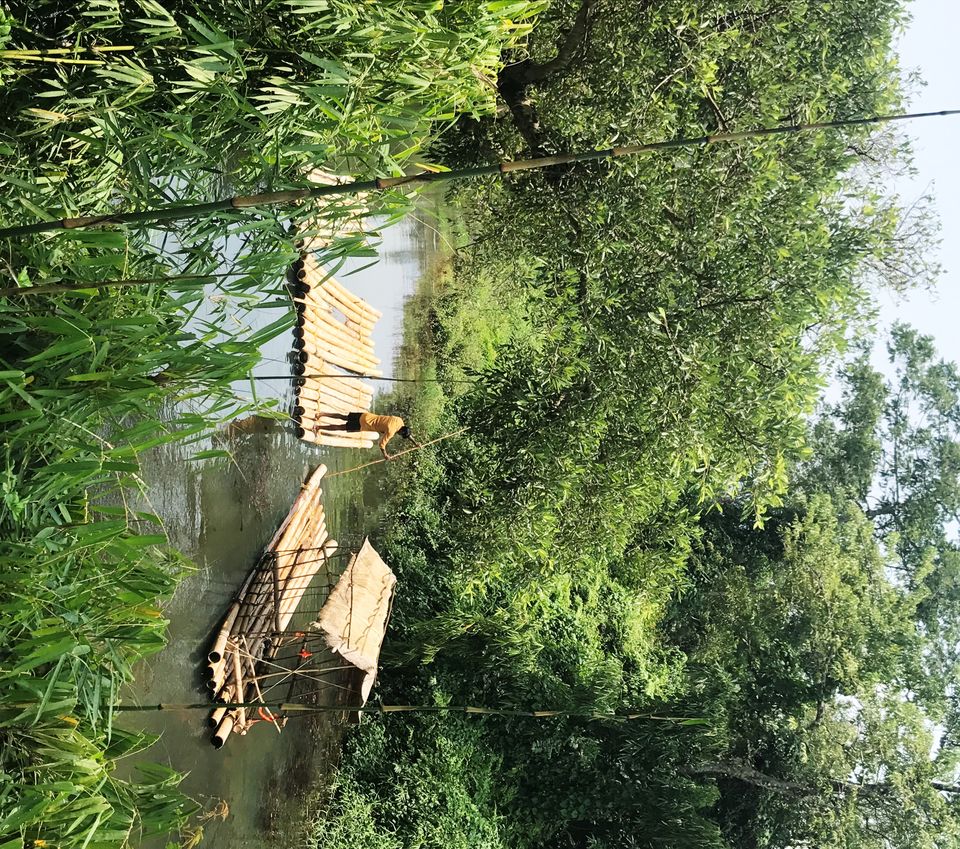 We climbed down and settled here for a short trip in these waters. The water was clean. These are plants and flowers.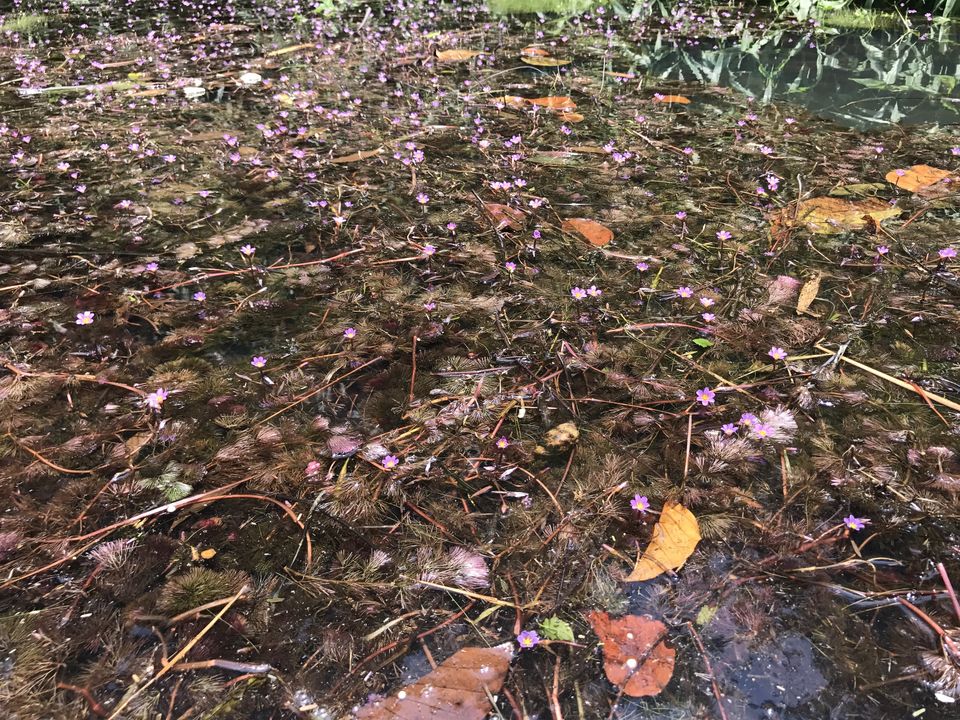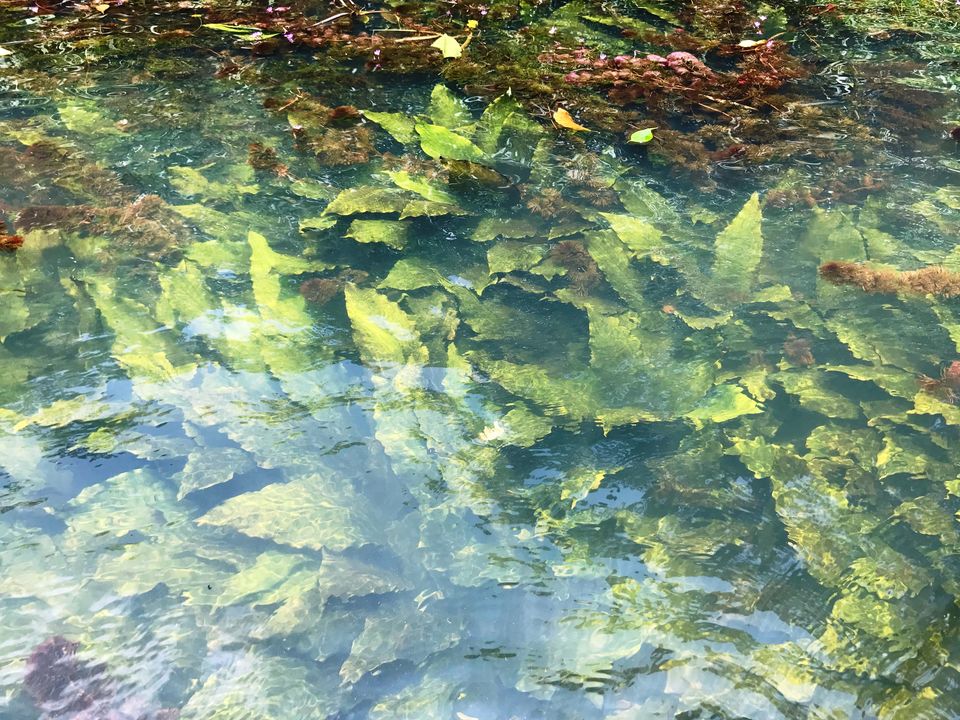 We were lucky to get Naushad as our rower. In the photo below he showed me a bird's nest just beside his head on the branch!!! He can speak only his native but you'll thoroughly enjoy the ride with him.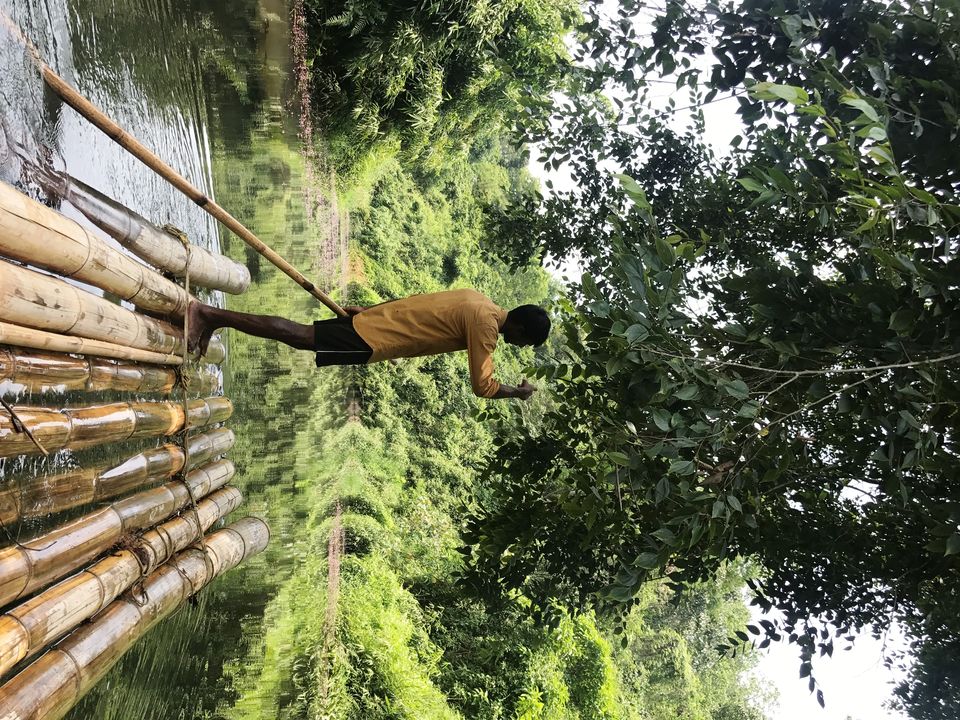 He also taught us how to row the boat. This is me trying to row the boat and not merely posing.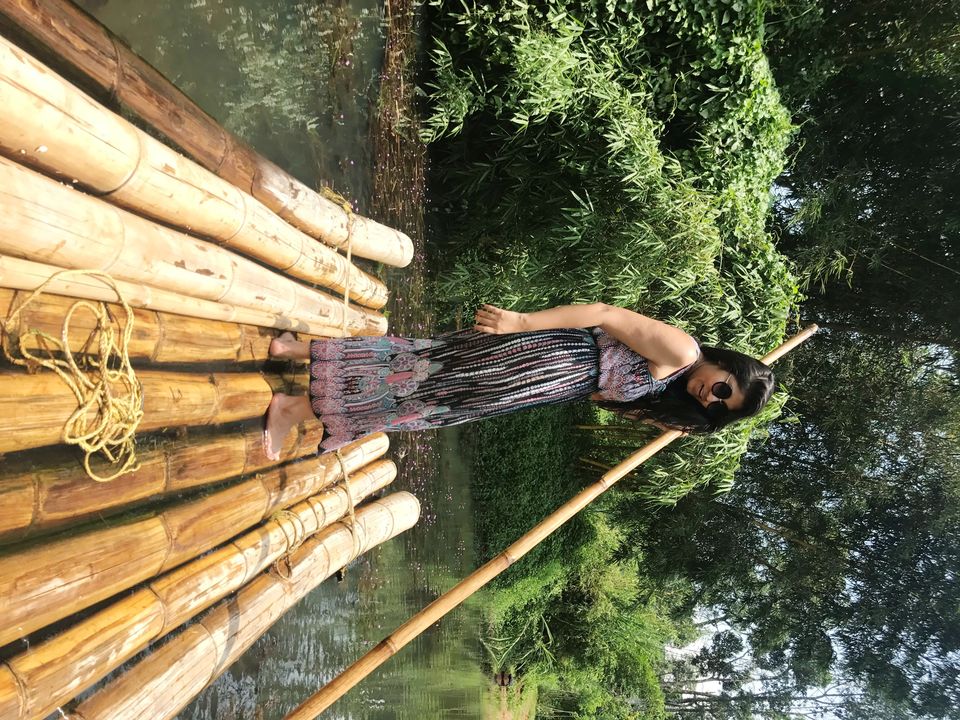 We tipped him INR 100 and did not tell his boss. He also requested the same.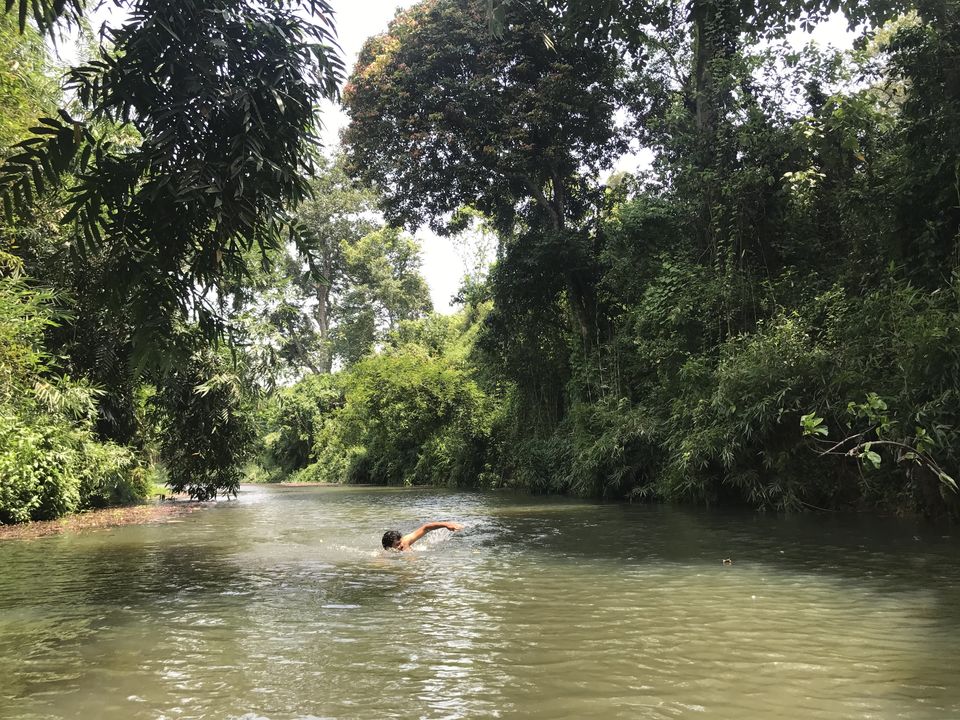 You can also swim here. The water is just 6- 7 meters deep and clean. There are baby fishes inside too.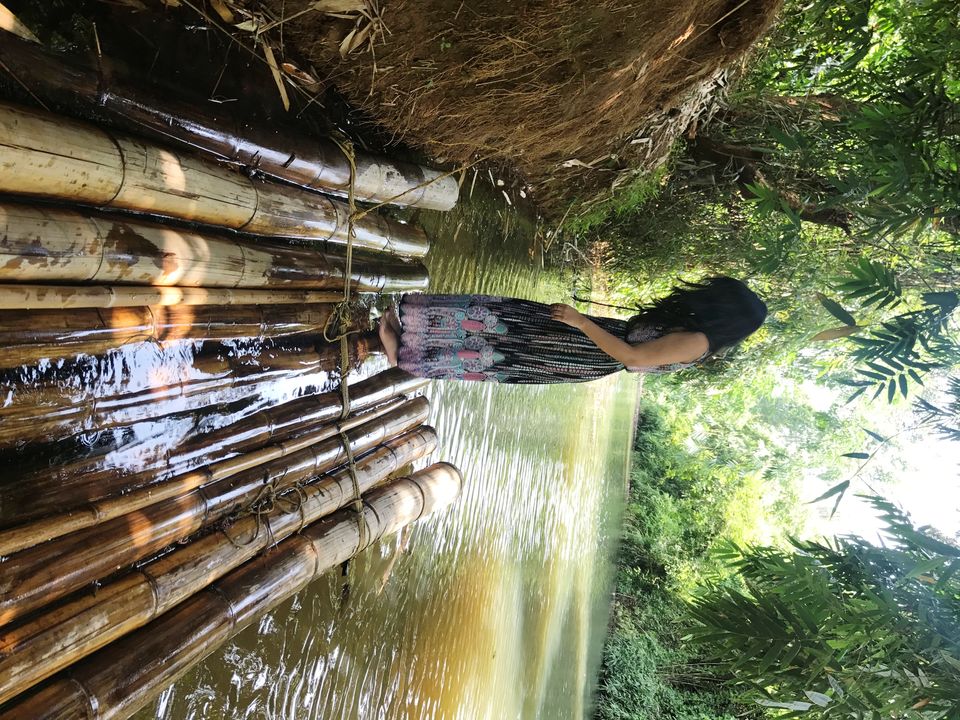 The mud that you can see on left side, you can go on top too. My friend and Naushad went and relaxed there for sometime. Take care of leeches. One got stuck on my friend's foot and Naushad removed it.
Stop 4: Pookade lake
Entry : INR 30 per person
Time: 30 mins
We cam here because I read 2 things : 1 ) This lake's shape is that of India ( I did not know where to see it from and hence missed it) 2 ) There are blue lotuses here ( Maybe because we did not do boating, we missed it )
We took a stroll around this area.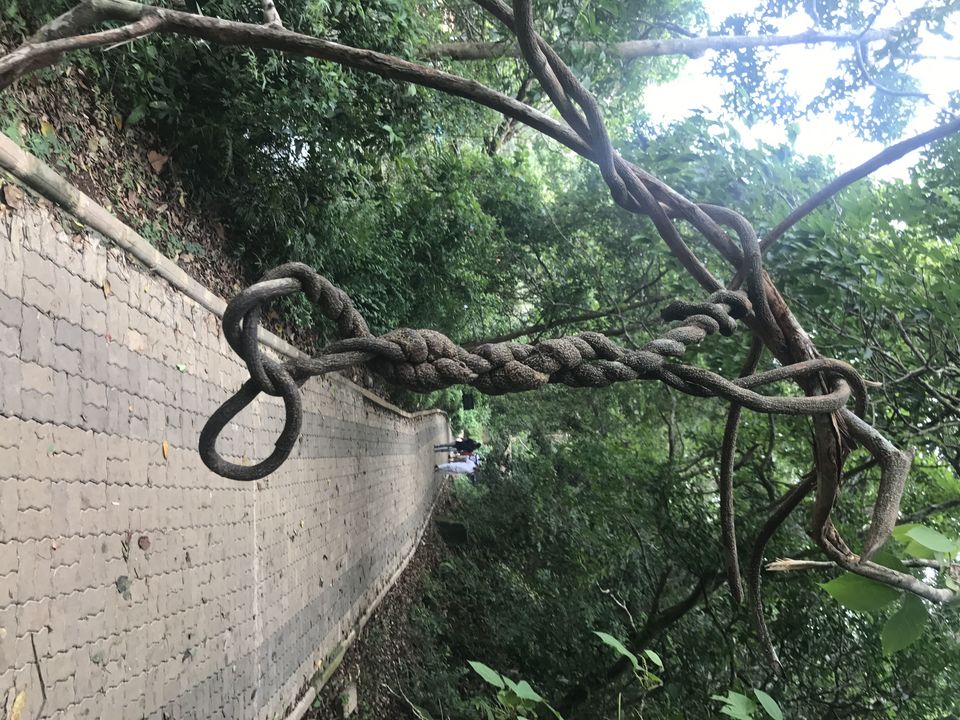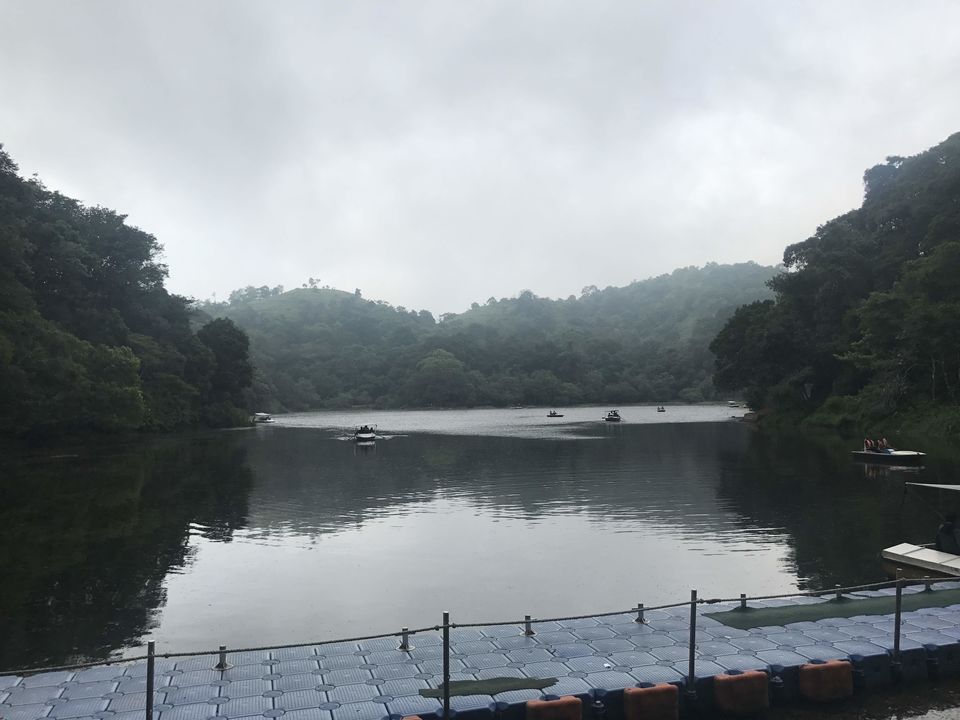 If you're scared of monkeys, skip this place. But the monkeys here will not harm or snatch anything from you.
It started drizzling here later.
Stop 5: Lakkidi View point
It was evening and drizzling. The climate was lovely. We chilled here for 15 mins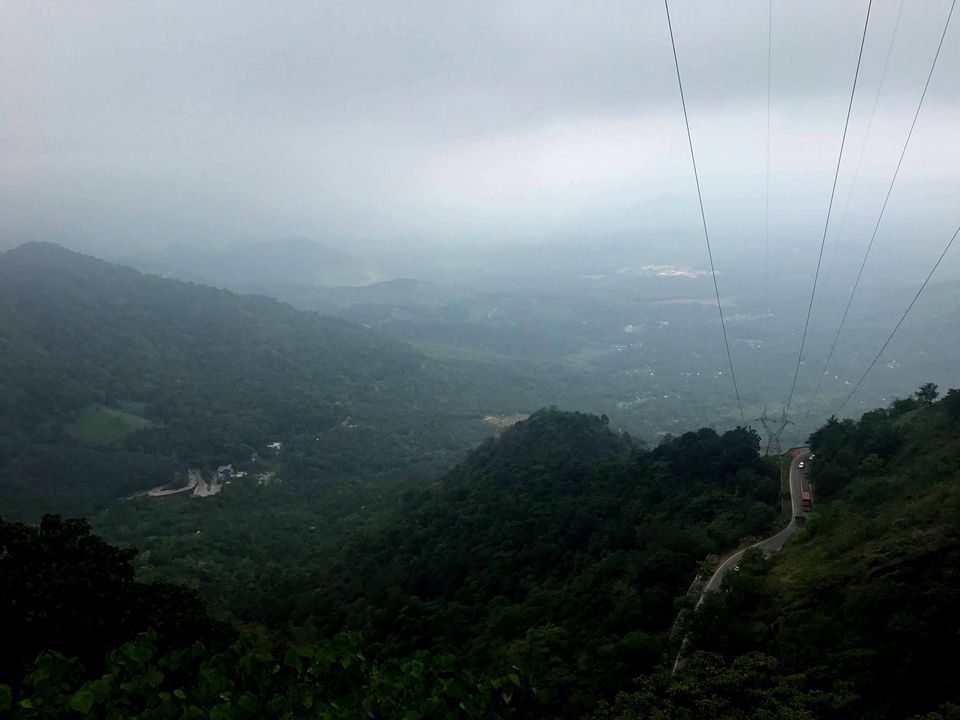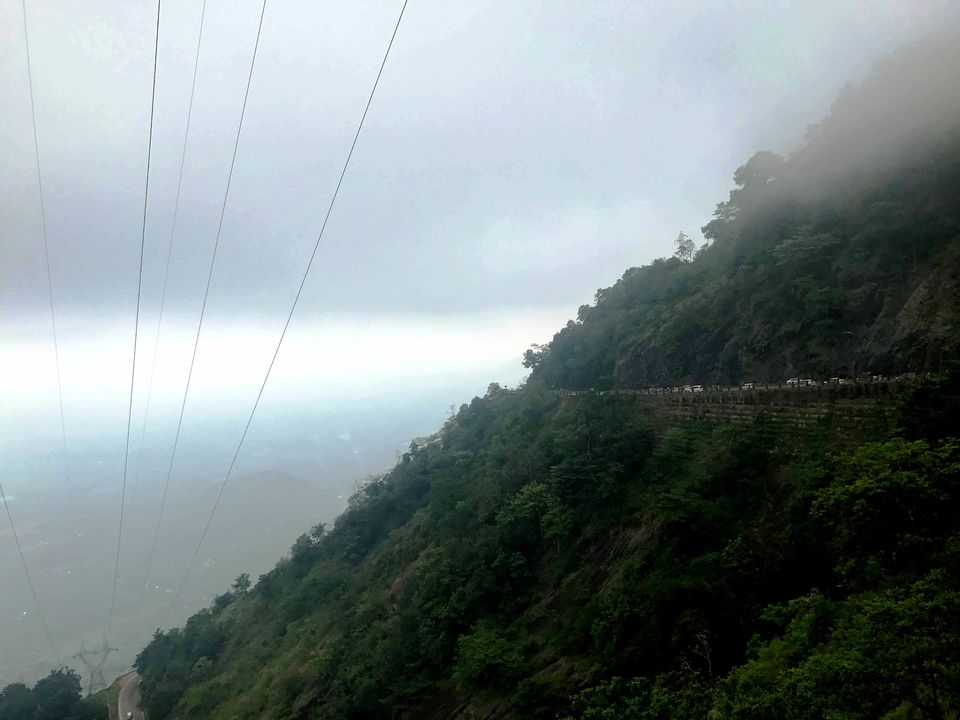 Legends say that the Britishers beheaded a lot of adivasis here. One adivasi's soul stayed here and hence whichever vehicle passed by, toppled ! Post there a saint was called to perform a pooja. He tied a chain around this tree and after this there was no threat to any vehicle here.
Day 2
We got up at 4 am today and left by 5 am. Carry a hoodie and scarf. It was 15 degree Celsius and there was on and off drizzle.
The reason we left early was that only 200 people are allowed daily here because it is an eco-tourism area. The tickets start selling around 6 - 6:30 am and our sold out in an hour.
After buying the tickets, we left for Tirunavelli Temple. We stopped for breakfast on the way. The beauty enroute was outstanding !! Lush green all around! We spotted 7 deers on the way !!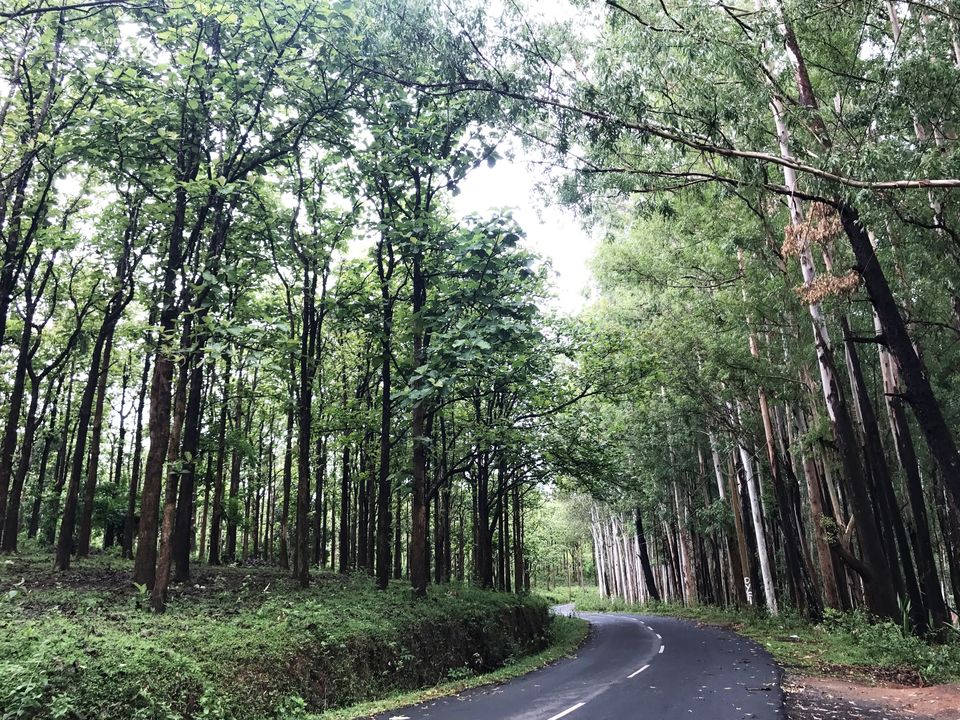 Stop 3 : Thirunavelli Temple
Folk lore says that Lord Parshuram used to pray here and it is a 3000 year old temple.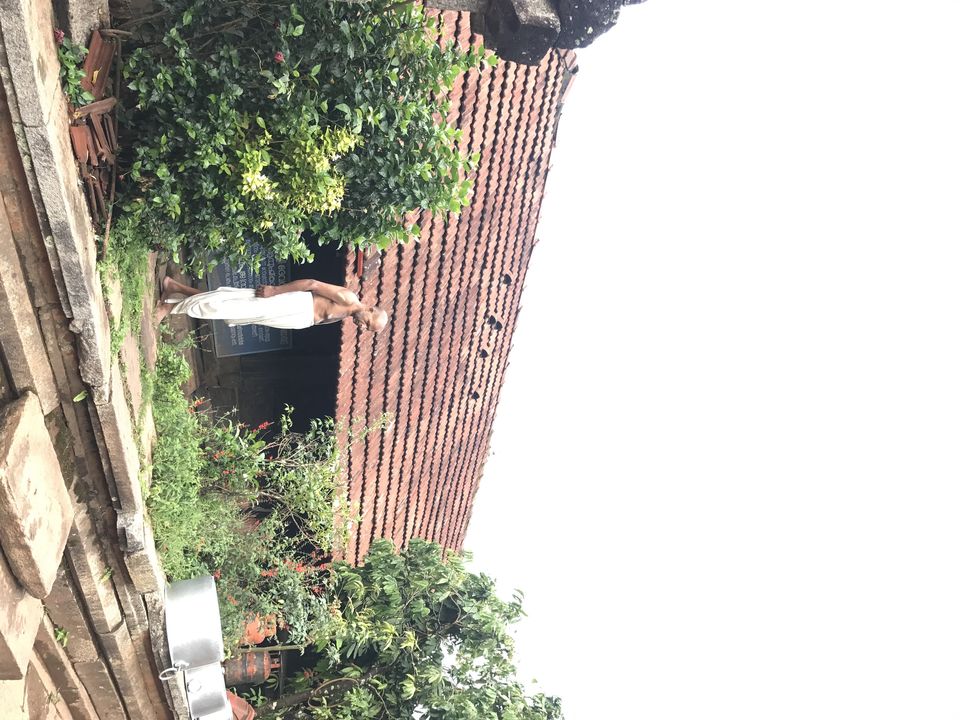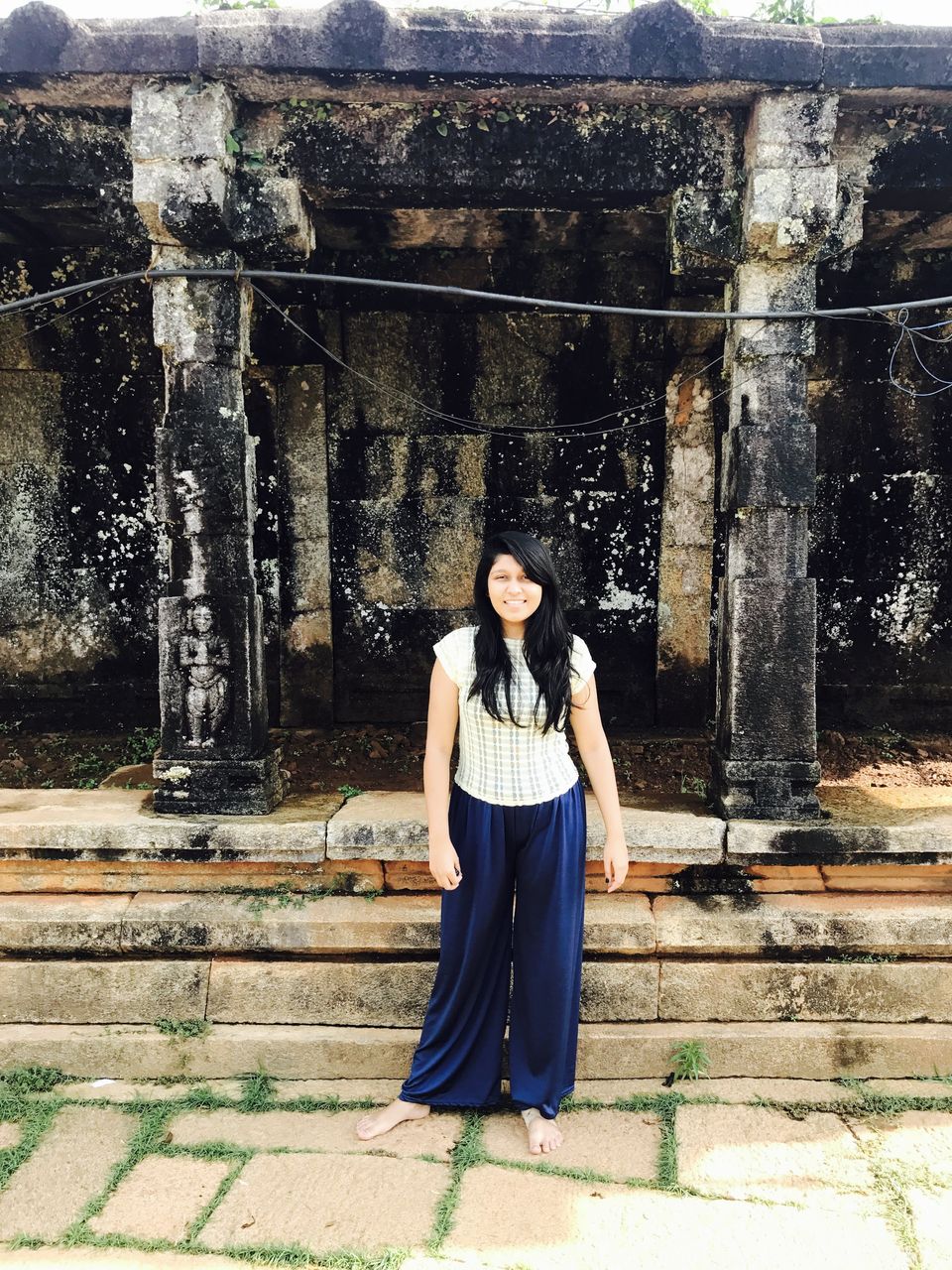 Stop 4 : Back to Kuruwadeep Islands
They open around 9 : 30 - 10 am. After showing the tickets, we proceeded towards our boat which would take us to the island.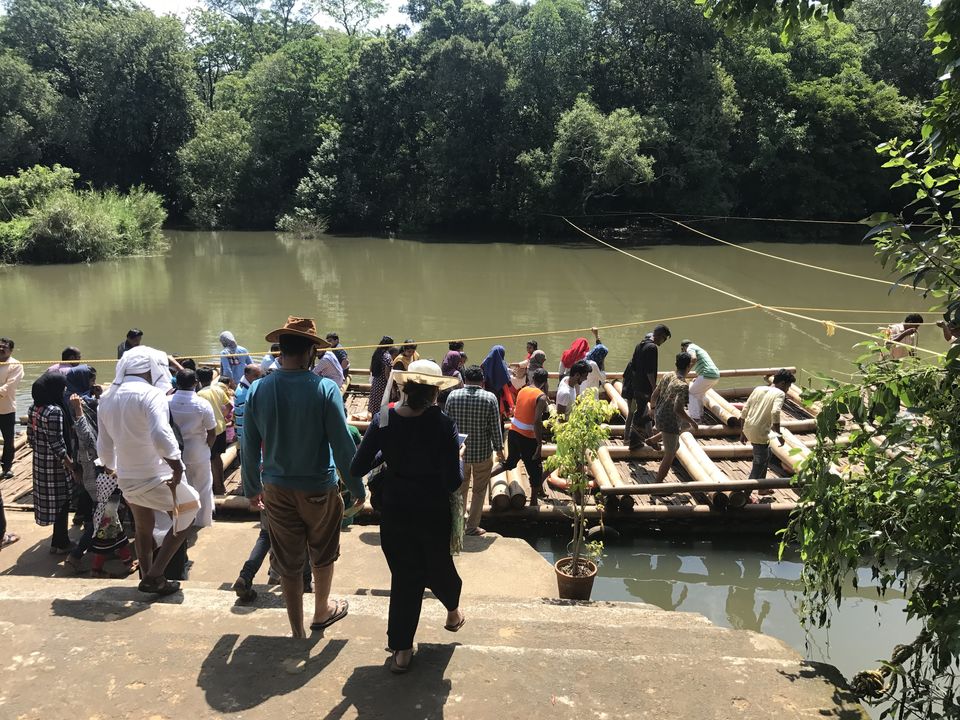 We had to walk for another 700 meters to explore the flora and fauna. You can spot birds.
After this we reached a water body where you could take a dip. The view with a lot of trees was beautiful.
After leaving the islands, we had lunch and proceeded for Stream Valley Resort.
We paid for INR 3000 for one villa and decided to chill in the property itself since it was beautiful ( and also since we paid so much ) :P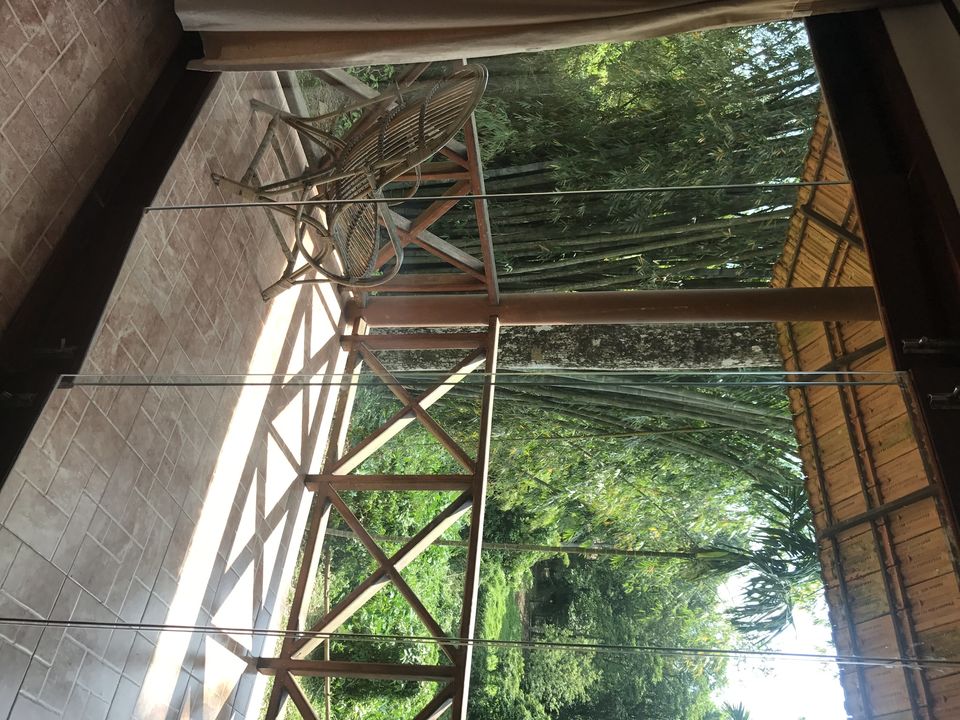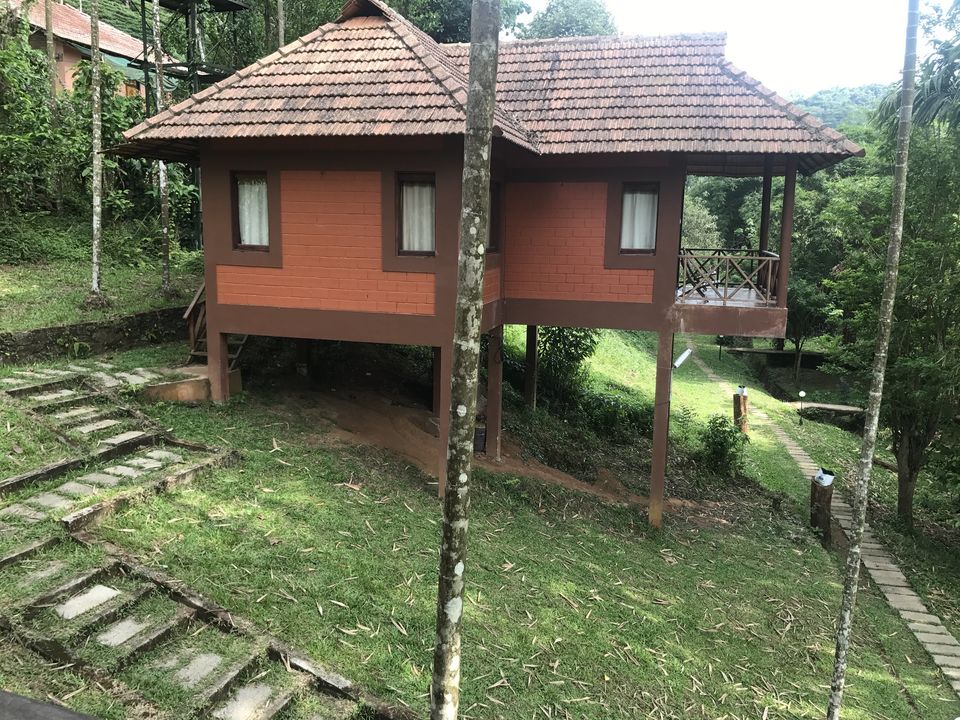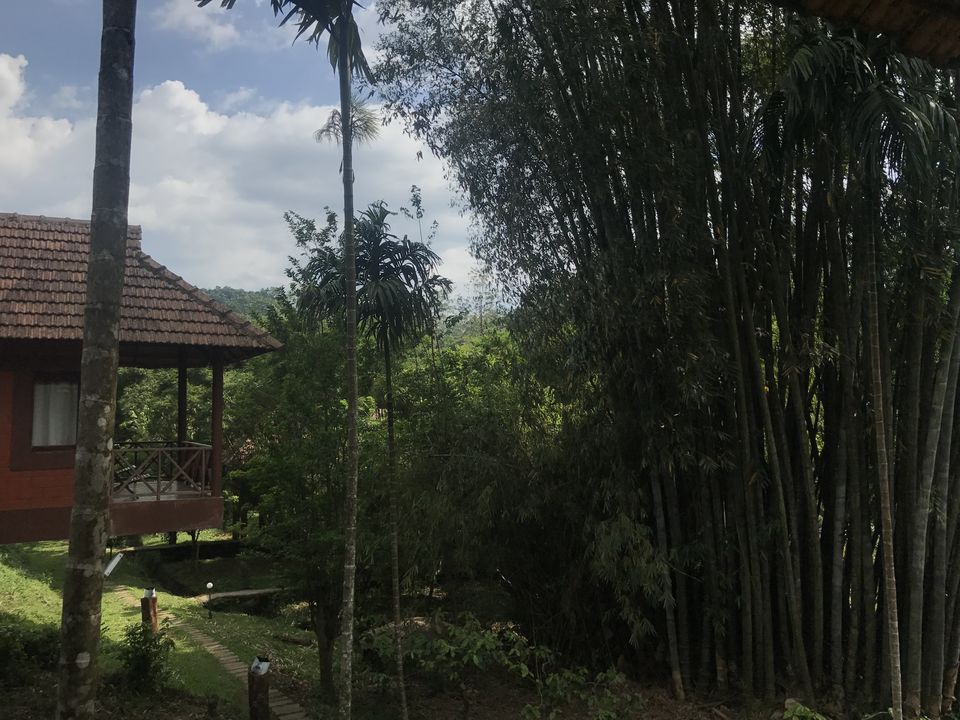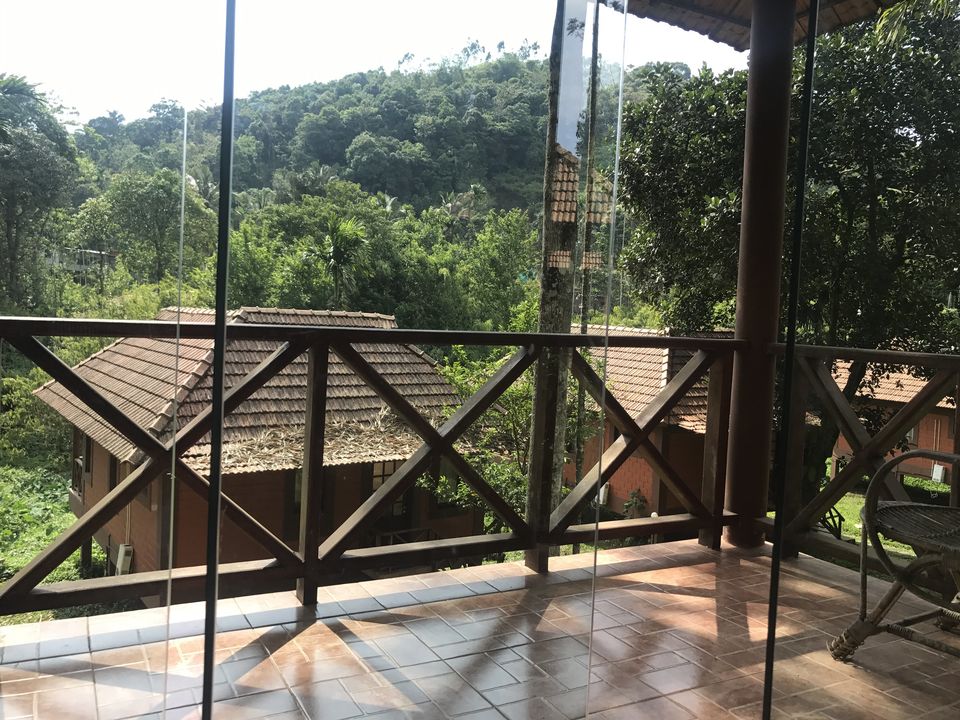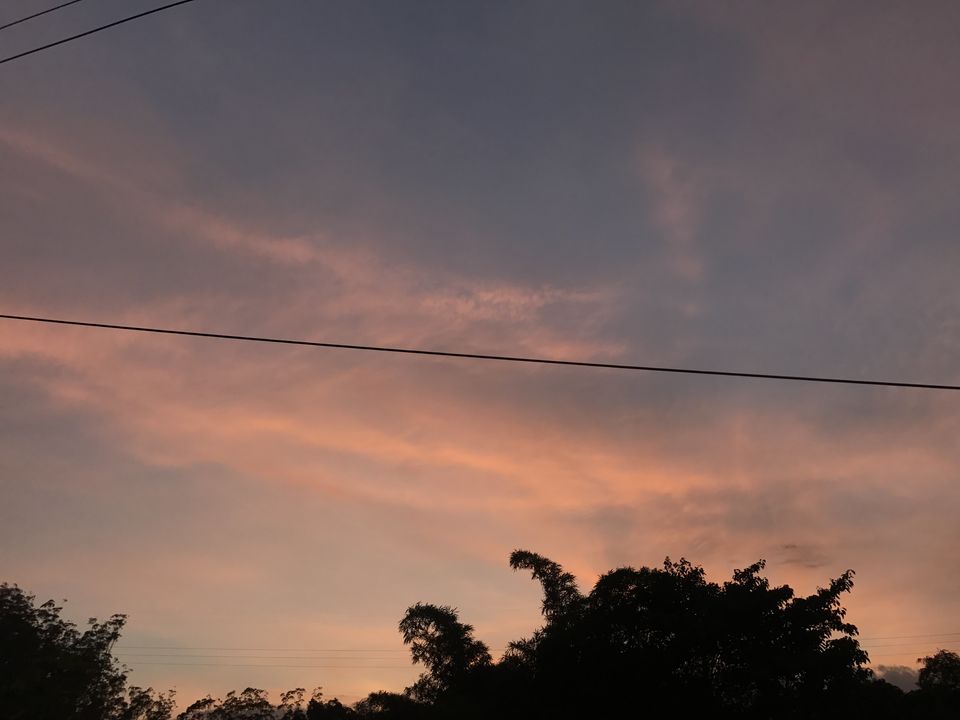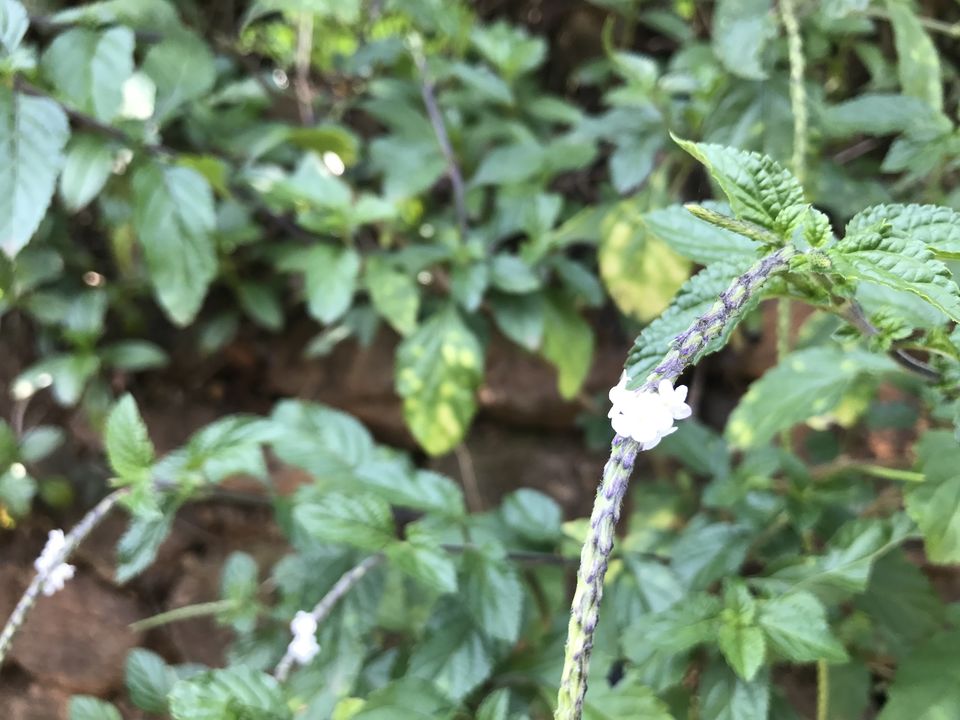 We had al la carte dinner of approx INR 300.
We did not take breakfast to save some money. Turns out, if you want breakfast separately, they charge INR 500 per person. So we walked almost a kilometer to the main area in search for breakfast. Found a local shop and ate there. We finished eating around 10 and it was hot already ! Waited for an auto for 15 minutes and found one who agreed to take us inside ( INR 30 )
We checked out around 12: 30. This was our mistake - checking out late because we had Eddakal Caves and Soochipara Waterfalls on our list.
Hotel to Waterfalls - 1-1.5 hours of travel
and
falls to caves - 1-1.5 hours of travel. Both these places were to shut around 4 which we came to know once we sat in the auto at 1 pm.
We skipped lunch and ran for the falls.
We reached the falls around 1pm. Auto guy asked us to come back by 1: 45 if we wanted to make it up to the caves.
We had to walk another kilometer to reach to the falls. The road leading to the caves was terrible. It was steep, with a lot of steps, loooonnngg steps and a lot of cobble stones. We had 2 pit stops.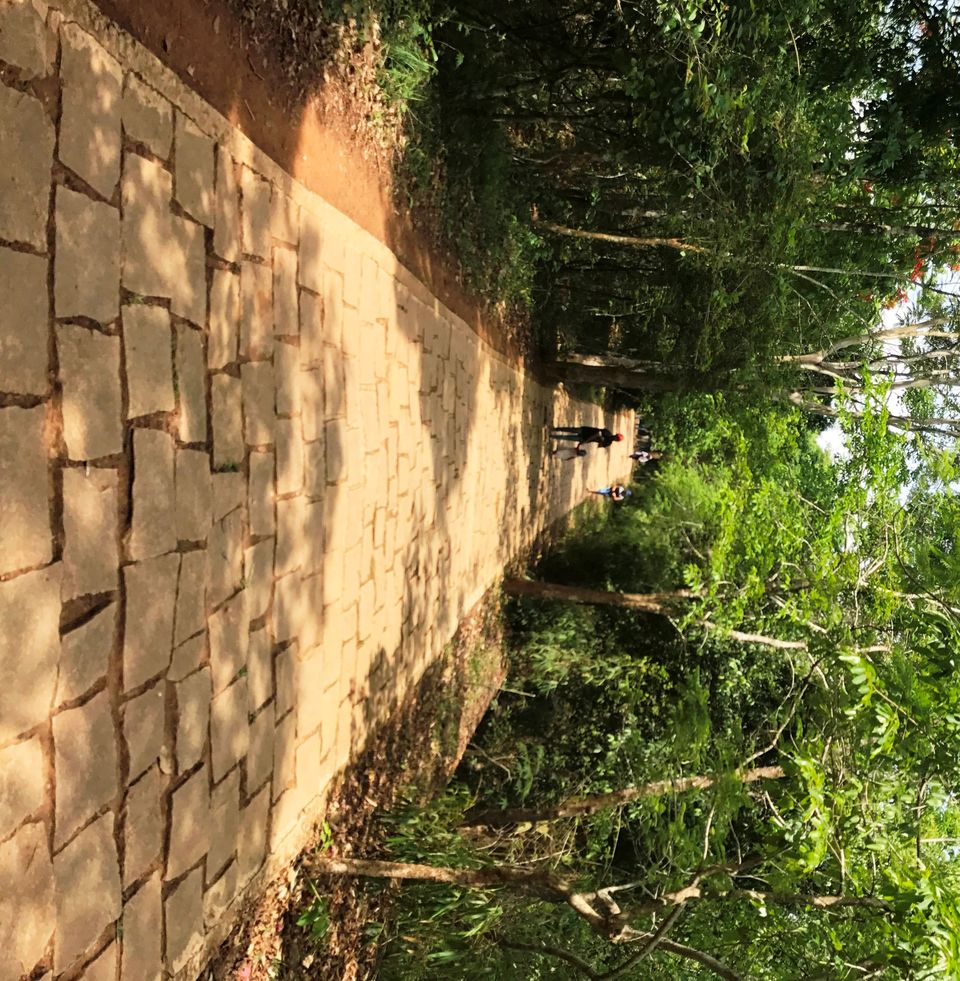 We were just running for 25 -30 mins on these roads. We were about to reach the falls but decided to turn back because I did not want to miss the caves and we could hear a lot of hooligans near the falls. The place was crowded. Spent another 20-25 mins in coming back, met the auto guy an ran for Eddakal Caves.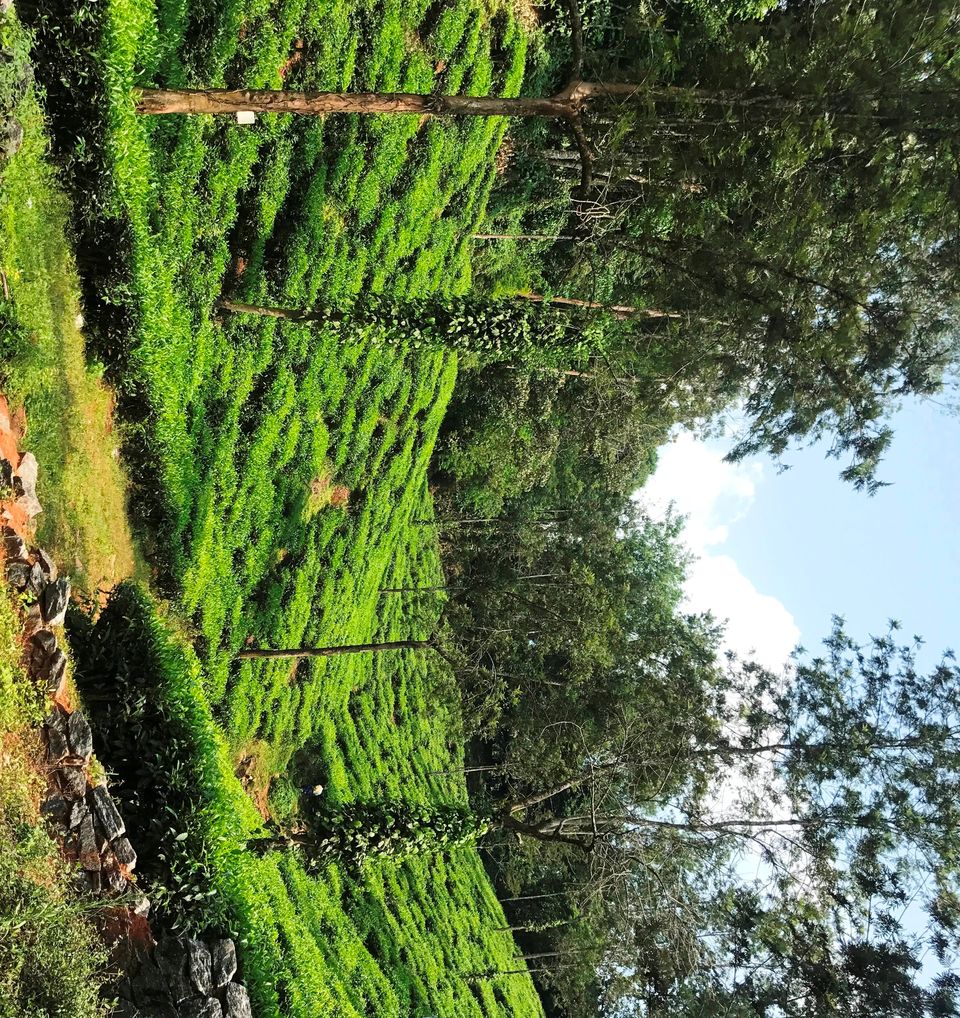 The view on the way was again breath taking with a lot of tea and coffee plantations. A typical Kerala view :)
We finally reached the caves at 3 : 40 ( it was to shut at 4 ). I was happy that we made it! But no! We had to walk another kilometer to get the tickets.
This road was worse than the earlier one. We were tired and exhausted and the roads were very steep! We were running on these almost 50 degrees steep roads !!
We were happy when we got the tickets but later came to know there is another trek of almost 500 steps. We gathered a lot of courage telling each other that we're not coming back so to see this and then call the day.
We climbed with a lot of pit stops.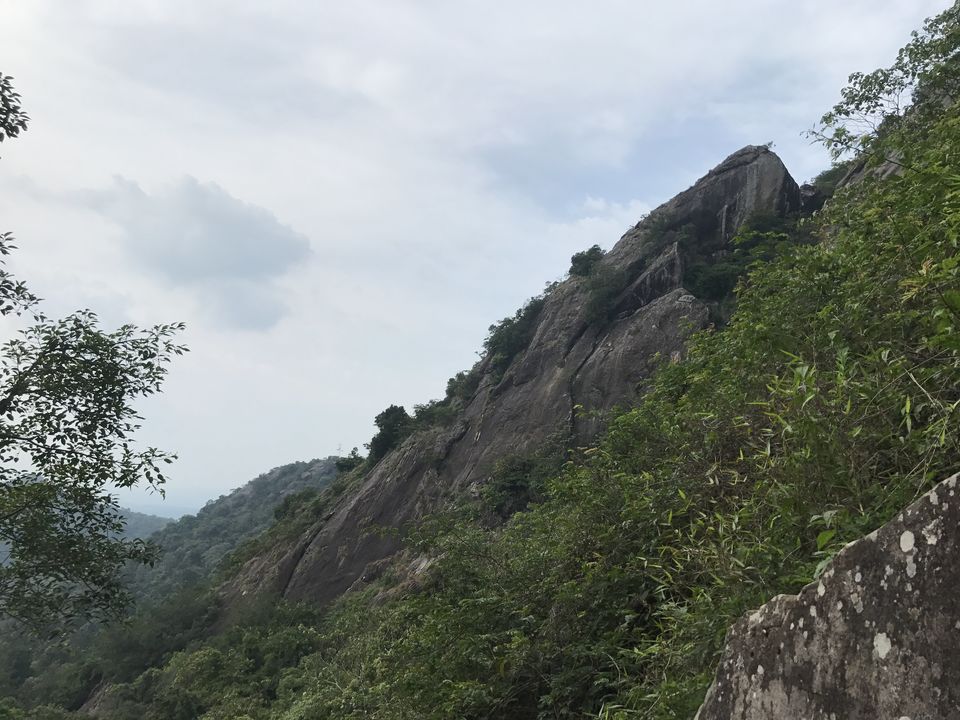 At this mid point, we could either go up or go back down. Our bodies had given up and we still needed energy to walk the same distance down. We started walking towards the auto guy and took almost 40 mins!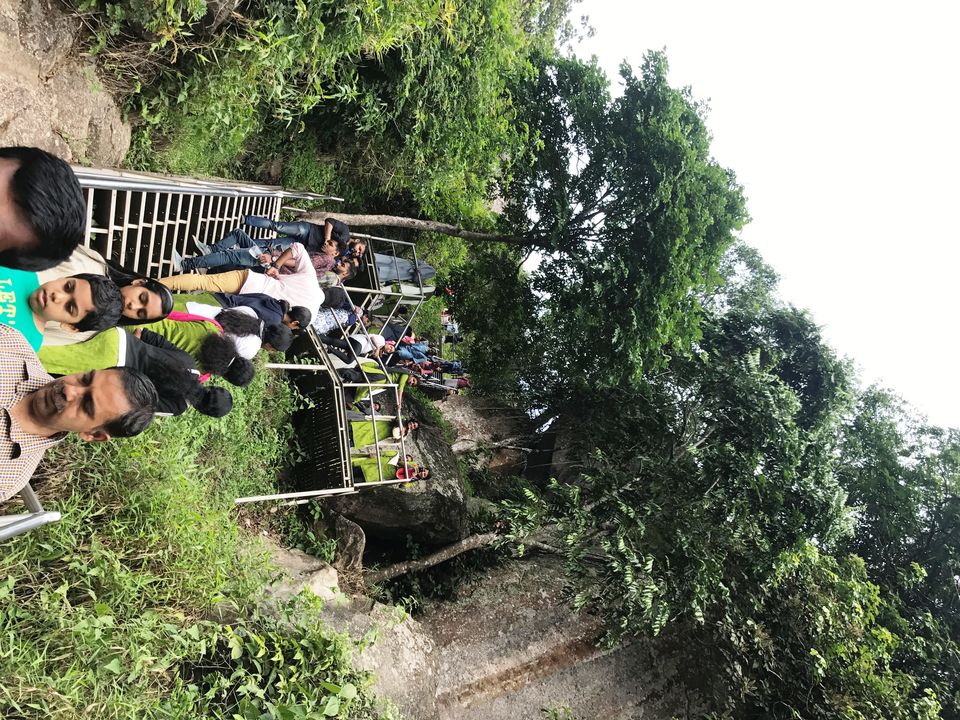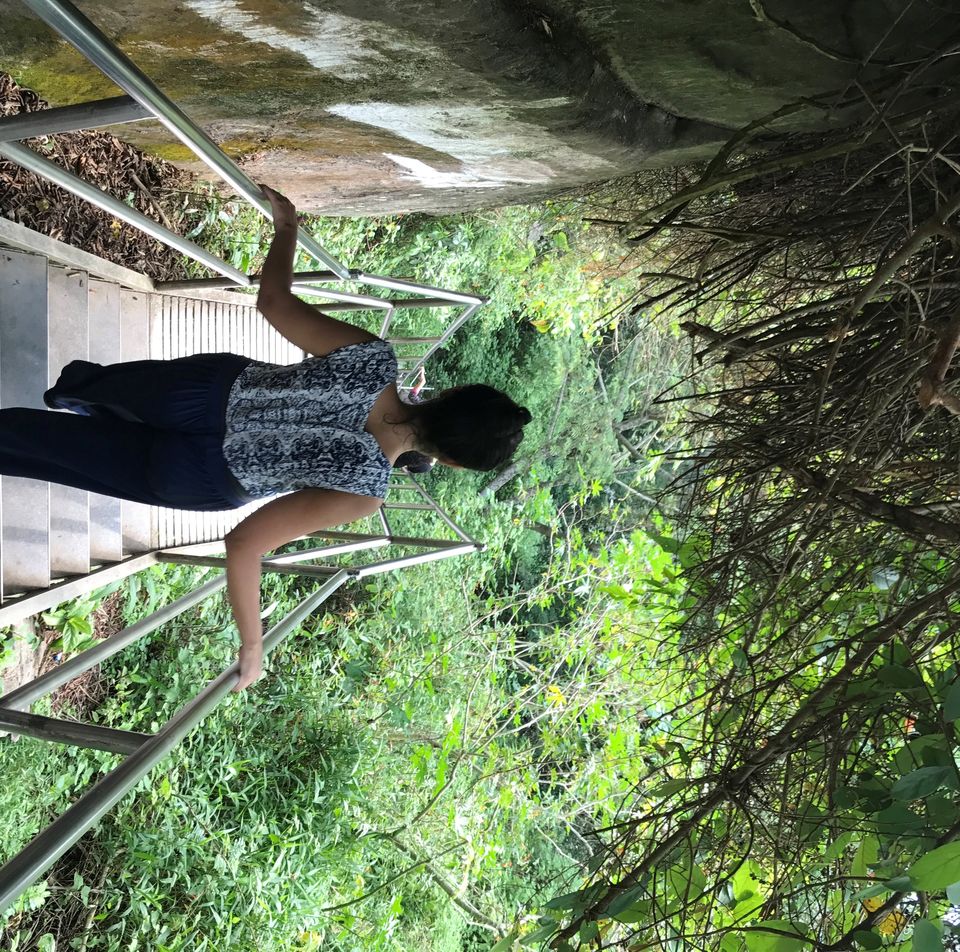 We left for our bus stop ( to go to Bangalore ). Had lunch around 5 pm. It was an extremely tiring day for us. Have at least half a day for each of these day 3 places if you plan to visit them.
You can skip the falls. I don't know what people really like about that. I cannot say about the caves since I've not seen them.
I hope you enjoy the trip how much I did or even more.