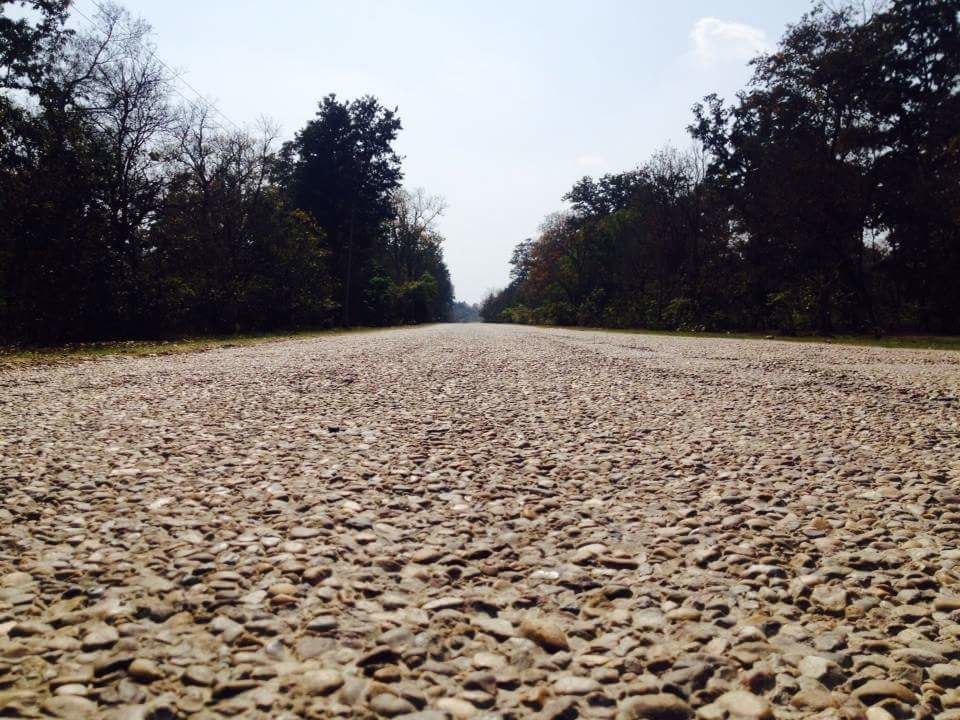 Being a man who's always hungry for open roads and barely populated areas, I was too sure of Nepal being one of the destinations that I was forever wired up for. So when I came across a bunrch of riders who were planning an expedition to Nepal, I couldn't bridle that hunger and joined them in for a ride to the country. There were around 7 of them.
Finally the bungee cords were fastened, fuel tanks were glutted and we set out to hit Nepal within a day.
But what fun is a trip without a few miscalculations, some downfalls and an irresolute weather. A very heavy downpour started and amidst those endless rains, we lost our way. Drenched and yet fixating on the road ahead through moist visors, we felt the sun setting out and realized that Nepal border was still far off. So we decided to take a halt in UP itself. Hotels were never on our mind. And for the want of some raw adventure, we found a river side and pitched in our tents, cooked our food and slept as soon as we hit our sleeping bags.
The second day, we started kind off early, rerouted to Uttarakhand and entered Nepal through the city of Mahendranagar. They say some places time just stops. It was one such places. No speedy processes, no computers, no online verifications. It was all done by human hands – the background checks, the permissions, taxes, issuance of a temporary Nepal number for the bikes and everything. This all took a huge amount of time. We could feel the sun starting to set off again. I got to know that all of us were first-timers in Nepal. All we had was a map, bike headlights, some food and our tents.
But then again, it was topped with a lot of courage, an incessant craving for dangerous occurrences. Soon enough, the night literally took over us.
The crowds ended….The villages ended….The lights ended….The hotels and homestays ended….
And then we came across an army cantonment area, who warned us that nothing lay ahead on the road. We had a wild forest running laterally on both of our sides. We coaxed them to let us pitch our tents near the cantt area only. They obliged. We were all dead tired so couldn't really cook for ourselves, so straightaway hit the sleeping bags. And then we realized that we were right in the middle of the forest. The army men had advised us to remain confined to our tents and not leave it at any cost.
But the nature calls at the best of the times J, so some of had to pee and were dreaded to step out of the tents. The howling and whimpering of the hyenas added to our jitters. A forest is real at night. Mornings just take the essence of the forest out of it.
A couple of breaks after we left the cantt area, we started off for Lumbini.
Lumbini is the birthplace of Lord Buddha and one of the most sacred cities of Nepal. The best part is that the holiness of this place is preserved so well – exemplary temples and huge number of followers.
The next major stop was at Pokhra – by far the most beautiful part of Nepal. And the first place I could see some Punjabi restaurants and ordered like crazy. We were all roaming around by ourselves and the night came along. I lost all my connections over phone with fellow riders, and after couple of hours of trying to get in touch and finding them – I started on my own.
Pokhra was sheer fascination - layers of mountains, blooming trees and plain scented air.
After some time on the Pokhra lake and lakeside restaurants and shops, I started off for Kathmandu. One of the most famous cities – surprisingly it disappointed me. Somewhat more populated and polluted than rest of Nepal, Kathmandu was always swamped with noise and activity.
I visited the distinguished Pashupati Nath temple and after offering my prayers to Lord Shiva, started off for India.
There was no turning back then, just me, my standard 350 and wide open roads. Now the weird thing was that Petrol Pumps are a rare commodity in Nepal. I took a wrong turn somewhere in the middle and wasted a good 70kms of fuels one side and subsequently ran out of it. So I was stranded in another country, alone – no soul around, no petrol, no signs, no shops, no villages, a feeling of complete isolation. And I started fiddling with my bike's choke and somehow – I don't know how – the throttle started. And it ran @over 100kmph for around 7-8 kms before hitting a petrol pump.
When I entered India, I breathed a sigh of relief and content. I somehow felt @home, took a small break, drank some water and started again. The winds on the way back were so pushy, blowing across the fields - made my bike shake a lot, so I had to streamline and duck myself to control the bike against an average of around 95-100kmph for around 400-500kms.
I took a halt at Lucknow at night and entered Noida via expressway and straightaway headed to the gurudwara nearby and bow my head to the almighty for looking after me in another country and getting me back home safely.