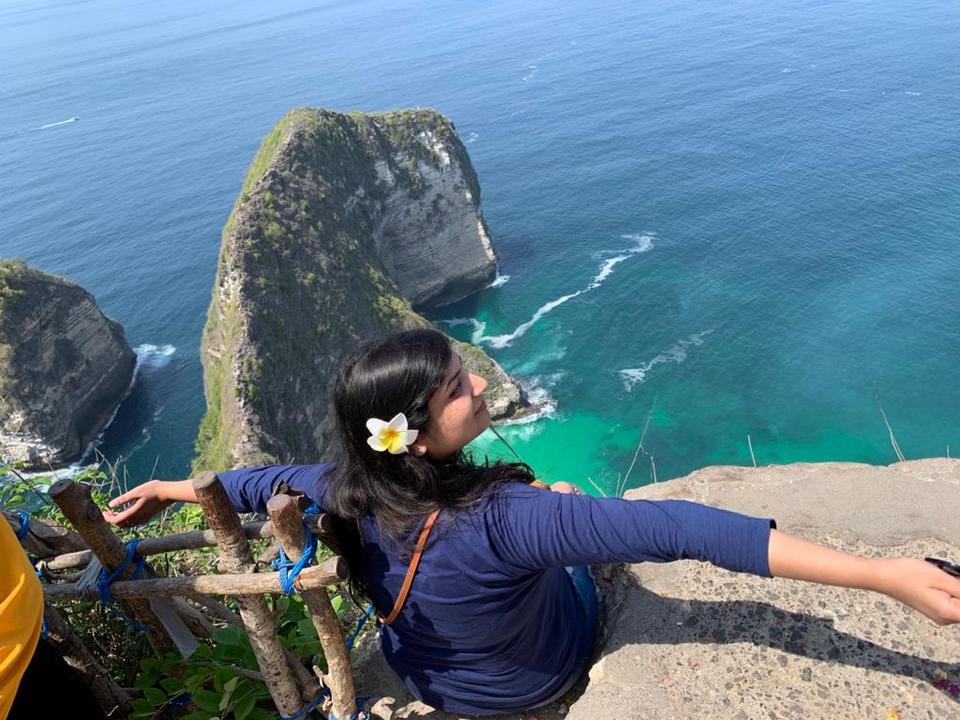 After a week- long research and some inspiration from a friend who recently visited Indonesia, I zeroed down Bali as my birthday destination for this year. Bali- the island of gods, it truly was an island of gods. Bali is predominantly a Hindu territory and you will find a temple in every household; Balinese people are indeed quite religious. Bali as a travel destination is beautiful, it has everything that you may want to include in your vacation including crystal clear beaches, culture, mountains, vast rice fields, beautiful lakes, adventure sports, beach clubs/ dancy clubs, sea food, amazing coffee and cheap alcohol. Not to forget the amazing people I met in Bali. People are so friendly and happy all the time that their faces are going to cheer you up. At every step you will find someone greeting you.
Another reason for choosing Bali is that it is an extremely safe destination for female solo travelers. It was also a convenient option because Indian tourists have Visa exemption if the stay is for less than 30 days. I took a 13-day trip inclusive of the travel days with long layovers. I DID NOT take any group package and I planned everything on my own which gave me a lot of flexibility to mend my schedule as per my convenience. It is easy to plan if you do some basic research. It will be interesting to note that this was my first international solo trip. I had to plan a lot but to do everything by yourself is an overwhelming feeling.
For 13 days, I did not want to compromise a lot on luxury but I had a set budget so I had to sacrifice wherever I could. The expenses that I incurred majorly included flights, hotels, food, activities and local conveyance. I covered almost every place and activity to do in Bali and the entire trip costed around INR 90,000/- for a solo traveler. This includes almost everything ranging from flights, insurance, stays, activities, local conveyance to food.
Flights- I chose AirAsia and saved a huge amount on flights by taking a long layover which also gave me an opportunity to cover Kuala Lumpur. The flights costed me around INR 27,000/- but you can get them in fare as low as INR 18,000/- I did not apply for a visa to enter Malaysia but if you want you can apply for an E-Visa. The process to apply for an E-Visa is extremely easy and it will cost you around INR 3000/-. Kuala Lumpur International Airport ("KLIA') is huge and there are lots of things to pass time if you do not ant to go outside the airport. I personally did not want to go through all that immigration and customs formalities again, so I chose to stay in the transit area.
An important thing to note here is that you will be needing a visa for Malaysia for transit as well if you have different PNR for connecting flights, so if you want to skip the visa formalities book your flights with the same carrier in one- go.
Layover- I had a 15-hour long layover at KLIA 2 but it was easy to manage. You can eat, sleep, shop and repeat. There are massaging chairs to relax and duty free to shop. You can also chill for up-to 3 hours in Sama -Sama Express lounge if you have international Priority Pass. There is hardly any vegetarian food available at the airport, so if you are a vegetarian, I would recommend packing a good supply of food or you will have to adjust with whatever can be available at the airport.
Luggage- The highlight of my trip was excluding the check-in luggage. YES, it is possible to travel in 7 kgs for 13 days. It saved me around INR 8000/- and the NO- BAGGAGE feeling is overwhelming. I did some basic research about how to fit-in everything in just 7 kgs and I did fit in, without compromising on anything. You can buy mini version of some stuff if you are exceeding 7 kgs limit.
This is what I packed:
1. 7 light T-shirts.
2. 3 shorts and 1 tights.
3. 4 pair of undergarments
4. 30 ml of toiletries/ per item.
5. Basic medicines
6. Passport, charger and power bank
7. 1 pair of light slippers and a pair of crocs.
I wore the heaviest items at the airport which include Jeans, Jacket, a stole which later served as a mat at the beach, Phone and wallet.
Local Conveyance- I managed to get the contact numbers of a few local drivers from a friend. I had negotiated in advance with these drivers to get the best quote. I also took some group day packages from Klook , I will talk about that in detail as we move forward.
Once I got a bit familiar, I started using online taxi services like Grab taxi/ bike which are affordable.
Sim- I bought a sim from a local shop as it is much cheaper as compared to the shops at airport. I spent around INR 650/- to get 6 GB of data and 20 minutes of local calling which lasted fairly well during 11 days of stay. I chose Telkomsel and there was no time when I was out of network.
Now comes the most important part which is my itinerary. My flight lands late at night after almost 24 hrs of travel. My driver picks me up from the airport and charges around INR 500/-.