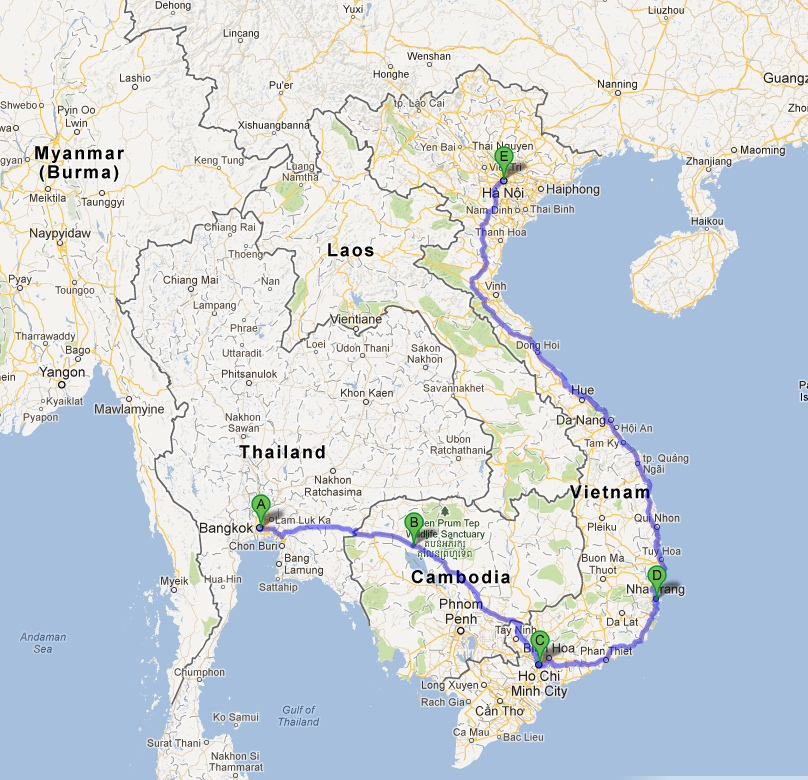 "10 days, 5 friends, 4 modes of transport, 3 countries and zero worries!" I had even set my FB status message for the vacation. Packed backpack - check; Passport - check; Forex in USD - check. All that remains is to have fun! We had chosen
Bangkok
as the central hub for our trip as the flights were cheaper and we had easy options of overland travel within
Thailand
-
Cambodia
and
Vietnam
.
The five of us congregated at the nondescript and my second least favorite airport in
India
-
Chennai
. Quick round of drinks at the airport bar and we had started on the right note for the trip. Ignoring the smirking lady at the immigration (on seeing our Thailand tickets) and past the pan chewing security forces and subjected to the tormenting frisking we were aboard Air Asia flight to Bangkok. The sweet Thai from the cute air hostess put a smile to the inebriated mind. Air Asia had moved their operations to the older Don Muang airport from October 2012 and this was a spot of bother for us. None of us had prior experience with this airport.
Anyway it was all unfounded and we finished the process and took the prepaid taxi to donw town area and headed to our hotel. Best Comfort Inn, was the hotel used by my friends during their earlier trip to Thailand. Anyways we arrived early morning and the guy at the reception tried to extort money for early arrival. I, being the expert in Thai among the 5, was put in front of him. I made sure that I frustrated him enough, with my half Thai half sign language, to let us get in without extra charge. It is very important that you don't overdo this bit with your fractured language else you might find yourself on the street with no room!
We were 5 bachelors set out to enjoy for the next 10 days. One of my mates wanted to see Angkor Wat and I wanted to SCUBA dive, other than that it was intended to be no plans hold fun trip. So it was only fair that we started the sojourn with drinks brought from the street bars of Sukhumvit, Bangkok. The next day we decided to visit the Grand Palace and the Siam Ocean World. As it turns out with any of our plans it was only on paper. It was an eventful and also a dehydrating day.
We slept at 5.30ish that morning and had kept our alarms for 9.30 am. The plan was to do a quick visit of the palace and then head to the ocean world around 3ish and be out at the bars for a fun night out! But what we forgot was about the time difference! Yes, they announced the time difference on the flight as well. No, we did not pay attention! *the air hostesses were way too cute to pay attention to anything else ;)
So when one of my more organized friend woke us up at 9.30 we scowled at him and snored away to glory. When we finally woke up it was lunch time and we could not even imagine roaming around the palace with such a heavy head! After a mini debate and democratic voting, KFC won over McD and we headed straight to one that was next to our hotel. To my surprise this was manned/womanned/ladyboyed by Speech- and hearing-impaired staff! This was fantastic! Not only were they giving opportunity for the disadvantaged (in general sense) but also to those who are harassed by the society (in general). I was also amazed that the ladyboys were not begging like in some parts of India nor were they involved in satisfying some sexual pervert's fantasies in Bangkok. This gave a new kind of respect for the lady boys. Its not that I had held them in low esteem but usually the feeling that I show towards them is of pity! Just imagine that they had to change sex just to satisfy their hunger! Anywho... We ordered in the best language of the world that puts everyone on the same platform - Sign language!
After the 'finger lickin good' meal we headed to the Ocean world and got ourselves a combo ticket for the aquarium, behind the scenes tour and a 5D movie. We chose to skip the Madame Tussaud wax museum which was also in the same complex. The aquarium had some of the coolest, weirdest, craziest, scariest creatures on display. Some of them were straight out of Avatar and some from Harry Potter. Oh! And did I tell you they also had a complimentary fish spa included in the combo? and a portion of popcorn and cool drinks that you can enjoy while watching the penguins play!? It was super awesome I must say. Felt like I was in some school excursion "ooh-aah"ing at most of the display. The "behind the scenes" tour was an eyewash and a drab. Next up was the 5D movie which again made all of us into a bunch of 7 year old kids. Apart from the 3 Ds that we all know the other two were smell and touch. So when the character in the movie falls on his bum the chair you are sitting will give a thud to yours! When there is a gush of wind then there are tubes in your seat that blows out air on to your ears and cheeks. Cool isn't it?
In one of the bars the bartender, a porky young woman wanted to marry me. She demanded that we go to a pastor now and get married because she is in love with me. I do have that effect on many, but her? No way man! But she was just a jolly girl and we all joked about it, suggested other passersby to her for a potential match. In the end we had to bid adieu to her as even one other friend broke her heart and I also turned down her offer to come with us to our room. We then returned to our hotel after all the fun. I was so dehydrated and zonked after all the beer and LIITs that I had had at different bars around Sukhumvit! I decided to skip dinner and headed straight for the bed. Tomorrow, we are leaving for the great temples of Angkor Wat!