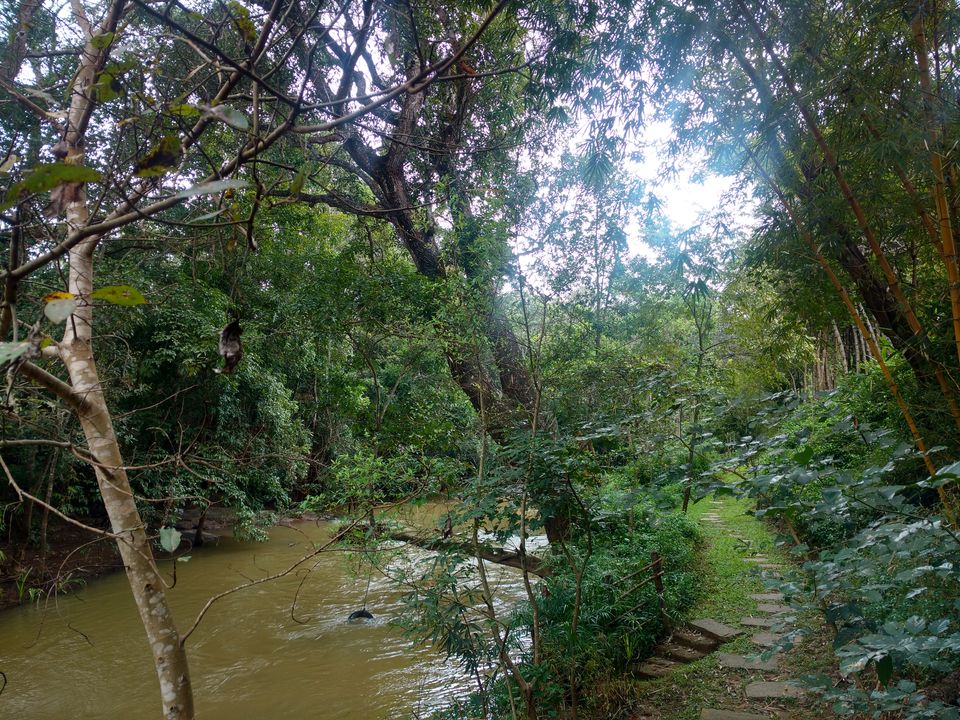 Called the Ganga of the South, Kaveri is a care giving river for the states of Karnataka and Tamil Nadu. Alongside its' religious significance, Kaveri also offers a lot for nature lovers and adventure enthusiasts. Case in point being me. I was itching to do something adventurous during my current family holiday to Coorg. While I knew about rafting in the rapids, I discovered an activity where:
We could trek in waist deep water and explore the many islands created by the river Kaveri. Marooned islands which can only be accessed by trekking through river Kaveri and walking barefoot in the jungle.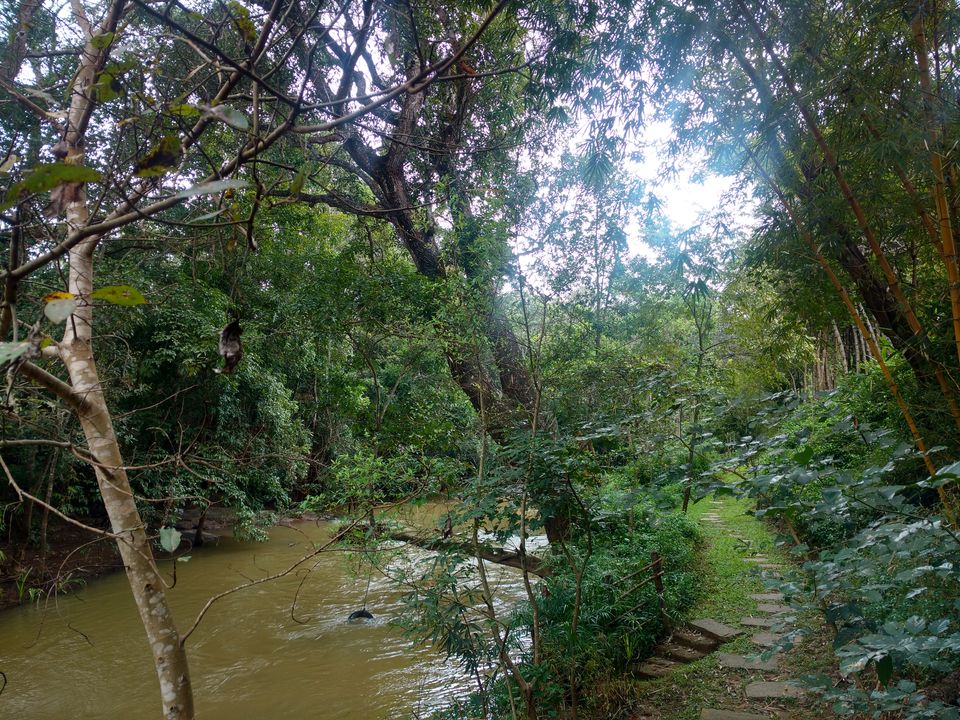 The river islands of Kaveri continue to be a close kept secret. I was lucky enough to experience this activity, organised by my hotel in Kushalnagar.
Coorg, India
Called the Scotland of India, Coorg hosts the birthplace of Kaveri- Talakaveri. The river originates from the Brahmagiri hills in the Kodagu district of Karnataka. A tank is constructed in the hills which is said to be its birthplace. The river water fills this tank and then goes underground to emerge as the river Kaveri further ahead. The temple at Talakaveri offers stunning views of the landscape where the mountains are misty and clouds float down to grace you with their presence.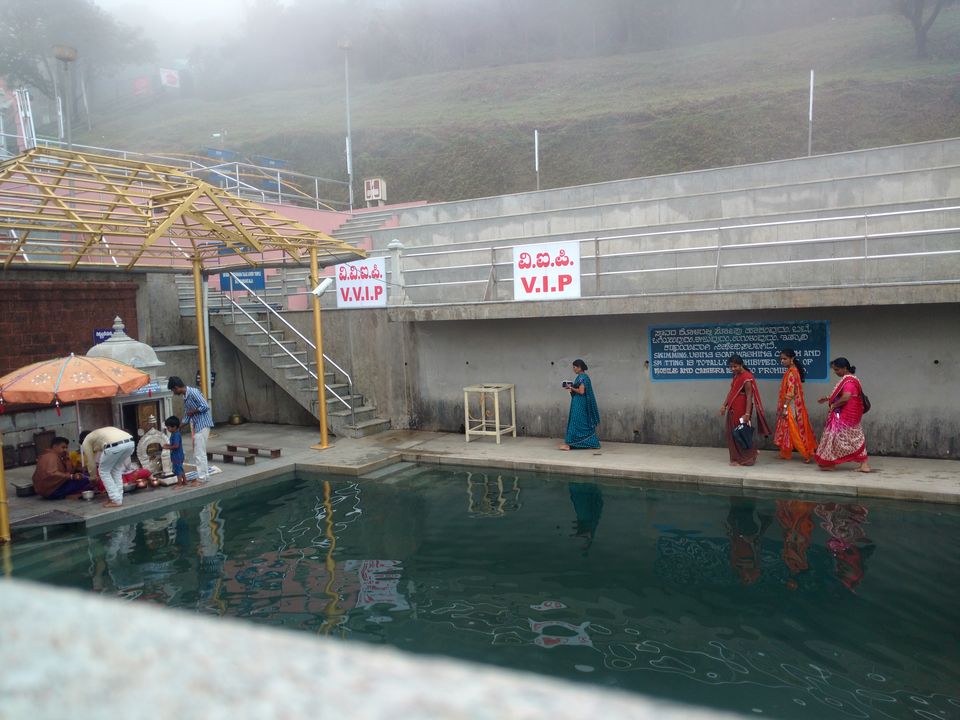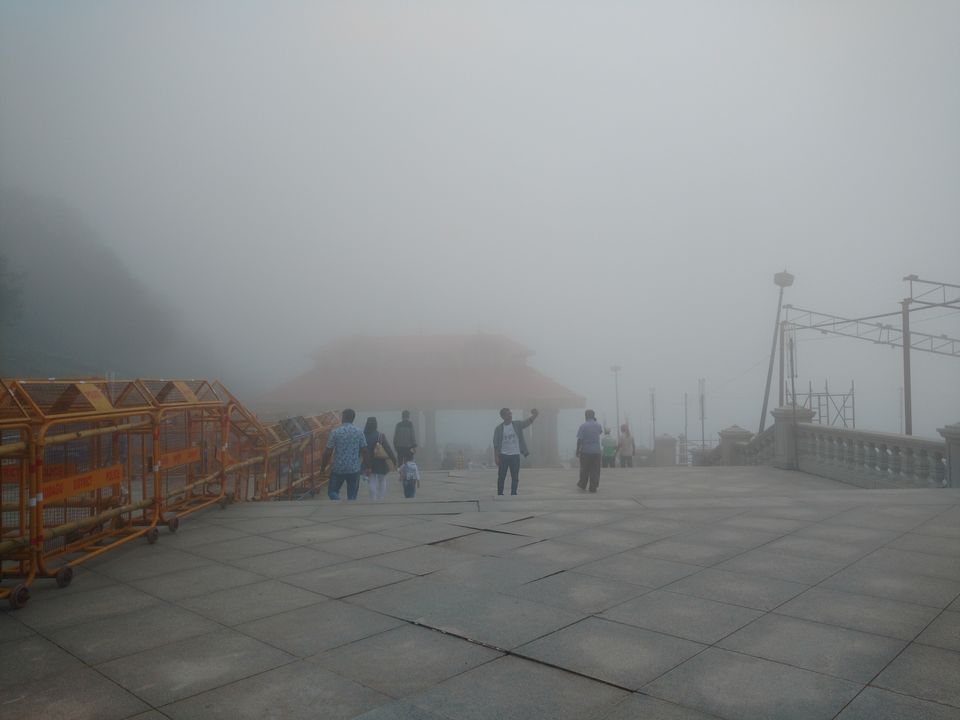 Getting started:
The trek was hosted by our hotel, Amavana Spa and Resort located in Kushalnagar, Coorg. Amongst many activities that the hotel offered its inmates, river trekking was the one that struck my eye. My brother and I decided to take the plunge and give this activity a try. While we were just coping with our excitement and nervousness to try the activity, my father volunteered to come. We now suddenly felt a sense of responsibility towards our 65 year old dad. We couldn't afford to let him get hurt. But we also felt so proud of him, wanting to try something like this at his age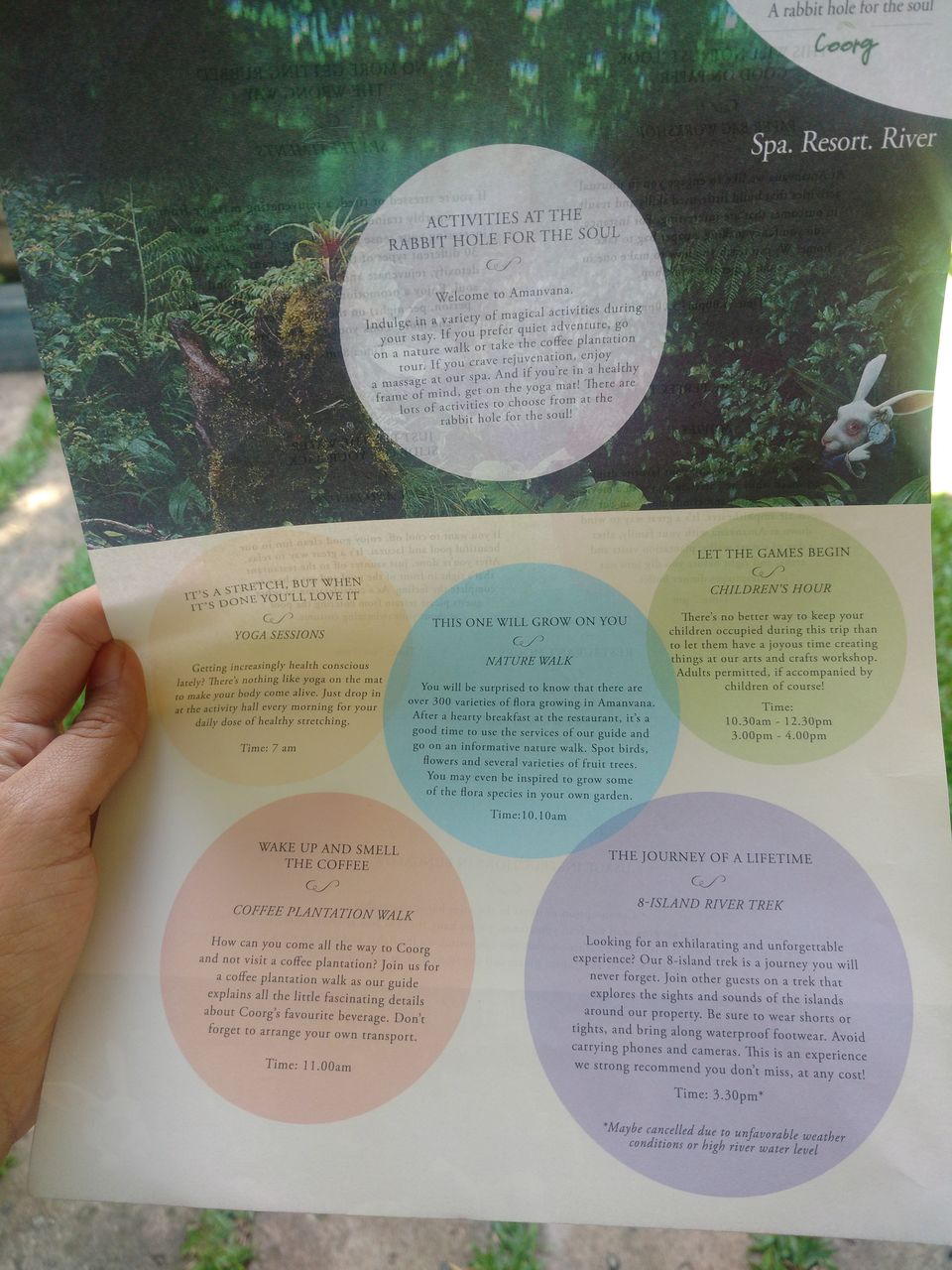 There is something in the air in Coorg that ignites a sense of adventure in you, and you yearn to break away from the rigours of big city life.
We started off at 3.30pm on a unassuming afternoon. The official guide came and make us sign standard waiver forms. We waited for the final round up to happen and we were ready to go.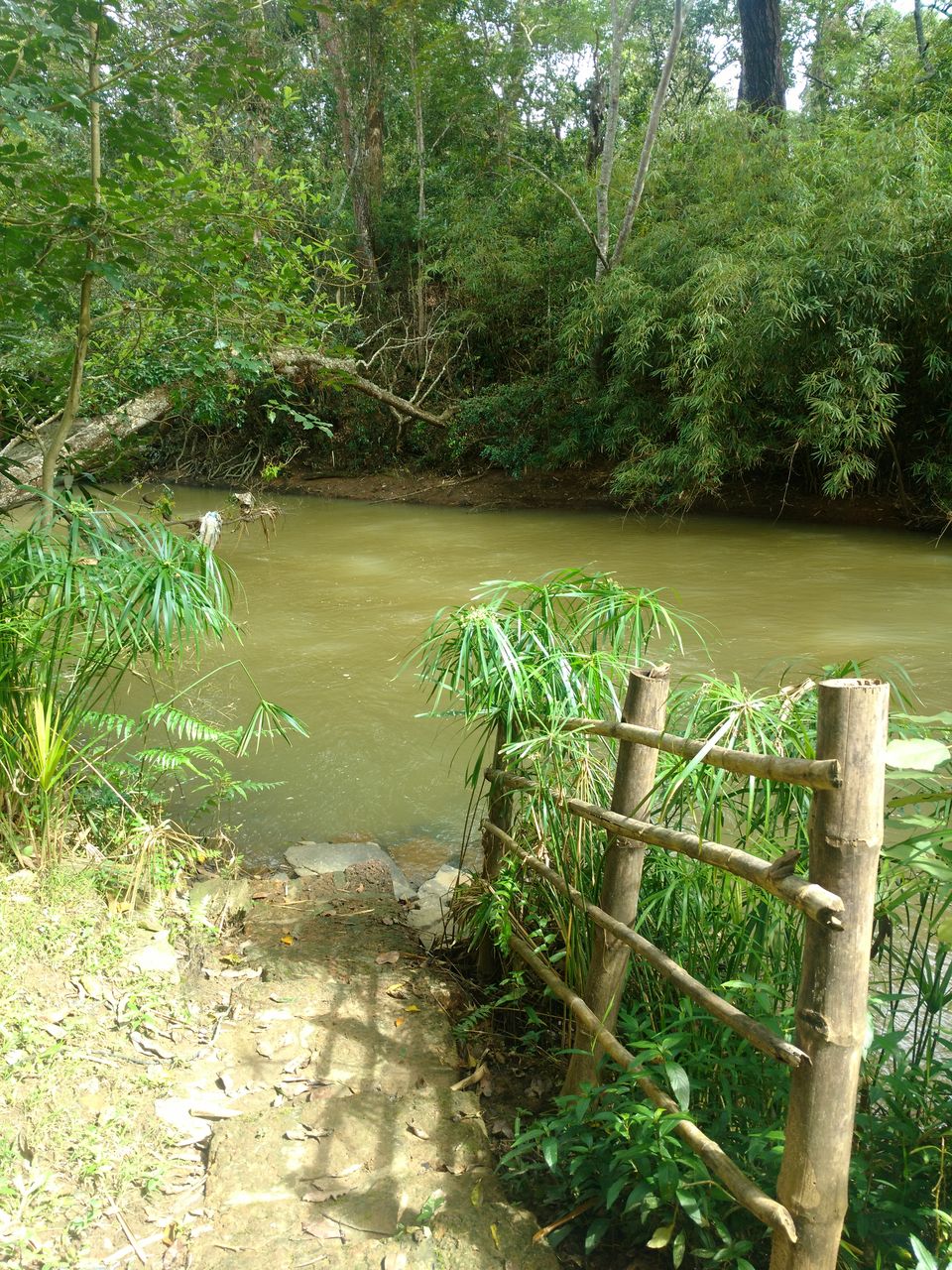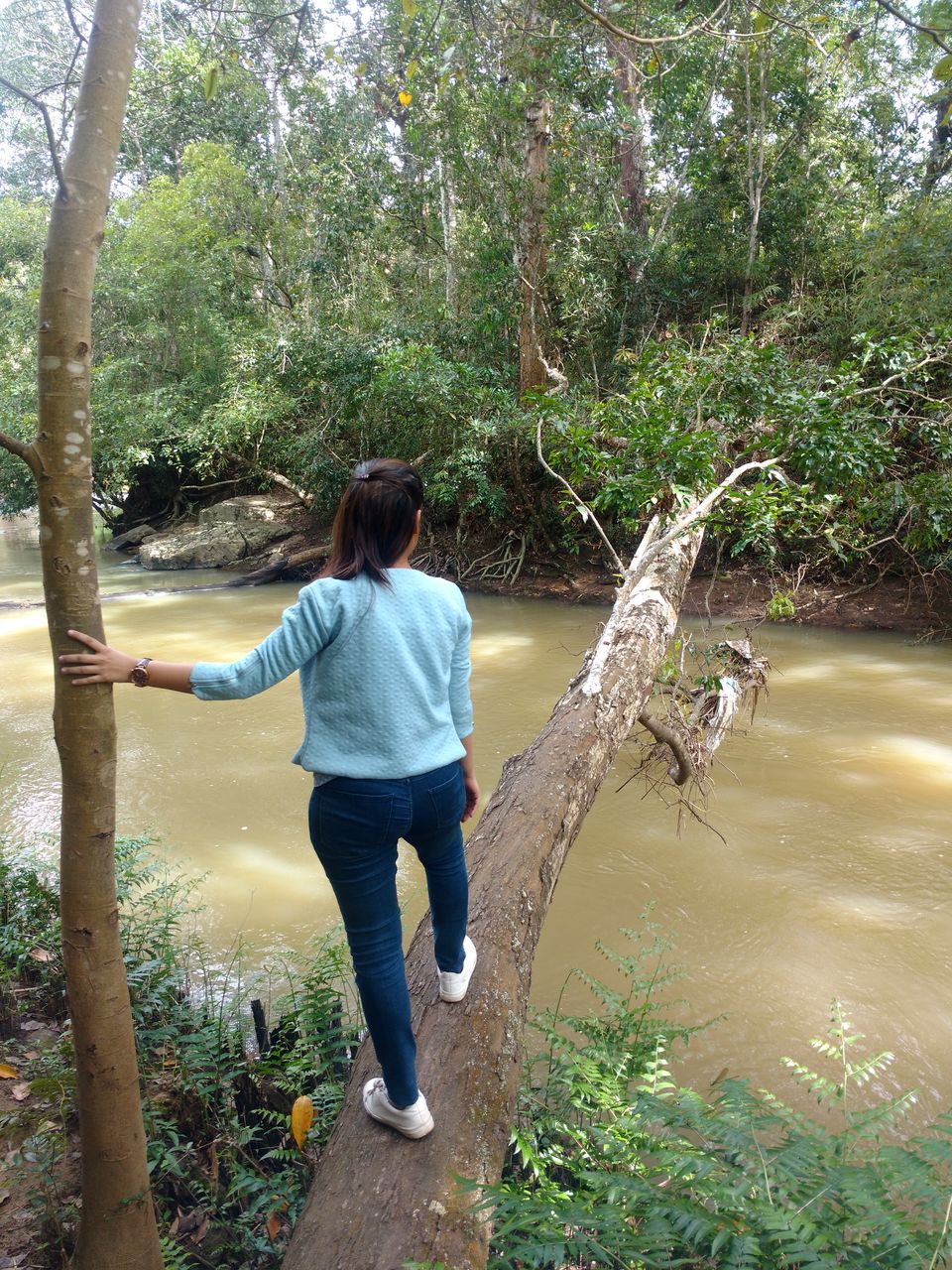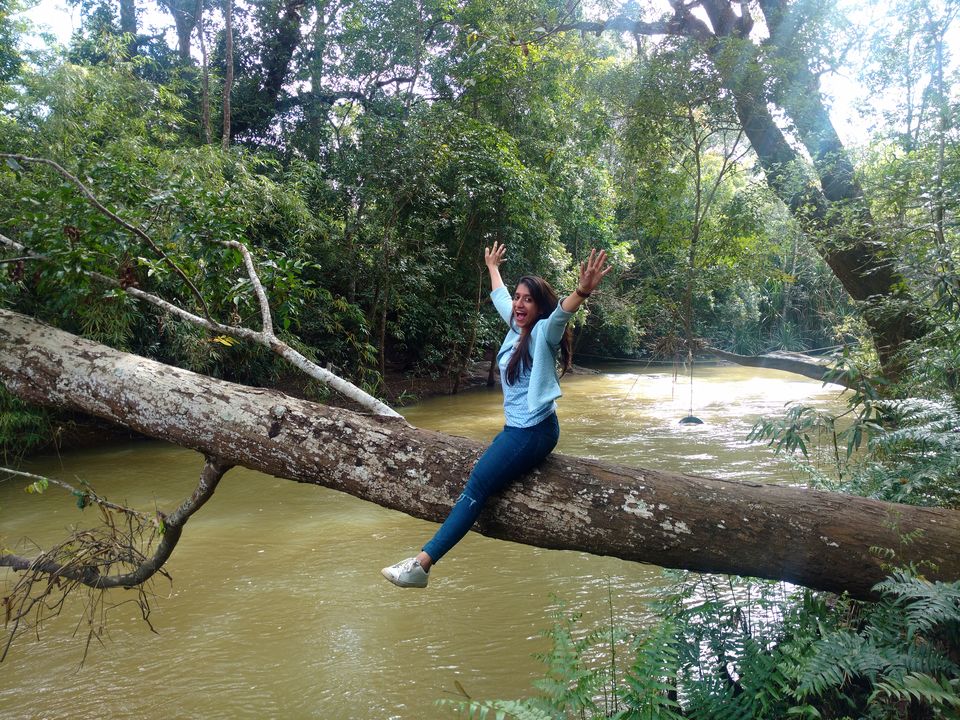 Step 1 : Step in the god damned freezing river.
Roger that, I said and removed my shoes and jumped right in. The moment I stepped in I could feel my insides freeze. The Kaveri was cold and how. We had a rope to hold on so that the current doesn't overpower us. As I took a few steps ahead, I felt the water rise, slowly making its way till my waist. I am a short person, so the rising water levels made me feel a bit nervous. My father and brother were ahead making their way through the river.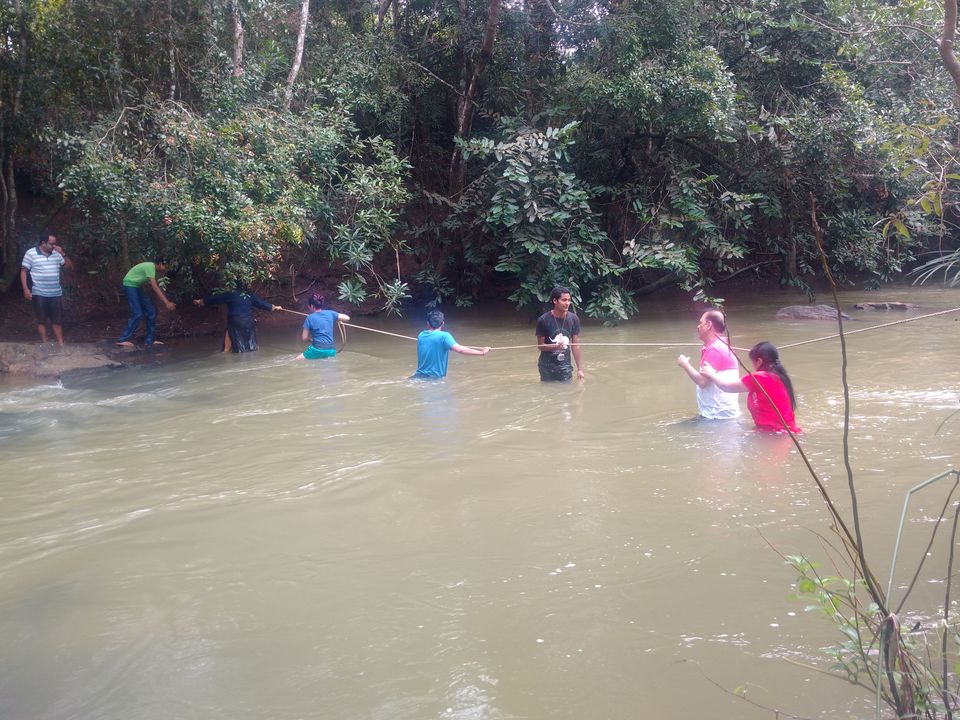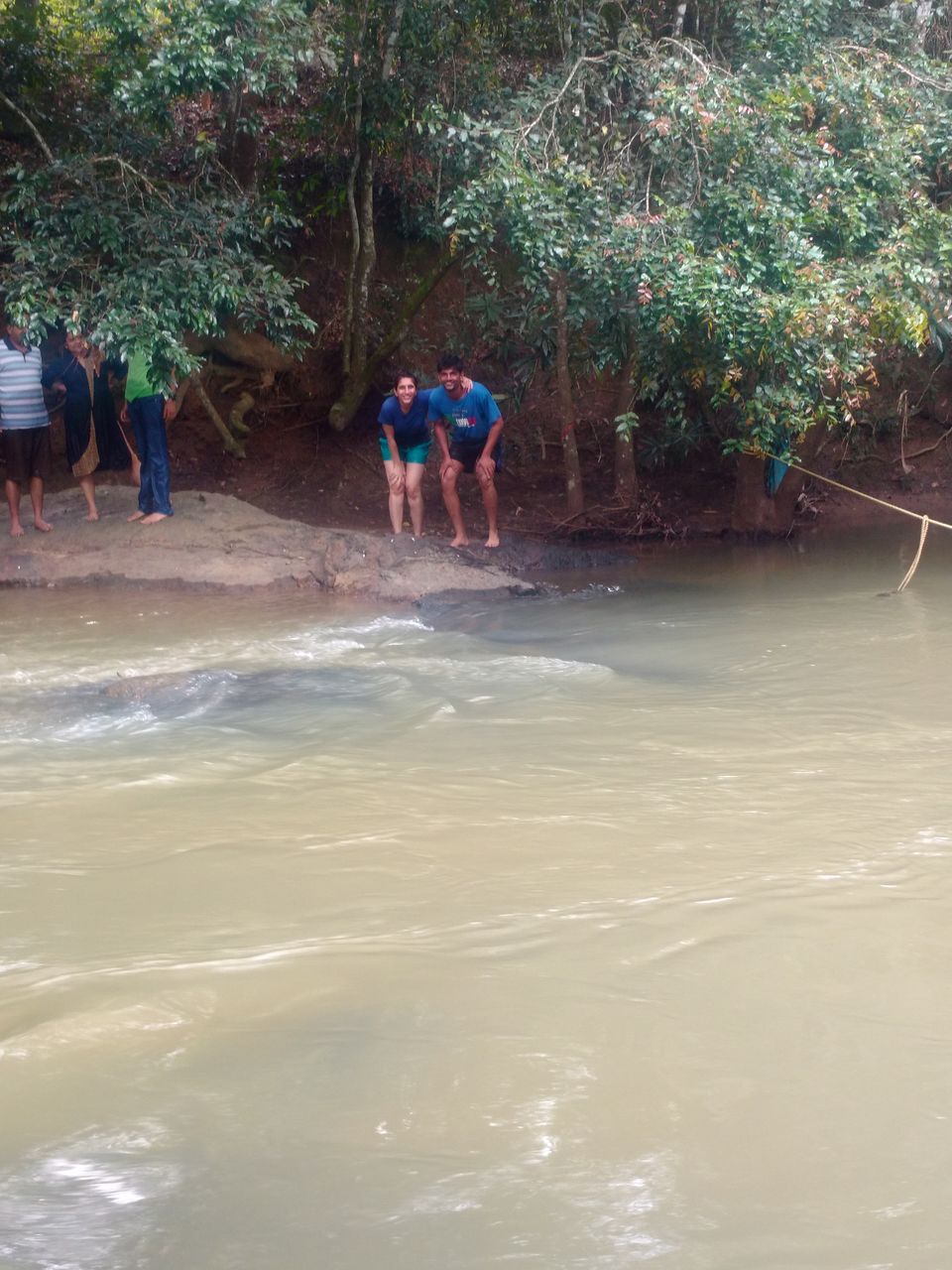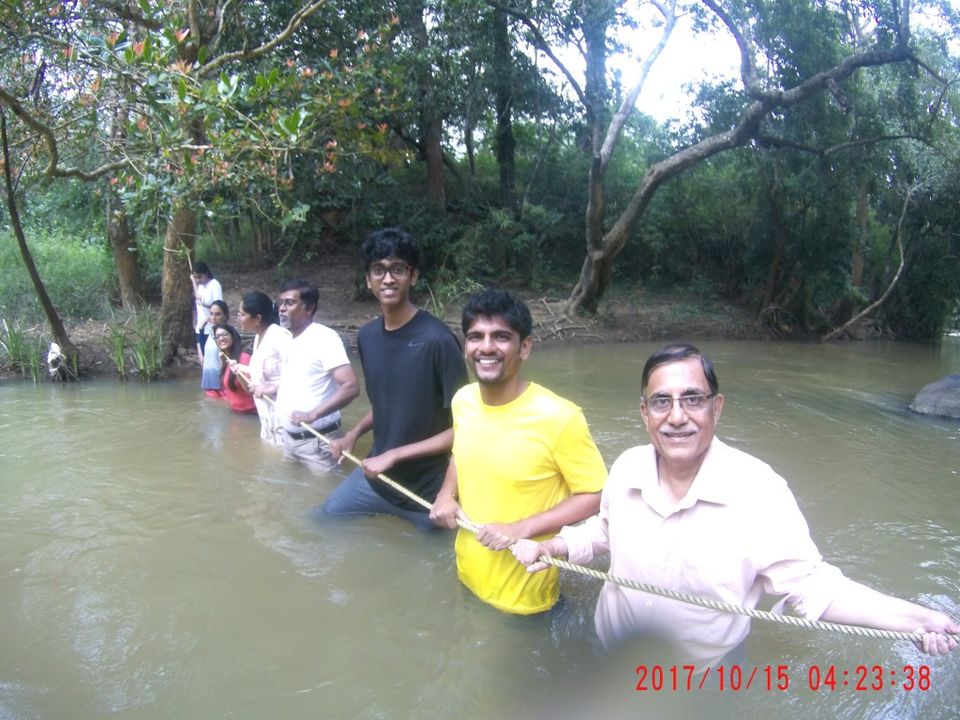 The thing about water is that, you don't know what is happening inside. My mind began to float, thinking about, the imaginable number of insects, fishes, and even snakes making its way through my legs as I waded through the water. But I gained my composure and made it through.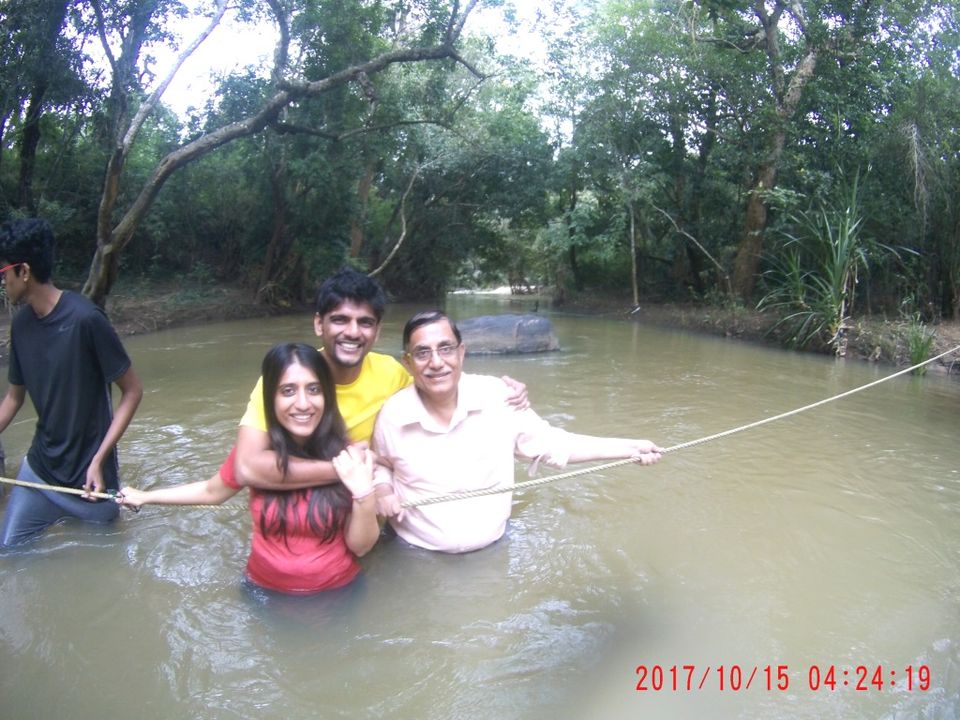 Step 2 : Walk through the Island Jungle, barefoot!
As we made our way through, we stepped into the forests of the first island. I was already worried about thorns, stones and mostly importantly leeches since I was walking barefoot.
Luckily we found none of that. Walking barefoot is liberating. You feel the earth, the cold soil, small pebbles giving you just the right amount of acupressure. You feel so connected to nature.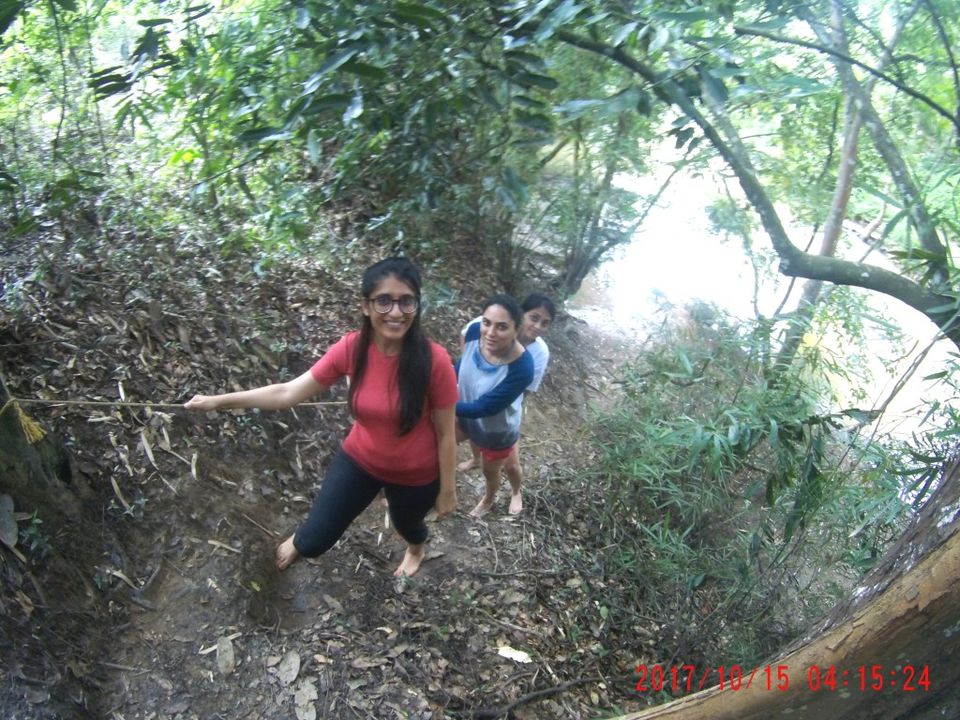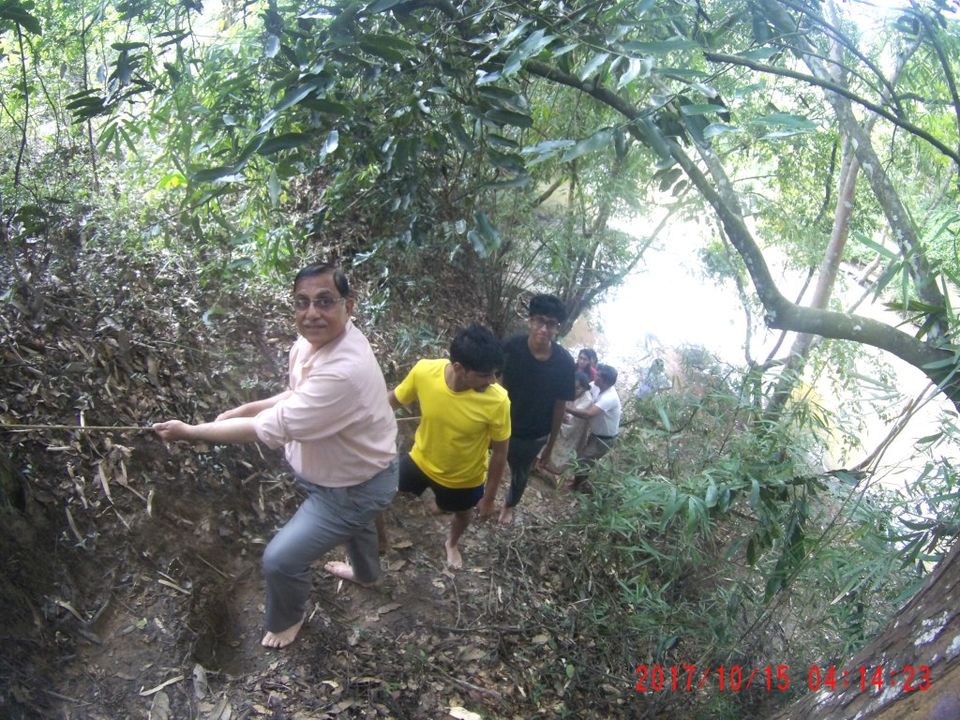 Step 4 : Rendezvous with the 4th Island.
While we were on an 8 island trek, we crossed only 4. The current and water levels were too high to be able to make it to the rest . We crossed 3 islands by wading through similar terrains. We saw beautiful flora and fauna on the way and made friends with the members of the group. It was about time to meet the 4th island. This was was different. It was rocky and there were no ropes to hold on to, while making it through the river.
The guide told us to form a human chain. We had to hold our hands throughout and make our way across. The stones were slippery and the water levels were uncertain. It would go deep suddenly and shallow after the next few steps.
But right after that, we came to the stunning views of the 4th island. This one was rocky, expansive and offered great views of the landscape.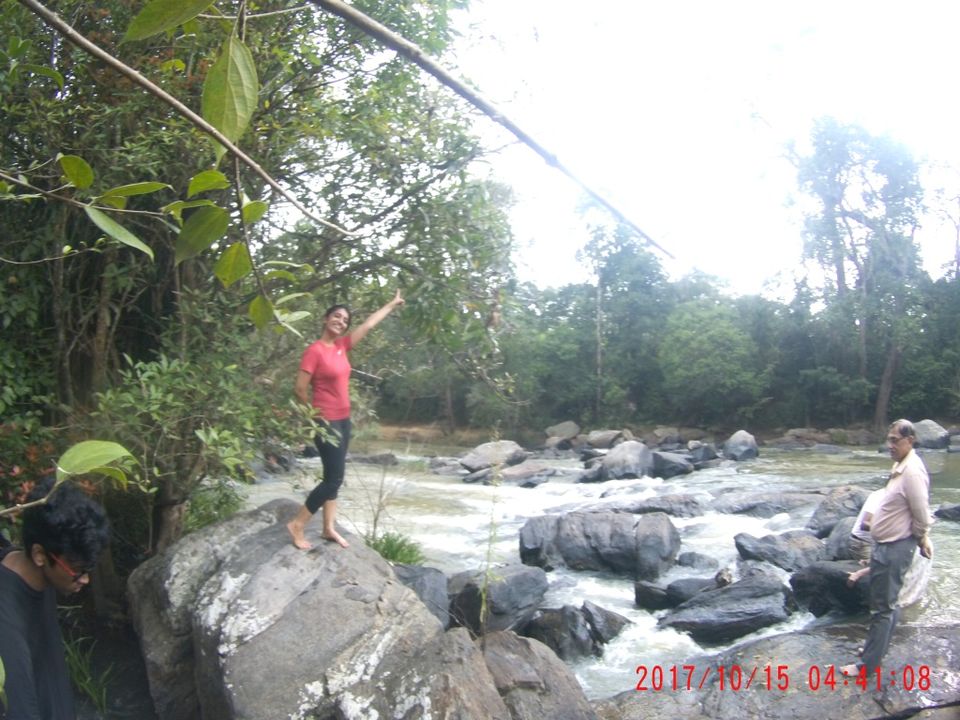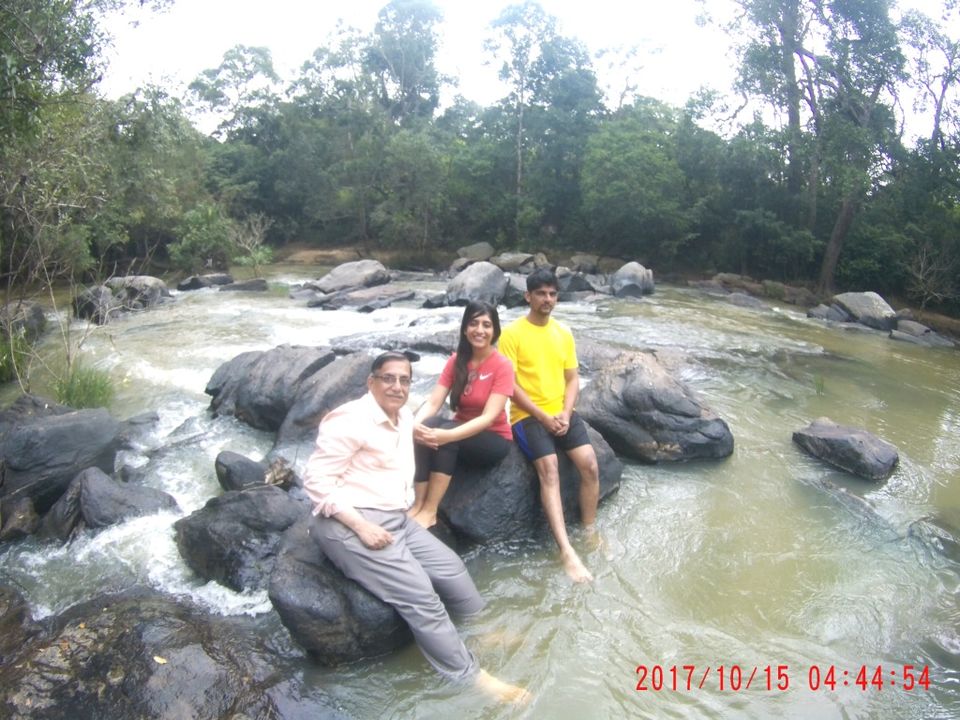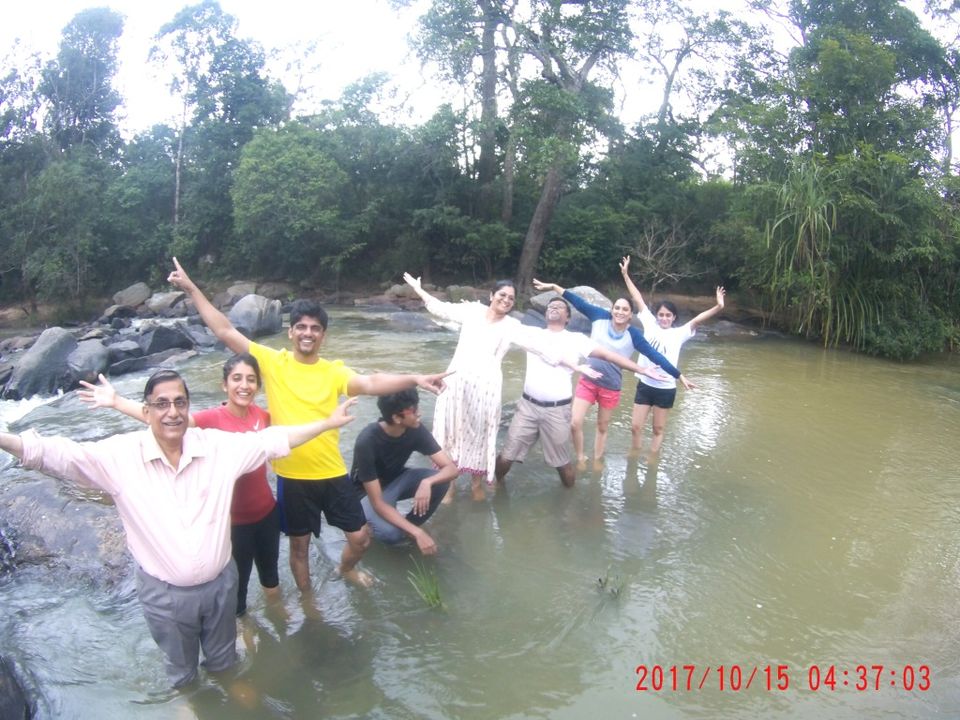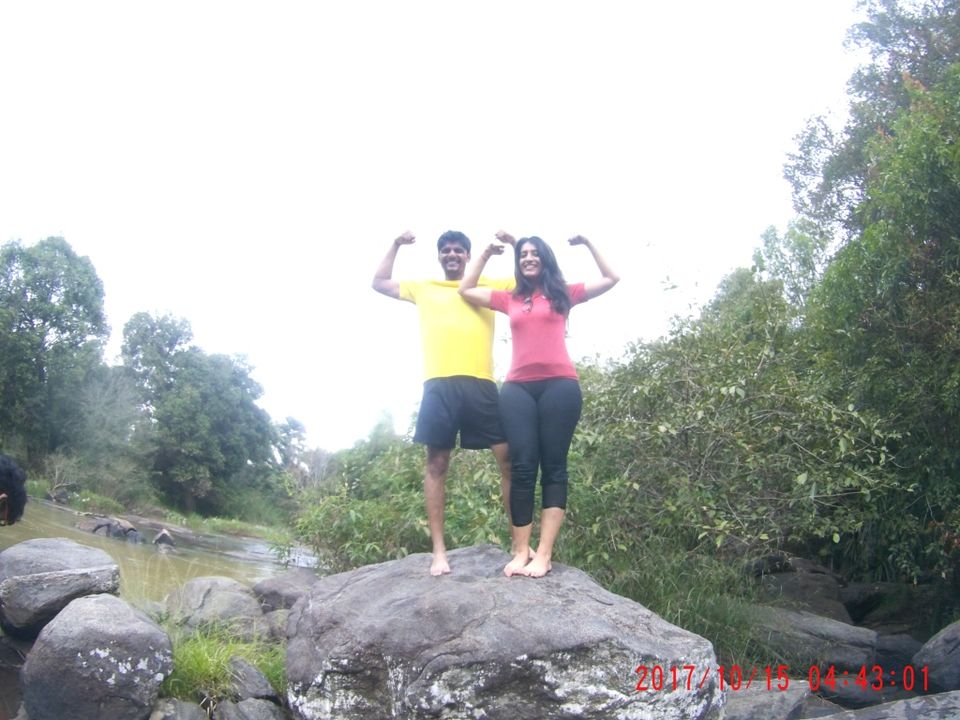 Step 5 : Finishing Line, swimming in Kaveri!
The 45 min trek came to an end, and we had to cross our last obstacle. This time the water levels had risen and it was almost reaching my chest. I felt like pushing the boundary and swimming it back to the shore. Before my father could scream No, I went right in and started swimming. The current luckily wasn't strong and I made sure to stay close to the group and the rope. As I swam to the shore, I saw my brother and another member toe in line behind me. It was so much fun.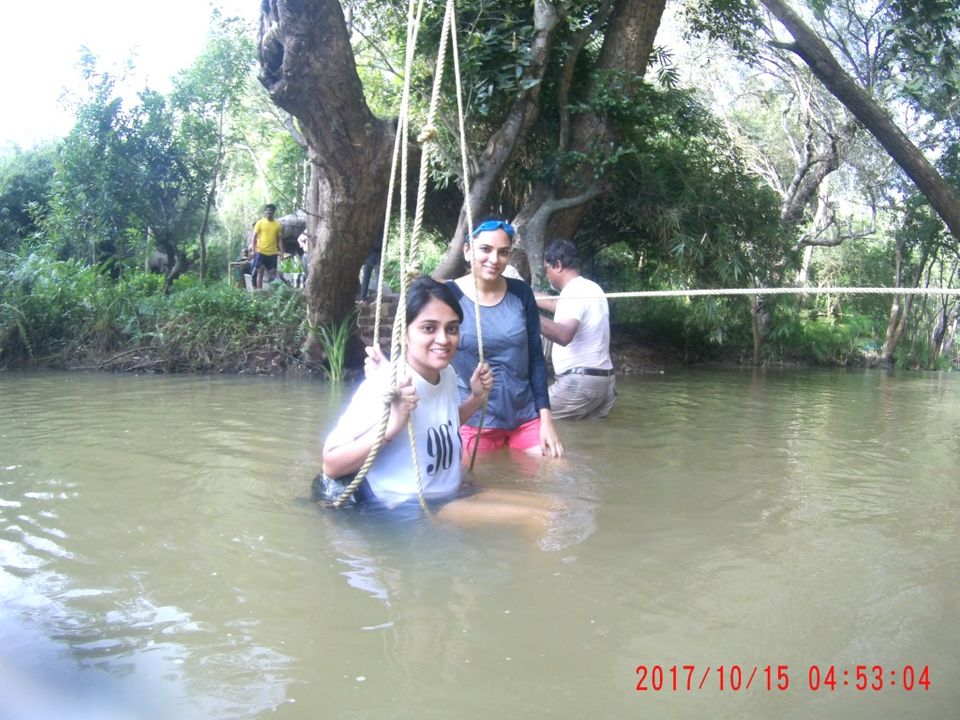 Step 6 : The group picture : We finished in style and took a group picture to commemorate this beautiful trek.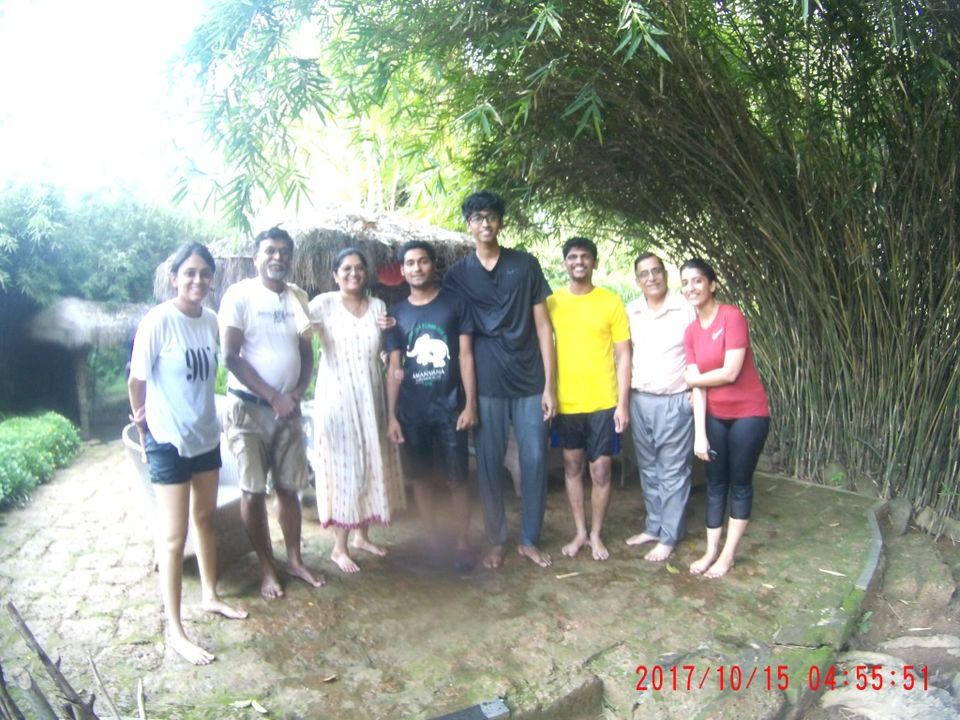 I would totally recommend you to do this. It is nothing like anything I have ever tried before. And the best part is it that I did it with my family. It is not a trek that taxes you, but definitely one that fills you up with a sense of rejuvenation.
If you like my stories, then drop by to say hello on my blog and my Instagram handle
Frequent searches leading to this page:-
coorg packages for 5 days, coorg packages for 3 days from mumbai, coorg packages for 3 nights, coorg packages for 4 days, coorg packages for 3 days, coorg tourism destinations, places to visit in coorg pdf, homestay in coorg near raja's seat, hotel rooms with jacuzzi in coorg, coorg my trip villa