Be honest how many of us haven't thought after seeing Dil Chahta Hai - "Boss ek trip to banti hai" and so we (me and my wife) decided to do muhurat of our travel plans with the same place.I remember that was an extended weekend and suddenly we said in unison ( rarely happens but did happen this time)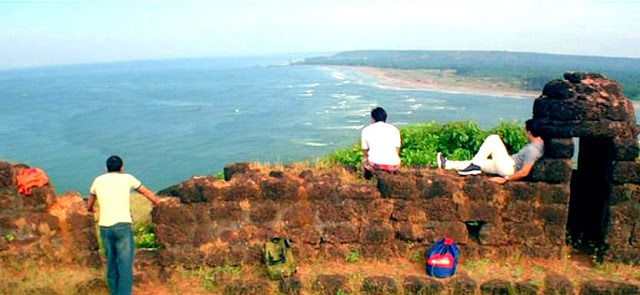 As usual, the planning part's onus was on me while packing away stuff was hers. Though the decision was unanimous but the reasons different. I wanted to relax someplace and enjoy sun and sand, on the other hand my wife wanted to try out all s(h)orts of dresses which she could not wear in Bangalore (no complain :p ). The last minute airfares were skyrocketing due to the weekend so we redbussed it to find it takes only 15 hours to reach Goa via Bus from Bangalore. We googled on bus and we had two berths for us in no time.
Now the next phase of planning involved searching for place to sleep. We knew that spending over hotel is going to be waste as trust me guys when I say you will have to drag yourself out of the beach shacks at night. They have everything you need except sleeping tents or else the hotel industry of goa will tumble. And so bags packed, camera with extra battery and charger ready we hailed the cab to drop us at Jayanagar. The VLR bus was supposed to start at 8:00 pm. Something went horribly wrong at this juncture as although sites showed our seats at some other position we finally found ours to be the last seat in the bus. CRAP..we looked at each other's face and suddenly found talking to each other without speaking ( Remember the song ankhon hi ankhon me ishara ho gaya ). Should we go, can we make it through the long journey etc. But finally, the bus which moved had two people somehow cozying up in the most uncozy corner of the bus and wishing the journey to end. After loitering around the place for an hour the bus finally started at 9:00 pm but only to dock again at majestic till 12:30 am. The journey eventually ended after a long 18 hour and it dropped us at Panaji city bus stand. We luckily had pre-arranged our cab and hence shot off to hotel. Our hotel Cap's corner was situated between Calangute and Baga beach and had a feel of a homestay more than a hotel which we actually liked. The receptionist welcomed my wife with a red rose, a very friendly lady which promptly showed us to our rooms and asked straight away if we wanted a scooter. We confirmed and fell in the bed like logs. Finally, around 2 pm we freshened up and moved to the cafeteria for some home made food which was decent if not outright yummy. I wanted to stay down for some time but the journey had taken its toll on my better half who was showing signs that I should not even dream of lying around anymore for my own survival. Getting the hint I postponed the lazying around and after asking directions moved straight to the Baga beach which was around 1.5 Km from our place. It was a very nice walk amongst the bylanes of Goa with all sorts of people and shops all around.
I used to wonder is Goa only famous because it has some of the most beautiful beaches or else. I got the answer as soon as I set my foot in this city, its not the beaches of Goa making it the Youth destination of India, albeit its combination of local people, freedom from prying eyes, awesome food joints and overall freshness of the place that makes it so awesome. You can find people of all age sex and origin merrily living their own life even when it is crowded with so many people.
Reaching bagha beach was the start of the long affair with this place. It was a huge stretch of sand water and fun. First thing to do here is to get hold of a bench as the sun is always there and unlike westerners we Indians don't like to get tanned. Do bargain as everything in Goa is up for a bargain.
So like so many we also took rent of one such bench with the big umbrella providing the necessary cover in the summer of May. Good thing is they are readily available throughout the beach. You can use the place for keeping your things and sunbathing once you are back playing in the sea. You will have all sorts of water rides available here and you can opt for one or all depending upon your choice.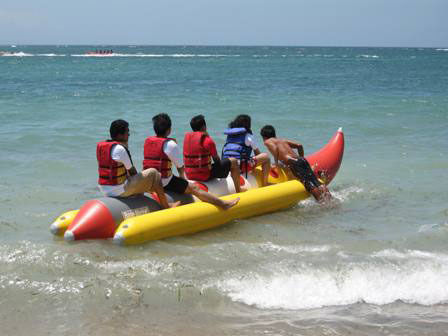 We took the full package and bargained to get the price reduced by upto 40%. The package included banana ride, speed boat, parasailing and boat ride. I enjoyed the parasailing part as I was doing it for the first time. And the feeling as you are slowly lifted up in the air and as the world beneath your feet dissolves is exhilarating.
The package ends with you riding the banana boat and suddenly getting plunged in the sea water. My wife was totally not ready for this and the poor girl was completely shaken after the fall. For some time I was also worried but the support staff will ensure everyone is back in the boat soon afterward.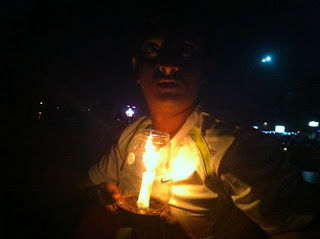 We headed back to the hotel for changing into something more comfortable for the night. Night means you are in a new place altogether. The place becomes happier with booze and drugs flowing all around. The most happening place is definitely Titos. As usual girls and couples are given priority for entry here over stags but be ready for quite some rush once you enter.
The second option is always to roam around the place and go and occupy one of the tables next to the beach. All the shacks have these in their front with only candle light as the source of light. So the atmosphere is truly romantic to spend some quality time under the stars. Day 2&3 we took the scooter in the morning and started on beach hopping. As per travel triangle this are the best beaches of Goa and we fully agree after seeing them all.
1. Baga Beach - The best beach of Goa
2. Candolim Beach - One of the best beaches in Goa known for its scrubbed sand dunes
3. Calangute Beach - One of the famous beaches in Goa to indulge in authentic seafood
4. Sinquerim Beach - One of the best beaches in Goa to try water sports
5. Vagator Beach - It's as clean and serene as some of the best private beaches in Goa
6. Anjuna Beach - One of the famous beaches in Goa, known for its rock formations (Famous for chu-cha song from singh is bling)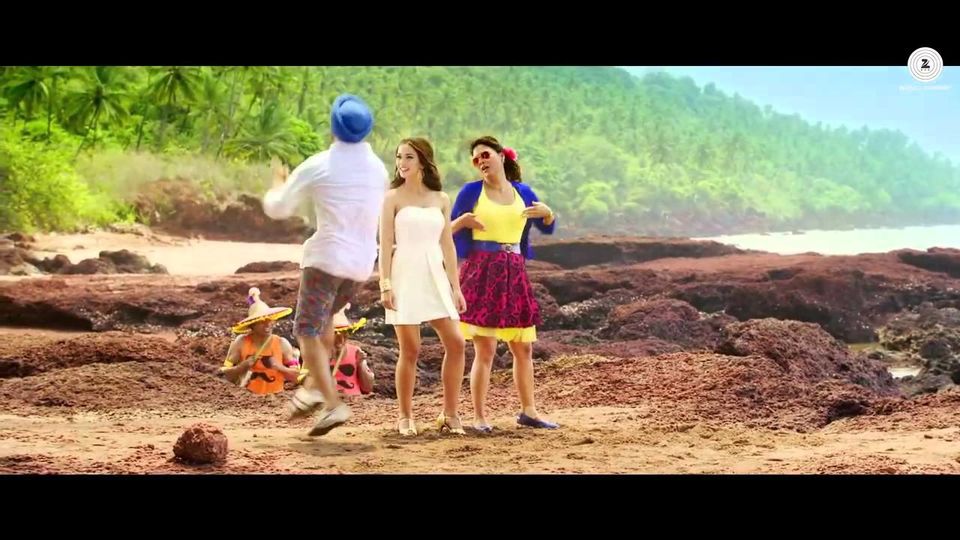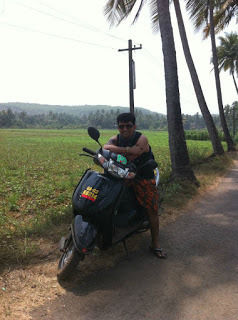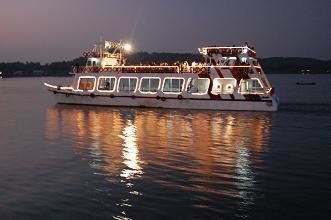 7. Arambol Beach - One of the famous beaches in Goa for families and budget vacations
8. Morjim Beach - One of the best beaches in Goa for some serene atmosphere.
For the people who are planning for the trips one can say North Goa has all the famous beaches if you are looking for activity all around you, but if you are into more of relaxed and serenity go try beaches of South Goa.
We mainly covered all the North Goa beaches this time and enjoyed every moment of it. I even got caught without Helmet by Police and was somehow left. Beware they are everywhere and are normally very strict. My bad luck was I just took out my helmet for clicking a pic near the coconut grove road and the police guy was standing at the corner of the road. Huh Close save!!
We also explored the HarvalemWaterfall, which was the only disappointing part of the trip as neither there was much water nor it was bathable. Also being situated so far from the bagha beach. We wanted to try Doodhsagar fall but maybe we will need to catch up Chennai Express and that too without ThangaBalli to finally see it.
Next day we had kept for Panaji and the boat cruise which they do in Mandovi river. Its a good place to unwind after the day with their sunset cruise. Don't expect anything extraordinary though it is a very basic cruise but the mood of the place makes it worthwhile. They provide dinner/lunch onboard itself if you want and is normally part of the package. We loved every bit of it although the Sun kept making us tanned every passing moment.
Food is not an issue here as everywhere you go you will find some excellent food joints. The same day could be clubbed to visit the Dil Chahta hai Fame Fort. The road to the place is very smooth and you can reach here without any one's help. The beauty of the place is in its location situate at the edge of cliff overlooking the arabian sea the place is neatly maintained and has a great view of the places all around. While coming down saw a beautiful building with a huge statue of Lion at the passageway. Assuming to be the a view point as we moved towards it, a tall serious looking guy told us to elsewhere as it turns out it was the prized possession of kingfisher baron Mr. Mallya. These are the moments that makes me realise we are the peanuts in the world of riches. If you follow the Google Map you can detour and also visit the Jail at the end of the road which is guarded by Sea and cliff from three sides making any escape attempt really futile. Ironical if at all Mr Mallya is sent to serve his sentence here.
One more place not to miss is the flea market that happens near Anjuna beach. You can get some really beautiful hand crafted and otherwise items here. Don't forget to try the street food at this place, I tried an egg burger kind of item and it was awesome with melt in the mouth Egg preparation. We ended up eating another round of the dish. Goa it feels is like not a town but rather a fun-fair everywhere you look and I dot think anyone can have enough of this place.
One day I can really settle here for good.
Tips:
1. Don't go for big hotels if they are not near the beaches. You will any ways end up there only.
2. With family stick to North goa especially bagha beach, south goa could be a bit risky due to unavailability of life guards
3. Carry sunscreen everywhere, you may not feel the heat but tanning is definitely on.
4. Try out silverware from local shops they are worth it. Finally keep on enjoying the Goa and keep it safe and clean.
This post was originally published on Winding Road's And Never Ending Tales.
Frequent Searches Leading To This Page:-
Best Tour Packages for Goa, Goa Tour Package for Couple, Best Travel Packages for Goa, Best Goa Trip Packages, Goa Holiday Tour Packages, Top Goa Packages for Family, Places to Visit in Goa