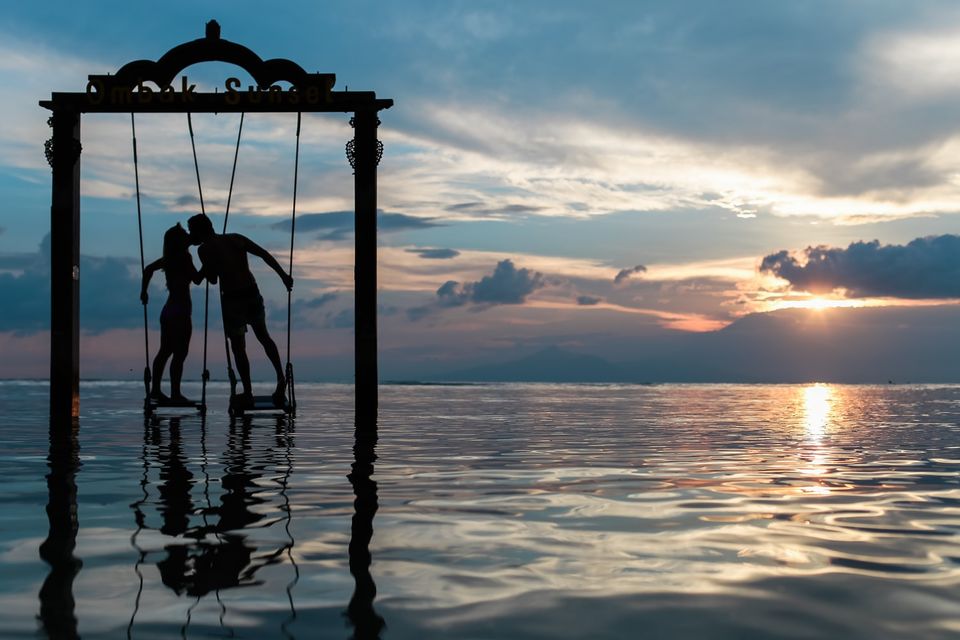 Whether you like to go all out on romantic gestures or express your love with occasional grand ones, you can't deny that travelling together is one of the best ways to spend some quality time with your partner. From beach destinations to mountain getaways, travelling gives you a chance to get intimate as the world fades away and you bask in the glory of each others' companionship.
Thanks to Scoot, a low cost airline part of the Singapore Airline Group, you can now fly to some of the most romantic international destinations without burning a hole in your pocket. Scoot offers a safe, affordable, and comfortable flying experience that can be customised according to your travel preferences!
So, it's time to ditch those Goa-Manali plans and head to these beautiful international destinations instead to celebrate your love for each other.
A destination frequented by budget and luxury travellers alike, Bali is one of the most romantic places to take your partner. Given its pristine beaches, peaceful days, and vibrant nightlife, Bali is nothing less than a cultural extravaganza. To add to that, the Indonesian island also boasts a range of attractions you can enjoy with your partner, including nature treks, active volcanoes, idyllic beaches, and stunning coral reefs. Go for a swim with the colourful sea life, enjoy cocktails in an infinity pool, or let your hair down in a beach club as you watch the sunset – at Bali you will never run out of things to do.
Top romantic experiences:
Witness the sunset at Uluwatu Temple; stroll along Seminyak beach; jet ski together at Nusa Dua; snorkel together to Menjangan Island.
Budget stay options:
The Secret Room and Umahku Apartments Seminyak
Cheapest airfare:
At first glance, Kuala Lumpur is a fast-paced, glitzy city that is changing constantly, but if you scratch the surface of this buzzing metropolis, you'll discover it's a haven for couple travellers. Alive with culture, history, and a vibrant modern life, Kuala Lumpur gives couples a chance to truly nurture their relationship as they discover a new place. You can indulge in luxurious spas or experience the magic of nature together at Botanical Gardens or the Bird Park. Alternatively, you can try delicious street food together and end your day by visiting rooftop lounges offering stunning views of the iconic Petronas Towers.
Top romantic experiences:
Enjoy a couple's chocolate spa treatment at JoJo Spa; take private traditional cooking classes with Veltra; go for a private fireflies night excursion; take a trip to Genting Highlands
Budget stay options:
Expressionz Suites by iHost Global and Hotel Westree KL Sentral
Cheapest airfare:
Krabi is one of Thailand's most popular tourist destinations. Blessed with white sandy beaches, idyllic islands, and humongous sea cliffs, Krabi is the perfect destination for a romantic holiday. Whether you're looking for blissful relaxation by the beach, partying all night long with your partner, visiting historical sites or trying adventurous activities with your better half, Krabi has an abundance of terrific things to see and do. And of course, you get all of these with a view!
Top romantic experiences:
Go kayaking in Ao Nang; try bathing in the hot springs of Khao Nor Juji; enjoy a romantic dinner at Phi Phi islands.
Budget stay options:
The Phu View at Aonang and Andaman Breeze Resort
Cheapest airfare:
Thailand's capital, Bangkok, is the perfect destination for starry-eyed couples. It's a city where you'll never be at a loss for something to do. A place where the exotic and familiar collide like the flavours of Tom Yum, Bangkok is a giant playground waiting to be explored. And while you won't find secluded walks along sandy beaches, there are a host of special spots where the two of you can spend romantic time together. Beautiful walks along riverbanks, sunset cruises, and boat-rides through the floating market are just the very tip of all that you can explore in Bangkok.
Top romantic experiences:
Go cycling together in Bang Krajao; try a couple's spa massage; savour a few quiet moments at Lumphini Park; go for a boat trip in Koh Kret Island.
Budget stay options:
Innspire Bangkok and W Station
Cheapest airfare:
The cultural capital of Vietnam, Hanoi is the nation's heart and soul. Set up on the banks of the Red River, it dates back to the 3rd century BC. The rustic, ancient architecture, along with the French influences give this ancient city a romantic vibe. And this romance can be witnessed in the city's beautiful boulevards, expansive gardens, pretty lakes, and bustling streets. Hanoi will fill you and your partner with an exciting sense of wonder from the moment you enter. To add to that, it presents a beautiful juxtaposition of its dark history with the current modern lifestyle.
Top romantic experiences:
Take a walk along the bridge of Long Bien; witness the lights at Hoan Kiem Lake; take a stroll across the beautiful markets of Hanoi; experience the UNESCO listed Halong Bay.
Budget stay options:
Hanoi Pleasant House and Golden Moon Suite Hotel
Cheapest airfare:
Starting at Rs 7,760 per person (one way)
Scoot is a Singapore-based low cost airline known for its wide network and young, fun, Scootitude vibes. Since its launch in 2012, Scoot has been committed to delivering a seamless experience to its flyers on its fleet of spacious Boeing 787 Dreamliners and comfortable Airbus A320 aircraft. It also provides a range of delectable vegetarian meal options (including one according to Jain preparations) for Indian travellers. Scoot flies to over 60 destinations around the world from Singapore, a city that offers a world-class travel experience. If your flight has a stopover in Singapore, don't forget to enjoy a few romantic moments in the city or at Jewel Changi Airport, a nature-themed entertainment and retail complex, inside Changi Airport. To know more about Scoot's, click here.
Been to one of these destinations already? Click here to share your story with the Tripoto Community.
In association with Scoot.