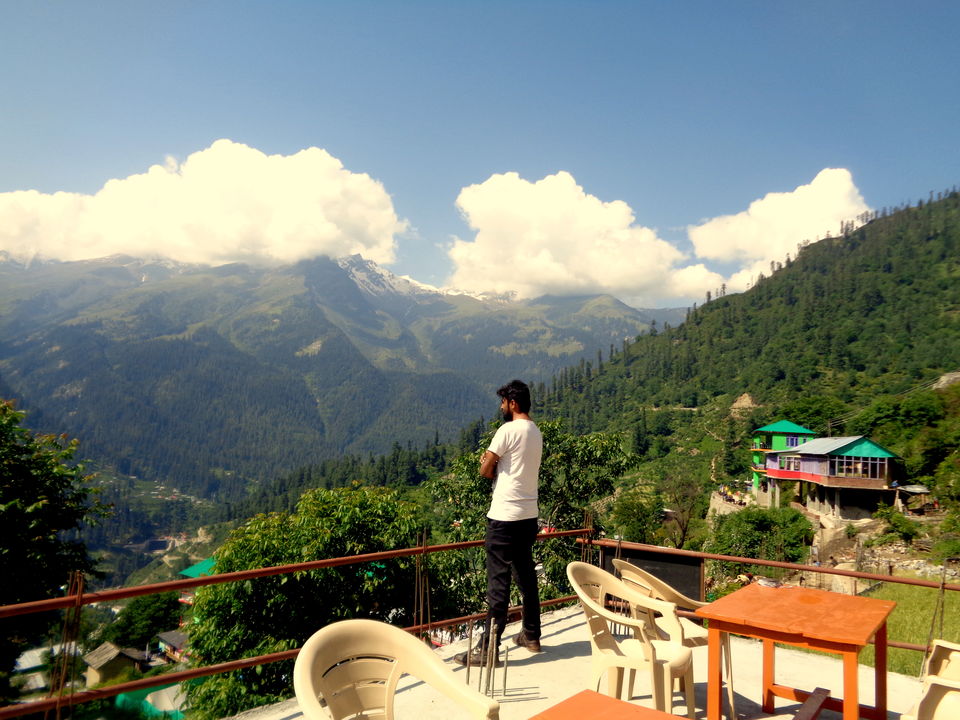 Have you ever imagined getting lost in the woods? All by yourself and you are free? Have you ever been to a place where you don't need an alarm clock to wake up in the morning? I tell you, I had a similar experience when I woke up one morning in a place surrounded by snow-capped mountains, surrounded by pine trees with birds singing in their tune to embrace nature.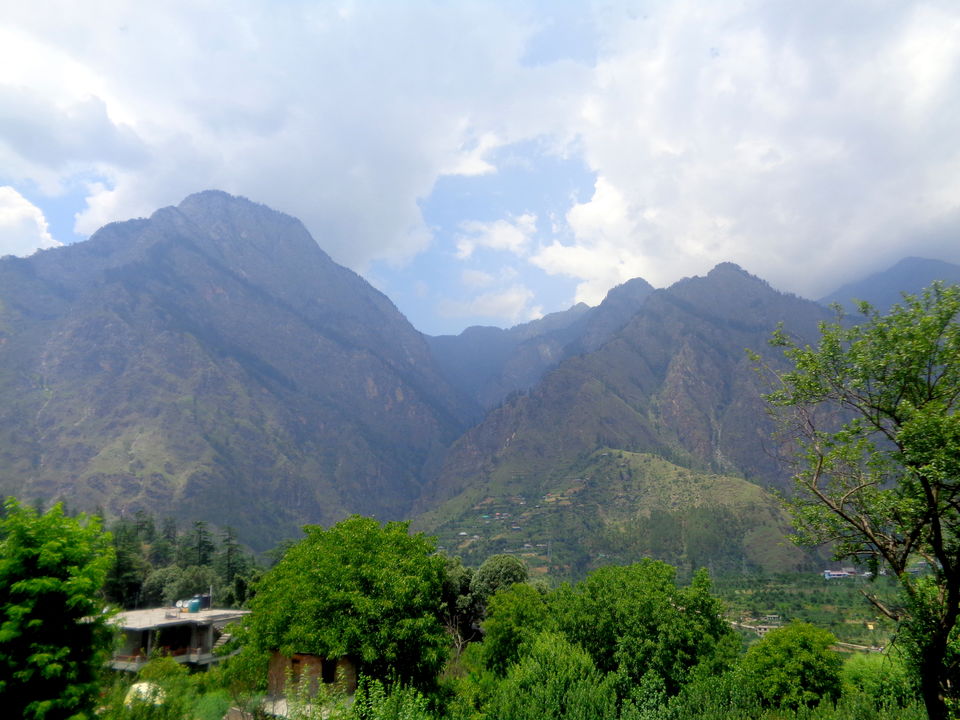 Kasol, this place needs no introduction. Also known as Mini Israel, this place nestled in the lap of nature, has been a fantasy of every guy. I too had heard a lot about this place, about its culture, about its weed and its ambiance. Thus, one night, I decided that I would make a trip to Kasol alone. A solo trip to Kasol, yes you heard it right. Thus, I finally made my mind, packed my bags and left the town.
Since my college days, I had wanted to do a solo trip to Kasol and I was all set to make it true!
From Mahendergarh to Sarai Rohilla
So, my journey started from my hometown i.e. Mahendergarh. I took a train to Sarai Rohilla. The train time was 2:30 PM and I reached Sarai by 5. From there, I went to Karol Bagh Metro Station and from there I took a metro to Kashmiri Gate. From Kashmiri Gate, the journey starts in real. Actually, many of the journeys start from this place only. Well, I met with a friend who was already there, Shalini. My solo trip died a brutal death when I got to know that she too was going Kasol solo. So, I and Shalini came out and started searching for the bus. We hadn't decided anything and we hadn't planned anything where to go and how to go. So, we finalized one bus to Bhuntar. We had no idea of the route as well. So, we got our tickets. The cost was 1300 INR per ticket.
We Waited Three Hours for Bus
We were taken to Majnu Ka Tilla in a cab from ISBT Kashmiri Gate. There, we had to wait very long. We called the guy several times. We were told that there was some issue and they were getting things cleared. We were totally tired and frustrated. Finally, after waiting for around three hours, the bus came. By the time, we made two friends, Alex and Hies, two brothers from Assam. We talked a lot. We told them that we had no plans so Alex asked us to join them. And we agreed. And then, my solo trip was joined by two more people, making it three in total.
Somewhere in the valleys - When I woke up...
So, the bus left Delhi at around 11 PM. We talked on the bus for some time and then we slept. The next morning, when I opened my eyes, we were already somewhere in Himachal Pradesh. All I could see were green trees and spiral roads. It was green. This was eye-soothing, this was soul pleasing and this was heart touching. As I was seating adjacent to the window, I just kept on staring outside at the trees. With great astonishment looking at the zip-zag road, which was going high and high, I kept wondering how the people live here, it is quite challenging. They have got their houses built on the hills. And to climb up and down every day is a big trouble.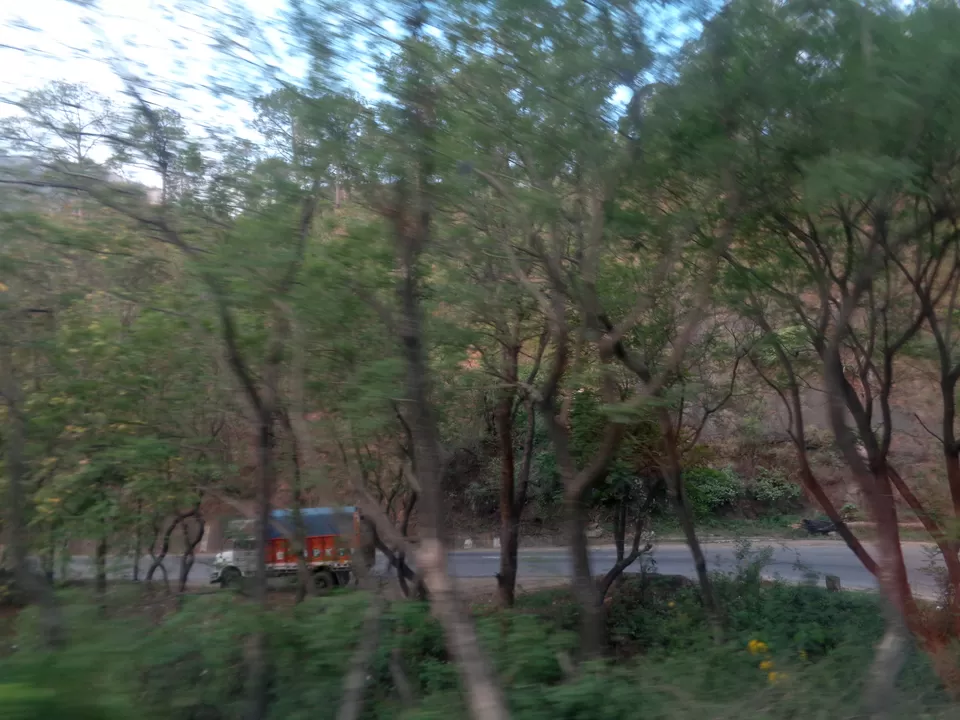 The bus stopped somewhere on the way to some restaurant for a while. Brushed and washed face, had breakfast and then we left. We kept on talking on the way and it was a great enjoyment. Though I was totally lost in the tranquility of this place. No matter how difficult it is to live here, I was totally mesmerized by the beauty and charm of this place.
And We Reached Bhuntar
My most of the journeys happen at night. I usually make such arrangements on weekends, considering my work, I have to do this so that I can come back on Monday. So, by 10 AM, we were in Bhuntar. And from here, where we had to go, neither I nor Shalini knew. Alex said that he had two more friends who were staying in Jari in a hotel, we could go and stay with them. I found it pretty convincing and we agreed. So, from there we hired a cab and reached Bhuntar. And then, my solo trip was joined by two more people, making it five in total.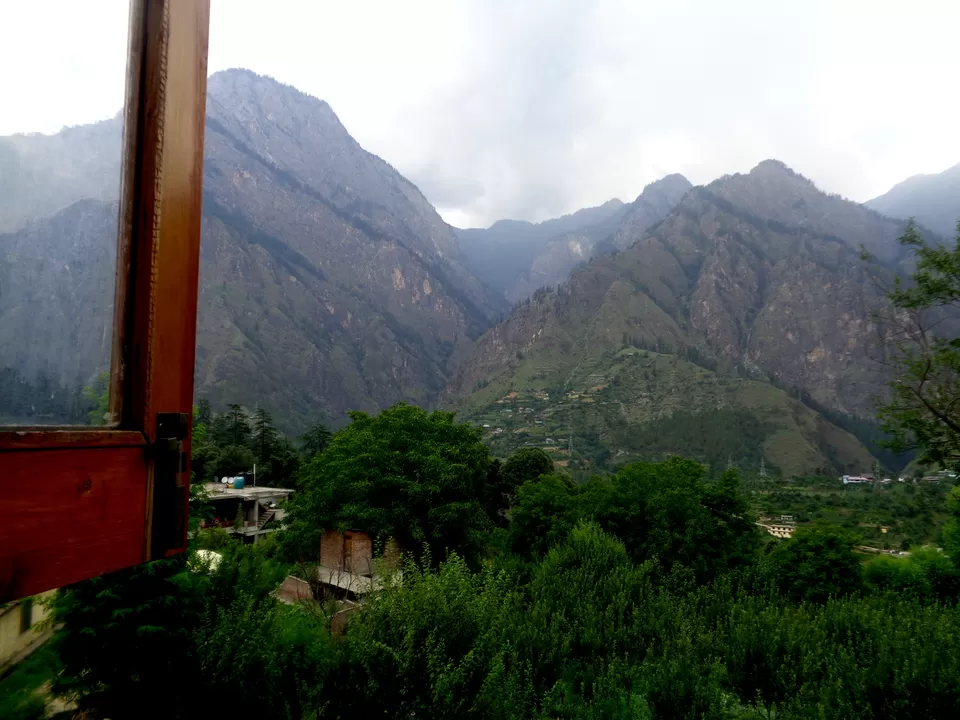 In next one hour, we reached Jari. There Alex met his friends who were already there in a hotel. Bhawani and Awa, they both were working in Spice Jet. They were staying at Mannat Home Stay. We booked a big sized room and we four, I, Shalini, Alex and Hies stayed there while Bhawani and Awa had their room already there. The room costed 1400 INR and it was divided in four of us which was very cheap. Single cost was priced at 700 INR. So, we stayed in the big room. I tell you the rooms at Mannat were really amazing. The views out of the windows, were damn picturesque. I just wanted to sit there and look outside...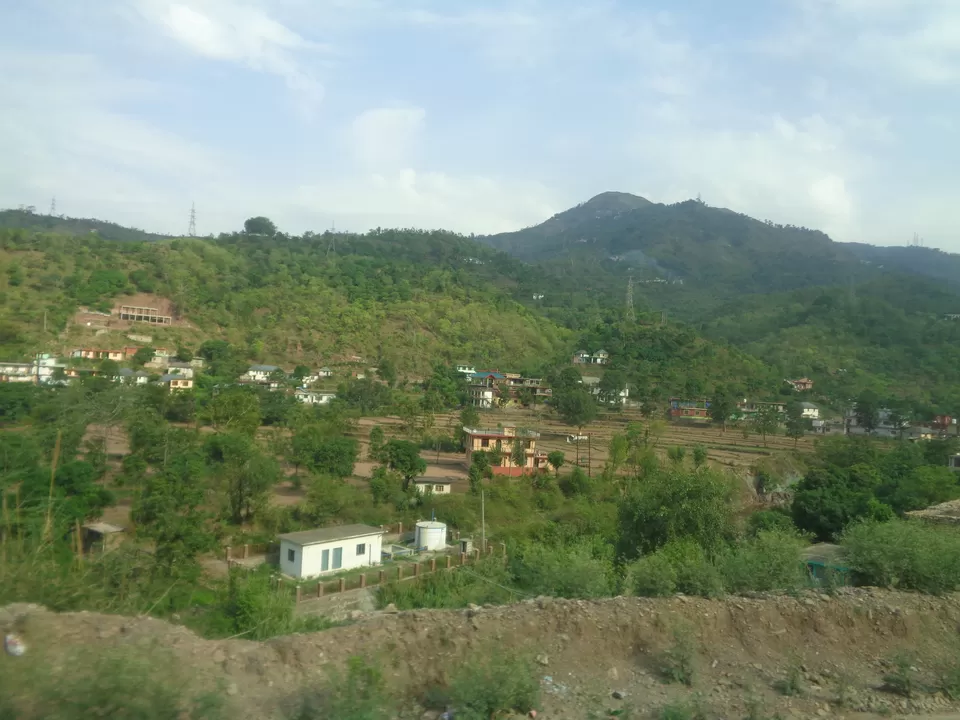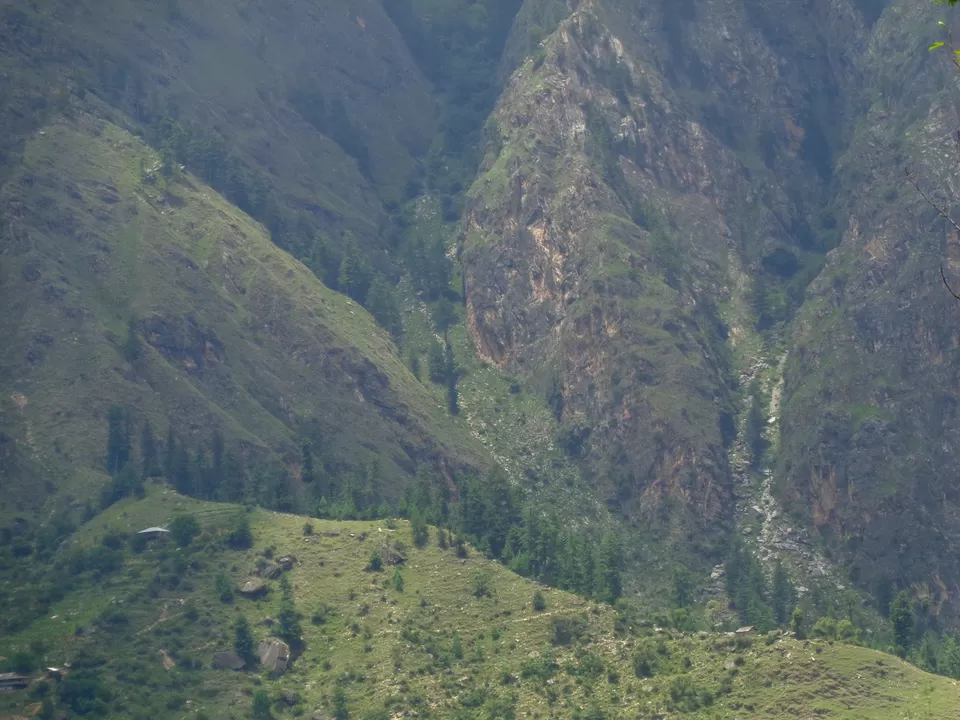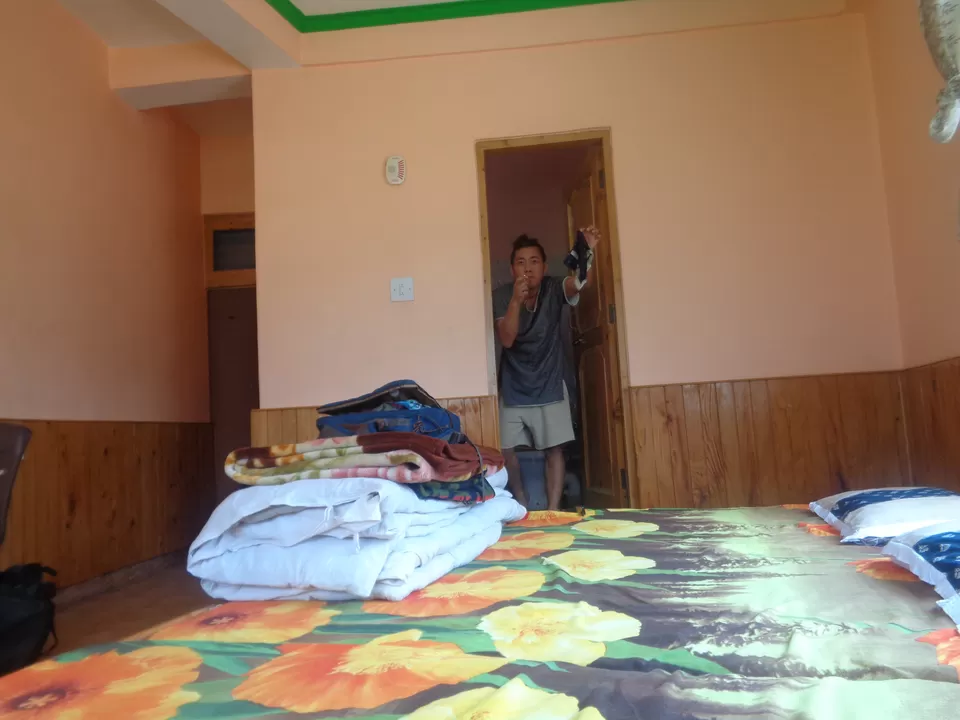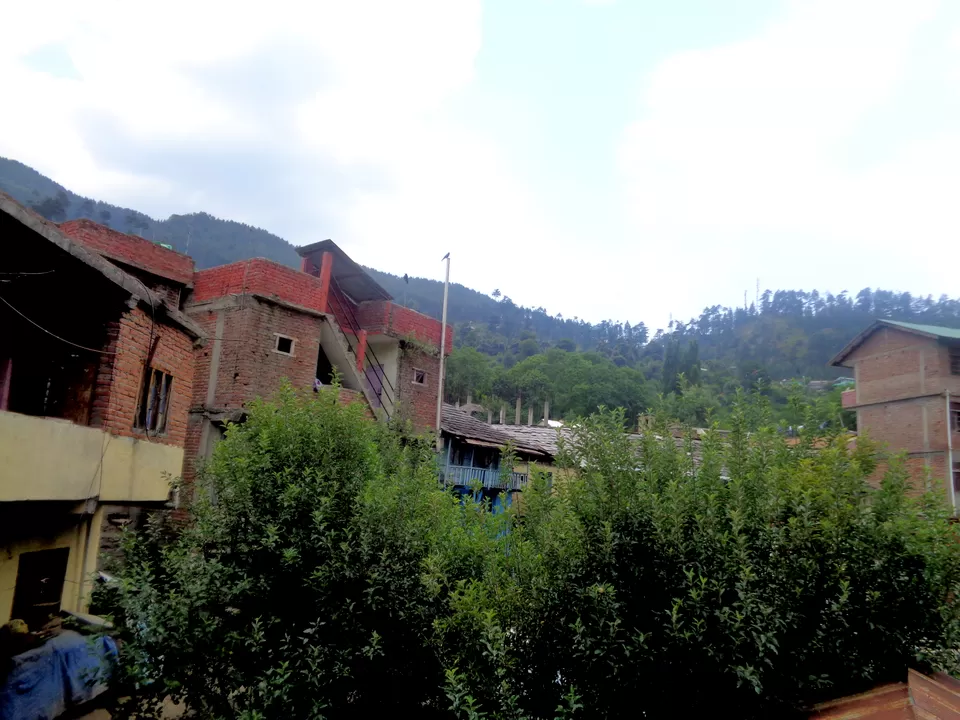 The rooms were all wooden and it looked really beautiful. This was my first time see anything like this. The beauty of this place was something which I had just imagined in my dreams. This small charming hill village just captivated my attention for all the time and I just wondered how beautiful is life here. The people, the place the home and everything is just mind - blowing. The birds chirruping in the woods, the smiling faces of the people, the narrow streets and the aura, which got painted in the colors of joy forever on my mind, in my memories.
We spent good time there. We were tired so, first we took rest for a while and then shower. After this, we planned to visit Kasol. After all, that's what for we have come here. We all six came out and searched for a cab. But we found that cab wasn't that much economical. The hotel owner told us that we could go by bus which was fine. So, we waited for a while and the bus came. The drive from Jari was very bumpy and exciting. There were places where the bus was just moving on the edges of the road and one slip and we were in the deep valley. But the drivers here are trained and experienced for such roads. Thus, finally we reached Kasol.
Kasol - The Dream Destination
So, we reached Kasol. I felt like being in heaven. This was what I have been craving so far. This was the place I was desperate to visit. I tell you many of people in my circle visit Goa to hangout and my first choice was a place like this. Since college days, Kasol was on the list.
Much crowded, with tourists, both locals and foreigners, Kasol is a town with mixed culture. The market was crowded, we ran out of cash and we tried at several ATMs but all of them were out of cash. There was one shop which was giving cash on some charge. Though I had no plans of doing so, I mean you are paying extra just to get your own money, but there was no other option available, so we had to do and he charged some percentage of the amount, I don't remember how much he charged.
We spent good time in Kasol. It was my first time, but all of them had been there already. I feel like being lost in such places where I am quite close to the mother nature. We went to a cafe to have some refreshment. The sound of water in the river, long pine trees, birds and people... Everything was so amusing.
Tosh - A Paradise on Earth
I never heard this name. But it was Bhawani's idea that we should visit Tosh. We took a bus to Tosh from Kasol. We spent enough time there in Kasol. I was little surprised to see that Kasol is now completely commercialized, it is no more a complete nature's land. We reached Tosh. This village looked like Dharamkot completely, situated at a hill. There was narrow ways to pass through. A small but incredibly beautiful village, I found Tosh far more beautiful, more full of life as compared to Kasol. This was purely a village, not commercialized that much.
On the way, we stopped at a cafe curb our appetite. I don't drink and I don't smoke. Alex and his friends were totally surprised to know that I didn't do any addiction and still I was wandering in Kasol, as usually people who smoke, they visit Kasol, considering it's hippie culture. We had noodles, thukpa and momos. That hot bowl of thupka was an ultimate booster after hiking from Barshaini.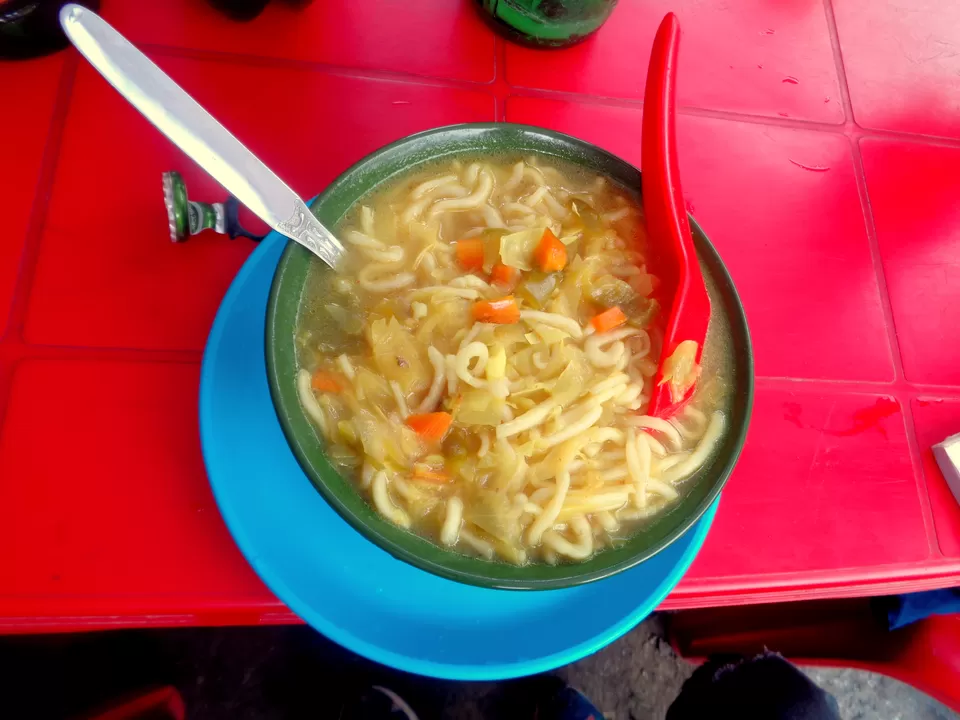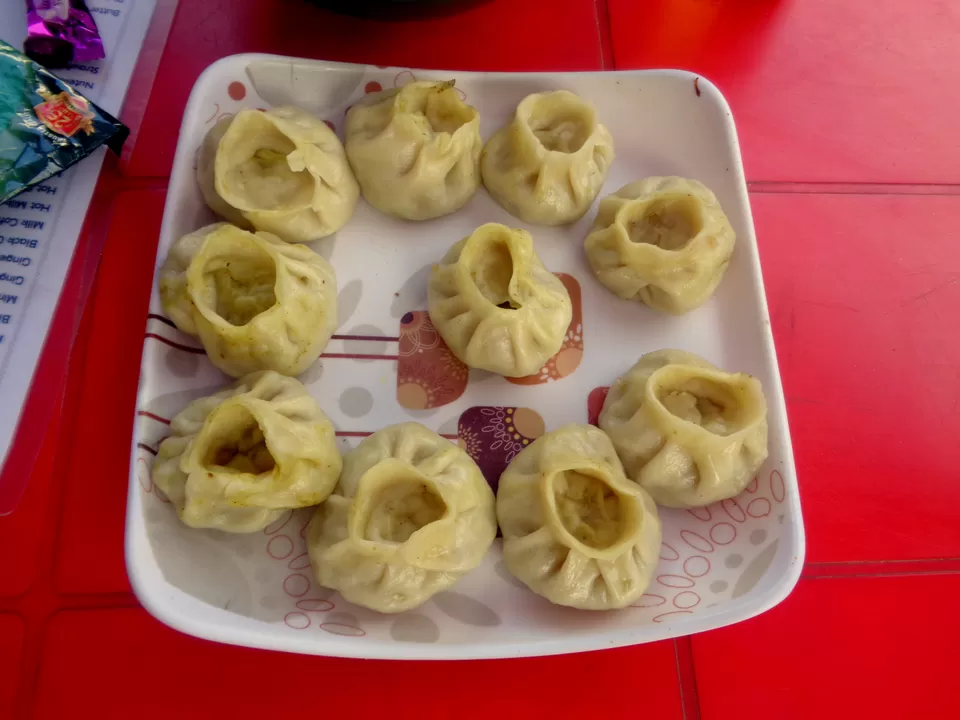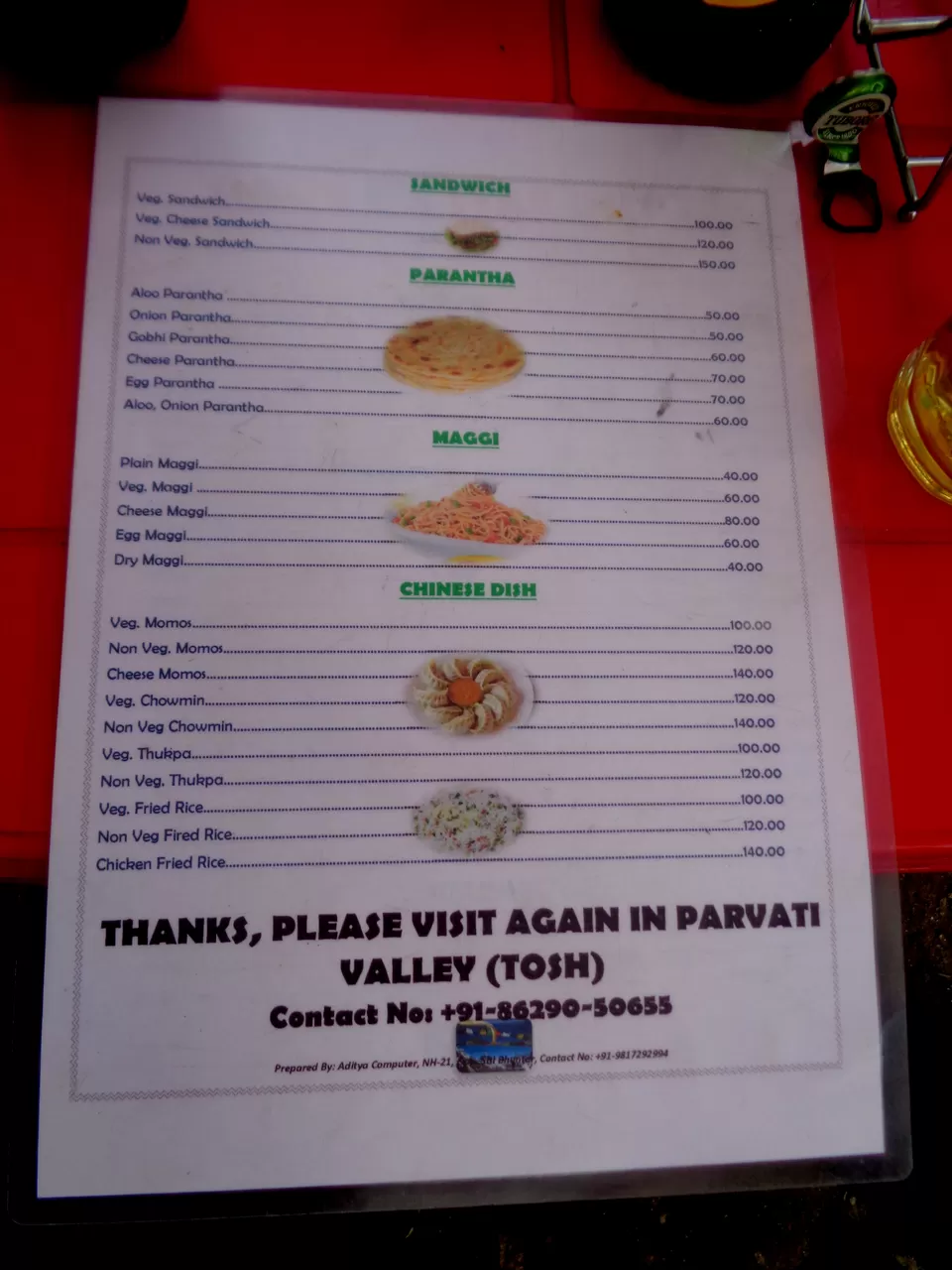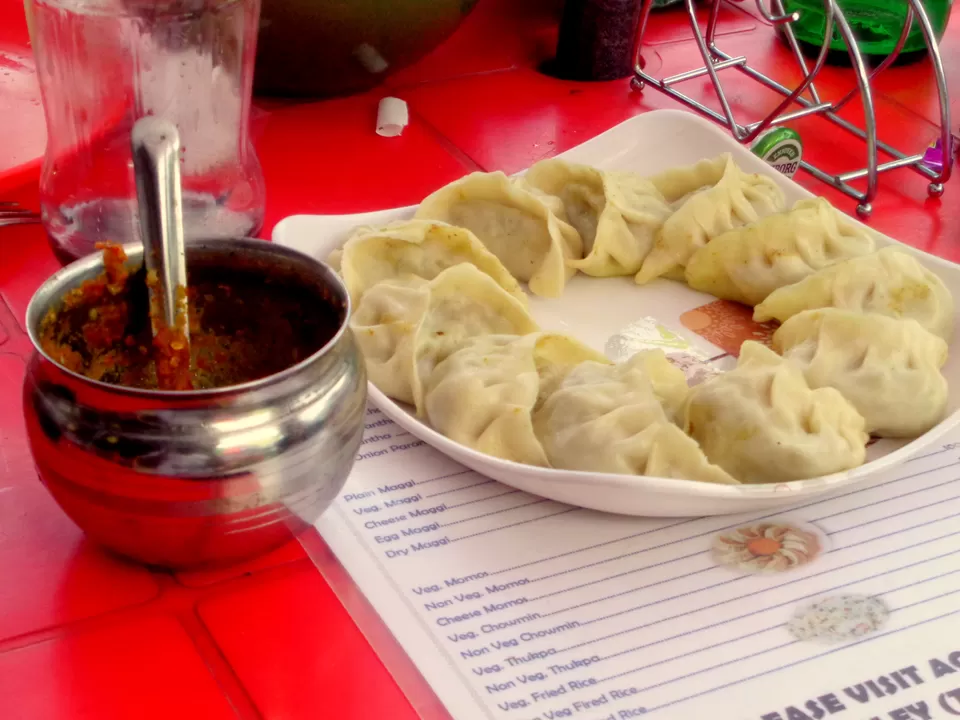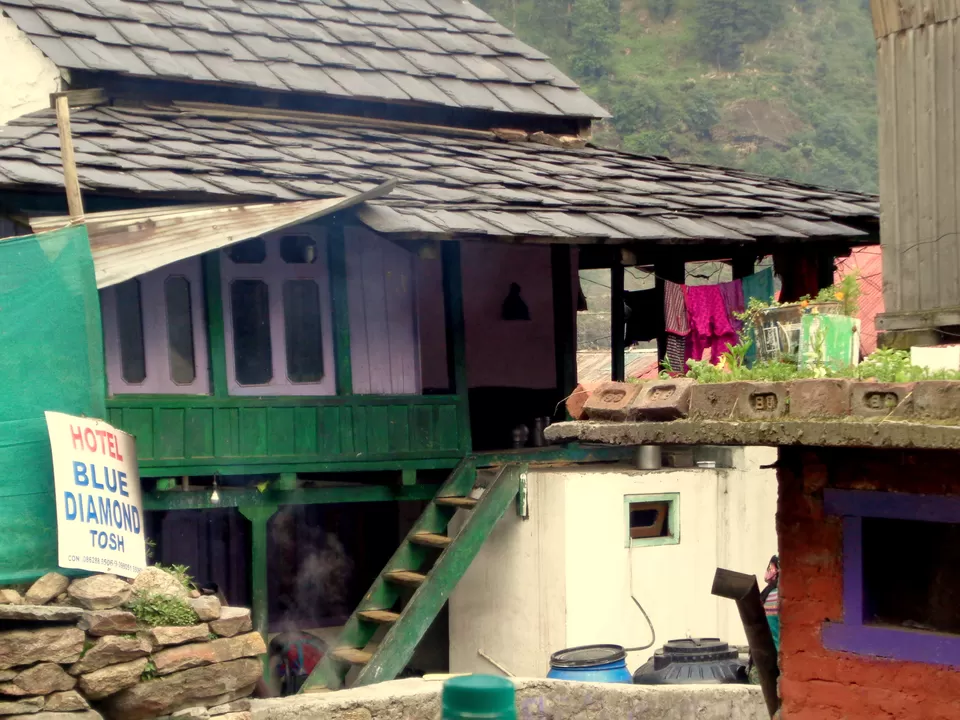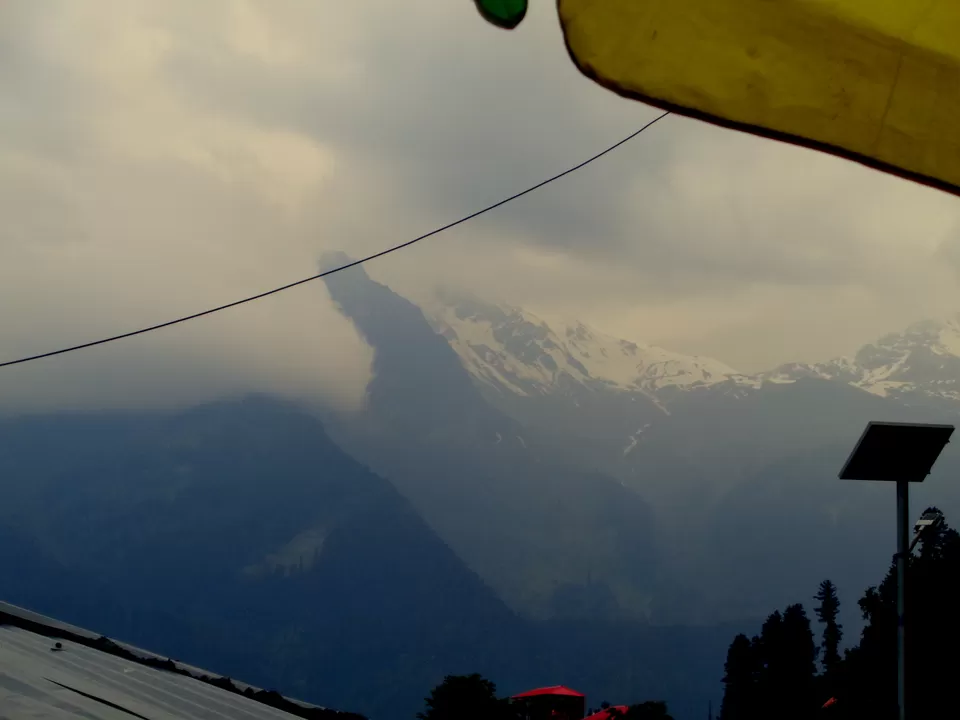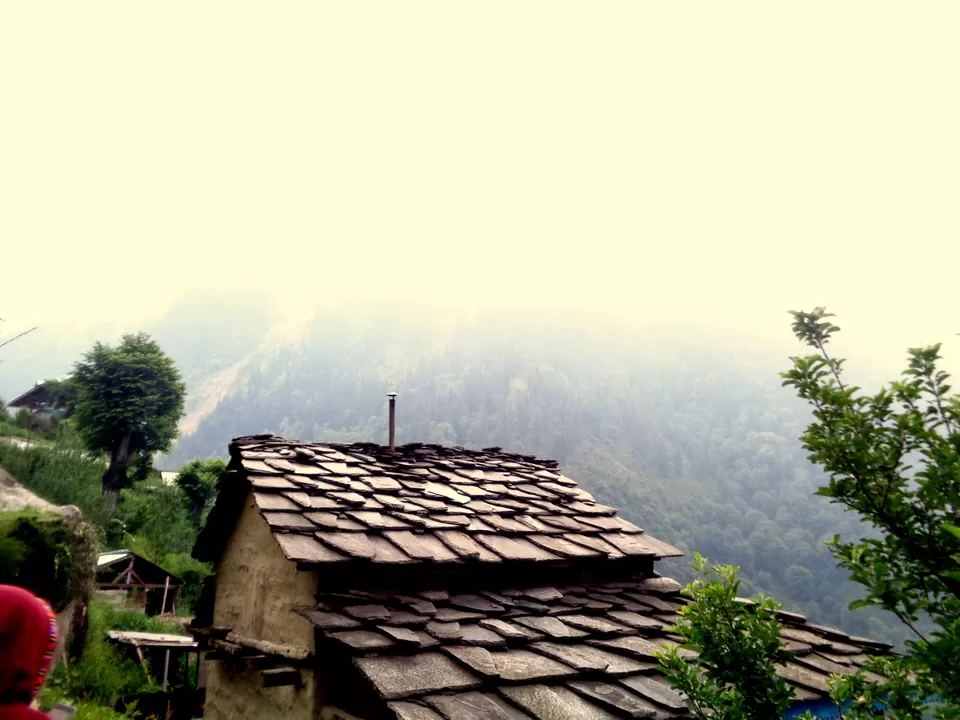 After having our belly full, we kept on roaming around like we had nothing to worry about. Actually, the ambiance, the aura of this place makes you feel that you have nothing to worry about. You are in the land where all your worldly worries go away in the air and you become a free soul, a nomad like who has no place to stay, who just wanders here and there.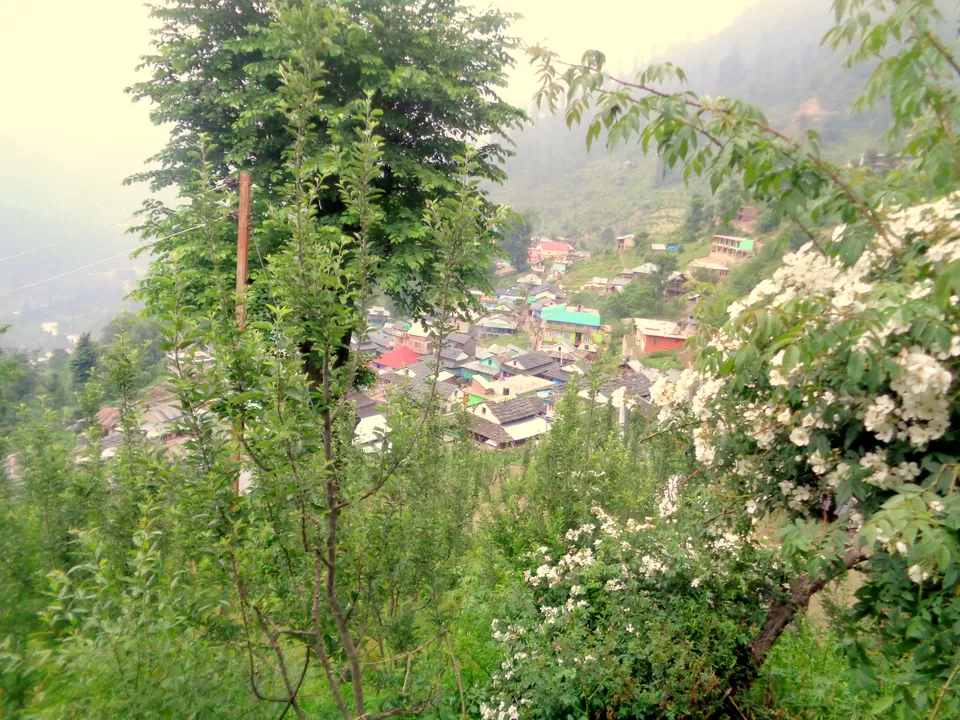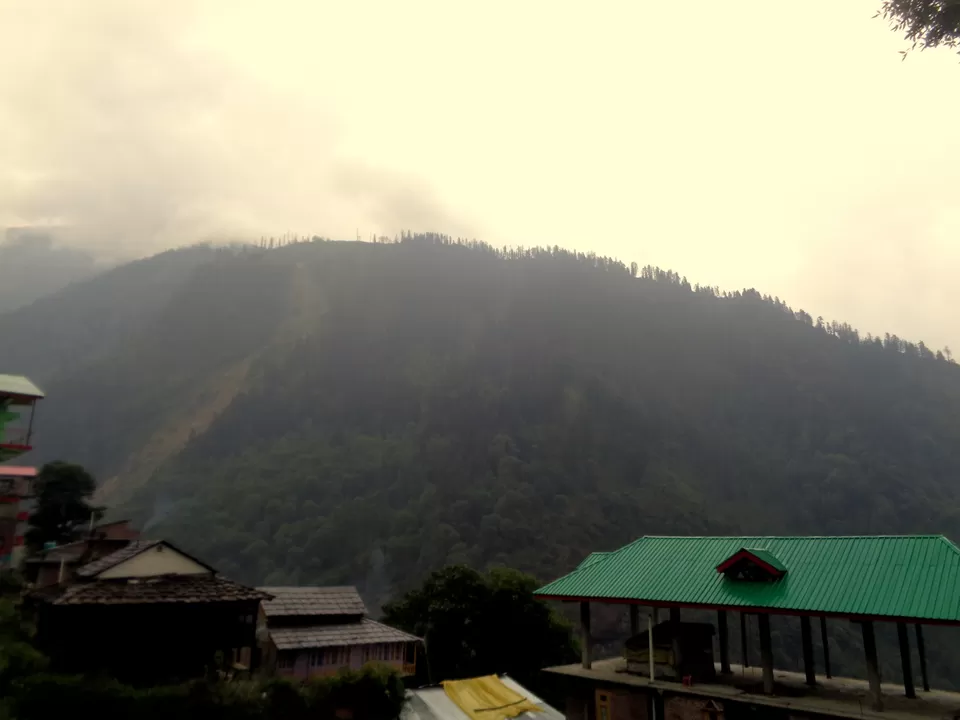 We then headed towards the very famous Pink Flyod Cafe. OMG! This place and Pink Flyod's song! You are totally immersed in the tranquility my friend. You are in some different world. You aren't on the earth. You are in heaven. Welcome everyone. Welcome! Pink Flyod Cafe as the name says, is a cafe dedicated to one of the most famous psychedelic rock bands people have ever seen on this earth, Pink Floyd. And I tell you, you are so high above the ground, some 7900ft above the ground, you are surrounded by big green trees, you are enclosed by snow capped hills, you are holding a cup of hot tea and then there is a song on the music player, Comfortably Numb or Wish You Were Here or We Don't Need No Education, how would that feel? I just closed my eyes and got drenched in the ambiance of the cafe.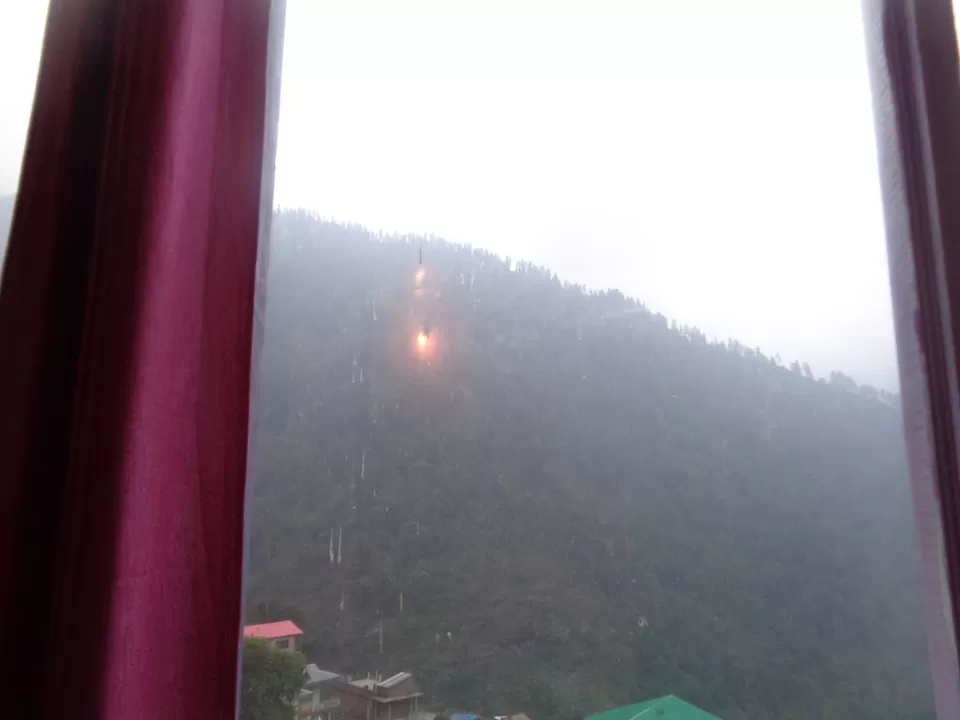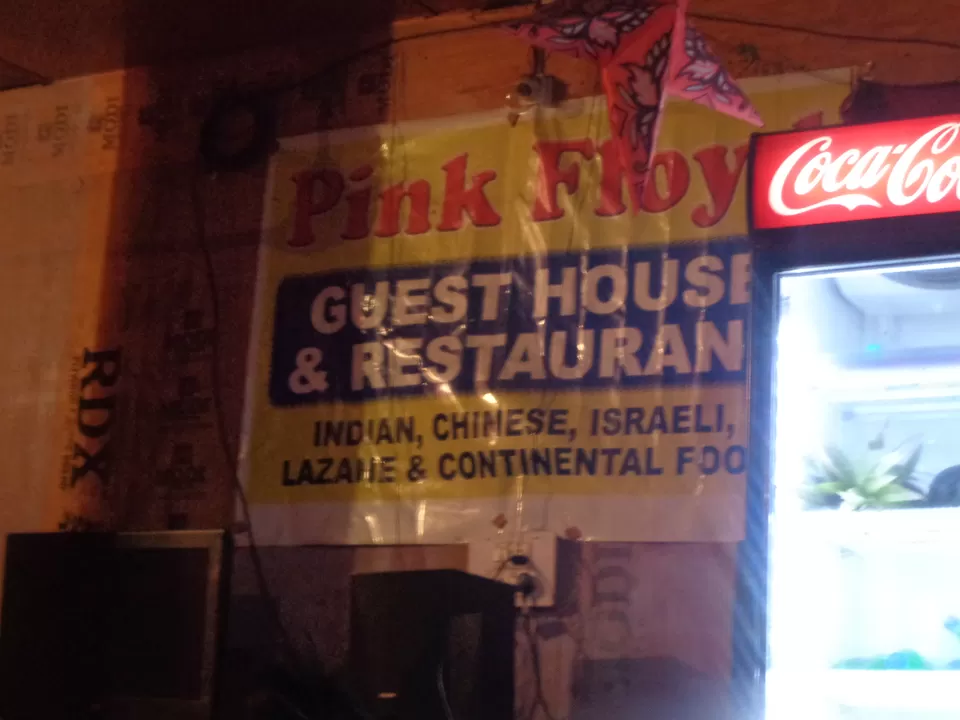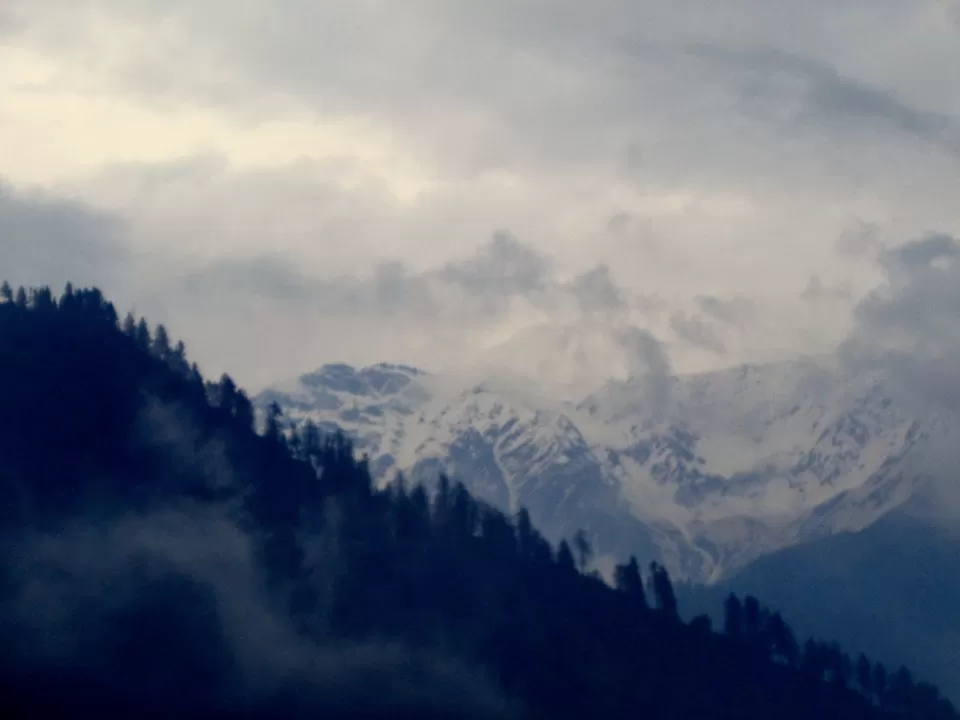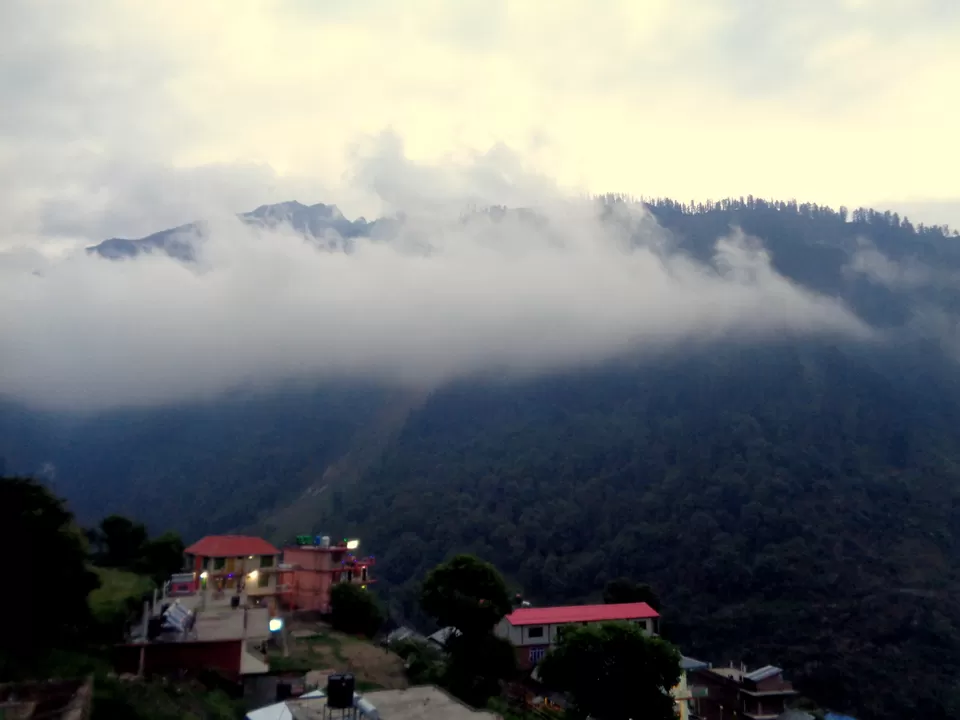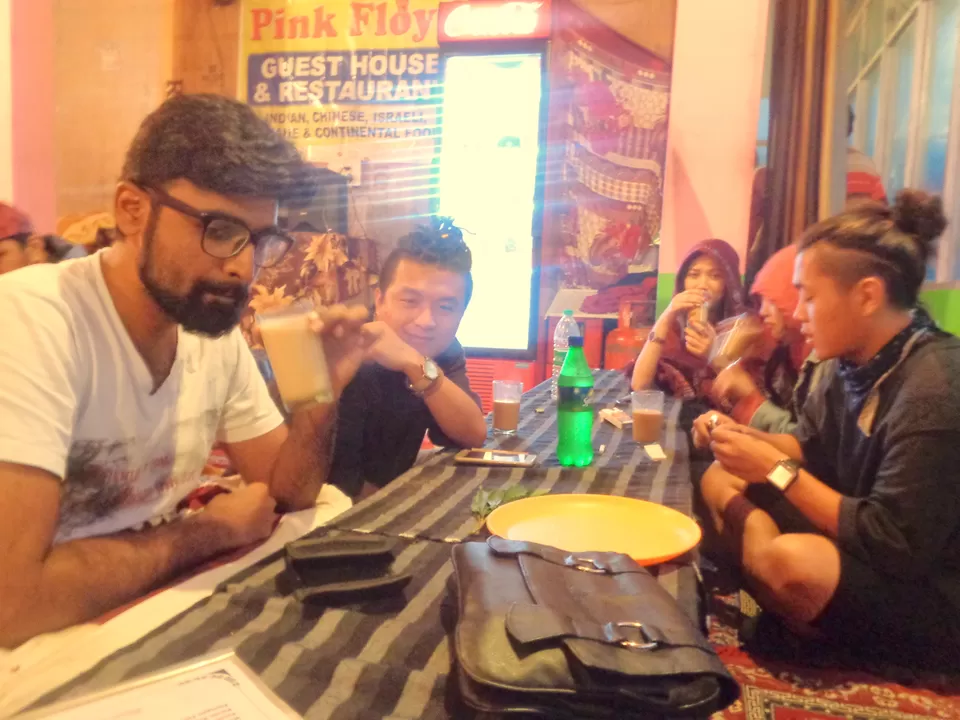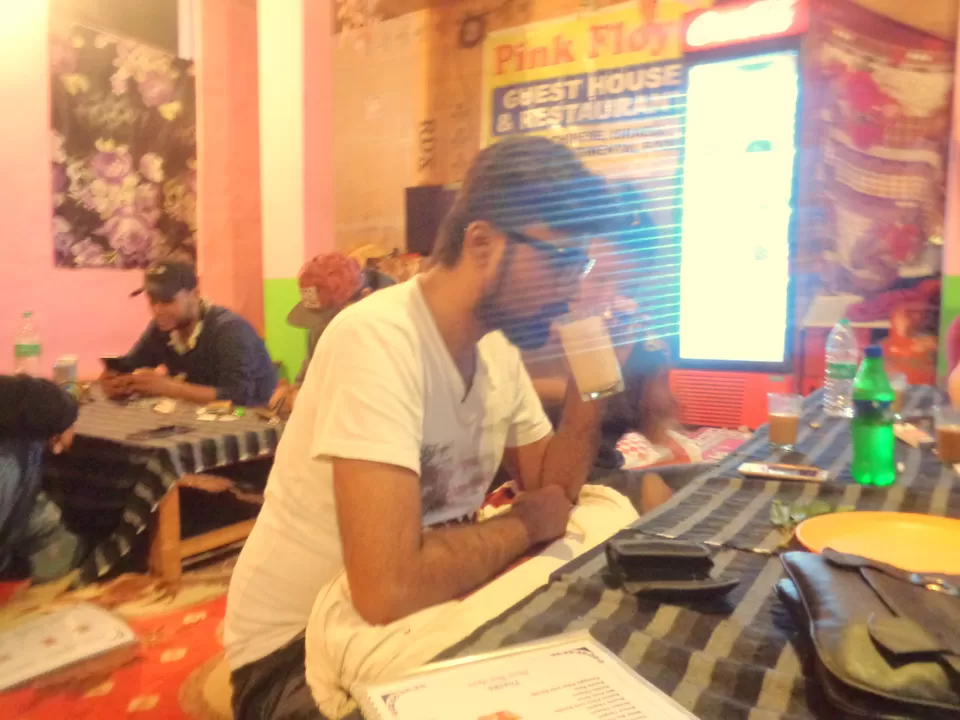 After spending some time there, we left. It started to get dark and we needed to reach our home-stay. But there was no way to reach as it was already getting dark and there were no vehicles at that time. So, we came down and visited some cafes and home-stays. Unfortunately, we didn't get rooms anywhere. Thus, we reached to a guest house by the name Blue Heaven. There we had dinner and asked the owner if we could get rooms. But there too, we didn't. Thus we planned that we would sleep in the cafe itself. So, Bhawani (she is damn cute) went to the cafe guy and requested if he could allow us to sleep in the cafe, we would pay 100 INR per. After sometime, he agreed and arranged us blankets.
So, the problem was sorted out. We had our dinner and at around 12 in the midnight, we slept. I woke up at 6AM in the morning. I went up on the roof and the moment I reached there, I had my eyes open wide and heart throbbing faster. The view from the roof was such... I am out of words. It was night and I couldn't see much.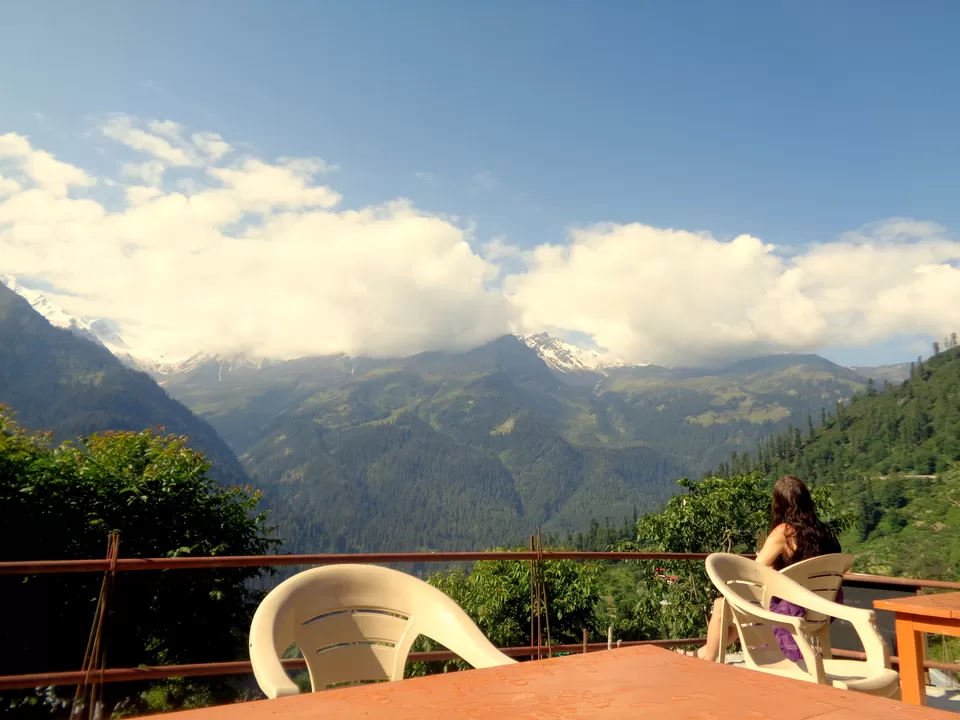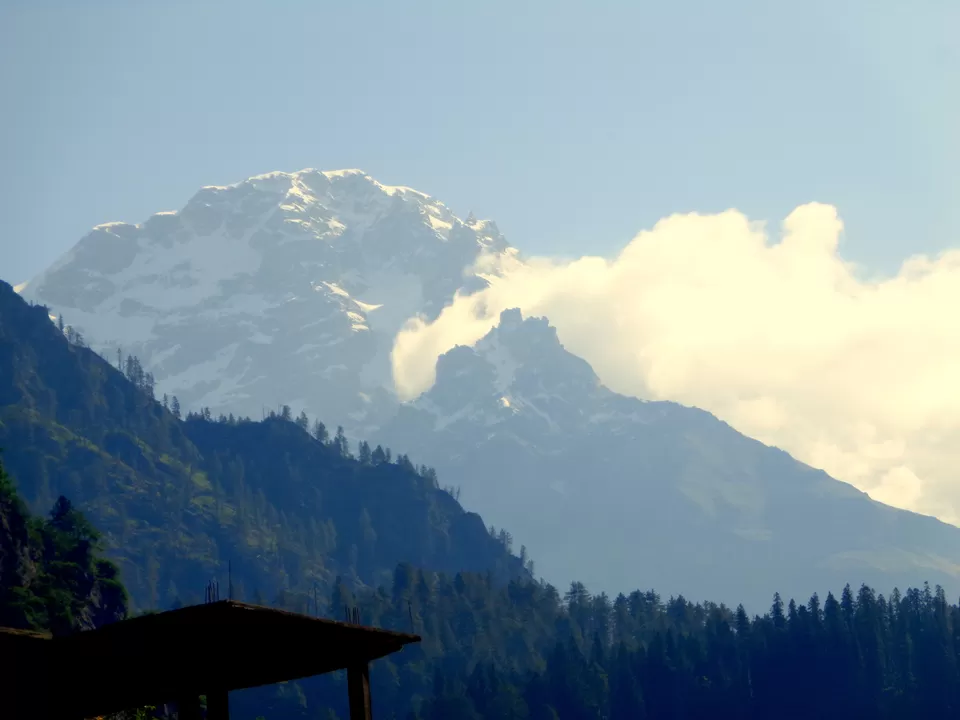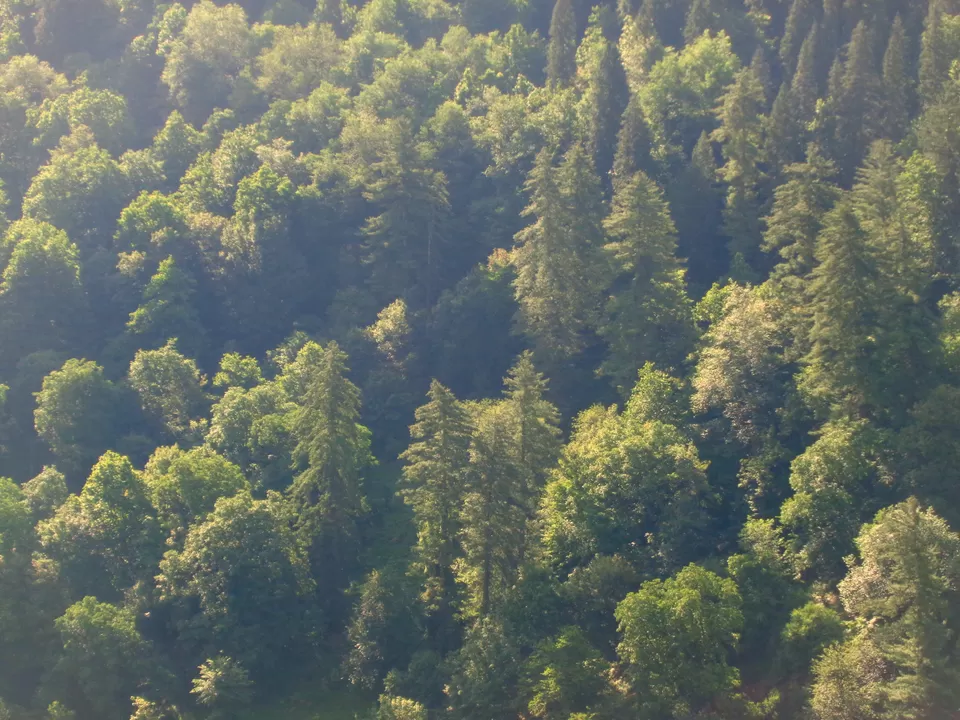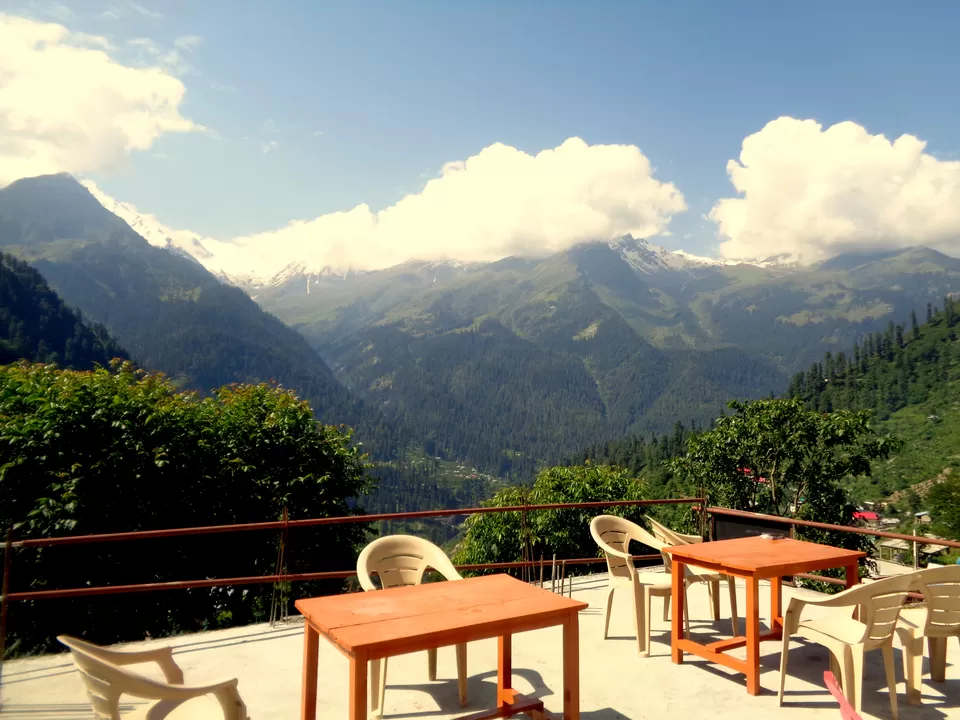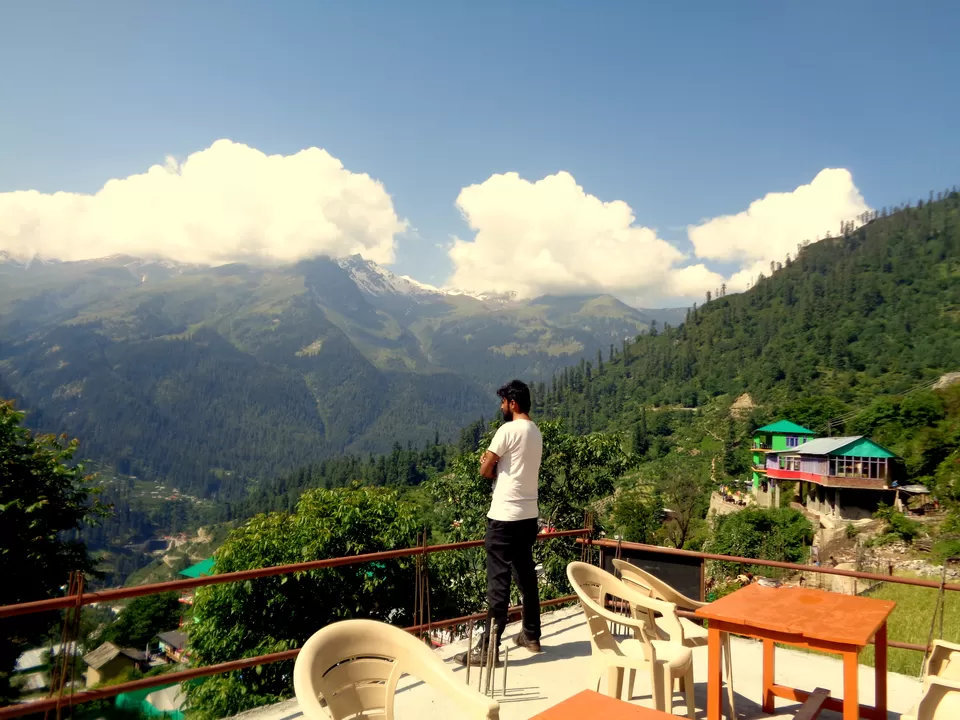 We sat there for around an hour and then left. We came down at the same point from where we had started. We trekked all the way from Tosh to Barshaini, the last place in Parvati Valley. On the way, we enjoyed a lot, we had fun, we clicked several photographs. And we reached Barshaini. Others might have got tired but I was enjoying a lot. This was my first to be in such a place so my excitement was dominating my tiredness.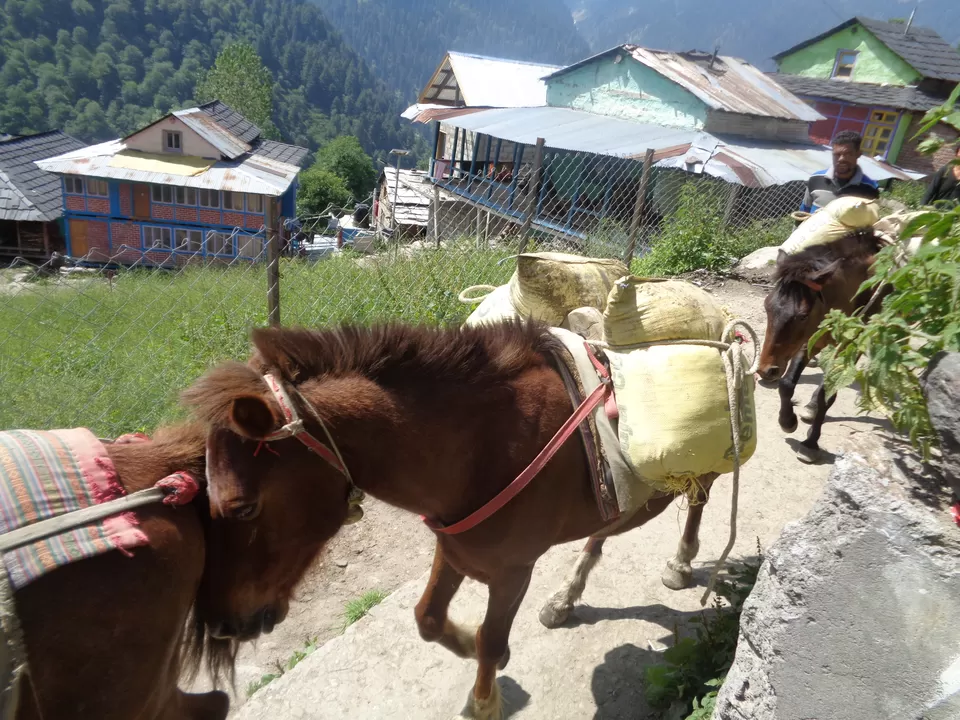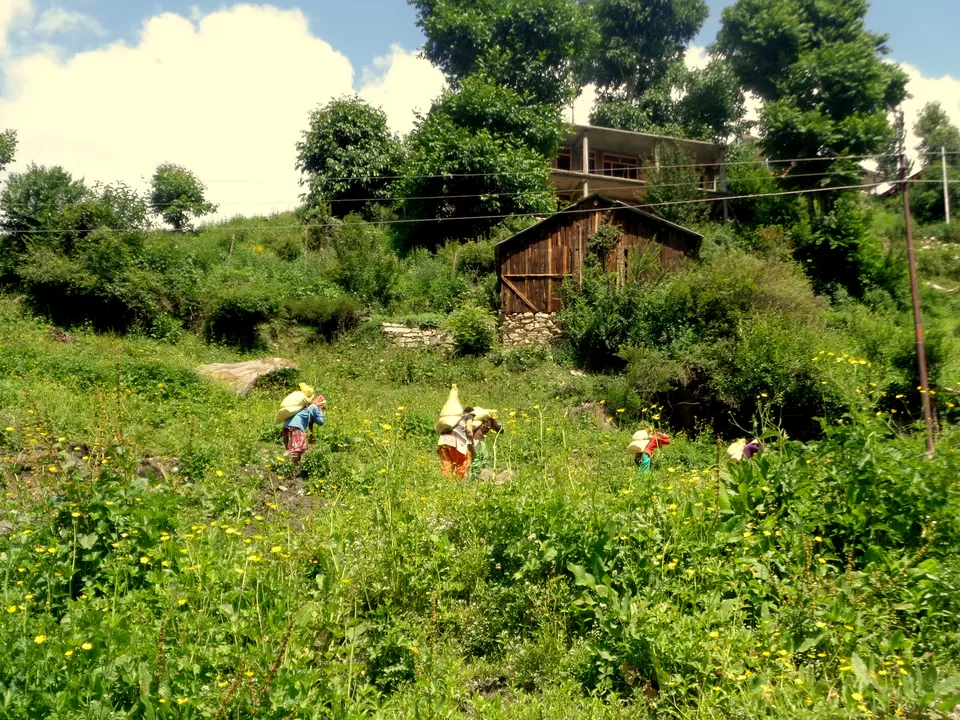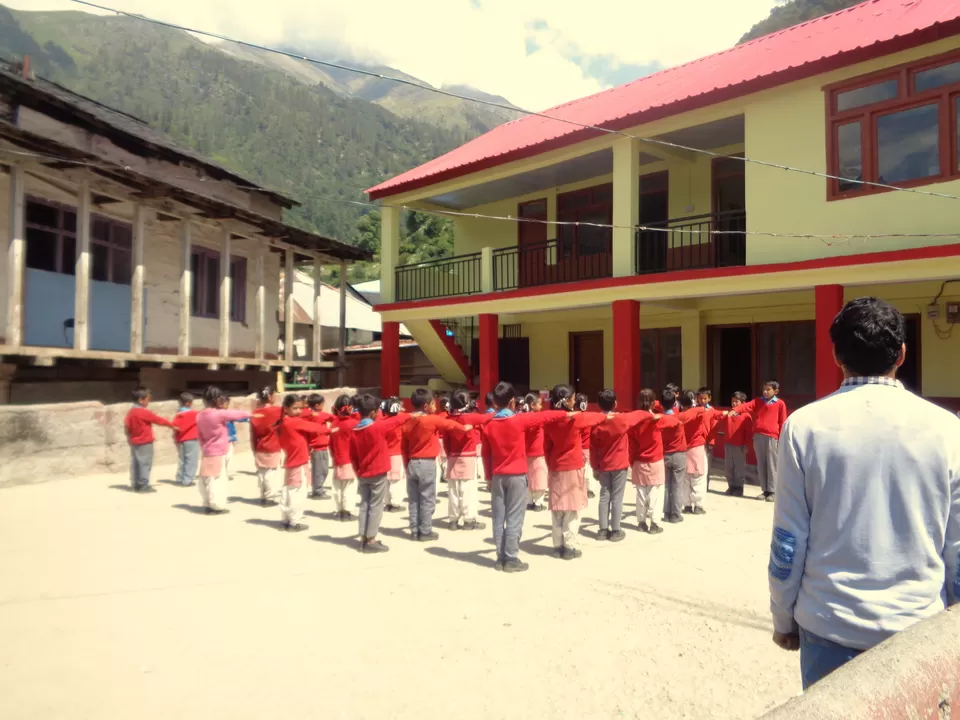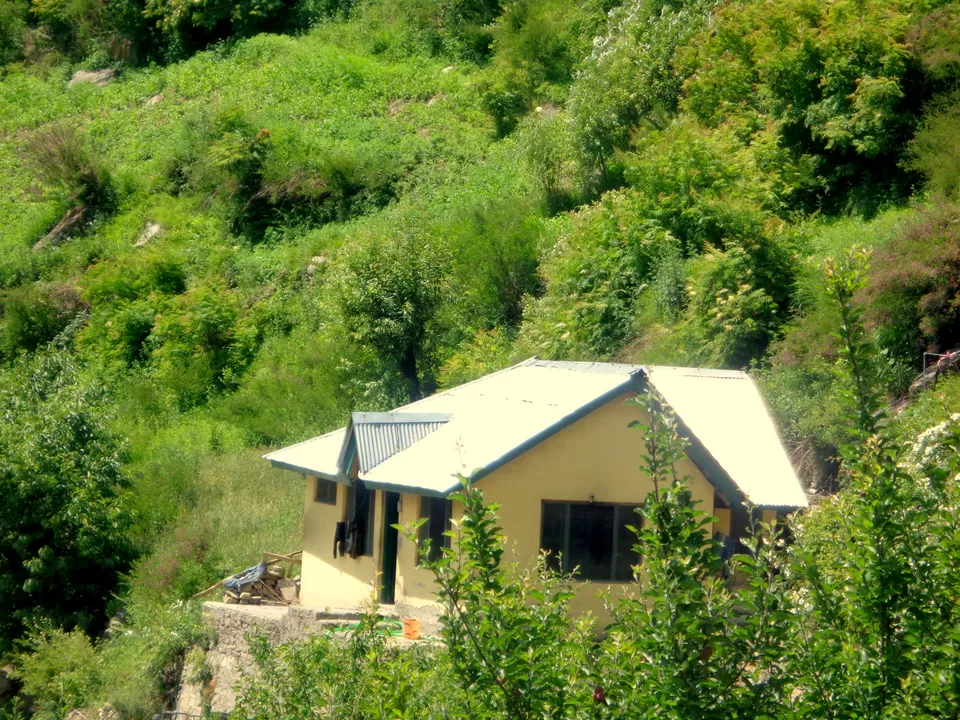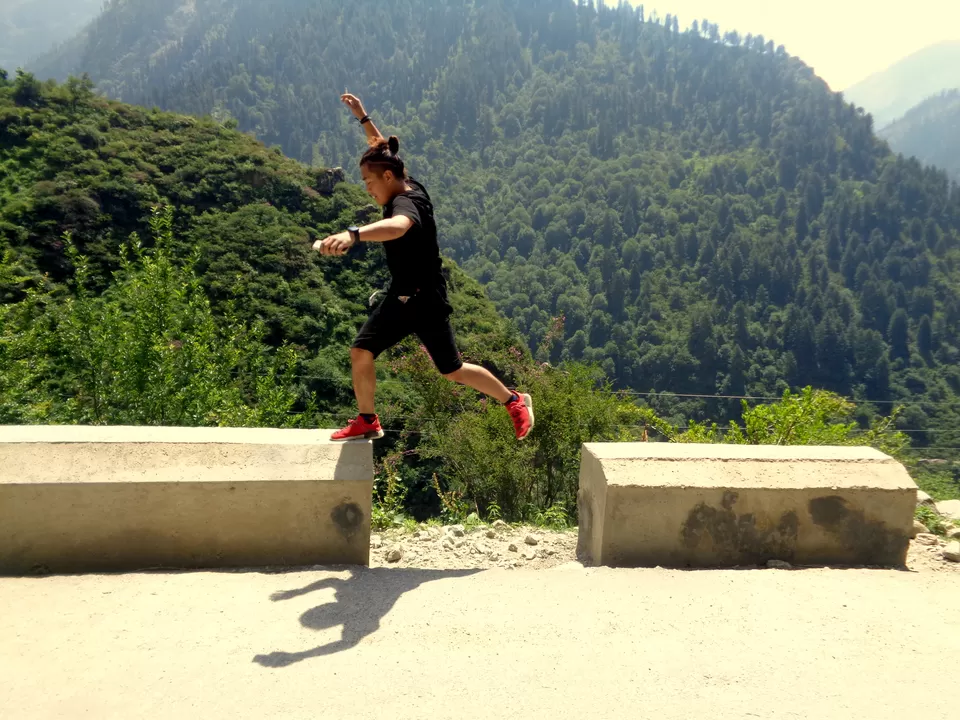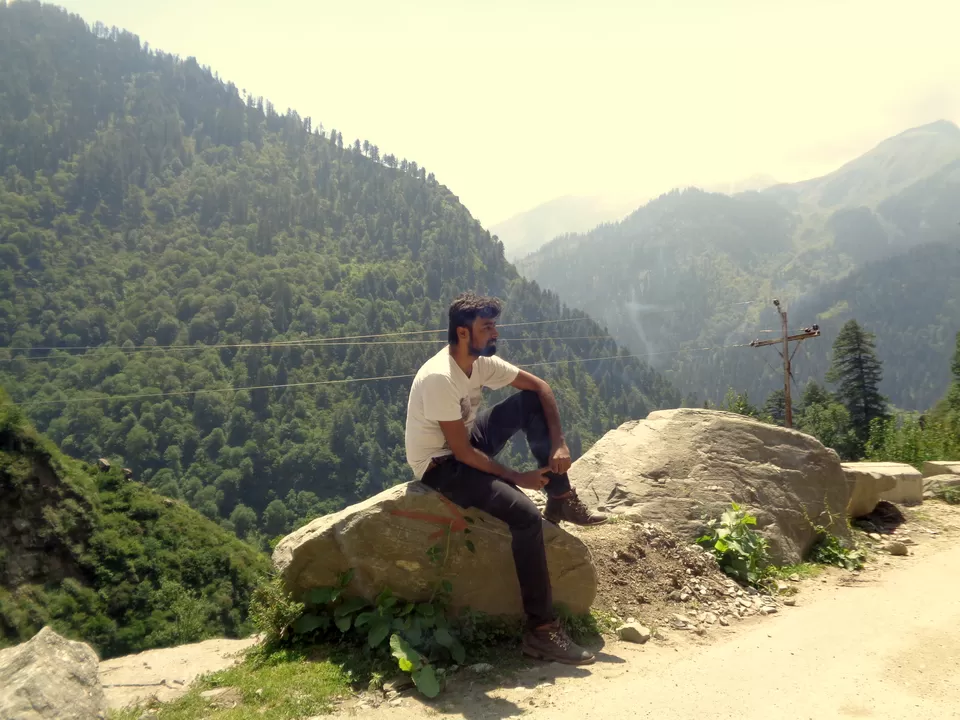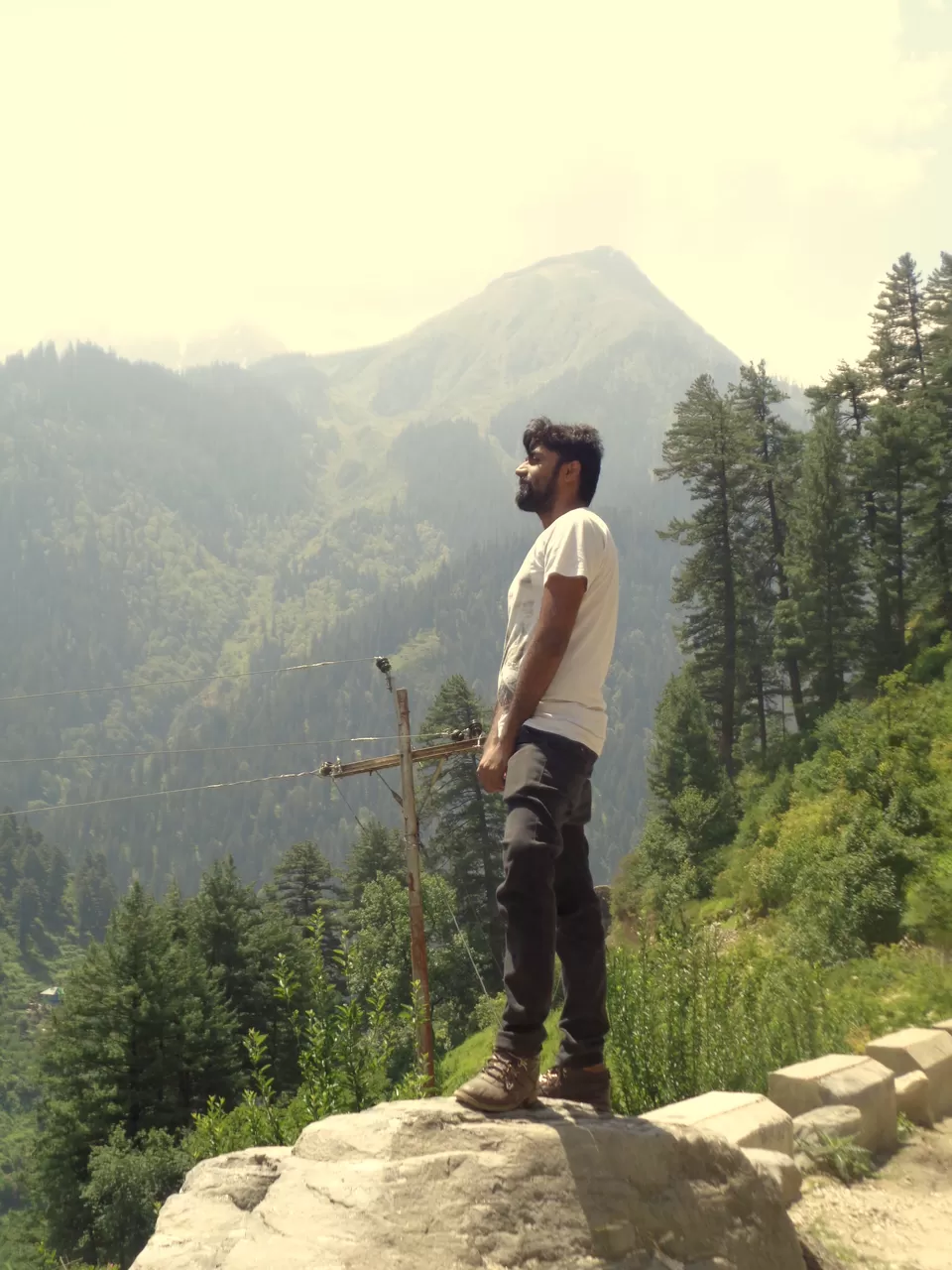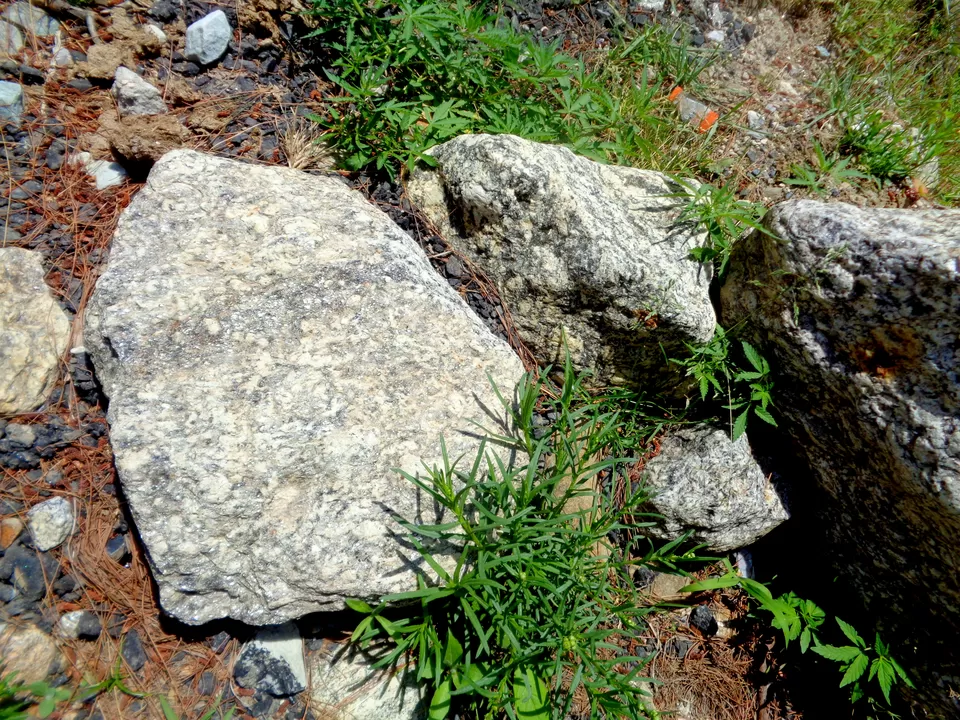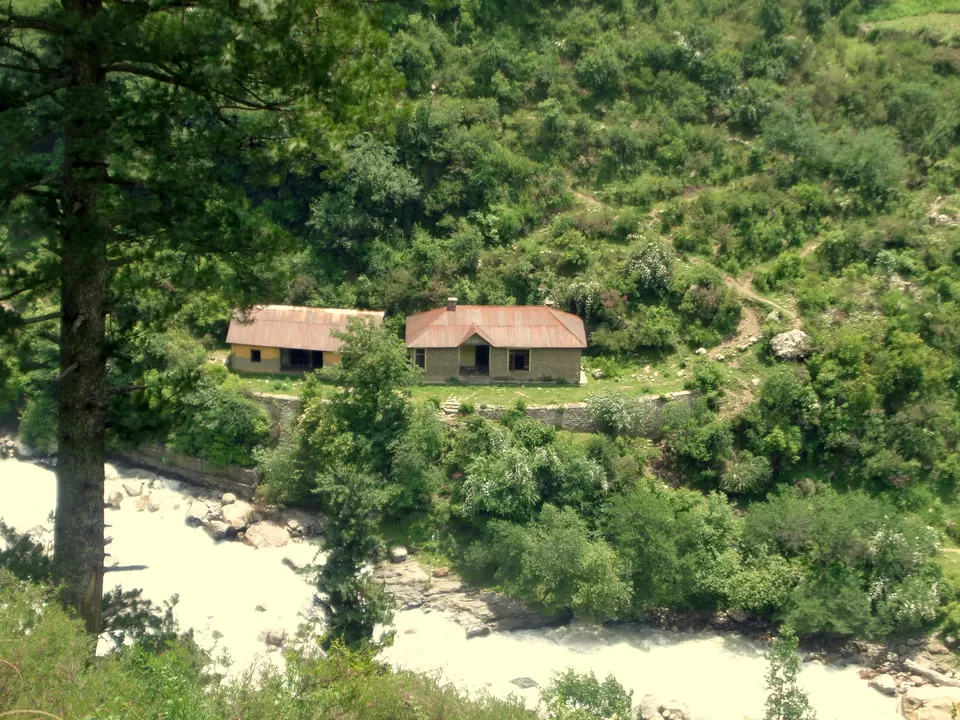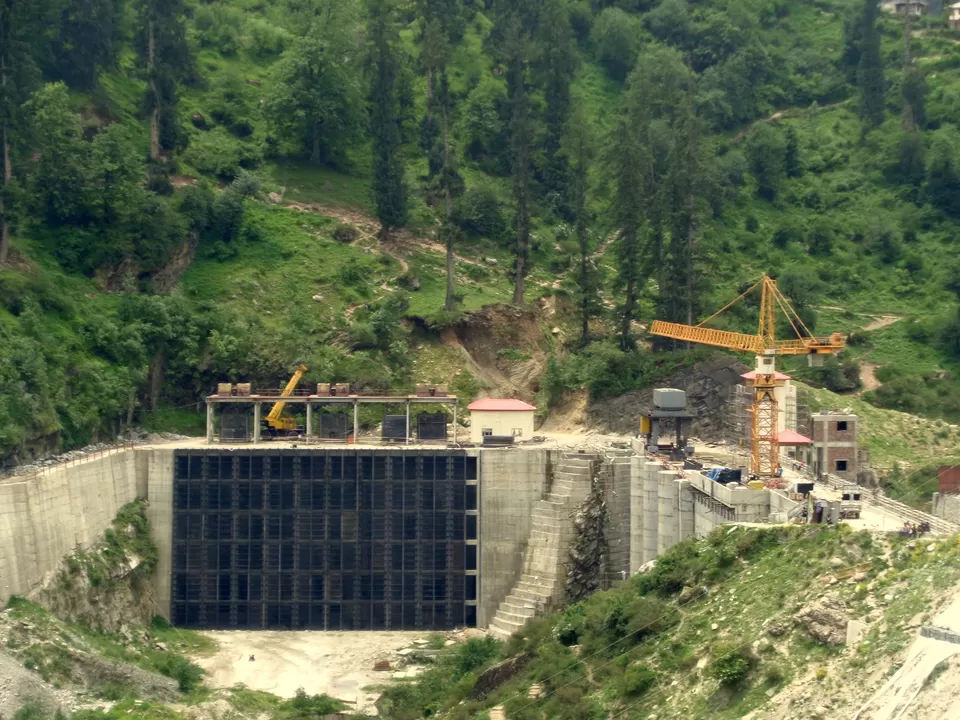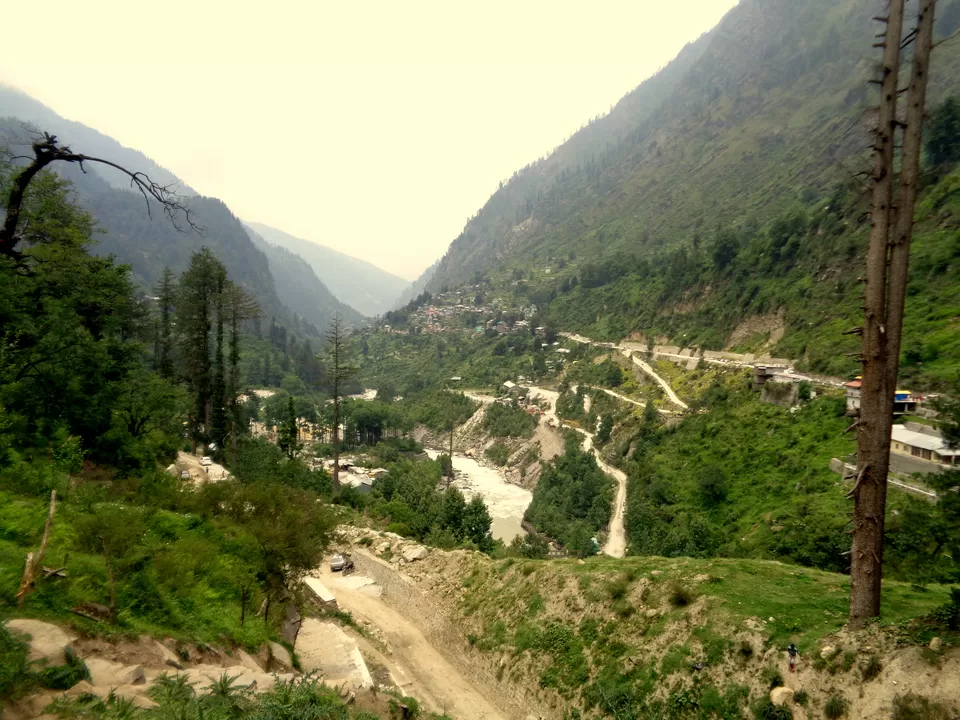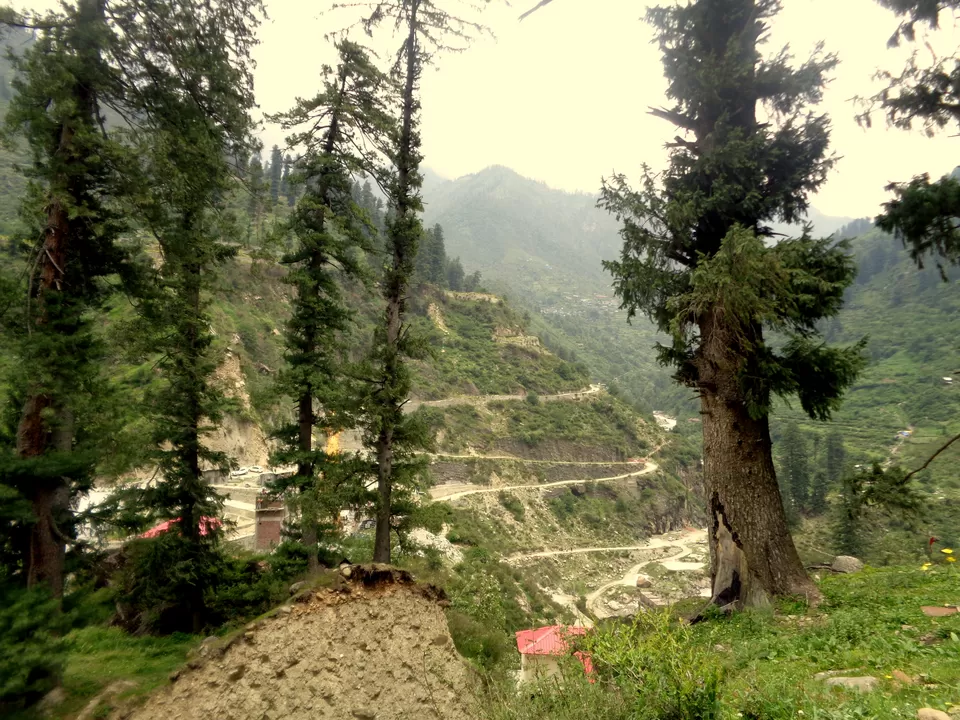 There, we decided to go Kheerganga. But girls were tired and they refused to go. Thus, I too had to cancel the plan of trekking to Kheerganga (that's why I always prefer to travel alone). We visited a cafe, located at the top of that hill on the way to Kheerganga. We stayed there, took rest, played guitar, sang songs and had great fun.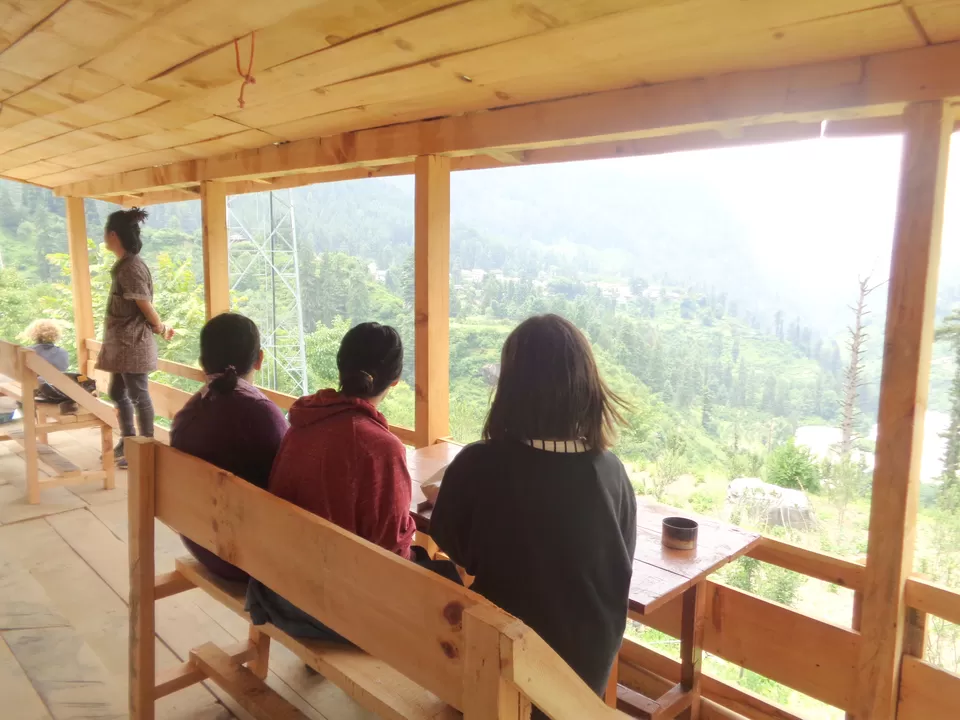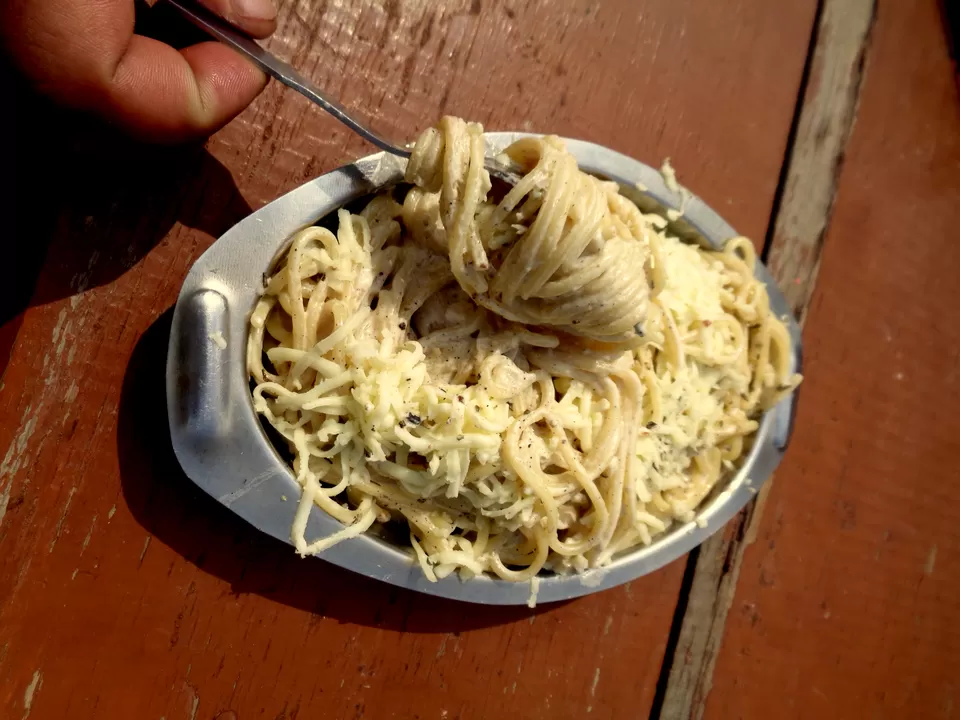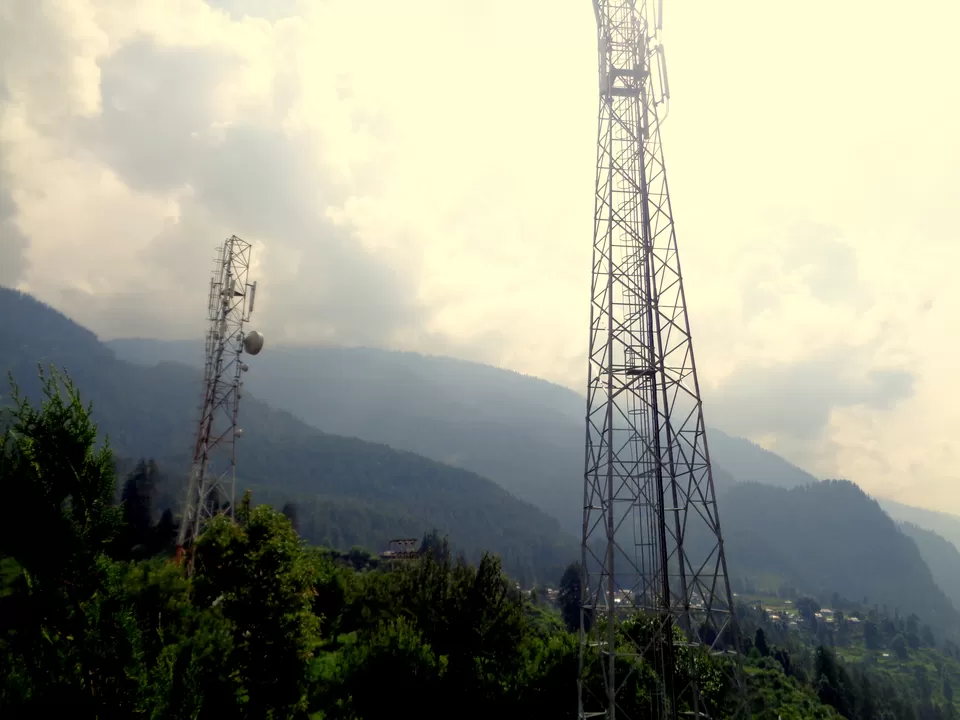 After spending some time here, we headed back to Jari. We again took a halt at Kasol and roamed around. Honestly, I loved Tosh more than Kasol and this changed my perception about Kasol. When we reached Jari, first we took shower as we all were tired and then we decided what to do next. We went to visit apple gardens nearby. There were apple orchards.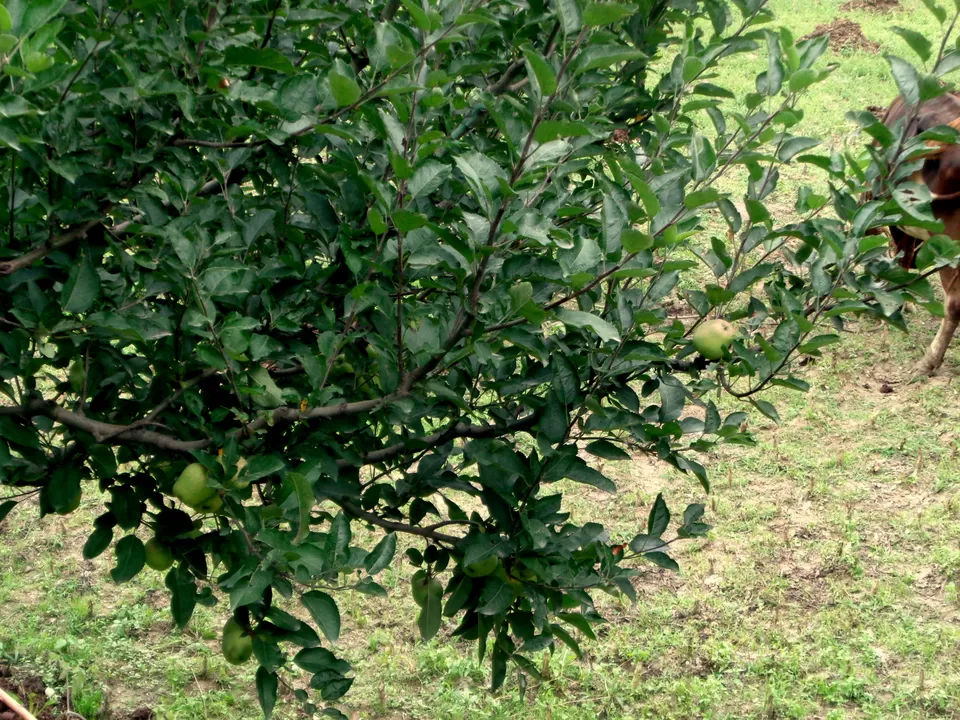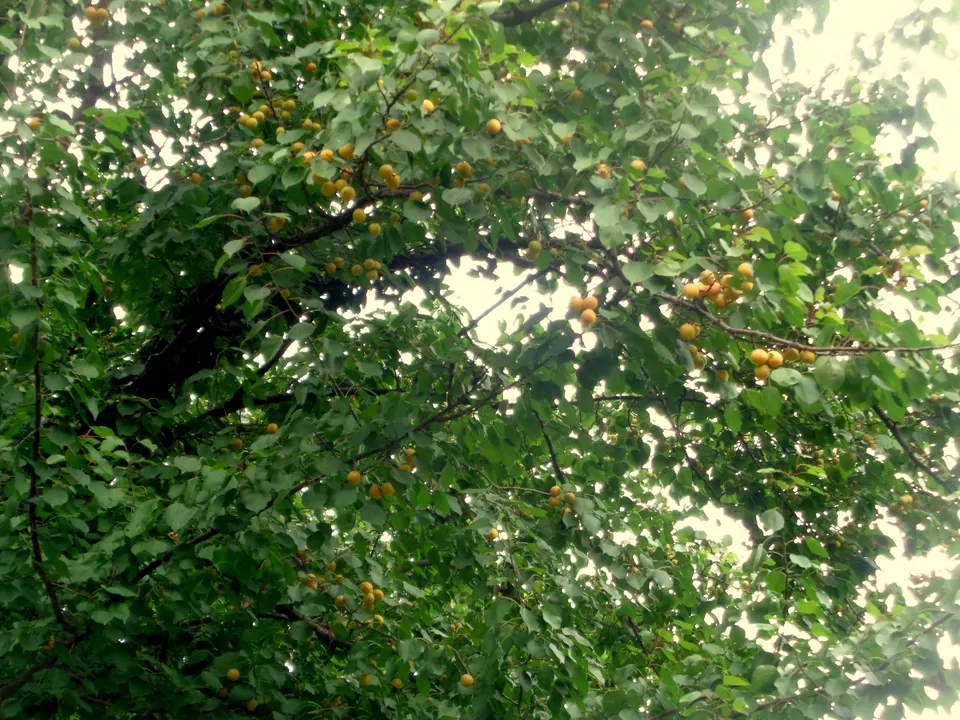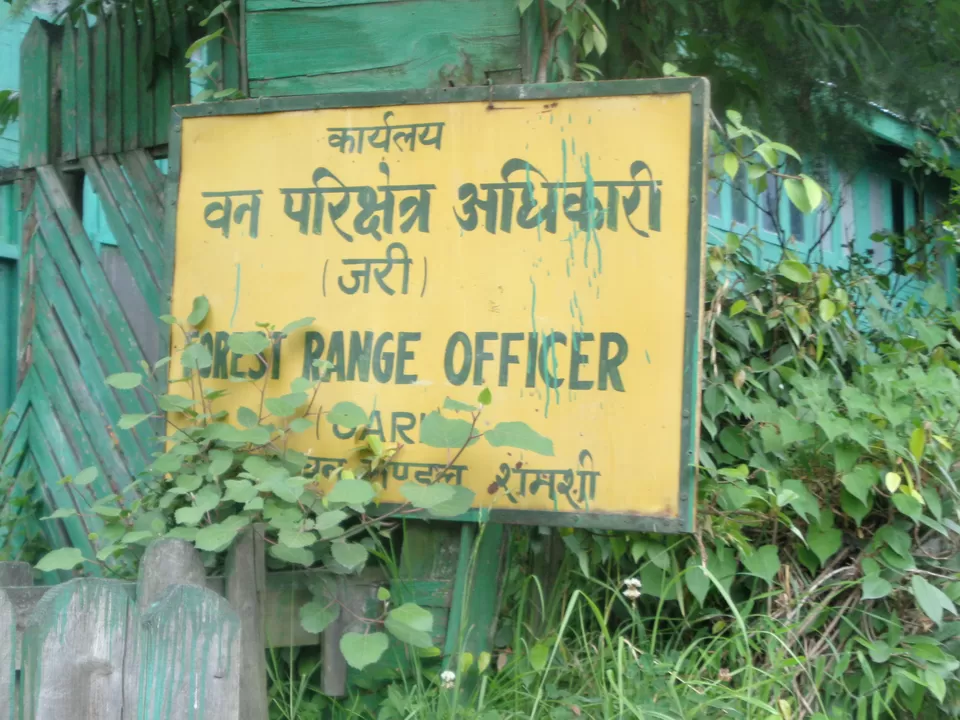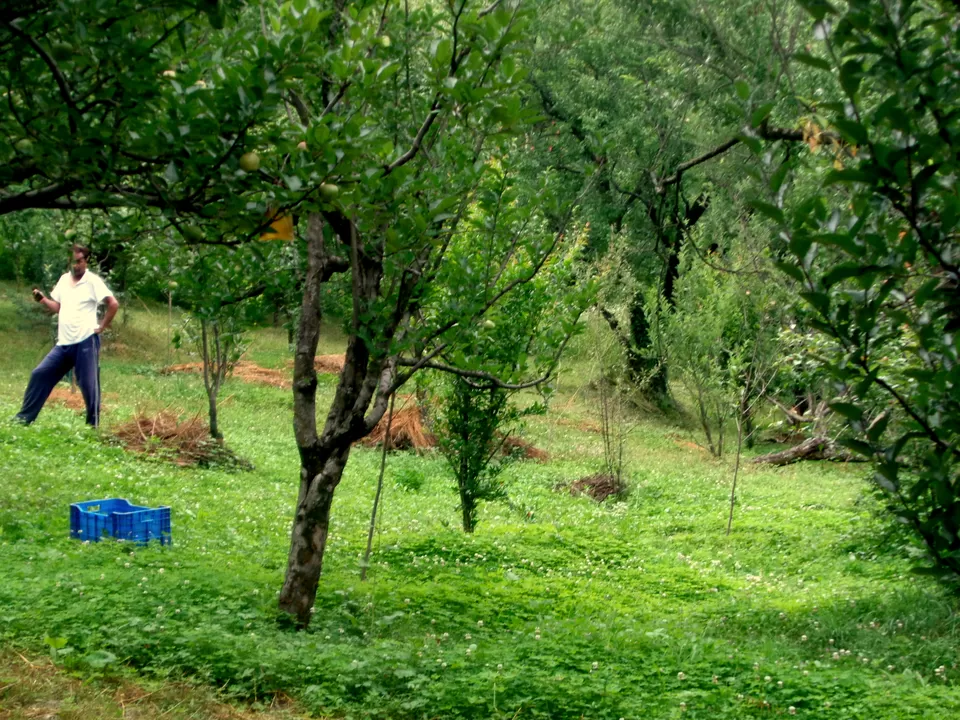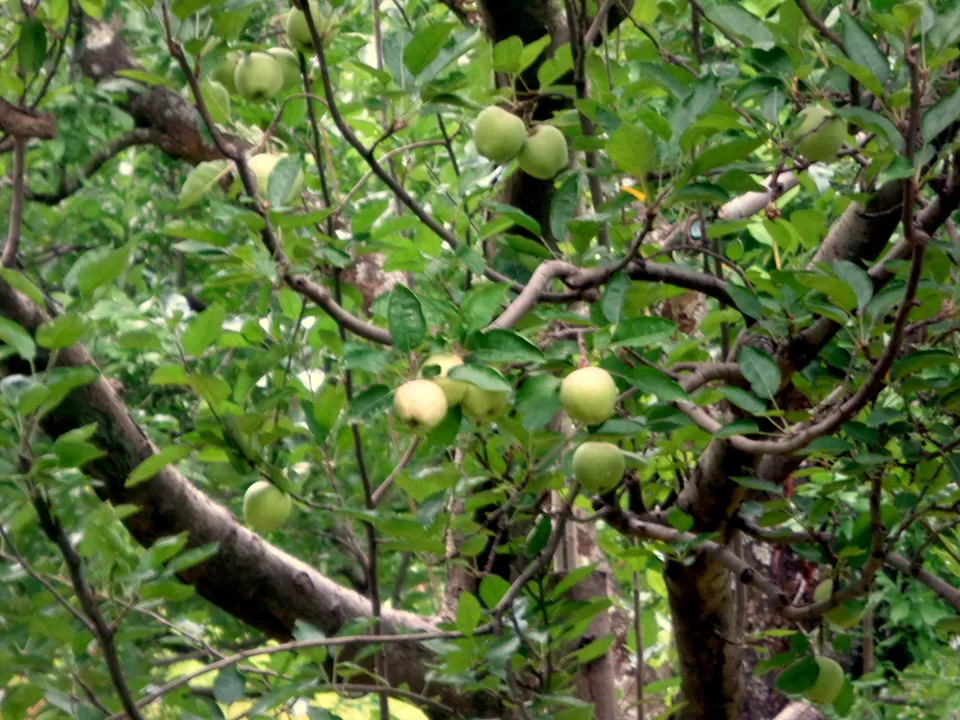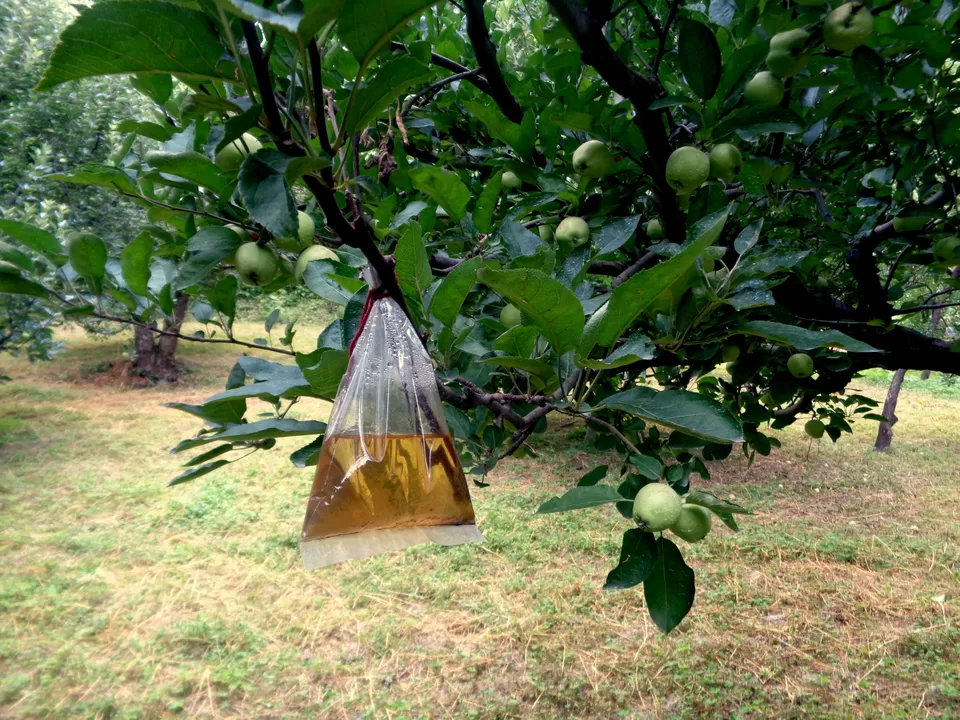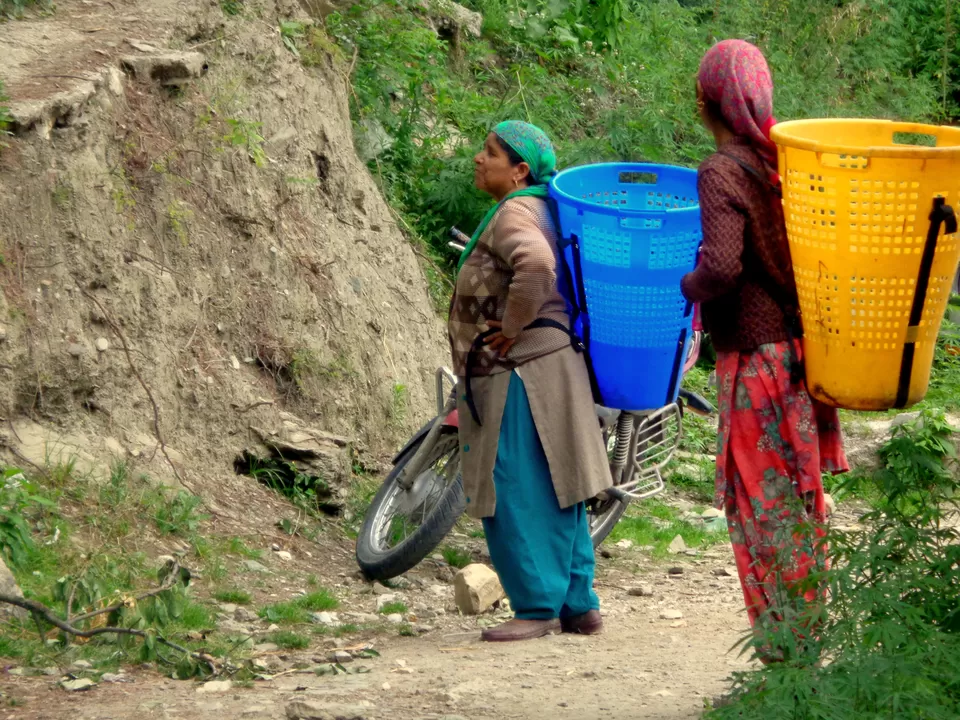 We tasted raw, unripened apples. We spent good time there. This place was literally beautiful. Green lush and sweet sound of the birds, surrounded by hills. Then we roamed around without knowing we were heading. We were on the hill and there came a place which was plan, so we stopped there and took rest.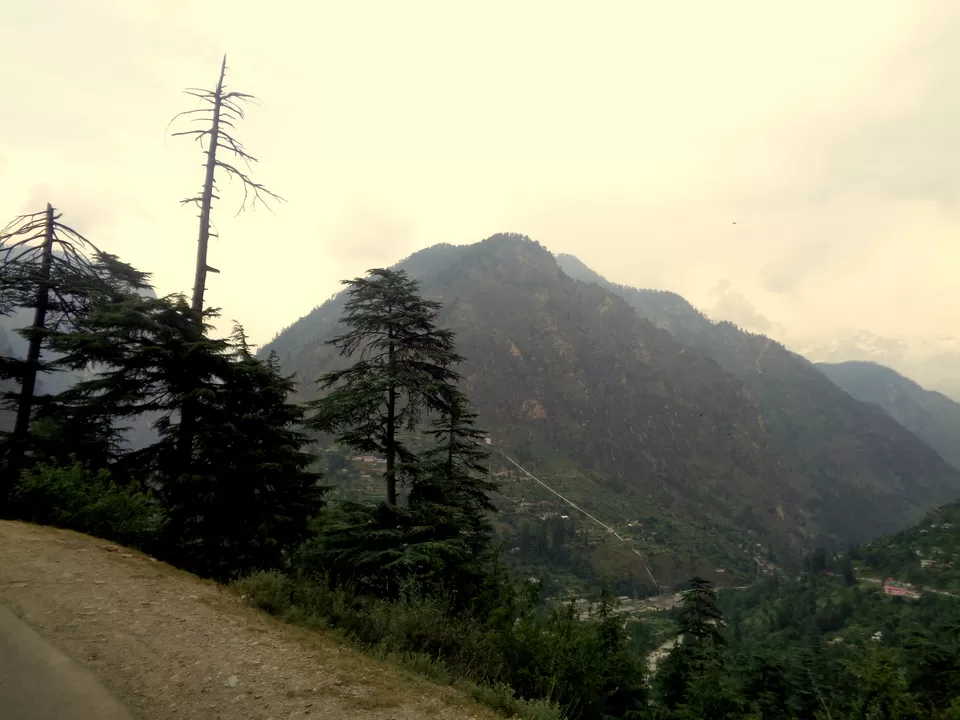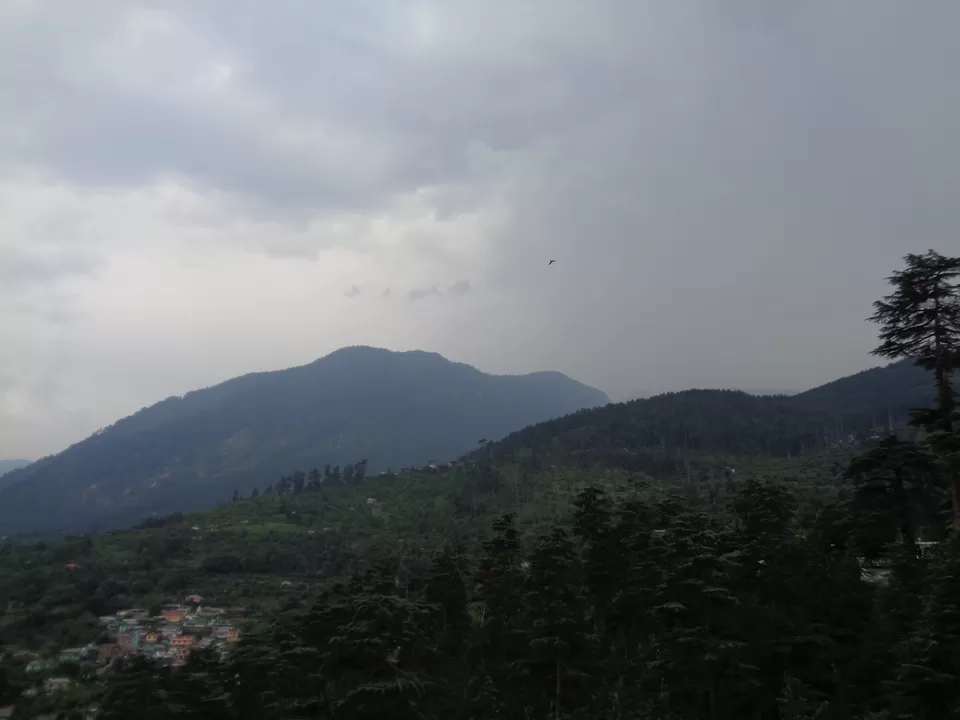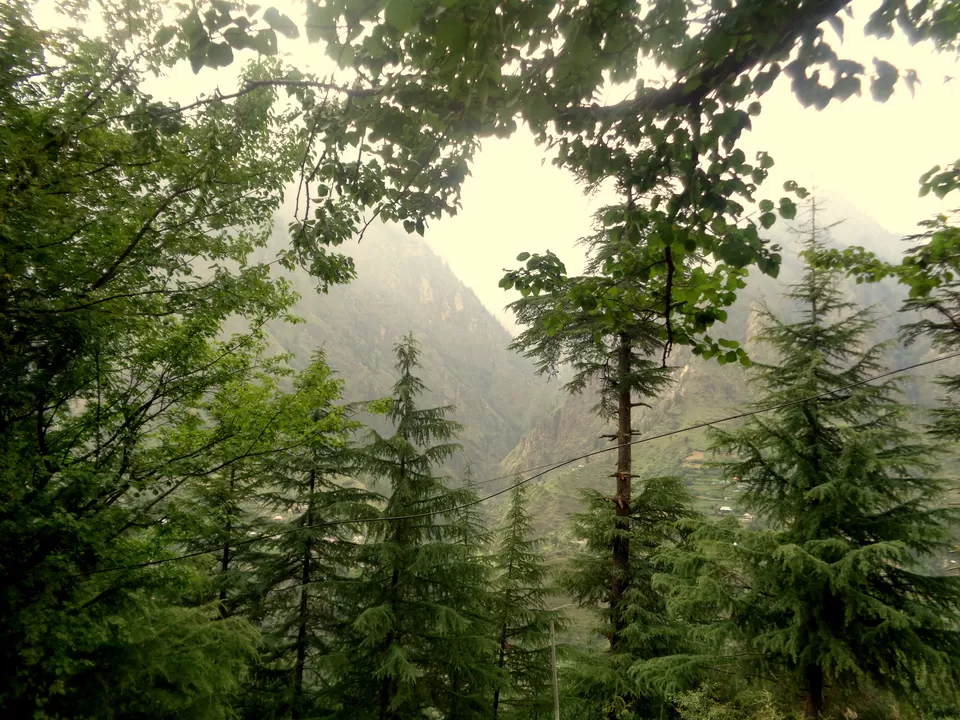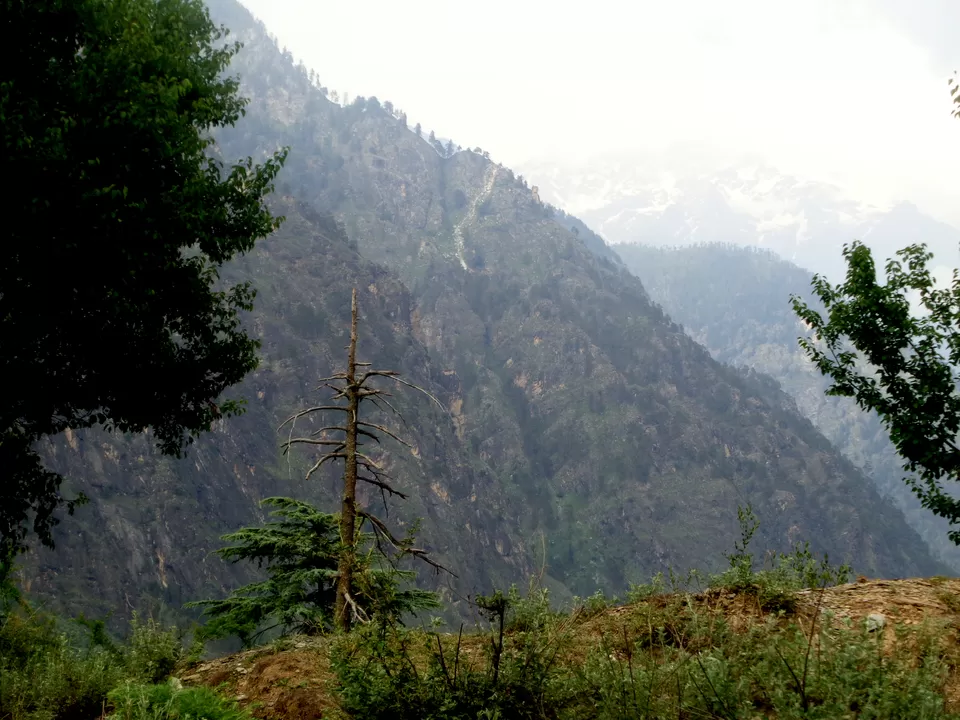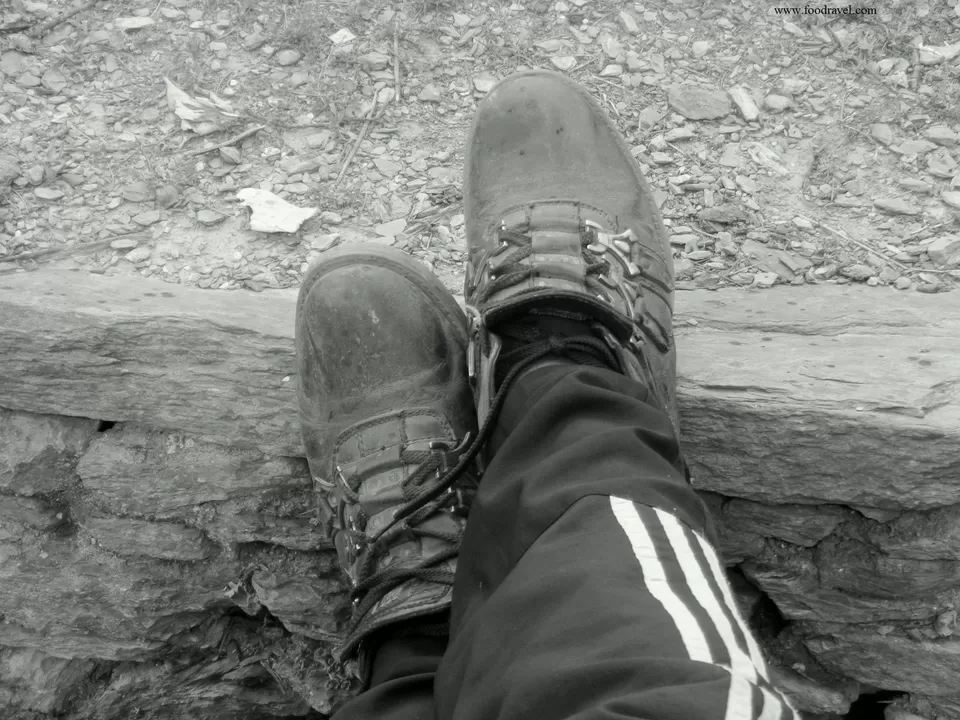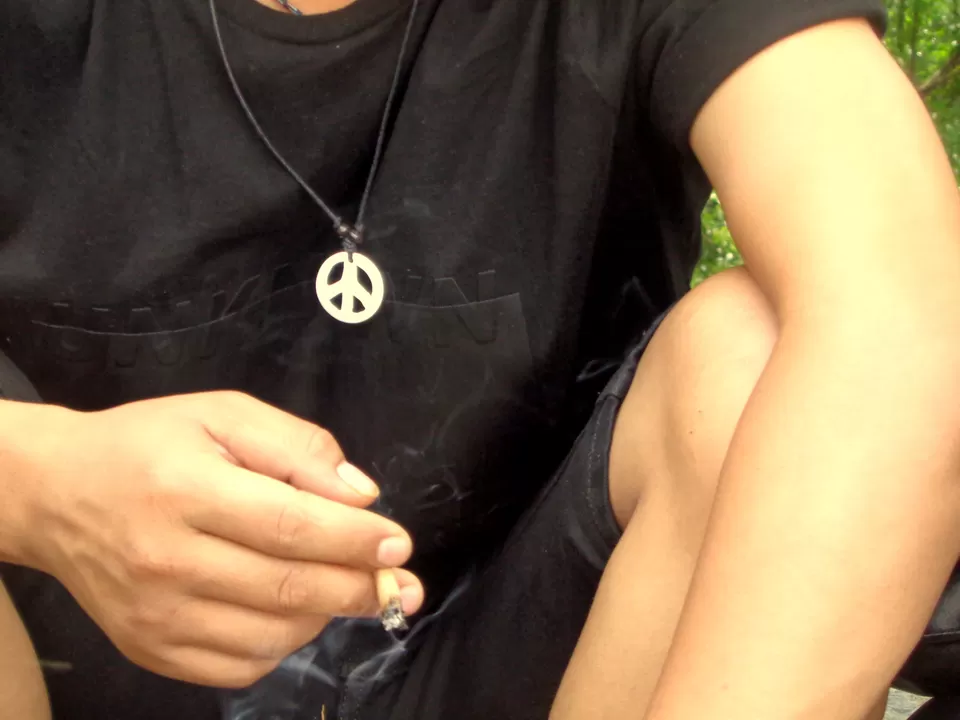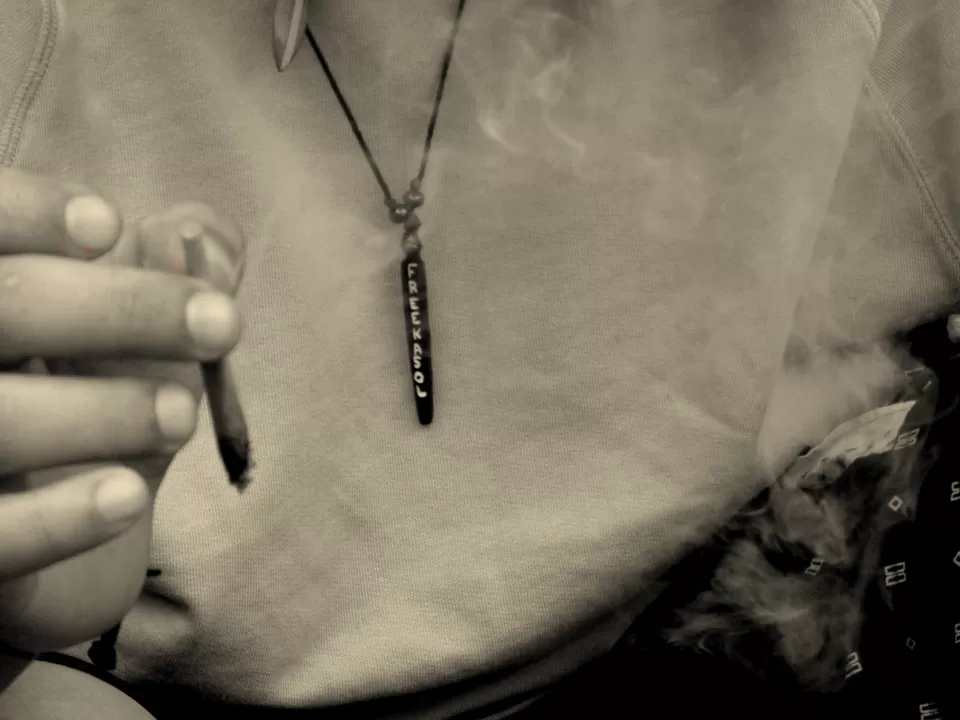 We came back to the home stay. On the way, we enjoyed plums, plucked from the trees grown by the road side. We were once stopped by a local lady and asked us not to do so. And then she offered some plums from her home.
We reached to our place. I and Shalini had to leave. They all stayed there. They even insisted us to stay more but we were out of time. We had a our bus in the evening. Thus, we packed our bags. The time came and we left. The home-stay owner was such a nice person. He got our tickets booked and arranged a cab. We shared some good moments all together and didn't feel like leaving but we had to. Alex, Hies, Awa and Bhawani wished us good bye and we left. We reached our pick up point. There was still some time left. Thus, we sat in a ship and Shalini had a cup of tea (I don't even take tea). The time came and we left. The next day, when I opened my eyes, we were near Panipat. I told her that I would get down there and would go my home, though I had ticket till New Delhi. I got down at Panipat... The journey is among my favorite ones as it was my first time visit to Kasol and Tosh and though I was in group, I enjoyed a lot.
The interesting thing about this trip was, I had left alone from home. I reached IBST Kashmiri Gate and met Shalini. We reached Majnu Ka Tilla and met Hies and Alex, so we were four and when we reached Jari, we met Bhawani and Awa and we were six.