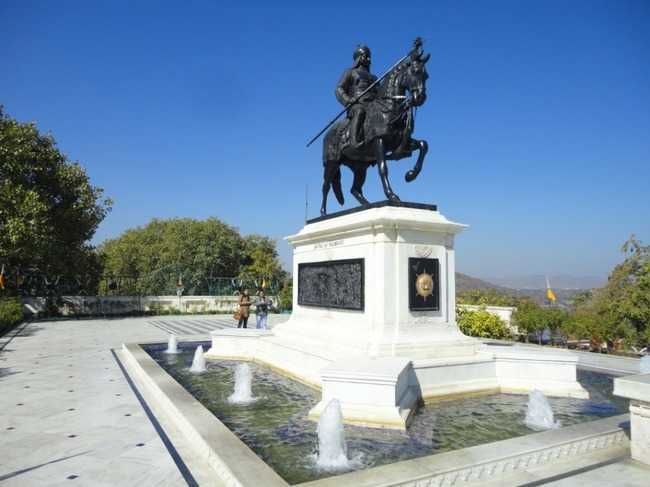 In order to continue my endeavor of Solo Trip, I travelled to Udaipur this time on my Pulsar 200NS.
I had planned this trip just a day before the traveling day so i didn't even search over the Internet about the place. All I knew was, "it's a beautiful city having few lakes and a wedding dream destination for some of the people."
Udaipur is some 700kms from Noida so I decided to leave early morning by 6am so that I can reach there the same day.
Day 1: Beginning of the Trip
I woke up at around 5:30AM and left for the Solo Journey of 700kms at 6:30AM. It was a cold morning with heavy Fog all around, almost zero visibility so I rode slowly towards DND, took a halt there and waited for the Fog to get clear.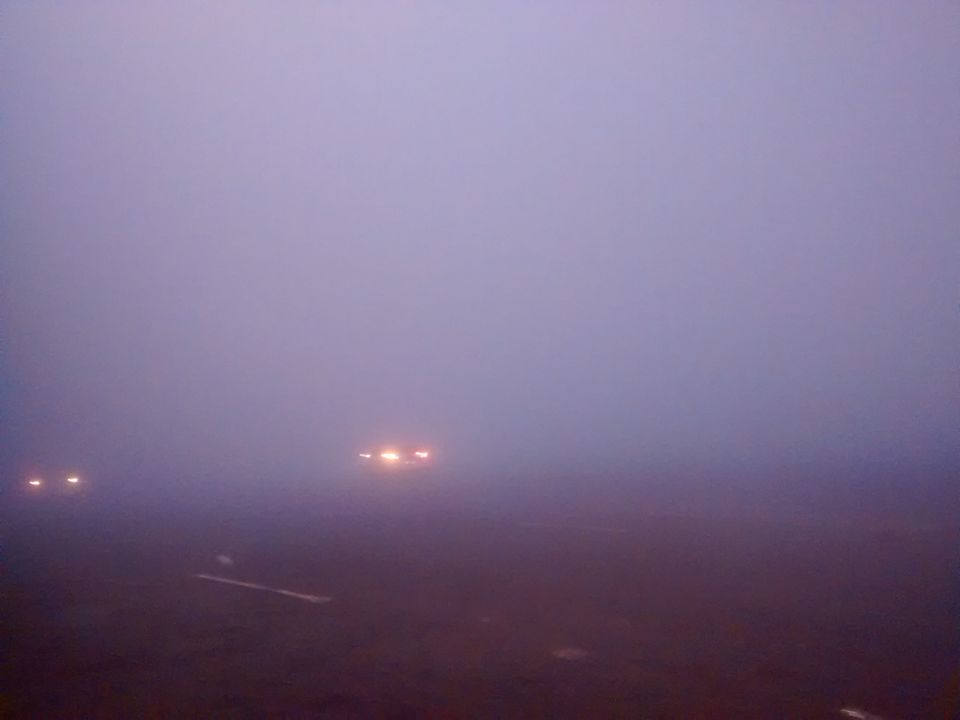 I took the MG Marg leading to NH8, now I had to remain on NH8 all the time. Udaipur lies on the Golden Quadrilateral (Delhi-Mumbai-Chennai-Kolkata-Delhi) so it is very well connected via road. After riding some 50kms in Fog, I took my first tea of the journey at some dhaba. At around 10.30 I reached Neemrana, and I decided to visit Neemrana Fort. That's the beauty of the SOLO Trip, you can stop wherever you want to, nobody is going to argue. Upon reaching I got to know you cannot see the fort from inside until you had a booking. It's a Fort-cum-resort. Some years ago 2-3 people had bought the fort from the then king, they renovated it and converted it into a heritage resort, one local told me. He suggested me to visit Bavdi (well) nearby. It was 10 floor deep, I had seen such kind of well for the first time. Even one can go that deep down via stairs.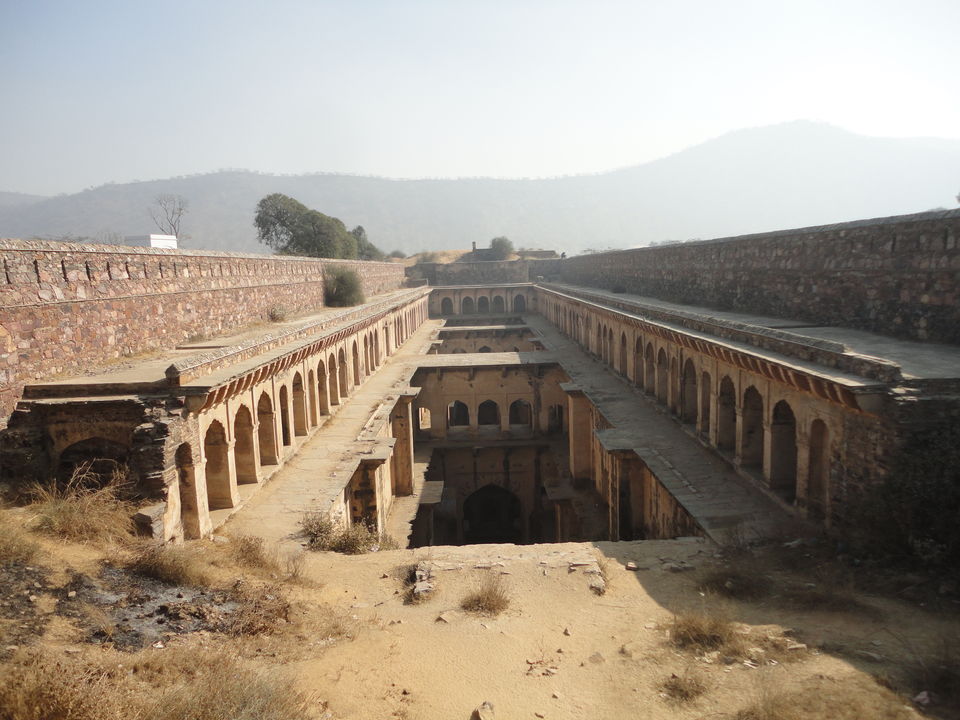 I picked the NH8 again and bypassed Jaipur at around 2pm. Road was superb all along, it was going straight and straight, cutting through the Aravalli Hills and there I was on my machine. 90km/hr, speedometer was saying.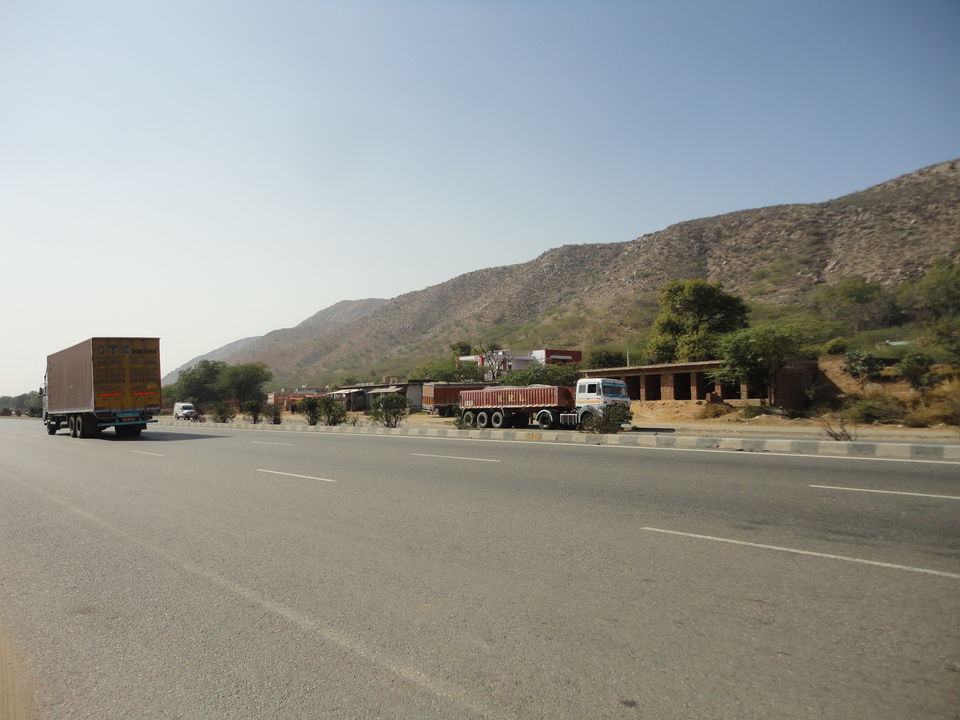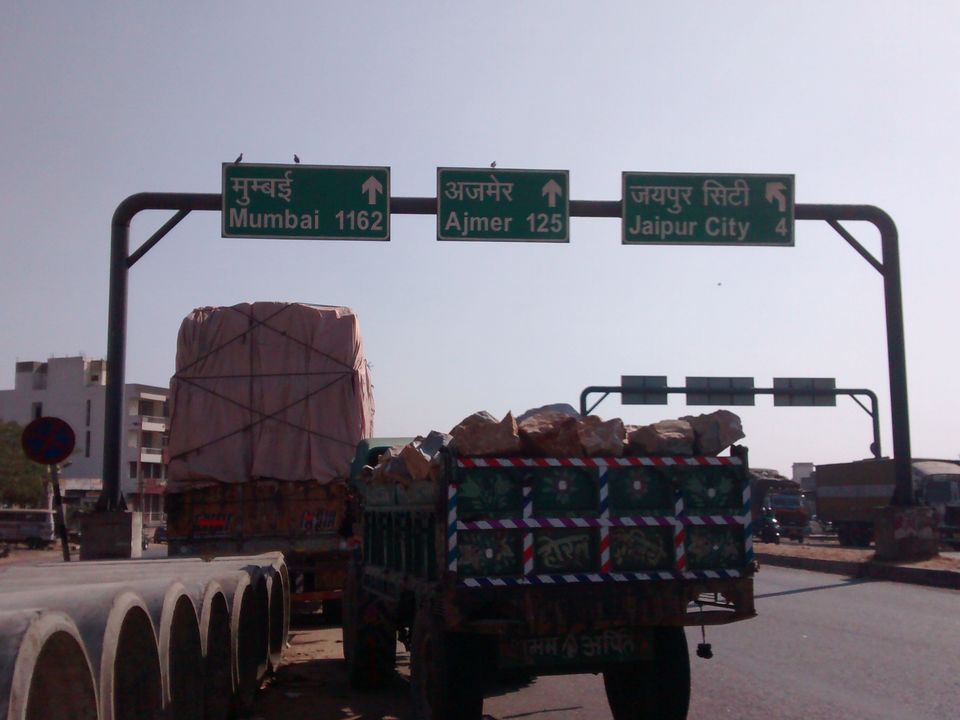 I took my lunch at Ajmer bypass. At Beawar, one road leads to Udaipur via Chittorgarh and other via Nathdwara. One truck driver suggested me to take the straight road via Nathdwara since it was the shortest route. Road was awesome throughout. At around 8pm I reached Nathdwara now it was getting dark so I picked up the pace and reached Udaipur after 2 hours. I took one room in a hotel at the outer city and got slept instantly. It had been a 15hrs continuous journey of 700Kms (phewww)
Day 2: Local Sightseeing
Since I didn't know anything about the place so I asked the hotel owner for the tourists spots. He was very gentle. He made a list of places on a paper and numbered them so I could follow it like a map. All places are within 5-6kms. I first visited Saheliyon ki Bari (Bari means garden). A beautiful lush green garden with Lotus pool and elephant fountains at the centre. It was built by the then King for his Queen.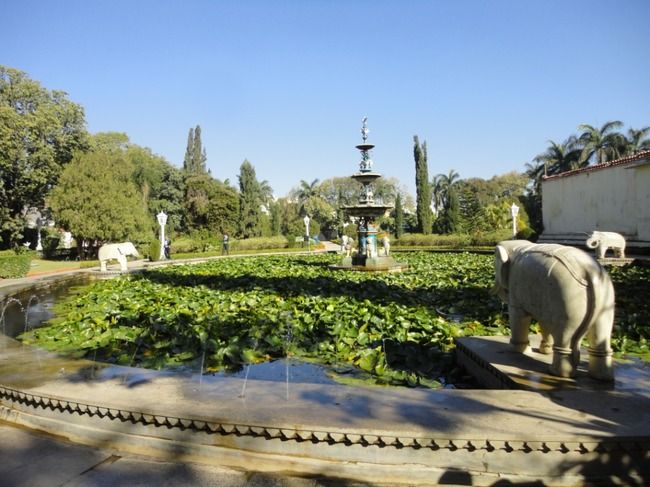 Then I headed for the Fateh sagar Lake. Surrounded by the Aravalli hills from the 3 sides, the lake span over a few kilometers.In between the lake is the Nehru Garden, a boat can take you there. One Solar Observatory was there on the lake like an island. I talked to one police man, how can I visit there. He replied with no one can visit that place but the officials. He was amazed to know that I came from Delhi all along on a bike and Alone :) The feeling that arise when people get amazed with your doings tells you that you are doing something different.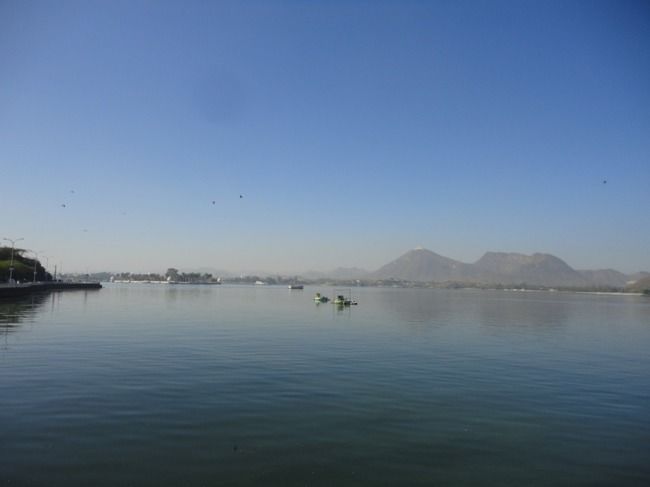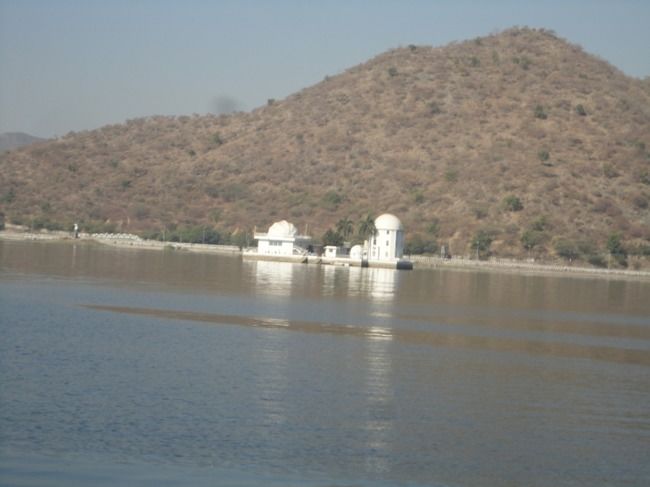 Then I headed to Moti-Magri or Pearl Hill. Atop the hill was the memorial of Rajput hero Mahrarana Pratap on his Chetak. The hero who fought fiercely with the Mughal army. One Museum was also there, which has the history of Mewar kingdom (kumbha Mahal, Chittorgarh fort, Haldi ghati battlefield) The guide in the Museum was telling about the war strategies of that fight. Kumbhalgarh Fort, haldi ghati battlefield was few kilometers from there. Then I started realizing I was traversing the Mewar kingdom path, I got more excited. The place has statue of other unsung war heroes who fought alongside with Maharana Pratap. One of them was Jhala Maan who lost his life during the war to save the life of Maharana Pratap. The guide also told about the history of Udaipur, how it became the capital of Mewar when Mughals demolished the Chittorgarh fort. How Maharaja Udai Singh founded the city Udaipur after being moved from Kumbhalgarh fort. "Its only the Mewar Kingdom that Mughals had never been able to capture", guide was telling with proud. A sudden chill rushed through my body after hearing this. When I had left from Noida I had not expected that this trip will become a trip to mewar history. Truly, an unplanned trip taught me some lessons of history.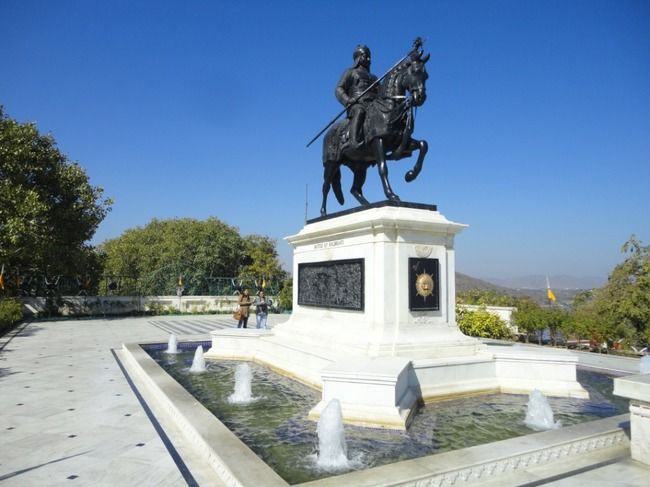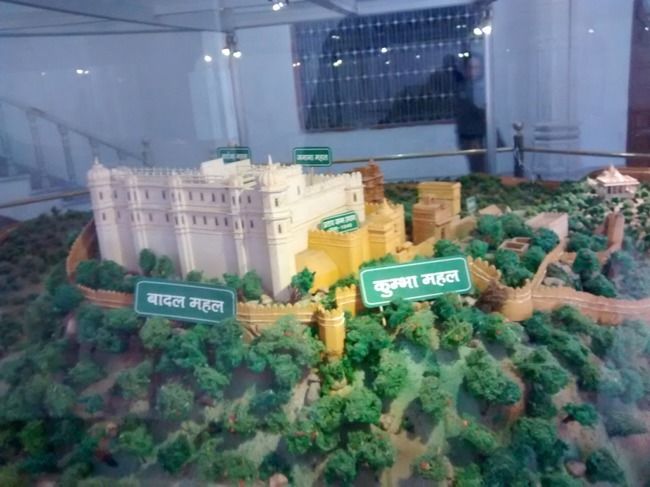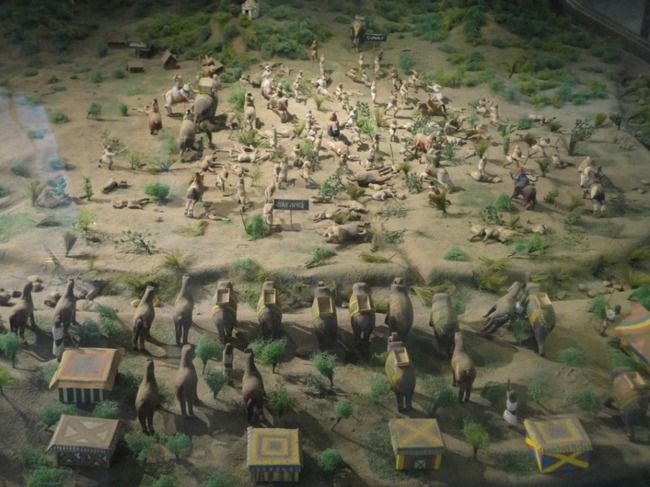 After knowing the brief history of Mewar kings and battle of haldi ghati, I head for the Biological park & Sajjangarh Fort (monsoon palace). It was around 1pm and the sun was setting high. It was winter but one can feel the heat like of summer. Biological park was built along the hill so its a uphill trek, there was battery rickshaws also but I opted to walk instead. Its a unique park having various animals like Leopard, Ostrich and even Lion too. The road beside to the park lead to Sajjangarh fort located at the hill top (altitude-950m). It was a mountainous road encircling around the hill. The view from the top was breath-taking. A landmass with two lakes and white houses all around. Whole Udaipur was easily visible from the front side of fort. While on the other side small Aravalli hills were spreaded, looked like the pile of sand. The fort was built by the Sajjan Singh to watch for the monsoon clouds. Some portrays in the fort was telling about the geography of Udaipur and artificial lakes surrounding it. Aravalli Hills ran all through from Delhi to Mt.Abu, the western side of Aravalli is sandy which merged into Thar desert while the eastern side is green with vegetation and Udaipur, Mt. Abu is in this side.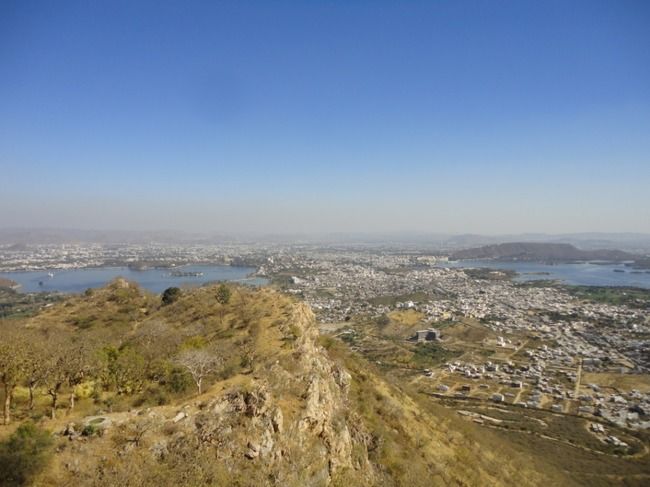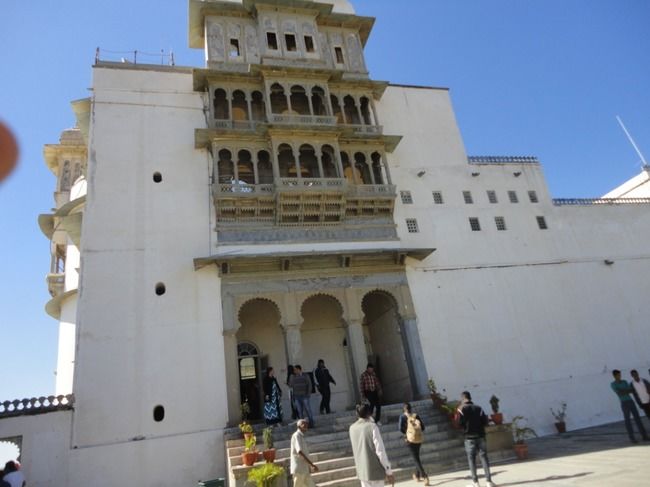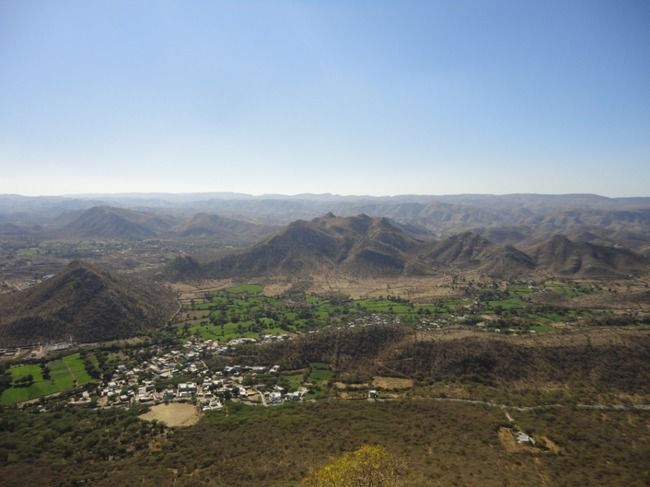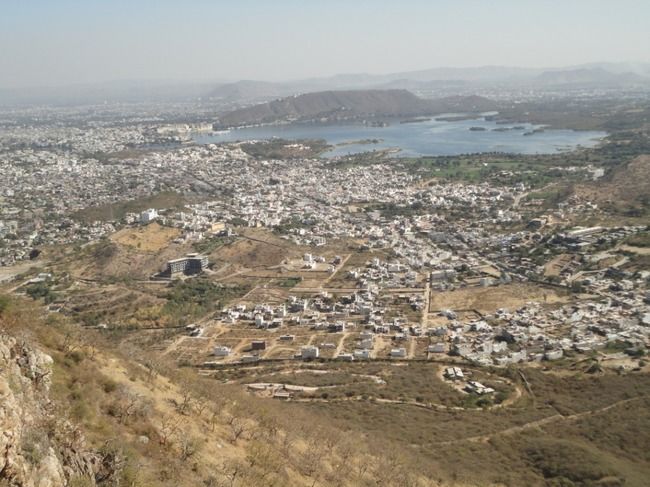 After done with few sightseeing, I thought of going to Mt. Abu too. Upon inquired with one local I got to know it is some 150kms from Udaipur and one can easily reach within 2.5hrs. Since I didn't had any plan earlier so I made a quick plan then. 'Evening in Mt. abu, stay there, sightseeing in next morning, by noon leave for Udaipur and do rest sightseeing around Pichola lake, stay there, leave for home in next morning'.
It was around 4pm when I left for Mt. abu. I was on the highway again speeding with 90km/hr. Roads were empty all along, it looked like I was the only one travelling on that route. To my surprise I passed through two tunnels in between. At some places there was mountain on the both sides and the road was going through in between. After covering some 120kms one signboard telling to turn right for Mt. abu road came. The road is single lane from there onwards. A 25km long hilly road reminded me of the hilly roads of Himalayas. At around 6.15pm I reached Mt. abu, within 2.25hrs I covered 160kms.
Before entering you had to pay some nagar nigam tax. Then a man came to me for a good hotel room at 600INR. I accepted the offer and went with him in his hotel. After putting my bags I left for venturing into the city. The place reminded me of the Nainital in Uttarakhand, having lake as the major attraction, boating in the lake, market near the lake, playground, full of tourists etc. Mt. abu is the only hill station in Rajasthan that's why it is the major attraction to the nearby people. After having my dinner I went for bike riding alongside the lake, it was very soothing. Upon inquired with the local about the place I got to know the famous Dilwara Temple is here in Mt. abu. I somehow had forgotten the Geography book that I read in school, which taught us about this Jain Temple famous for its architectural perfection. I got excited for the next morning. It was a good sudden decision to come to Mt. abu, I was thinking.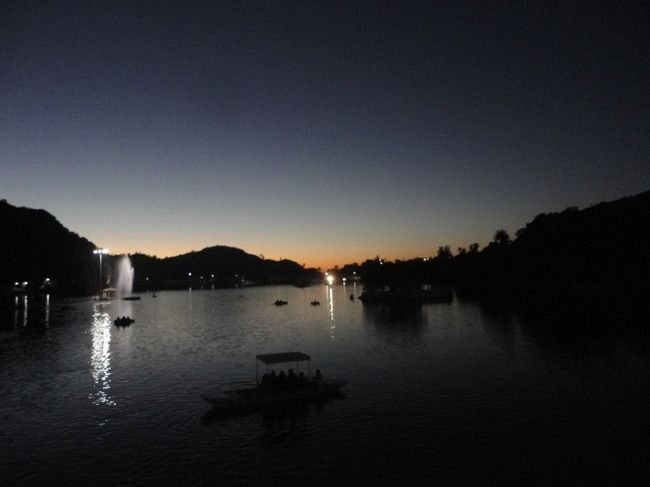 Day 3: Dilwara Temple and other sightseeing
It was a lazy morning, I got up at around 9am and in an hour I left for the day's sightseeing. Upon reaching the temple I got to know it would open for non-Jains after 11am. One security guard there asked me from where I came from. He was surprised to know that I came on bike from Delhi. He then started telling his tale how he went to Vaishno devi on his motorbike once. That's the beauty of the bike trip, people connect with you easily.
It was around 10am so instead of waiting I directly went to the Guru Shikhar, the highest point in Mt. abu and aravalli itself (Altitude:1700m). Age old temples were there atop, inside the rocks, like caves. It is a perfect place for the panoramic view of the green Aravalli range.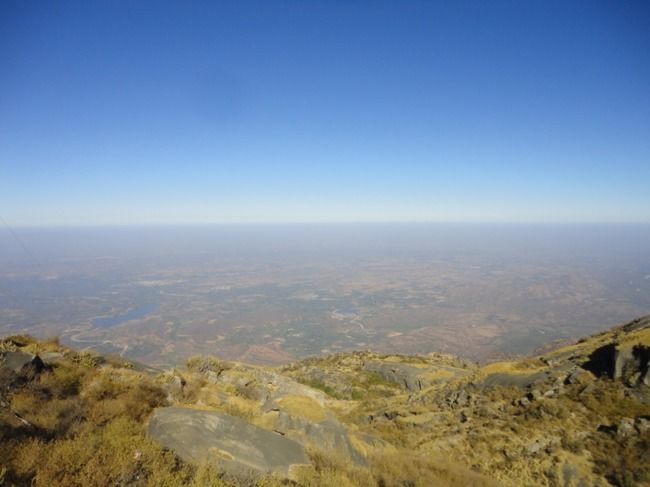 On returning I then went to Achalgarh famous for Shiva temple or Achleshwar. The pujaari there told the temple has the foot impression of Shiva himself. It has natural Shivalinga. There was also a pit in the inner sanctum of temple which is said to go to the underworld. Some idols were also there which are made of some different material. It was looking opaque but when pujaari ji brought candle behind the idol, it was sparkling like a crystal. Awe-inspiring and unbelievable it was. Even far away from the Himalayas one can witness the God impression. Incredible India.
The last stop on the route was the Dilwara Temple. Known for its extraordinary architecture and stone carvings, this temple was built a thousand year ago. Camera, mobile were not allowed to carry inside. The temple looked like a basic from the outside but as I entered I was mesmerized to see the detailed carvings on the walls, pillars, domes, stairs everywhere. It was unimaginable, how such a fine art of carving is possible in those days. It was superior to the Taj Mahal, according to me. The carvings were so detailed and fine that you look at them for hours by thinking how one can make it. They were phenomenal, even one can easily observe the ornaments the God/Goddess wearing in the cravings. There are 5 temples inside dedicated to Jain saints and all have different kind of carvings. Its a must have place to visit. It took me more than 2 hours to cover the whole temple.
At around 1.30pm I started headed back to Udaipur. The breath-taking stone carvings of Dilwara temple were clicking on my mind all along the way. After a ride of 1.5hrs, I came across a board saying Haldi ghati on the left. Since it was some 30kms off-route so instantly I decided to visit haldi ghati battlefield too. Kumbhalgarh fort was also on that route but it was far away from there and also most forts closed after 5pm so I restricted myself to Haldi ghati only.
After passing through some villages and bad patches of road I finally came across another board 'Maharana Pratap Museum some km away'. Now suddenly good road came after the board. I was getting more excited with every kilometer as I was going to that place where the historical Haldi Ghati war happened. A sudden chill rushed through my body.
Maharana Pratap Museum is located in the haldi ghati itself. At a first glance the place was looking like a kind of fort. The uphill road leads to the top where a very similar statue of Maharana Pratap like in moti magri was placed. The museum is being built by an individual not the Govt. The museum has variuos artifacts of that time. The life of Pratap and Haldi Ghati war was clearly depicted in a movie being played in a theater. How an army of thousands fought with an army of lakhs. How Rana, Jhalamaan, Bhilu raja, Hakim khan fought viciously. How a duplicate elephant trunk was placed on the Chetak's mouth to fool the elephants of Akbar army. How Jhalamaan made himself look alike Rana Pratap and advised Pratap to get away from the battlefield as his life was way more important to the Mewar Kingdom. This was indeed the battle for freedom, battle for motherland.
On the opposite of the museum was the Chetak Samadhi. Chetak was also got wounded in that war while jumping over an elephant. Even after losing his one leg, he had successfully taken away his master from the battlefield. But after crossing a drain he collapsed. Rana and his people made the Chetak Samadhi there which is still there.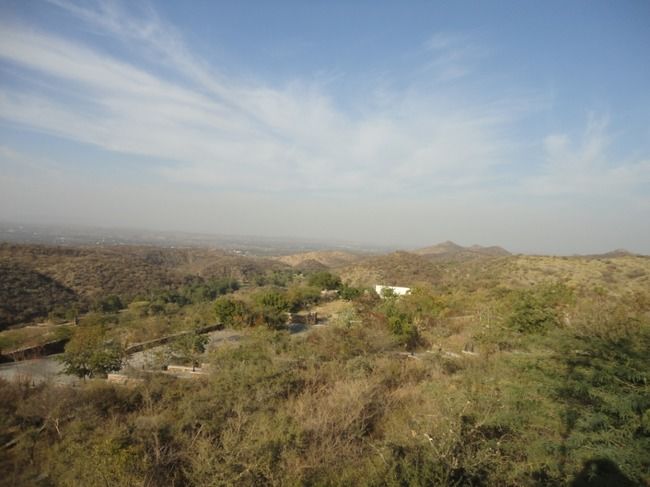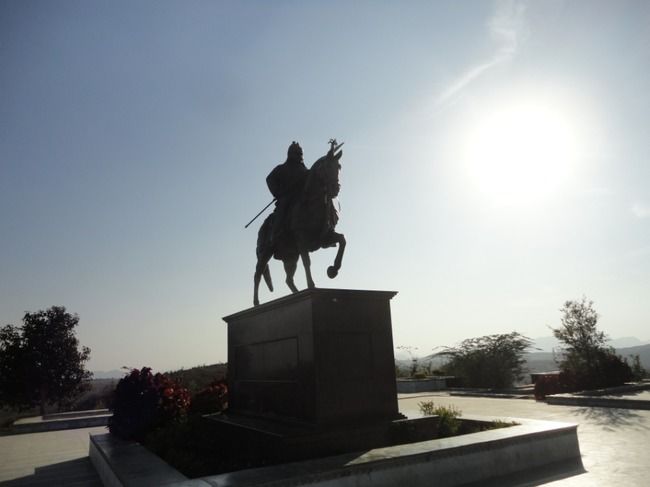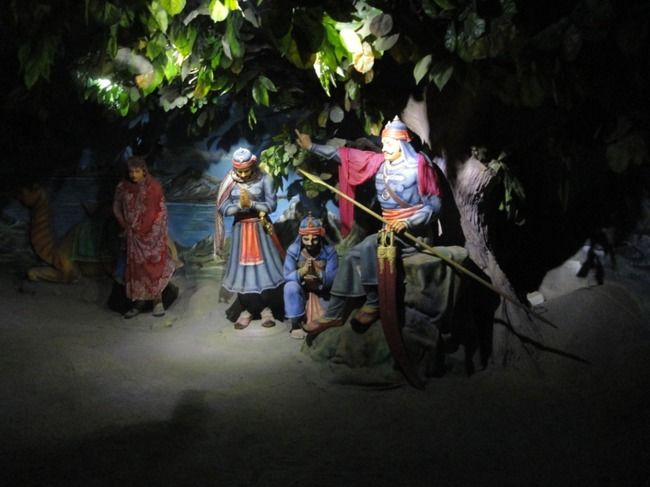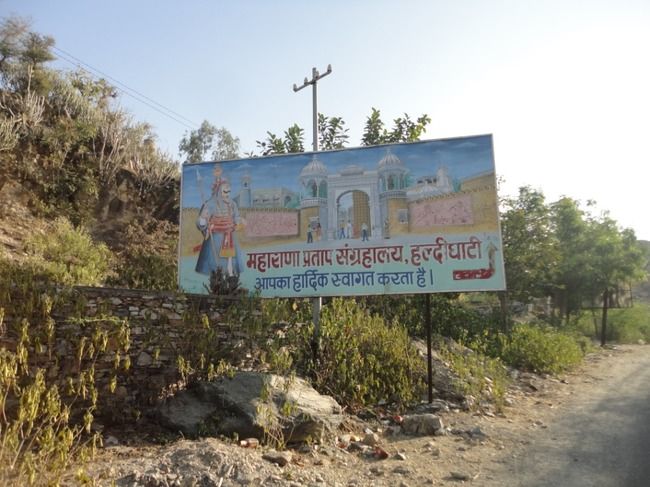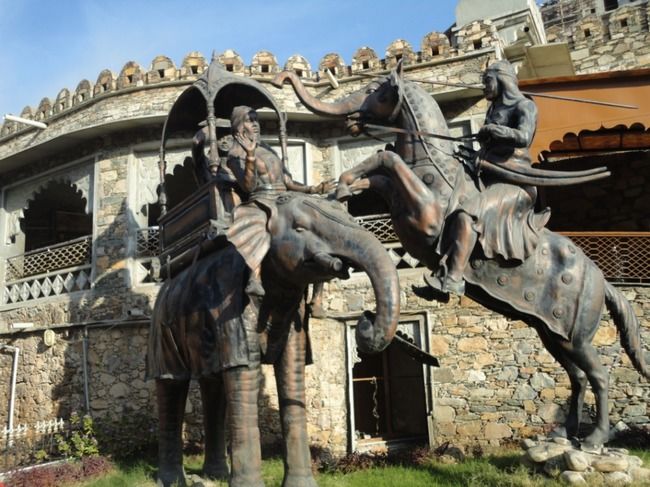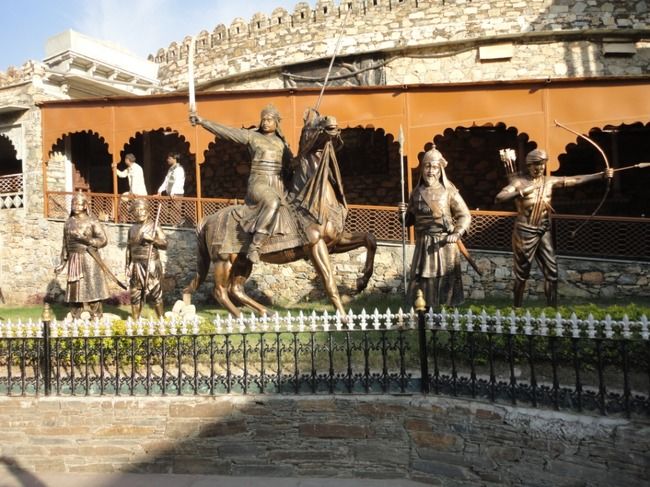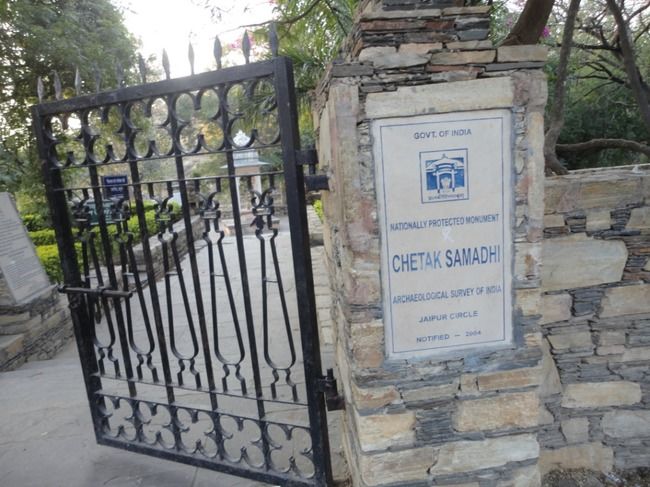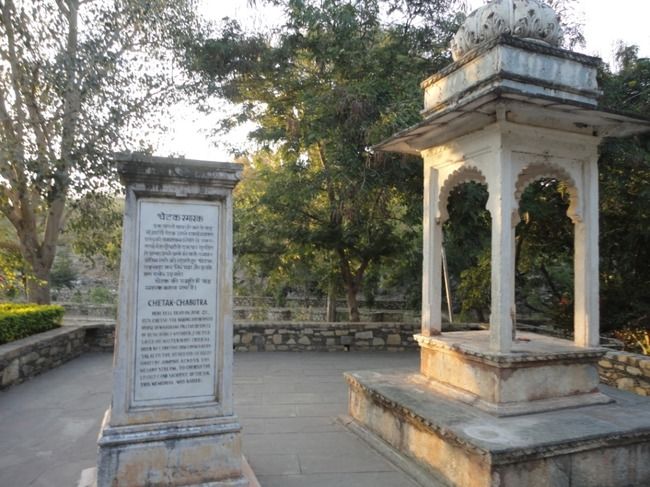 It was around 6pm and I was getting late for rest of the sight seeings. After covering some 40 more kms, I reached Udaipur city, there was rush all around the pichola lake. The place was packed with foreigners. Then I went to the Gangaur ghat. It is the same ghat where many films were shot in the past like: yeh jawani hai deewani, Ramleela, Dhamaal, Khuda gawah etc. Near to the ghat was Bagore ki Haveli, upon inquired I got to know some cultural show was going. I purchased the ticket for 8pm show just for 100 bucks. Since its already been dark so I started looking for the hotel. There were many luxurious hotels around the lake, hotel Ambrai, Taj, Udai vilas etc. Shooting of YJHD took place in Udai-vilas itself. After searching for half an hour I finally took a room for 800 in Lal Ghat guest house. The hotel is on the lake itself near the gangaur ghat. The view from the hotel was breath-taking in the night. On the opposite side of the lake was the hotel ambrai. The place near the pichola lake were all part of city palace in the past. People had captured it and made shops there, a local was telling. Near the palace is the Jagdish temple, stone carvings on the pillars is the major attraction.
At 8 pm I went for the cultural show. There was a line of tourists for entering in the Haveli. The terrace was lit with colour-ful lights. Dharohar was the name of the show. The show started with the famous Rajasthani song 'kesariya balam padharo mhaare desh'. They showed various Rajasthani folk dances like Ghoomar, Gorbandh, Bhavai etc along with a puppet show. It was good to see such dance styles like in bhavai a women was dancing with 10-11 pots on her head. That dance charged the whole crowd there and all were dancing at their place. One can easily witness the diversity in our culture through this show.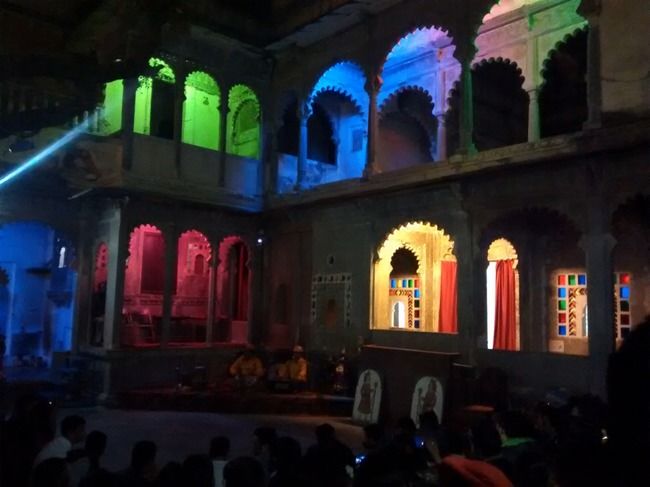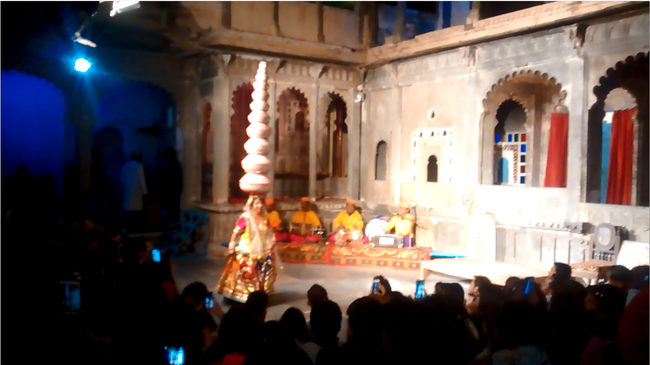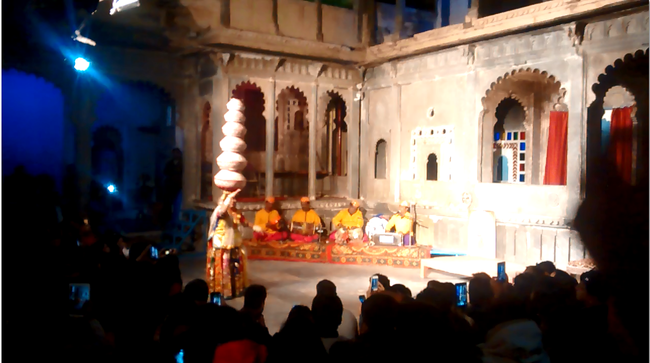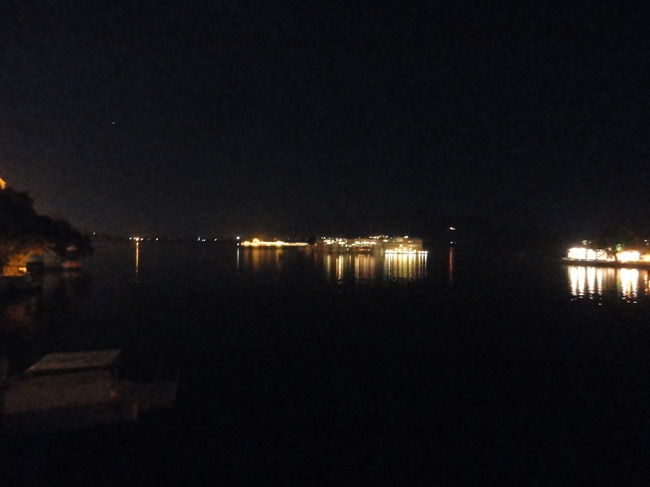 After having the dinner I got back to my hotel. The next day I had to ride to my home.
Day 4: The Return Journey
I woke at around 7am. The morning was beautiful and cherish. The view from the hotel was awesome, a picturesque very similar of Venice. Lake in between the hotels. Moon was shining like it was in a night. After having the breakfast I checked out from the hotel. Then I roamed in the city for about an hour and at 9am I left for my home. After a continuous 14hrs journey of 700kms, I reached Noida at 11pm.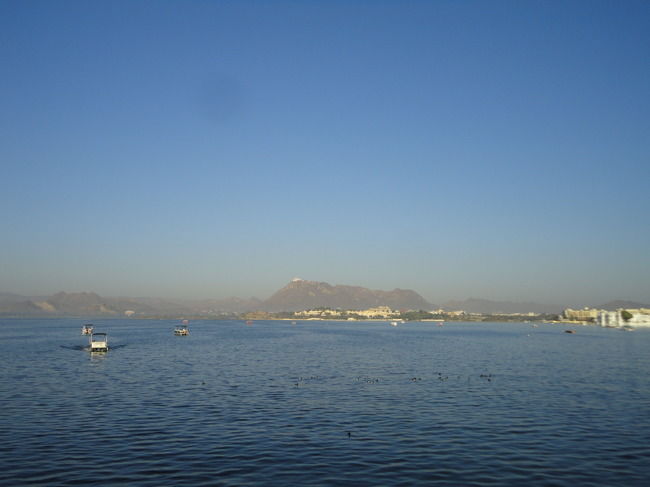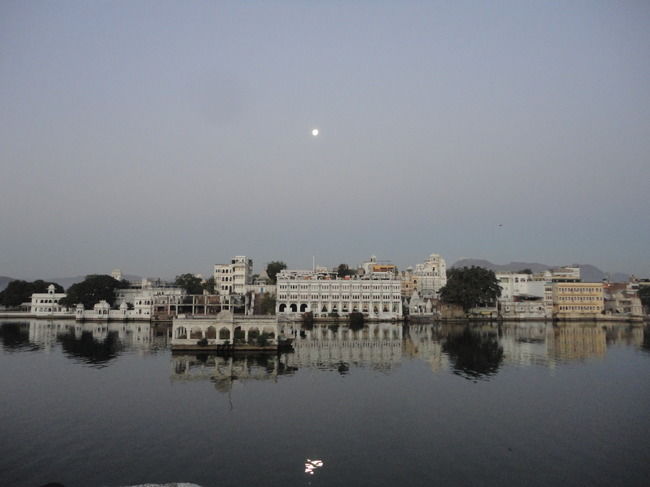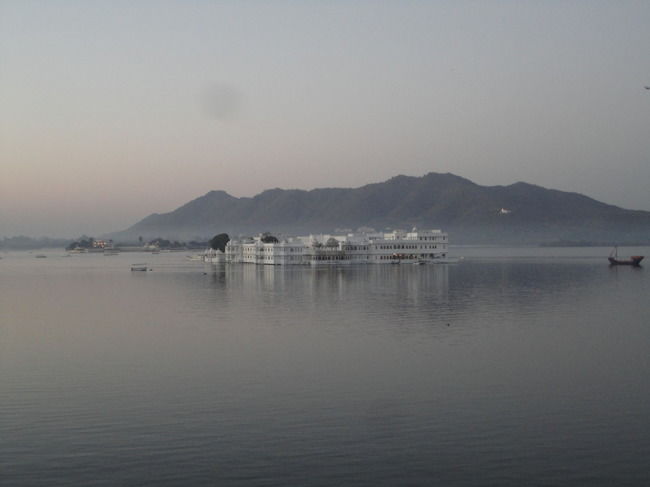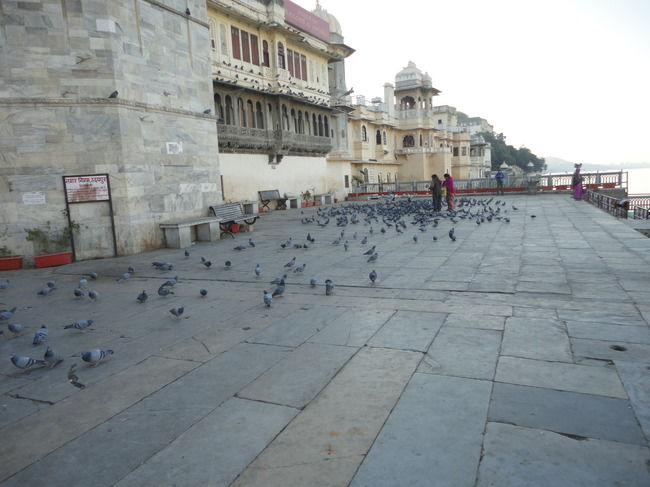 It was the unplanned solo trip of 1900kms. A trip that turned into a trip to the Mewar history, a trip to the Rajasthan culture, a trip to the Aravali itself.
'In Planned Journey you always land at a known place but in Unplanned Journey you always land at an unknown place.'
Frequent searches leading to this page:-
udaipur honeymoon package price, lake palace udaipur honeymoon package, udaipur honeymoon resorts, udaipur tour package for couple, udaipur honeymoon package price, places to visit on honeymoon bike trip to udaipur, things to do on road trip to udaipur, best hotels in udaipur dor 7 days, weekend road trip to udaipur, bike trip tips to udaipur