"Great things are done when men and mountains meet." William Blake, 1908.
Rightly said, wouldn't you agree? They never fail to mesmerize, with their blinding peaks and the mysteries that surround them. And the Himalayas, in particular. The stories you read about in countless religious texts and urban legends, you can't help but wonder if these beings and places really did exist. Who's to say that they don't, even now?
One such story is what I set out to experience in October 2014. The mystery of the Roopkund lake in the upper reaches of the Garhwal Himalayas, also popularly known as the Skeleton Lake. It is known for hundreds of mysterious skeletons which are found in and around the lake. Said to be part of an ancient army on an unscheduled pilgrimage, legend has it that they angered the weather God when they showed up unannounced. The skulls have dents, the size of golf-balls in them which are believed to be caused by hailstones resulting in instant death. At least, that's the theory. Fascinated with this story, I booked the Roopkund trek with a reputed trekking portal called IndiaHikes.
Being my first experience with the Himalayas, I was admittedly afraid, but feverishly excited. Not knowing what to expect, I trained for everything. Little did I know that nothing could prepare me for what lay ahead.
Day 1 – Bangalore to Kathgodam via Delhi:
I awoke early, to a packed bag and a hearty breakfast as I left the unassuming comfort of my bed and boarded a flight to Delhi. After spending the day with a couple of friends, I settled in for the long, overnight bus ride to Kathgodam. Eleven hours of freezing inside an overly air-conditioned bus were made worthwhile watching the light outside grow brighter as the first of the fir trees straddling the meandering road came into view. 'Round about 6AM was when we got to Kathgodam and I checked into a quaint little place called 'Relax Inn', a couple hundred meters from the railway station.
Kathgodam is the end of the rail line and thus forms the hub of all tourism, religious and adventure alike into upper Uttarakhand. It's quite a bustling town all year round.
Pro-tip: It's a good idea to book ahead as rooms close to the city centre can be hard to find and unnecessarily expensive.
I planned my trip such that I had some time before the trek began which I used to explore Nainital and the Jim Corbett National Park, just a few hours away.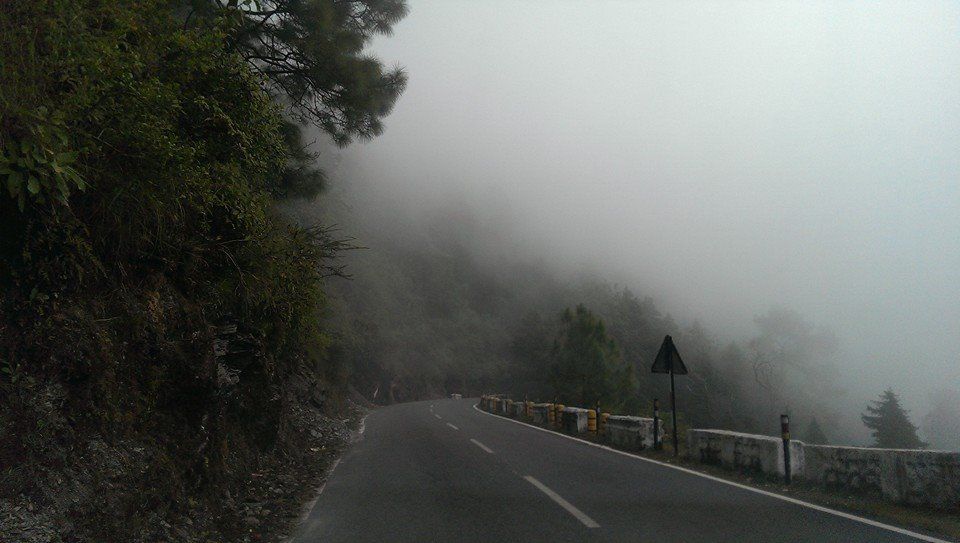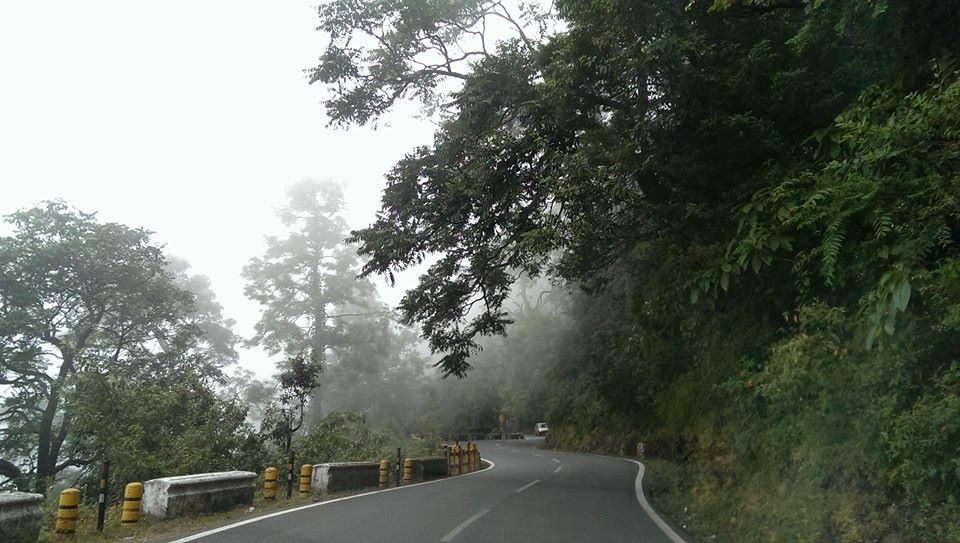 Pro-tip: Buses are fairly frequent and private transport is easily available by means of shared taxis and locals going about their daily commute. A bit of haggling will take you around without spending a lot.
Day 2 – Kathgodam to Lohajung:
Fast forward 48 hours, and my bags are packed again. I find myself waiting downstairs for the arranged pickup. It's another long day of traveling and I'm eager to meet the rest of the trek group, two of whom turn out to be from Bangalore. Lohajung is situated at 7,700 feet and is about 10 hours away by road. The first couple of hours have plenty of rest stops and restaurants, so you should fuel up for the day. We stopped at this place which had a glorious sunrise over a misty valley shrouding the peaks beyond.
Pro-tip: Avoid over-eating and your stomach will thank you every step of the way through countless twists and s-bends.
Staring out my ever-frosted window, I spotted evergreen pastures, naturally manicured trees and a couple of mountain goats. The sun outside grew progressively powerless against the biting cold as we climbed higher with each passing turn. As we stopped at the last village to pick up supplies, we made friends with a local who politely asked for a lift to Lohajung. The last hour of the journey was especially breathtaking as it started to drizzle as we approached Lohajung and the roads turned from tar to gravel. The man we picked up, took out a ball of 'kala sona' as he called it and mixed it into a cigarette, a drag of which made the most auspicious start to our journey. And as I stepped off the vehicle, I saw snow on a mountain for the first time in the guise of Mt. Trishul glowing as it reflected the setting sun in the distance. There are few more powerful visuals than the sight of your first Himalayan mountain and I was left spellbound. We were welcomed warmly into the Indiahikes base-camp and we registered for the trek. With the fading light, we checked in to our rooms and crawled into two layers of blankets as we retired for the night.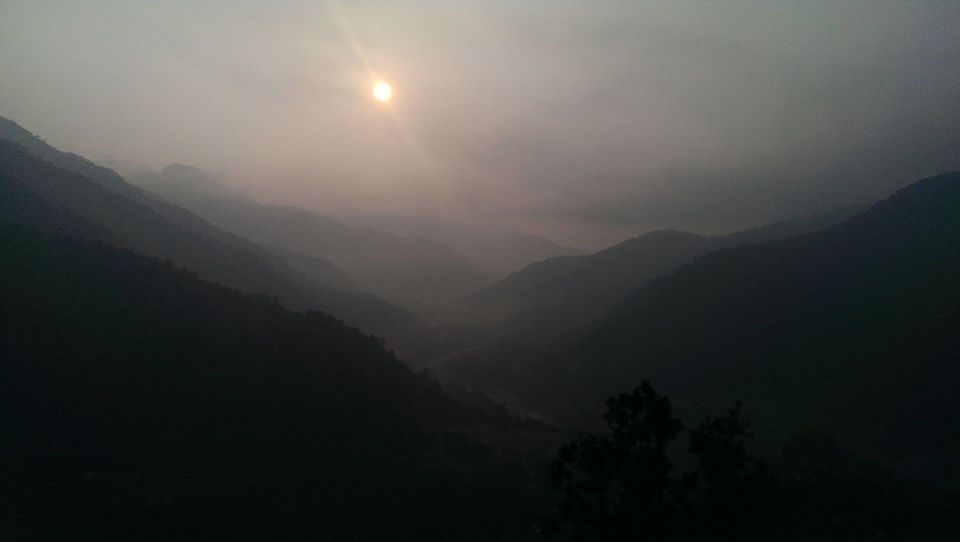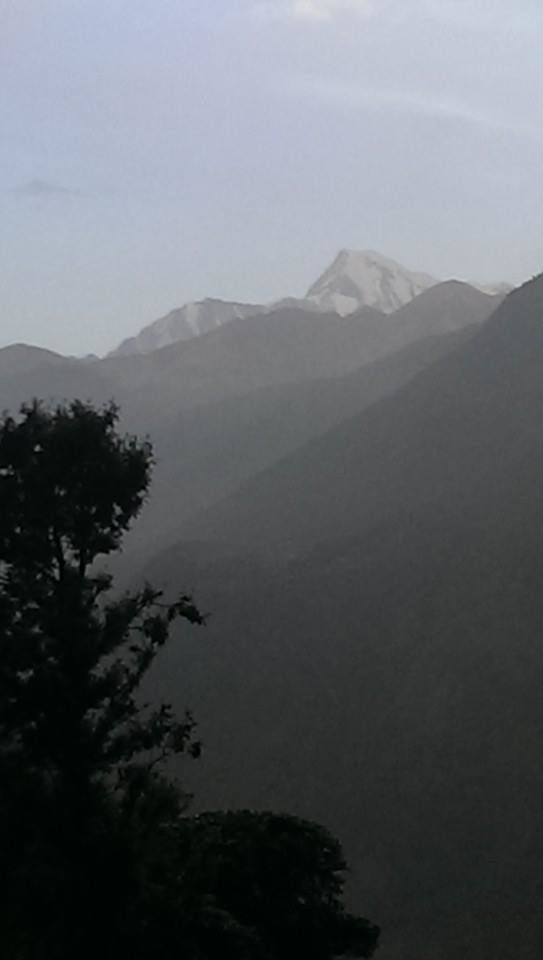 Day 3 – Lohajung to Didina:
The day began at 7AM sharp with a breakfast of hot Maggi and Bournvita, one I would begin to call 'luxury' after a couple of days. A leisurely walk which slowly turned into a steep descent with our aging, yet agile guide 'Kundan chacha' who was always a hundred feet and a couple of breaths ahead of us. It began to rain, just as we passed our first clearing with a beautiful view of Kuling village in the distance. Not too heavy, but not light enough to walk without a poncho. We stopped only to refill our bottles at the bottom of the valley with water that tasted like life should. Cold and crisp with a taste that makes anything else feel like a cheap imitation.
Bottles filled, we began our ascent and it was then that my lungs began to protest against every cigarette I'd ever smoked. Desperately out of breath, we reached Didina at quarter to 6. With my thermals soaked with more sweat than rain, I rediscovered the magic of hot lemon tea and pakodas. This, with a view of rolling hills against the backdrop of a failing sun made the perfect evening. We were advised against resting as we needed to acclimatise, so we decided to explore little Didina. Struck up a conversation with a local, who invited us into his home where we had a glorious cup of tea (This time, with milk!) and gave us a tour of his garden.
Night fell quick and so did the temperatures, making us all huddle inside a humble house after a simple, yet delectable dinner of Kadi Chaval. Tomorrow was going to be harder, we were told as we retired for the night.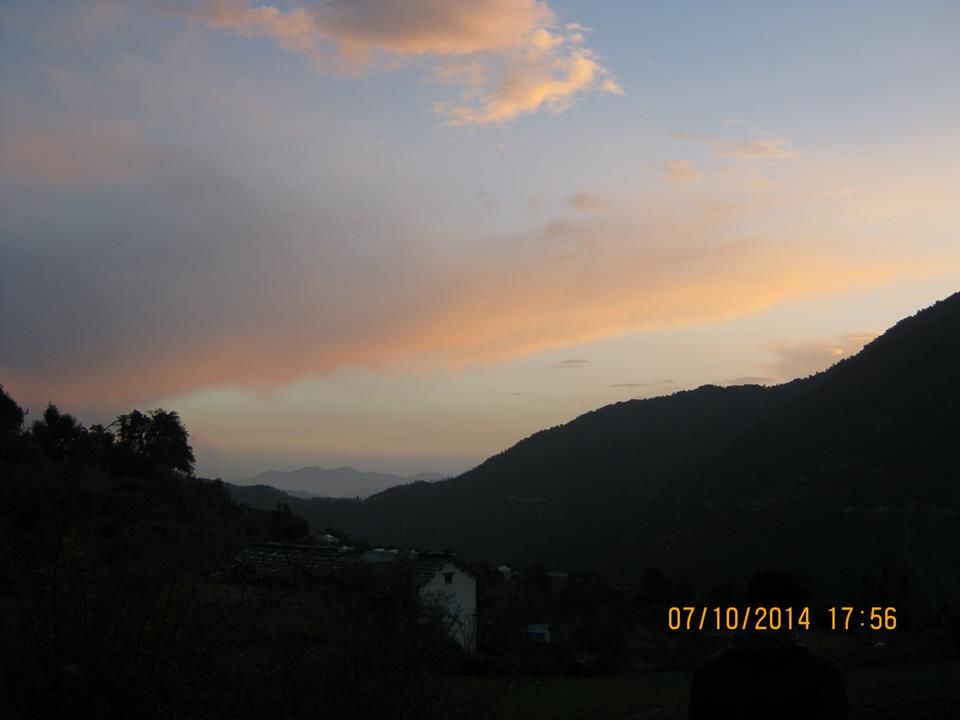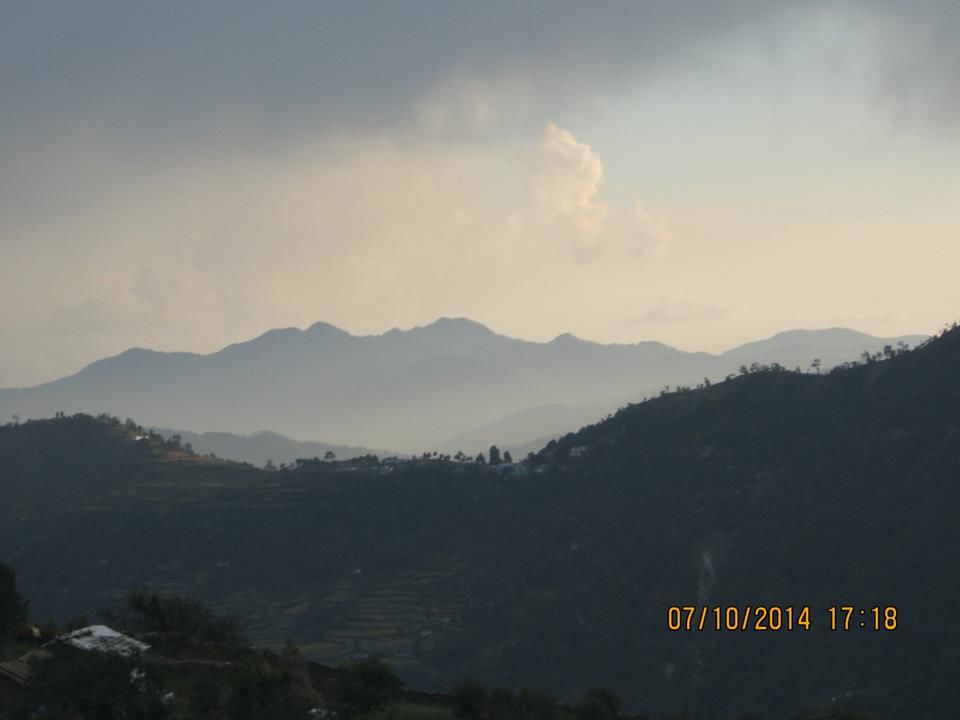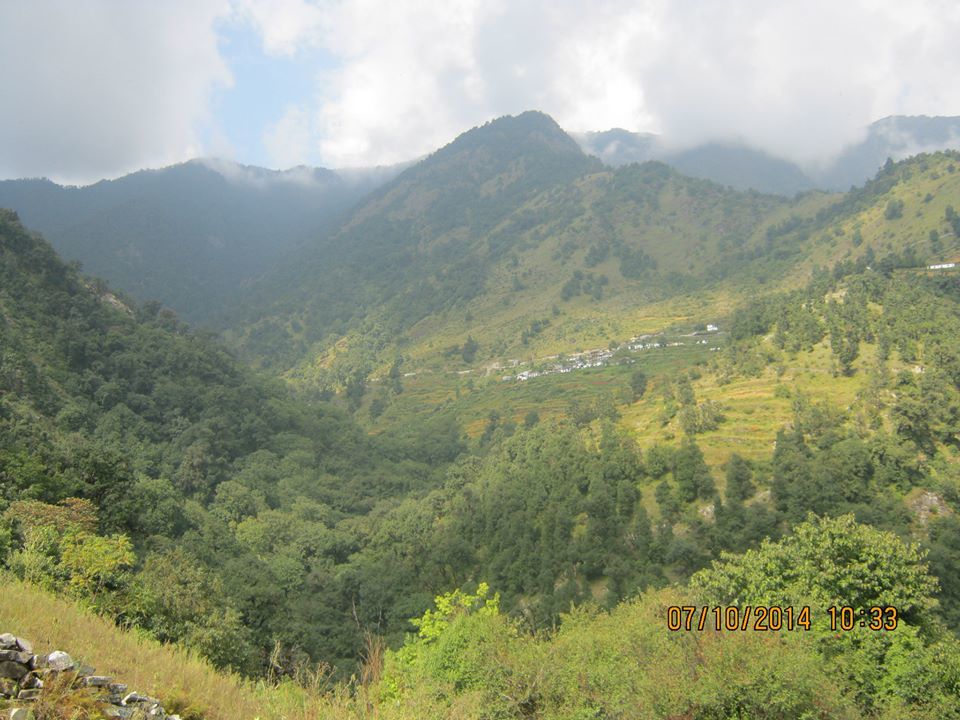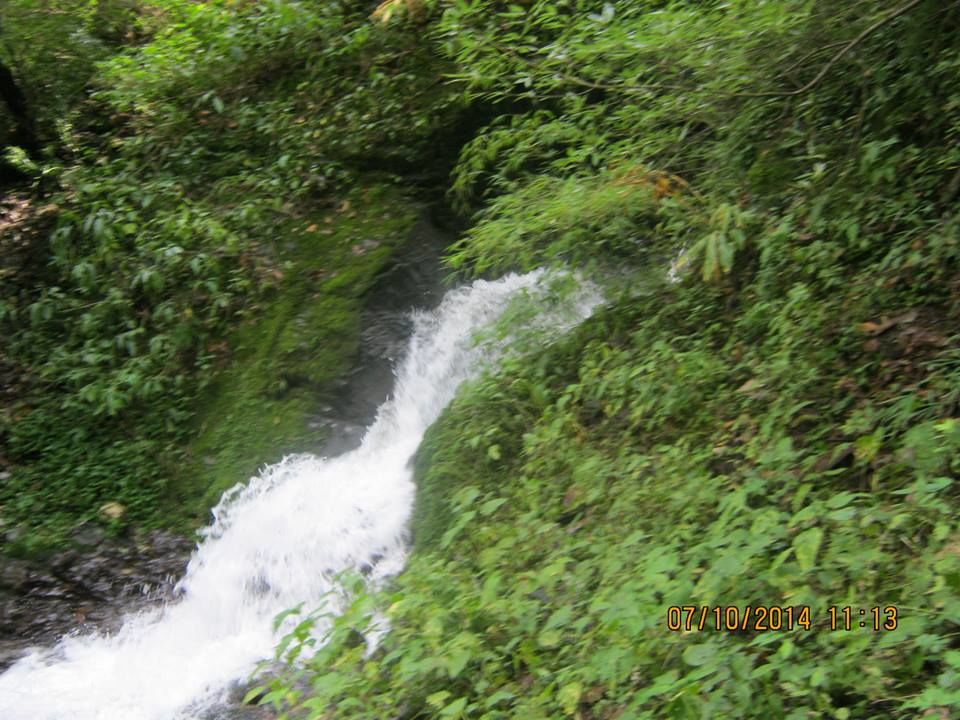 Day 4 – Didina to Bedni Bugyal:
Day 4 began at 5, with little to guide us except starlight and torches. We made our way through dense forests of oak and birch with every step over dew and moss. It wasn't until 10AM that we saw the sun for the first time that day, as it peaked over the edge of the mountain we were on. Armed with Electral infused water and trekking poles, we finally made it past the last tree onto the open meadows called Ali Bugyal.
Kundan chacha was a delight to talk to and he would throw in a fact of mythological significance every now and then. Ali Bugyal was the beginning of Lord Shiva's garden leading up to Mount Kailash, he said. And what a garden it was. Vast, green meadows as far as the eye could see and a carpet of grass perfect enough to make any landscaper pick a new career. We spent about 20 minutes ambling about like circus animals who'd just been released into the wild. Only difference being we took a lot of pictures for our FB walls. (Me included)
We sat down for a packed lunch of roti and sabzi when all of a sudden, the sun was abducted by storm clouds. Appearing out of nowhere, the clouds unleashed their fury in the form of rain, snow and hail all at once. At 12PM.
Caught unawares with no trees for shelter, we had no option but to continue towards camp number 3, Bedni. What was geographically 5 kms away, took us 5 hours of battling through hail and lightning as we trudged on in our soaked 'waterproof' shoes. Taking pictures was the last thing on our minds with lightning striking just a few feet away. Slipping and sliding through what was supposed to be a leisurely walk, we made our way to Bedni and were grateful to huddle inside a tent as the elements raged on outside.
Pro-tip: It is here, that I realized the importance of carrying a waterproof poncho and an extra pair of thermals. No matter what, don't forget these as the weather can change in a matter of minutes.
Around quarter past five, the storm disappeared as though someone flicked a switch. And I stepped out to a sight that made my knees weak and eyes leak. Around me, were majestic peaks I felt I could reach out and touch. Mountain sides that were bare, just hours ago were now coated with freshly fallen snow. Yes, we had just experienced the first snowfall of the winter. The clouds fell across the face of Mount Trishul, resembling white streaks of holy powder adorned by the foreheads of countless Indian deities.
We were grateful for a meal of steaming Maggi which turned cold on its journey from the plate to your mouth. The sun put on a show as it made its way home, the likes of which I've never seen again. The temperature plummeted to five below zero, making us huddle around a crackling bonfire for a while before clambering into our tents and retiring for the night. It was a cold one, apparently reaching -20 at some point.
Day 5 – Bedni to Bhagwabasa:
I woke up early to the sound of nothing, and I stepped outside my tent into the biting cold. I sat outside looking up at the mountains when I saw something that completely blew my mind. As the sun began to rise, it started to melt the snow atop Mount Trishul, instantly converting it into a cloud. I watched clouds being formed with my very eyes, being fed by vaporized wisps from nearby mountain peaks. Dazed and rubbing sleep from my eyes, I clambered for my camera and took pictures.
The weather was expected to be similar to yesterday and there was talk about whether it was safe to continue. Uncertainty loomed for a bit before it was decided that we should give it a shot. So we set off after a hearty breakfast and reached a lake called 'Bedni Kund' a short walk later. Bedni Kund is a site of high religious significance as it hosts the world famous Raaj Jaat Yaatra, a gruelling pilgrimage which takes place once every 12 years. According to Hindu Mythology, this was also the place where the demon 'Mahishasur' was slain by goddess Durga.
The pictures we took could easily pass off as desktop wallpapers for Windows XP, with crystal clear hues of blue, green and white. Mount Trishul's reflection in Bedni Kund was the icing on a breathtaking cake and I found peace at 13,000 ft.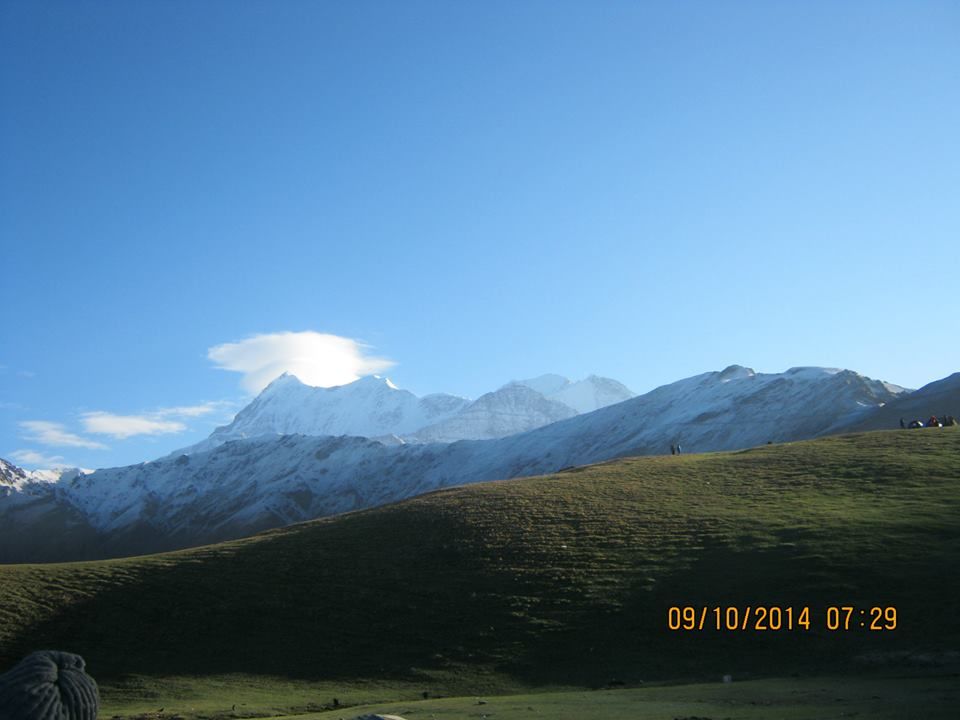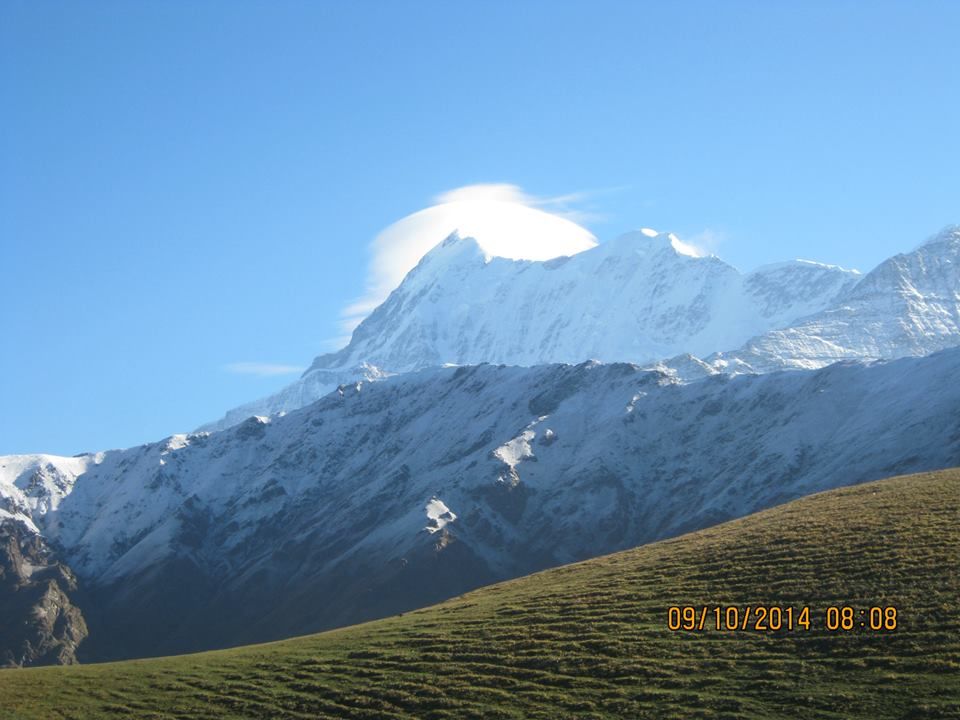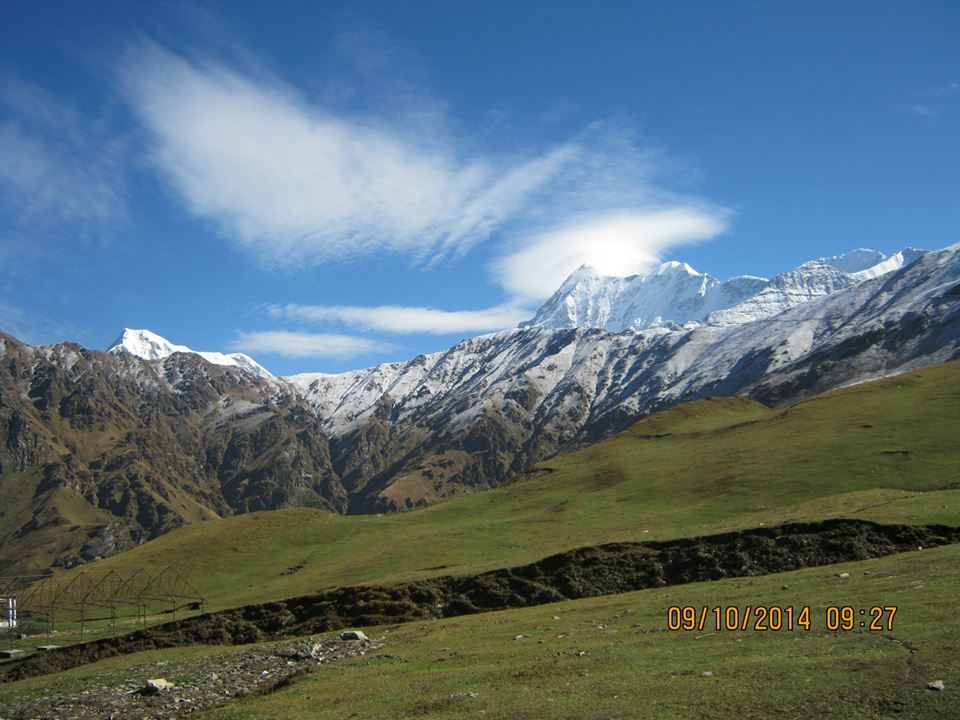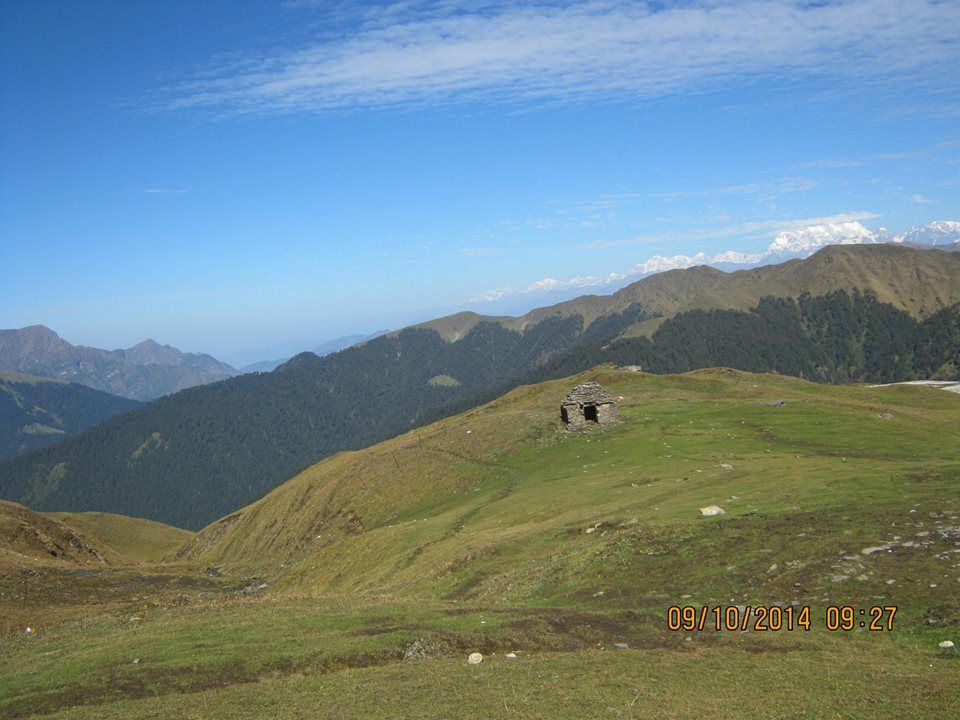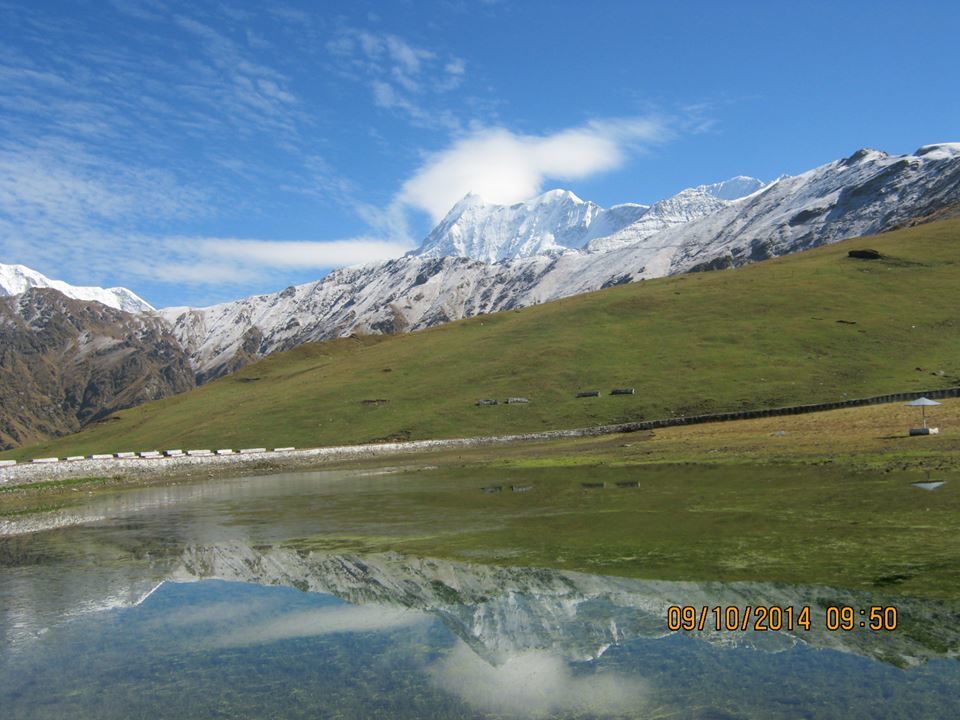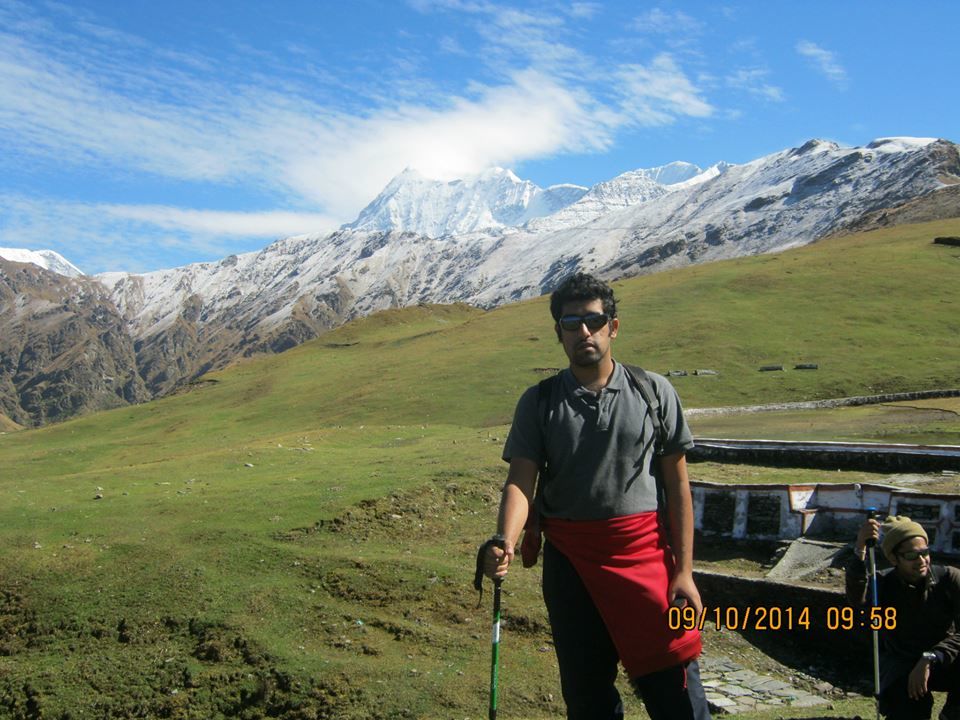 Sadly, this is where the last of my vintage camera's batteries died out and I took my last picture. Predictably, my phone had been dead for a few days now.
Pro-tip: Carry more batteries than you think you'll need and a powerbank too.
We journeyed on to Pathar Nachauni, an ancient stone temple where it was customary to offer a small donation as a token of faith, cementing your safe return. Beyond this point is where I walked on snow for the very first time and it was better than I could've imagined. We continued through a spot of rain and reached Bhagwabhasa at quarter to 6 in the evening. The rest of the evening went by in a blur and the night was bright as day, with more stars than I'd ever seen. No pictures can do justice to that sight and it was undoubtedly the most arresting visual of my journey.
Day 6 – Bhagwabhasa to Wan
We were scheduled to begin the last leg of our journey at 3AM, so we could be back before the sun melted the snow and made it dangerous to walk. But it rained and snow fell relentlessly till 8AM. With a heavy heart, we had to turn back having come so close. The walk down to Bedni was relatively straightforward and we stopped for a bit to catch our breath. Somehow, I felt it was harder to descend than it was to ascend. We continued onward into the tree-line and reached Wan village after an extremely long and tiring day. A beautiful little village with stone bridges over babbling brooks and little children going home from school. Each one of them smiled with folded hands and said 'Namaste' as we walked past, welcoming us all into their little slice of heaven. Aching bodies and calloused feet couldn't touch our spirits high and minds at peace.
Never have I been so thankful to board a vehicle than I was that day as I took off my boots and my feet heaved a sigh of relief. The drive to Lohajung was quiet and picturesque without any of us saying a word. Some of us in quiet contemplation of the majesty we had just been witness to. The rest, just plain exhausted.
We reached Lohajung, and after a thoroughly satisfying dinner, we succumbed to the most well-deserved sleep of our lives.
Day 7 – Lohajung to Kathgodam:
The day began with the inevitable. It was just a matter of time before we all went our separate ways and away from this mystic place. It was the first time that we were actually sleeping in till relatively late (read 9AM) since the advent of our trip, and it felt strange. After a lazy breakfast and a cold shower, we decided to spend some time exploring the pretty little town of Lohajung. The sun felt relatively stronger and familiar on our shoulders as we walked into the town centre, our feet thanking us for being released from the confines of our trekking shoes and into the airy freedom of flip-flops. We ducked into the local spice market and checked out a couple of temples and view points. It's your typical remote mountain-town complete with all the cliches you can think of and it didn't disappoint. Before long, we packed our bags and bade goodbye to the amazing team at Indiahikes and set off on the long journey to Kathgodam. The road was familiar, but we weren't the same. After a quick lunch at a dhaba, we reached Kathgodam by about 7PM. My bus was scheduled for 1030PM that night and we whiled away talking and exchanging contact info at a surprisingly well equipped cafe at the railway station. Strangers, barely a week ago but having experienced together the majesty of the Himalayas, we felt like we were destined to be friends. The overnight journey to Delhi was quiet and uneventful and gave me plenty of time to reflect on my journey in solitude.
Day 8 – Delhi to Bangalore:
I reached Delhi early next morning and headed straight to the airport. Sitting in my seat as the aircraft taxied to the runway, I closed my eyes and reminisced about the humbling experience that I had. All creature comforts and all the things I thought I couldn't live without, didn't matter anymore as I discovered just how little I needed to stay happy.
I realized then, that I had forgotten something on the mountain. I left a small, but significant part of myself behind in the Himalayas and I knew I would have to come back, again and again until I found it. Until I was whole again. I smiled to myself as I plugged in my earphones, and I found it hard to focus on my favourite music.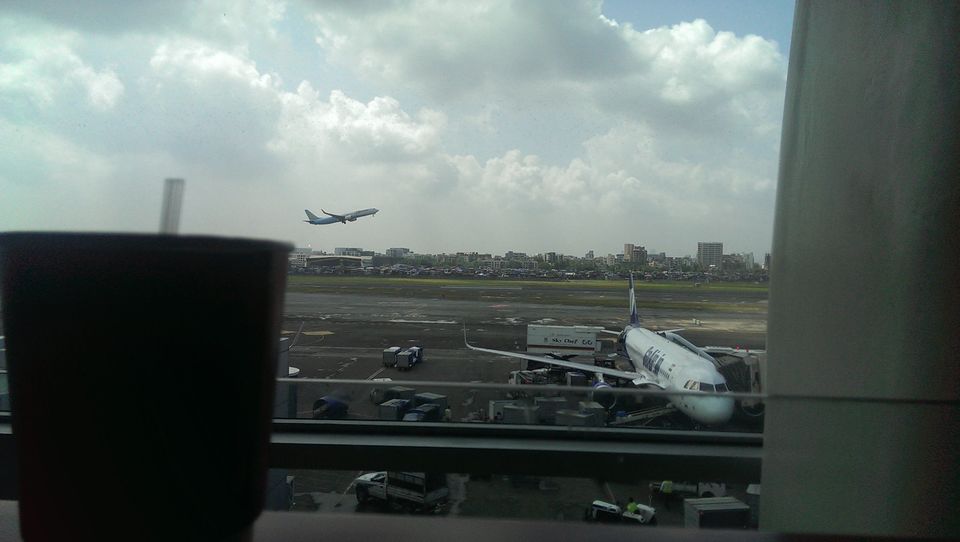 I reached Bangalore and took my first hot shower in about 10 days. I was home, but I wasn't really. My only solace was the comparably cold October air that embraced me with practised familiarity. My thoughts drifted to the things I'd seen, the people I'd met and I knew it wasn't long before I was back again. The mountains say a lot. All we need do, is listen.
Frequent Searches Leading To This Page:-
Top Nainital Tour Packages With Prices, Nainital Honeymoon Package Price, Top Nainital Tour Package For Family, Top Nainital Tour Packages For Family, Top Nainital Tour Package For Couple From Delhi, Top Weekend Getaways From Nainital, Top Weekend Getaway From Nainital