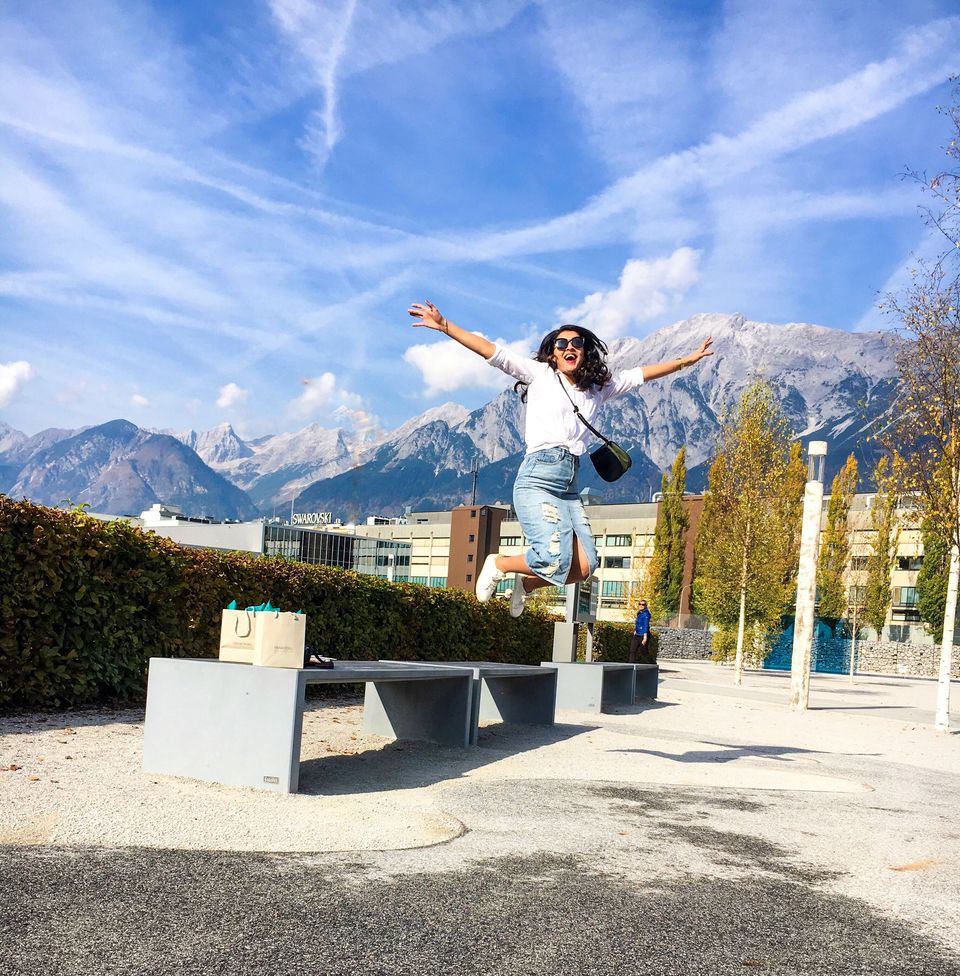 For those who do not know what an adrenaline junkie is, in simple language, are people who are high sensation-seekers. Still didn't get it? These are people who seek danger or drama! Not the Saas Bahu family drama but the drama that gets one excited. In my case, all of this drama, sensation and dangerous excitement comes from adventure sports. I love I love and I love to take risks, dive deep-sea, fly high, freefall, climb mountains, jump etc etc.
The waiver or indemnity bonds which state "the adventure sport xyz is dangerous in nature and involves the risk to my life and limb" may scare many and some might even give a second thought on attempting such activities, but to me signing such waivers is exciting af! As absurd as it may sound, the indemnity bond challenges me, fills me up with the right amount of adrenaline and I'm more than ready to dive deep or fly high.
Hailing from the Army background, phobia is a word that is unknown to me, except for the times that I used to be scared of the dark in my childhood days :P I grew up listening to my dad's stories about valour and fearlessness. His adventures are innumerable and each tale sparked a longing in me to explore and experience all the adventure sports from early days on to satisfy my thirst for adrenaline. "Fearless is not a man who has no fear, but the one who knows no bounds and conquers it all", has always been my motto behind impulsively getting myself into the thrill of adventure sports.
Now the questions remain – What all adventure sports have I done? Where and when did I do it? I have done cliff jumping, rock climbing, rappelling, scuba diving, rafting, sky diving, paragliding, snorkelling, bungee jumping and trekking. Before, I start to answer these questions, let me also tell you that if I did it, you can too! These adventure activities can be done with little or no training at all. These activities involve risk to life but are absurdly quite safe too. These are the five adventure sports that changed my perspective for life:
1. Airplane Sky diving because the more the risk, the better!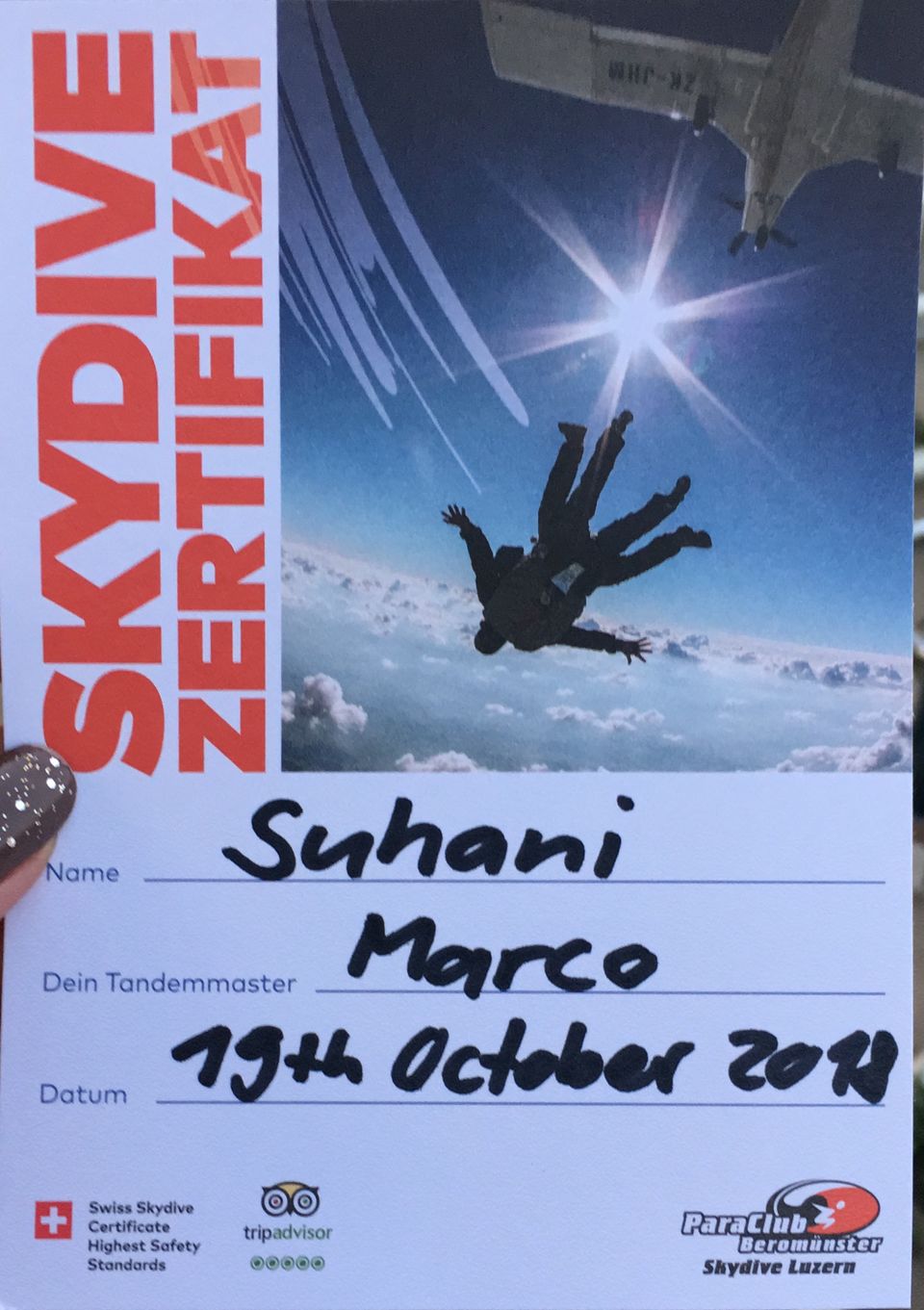 Why not start with the best? Sky Diving has to be the most adventurous and dangerous sport I have ever tried and also the one closest to my heart. Who knew that a drunken night with a fellow traveler in Europe would turn into a fabulous opportunity to sky dive in Lucerne, Switzerland the next morning? That is how random and impromptu my plan was. While traveling with a group of unknown 7-8 girls across Europe in a week-long road trip, I met an angel in the form of a fellow traveler who had done all the required homework for a sky dive in Switzerland. Ultimately, I and two other girls ditched the whole group and the itinerary to set out to Lucerne only to embark on the most adventurous 20 min long scary flight in a jet to jump off 14,000 feet with a view that is still freshly painted before my eyes.

The view was spectacular. I had the Swiss Alps right in front of me, the sun setting on my right side turning everything around crimson red and on my left was the moon eagerly waiting for its turn to pop out and throw some light. Down below I could see the green meadows, beautiful yellow and orange coloured trees marking the onset of autumn. It was a dream come true to dive first among all, to free fall for 60 seconds and then to fly in the air with a breath-taking view.
After I landed, I took a moment to grasp the fact that I had just done what I was only dreaming for since Zindagi Na Milegi Doobara released. I had no extra money to cater for such an expensive activity, no already booked and arranged plans but a strong deep desire to not return from Switzerland like a regular tourist. I had tears in my eyes after landing for being so lucky and having done something that probably I didn't think was written in cards for the next couple of years.
Where to book?
Para club, Flugplatz, Lucerne, Switzerland
How much does it cost?
350 CHF for the sky dive + 90 CHF for video/ pictures(Approximately 50,000 INR)
Best season ?
Skydiving in Switzerland is open all year long but the most picturesque moments are captured when the mountains are covered in white snow during winters.
2. Deep Sea Scuba Diving because swimming is cliche'
Deep Sea Diving was well-planned and co-ordinated with the rest of our Andaman itinerary. I was at the islands for about 5 days with my parents on one of the last trips before my dad's retirement. My parents were more than ready to dive with me this time. We had chosed to dive at the Havelock Islands which happen to be quite a hub of adventure sports. A 1.5 hour mini cruise got us to the island from Port Blair and immediately after reaching, the first thing we did was to register for an early morning deep sea dive the next day.
We had a training session for about 30 min or so on how to breathe and what signs to use for talking under water etc before taking us a boat-ride to a point where the sea depth was around 12-15 mt. Always volunteering for craziness, I was the first one to jump off the boat to dive. It was quite a different feeling inside the sea, going deeper and deeper by the minute, the nose and ears blocking by the metre, dark in the beginning but it soon turned into a magnificent sight full of aquatic life. There were schools of parrot fish, black fish and clown fish swimming past me. I saw an enormous white coloured lobster flapping its hooks. I was so close to a nemo that it could have leaned forward to kiss my hand. I swam past ancient corals of different shapes, sizes and colour with utmost care to not disturb them. Ah! It was all so wonderful. I had a joyous feeling of being one with the aquatic life.
Where to book?
Ocean Dive Centre, Havelock, Andaman
How much does it cost?
Rs. 6k per person for deep sea diving (12-14 mt.) and Rs. 3-4k for sea shore diving (6 mt.)
Best Season?
March-May happens to be the best time as the seas are calm. But September-February also provides favourable conditions.
3. Paragliding – Live in the moment while you float in air!
If there is one thing that Paragliding taught me is to "Live in the moment" because no matter how long you stay up there, you're going to miss it when you're down on Earth. I had the opportunity to take a small flight of my own during my trip to Dharamshala with my boyfriend in the summer of 2017. Bir is only a 2-3 hour car drive away from Dharamshala. Add another 30-45 minutes for the uphill ride to Billing which is the take-off site. Not to forget, the drive to Billing is quite adventurous in itself with sharp twists and turns and those 15 km take around 45 minutes. You dare not miss the Maggie served at the highest paragliding spot in India with a breath-taking view of the steep mountains and the blue expanse filled with colourful parachutes.
What would your instant reaction be when the glider tells you to start running downhill which literally means falling towards death? I too was like "What? How do I tell myself to do that?" But I think I trusted the glider way too much and started to run downhill. Within about 20 seconds, I had taken my first flight and I was actually floating in air. Wooh! It was an amazing feeling with all the blood rush, the gushing wind, the silence at the top and how furiously tiny everything looked from up there. Those were some insane 20 minutes where my glider turned the parachute 360 degree twice to give me a panoramic view of the magnificent valley. The sky was filled with parachutes and enthusiasts like me, I could see the lush green valley with the landing ground and a whole lot of huge foresty mountains surrounding it. The sky also never looked so blue before!!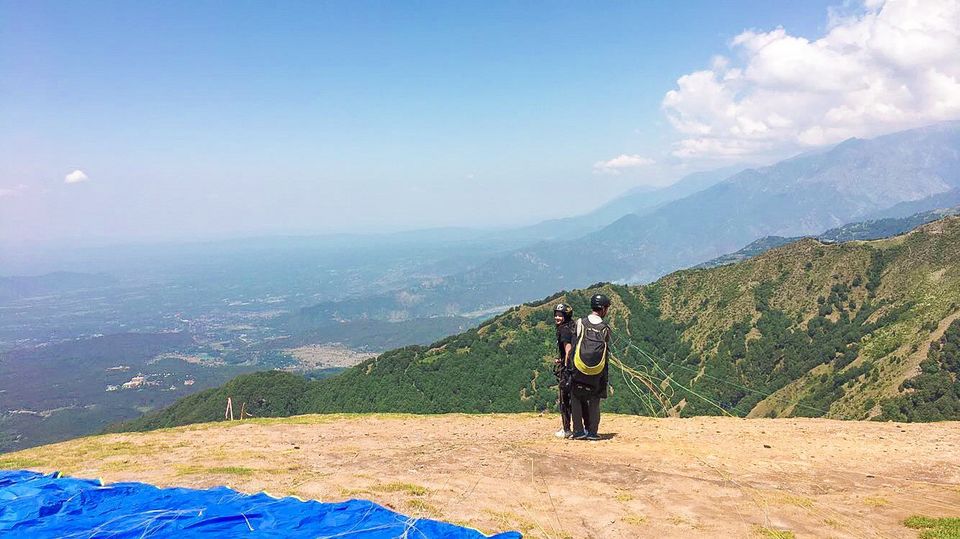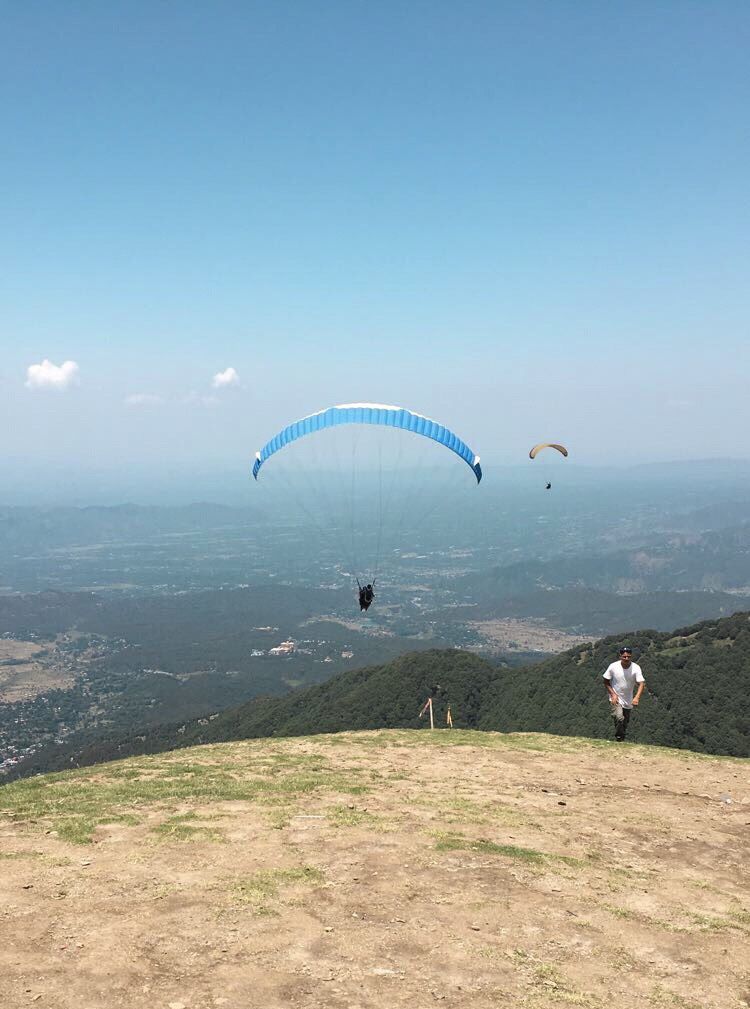 Where to book?
Bir is full of agencies that provide paragliding packages. You can either book after reaching there or even online through https://www.hpparagliding.com/.
How much does it cost?
Rs. 1500-2500 for a 20 minute flight
Best season?
Spring and Autumn turns out to be the best flying experience- March-June and September-November.
4. White Water River Rafting – Buckle up, you're in for a wild ride!
River rafting has been my personal favourite, more because it was the first ever adventure sport I set my foot into back in 2009 on my trip to Nepal which I had won for being a runner up at a quiz competition. Who knew cramming about Nepal could get me a free trip that I got to enjoy with other winners and my mom? We covered Kathmandu and Pokhara in a span of 4 nights, stayed in old parts as well as new. While at Pokhara, I sort of asked my mom to allow me for river rafting but to my surprise not only did she allow me but also readily joined me on 7 km long journey rafting on the Seti Gandaki river full of rapids. I believe this trip was not only the first time I tasted adrenaline that I now lurk for everywhere I go now but also my first trip which I earned on my own that ignited the spark to travel more and more in me.
Nepal was not the only place I went on a wild ride but just the beginning. I happened to do river rafting in the Ganges twice at Rishikesh and these were definitely lengthier than the first and ranged from 15km to 21 km! Though not a certified rafter, but I definitely became my guides favourite for my rafting skills the last time I went roaring in Ganges.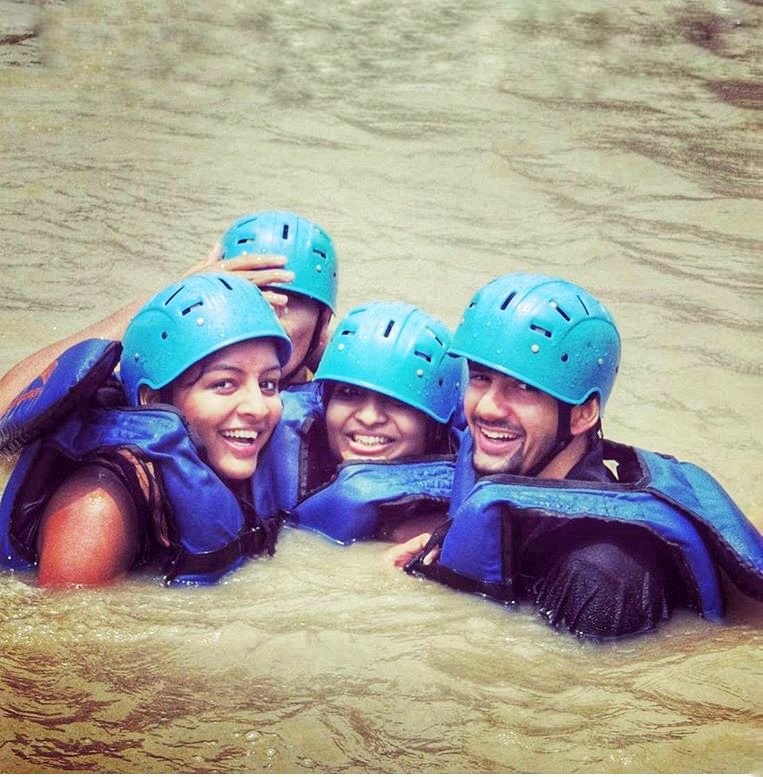 Where to book?
You can either look up for river rafting in the Ganges at Rishikesh or travel to Nepal and book it in Pokhara. It can be easily found online. I personally book my packages through a person who I happen to know in Rishikesh. Hit me up on instagram if you want his contact.
How much does it cost?
Rs.1600 for 16 km river rafting including one night camping at Rishikesh.
Best season?
February-May and October-November
5. Bungee Jumping – I dare you to do the dead man's dive.
And again, this wasn't planned. After rafting in Ganga, we were introduced to bungee jumping which is conducted by a bunch of well-trained New Zealanders about 25 km away from Rishikesh. We readily jumped on the tempo truck which was dropped us to the jumping spot. With no extra pocket to shell out 3500 bucks out of our super budgeted trip, we still did it. After all living on the edge at that time also called for jumping off the edge of a mountain :P The bungee jumping bridge is clamped at the edge of a mountain at about 83 metres from the sea level. You get only three chances to nail your jump and if you turn back the third time you lose your money along with the chance to muster the courage for another try. I nailed it in one go and mind you, it wasn't a normal 'bend your knee' jump but a freaking 'dead man dive' and trust me it's tougher to get that done with the amount of adrenaline rushing through the body standing at the edge of the board.
To be honest, I am scared of heights but in that moment I wasn't. I had nothing to lose and so much to gain from the experience. Just trust your gut and take that leap of faith!
Where to book?
Jumping Heights, Mohanchatti, Rishikesh
How much does it cost?
Rs. 3550 per jump + Rs. 700 for video/ photos. We couldn't afford the video for sure:P

Best season?
Avoid monsoon and take the plunge any time of the year
Adventure sports don't just give me the experience to fly, dive or raft but also a perfect interaction with nature, a freedom of space and an unbelievable excitement.