Dining is an experience! And a destination dining should definitely be on your bucket list if you are a foodie by heart! Trying exotic dishes at new places, sip champagne cocktails and dine in style are the elements that can intrigue you to have a perfect experience. so, forget about dining at the usual restaurants and head out to dine 5 metres below sea level at the Conrad Maldives Rangali Island's unique underwater restaurant.
The world's only aquarium-style restaurant at the resort, Ithaa, offers marvel 360° views of reef and marine life where you can sip champagne cocktails and dine in style at this spectacular Maldives restaurant.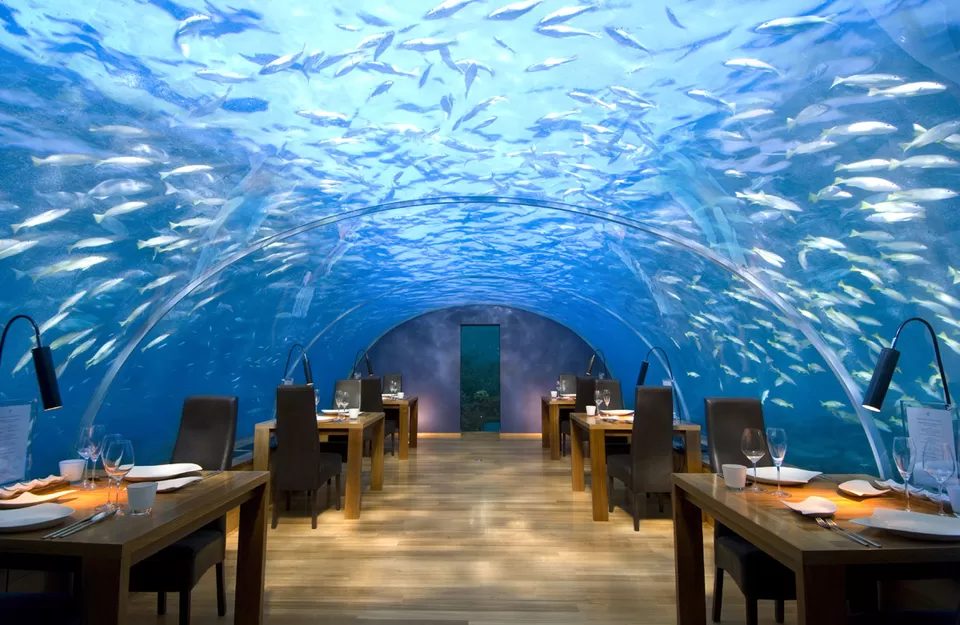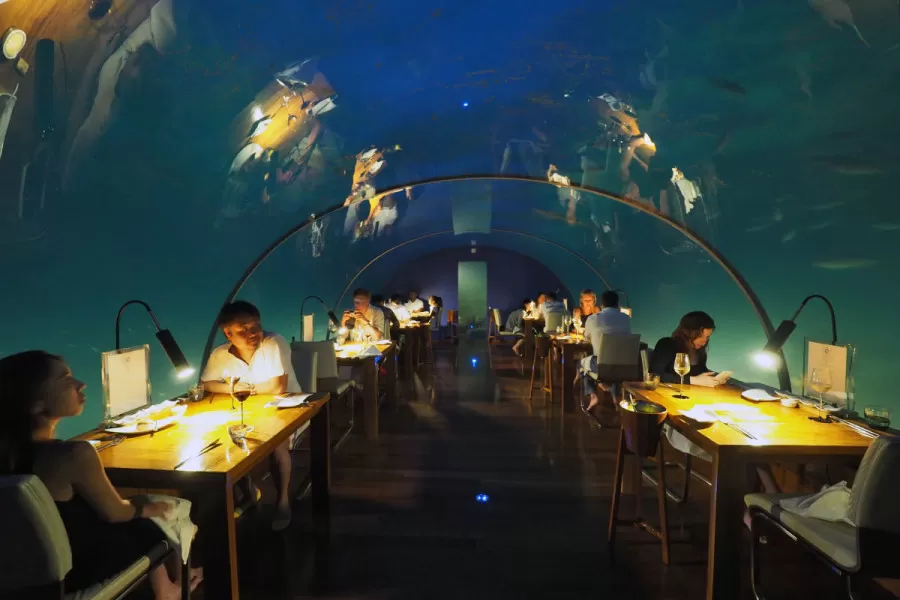 Ithaa is the only undersea restaurant of its kind in the world and you can explore its massive dinner menu which is equally special infused with luxurious delicacies. The lunch menu is light and also offers a variety of wines. A once-in-a-lifetime experience to dine underwater, this is a perfect getaway if you're looking for an unique night out!
Why go:
Located 5 metres below sea level, Ithaa is the world's first all-glass undersea restaurant in the Maldives. At this place, you not just enjoy the food, but also the panoramic views while you to dine; watching thousands of fish swim; all without getting your feet wet.
The experience:
Dining at the restaurant is magical! At this restaurant, you are led across a wooden jetty to a tiny thatched pavilion, then pointed down a dark, winding staircase.
Ithaa also meaning 'mother of pearl' was one of the very first underwater restaurants, and the first to be made entirely of glass. With so many luxury hotels in the Maldives to choose from, it is built to provide the Conrad Rangali resort with an obvious point of distinction, and its development was an exceptionally ambitious undertaking.
What to order:
Fish! The best dish is one of the simplest: the daily-changing 'reef fish', such as snapper or grouper, served grilled with sauteed kale and a zesty, lemon-spiked mash.