Honeymoon is more about spending time with each other than exploring a place elaborately. And so, there cannot be a better destination than Maldives if you are looking for a perfect balance of romance, rejuvenation and some elements of exploration.
Maldives will have you hooked to its beauty from the word go. Just a couple of minutes before landing, we saw Maldives for what it really was: nature's best painting.
Even the airport was unconventional, with runways surrounded by the blue sea on both sides. Unlike the usual cacophony of cab drivers and people waiting in long queues, here we saw pristine waters and speed boats taking travellers to their desired destinations.
We took a speed boat too and reached our resort in about an hour, checked in our luggages and sat by the verandah admiring the azure cloudless sky and unending waters till eyes could see.
Our room was decorated, as customary for newly weds. After resting well, we took a dip into the beach just across our villa, and dined-in for the night.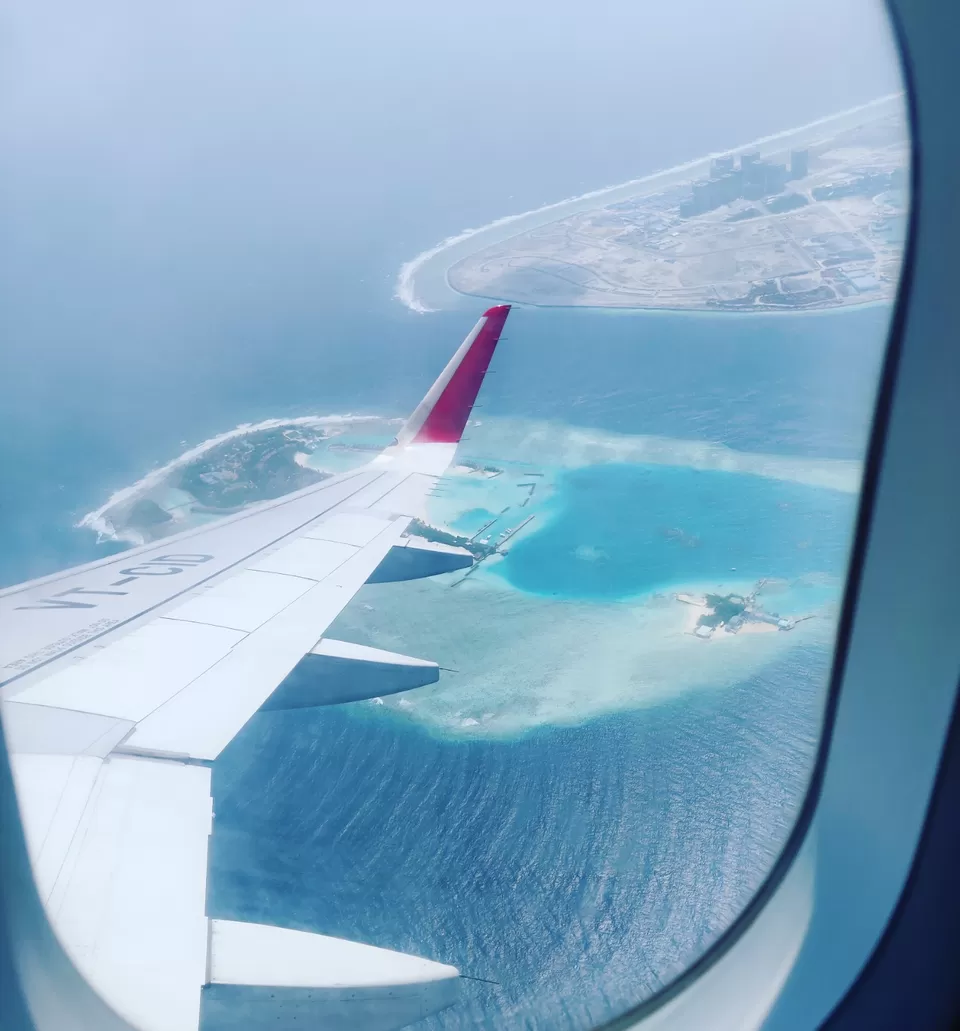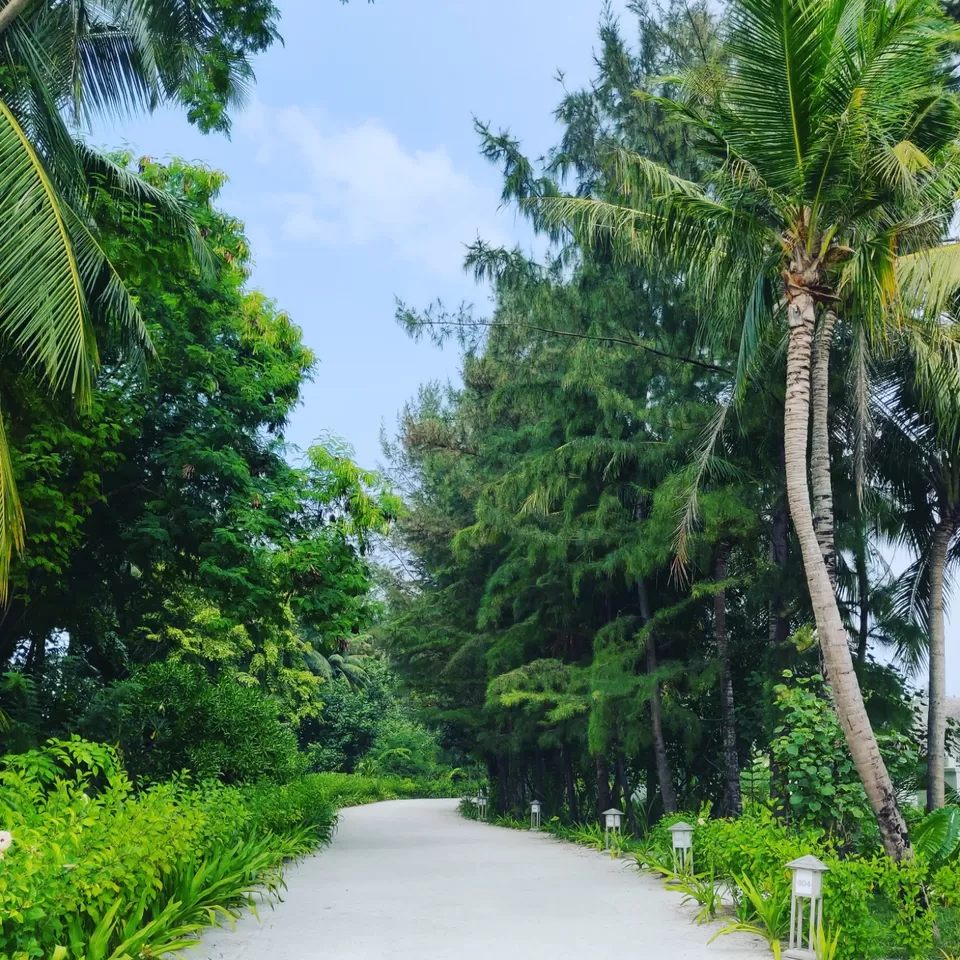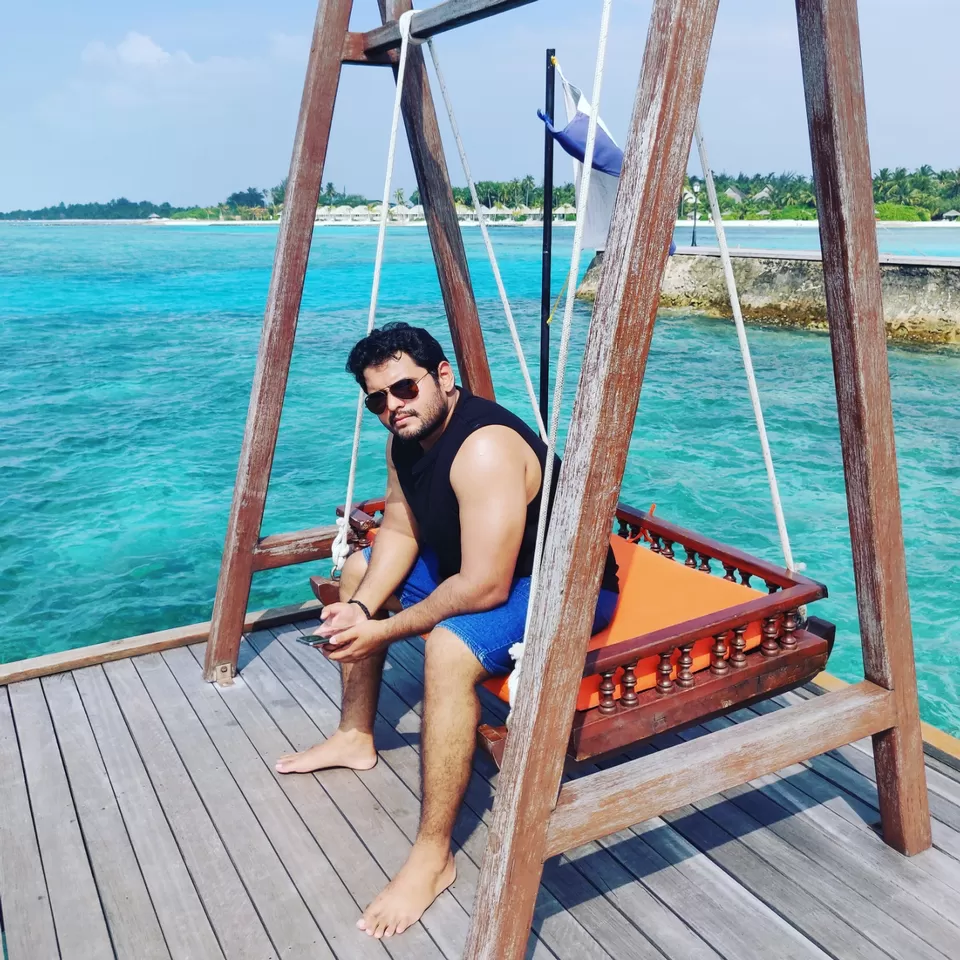 The next day began earlier than we thought. We were to take a 20 minute Jet Ski session followed by a sumptuous buffet breakfast at the Resort. The Jet Ski session was thrilling as ever. The thumping of waves against the bike every time I speeded up was nerve wracking. I could feel a world of energy in my palm as I gave a raise to my water bike. In that moment, I felt so much power and passion for life's adventures, however small or significant.
Towards the end of our Jet ski sessions, as we got closer to the reef, we spotted so many reef sharks hunting for their morning meal. We couldn't take our eyes off these small but fierce creatures.
We took the rest of the day to ourselves, as honeymoon calls for some 'private time' too. For the evening, we had booked a romantic candle lit dinner, a speciality of the resort. They laid the table just by the beach in a classy cabana style and served us their best food and wine, winning our hearts for life. What does a honeymoon couple want more than great view, romantic setting and seclusion.
Before calling it a night, we strolled by the beach hand in hand gazing at the stars as the wind kissed us gently.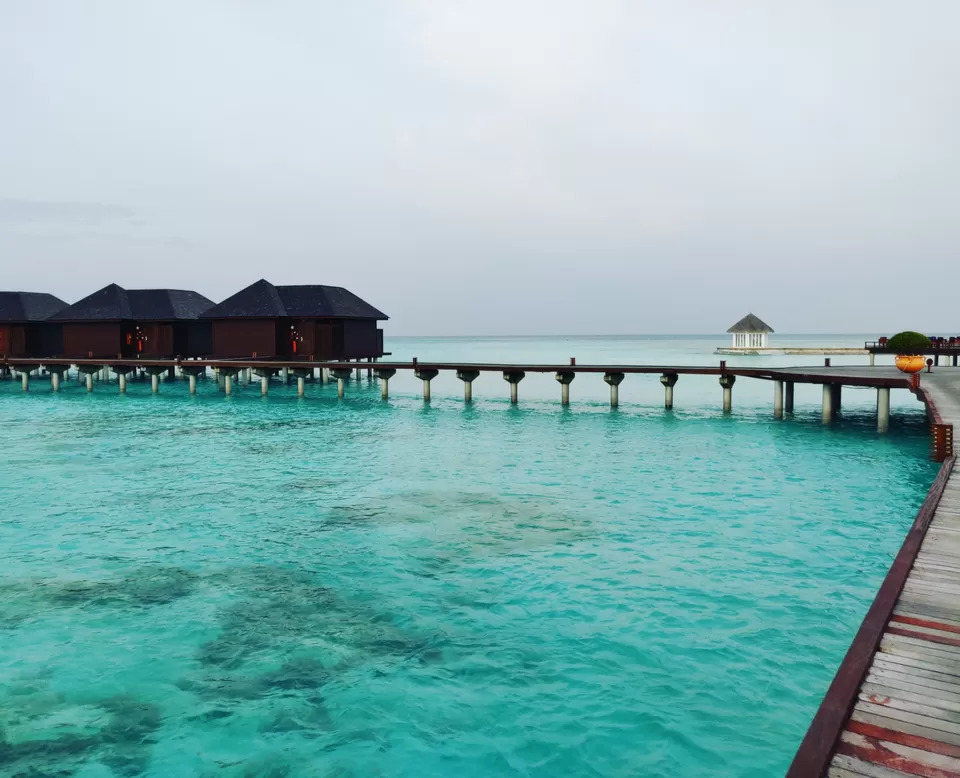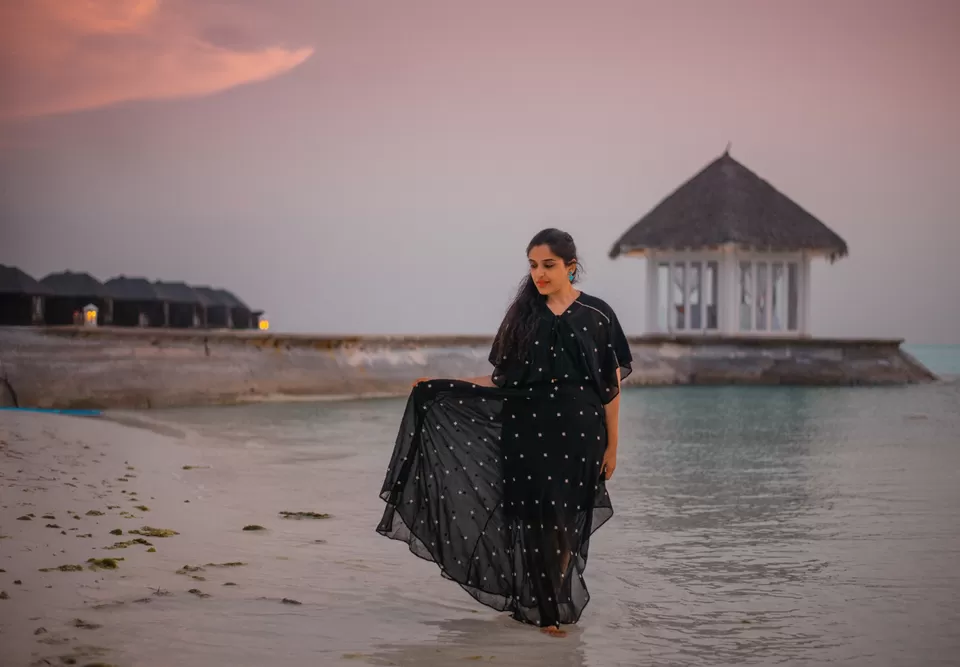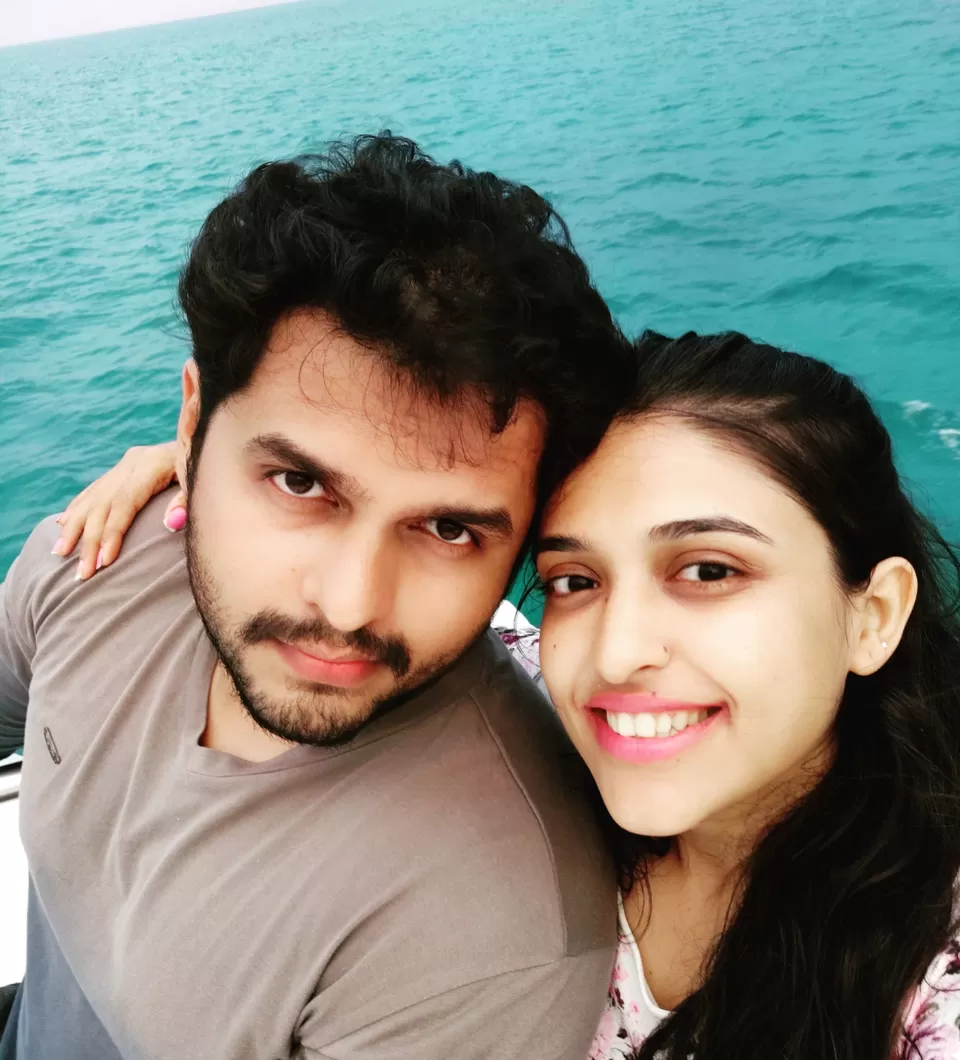 We woke up to the knock on our door first thing in the morning. It was our in-villa breakfast day! One of the most amazing spreads had been plated for us to celebrate our honeymoon in this paradise.
After a wonderful breakfast, we sailed towards an open sea scuba site. We suited up to journey into a world not our own but far welcoming and warm. Holding each other tight, guided by our 40 year old Portuguese Scuba instructor, we plunged into the blue.
As we descended into the water, the bright beautiful sea slowly darkened and I could see the sunlight farther and farther away. This wasn't our first scuba, but definitely our first dive, away from the house reefs in the middle of the sea. We were completely taken aback by the richness of their marine life and corals.
In fact, we saw a 100-year old blackish green turtle completely unabashed by our presence.
It seemed as if time took a pause, and sat like a silent spectator as I widened my eyes in amazement or moved my fingers to point at the wonders of sea. In reality, time was playing a ruse. We didn't even realize that it was more than 45 minutes under water. My husband's oxygen tank had almost satiated and we had to rise up to the surface of the sea, back to our boat.
A day well spent in a world so surreal.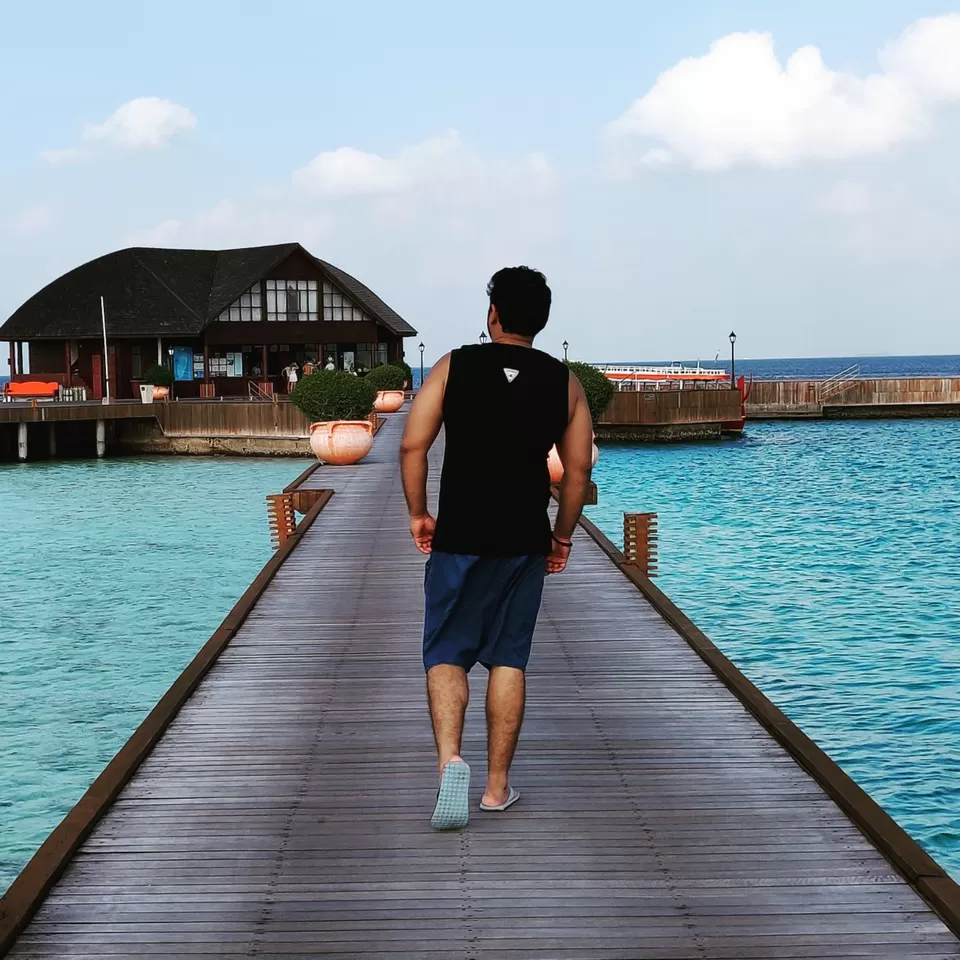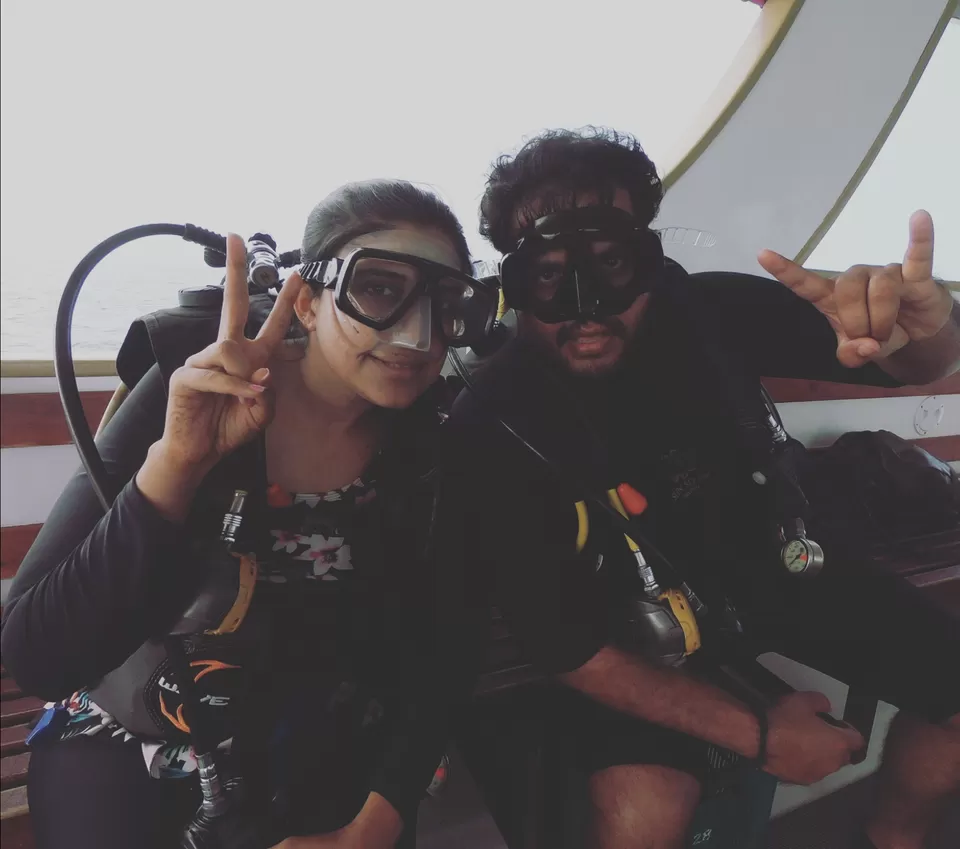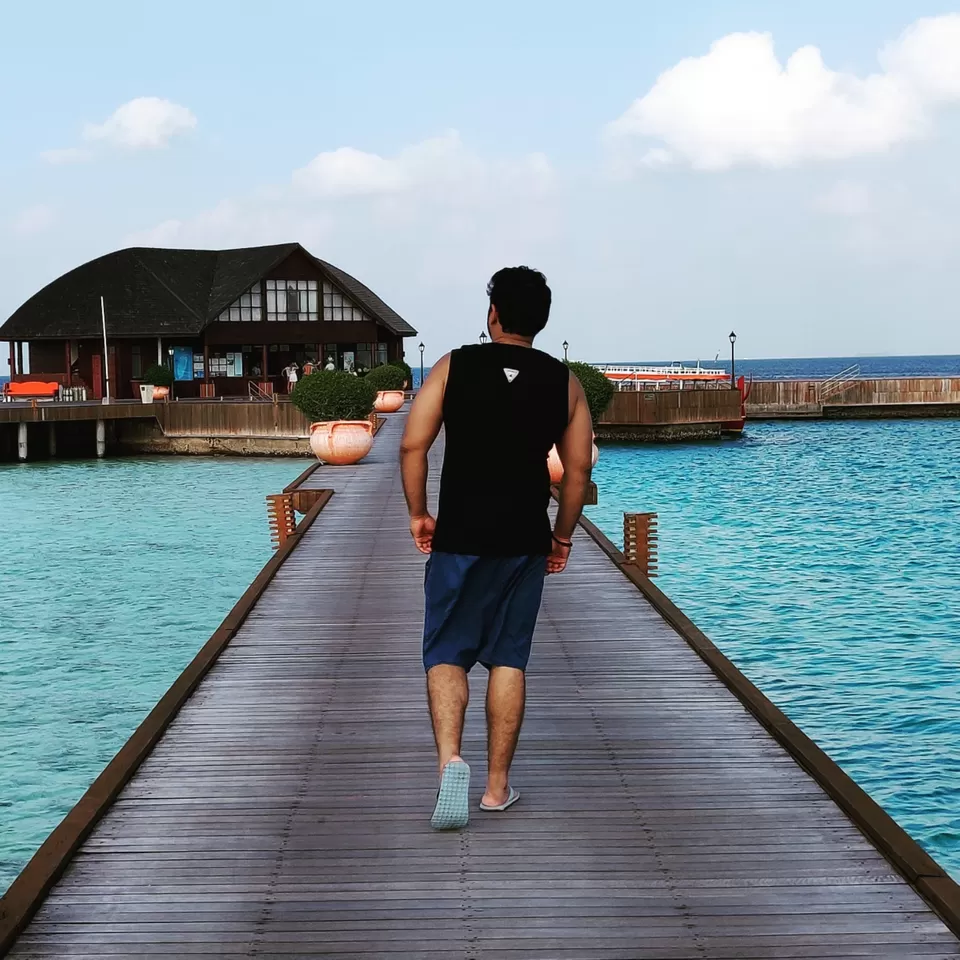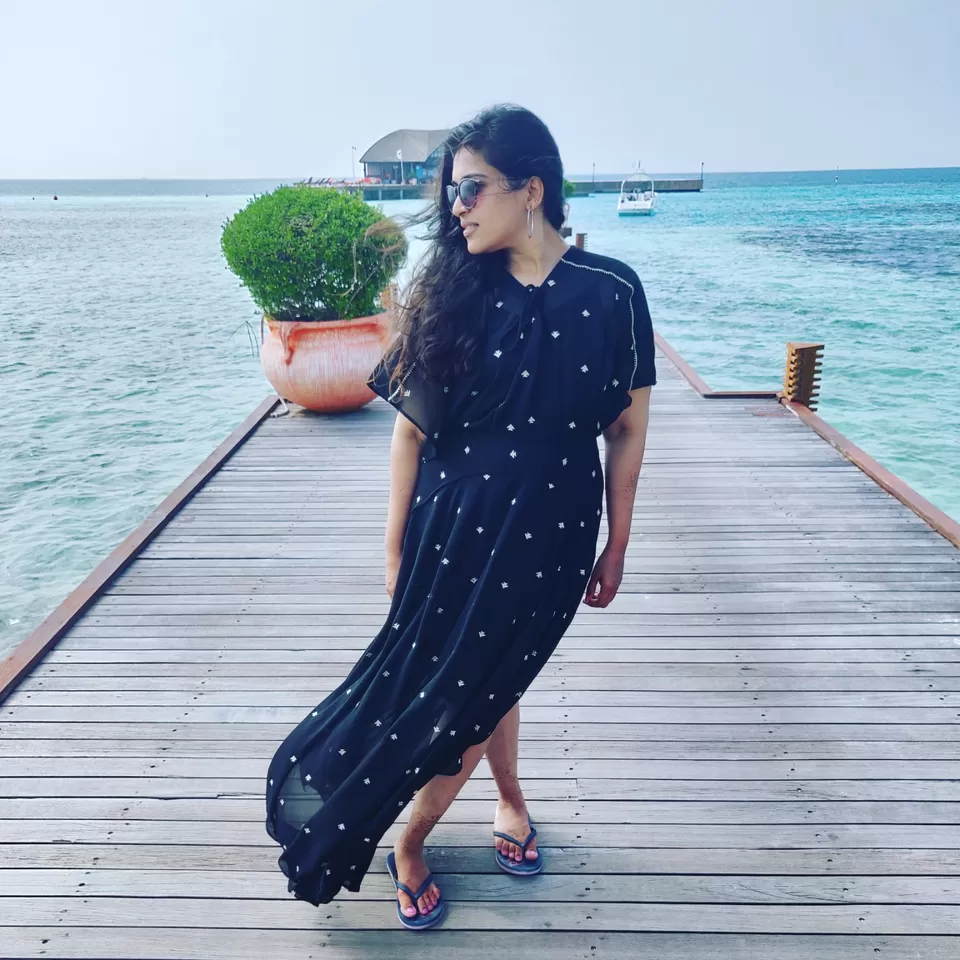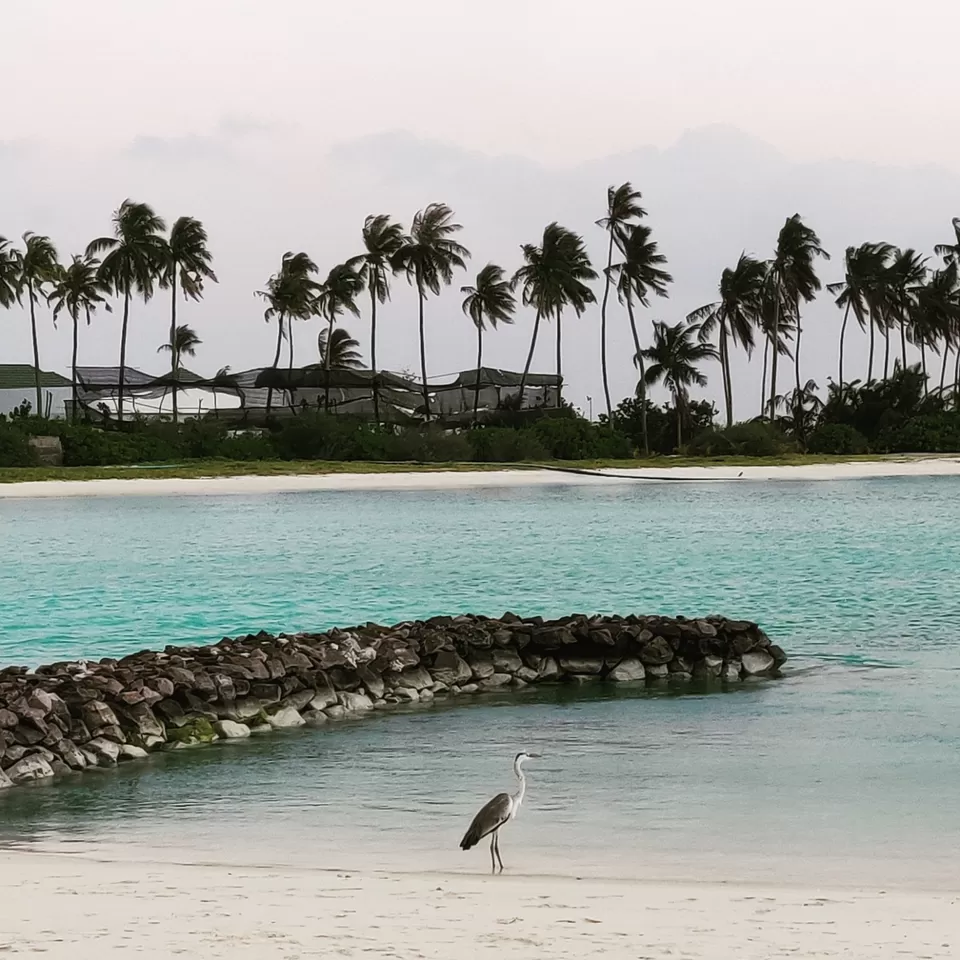 We began our day in an unusually beautiful way, to cherish the Maldivian sunrise. We flushed hot water into our outdoor jacuzzi and lounged in, right from dawn to sunrise to watch the sun in all its glory.
After watching the nature's show, we rejuvenated ourselves with a Deep Tissue couple spa. The location of the spa beds was right next to the beach. Obvious isn't it ?
We could see the sting rays, mantas and tons of different fishes splashing around, as the masseur sunk aroma oils into our senses. The spa experience, royal in every way, was followed by a delicious European lunch.
In the evening, we went for dolphin sunset cruising. We sailed for nearly an hour before we reached the dolphin point. Fingers crossed and hopes high, we waited for a while to see the dolphins.
Fortunately for us, the wait was worth it as we were literally surrounded by so many dolphins.
They were springing into the water, acrobatically, as if trained to give us a great show. It was splendid. I felt like a child and shrieked every time we spotted these playful beings.
It was possibly the best way to end the day when we were pleasantly surprised by the resort with a complimentary professional photoshoot from their in-house photographer. It was a dream come true.
Being able to capture our romance in the lense in an island that looks like a fantasy.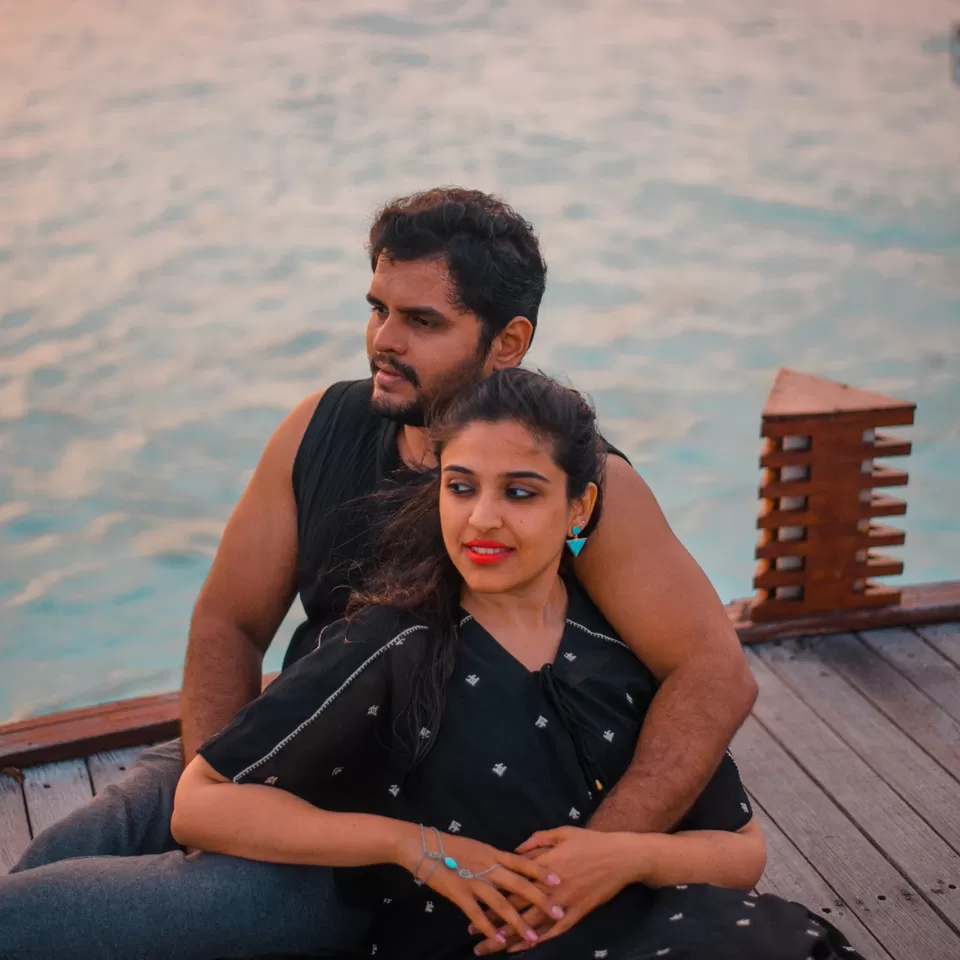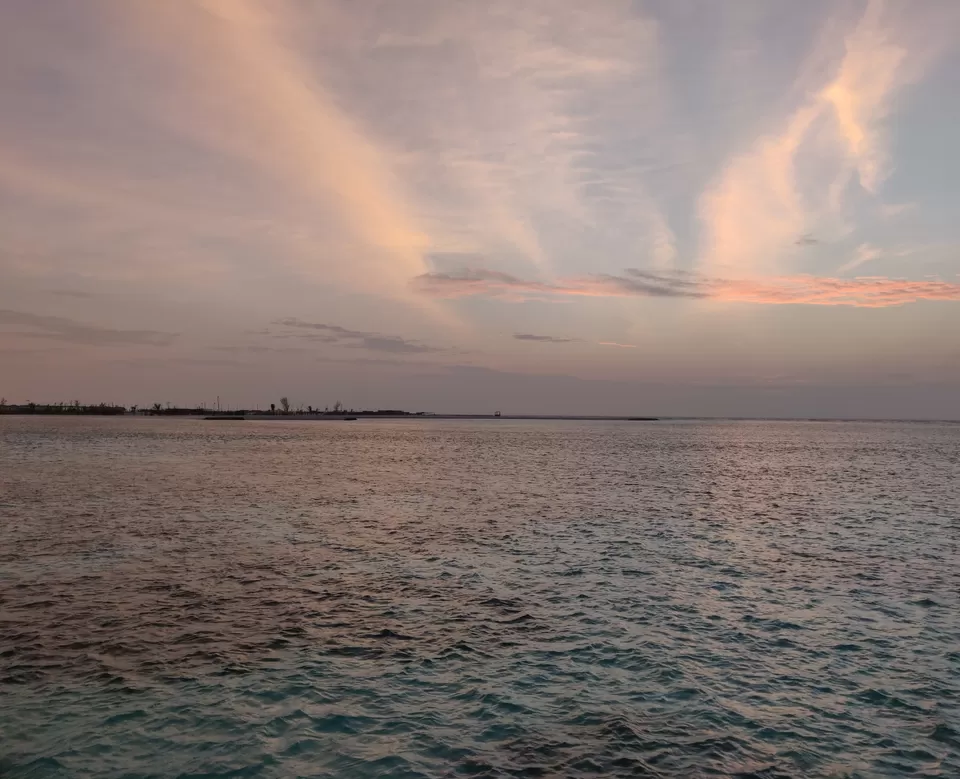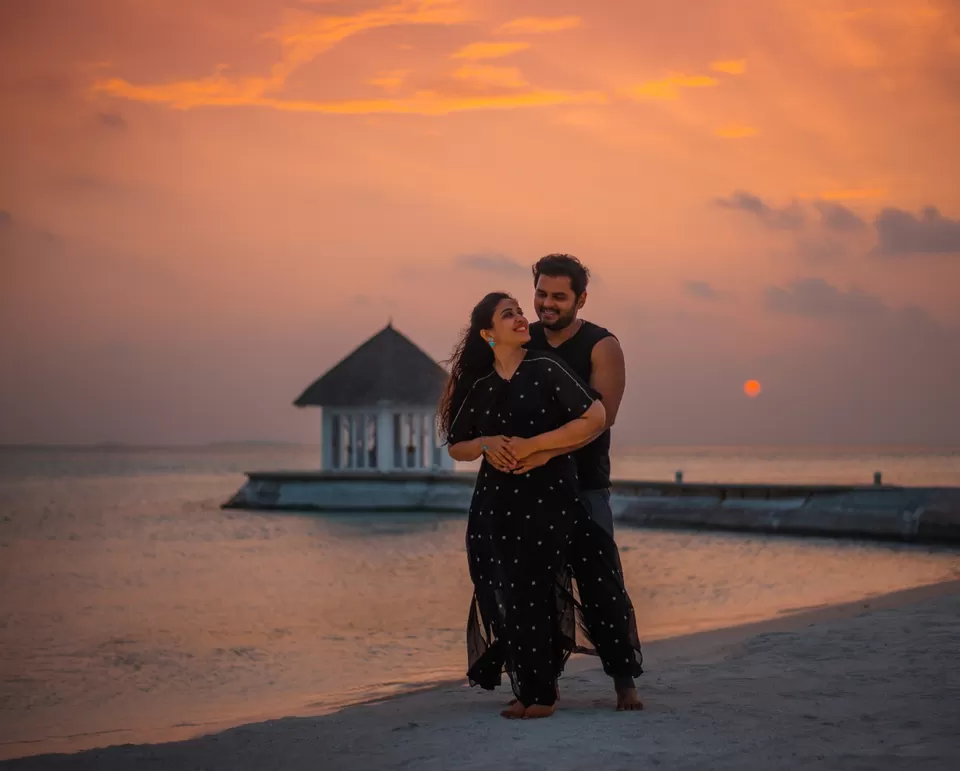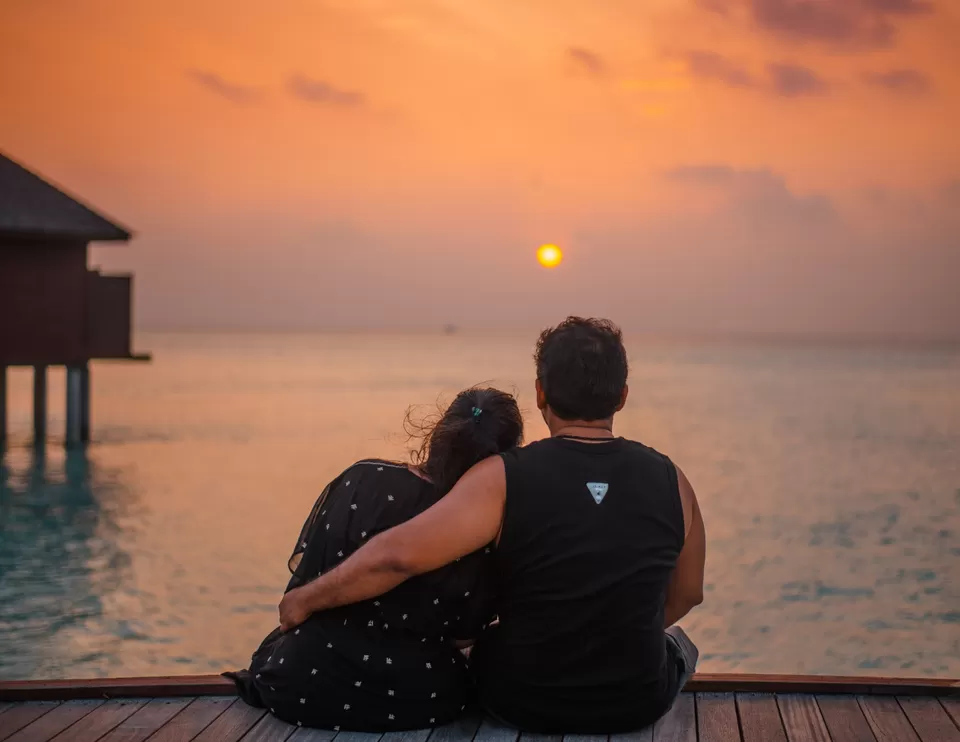 On the last day of our trip, we took a stroll around the villa to check out the unexplored nooks and corners of this heavenly island. We found a cute little souvenir store. We picked up little goodies that will always remind us of this memorable trip.
With a heavy heart and soul yearning for more, we got ready to leave for the airport by noon. As we were proceeding to the speed boat, my eyes were trying to capture as much as possible in one last glance.
It will be an unending journey because I left a piece of myself in the water villa.
So long, Maldives!
Until we meet again.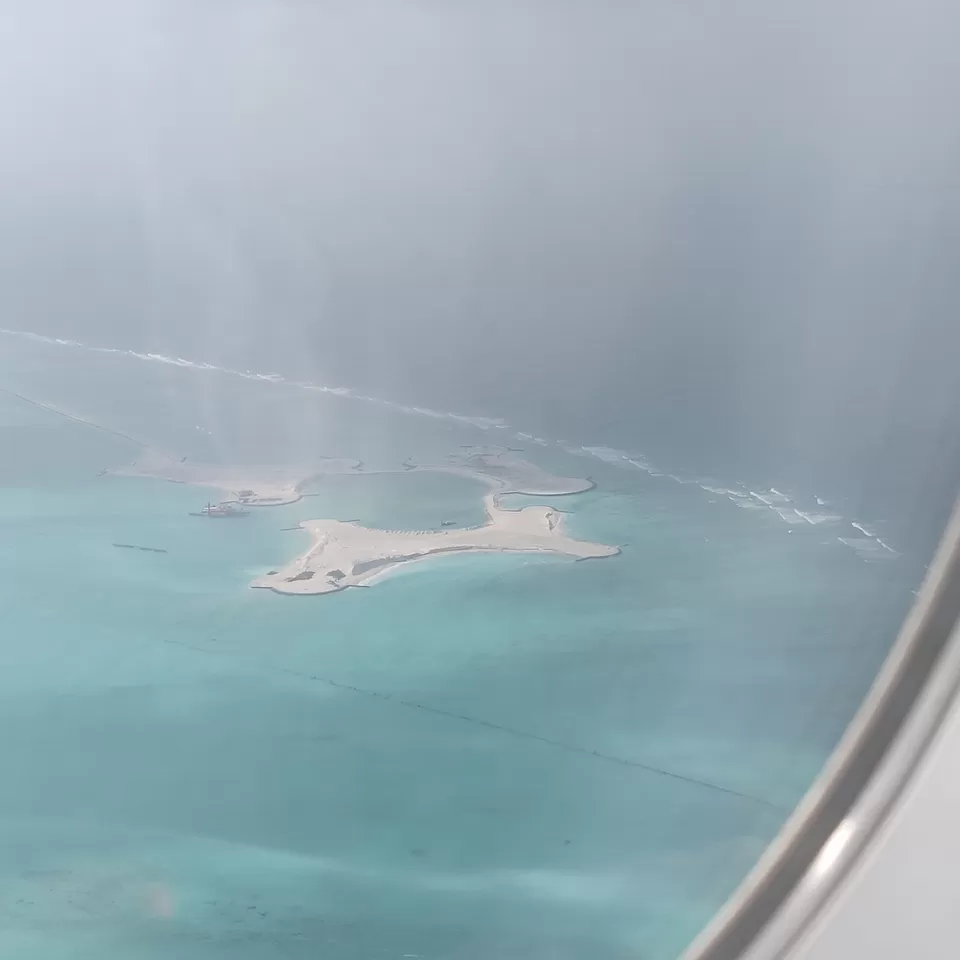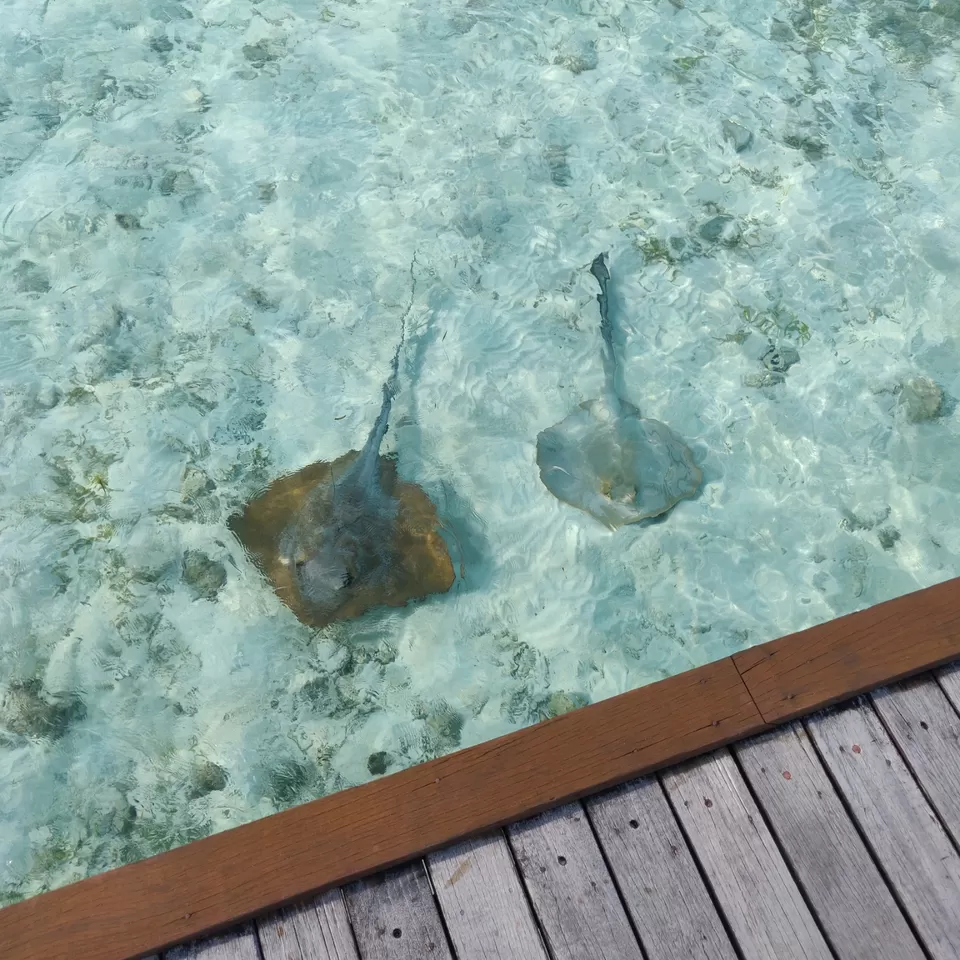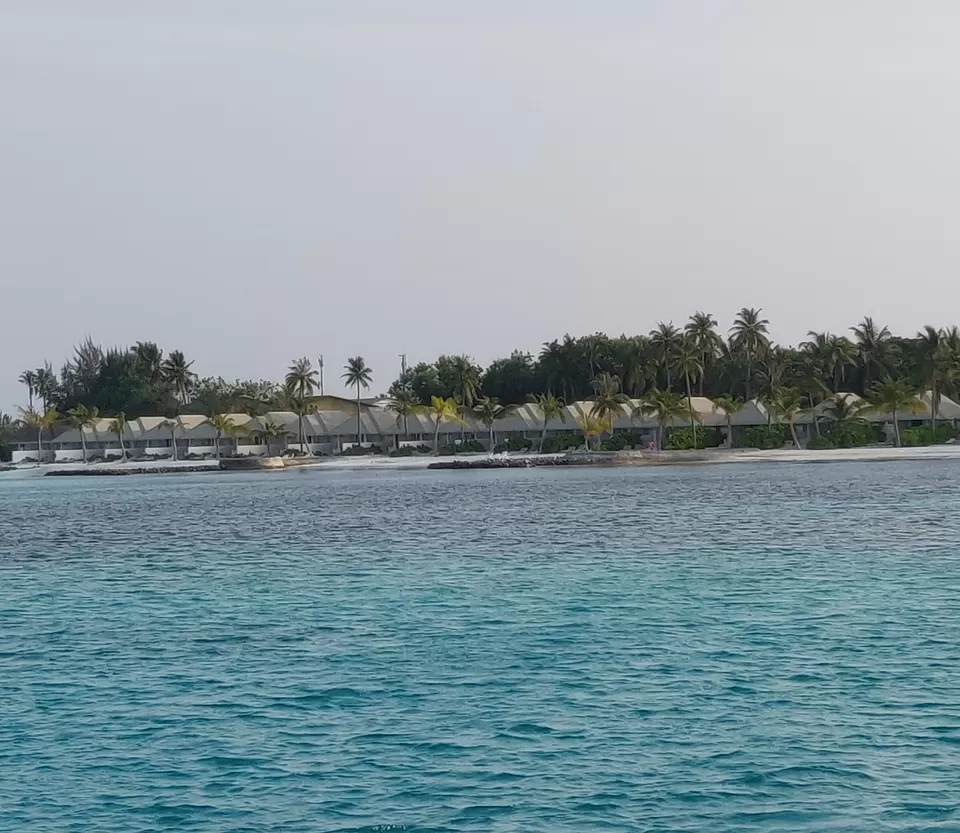 Frequent searches leading to this page:-
Maldives honeymoon package cost, Top Maldives tour packages with price, Best Maldives tour packages for couple with price, Best Maldives tour packages with price from Delhi, Maldives tourism best places to visit, Maldives tourism best time to visit, Maldives tourism honeymoon packages from India, Maldives holiday packages for family