Demul was one of the most serene villages I have ever stayed in and if we didn't have to pack up and leave the next day, I would have stayed on for a few days. The homestay was comfortable, there were small pea and potato fields and our hosts were friendly.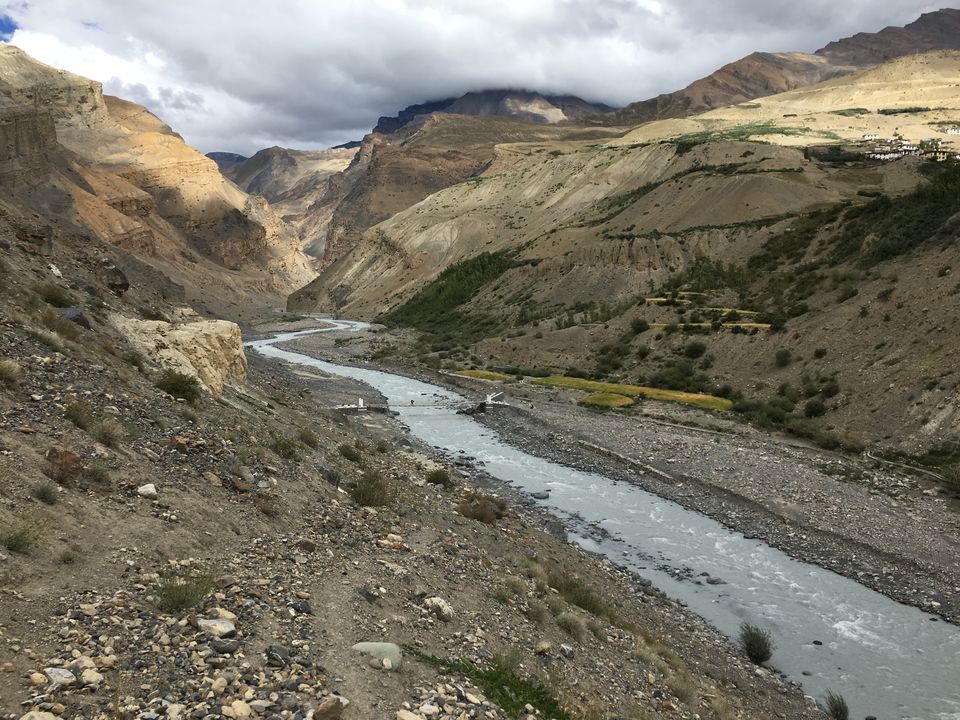 Lhalung is separated from Demul by a valley. You literally have to descend a valley, cross a bridge over the river and ascend another hill to reach Lahlung. Given my fear of heights and descents, I was wondering if I could hide somewhere without the tour guides noticing. But that wasn't the case.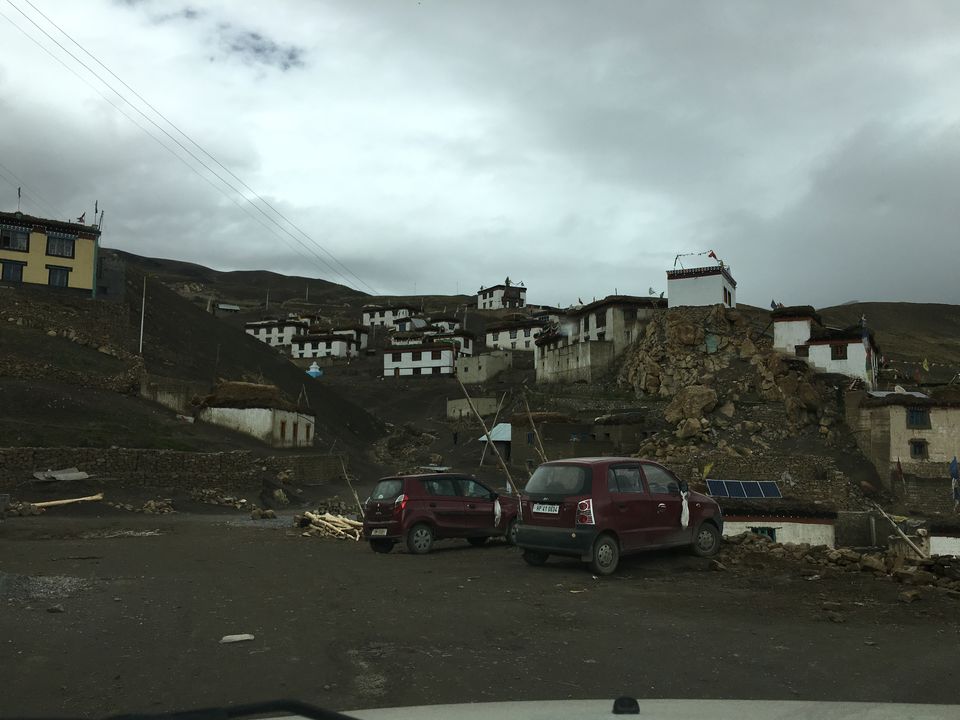 Our hosts handed us some packed roti with jam and we were on our way. My descent was uneventful, I managed to marvel at the view when I wasn't praying for my life and walked up to Lhalung village. But when I had to cross the bridge over to the other side, I just stopped. The view was absolutely stunning. It is for such unadulterated and raw surroundings that people must visit Spiti. Life there is so hard and the mountains so present, that every moment spent there makes you feel gratitude.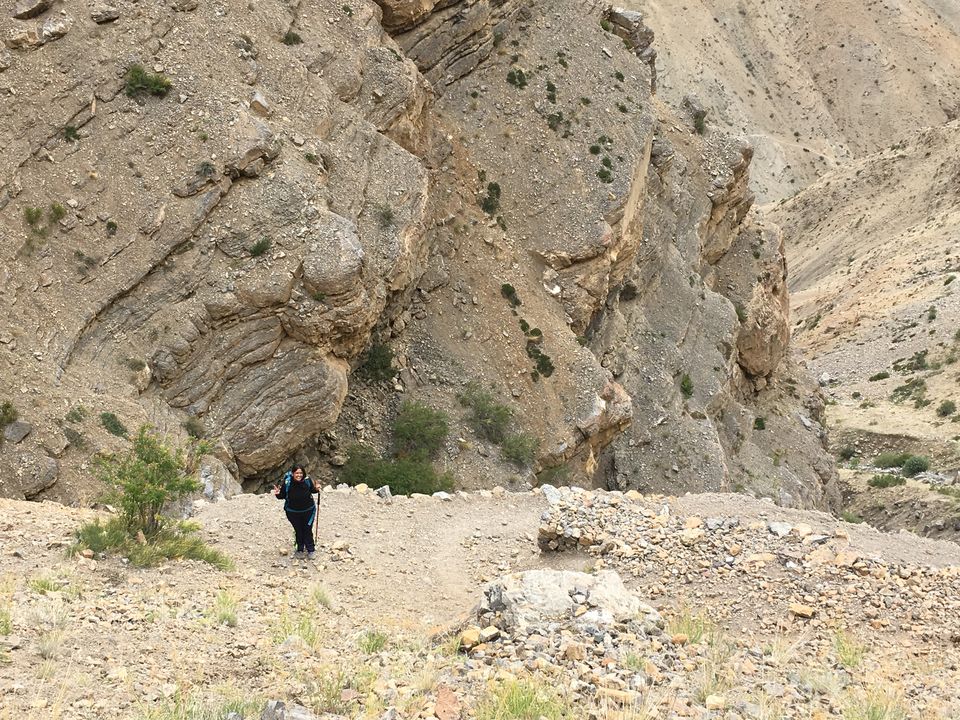 Lhalung village looked different from the villages I had already stayed at. This village looked greener as we approached it. There were trees and there were fields bigger than the ones I'd seen. Women were sifting through fields looking for pea pods to harvest. There were more green fields here than I had seen on my entire trip.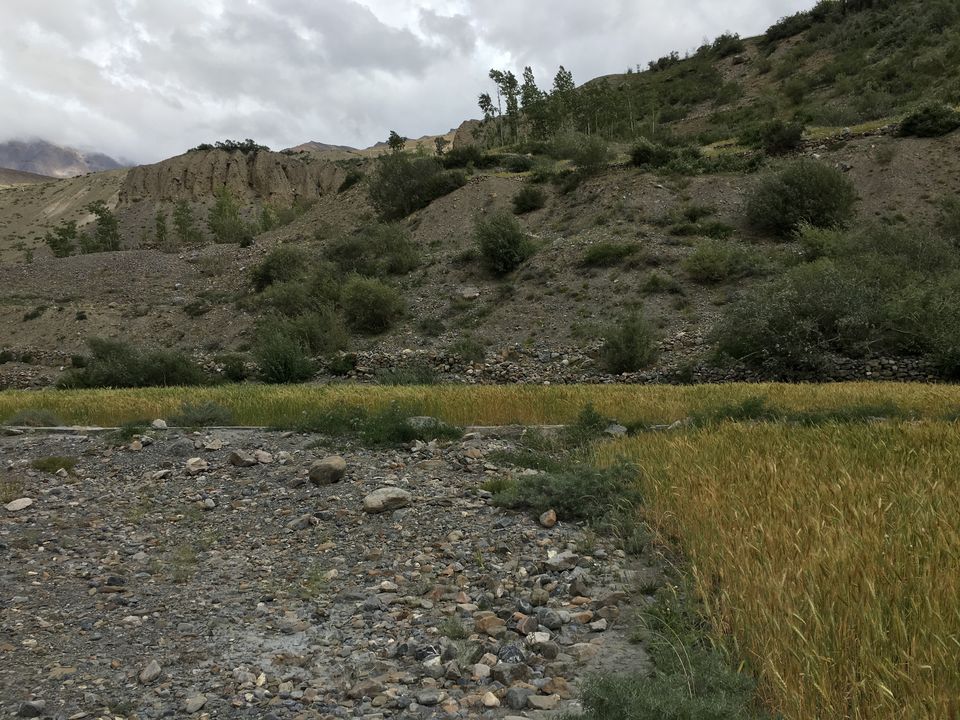 Thankfully, I picked the first homestay our group was allotted and dragged my tired feet to the room. The room was comfortable, with the typical blankets every Spitiian homestay had. But to my surprise, this homestay had running water facility and a western toilet. I didn't want to use too much water from a village that didn't have much. The homestay was still being upgraded and when I made my way to the dining room, I was surprised once again. The dining room was big and had a lot of space but when I walked into the kitchen, I saw a small modern stove, where my host was cooking, and a TV!
Now, one of the highlights of my trip to Spiti was the fact that I was on vacation without any network. We're so connected to each other that this was literally like vanishing into oblivion. And at my very last homestay, we found a TV. Our host explained that the Government had given each home free cable. I suppose this was their way of including the Spitiian people into their way. By ensuring they connected them via satellite, even if the roads were not there yet.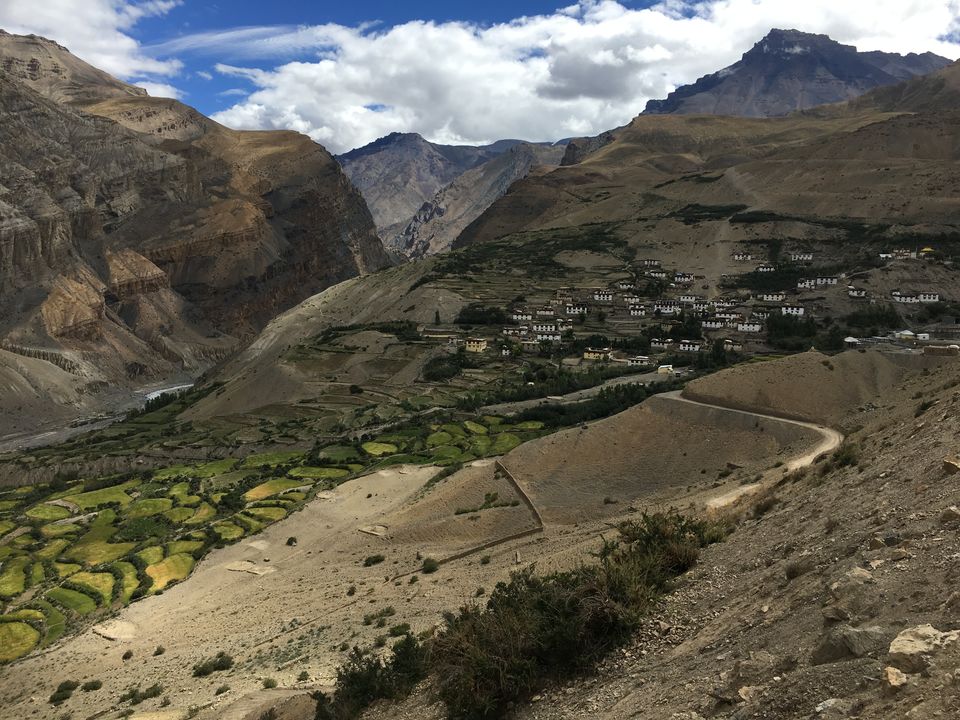 Our meal in Lhalung was also one that took me straight home. Generous servings of rice, mixed pulse dal and a delicious capsicum and potato bhaji was literally heaven. It made me want to come home and have delicious food that my mom had prepared. In giving me that experience, the Lhalung homestay felt just like home.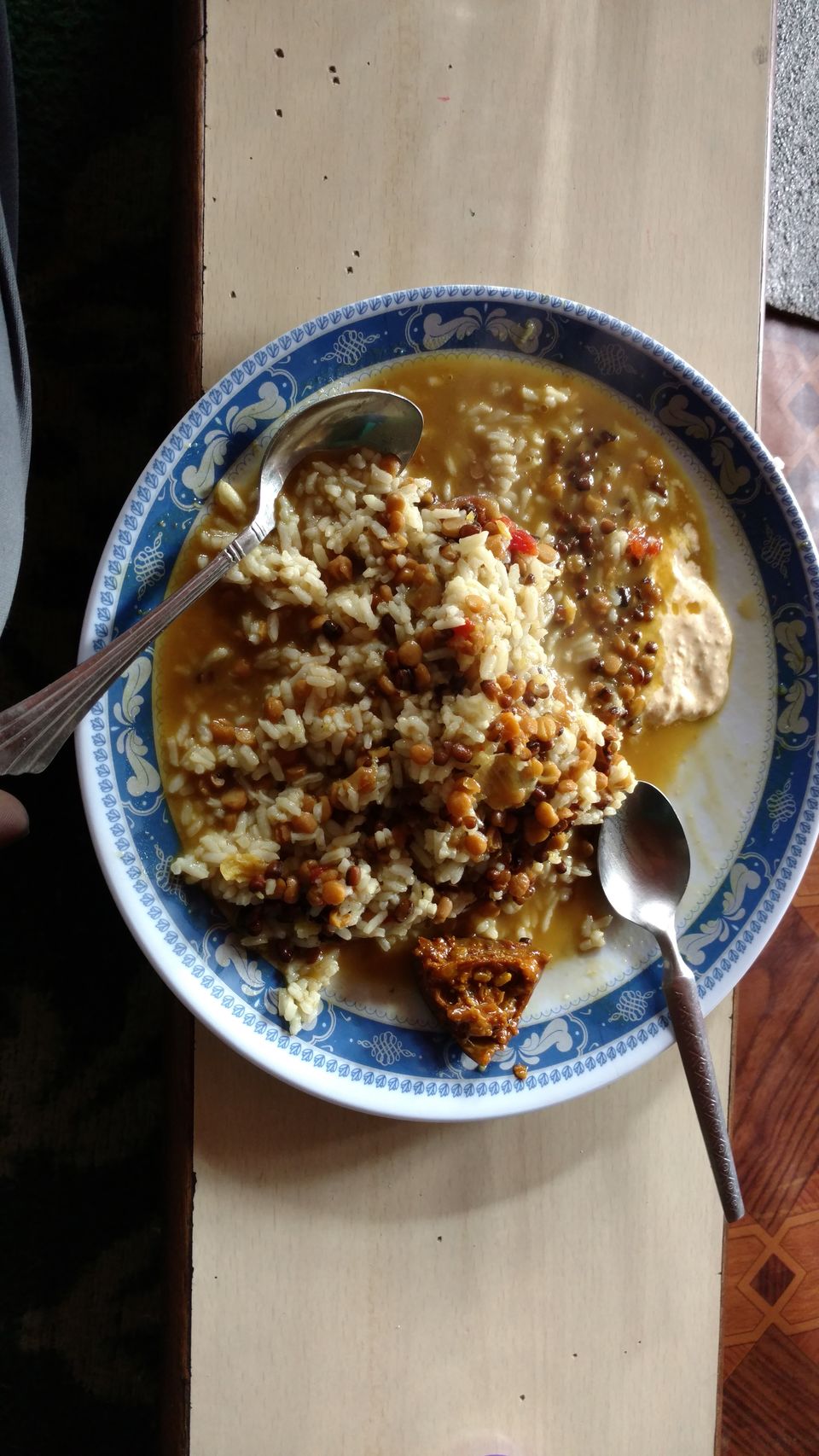 The host and his family, entertained themselves with the different serials that played on different channels and also watched the Olympics since that was on at that time. Those serials that we scoff, as we watch Netflix, are something that people in small towns hungrily consume. It made me wonder why the content there wasn't more heartfelt and original. Perhaps a new revolution in televised content was what was due, something that stretched the boundaries of what rural viewers thought was possible.
One of the best parts about Lhalung was the view we got of the valley, right from our homestay. Lhalung was incredibly peaceful too. We witnessed the sky changing colour from the top of the homestay and saw how life in the village slowed down. The villagers lived simple lives dictated by the movement of the sun. Thanks to the Government's solar push, each house had solar panels which more than fulfilled their electricity needs. Even then, by the time we had finished dinner, the village was plunged in darkness. People here use electricity but unlike us, they aren't overly dependent on it. It's a recent occurrence in their life and they're used to life without it.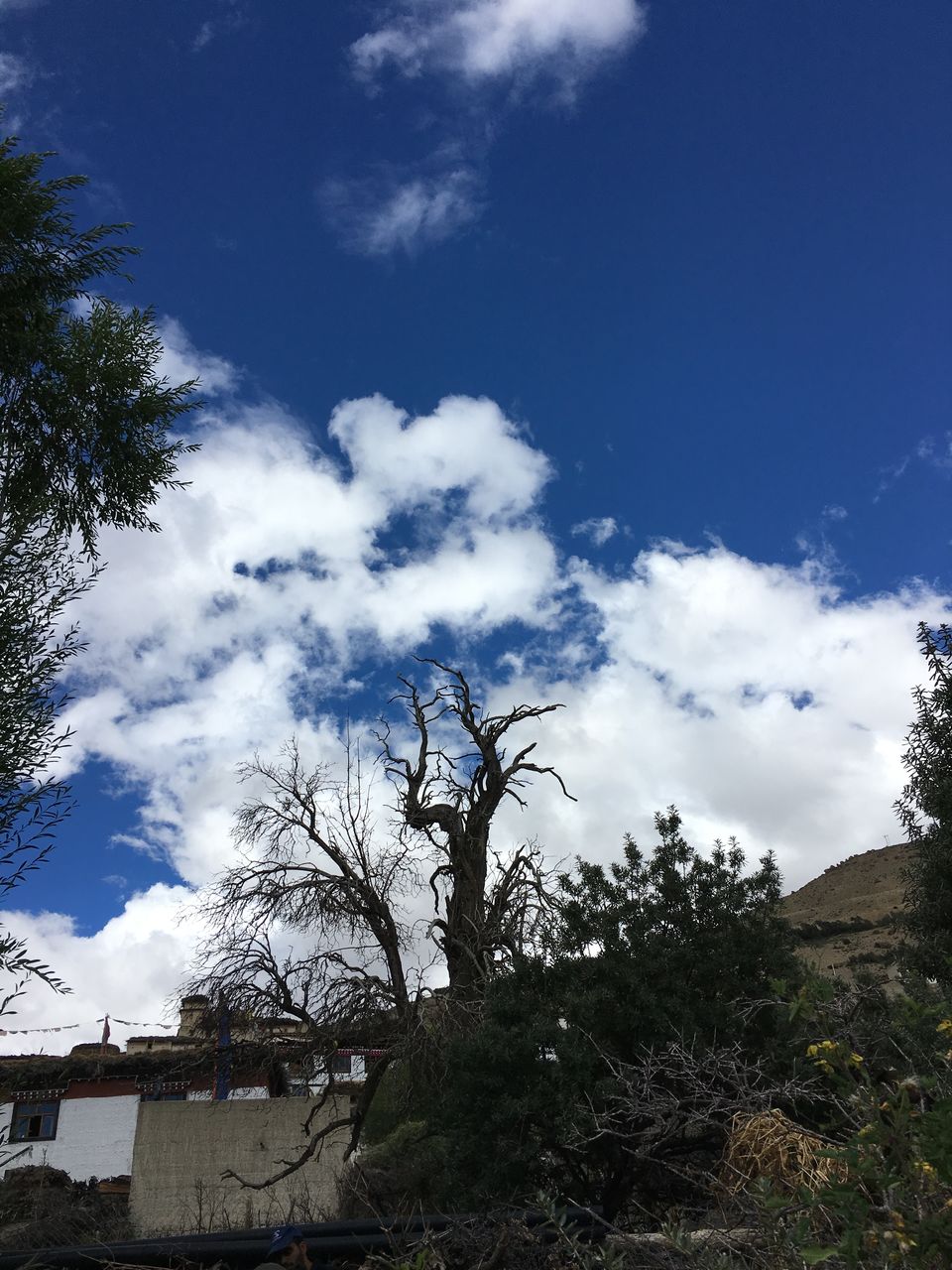 Lhalung welcomed us when we were tired and took us home with a wonderful host family. As a beautiful day welcomed us and we enjoyed Spitiian bread with jam, I realized, Lahlung was comfortable and warm. It was also modern. The people farmed on one side and on the other cheered for PV Sindhu in the Olympics. These were people who were in charge of their life, without network. And at the base of it, these were happy people.
Lhalung is beautiful. And on my last night in a Spiti Homestay, it comforted a tired soul with memories of home and good people. I was in a place with no network, TV and a modern bathroom, but I was also home.
How to reach Lhalung:
1. Lhalung can be reached from Dhankar by private taxi.
2. Lhalung can be reached from Demul village in around 4-5 hours
3. Spiti Valley is accessible from Manali by local HRTC buses and private taxis
4. HRTC operate buses in Spiti as well. Here is a comprehensive guide to help out:
http://www.thinkingparticle.com/articles/sarahan-chitkul-–-kalpa-–-nako-tabo-kaza-–-key-monastery-losar-kunzum