I would love to declare that I had an incredible ride, with no horrible events. I always have, Plan A and Plan B for my trips. And again proudly, with no horrible events, I executed my Plan A, all the way. On the way from Manali to leh, I met a couple from Lucknow on BikeTrip, another one from Mexico, and group of Ireland, we shared our little stories, introductions, the beautiful smiles and Hundreds of Thumps up's from Bikers, which just make me more comfortable for my Solo travel.
Because She taught me about calculated risk
I knew it was a wild idea, as many had pointed out, but the idea and the thrill of riding across India was too hard to resist.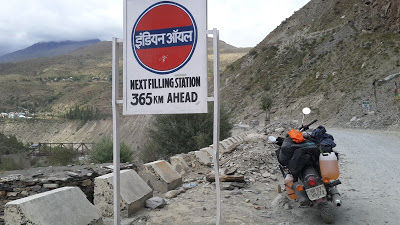 My Mother is now attuned and doesn't question me anymore when it comes to my bizarre travel ideas though she is always scared because riding solo comes with its own risks and one has to be very alert and fully prepared. But my fiancée, some day ago taught me about calculated risks, So, I followed all those advises and packed necessary and important things such as medicines, tool kit, puncture kit, spare parts, etc.
My learning
And, the journey just became so beautifully worthwhile. Suddenly the mountains rose from the earth. And I realized how sublime it is to be small. The helpful people just taught me about Humanity lost in Metro Cities. The tough Army people taught me about the sacrifice..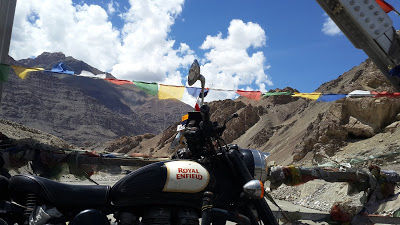 And the journey led to Pangong Lake. And I realized how deep the blue truly is. We spend our lives trying to be big. Wanting to be important. And one day we come face to face with the vastness of nature. We stand in awe of the mountains touching the sky.
After discussing with my friends in July 2016 about our most awaited trip of the year, all plans dropped. Someone was busy, someone didn't have enough leaves, some people just ditched.
I was planning for Sach pass, and on the travel blogs there was an ad which read as follows " things to remember, if you travelling alone in India ". Some foreign author had written on his blog about Indian solo trips.
And it just clicked my subconscious part, and I just deleted the itinerary for sach pass, and new tab, with a title, Solo_Leh_trip.
Private job, limited leaves. But, I still managed to plan a ten day trip from 5-15 August. I will not share my day wise trip here, you will get common itinerary on many blogs, and even you can plan better, according to your interests and days. I will share my experiences and some tips.
I left from Noida on 4th Aug at 3:30 pm, I saddled my Classic 350 with the bare necessities and set out on the long road to Ladakh. As, it was the monsoon season and I expected the ride to be challenging. But the road from Noida to Kiratpur Sahib was easy enough--a series of shifting landscapes.On crossing Rohtang La, I discovered how fickle the trail can be. There wasn't any road to speak of. Only a meandering path across a sheet of ice interspersed with ditches. But my bike did not fail me. As always! I remember last time, when we were returning from Chanshal Pass, the rear break failed, but the lucky charm did not fail me.
So, next day morning, at 9:30 I was in the line for Permit ( SDM office Manali ). For permit, you need registration paper, pollution certificate and driving license. Very friendly staff, it took just 5 min, and I started towards Leh.
Two important things are: Shoes and Petrol cans. Carry a couple of really good shoes as you may need to pass some water crossings. If you don't have high boots, You will get these in Manali for a mere Rs. 200-400. Petrol cans are a must, I took two 5lts cans for about Rs. 150.
Smiles along the way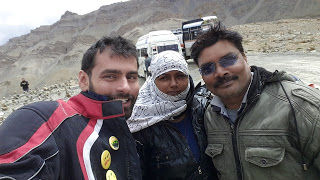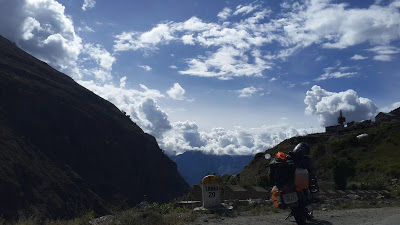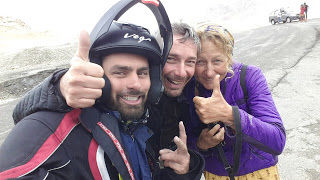 And truly savoir the stillness in the silence. One day we realize how small we are--and how wonderful it truly is. I sang for unknown People, Of course it was more of a screech! But It was Original Me, who shouldn't care for opinions. This trip made me believe that everything falls into place when you really want it to. Once you embrace the true spirit of the journey, it reveals itself to you. On the bike, moving through the slim, creeping edges, my mind was empty, without thought; my body was just moving through time and space. It was a beautiful experience now that I think back. And when it comes to Humanity, not only Locals, even travelers showed their helping hands all over the way.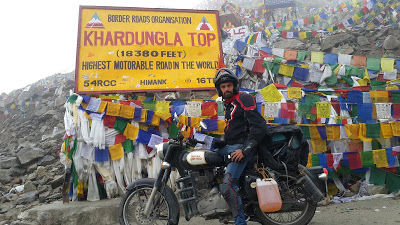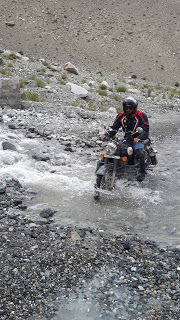 Like, when some unknown biker helped me during water crossings, During the way, all hotels were pack, so two guys allowed me to share their hotel room, army people helped me a number of times...!! So it just something, now I have to return to society. And I hope this will bring a better version of me.
And why you should travel solo
you will get time to breathe, Standing on the edge of a cliff or bank of Lake and taking the fresh air, nothing else would bother you.
you actually got time to bond with yourself, which is very important, to understand yourself, for your important decisions, for a stress free life, for that forever smile :)
As I mentioned before, you planned for something, you will execute it. No voting, no Plan B and Full independence and no one to mock or interrupt. So, just explore the region.
Meet people, army persons, little monks , travelers. Maybe you can make some new friends, , may be you learn something new!! And yes, also you will have more than 50 people for photo credits :). Just say " hey, can you click my picture" and then start your new alliance.
Riding through world's 3 Highest passes, tough trails, water crossings, land slides, steep roads will be the real adventure and once you done with it, you can proudly give a pat at your own back.
Some Tips:I am mentioning my route, the cities mentioned were my night stops. Noida-Bilaspur-Jispa-Leh, Leh-Kargil-Leh ( in Kargil, no night stop), 2 days local Leh ( like karu, thiksey, shey), Leh-Nubra-Leh, Leh-Pangong-Leh, Leh-Jispa-Kurukshetra-Noida. On the way back to Manali, Rohtang pass was most painful, as it was raining. So few tips as a solo rider:
Keep at least 2 pair of shoes.
Keep petrol cans, spare parts, warm clothes, medicines, dry fruits, rain coat etc.
Also, It is very important to know how to repair your bike (at least some basic stuff) because you might not get mechanics while crossing a few patches.
All safety Guards, cold cream , lip balm, sun screen etc.
Don't depend on mobile connectivity and internet
People there are very friendly and hospitable. Respect them.
If you reach Leh by air, stay that day and do not plan to go anywhere for that day, as you will need a day or two to acclimatize yourself. Drink plenty of fluids (that does not include alcohol), do not move much for the first two to three days.
- Many people say Leh-Ladakh is a different challenge and dangerous but to be honest I didn't find it that way. If you are a responsible biker and don't get too excited easily, this trip will be a lot more easier and you will have a lot more fun. And, it definitely is addictive!.
Rest Happy Riding. If you need more details, you can contact me ( saddyan2@gmail.com )
Trip first published on Mr. Vins Blog