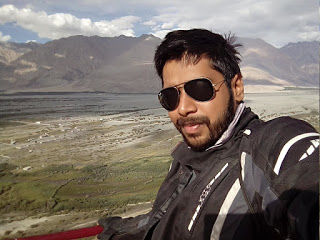 And as he rode for 18 hours and 600 kms , his journey had ended, his stay at Delhi was over and he would move back to his hometown- Goa!!
It all begun on 23rd July post the offer letter he received. 8 days and he had to ride to Leh- one last trip before he moves back home.Begin the marvelous sculptured roads of Leh. Neither me nor anyone else can take this road for you.
Day 1-August 1st 2017- Highways and dust!!
All riders like to feel the morning breeze (and a lot of dust) on their face. At the tick of 5 am i was on the move, zigzagging and crisscrossing every truck , bus and milk van i met on the road. By 10 am i was en-route 15 kms short of Chandigarh. As i rode i was prepared for rains. Its Manali , what else can you expect other than a random weather change?
By 7 pm i had checked in to my hotel room and by 9 was done with the oil seal change for my bike!!
Clouds trying to hide the half moon , glittering stars and the sound of flowing water!!