769 kms-33 hours two states-two forest reserves-broken indicator and rear view mirror-couple of bruises-45 hair pin bends ... This is what the past two days have been for me. Never thought a short drive to Mysore would turn out to be all that.
Sunday 6:30 AM : I am lying on my comfortable foam mattress, wondering if I should get up or not. The Sunday lethargy was kicking in and I had no mood to get up. My body didn't budge when I asked it to move. I could feel every cell in my body echoing the same thing.. "Sleeeeeep". I had decided - I'm going to sleep for some more time and then sulk at home for rest of the day. Ten minutes later a thought hits my head. "this is what I do every weekend, let's do things differently today.". Today wasn't the day when I let my lackadaisical attitude subjugates me. So I get up, brush, get into fresh clothes and pack my gear - which included my cam, a towel (my mom made me take it, I didn't want to, unaware that hours later I would be thankful that she did) and the rain cover for the bag. I wore a thin jacket, slipped into my shoes, put on the gloves and started from home at 7 AM. I bid adieu to my mom saying I will be back at around lunch or later.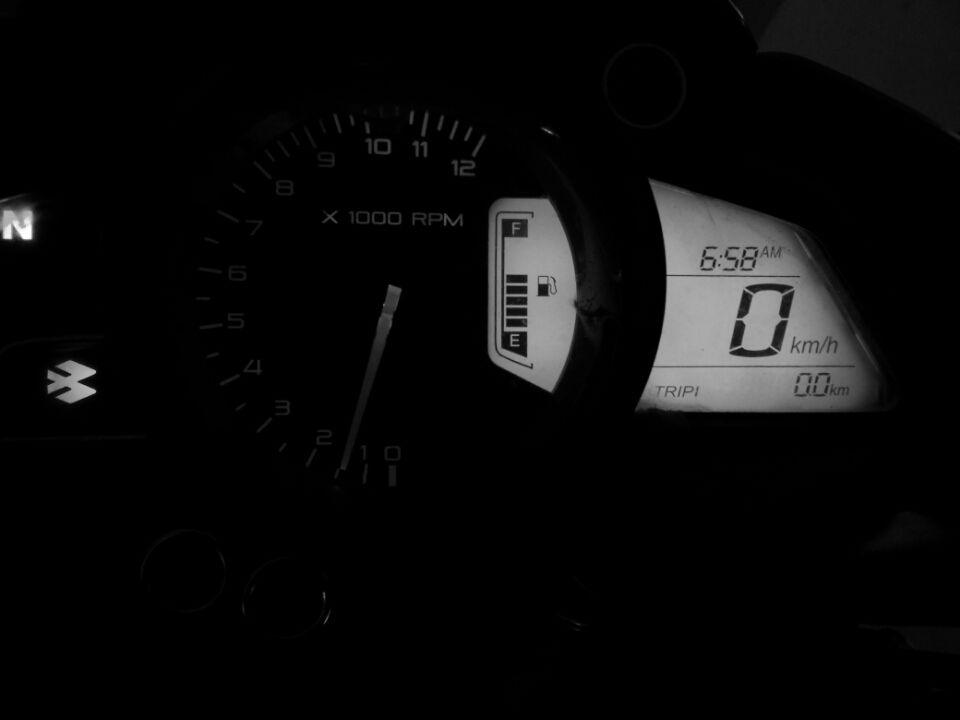 Start of the amazing ride. Reaching the Mysore road was no big trouble. I had made the drive couple of time. So by now I knew it like the back of my hand. Don't even remember this part of the journey. I reached RVCE at around 7:45 AM. There was little traffic. I sped ahead past Kengeri, Christ University, Wonderla, Innovative film city junction, and reached Ramanagara soon. From there, the traffic reduced and I could maintain a speed of 100 kmph. I crossed the Silk city of Ramanagara, the City of Toys - Chennapatna and Srirangapatna.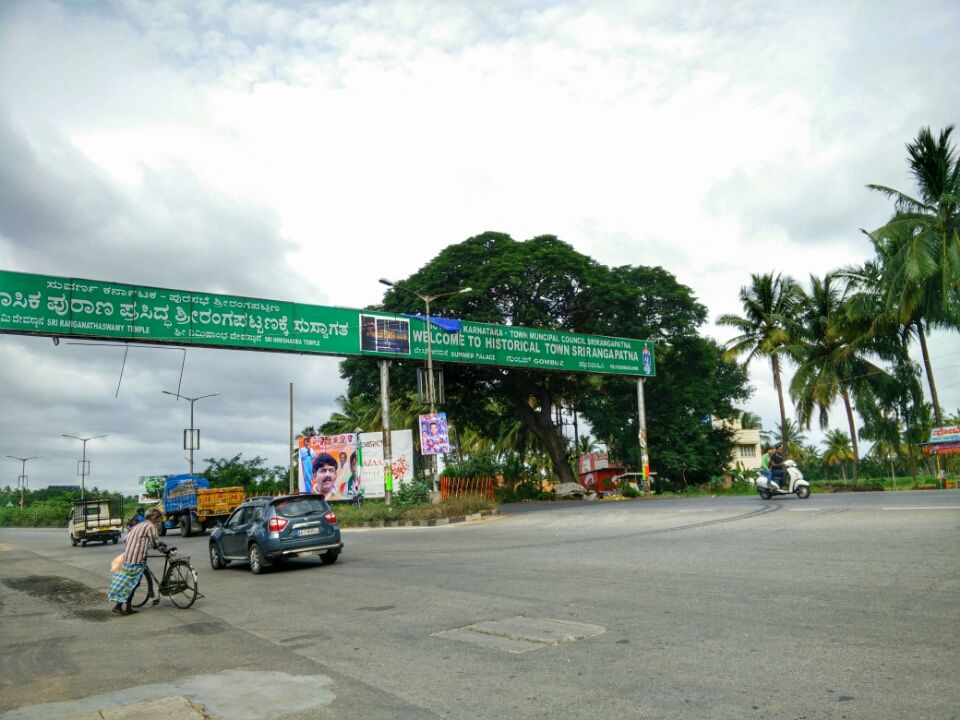 Historical Town Srirangapatna.
I was soon at the entrance of the Heritage City - Mysore alias Mysuru. I remembered having been to the Sangam with the family back in 2010 on a holiday to Coorg, so I took a left before Mysore and reached Sangam, where people take ablutions in the river Kaveri. The place was too crowded. So I didn't stick there for long and headed back to the highway towards the city.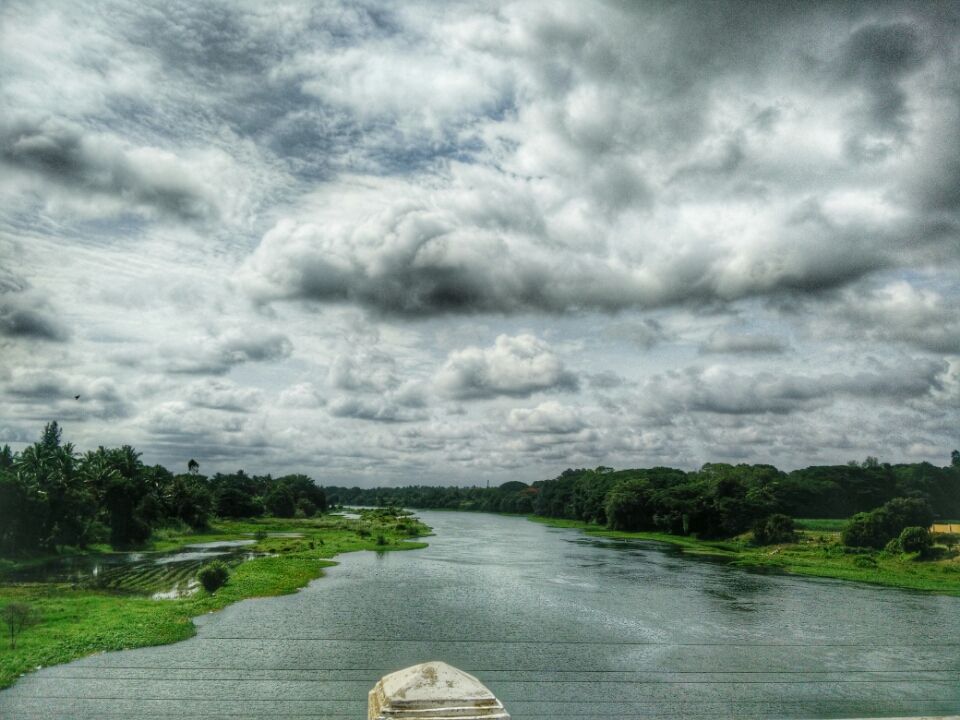 River Cauvery near Srirangapatna.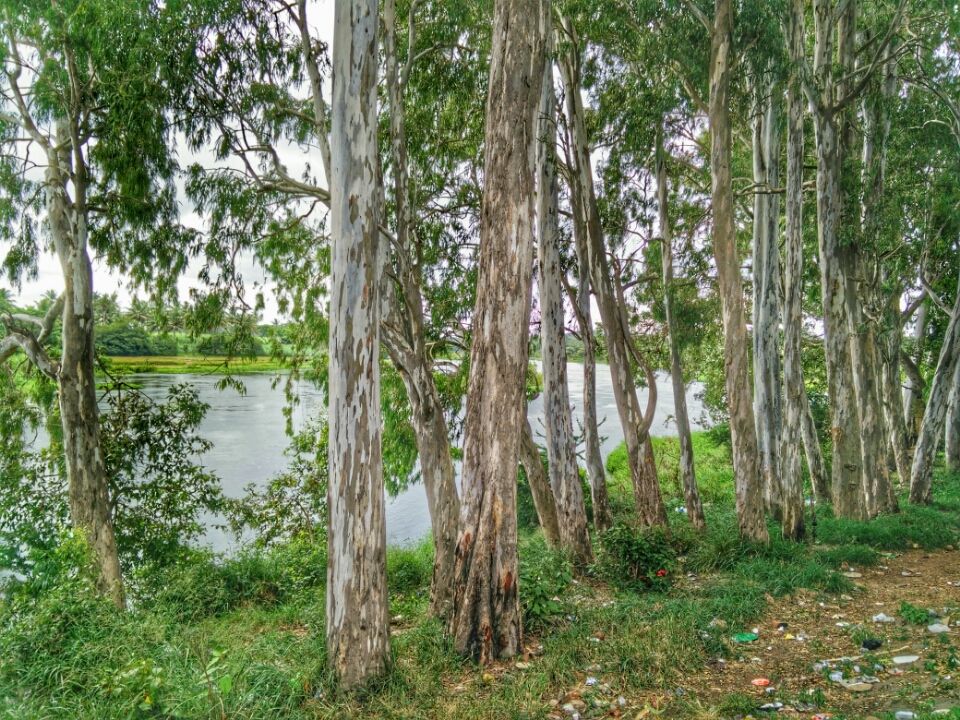 Sangam.
On the way to Sangam.
I followed the sign boards and reached the bus stand hoping to find some nice place to get the authentic Mysore breakfast. Unlucky I was, that I couldn't spot anything near the main road, so I just kept going around while I crossed the Mysore Palace entrance. I gave up when I saw some normal breakfast place and ordered a masala dosa. Fortunately it wasn't as bad as I thought it would be.
Heritage City Mysore!
As I ate, it starting drizzling. I was wondering what to do next. It was only 11 am. I wasn't ready to go back home yet. I left like I had to go somewhere else. So I googled places to go to from Mysore. Top results were Coorg and Ooty. I had always wanted to go through Bandipur. So the prospect of driving to Ooty suddenly became interesting. I saw the route through GPS and checked for some tips on travel blogs. So I started out following the GPS and decided to go to Ooty and reach back home. I took the Nanjanagudu-Begur- Gudlupet-Bandipir-Mudhumalai-Gudalur route to Ooty. The Nanjanagudu-Begur road was under construction, with lot of rocks and dust. Once I crossed Gudlupet, the road was amazing. There was pristine vegetation on both sides as far as I could see. The air felt so clean and fresh. The drizzling hadn't stopped.
The field of sunflowers.
When I noticed a field of sunflowers, I stopped by the side of the road to rest for a couple of mins. The landscape was soothing. The picturesque field of the beautiful flowers, slaves to the burning sun devoid of any urban elements except a newly whitewashed house in the distance, was appeasing to the eye. A sense of calm came over me. I pulled out my phone and took a snap. I didn't linger around longer and hit the road again. Vroom. The scenic road to Ooty.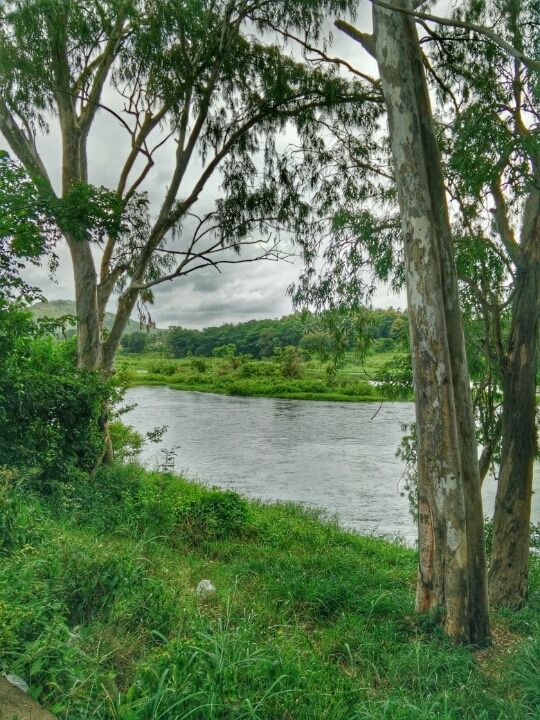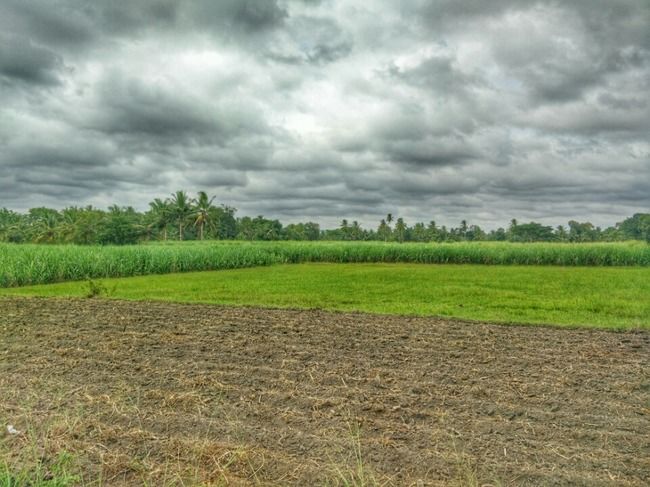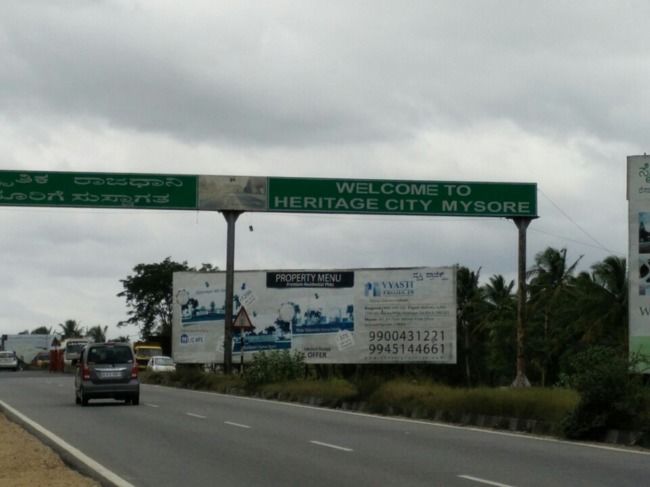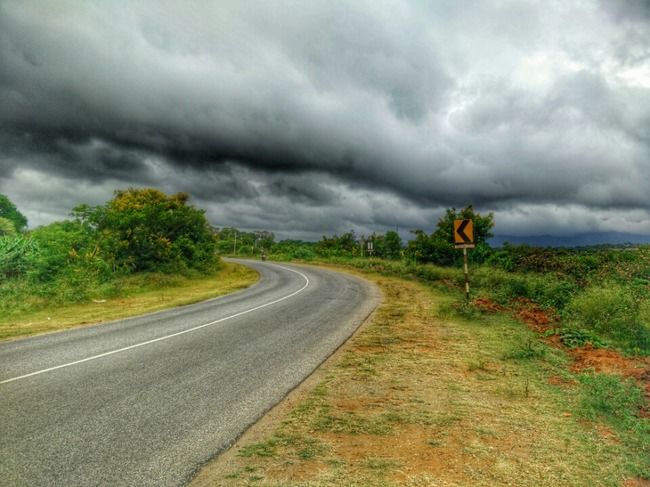 After a while, the roads started to bend a lot and soon I was at the Bandipur National Park checkpost. The guard asked to carry on while he focused onto the SUV that was behind me. Just a few minutes after crossing the checkpost, it started to rain heavily. So I stopped immediately and put on the rain cover for the bag. A group of bikers passed me hooting and shouting. I wait for sometime for them to pass and then started my course through the forest roads. Their noise was marring the beautiful place that surrounded me. I saw lots of peacocks with their feathers spread open. After riding for a while I came across the bandipur resort. Lot of cars and bikes hustled about the place and I made a mental note to plan a stay there later. I rode on and a group of bullets thumped their way as they overtook me. I wondered whether I need to join a biker club, wasn't sure if I would enjoy riding as a group.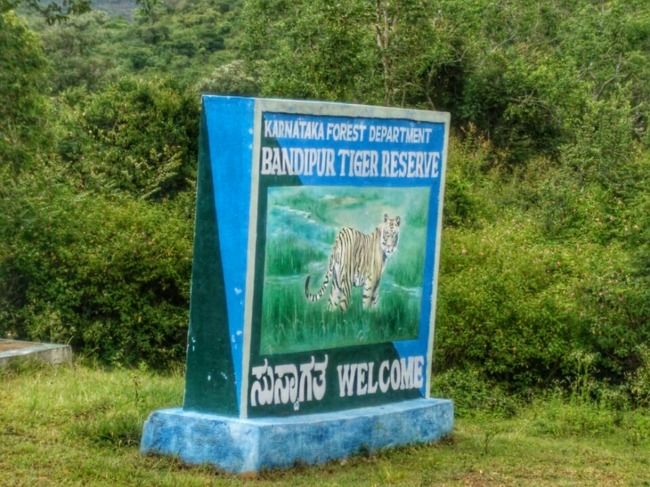 Finally rode through the famed Bandipur forest road.

Soon I reached the end of Bandipur and entered into the Mudhumalai Forest which was marked by a narrow bridge over a stream. It was still raining, even across the border. I halted when I saw a shop across the road. Tea was the fuel I need. After sipping through two cups of scalding tea, I got back to the road.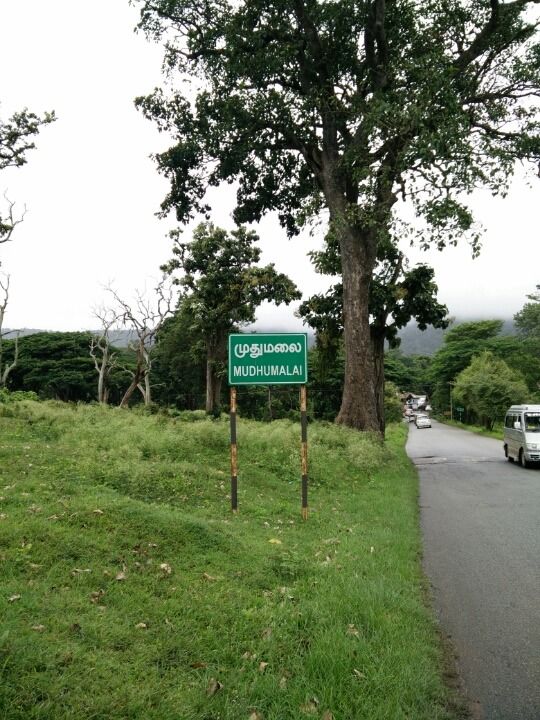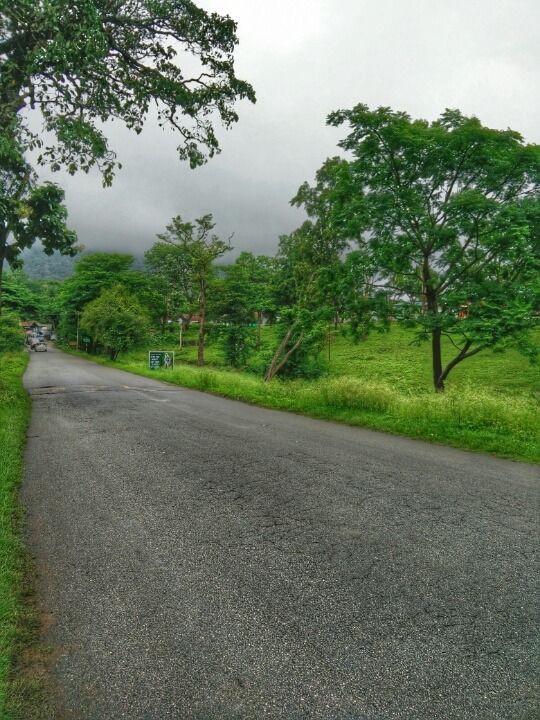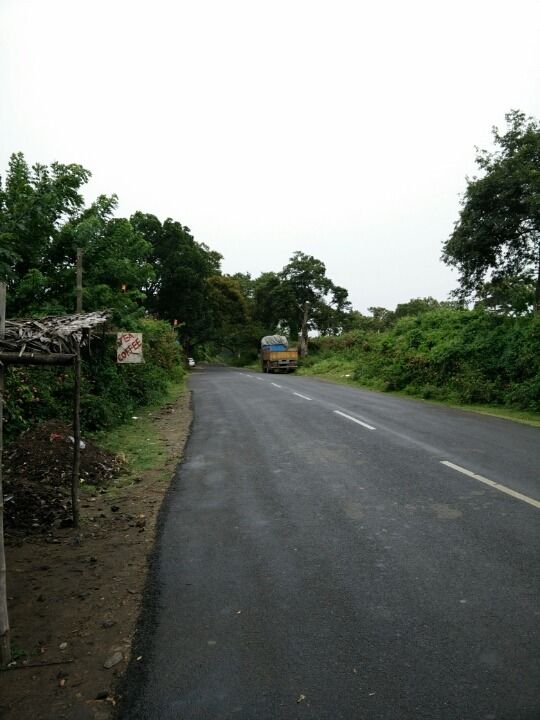 The Mudhumalai forest reserve. Road through Mudhumalai, near the tea shop.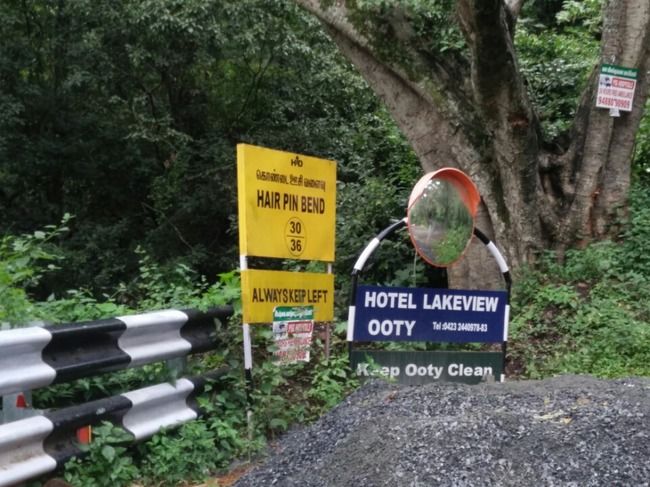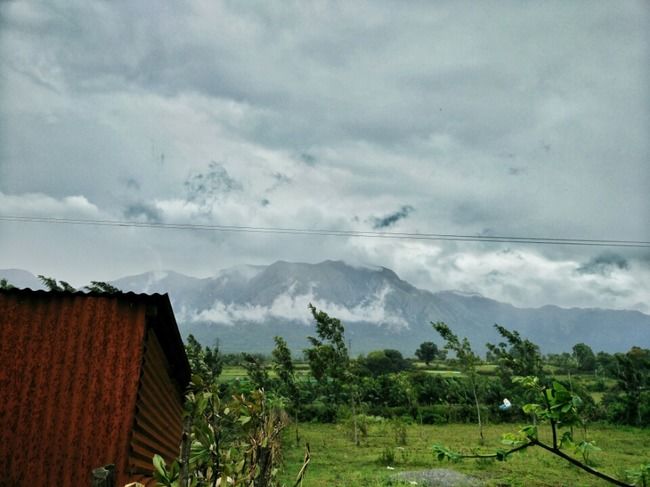 30/36.

I saw the first board on the left saying hairpin bend 36/36. My my. I tried to focus all my attention on the road as this was the first time I was tackling hairpin bends. The rain started to grow even more intense. I could feel the drops hit me like needles. I drudged slowly onto the top, cornering each bend. I felt a sense of accomplishment when I crossed a board saying I was at hairpin bend 18/36. Halfway more to go.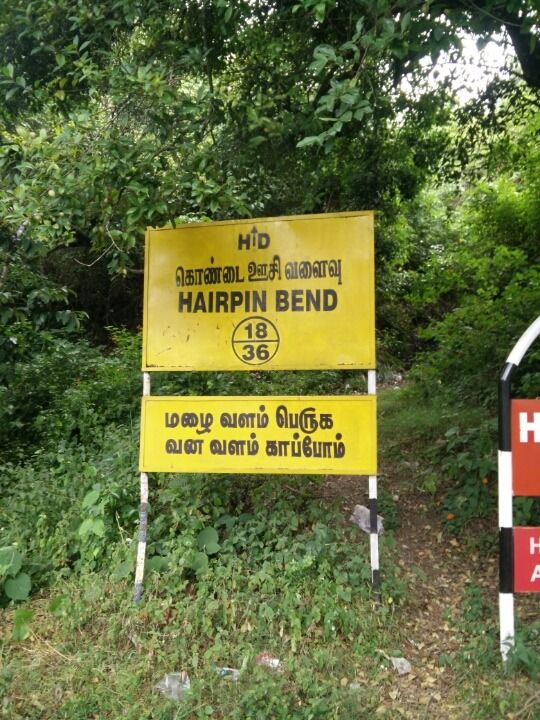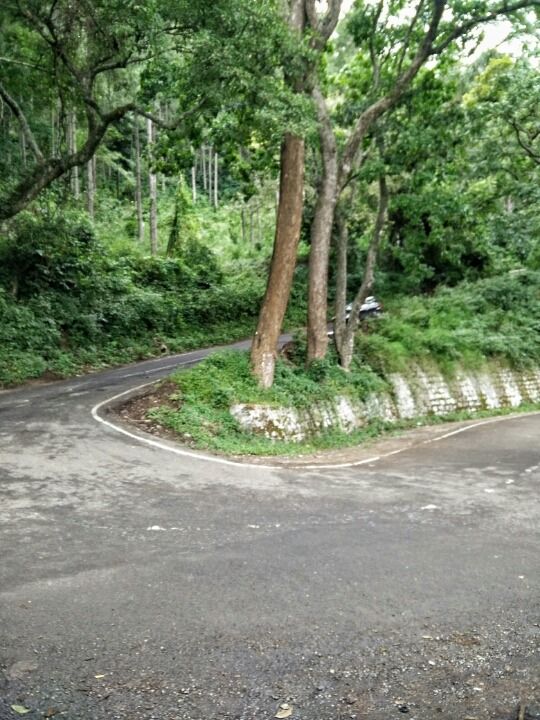 Another bend on the way to Ooty. 18/36
My gloves, my jacket my clothes - everything was soaking wet. My fingers were almost numb because of the cold. Gritting my teeth, I rode on and made it to the top. Hairpin bend 1/36. Done. Phew. I drove towards the bus stand and looked for a hotel. I found one down the street and headed into it quickly. Spotting an empty table, I dropped my bag and helmet on it. I went to washroom and put my hands into the flowing water from a tap. The water felt warm on my skin even though it was actually cold water. I pulled out the towel that mom had asked me to carry and covered my hands with it. I ordered a hot coffee. The waiter got me the coffee and I immediately held it in my hands so that my palms could absorb the warmth. I could finally feel my fingers after a while. I gulped the coffee slowly and ordered a masala dosa. The other option was lemon rice. So no. Post that I looked for a place to buy a rain coat. I was sure I would freeze to death if I didn't buy one. I checked the time. It was 3:15 PM. I was sure if I headed back home to Bangalore, I wouldn't be able to make it as the Bandipur road closes by 6 PM. So I decided I'll go to Salem since my Dad was at my grandparents' place. I could stay the night there and head to Bangalore next morning. After buying an inexpensive rain jacket with themal cushioning, I headed to the gas station to fuel up. I asked the guy at the Bunk for the shortest route to Salem. He told me to climb down the hill via Kothagiri and I'll find a straight road that will take me to Bhavani directly. After being pointed towards Kothagiri, I pulled on the jacket and put on my gloves after squeezing it dry of all the rain water that had soaked it. I stopped a little ahead to take a couple of photos. The fog had taken over the roads. I switched on the high beam and drove to avoid being hit by the oncoming traffic.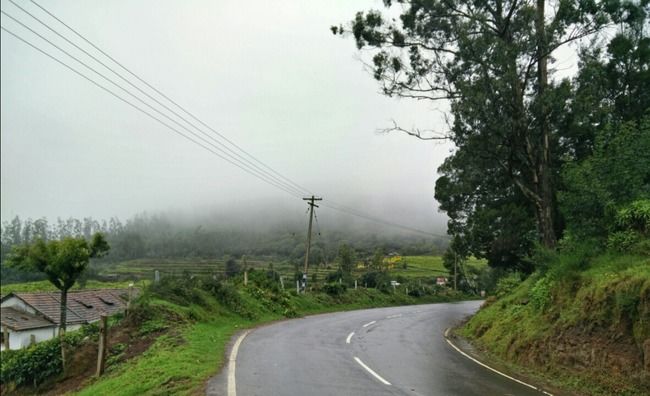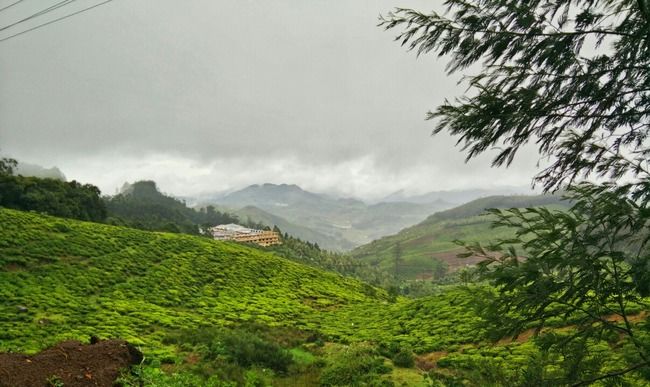 A tea estate enroute to Kothagiri.
After crossing the nine hair pin bends on the Kothagiri road, I revved to a higher speed. After overtaking a couple of cars, I suddenly came across a blind turn followed by another. I hit the brakes but the rear wheel skidded beneath me because of the water that was flowing on the road and bike hit the tarmac. I was dragged with the bike for about 10m before the bike stopped. I opened my eyes and as soon as the realisation hit me that I was still breathing, I instantly got up and pulled the bike to the side. I put the side stand and sat down beside the bike as a two cars zoomed past me. What a lucky escape. I could see the shattered glass right RVM on the road. Two guys on a bike stopped and asked me if I had a fall. I assured them that I was okay and they left warning about two more similar turns down the road, where lot of accidents happened. I pulled my shit together and breathed heavily for a few mins. I checked my helmet for any damage. It was perfectly fine. Then I got up slowly and inspected the bike. The leg guard had been bent and the metal of the brake pedal was brushed because of getting rubbed against the tarmac. There was no other visible damage. I switched on the engine. It came to life immediately and gave the same sound. I was relieved. I hopped onto the saddle and switched the gear and drove slowly till I crossed all the bends. My confidence had taken a hit.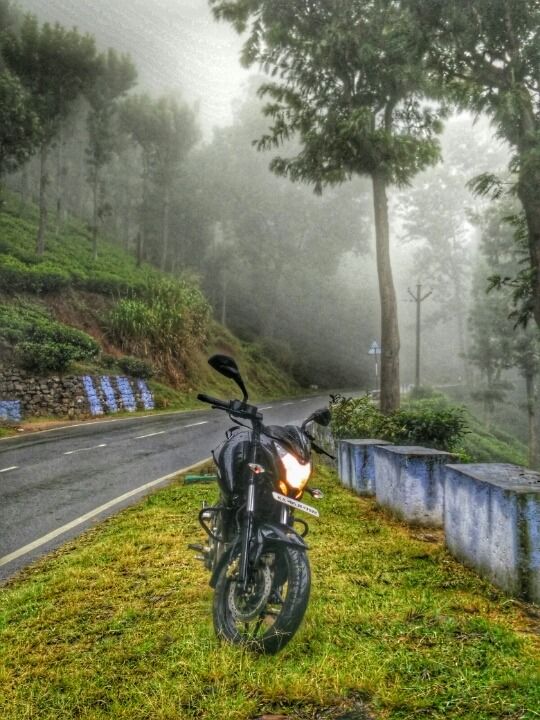 My companion.
The rain was slowly fizzling out and by the time I reached the state Highway to Sathyamangalam, it had stopped completely. It was 5:10 PM by then. I stopped by the side of the road and took my completely soaked jacket off and stuffed it inside my bag. Made a call to my dad and told him my plan. SH15 was a straight two-lane road with scenic landscapes on both sides. The cool breeze and the villages that were intermittently present throughout the road made the ride very enjoyable.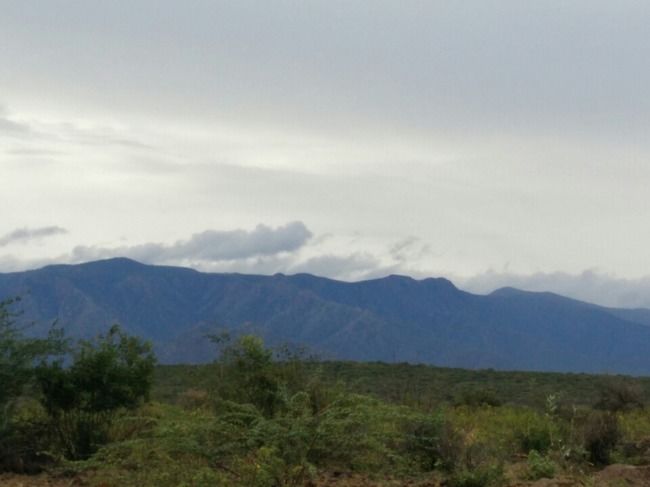 View of Ooty Hills from the SH15.I reached Sathyamangalam and took the road to Bhavani. Switched on the GPS at Bhavani and headed to my native place Rasipuram, located near Salem. Manoeuvring between slow moving trucks, I reached the point where I had to get off the highway. This route was going through my mom's native place. I decided I will take a small detour and go see the old house there. After visiting the house, I headed towards Rasipuram. I reached at 8:30 PM and my grandparents welcomed me at the door. Dad had already informed them that I was coming, though he had already left for Coimbatore by then. So end of the day, the trip meter read 523.5 kms. What a ride it had been!
Trip meter at the end of day 1.A nice hot shower and grand mom's food was very relaxing and all that was left was a good night's sleep. I woke up at 7 AM the next day, had breakfast and left at around 11 AM. Took the NH7 through Salem and reached home by 3:30 PM. Final trip meter reading : 769 kms.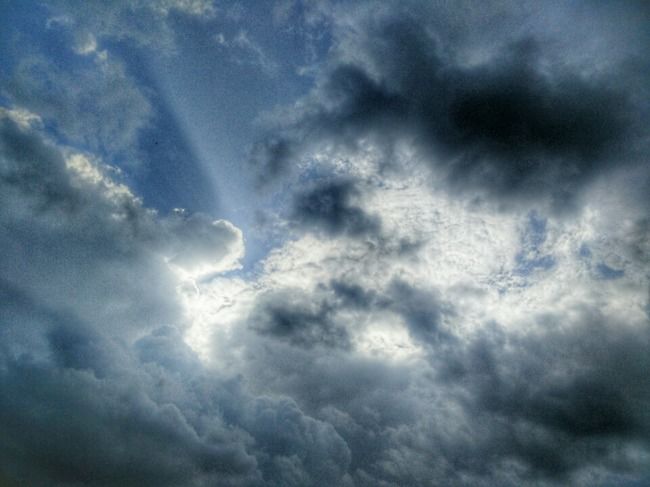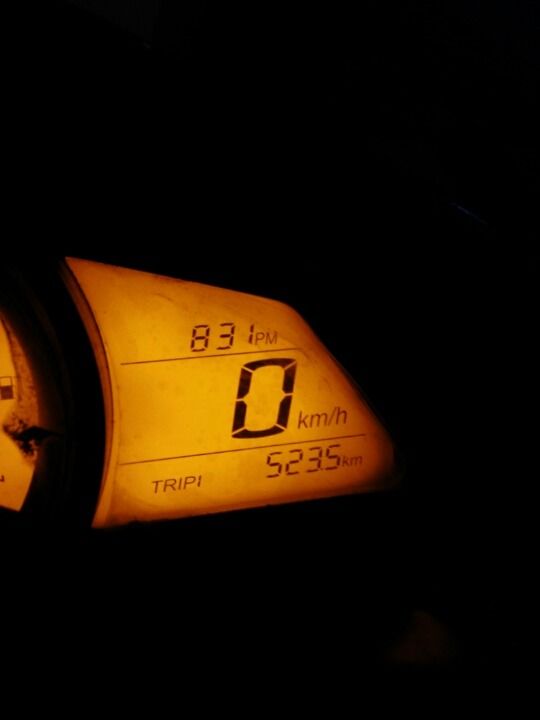 The weather was cool on the way back to Bangalore, with no rain at all.