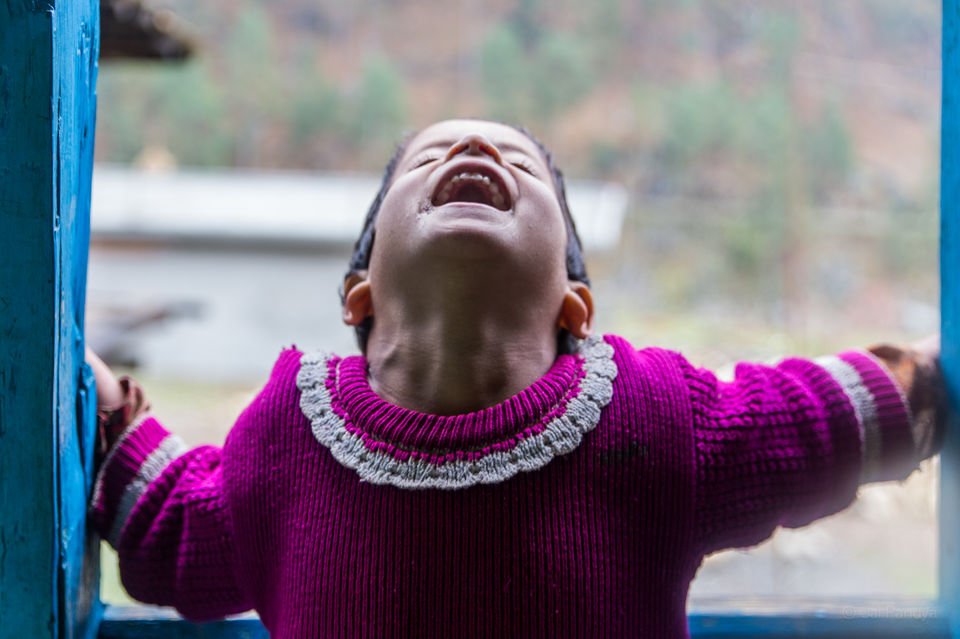 It had been long since I went for a trek. Last month, a remark by our family doctor while going through a regular health checkup incited me to instantly sign up for one. I wasn't keeping very fit and what could be a better way to motivate myself than going for a trek.
I didn't have to look for long when the Himalayas are in such a vicinity. I signed up for Kedarkantha peak trek with Indiahikes as a part of their first summer batch. I thought of stopping by a couple of villages on the way. All solo. My first stop was a village near Chakrata from where the winding road took me to Mori where I stayed for a night, then to reach Sankari. Kedarkantha was the final destination from there for which I joined a group formed by Indiahikes.
Hop on the bus with me to the mountains and taste this journey.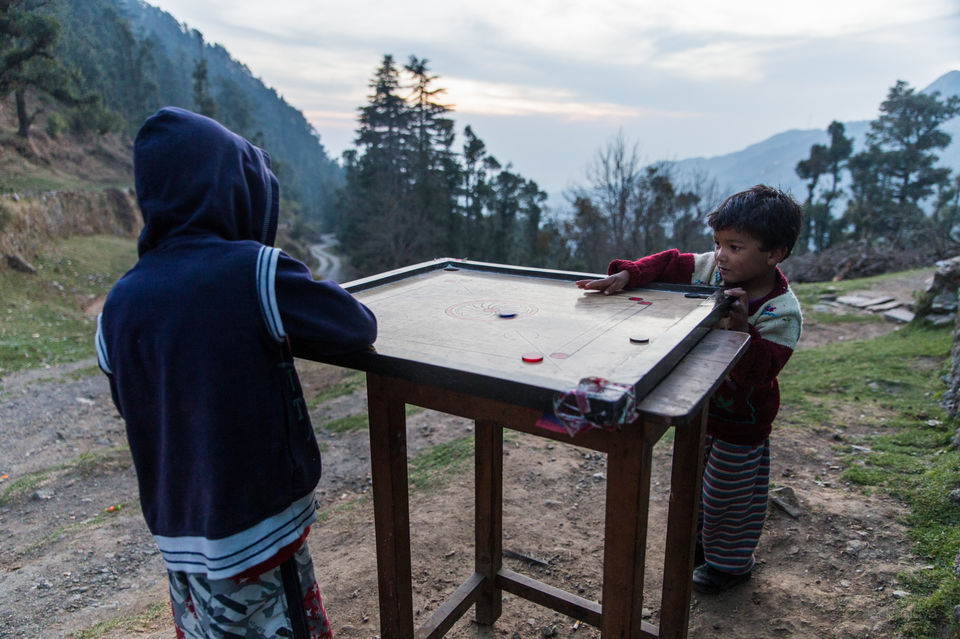 Above: Kids from the Thapa family, who had opted to be my hosts in a village near Chakrata. Sankri is about 10 hours drive from Dehradun, I thought of breaking a one day journey, into four days. This village was my first stop. Delhi — Dehradun (Shatabdi) 6 hours, Dehradun — Chakrata (Route Gaadi, Bolero) 4 hours. The younger brother was learning to play on this board from the elder one. You should have been there to see his strikes.
The mountain house near Chakrata, where I stayed, was managed by this cute Nepali Thapa family who were also running a dhaba in vicinity. After a taxing journey of about 10 hours from Delhi, a hot cup of tea felt god sent.
Thapa ji's father migrated from Nepal some 60–70 years back to this side of the mountains. When he was young, he would take cattles for grazing on the kilometers long mountain paths. People around him took pride in telling me that he was the only person in the area who knew so many routes. He told me stories with much enthusiasm about how he could reach Sankri and Mori, my next destinations, in a day and half just walking and camping in the mountains.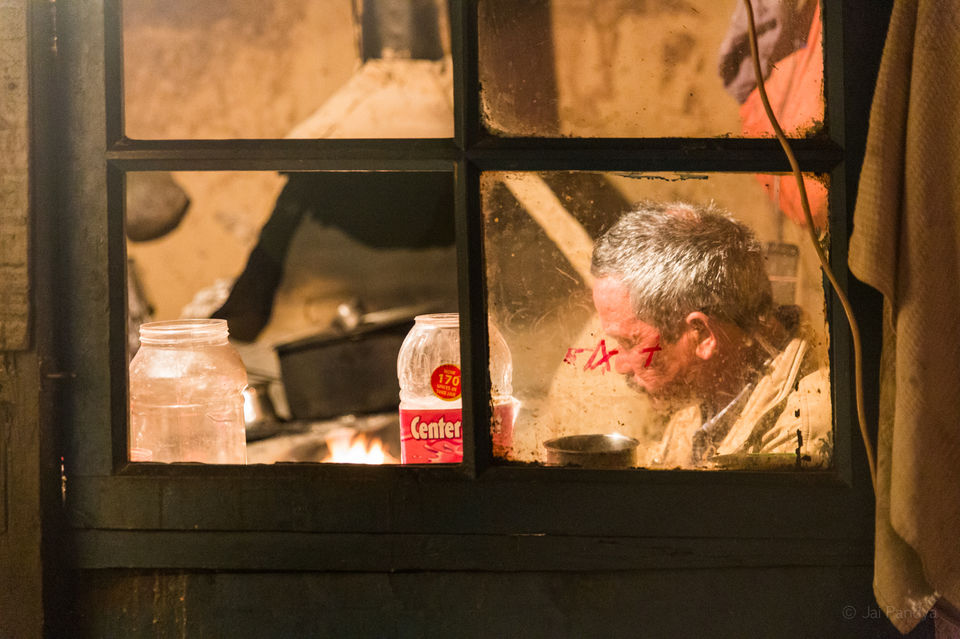 Above: Thapa ji, sitting in the coziest / warmest area of his home, the kitchen.
When the day turned into night, I had millions of stars forming a blanket with sprinkled white color above my head. On the far end, I could also see clouds which were waiting to lose some of their weight they had been carrying for miles.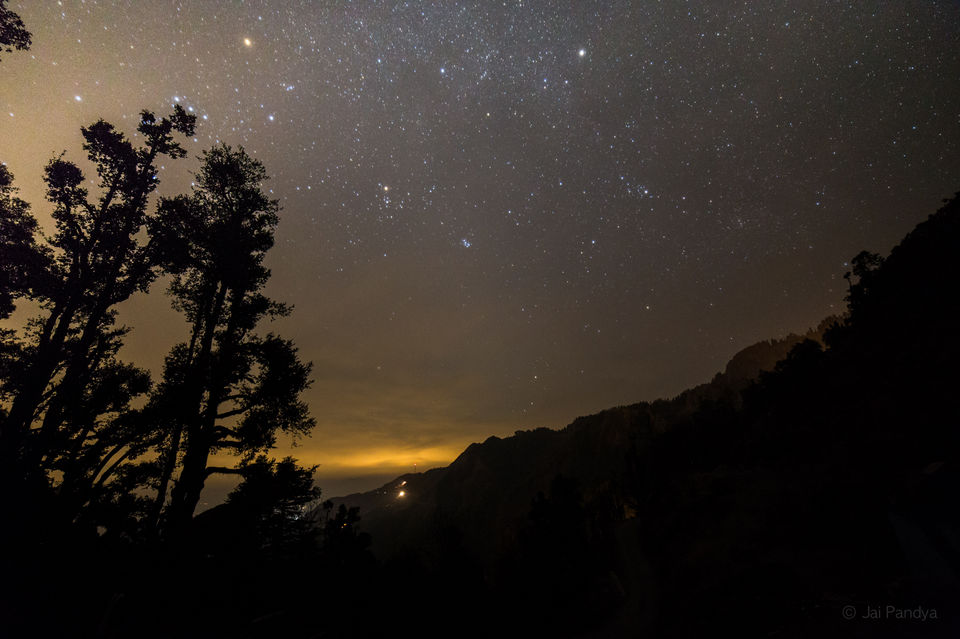 Above: Starry night at Chakrata
Next morning, I woke up early. I had a good protein rich breakfast and decided to go for a hike. Sandhu, who is a local from the same village, was called by Thapa ji to be my guide in the mountains. We decided to go to Deoban and come back. Our company remained together for about 12km walk way that day. He told me his life stories on how he ran away from home when he was a kid to drive a truck. How his parents tried to put him in a school but every time he ran away. These days, he takes care of an apple orchard nearby and also works as a blacksmith part-time.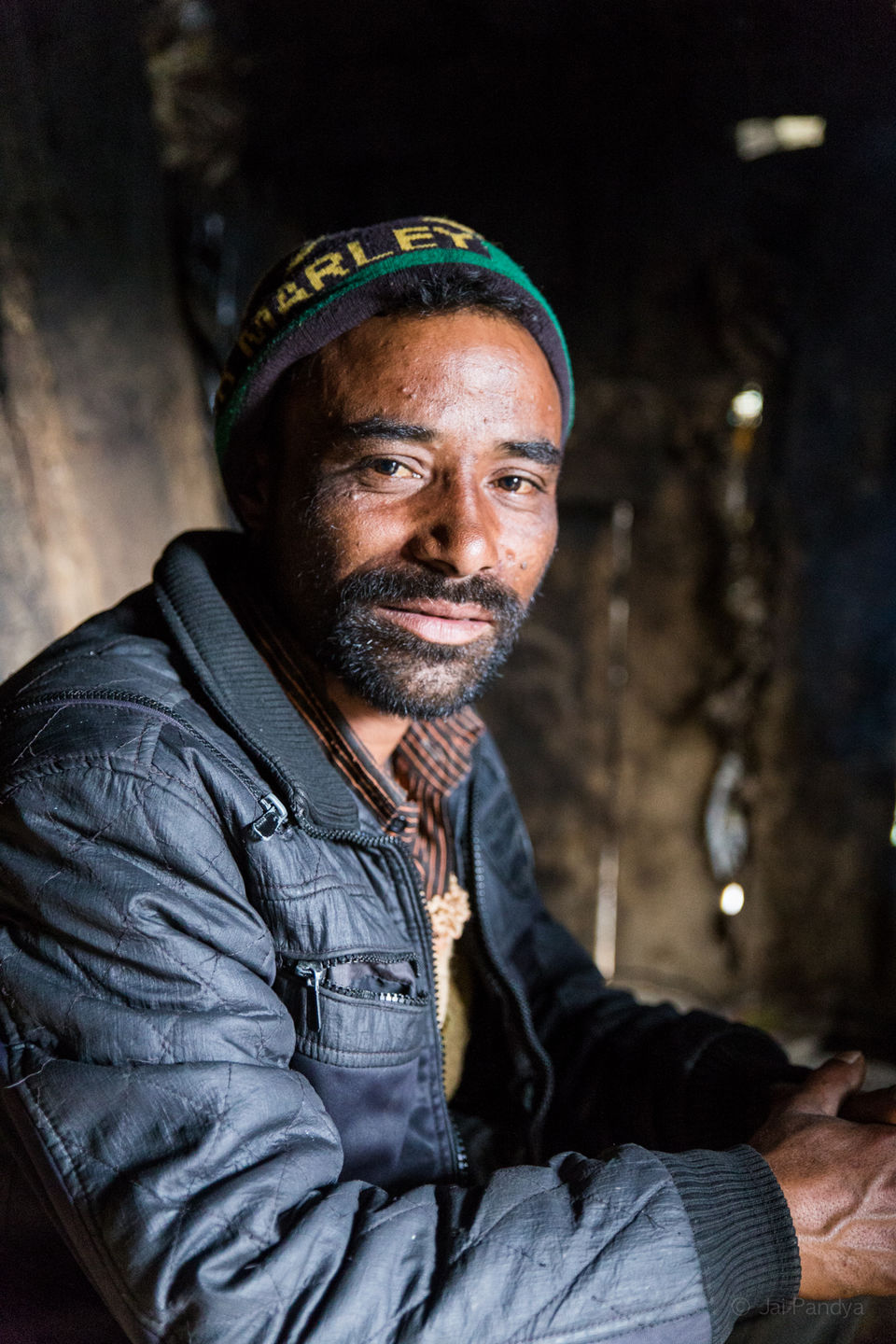 Above: Sandhu, my guide
On the way back we met Ghema ram mama, as Sandhu called him. When we were passing by Deoban Nursery, Sandhu thought it would be a good idea to visit him and sit in his warm chamber for sometime. He works at this nursery. Ghema ram mama quickly prepared piping hot black tea for us. We had packed lunch with us that we ate with him. He showed me around the nursery and also gave me a bunch of Thuner (थुनेर) plant leaves. He explained its ayurvedic properties and suggested to drink it with some tea. He also took a promise from me that next time when I visit his region, I should be his guest. While it was clear that he was a very hardworking and dedicated person to his work, he hadn't received his salary from the government for the last 5 months. He was unhappy with this discrimination that all the staff higher in grade than him got their salaries on time, it is only the people like him who are suppressed.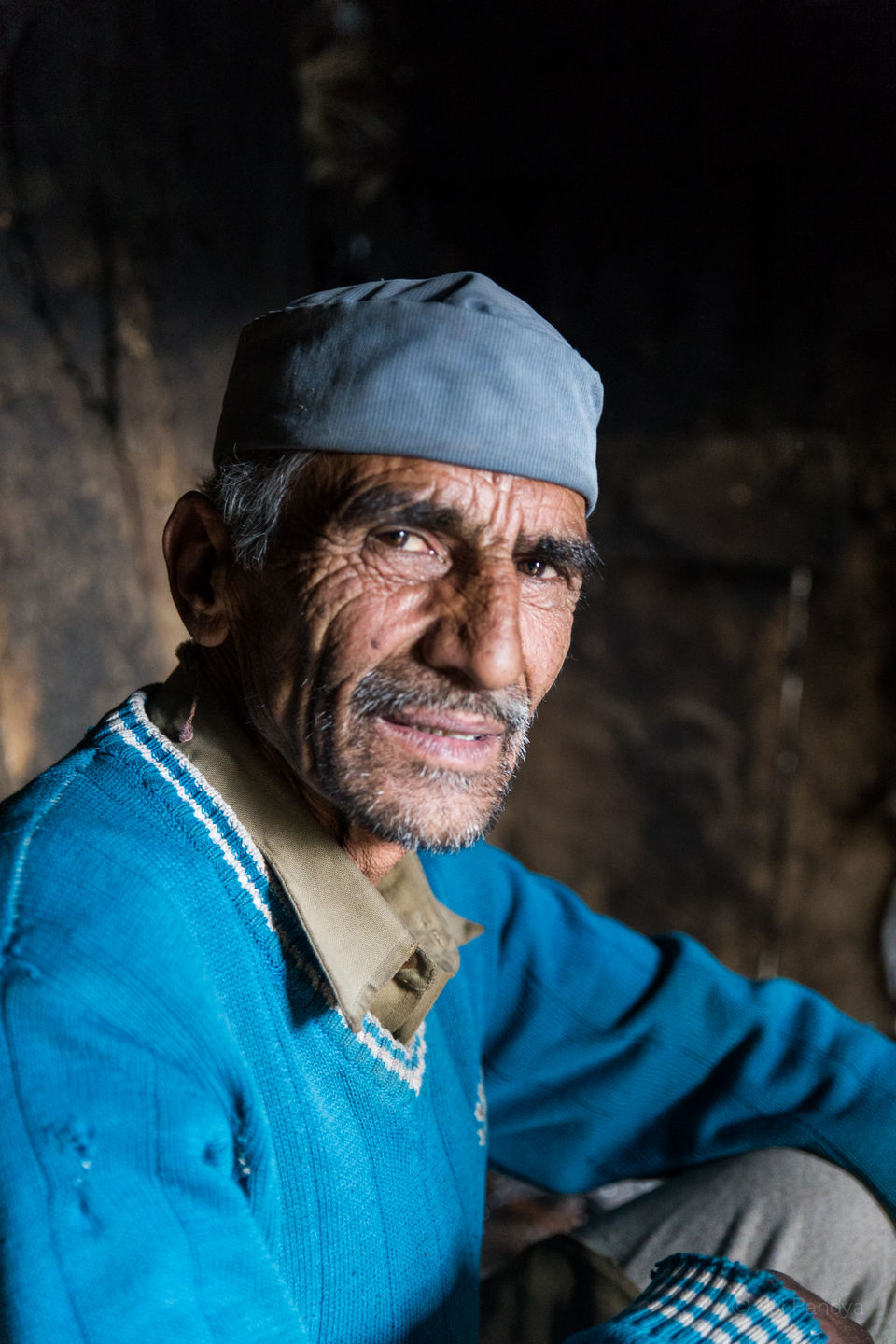 Above: Ghema ram ji
It kept on raining now and then, but we were prepared for the conditions. Thapa ji had given us two umbrellas. With all the clouds weighing the sky, the views in front looked no less than a painting.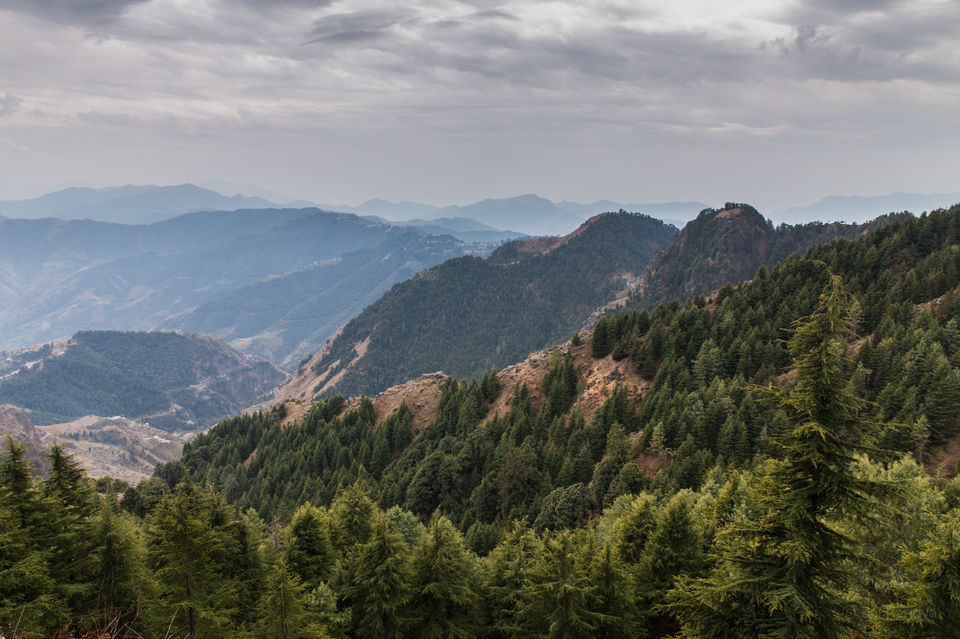 Above: On the way back from our hike. Spot a green colored roof between the pass formed by two hills on your right. That's where I stayed.
I met Sandhu's family after returning back, they invited me for a dinner at their place. I readily accepted the invitation. Who would say no to Rajma — Chawal, Bengun Bharta, Alu, Roti, Pudina Chatney and such a beautiful company.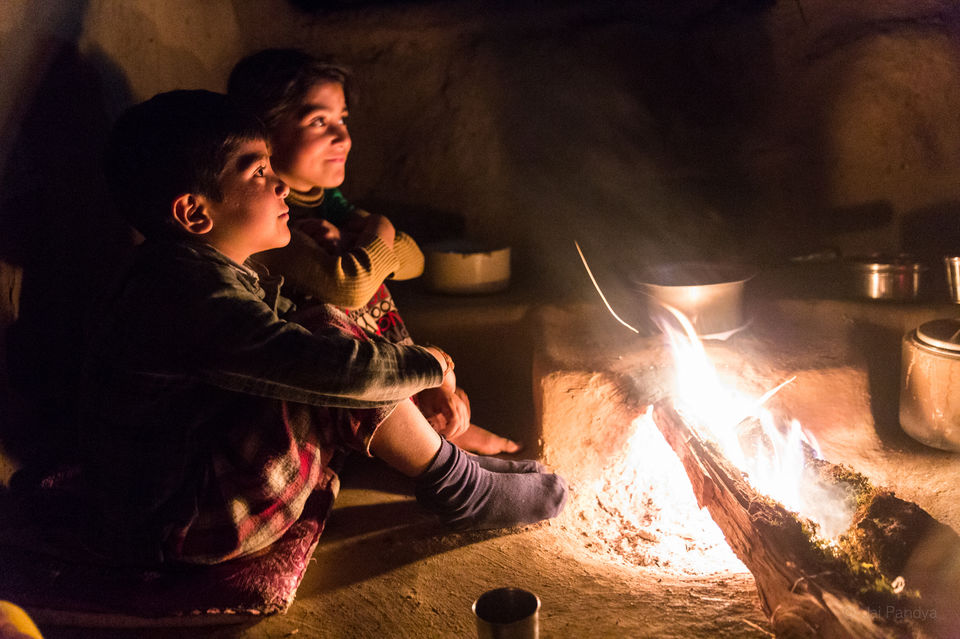 Above: Kids at Sandhu's home. They are his nephew and niece I think
It poured cats and dogs throughout the night, early morning though the sky was relatively peaceful. I wanted to catch a bus for Tiuni, from where I would go to Mori to spend a night. The two kids who were playing carrom in the first picture, came all the way down to the bus stop to see me off.
Above: My home for these two days, Thapa ji's dhaba.
Above: Bus ride from Chakrata to Tiuni. It was quite bumpy, but picturesque.
After a bumpy but picturesque journey to Mori, I reached my destination in about 5 hours. Somewhere between Tiuni and Mori, a Pine tree had fallen on the road due to heavy rainfall. Within minutes some passengers of our bus arranged a saw, cut the wooden log to make a way and the path was cleared.
The road from Chakrata to Mori takes you through a winding path alongside Tons river. Post reaching Mori, I found a cheap room to stay and later went around the village exploring the nearby region. Sankri is about an hour uphill drive from here.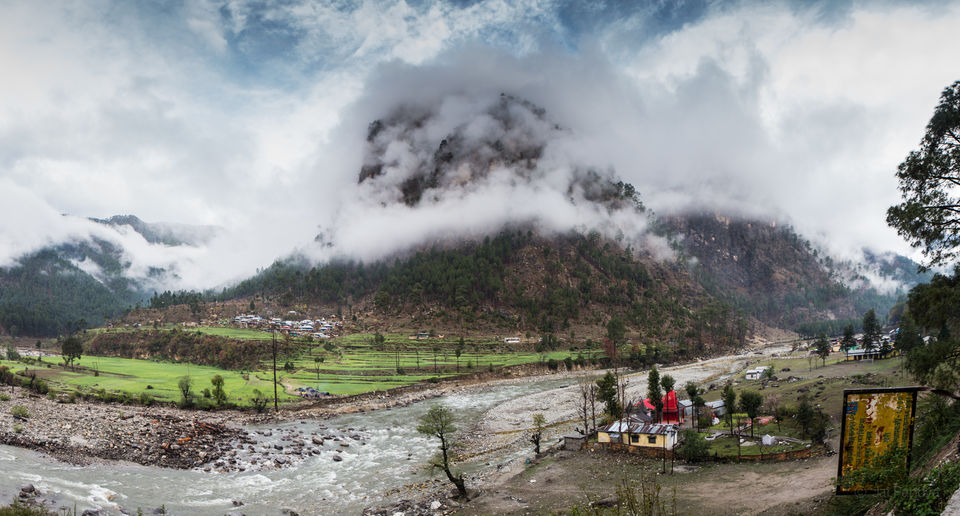 Above: Views from Mori, Tons river forming the foreground.
Next day I started from my room early in the morning in the opposite direction to where I had gone the earlier day. I spotted a bridge that helped me cross the river and then I kept on following the walking trail which went towards a village I could see from here.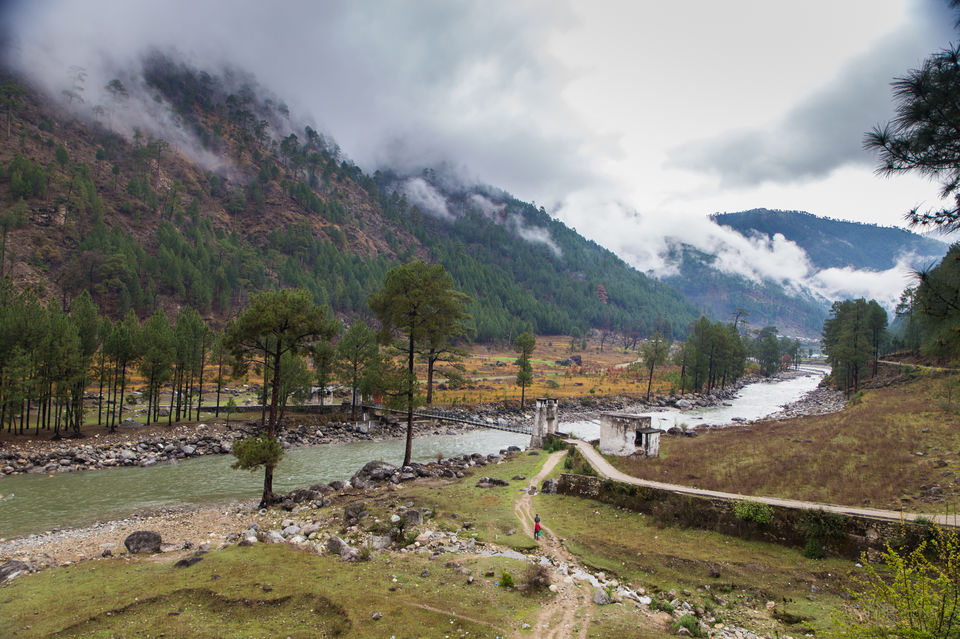 Above: I crossed this bridge and followed the trail walking along the river.
On the way to this village, I met strangers who later became friends. Suresh, who worked in Rishikesh at an adventure camp, was visiting his native village here. He took me to his traditionally built house where I met his enthusiastic family. I was offered a cup of 'very sweet' tea which I couldn't deny. Later I followed him to their visiting deity this year.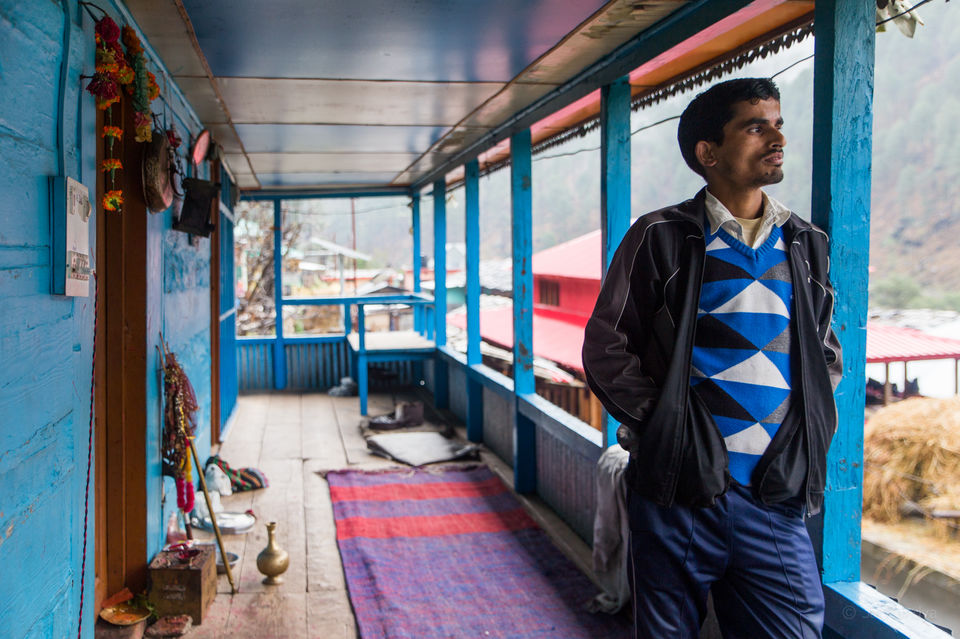 Above: Suresh at a local temple. The deity visits every village for one year and it was their turn this year.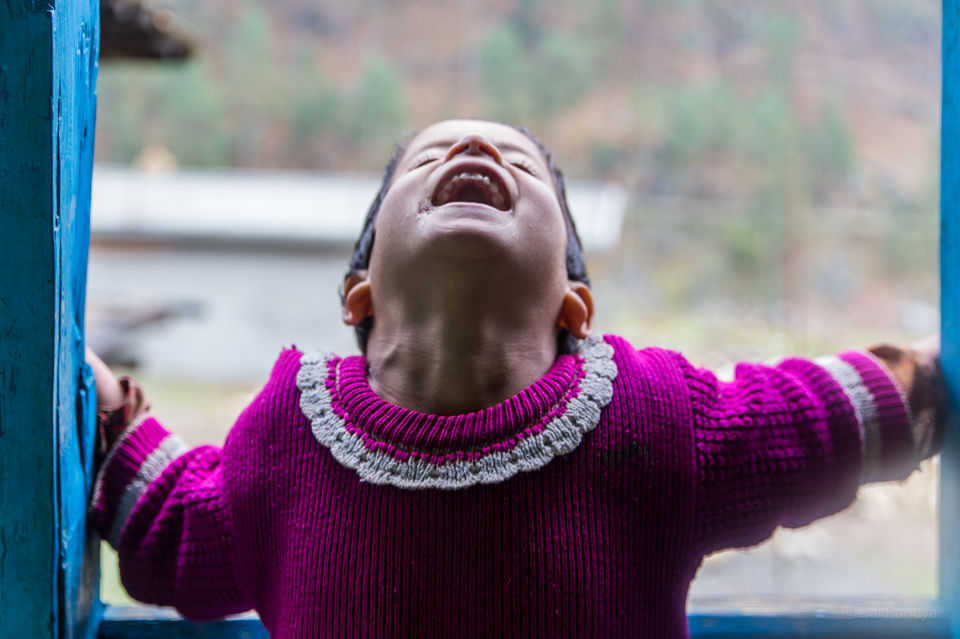 Above: Suresh's nephew at his house. I gave my dynamo operated torch to him and his siblings, it was a thing full of amusement for them..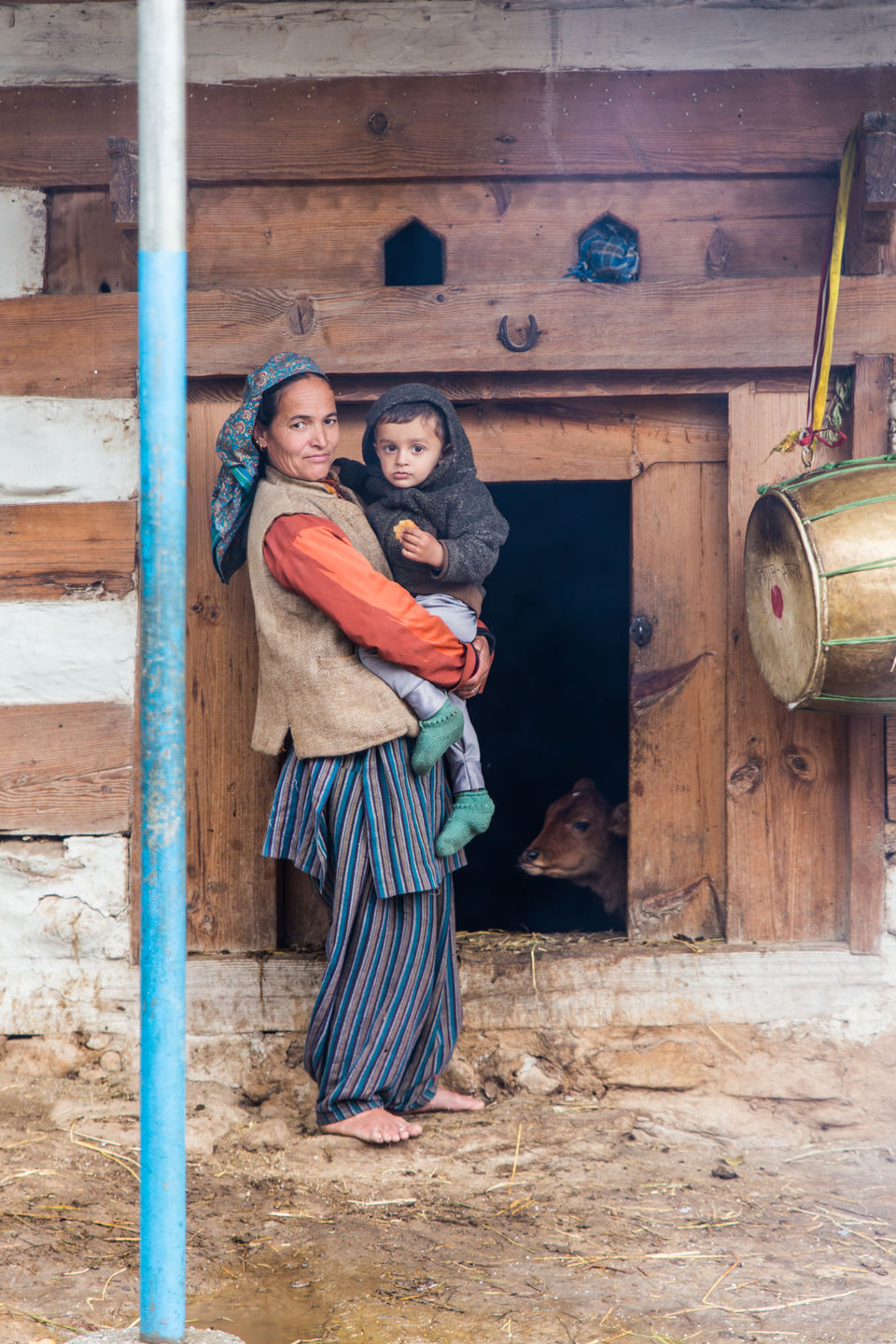 Above: Lower compound of the temple. Also, the reason she is not wearing slippers.
On the way back from the village I spotted a lady smiling at me. When I greeted her, she told me that she was Suresh's aunt and she knew that I had just visited their house. Given how small the village was, probably everybody was curiously aware that someone strange was visiting their village.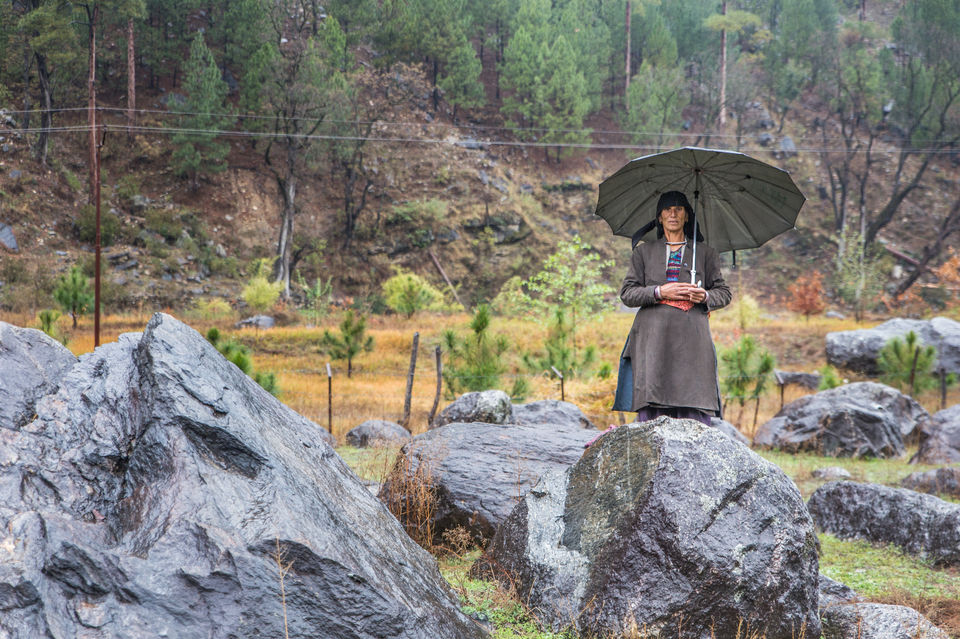 Above: The lady with an umbrella
Later in the day, I found a bus going in my direction to Sankari. The journey from Sankari to Kedarkantha will be documented in another post.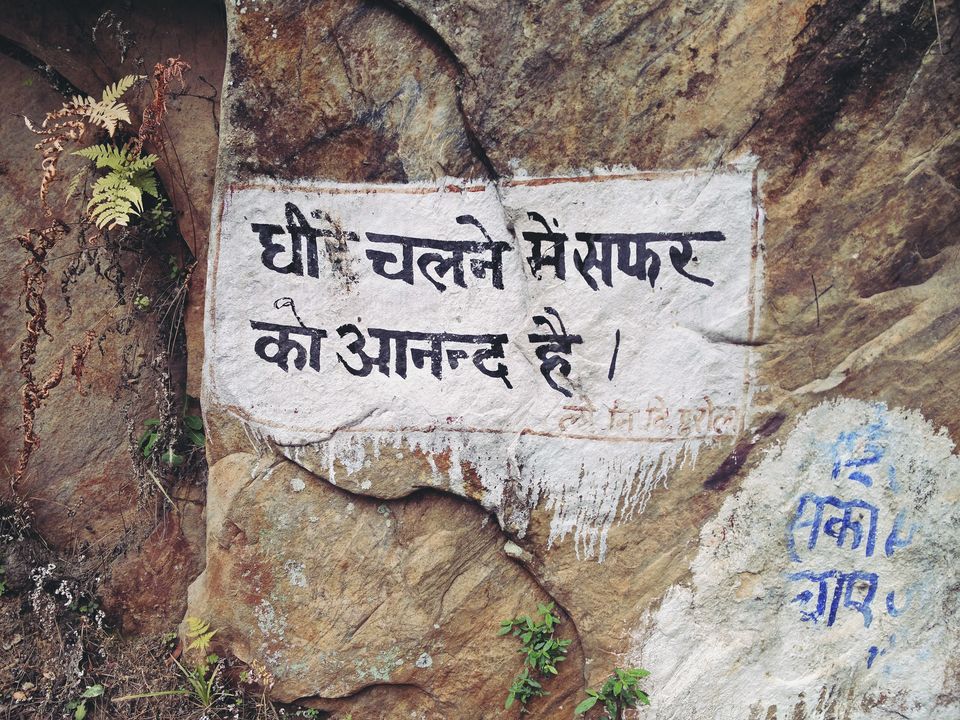 Above: Found these golden words inscribed near Mori. "The pleasure of a journey is in going slowly"
Write to jaipandya@gmail.com to license any of the photos above or get their prints.
Follow me on Instagram: @jai.pandya where I usually post one photo a day.