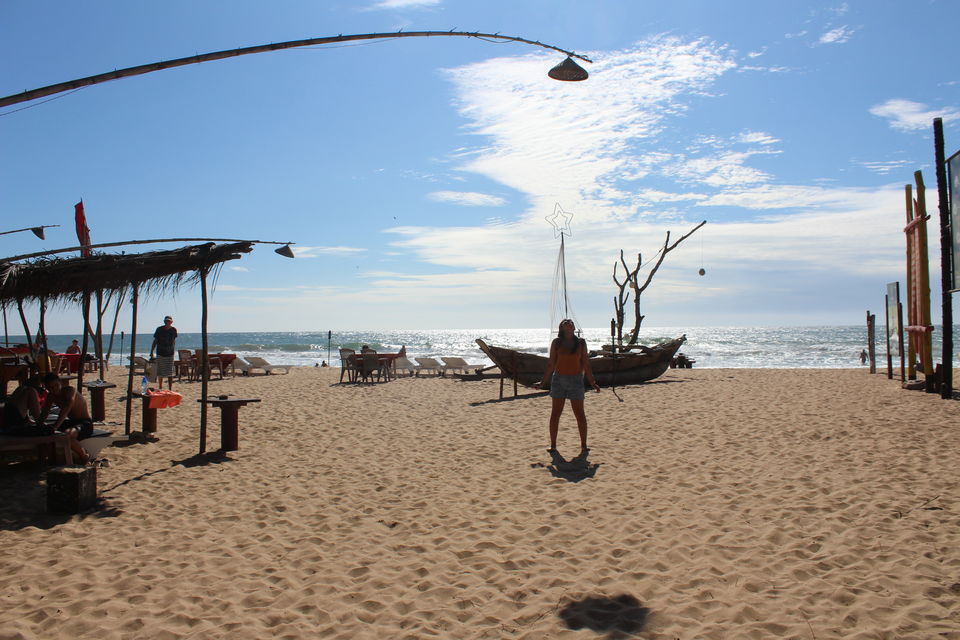 A country of tea, temples and trails - Sri Lanka had always been on my bucket-list and once I was there, I loved everything about the country so much so that I visited the place twice - once on a solo trip and the second time with my husband. Although, the itinerary for both the trips was somewhat similar, I think the trip with my hubby was hassle free and turned out to be much better due to the prior experience in this island and because of obvious reasons as well :P

Sri Lanka has a plethora of different landscapes to choose from; ranging from beaches to mountains, from temples to wildlife and from lagoons to rivers. We, however, decided to explore the west coast of Sri Lanka, concentrating mostly on the beaches and coastal life and excluded the temple town of KANDY and the hills of Nuwara Eliya which I had covered in my last trip.
Sri Lanka is the perfect recipe for true love - warm and friendly people, delectable cuisine and a tropical climate. Moreover, it is the most suitable destination for both budget friendly travellers and those who are looking for a more extravagant one!
Day 1 (Kalutara):
Flight from New Delhi To Colombo: It is fairly easy to get to Sri Lanka from India. Sri Lankan Airlines (also many local airlines like Air Inida, Indigo, Spicejet, GoAir) fly direct from almost all the metro towns of India to Colombo, with the to & fro airfare being as low as INR 13,000 per person to INR 26,000 per person. We boarded the Sri Lankan Airlines and it took us 3 hours and 30 minutes from the New Delhi Airport to reach Bandarnaike International Airport in Colombo.
There are good local taxi and tour operators in Colombo offering both the pick and drop as well as tour packages for transport, accommodation and activities such as wild life safaris, whale watching, bird watching, white water rafting and much more at reasonable rates. We would suggest you pre-book these services. We had booked this particular operator - Sanki leisure's taxi service for our entire duration that would include airport transfers, transfer between cities and sightseeing for 5 days. The whole plan cost us somewhere around 345 USD which is roughly around INR 23,000. Not that costly right?
Our drivers name was Chaminda, became more of friend and guide to us and to our much delight, knew little bit Hindi as well. He picked us up from the airport and took us to our first pitstop - our beautiful resort, The Tangerine Beach Hotel, in Kalatura. It is a grand beachfront hotel overlooking the Laccadive Sea and offers access to various amenities - a garden, white-sand private beach, an outdoor pool with a swim-up bar, plus an Ayurvedic spa, a beauty salon and sports courts. It cost us INR 7,000 per night including breakfast, which was quite reasonable. We made most of our bookings through Booking.com or MakeMyTrip.com and were lucky enough to get some good deals.
We had only a single day to spend at Kalutara. Hence, after a quick lunch and shower, we went for a walk at the beach just outside the resort. Kalutara is popular among the travellers for its lavish resorts and secluded beaches. We had decided to spend only one night in Kalutara, so that we could enjoy some peaceful beach time together and also gorge on some delicious food and drinks in our beautiful resort before the exploration begins!
At night, we enjoyed a couple of drinks over live music at the hotel's in-house restaurant. Overall, the day was a little tiring but super-fun.
Day 2 (Bentota):
The second day was dedicated to exploring the beautiful town of Bentota. Bentota is just half an hour away from Kalutara and you can plan your trip in such a way that you can come back to your accommodation in Kalutara after a day trip to Bentota just like we did. Or you can choose to stay in a more accessible area close to the local markets at Bentota. Bentota also offers some lovely private villas; overlooking the river; for larger groups.
So, after some light breakfast, we left off for Bentota in our taxi. The breakfast at our hotel was outstanding - they served local specialities including egg hopper, milk rice, string hoppers and kotu rotis. All these delicacies are a must try if you are in Sri Lanka. Our first destination was the Kosgoda Sea Turtle Conservation Project, which is very well structured turtle hatchery. The hatchery program is designed to maximise the number of hatchlings reaching the sea and surviving through the critical stages of their early life. It gives you to experience watching different varieties of turtles and also holding them in your hand which is an activity worth experiencing. The hatchery is operational from 9 am to 5 pm and the entry fee is around INR 2,000 per person.
With faces full of joy and happiness, we proceeded to have lunch. Chaminda (our driver) suggested that we try this local restaurant called Amal Villa restaurant and bar and it proved to be an absolute delight. This restaurant is almost on the beach and serves fresh catch (seafood).
The food was delicious and the local band playing there walked up to every table and played the songs the guests requested, including bollywood songs :P!! This is one advantage of having a local guide or interacting with localites - they'll take you to the best places! Post lunch, we spent some time on the beach before moving to our next destination - The Spice Garden at Bentota.
Before moving to spice garden, we took a halt at the local fruit market to buy some fresh oranges and bananas. Tropical countries offer some of the juiciest and sweetest fruits you would ever have. We then took a tour of local spice garden, also had an ayurvedic massage there before heading back to our hotel. There are a lot many spice gardens in Sri Lanka and you could choose any based on your driver's/local guide's recommendations.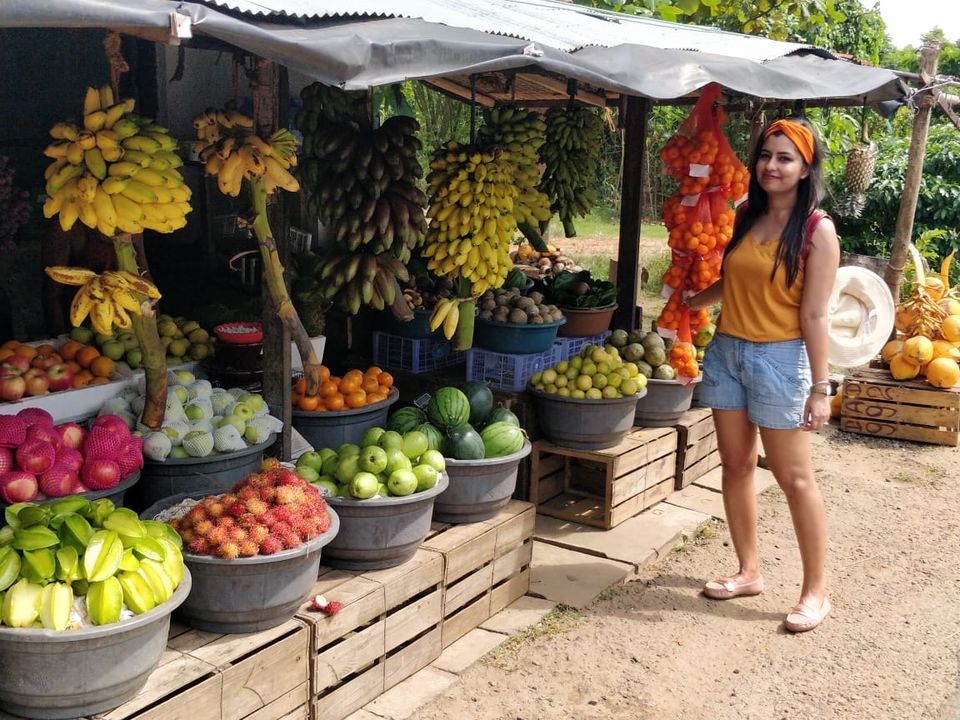 After reaching the hotel, we took some rest and then headed off to explore the Kalutara streets.
There was a cute restaurant called "Green lobster" where we immediately headed straight to enjoy some fresh seafood platter. It was an enjoyable experience; not so much for my husband; but me for sure because I love lobsters, crabs and calamari!
Day 3 (Hikkaduwa-Galle):
This was also going to be a long day since we had quite a number of activities planned. We were moving to Hikkaduwa on this day, for the next chapter of our journey. After checking out of the hotel, we headed straight for the Madu River safari in Balapitaya. This place was one hour away from Kalutara, on the way to Hikkaduwa. Hikkaduwa was only half an hour from Balapitaya to the south.
The Madu River safari is something that shouldn't be missed when you are in and around the southern coast. It includes a visit to a very old Budhist temple, mangrove forest tour, Cinnamon Island and fish spa therapy. It is a 2 hour boat ride operational from 6 am to 5 pm and cost us around INR 2,000 per person. The boat ride was not only appealing but also very serene!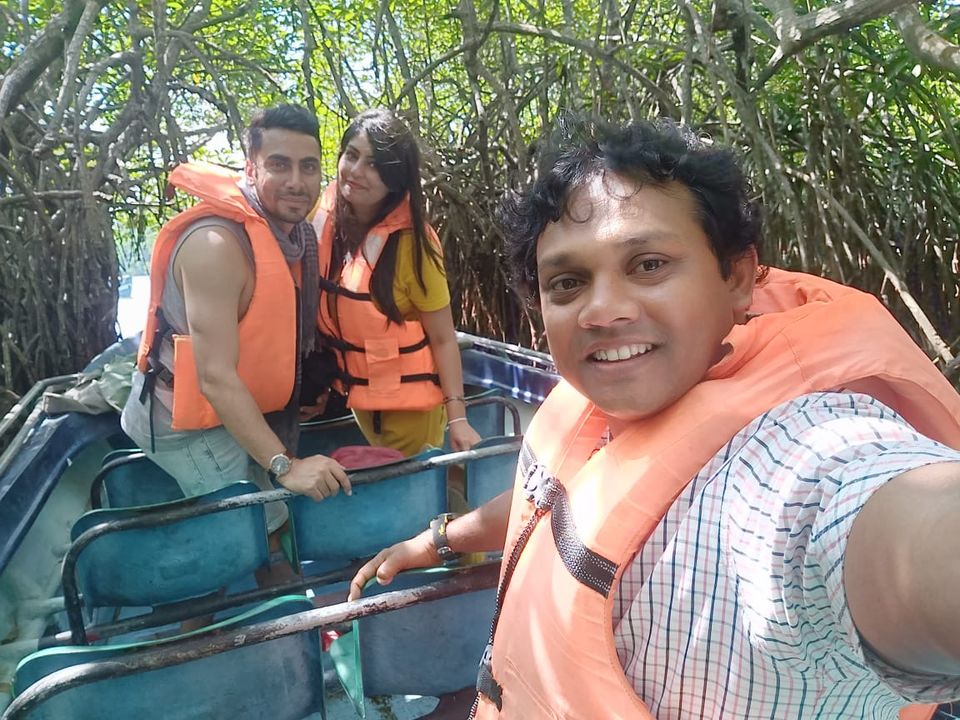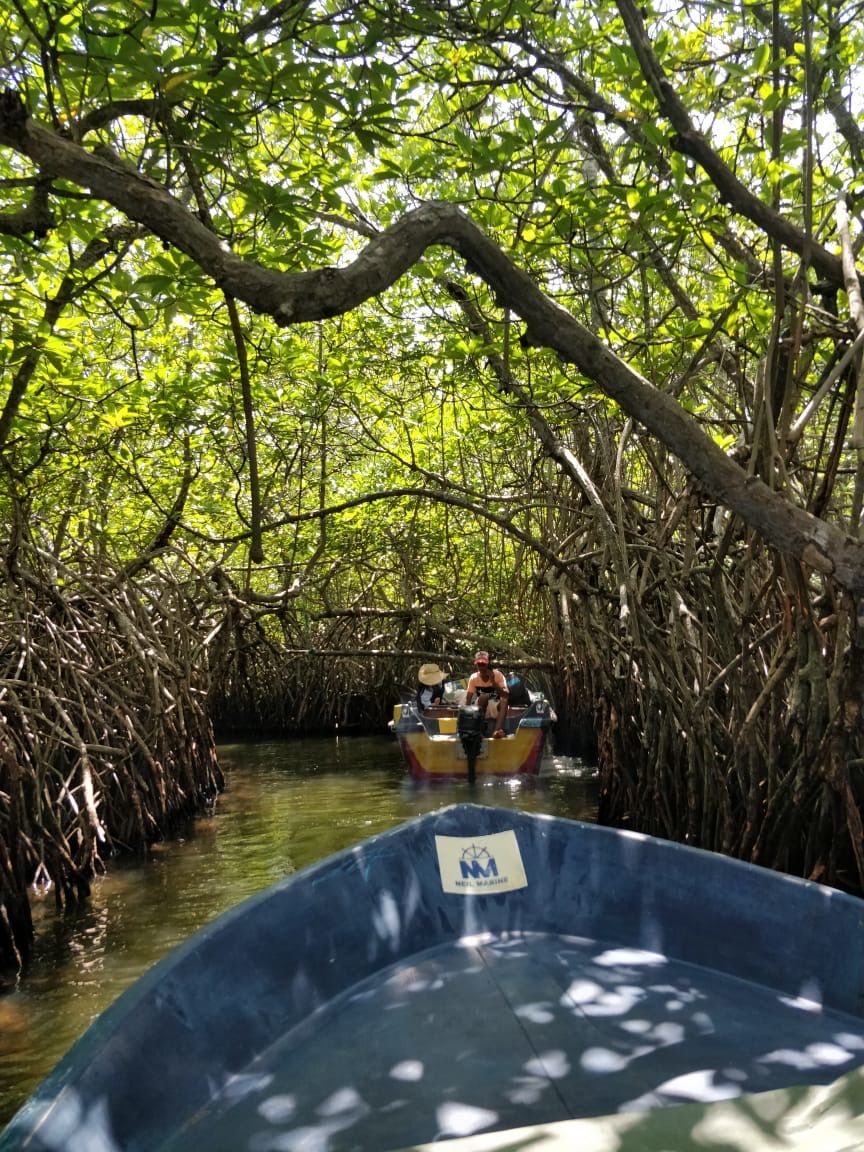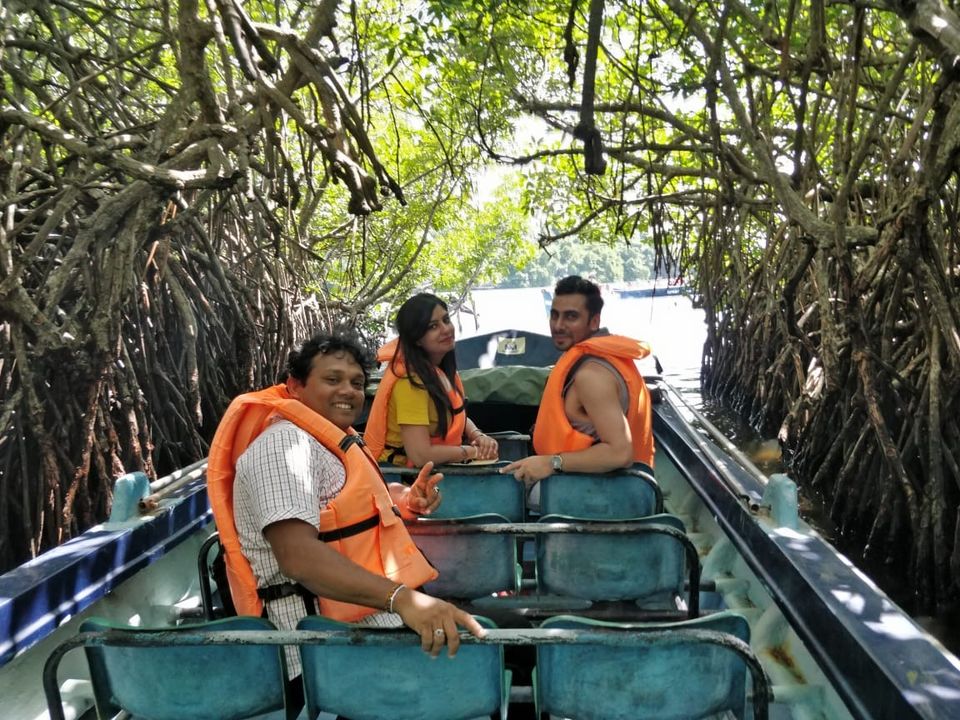 By 11 am, we were free and we asked the driver to take us to our hotel - Pearl Island Beach Hotel. The hotel cost us INR 3,500 per night. The road journey to Hikkaduwa was so beautiful that we could not stop ourselves from taking a break and clicking some pictures on the way.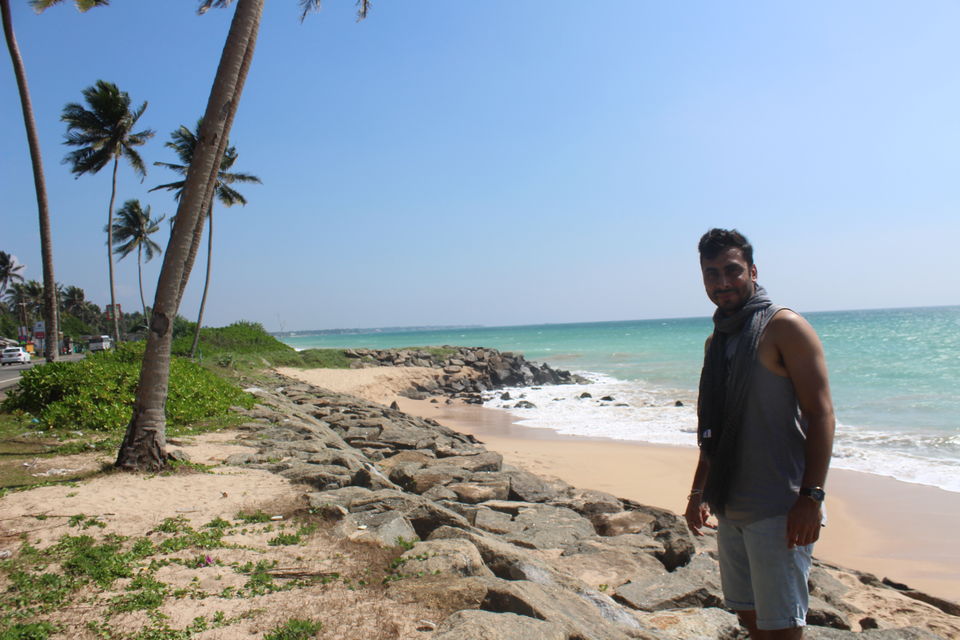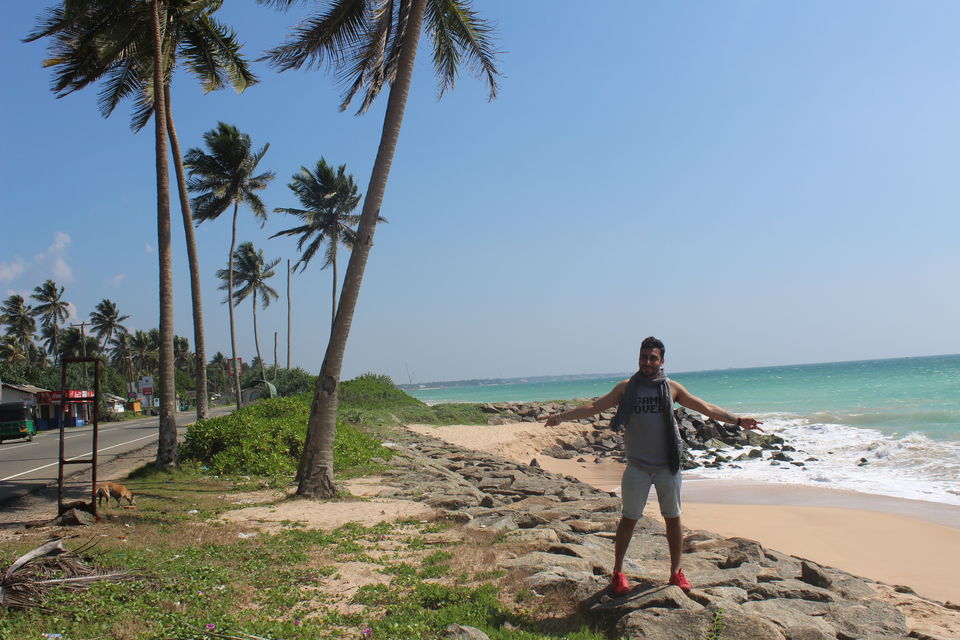 We reached our hotel by 12 pm and checked in. The hotel is run by an old couple and is not as fancy as the other resorts in the area but it is located in Thiranagama, right on one of the most beautiful beaches of Hikkaduwa. The rooms are average but the view of the sea and the friendliness of the staff more than compensates for it. We were very hungry by then and we decided to explore the area around for a place to eat. The Galle road is lined with beachside cafes and restaurants and we decided to try our luck at the Spunky Monkey's which proved to be a good find.
After lunch, we decided to visit the Galle Fort area in the evening. Galle was only 30 minutes from our hotel and we reached there before the sunset. This area is the best place to enjoy a beautiful sunset munching on some raw mangoes sold by the local vendors here. Stone sea walls encircle car-free streets with architecture reflecting Portuguese, Dutch and British rule. Galle Lighthouse which stands on the fort's southeast tip, is also one of their major attractions!
In the evening, we decided to walk through the cobbled streets of Fort Galle only to stumble upon fashionable boutiques and antique shops and hip restaurants and cafes, often housed within old houses with porticos. The area was even more decked up considering it was the 23 rd of December. We had dinner at one of these cafes before deciding to go back to our hotel.
Day 4 (Mirissa-Unawatuna):
This was our last day in Sri Lanka and we had already pre-booked the whale watching tour in Mirissa. Mirissa is the best place for whale plus dolphin watching in Sri Lanka. The tour starts at around 7 am in the morning and the duration is in between 4-6 hours depending on whale sighting. The cost is INR 3,000 per person for the big boats and goes higher for the smaller ones and includes breakfast as well. We had booked the big boat which accommodates close to 30 people.
We got up early and set out for Mirissa at 5.30 in the morning to reach in time for our boat. They offered us sandwiches, coffee/tea and water in small packets for breakfast. We were fortunate to spot 2 whales and numerous dolphins. The tour can however be quite exhausting and is not recommended for people who have sea sickness.
On the way back, we asked the driver to take us to the Unawatuna beach which is midway between Hikkaduwa and Mirissa. It was almost 4 pm and we were very tired and hungry by then. We sat by the beachside shack gobbling down food and gulping down chilled beer. Unawatuna beach is a heaven for beach bums. With fancy restaurants, bars, shacks, beach properties and fun water sports, it is the perfect spot to unwind and relax. The next two hours were spent sitting there gazing at the waves, before we headed back to our hotel.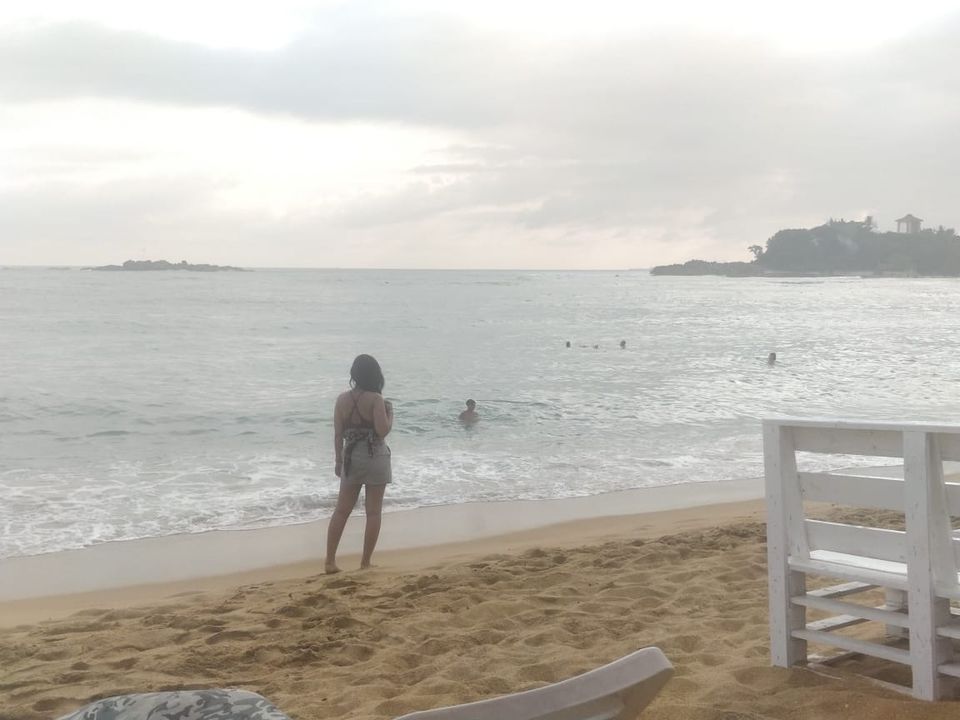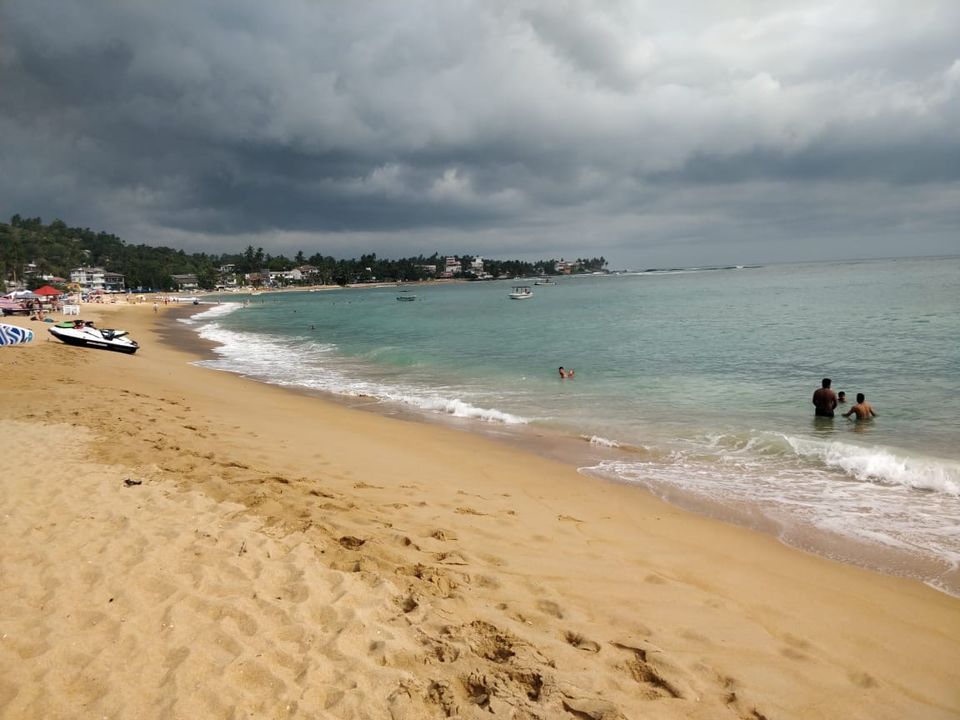 It was the 24th of Dec and we had decided to head to one of the fancy restaurants nearby for a Christmas eve dinner on the Galle road but we were so tired that as soon as we reached our room, we fell asleep only to get up at 10.30 pm. Hence, we just decided to order some beer and snacks and relax on the beach chairs in our own hotel.
Day 5 (Return to Colombo):
We got up early and took a stroll by the beach before enjoying our last breakfast in Sri Lanka on that trip.
We then headed back to the Colombo airport with beautiful memories and a promise to return soon!
The Benjabi Recommendation and Pointers:
1. Make sure you sample the traditional Sri Lankan breakfast, we're big fans!
2. Galle is a must visit. It actually feels like a European town, which is what made us fall in love with the place!
Also, find the links to our youtube and instagram channel below:
Instagram - The Benjabi Affair
Do share, like and subscribe!
-By The Benjabi Affair