Everyone has a dream destination; I have a long list of dream destinations. I am a dreamer, who believes in turning dreams into reality. I had a dream to visit Ladakh. I thought of it some 2 years back. I just wished. I honestly didn't make any plan. All I knew was I would love to visit this place, A part, which is the jewel in the crown of India. Here I am on 19th June 2016 writing this article at 4:12 pm just 13 hours away to fly to Leh. The excitement is so much that to pass this Sunday is a task.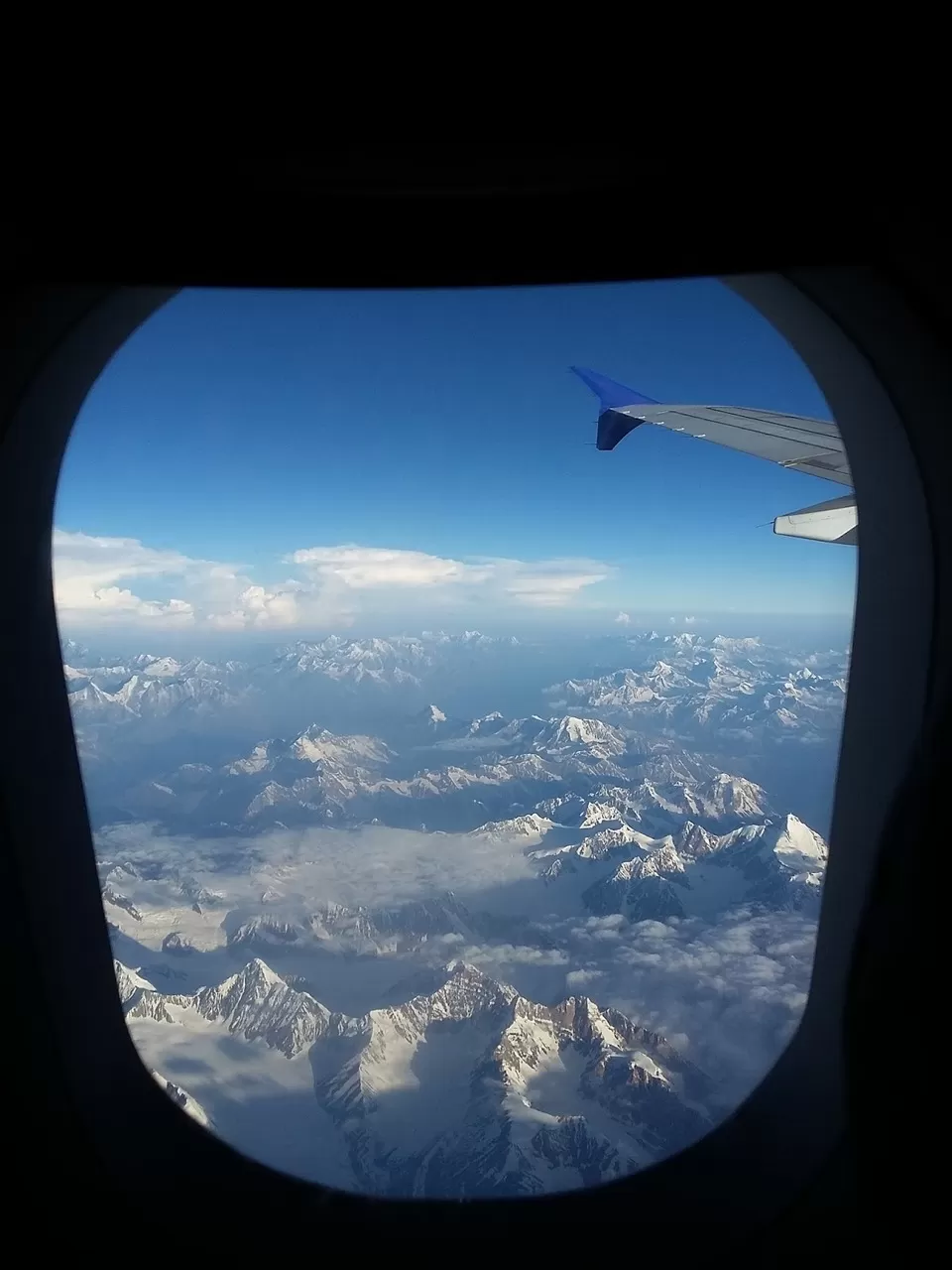 Every second is passing like an year :) . The packing is the most interesting part of travelling. And since this travel's in the month of June, there is a lot of confusion about the weather. I spoke to lot of friends, who have visited the place earlier to understand what all and what kind of clothes to carry. To my surprise there were varied opinions and experiences. Some told me that it's very cold over there and some say it's a moderate climate over there. So I heard everyone and ultimately did a real mix packing so as to be ready for varied weather.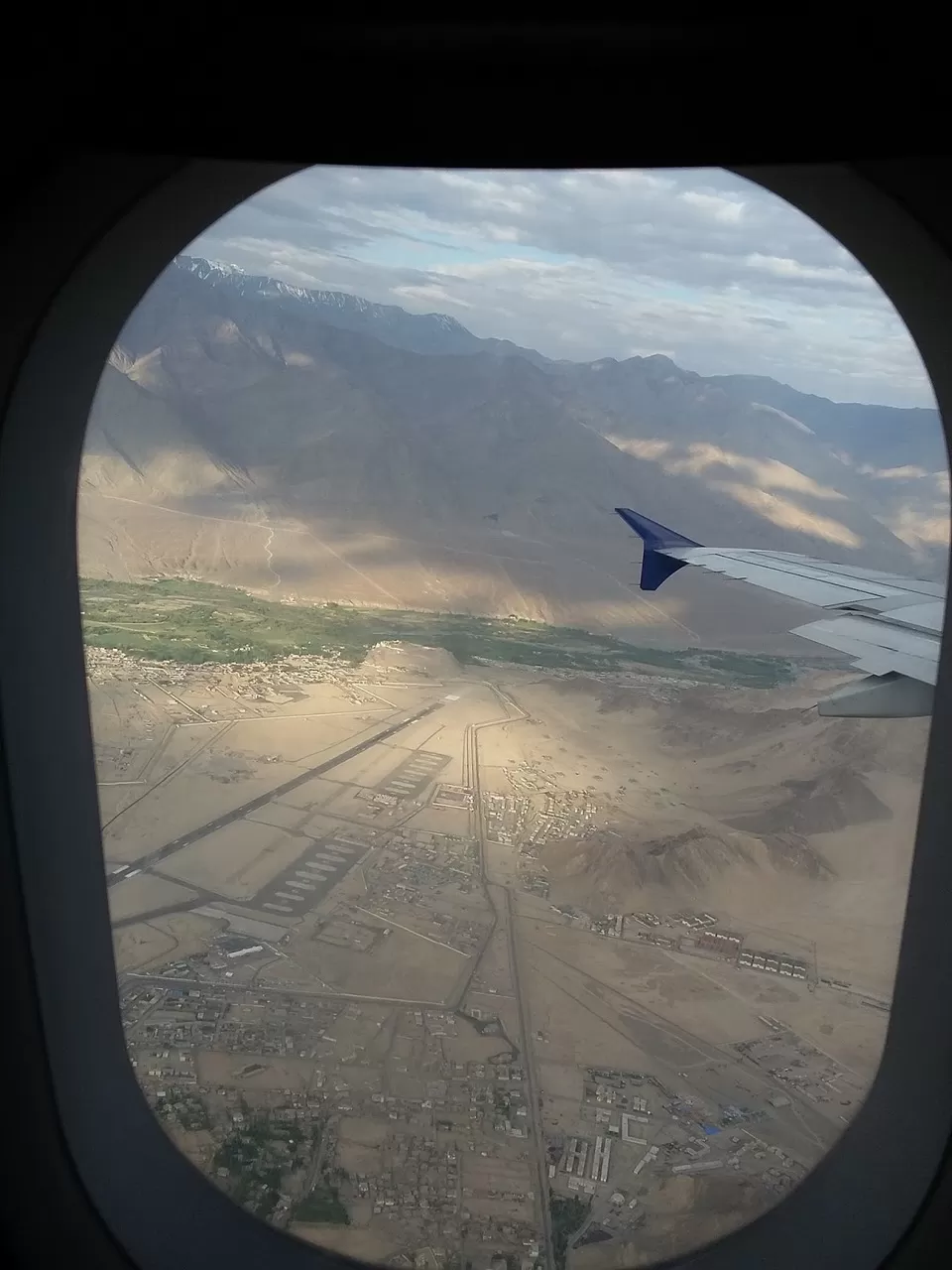 Planning & Cost effectiveness - I had always got to know that travelling to Ladakh is an expensive proposition. Be it by road or by air. So I did bit of research on the cost involved in this. For my trip we were two to go together, so we had to look for arrangements on time, convenience, adventure (at the same time ;) ), safety and cost benefit. We would have loved to travel by road, the views are exquisite. Since we were two girls to travel, so we preferred to travel by air. We opted for a group package. The fun of roaming in a group on a lonely planet is an awesome experience. We wanted to make the best out of it.
We took costing from various travel advisors and also tried to cost the travel if we book everything ourselves. To my surprise when I had checked the cost of return flight only , on my own, it was costing Rs. 24,000 3 months in advance, which was a lot and when we counted hotels, dine, travel, etc the cost was coming very high. Apparently the comparison trick helped us to find the cost effective offer. We finally decided and took package from www.ezeego1.com . Where in the itinerary was perfect, the timing of flights provided created lot of time efficiency, the hotel's standard and services were optimum. And almost all the important sites to visit in Ladakh were covered.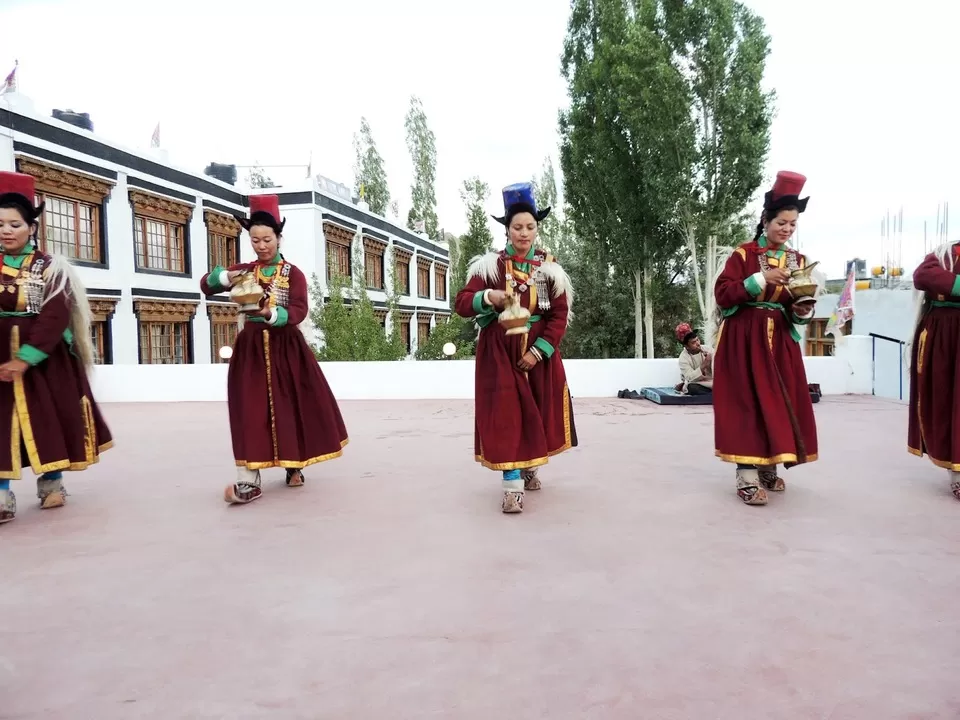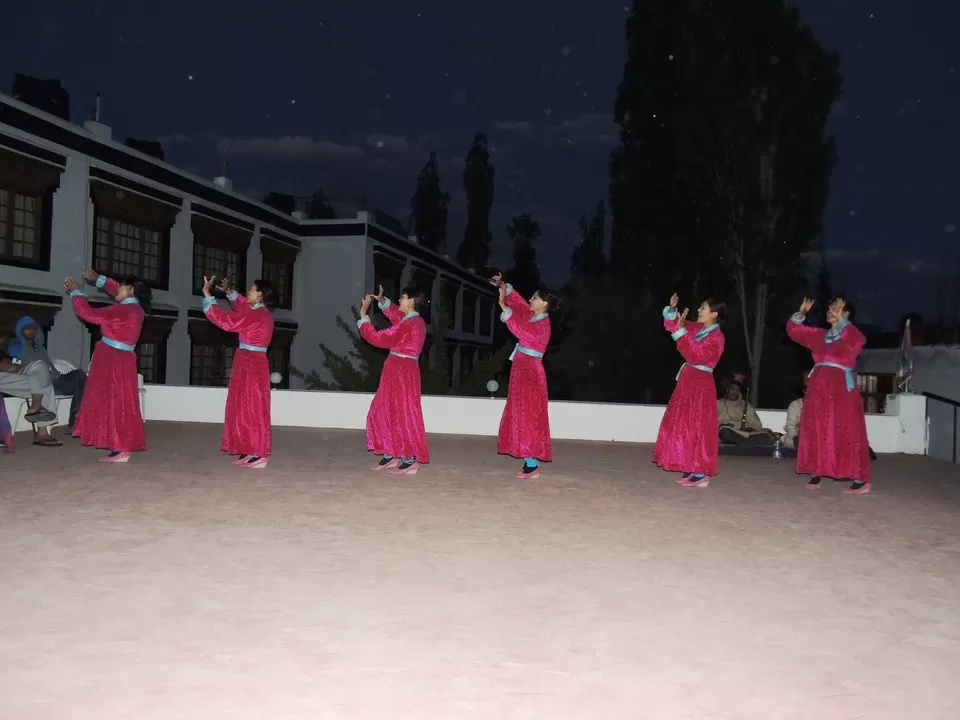 Ladakh- Ladakh is a region in Indian state of Jammu and Kashmir that currently extends from the Kunlun mountain range to the main Great Himalayas to the south, inhabited by people of Indo-Aryan and Tibetan descent. Leh is a capital of this region, which connects to all the relevant places to witness the beauty of this magical place. You think of nature's gift to us and it's there. There is river, mountains, glacier, cold desert (white sanded) , greenery, lake, valley, snow, ice... what not. To my understanding except sea, one can see and experience every bit. From barren lands and mountain ranges to green lands, the beauty is indefinite. There are places where you can see a river flowing, white sand at the sides of the river, then greenery and a Huge mountain standing there, topping the magic of the nature.
Suddenly while sitting at the terrace of the hotel , our sight got hold of the fool moon view, the view was so clear that it looked like as if the moon is gonna land on the terrace that night, watch out to believe it.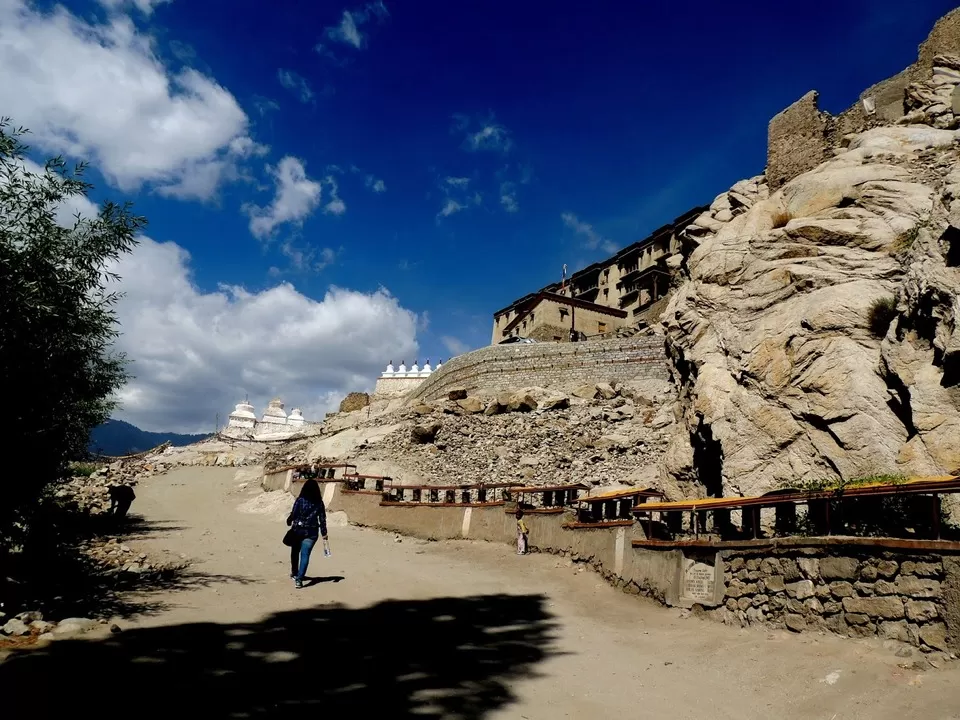 Day 2- started with the visit of Shey Palace -
Outside Shey palace , we met some ducks and sparrows :)
Visit to Rancho's school-
The school originally called Druk Padma Karpo school , also known as Druk White Lotus and with the epithet, Rancho's school. Its been conferred as one of the most beautiful schools in the world by BBC, London in 2016.
3 Idiots has made this school so popular that the school has become one place to be visited by the tourist. There is Café with our actor's pic . The school is really huge. It wasn't allowed to click infrastructure and students' pic, so I didn't, but yes The 3 idiot shooting spot is here -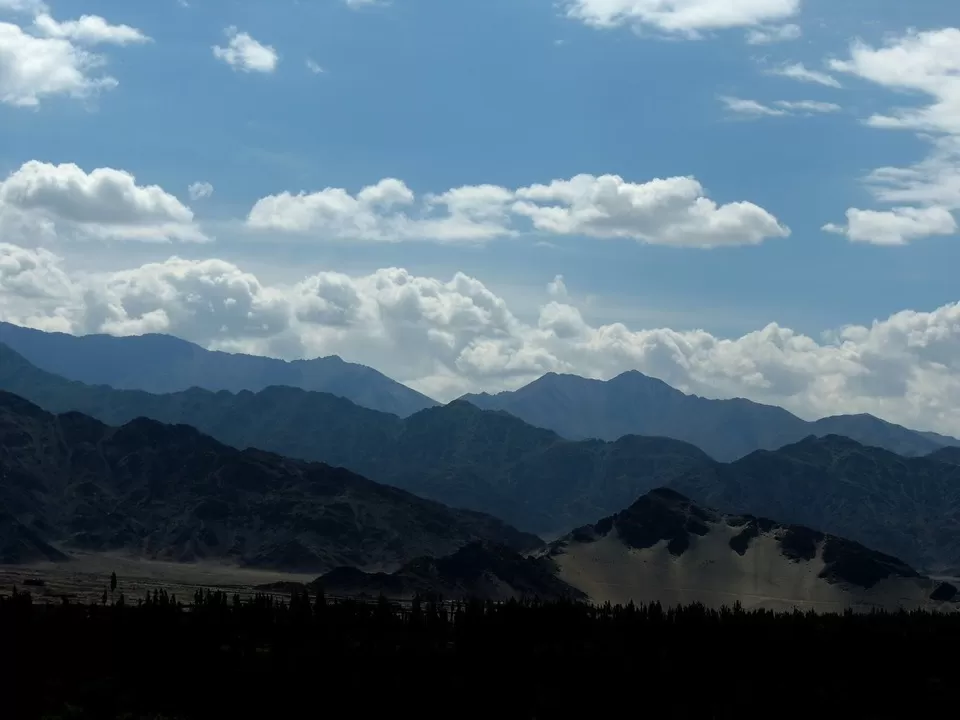 Day 2 - Spot 3- Thiskey Monastery : an impressive complex rising tier upon tier on a hill above the village
Visit to Shanti Stupa : Shanti Stupa is a Budhhist white-domed stupa on a hilltop in Chanspa, Leh disctrict, Ladakah. There are religious reasons and also panoramic views of surrounding landscape is really attracting. There were people, talks and happiness and peace. On the white base is a beautiful crafting with colors. Every art depicts something different. The snow filled mountain range, green valley are overwhelming to look at. I am sunset watch lover, if you too are one, you can view one of the best views from Shanti Stupa. Just dwell in it :) and stay. There came a time when while I looked at nature, the talks were not of importance, the smile was enough to communicate.
Our live happiness in this video-
Visit to the market - Our driver, Philbru took us to the market in Leh. The market was interesting enough to roam around. We were looking out some shawls and visited lot of shops. Finally we could find the stuff we were looking for in a shop called Zanskar Arts. There was a person/ seller named Arman who offered us Kawa, a drink of this place. We didn't really responded to the offer but he made it and served. He was on roza, yet he had put in an effort to make it, lot of gratitude to him. It was a very tasty drink which gave lot of warmth to us. Kava, The tea is made by boilinggreen tea leaves with saffron strands, cinnamon bark, cardamom pods and occasionally Kashmiri roses to add a great aroma. Generally, it is served with sugar or honey and crushed nuts, usually almonds or walnuts.
Amazing treatment for the guests, the people in Ladakh give.
The view to Nubra valley was just superb. While we moved from Leh to Khardungla pass, there comes a place called South Pulu from where one starts feeling the cool breeze and oxygen scarcity can be felt.
The driver gave us 15 minutes to stop at Khardungla Pass. The place is so much famous and is snow clad around. We witnessed 10 feet of snow in the month of June, melting slowly, drop by drop, creating lakes and rivers like the collection of so much wealth through hard work gets spent on needy and spreading happiness and getting ready for the hard work season again. The beauty of melting snow is such that in a km one can see the melt happening only from one point, consistently, unless snowfall occurs and it collects itself again.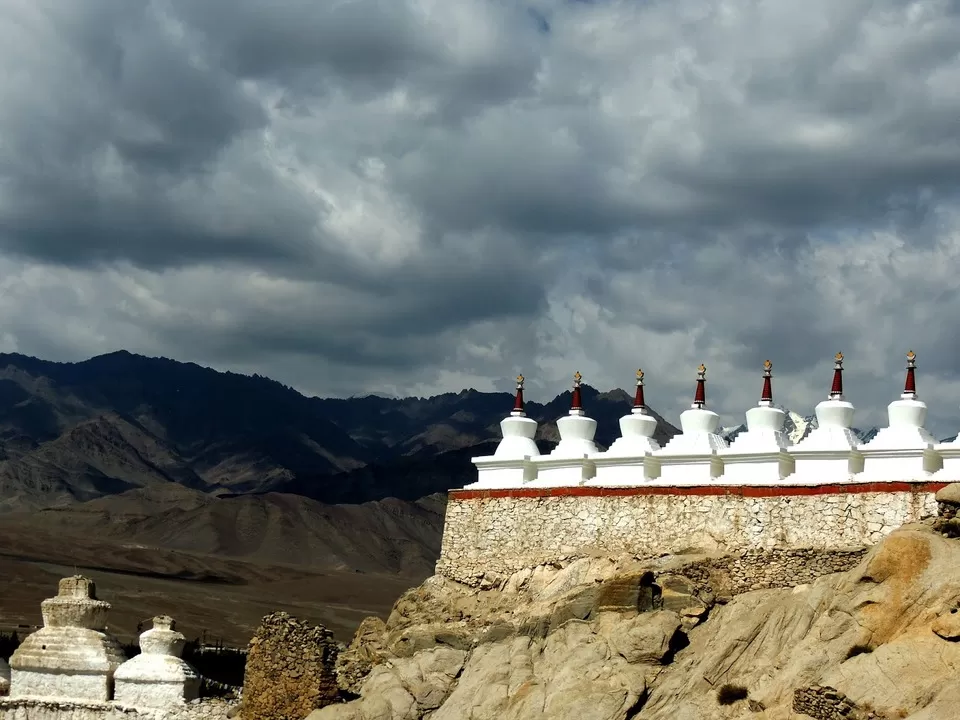 At khardungla pass when we reached while going to Nubra valley there was lots rush and everyone wanted to get a picture clicked on the sign board. And I was also one of them. Look at my picture, I am standing amongst strangers, some foreigners, I am standing in the middle in purple jacket smiling on this point of achievement, of reaching this place and celebrating the strange happiness. :)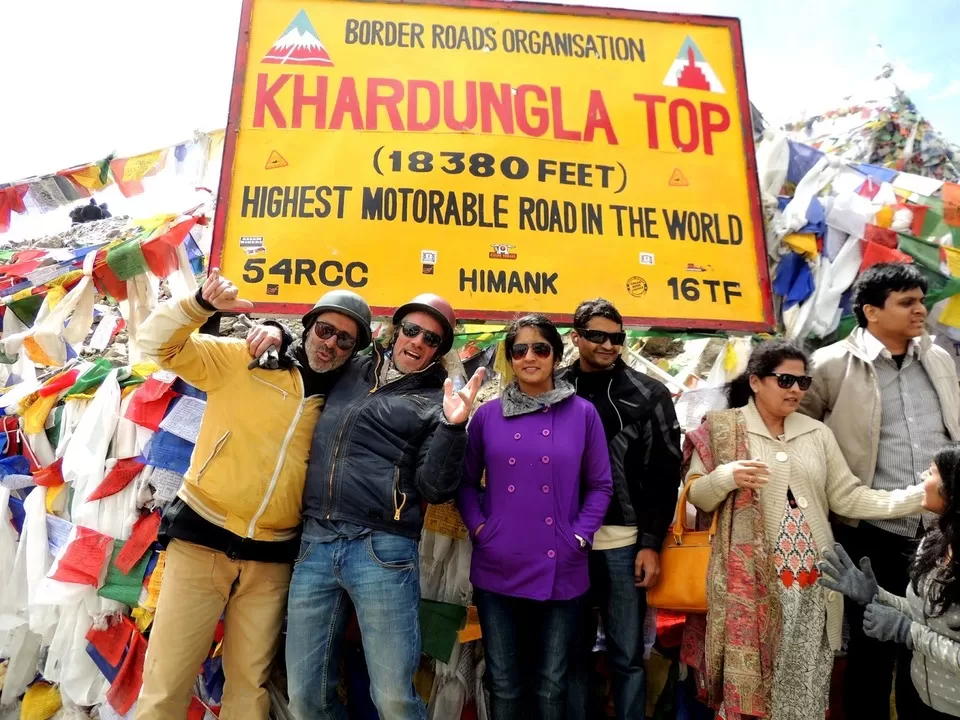 From South Pullu via Khardungla pass we reached North Pulu. Ladakh has Army spread all across. The beauty of Ladakh. Look at this sign board. It's of Siachen Brigade and they are up to help anyone for any kind of help. I feel without Army support its impossible to see Ladakh the way it is with convenience and carefreeness for a tourist. Ina barren and no man's land one can see smiling, confident, smart, josh filled Army men, living to their best.
We sat on the road, as if it belonged to us. We were the masters of the way and designed our destiny. Actually that's what this trip was coming out to be, we were enjoying our freedom to live, love and be ourselves.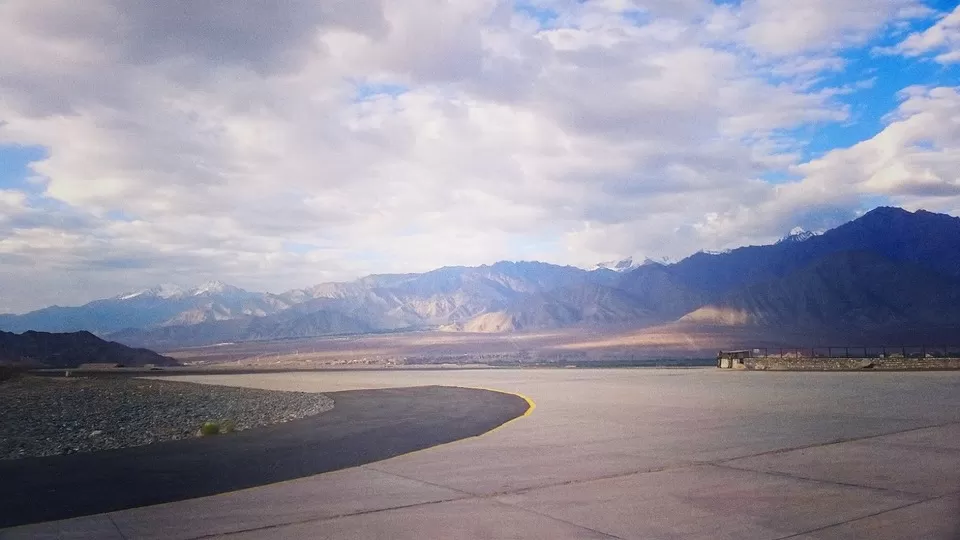 We happened to have a walk in the garden area of the resort and found these pretty apple and apricot laded trees. We only clicked the pic , didn't pluck. :) . Some really nice variety of roses. Roses in bunches, as beautiful as a readymade natural bouquet for your beloved. Here is the click.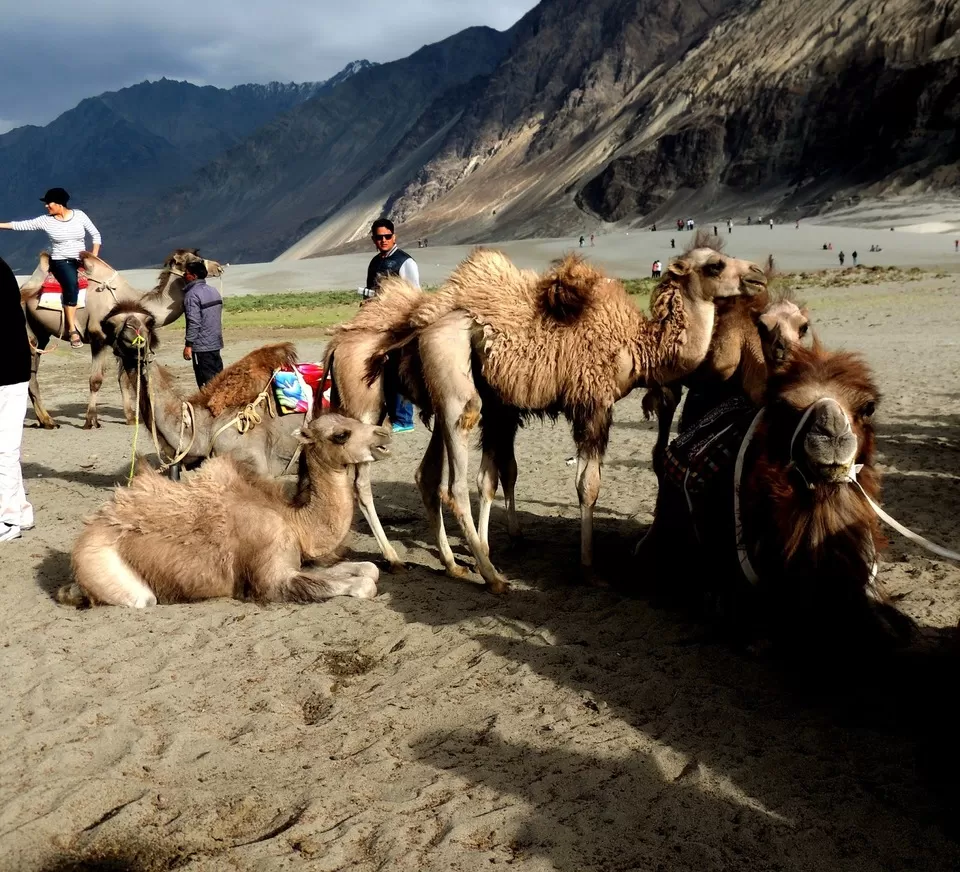 The white sand desert is immensely appealing. While we entered this place, there was a flow of water.... The glacier water to cross. Look the amazing view here. There is white sand, grass, water flowing and there are mountains. A breathe taking experience. As beautiful as a day dream.
Where ever I go, I wanna look the way the people there do. It's a wonderful experience to adapt the colorful aura of the people and place and yet be yourself.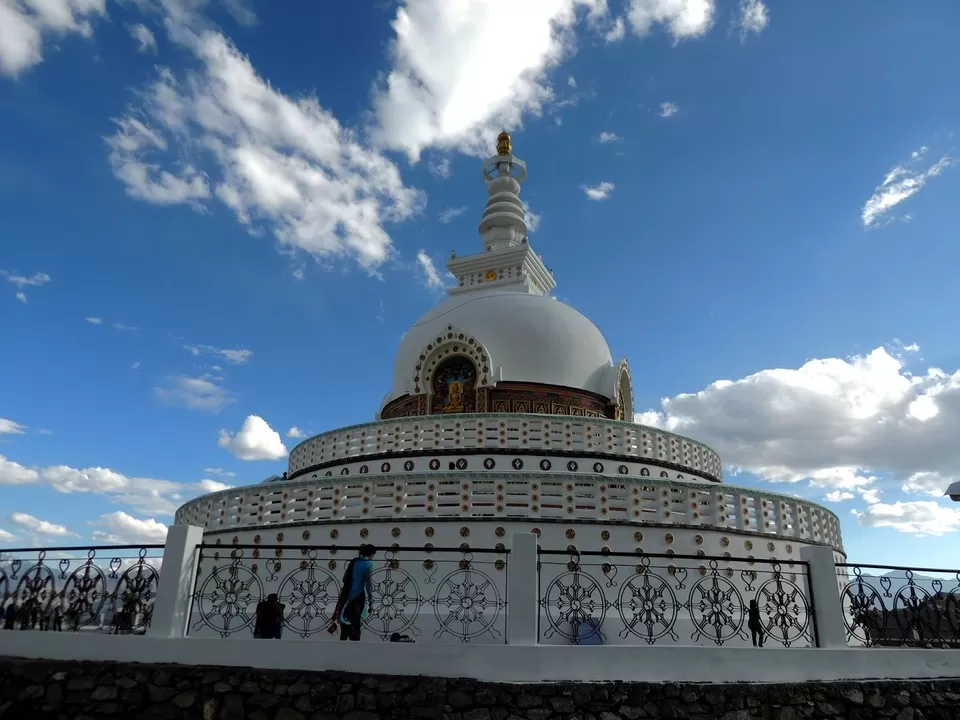 View at 8:30 pm from our room-
It was one of the most beautiful nights I ever had, watching the moon right from the window of my room. The moon was playing with the clouds, May be the game was Hide and Seek. The bigger the cloud, the interesting the game became. It was so so mesmerizing. Watch out the view of the moon. I am a moon watch lover and this was the best I could see on a silent night, yet having the sound of water as a background music and very very slow movement of clouds, the mountains too enjoying the game with me :) . My friend was asleep while I watched this. And I just love it.
I made a video too... when clouds and the moon were busy playing at night -
Day 4- The sunrise at Nubra Valley - view in between the trees-
This morning we visited Diskit Monastery . So was view of The Lord Buddha, simply peaceful .
Watch out the view of the valley from the top of the monastery
This is one of the oldest Diskit monastery
View on the way back to Leh from Nubra valley.. the sand and the river and mountains again together..
The cool monk at Samstaling monastery
The super cute kids we met at Sumur sand dunes, The dude on the left in the pic asked the most valuable thing from me - A PEN. How anyone could doesn't fulfill his need. Unfortunately we just had one at that time. The very smart kids out there :) , the moment with them -
There where it looked the way has ended in Ladakh, there was a turn out there.
The mountain cows on the way to Leh via Changla pass
The water fall on the way... adventurous way to cross
The scenic Khardungla Pass.
Day 5 - Visit to Pangong Lake -
For the last 3 days we had listened and got exhausted with all the songs in our Philbru bhaiya's pendrive, so we had a huge request to him to get more songs and make the drive for the day better. Though he didn't do that last evening, he did manage to locate the spot to get songs in another pen - drive and fulfill our wish. It was so very nice of him. On the way while he was managing songs list, we managed to get some juice and energize ourselves. And click this innocent soul-
We reached an area thereafter where there was no road. Basically, there was some repair work going on, on a regular road and hence we had to take a kachcha rasta. There were bikers before us and one of them got stuck in a big pit. They tried hard but couldn't. Our Philbru helped them with the bike movement and they got going. But we got in bit of trouble, because as per him the car movement on the steep road got ceased. He tried but couldn't get over the pit. So finally there the trick came in his mind, he moved big stones to fill the pit and make the way drivable. Before that a couple in a Duster tried to cross the pit and got the car damaged in the bottom part. So Philbru with his trick could cross the way in few minutes. Moving forward we found a super view, the view of Lord Ganesha on a mountain.
Then we witnessed Yak. Imagine Yak walking freely on hills. Cool na, here is how they looked like .
The arrival to Pangong Tso was Just Wow. It was 14000 ft. Pangong lake is 130 km in length and 6-7 km is width. It is bisected between India and China. The farther view was breath taking; the closure was scenic, pure and transparent enough to die. From multi - color water in the lake, to the exact reflection of the mountains. Look at the flow of the water and clarity , you can see the pebbles here... OMG!
There was brightness at Pangong Tso area till 9 PM. It was chilling. The touching wind had a push to awaken every bit in me and dance like never before. There is no electricity available in that area. Power is generated through generator. And that is possible only till 10:30 PM. They people over there say that the diesel starts freezing post that time. So after 10:30 PM, we had only shine of starts and a small lantern to spend the night with as far as light was concerned. Yet to this wonder state we got an opportunity to look at nature deeper. That's when I happened to click the stars in the sky.
We sang song for each other. As far as I remember my friend sang - "haan hansi ban gaye..." her all time favorite and I sang "Tu de dede mera sath, tham le hath chahe jo bhi ho....". It was such a musical and singing night, with the view of the lake right in front of the window and twinkling stars around. This is how the view looked from our room, during day -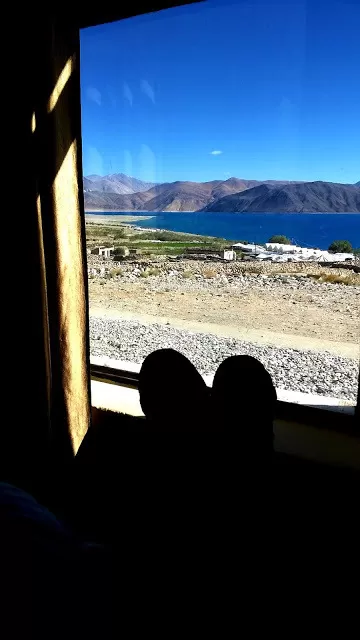 On the way from Pangong to Leh..He, posing for us, it seemed.
On the way back to Leh, we visited one of the oldest monasteries - Hemis monastery. We interacted with monks and got a pic clicked with them. The structure of the monastery is very old. It was reestablished in 1672. Amazingly peaceful place it is.
We saw very different mountains, while drove to Hemis monastery. Hard and carved.
We looked around the Hall of fame - museum constructed by Indian Army. Every view inside makes one more and more proud to be Indian, the celebrating times, hard times, fighting times, and glorious times. You get to see every bit so closely. We gave our wishes to Indian Army.
Another amazing thing that was witnessed in Ladakh was the confluence of Indus and Zanskar river. Indus being green and zanskar muddy. Look at the nature's magic here, though they meet, but both the rivers maintains their individuality, just like ideal partners, who blend yet remain with their individual self. The rocks and mountains that guide these rivers are just superbly beautifully carved and shaped. Each mountain speaking volumes and singing in chorus :) . You can listen to all with the blend of the music which the flow of the river creates.
I had one of the best experiences of my life in Zanskar River. I always wanted to experience rafting. Truth is that the kids with us were excited to do rafting and for them we reached the spot. But in the conversation and discussion, I happened to join the group. It was a random decision. Why I am emphasizing on this is because while this was decided and the amount was paid to do the adventure and I got dressed in rafting clothes, I was bit scared inside my heart since I had never done rafting before and I was excited at the same time. While we drove from the booking point to the rafting point the road, the view , the cuts and the curves of the mountains were no less than a historical monument, which was shining even after ages. The sound of the river was dwelling enough to question myself, if I was really ready to do rafting... !!! But I decided to do this and be brave. That day all of us would have listened to the instructions of the rafting guide very very carefully, since everyone in my raft was going to do this for the first time :D. We took risk, we played like a team, we were strangers yet we got to be united, we smiled, we laughed, we floated with the flow, we pushed and played with the river, we hit the rock and yet went smoothly with the flow, we faced rapid, we went down, we held up, we rafted with fun.
Watch out the video to enjoy the rafting experience-
Look at the India Gate of Zanskar River -
Day 8 - We had a flight back to Delhi. At Leh airport, hand baggage is not permitted. All the baggage, except ladies hand bag had to be checked in. We had a morning flight and we really were at the airport with super fascinating memories and fantastic experience of our lives.
Packing list- If you are travelling in the month of May- June, pack the mix of clothes for normal and woolen wear. Its sunny bright , very windy in ladakh. Pangong has chilly winds and there is where you might require full warmer with layer to sweater and a jacket and a cap would be must. For rest of the points carrying layers is the best. Full sleeves shirt/ top would save you from tanning in a way. Carry suns cream for get saved from sun, Goggles are must to save your eyes from UV rays and carry kapoor, to ease the breathing where you feel oxygen is less.
8-Mountains of various shapes, carving and colors
Travelling is a passion. The more you travel, more you get to know about yourself. You travel solo, with your partner or with your family. Each experience is very very different, though each one leads to happiness. For me it was a travel with my partner, my friend for life. During that time, while you are away from the daily routine of your life and your commitments, you find that time when you are with just one person and yourself. The way you share your thoughts, ecstasy, sad memories which strike in the darkness sometimes (yes the same memories which have made you strong and are making you stronger everyday), belongings, and for sure your time is a lifetime experience.... You end up doing the crazy stuff which you never thought you would ever do.
Since we had a group travel, I didn't even experience the togetherness of my partner but also fortunately mingled and settled for a family companionship. There was a family travelling with us. Mother- The Super woman and Gynecologist by profession, Father- The wonder man and Orthopedist, Son- Young, dashing, subtle, energized and challenging boy, Daughter - Naughty, bold, beautiful, and talkative girl. Their togetherness brought the best flavor to our trip. The best ever possible things happened there on. The warmth of family is such that it warms people around too, so that's what happened with us. We truly adorably enjoyed each other's company. Got to know how beautiful , helpful, caring, humble, STRANGERS can be and who turn out to be friends and well-wishers. I can say that's the best thing that Ezeego1 gave us, each other's company in the lonely planet.
Please comment if you need any detail or view. If this was helpful to you, pls share this to let people know more about Ladakh. Have a beautiful journey. Keep tripping and stay merry :).
This post was originally published on Maine Dekha Hai.