Assam, located at the lower reaches of the Eastern Himalayas of Bhutan and Arunachal Pradesh and running along the Brahmaputra River, is one of the seven sister states in the North-East of India. From here my journey begins.
Out of the airport and after the quick taxi ride to the ISBT called Rupnath Brahma Inter State Bus Terminal, this is where the inter state buses leave from Guwahati to other cities. I picked up my bag and frantically started to search for a bus that leaves to Kaziranga. All the ticket counters were closed as it was past 3pm. My luck to travel today will depend on the bus conductors before boarding. I waited for about 15 minutes and negotiated with a bus conductor for a bus that leaves to a place called Jorhat, further east of Guwahati. I knew the place and quickly looked at its position on my lonely planet map that I had photocopied before leaving home, Kaziranga was on the way to this place.
I picked up some biscuits and bought a bottle of water and managed to get the second last row in the bus. Not a very good spot but I was happy I got that seat and it was next to the window. Once the bus got out of the city I started to see India opening up to me. The lush green fields and rural life of Assam whizzed past beside me as I gazed out of the window. There was this one particular road where you could see Meghalaya on one side and Assam on the other. This was a new experience. My iPod was back on and slowly I started to enjoy the beauty of the place and the music in my ears.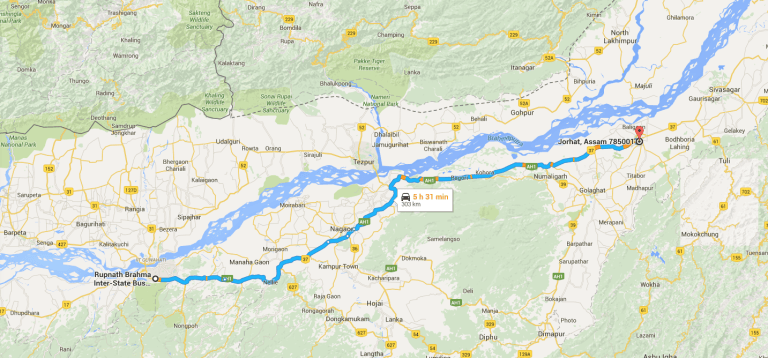 The ride broke my back though, constantly throwing me up and down the seat. At times I felt like asking myself why I ever thought of doing this. But kept reassuring myself it was going to be ok. This famous quote rang in my ears, "It's the journey that matters, not the destination".
Darkness fell and the night had begun, the bus kept going. Somewhere after about 2 or 3 hours, we passed by a place called Nagaon. It was a little after 8pm, and well over 5 hours when the bus stopped for dinner. I wasn't hungry and was curious to know how much more I had to go. I saw a guy using Facebook, so I went over to him, got acquainted and asked him if he could share 5 minutes of his internet data so I could quickly send out a word or two to my family. The guy was kind enough, and I switched on my phone for a barrage of messages. I wanted to keep my connection to the outside world at a minimum, but I had to let my friends and family know where I was since leaving Delhi the same morning. We left the place and got back on our journey. After 9pm the bus stopped and called out for people who wanted to get out for Kaziranga.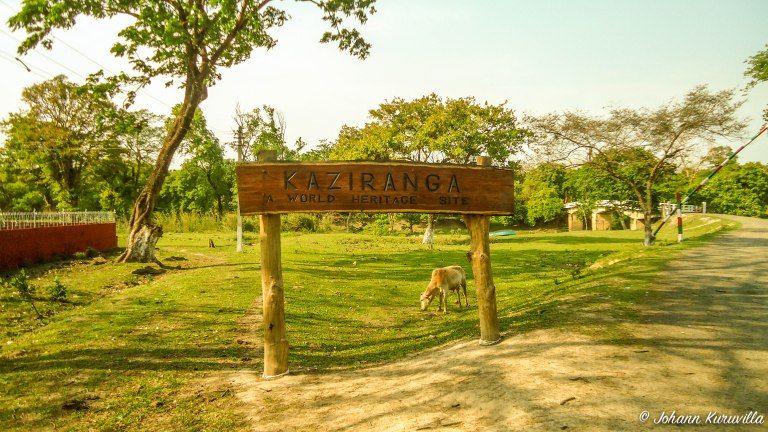 I was in Kohora, a small village in the Kaziranga area. Surprisingly, I found a foreign couple getting out with me as well. We shared some details on the places to stay. They had already booked some place at some resort and were heading there. I still had to find out a place according to my budget. While we were waiting there we witnessed a gruesome accident when a man walking by the road was hit by a car and the car fled the scene. Lots of people gathered and helped the man and an ambulance was called. I don't know what happened to him after that. Scary episode right at the start.
The couple was picked up by a safari jeep and they asked if I wanted to join them and they could help me find some place to stay on the way to where they were headed to. I couldn't find a better deal at that moment and I hopped in. We stopped at a lodge, and I found a good place to stay for the night. After saying our good byes, they left.
The manager at that lodge, gave me a room to stay and arranged a cook who would make me food for the stay. We quickly got to know each other, had some basic dinner. He promised me he would get me a safari in the Kaziranga National Park the next day and advised me to take some rest and get some good sleep. I was excited and couldn't wait for the next day. I had a look around the place and couldn't find anyone else in that guest house. So I was the only person staying there for the night. The safari season was almost getting to a close there and so it was the best time for me to visit to avoid the crowd. I probably had my best sleep that night in ages.
The next morning, my safari jeep was ready and I had a nice quick breakfast. We were out into the Kaziranga National Park. It felt as though I was in a National Geographic episode. We all like going to the zoo, this was a Wildlife park and no match to whatever I had seen so far. All excited, I met the safari driver and he was my guide for the rest of day.
I can't recollect my guide's name, but he was a nice man who was ever helpful. He knew almost all the species of animals and birds that could be found at that place and their scientific names as well. He's been doing this for years. Peak season he is a safari driver and off season he travels down south of India and makes his living by riding trucks and lorries, a hard worker and honest man. Lot of things to learn from a man like him.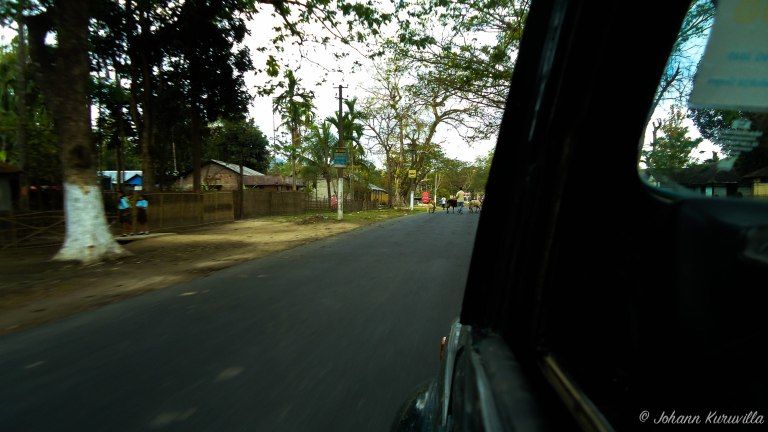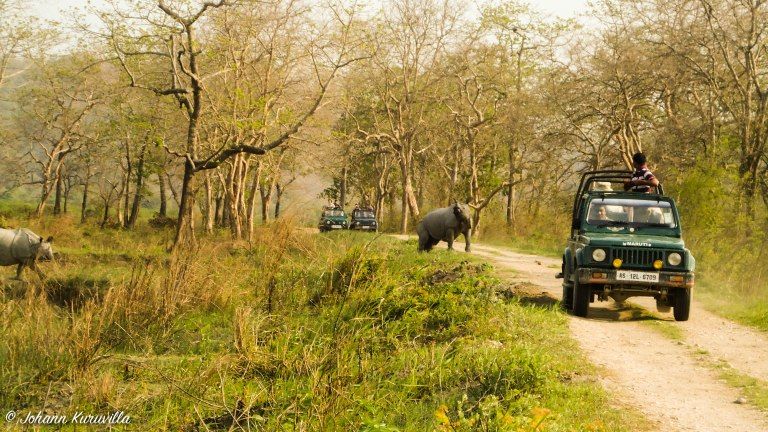 He took me around the place on his safari jeep and we got to see the amazing wildlife Kaziranga is known for. Asiatic Elephants, One Horned Rhinos, Wild Water Buffalos, Swamp deers, countless number of bird species and tiger tracks. I wasn't that lucky to spot the Royal Bengal Tiger though. I had a great time bird watching and animal spotting at close distances, enjoying the calm and peaceful beauty of nature. And all this was possible because my guide had a super powerful Nikon binoculars to use as I pleased. It was the best start to the trip and I enjoyed the day out in the wild. We returned back to the lodge by late evening.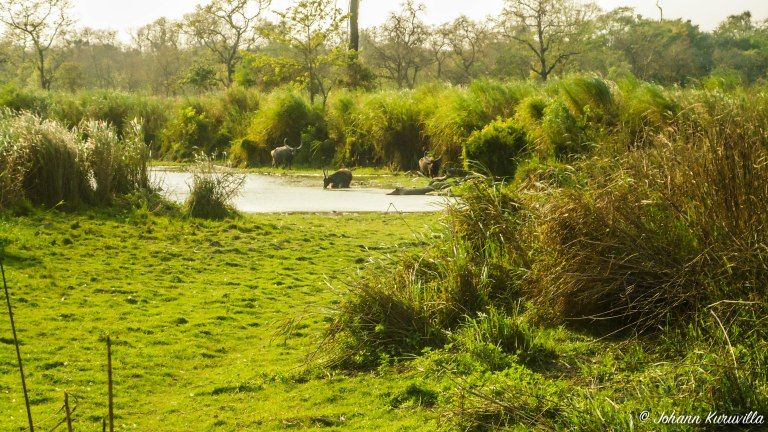 The cook made me some amazing Assamese food on my request and I enjoyed every bit of it.
Getting to bed at that night I recollected the events of the entire day. I had a long day the next day and had to get back to Guwahati before my friend landed.
The next day I headed back to Guwahati, waited by the side of the road for any bus that was going to Guwahati. To my surprise an air conditioned bus stopped for me. I wasn't expecting this but luck was on my side. I didn't get a seat immediately as the bus was already full. For about two hours I sat next to the driver and enjoyed the scenery ahead on the road. After some passengers had left, I got a seat on the last row, this time it was much more comfortable because it was a better bus. I had a nice chat with the passenger next to me for the rest of the journey and reached back at the ISBT. Then I hiked a few kilometres outside to find a taxi or a rickshaw that could take me to the airport to receive my friend. At the taxi stand I met some youngsters from Meghalaya heading to some water theme park which was next to the airport. They were so kind and one of them gave up his seat for me and hung outside of the cab. All of them spoke fluent english and I was so happy. Good people, good times.
I reached the airport and looked at all the flights that had arrived and I was late. My friend had arrived an hour earlier and left somewhere looking for me. Unable to find him, I found internet at an outlet there, contacted another person back home to find where my friend had gone. Somehow he was able to get in touch with him and was asked to get back to the airport to meet me.
Reunited we left the airport and headed to the city for some lunch. Since we didn't have working phones and internet data available we scurried the streets to find a good place to eat. Down town Guwahati looked almost like the Calcutta I had seen on television. There were people at every nook and corner of the city and so many shops and street vendors. After few hours of walking around we found a very good restaurant that served food from Nagaland, another state from the seven sister states. The food was filling and tasted great. We both feasted and it was almost evening.
Since we both had big trolley bags, we knew this was going to be a hassle while travelling. We had to get a rucksack that would fit all our stuff in. We didn't bother buying one outside of India as we knew it would cost us a lot on our budget. So we set out on a bag hunt which took us about 2-3 hours to find a shop that sold good branded ones. Once we got them, we barely had enough time left to get to the station for the last train to our next destination, so there in the middle of the pavement we transferred our stuff onto our rucksacks and got a friend who lived close to the city to keep our big bags till we got back.
We found a cycle rickshaw to get us to the Railway station. If you ever come across one, use his services and tip him heavily. They are hard workers and deserve all the money you can give for his services. They can still be found in a lot of north Indian cities and I can assure you that you will have a good ride and a pleasant experience at the end.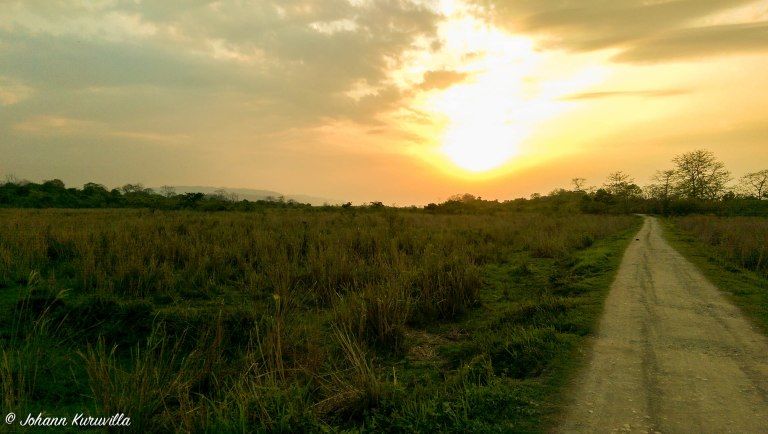 We were on a wild goose chase, but finally got to the station and had two tickets to Siliguri, a place in the state of West Bengal to continue our journey further north to the Himalayas. We had booked the tickets online but only one was confirmed. The other was wait-listed and didn't come through at the right time. For some reason I underestimated the Assamese festival of Bihu. The traffic was at its peak, and the station was in chaos, crowded beyond you could see. People were using the holidays to get away from the city. While waiting in a queue at the ticket counter we were surrounded by street kids looking at our bags and gear begging for money. One even clung onto my pants and wouldn't let go until we had given them something. We made it to the train at the last moment and I let my friend take the confirmed seat and the berth to sleep on and I wandered throughout the train like a homeless man. When I got tired, I went and sat next to the footboard near the exit with a juggernaut like bag that had all my stuff in, teaching me an important lesson, always travel light.
See you where the train stops.