Every journey is different and Kabir and I are no exceptions. Kabir, my lovable and enthusiastic 11 year old, a die-hard Potterhead and an aquaphile is taking his own gingerly steps through the turns of adolescence. He's growing into his own person with his set of likes and dislikes and that's something I want to be a part of.
But work deadlines, appointments and other responsibilities tend to get in the way of what we really want to do in life, which for me is spending more time with Kabir as he grows up. Even as I juggle between my social media presence, my blog and my startup, Imbue; time is a slippery thing and I'm not able to give as much attention to my son as I would like to and the guilt gives me many sleepless nights.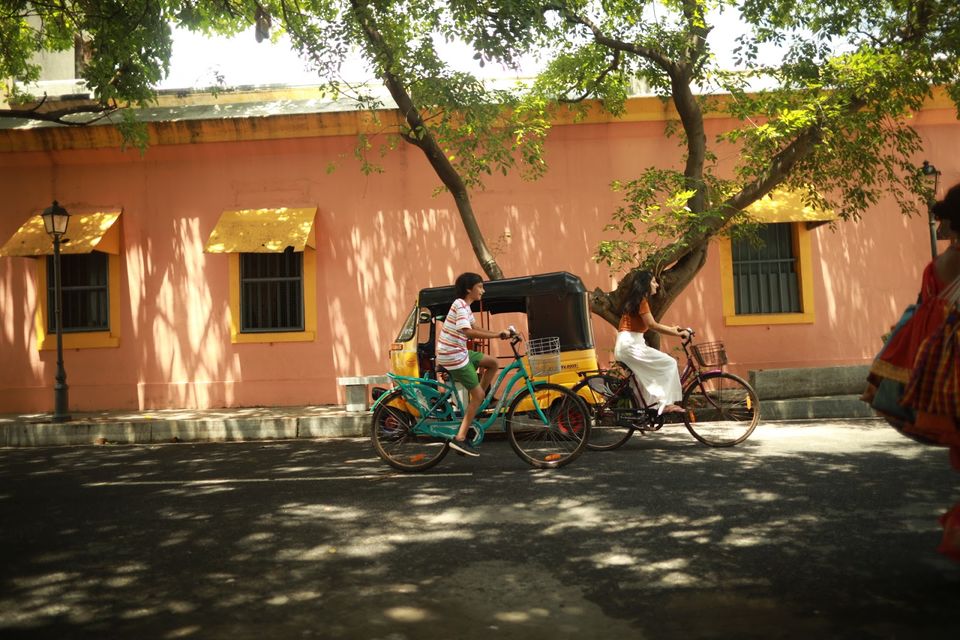 While all Sundays are reserved for Kabir and his colourful banter, we needed a break from the routine and I wanted to do something that would make his face light up. Since Kabir takes to the water just like a fish does, I booked a charming and quaint Airbnb right by a beach in Pondicherry.
Pondicherry greets you with broad French style avenues, mustard-yellow colonial structures, cosy cafes and chic boutiques draped liberally with pink bougainvillea creepers. Old world charm mingles freely with a laid-back bohemian vibe and our Airbnb, La Maison Bleue, sat pretty right by the sandy shore of Serenity Beach.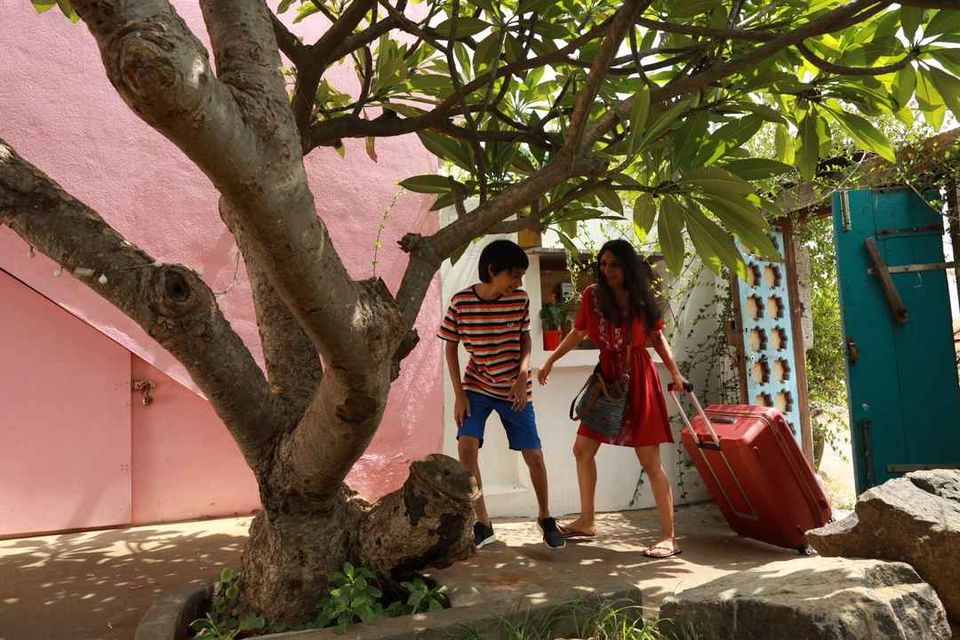 As soon as we unlocked the door to our temporary home, Kabir ran right in to explore the place. The house had cute blue windows, a comfy patio with a sofa and lots of cushions, an open garden for Kabir to run around in and a winding staircase that led to the terrace with striking views of the foamy waves rushing in to meet the sandy shore of the beach. Kabir was delighted. He had always wanted to stay as close to the sea as possible and when I spotted him running excitedly up the spiral staircase, I knew this Airbnb was the right pick.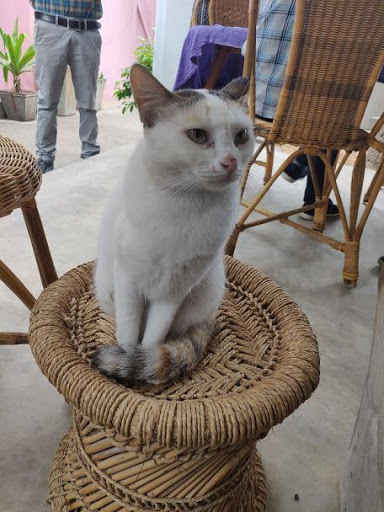 One of the few factors that helped me make my decision was the furry cat residents of the house. The host had cat food in the kitchen and we were looking forward to meeting our furry companions when they came in looking for a meal.
Kabir is a different person when he's travelling–more free and open. And just like all kids with dancing feet, he prefers going out and doing something actively rather than just laying back and relaxing for a breather. To start the vacation right, I booked a diving and surfing course for him which would help him surf the waves like a pro.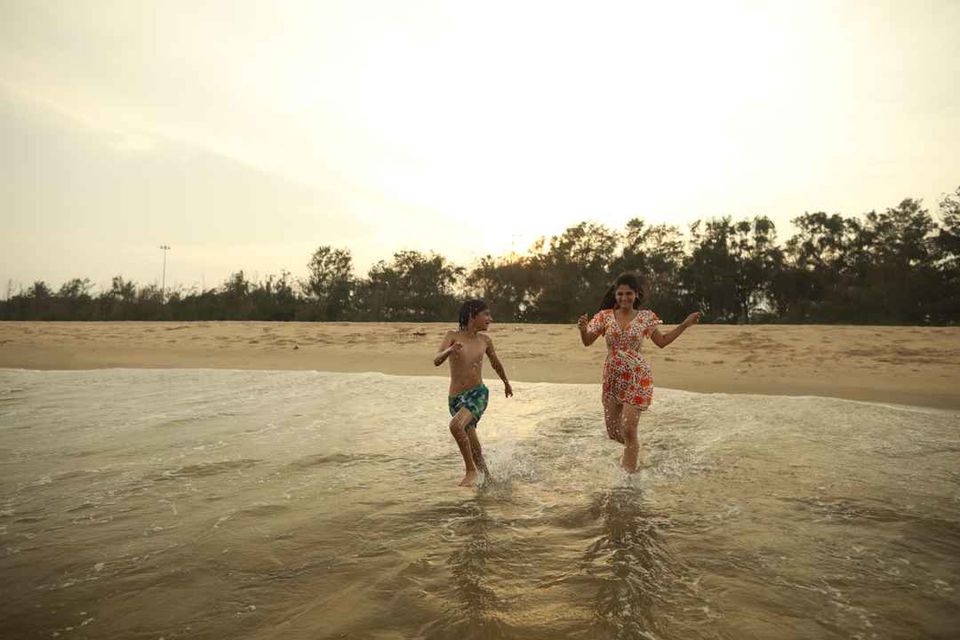 His eyes sparkled and his excitement grew exponentially, as we neared the sparkling water of the beach. Minutes later, his instructor had prepped him up for diving lessons and we got on a motorboat to delve a little deeper into the warm and inviting water. Our instructors were very patient and friendly and soon Kabir was splashing about with a grin on his face.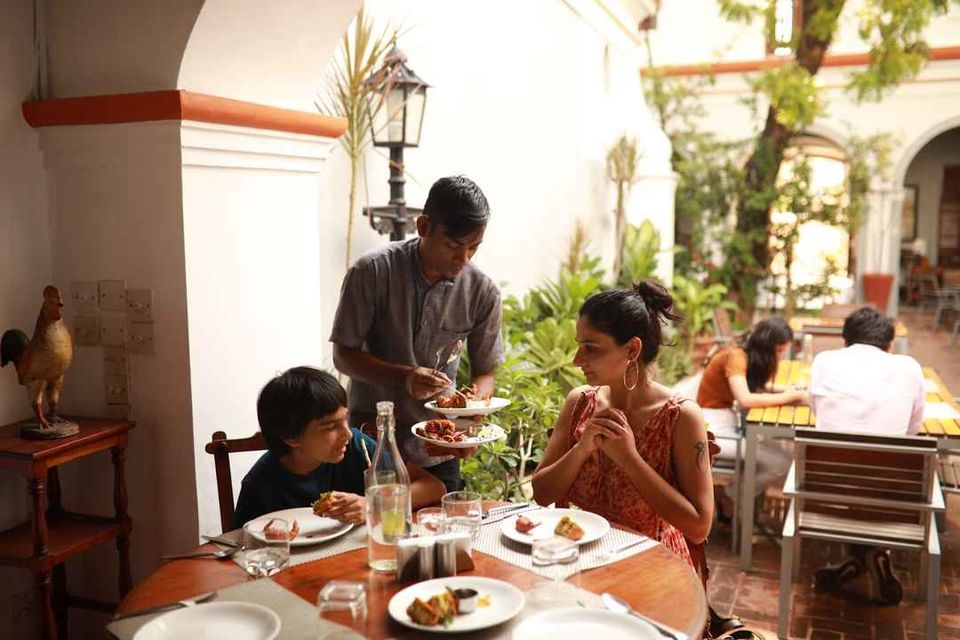 Thoroughly drenched but visibly happier, Kabir found his way back to me. We headed to Chez Francais, a stately cafe with French windows and imposing arches. Hungry from all the excitement of the morning, Kabir scarfed down a good portion of Poulet Saute Champignons (chicken with mushrooms) while I sampled some of their Coq au vin (chicken braised with wine, lardons, mushrooms). While we ate, he chatted about all the stories at school and friends that he hadn't caught me up to speed with.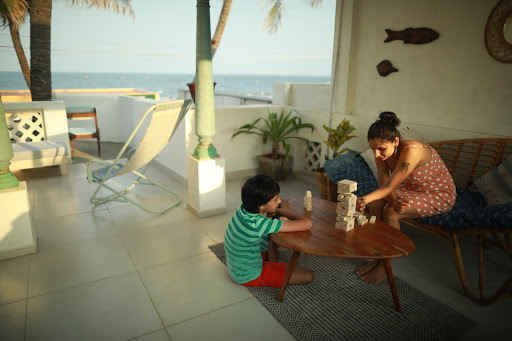 Pleasantly languid after the delicious meal, we went back to our Airbnb to settle down on some cushions for a game of Jenga. As the sun streaked the sky with shades of gold and pink, we headed to the terrace to recline on the deck chairs and watch the water shimmer as the sun went down.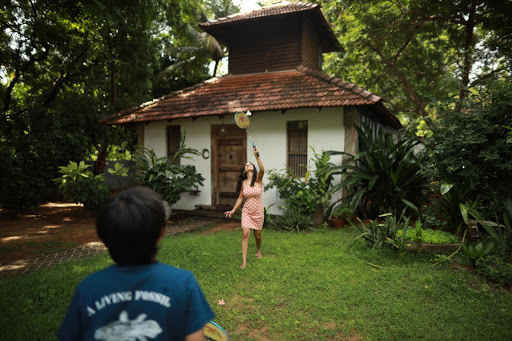 We decided to invest in a game of badminton with us scampering about to swing the shuttlecock high up in the air. Our furry residents graced us with their presence midway through the game, sniffing about curiously. After a good cuddle session with Kabir and me, they went inside and settled into cosy nooks for a nap.
As stars popped out of the inky sky, we went to the lively PY cafe for dinner. The easy familiarity of the place and the intimacy of small town put us both at ease as we rounded up the day with music and more yummy food.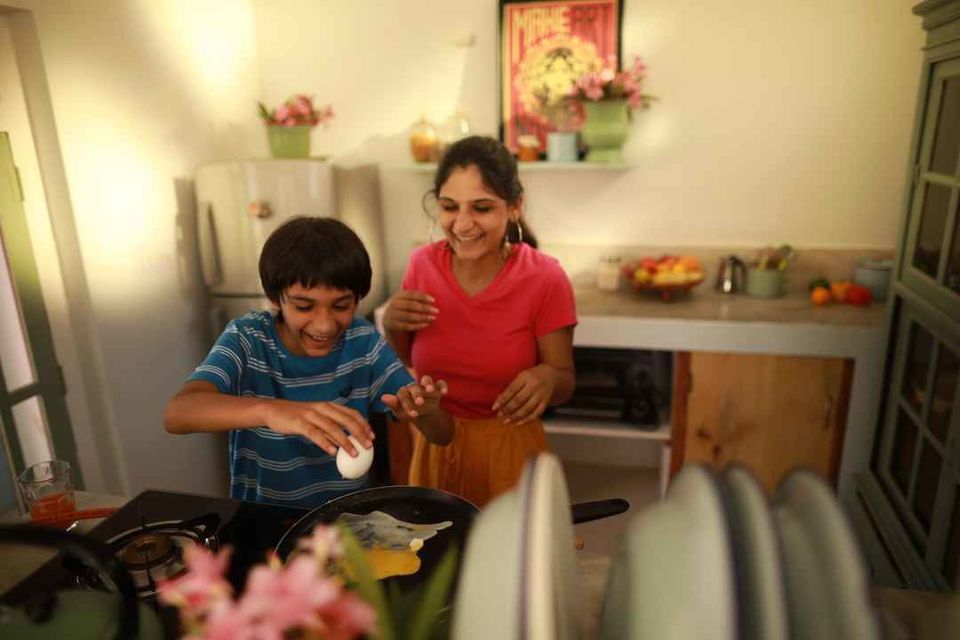 We woke up to the beautiful sight of five cats sleeping in the patio and soon enough, they were up and purring about Kabir's legs. After some insistent meowing, we found some cat food in one of the cupboards and ladled it out for our hungry audience. As for us, Kabir and I whipped up mustard-glazed omelettes with toast for our rumbling stomachs. We settled down to eat in the patio with Kabir feeding me bites of his omelette. A few cats meowed for tidbits which Kabir promptly smuggled for them under the table.
The next best thing for Kabir after water, is cycling. We rented two cycles and soon, were cruising along the wide and sunny streets of White Town. We turned by an imposing church as Kabir pointed it out and stopped at a few of the interesting-looking places around.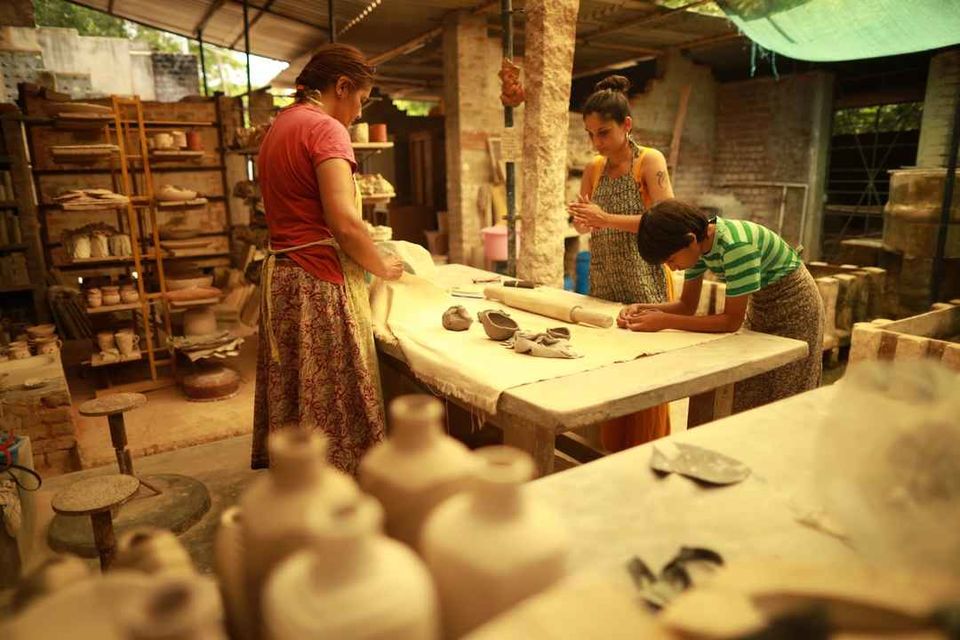 Next up was our pottery class at the Wind Glaze Pottery farm where our kindly-looking instructor ushered us in warmly. I hadn't expected Kabir to enjoy this one but was pleasantly surprised to see him looking on fascinated at the turning wheel and moulding clay. He did spend some time playing with the squelchy clay and a good two hours later, he had created a feeding bowl for Tofu, our cat back home.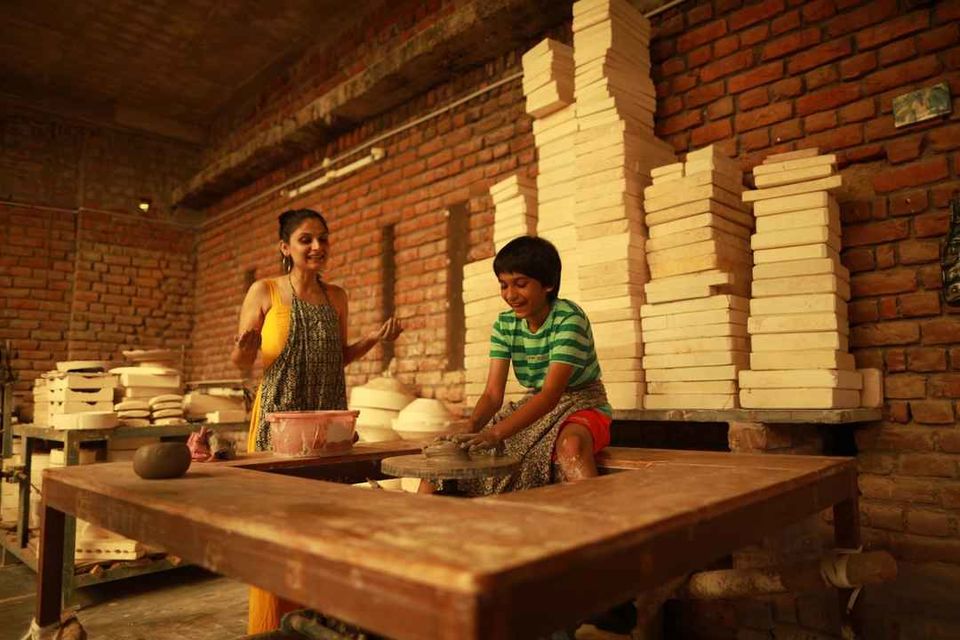 The pottery class was a good call as we both spent some time trying our hands at creating pots and laughing when we failed at it.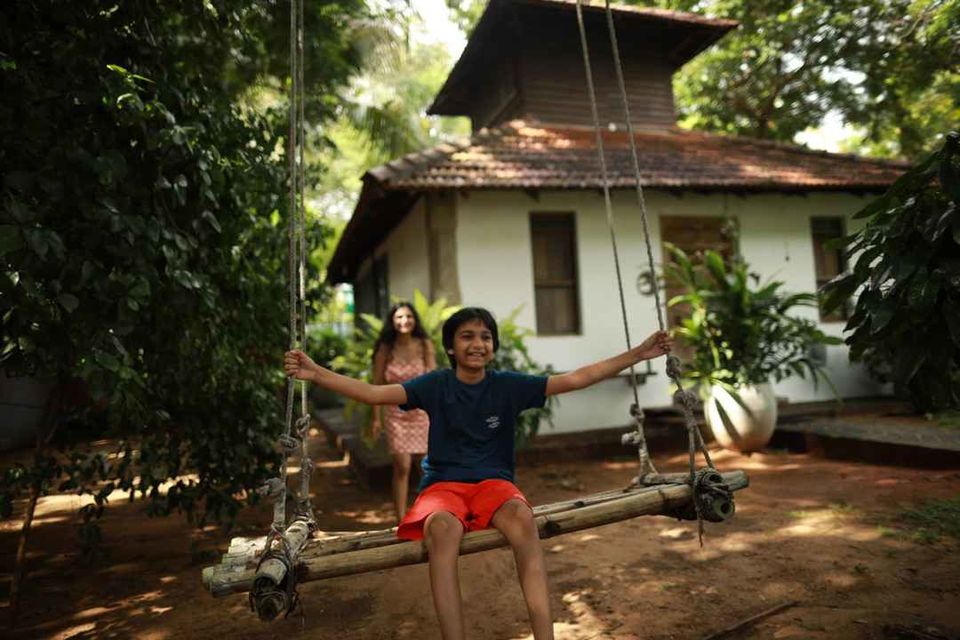 Kabir's diving course was slated for the afternoon but dark clouds covered the sky and a storm was close behind. Kabir was a good sport through it all and we went back to the Airbnb to take turns at swinging on the wooden swing outside.
Our vacation was drawing to an end all too soon and as we bid farewell to our furry friends, one of them snuggled up to Kabir purring as he lay down.
Though it was a good vacation we wished for more time in the alluring town of Pondicherry and we agreed to come back again. Kabir, for his diving lessons and me for a relaxing meditation session at Auroville.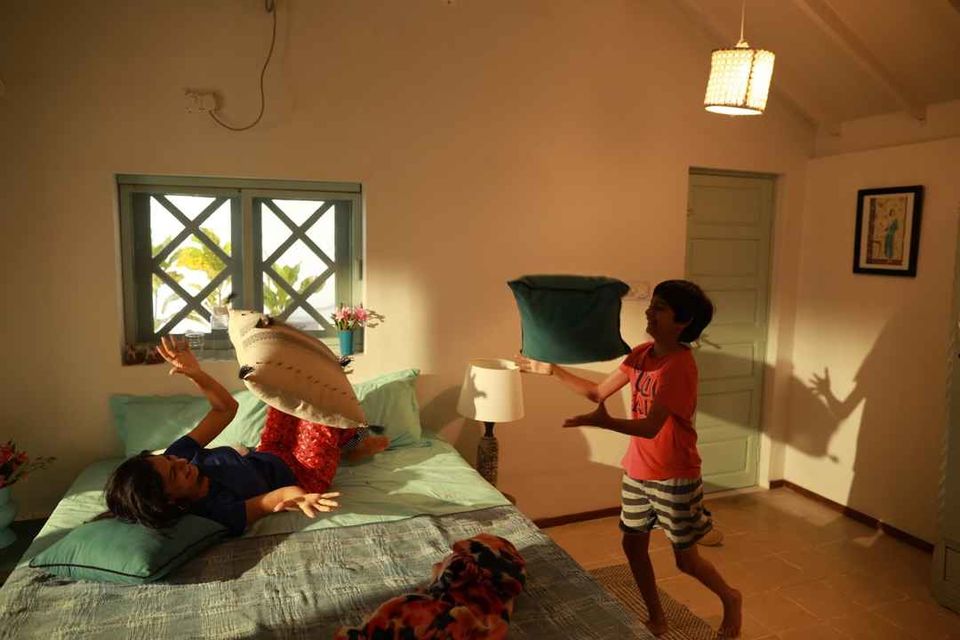 While our dream destination is Harry Potter world in London, I'll make sure I get an Airbnb there for a range of factors. Affordable and homely as it is, I want to explore the neighbourhood around with Kabir. I want to whip up more dishes with him helping out in the kitchen. Most of all, I want to watch him explore new experiences and be delighted with what he's discovered. And when he turns around excitedly to tell me about it, I'll be there.
Have a dear memory of your own that you'd like to share with us? Tell us all about it in the comments below. Or write about it here and earn Tripoto Credits.
In association with Airbnb