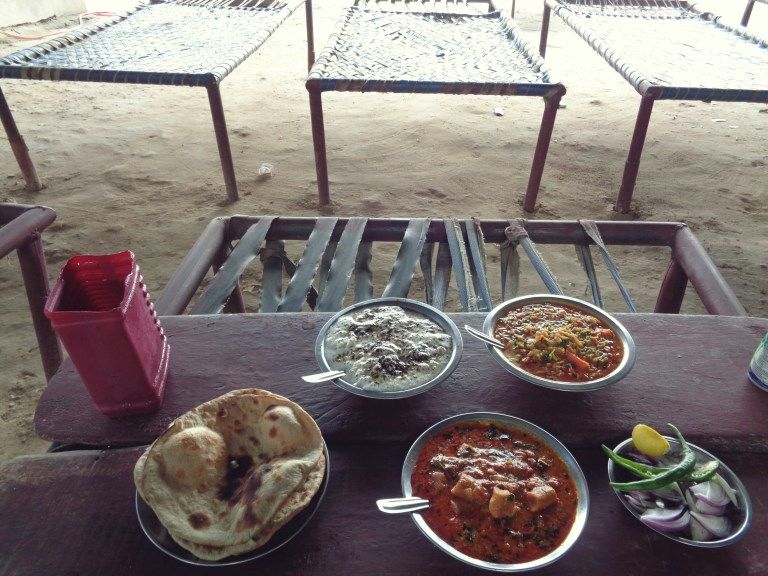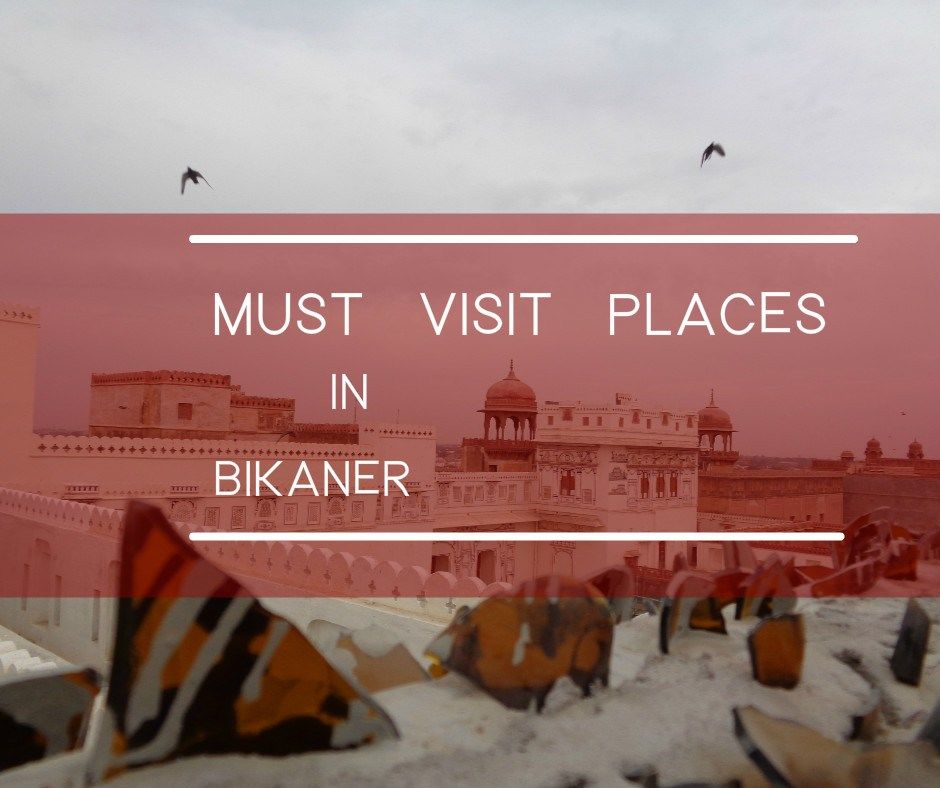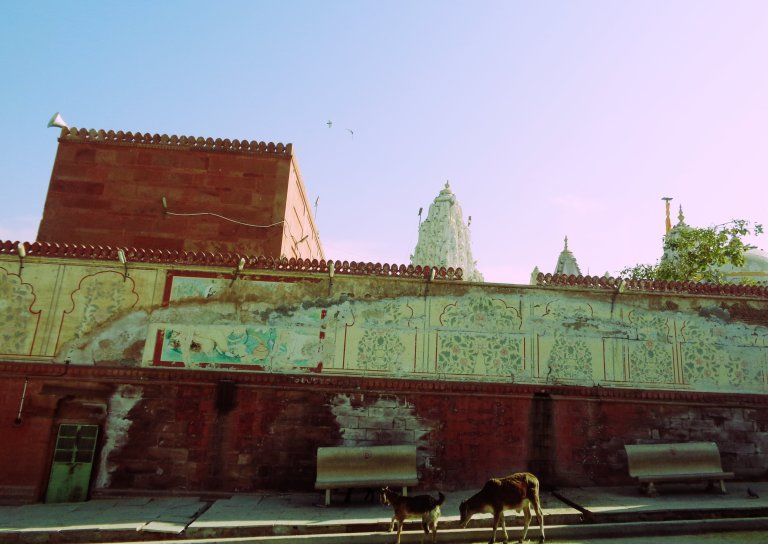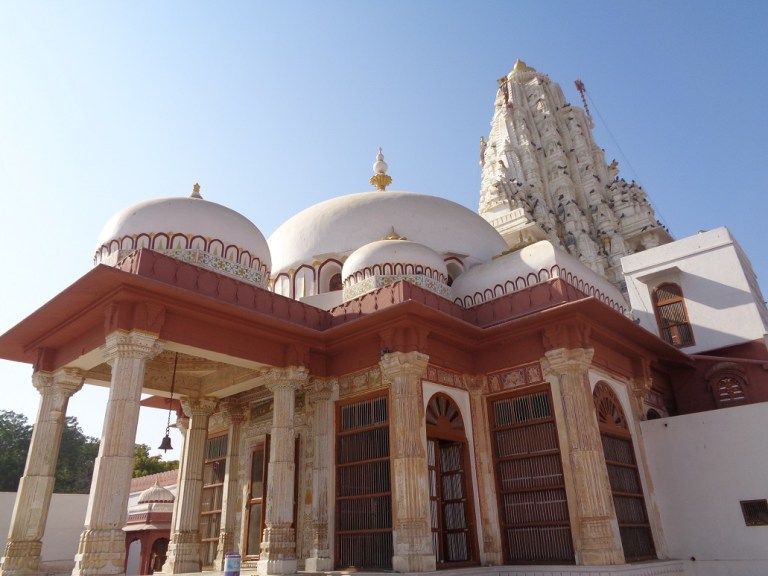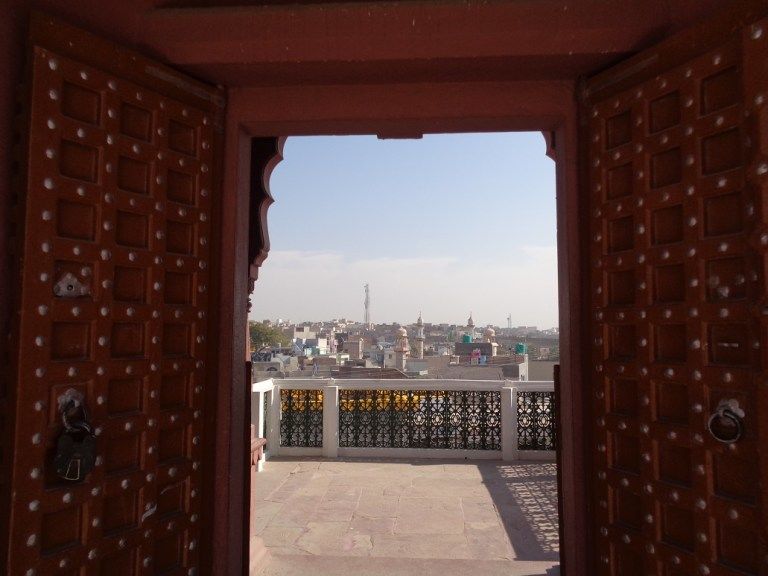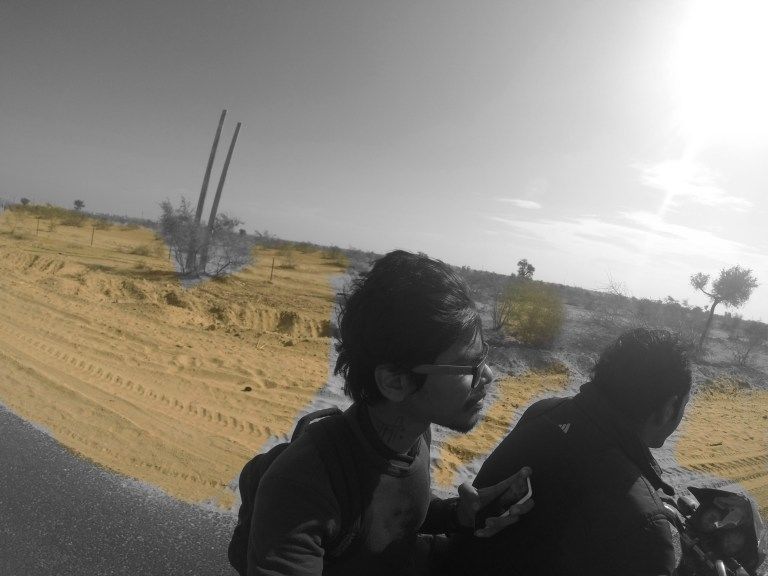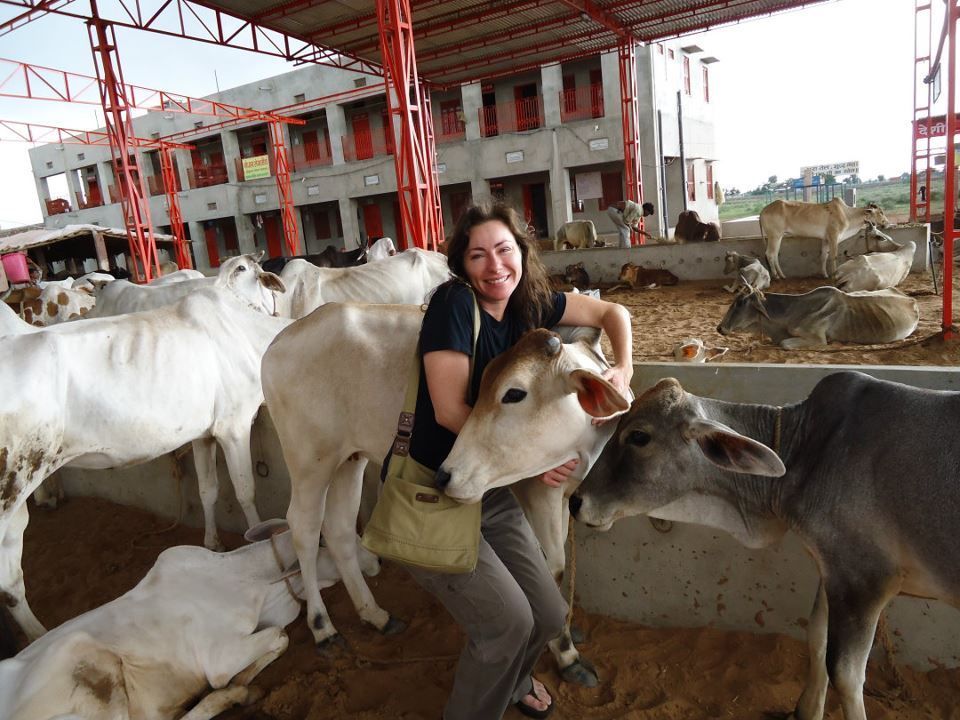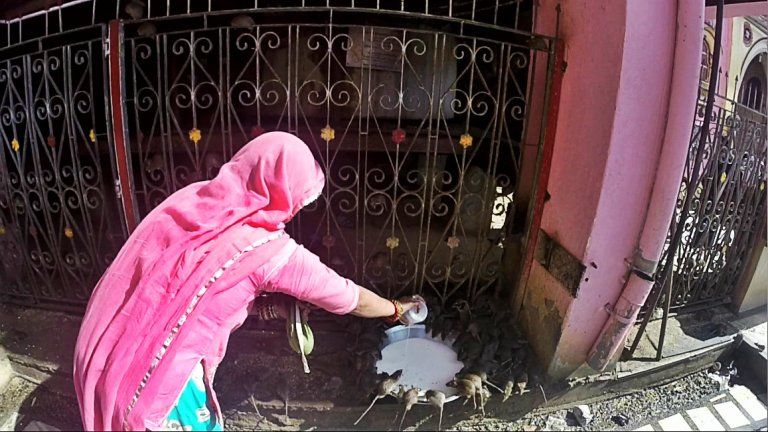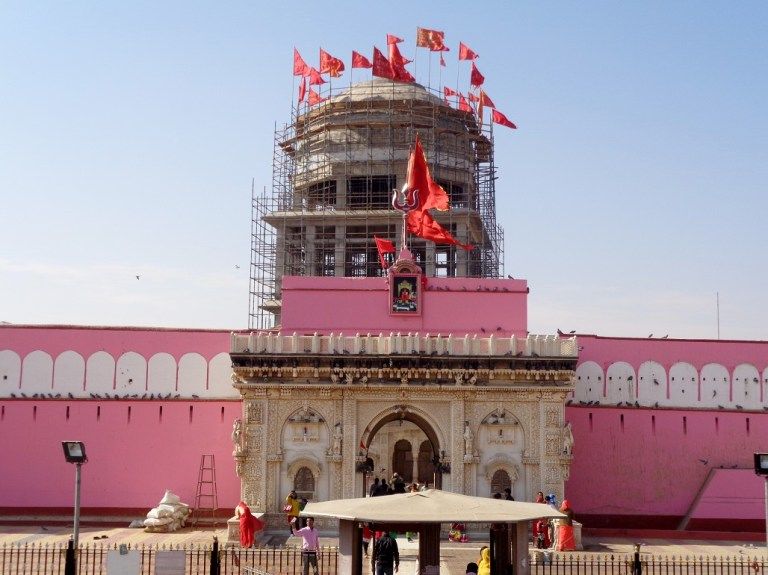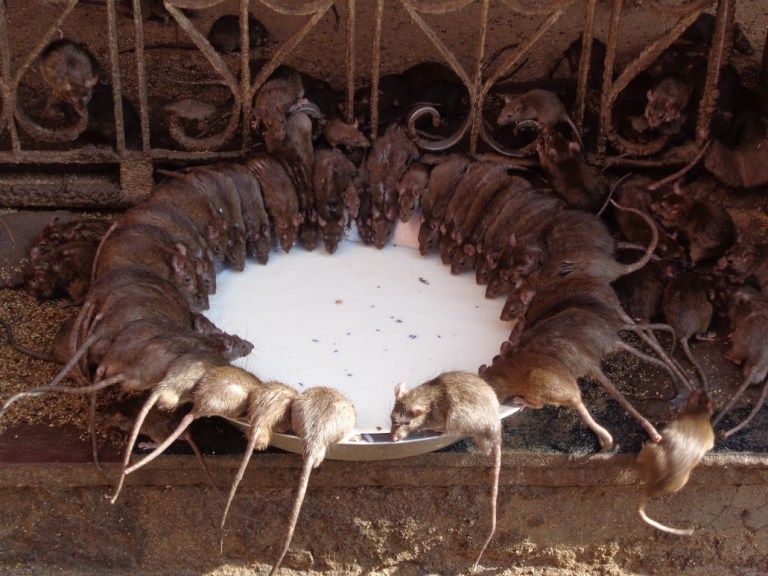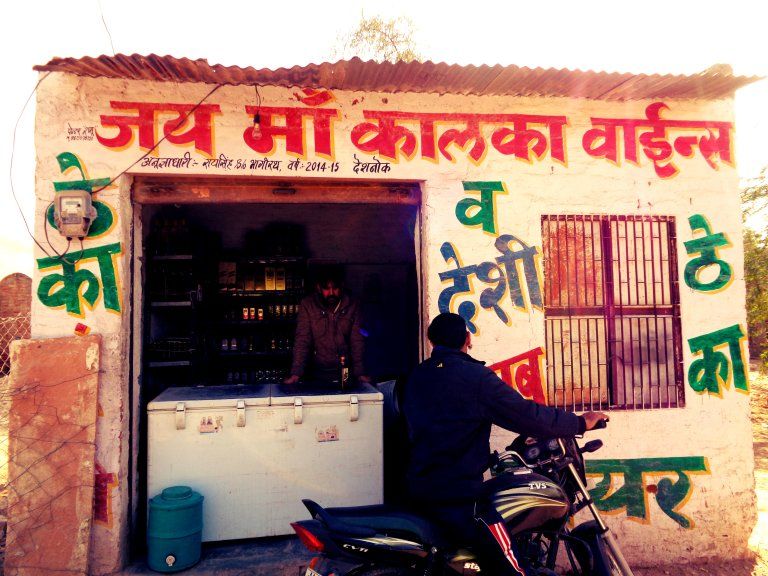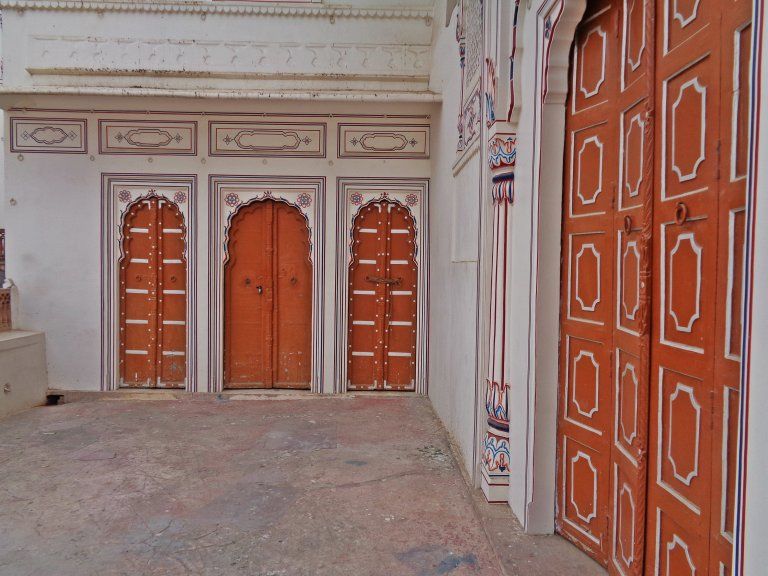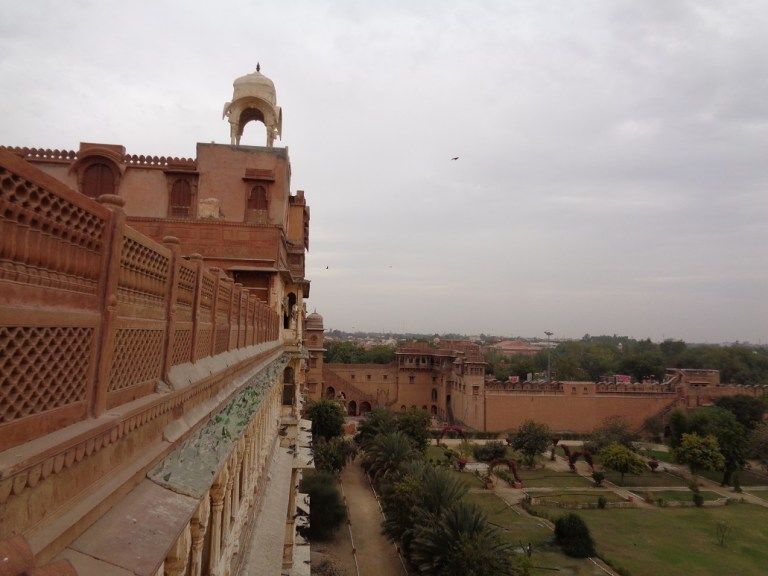 Bika Ji, Deshnok, Goshala, lalji sweets, Supernet Kotadori, Junagarh Fort red stone
Lakshmi Nath temple, Jain temple, Chhotu Motu Joshi sweets, Sohan Rajput ( fictional) (Geetika Dubey)
"Bikaji & Lalji Ke Sweets, Bikaner's Supernet Kotadori, Chhotu Motu Joshi ki Mithaiyyan, Deshnok's Karni Mata and one of it's kind Goshala",
You must experience all these things of our World famous Bikaner :D
When you have no clue on where to start from, just head to the hotel reception. "Bhaiyya Junagarh fort is near and you can get a bus to Karni Mata temple if you want to visit it. By the way, I am also heading to the Karni Mata temple. You can pay for the fuel and join me on the motorbike."
Perfect, I said.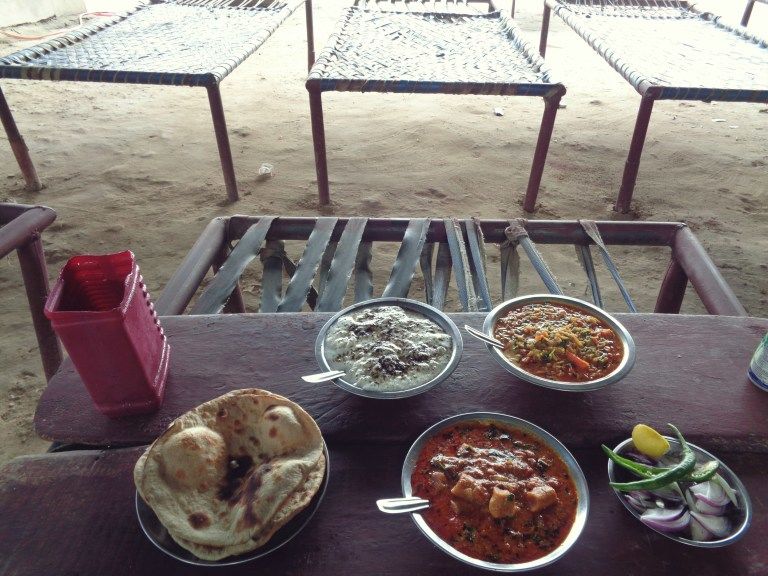 Must Try : Sev Tamatar, Besan Gatta, Curd
Openly hung cobweb of electric cables, havellis every now on then painted in brick red with beautiful windows, narrow streets with shops, a board on one of them read "Shaadi Klie ( For marriages) Fashionable Crackers". Not sure what the adjective fashionable is doing with crackers though :p "Malji's Kesariya Feeni" read another. Feeni is a desert with tinge of Saffron. We crossed endless shops starting from Bhikharam Chandmal to Bishanlal Chandmal selling Bikaner's special item ie). Bhujia. Many of them came with a special message "Bas Naam Hi Kafi Hai" (Just the name is enough) which is a whole new level of confidence :p
But the most famous ones are Bikaji and Lalji's, he says. Meet Manoj. Manoj is a table tennis teacher who manages part time in Hotel Shiva's regency. "Due to the nature of my field, I have got the chance to visit most of the Indian states, he says. I felt glad that I found a traveler buddy.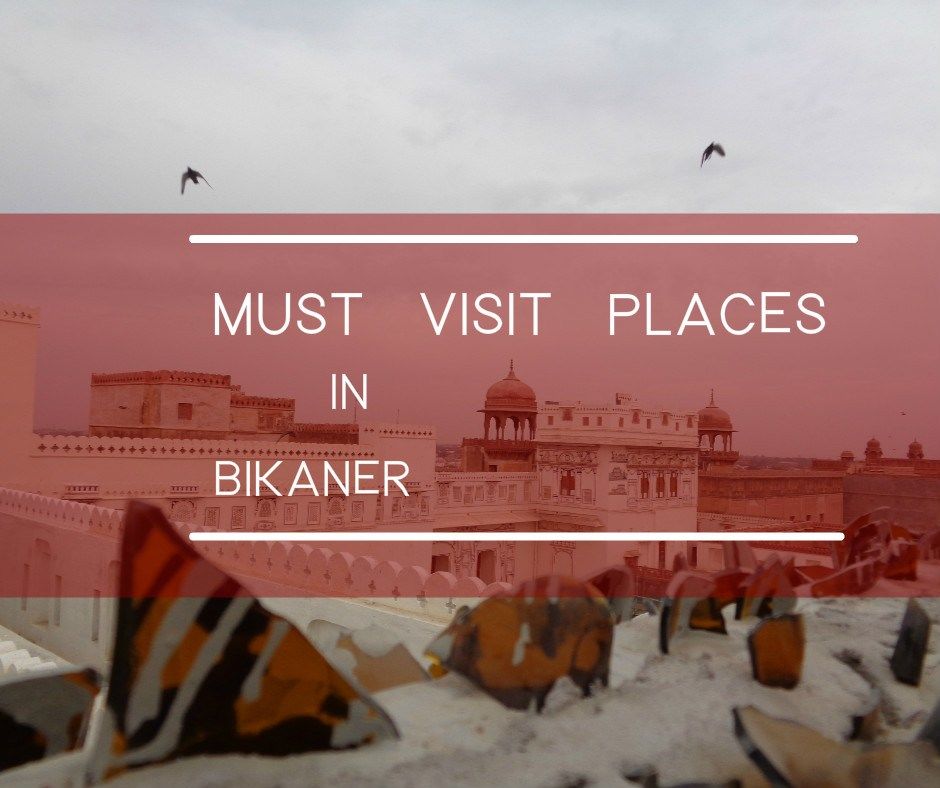 1) Temple of Lakshmi Nath Ji :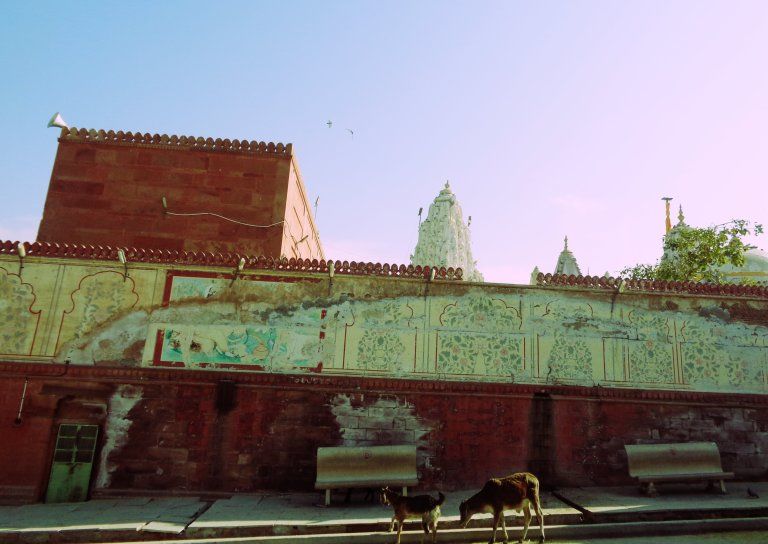 We started our day of sightseeing with a visit to the temple of Lakshmi Nath Ji. Most of the temples in Bikaner used to be old residences of Kings of Rajasthan which later on have been opened as temples for people to worship. According to this logic, these all are not actually temples, but somebody's residence. But you can't take away the faith from someone, he says. I circled around the temple and was about to leave, when the lady sitting there asked me to stay and seek blessings from Baba's deity ( for whom we still had to wait for another 5 minutes to get ready ) My new friend Manoj was waiting outside and I didn't wish to keep him waiting for long. The moment I stepped outside the temple, Manoj sent me inside again for Darshan.
The phrase "Padharo Mhare Des" was not just a saying, I realized. Here's a guy, whom I had just met at the hotel. The deal was just to show me the Karni Mata temple. But not only he was doing his best to show me the best of Bikaner, but making sure that I get to experience every thing which he had experienced being a resident of Bikaner, just as a good Samaritan!
I decided to go inside for Darshan, just as a mark of respect to my new friend who wanted me to experience everything. The curtain was out.
There were indecipherable chants in an unknown language. Atheist is too strong a word for me. As Darwin quotes, I prefer being called agnostic. Because this way, you neither believe nor disapprove the existence of the creator. Though I couldn't understand the Mantras, everything felt so peaceful. This is the trick. You don't have to be a devotee to find peace. Similarly you don't have to voice against things you can't understand. In this way you are not hurting someone's sentiments who has unquestionable faith. Win-Win situation for everyone. Thank you Darwin for showing me the path. "Agnostic baby"
2) Seth Bhandasar Jain temple :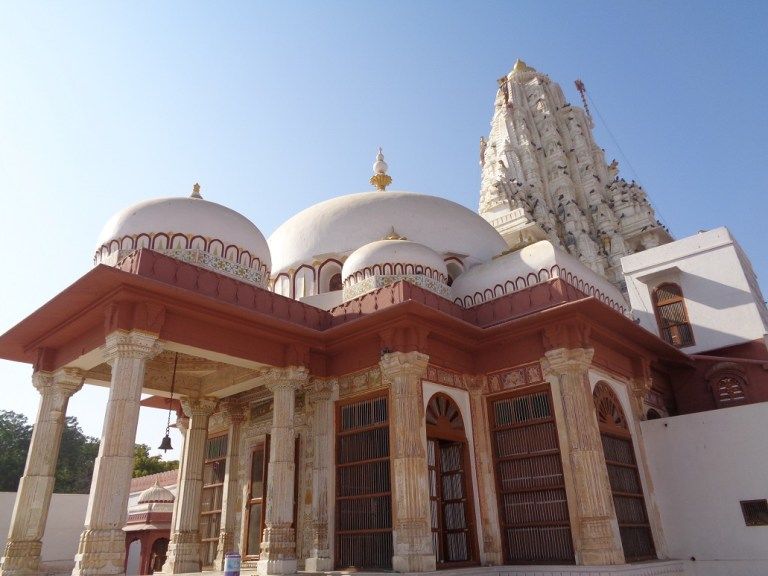 Our next halt was at Seth Bhandasar Jain temple. Built by Bhanda Shah, this marvelously beautiful temple is dedicated to Sumatinatha ( the 5th Jain Tirthankara of the present age) The inside of the temple has intricate floral designs depicting the lives of 24 tirthankars. The temple also provides a stunning view of the entire Bikaner.
The most striking thing about this temple is the fact that instead of water, 40000 kg of Ghee has been used in it's foundation. Whoaa!! No wonder they call it Incredible India. Anything is possible here :)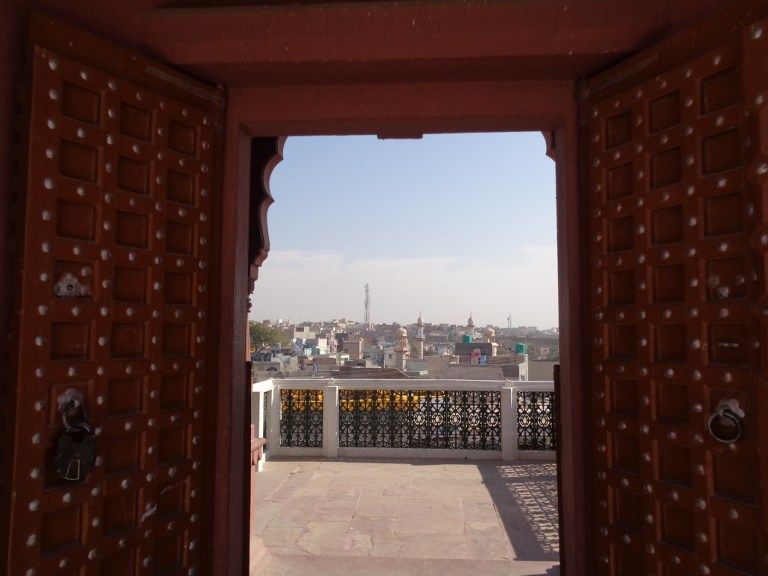 Another view from the temple

3) Goshala :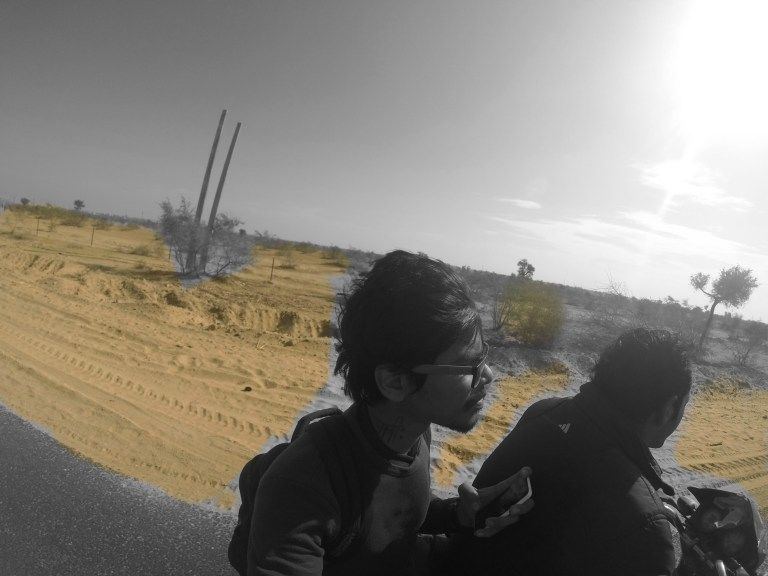 " In our childhood days, there used to be huge tilas of Sand. We would run over and hide ourselves in them. But today we rarely see those Tilas of sand in Bikaner. People have started farming almost everywhere.", Manoj tells me sadly as we started entering the Thar desert. With the arrival of Canal system, people have started growing crops in places where the condition was unimaginable some 30 years ago. In a way this is beneficial. But what Manoj regrets is the fact that he can no longer go back to the good old days. A perfect example of pros and cons of modernization.
But what remains intact is the Goshala. It's a place dedicated to take care of injured and sick cows.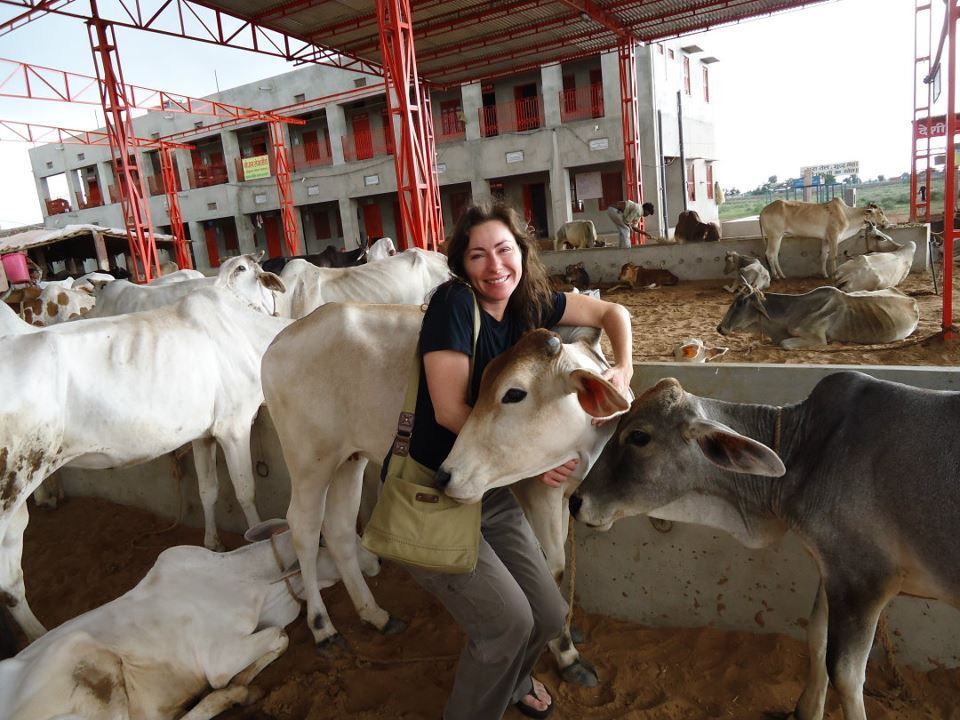 Image Courtesy : Travel India Beyond
What hospital is to human, the same way Goshala : Cows.
You won't find such a concept in urban localities of India. But we were lucky enough to spot Govardhan Goshala in Nokha on the Bikaner-Deshnoke road :)
4) The Temple of Rats :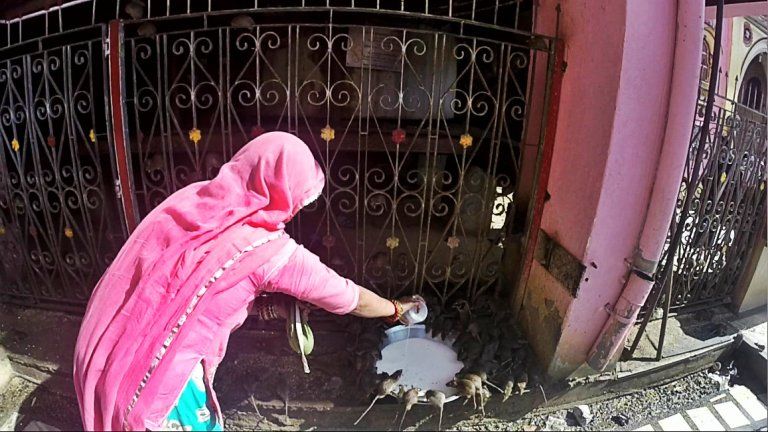 "Blessed are those people who get a chance to visit the temple of Karni Mata. Jinhe Bulawa ata hai (The people whom Goddess invites) are the only ones who get a chance to be here.", Mr. Manoj said
Deshnoke, read the board. We were 30 kms away from the town of Bikaner. Thar Desert had begun already & it's sand dunes made sure that we needed to wash our faces once again by the time we reached the temple. My imagination of Desert was always associated with Heat. But the weather was nice and relatively cool. January is the perfect time to experience desert :)
About the Goddess :
Karni Mata is worshiped as an incarnation of Goddess Durga by her followers. She is also the official deity of the royal family of Jodhpur and Bikaner.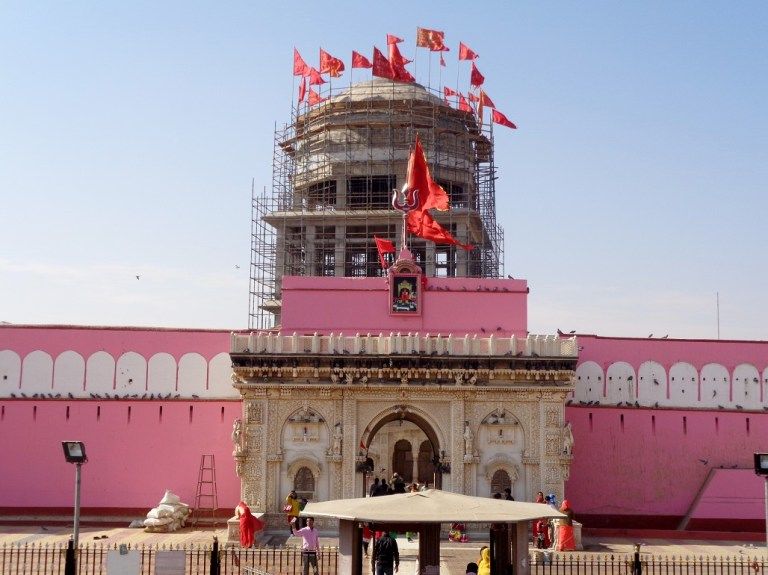 The most beautiful Karni Mata temple!
Mystery of Rats :
"Make sure to slide your feet as you walk inside the temple", Manoj quietly whispered as we walked towards the entrance of yet another mesmerizing temple. Why?? "You will realize this soon buddy", He said with a teasing smile on his face.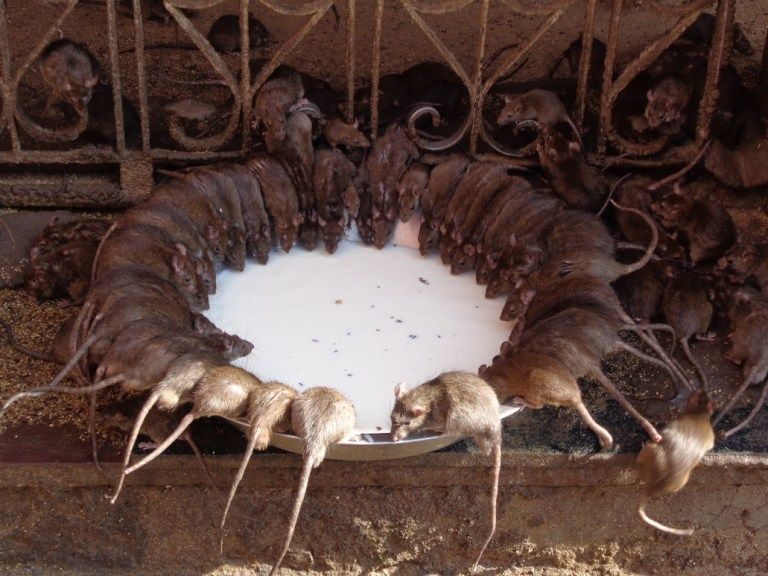 Eeeee…..eww !!!
There are many stories associated with the life of goddess. One of them is as follows :
According to locals : Laxman, Karni Mata's stepson had been drowned in a pond in Kapil Sarovar. When Karni mata got to know about this, she went to Yama ( the god of death in Hindu Mythology ) and asked him to bring Laxman back to life. At first Yama refused, but eventually he had to do something. After all It was Karni Mata! He eventually let Laxman and all of Karni mata's children to be re-incarnated as rats.
Rats were to be seen everywhere inside the temple. About 20,000 of them are believed to be present inside. It gave me chills from the inside & I made sure to watch every step as I walked. You wouldn't want to stamp on rats accidentally. After all they are Karni's mata's relatives. Even if they weren't, they are still rats and trust me you wouldn't want to mess with them. Apart from playing Lord Ganesha's vehicle, rats here are Karni mata's followers. Now this is a living example of the fact that big things always come in pocket size. There are some white rats present in the temple apart from many black ones which are humongous in number.
"If you are able to spot a white one, consider yourself lucky and your visit to Karni mata temple would be complete."
"Let me give it a try", I said.
"And there you go! There goes your white one :D", I said
( Spotting a white rat is easy. The only thing you need to do is wait for the people to get away who are busy taking selfies with the white rat. Yes some people are that crazy :p Speaking of Selfies, a guy lost fell down from the terrace at Mehrangarh Fort in Jodhpur and lost his life while taking a selfie. And some of my relatives back home got concerned due to events like these while I was in the land of Kings. Don't worry fellows, I just spotted a white rat :p )
If you think that the story of rats is the most mysterious thing in Bikaner. Hang on! There's more to it.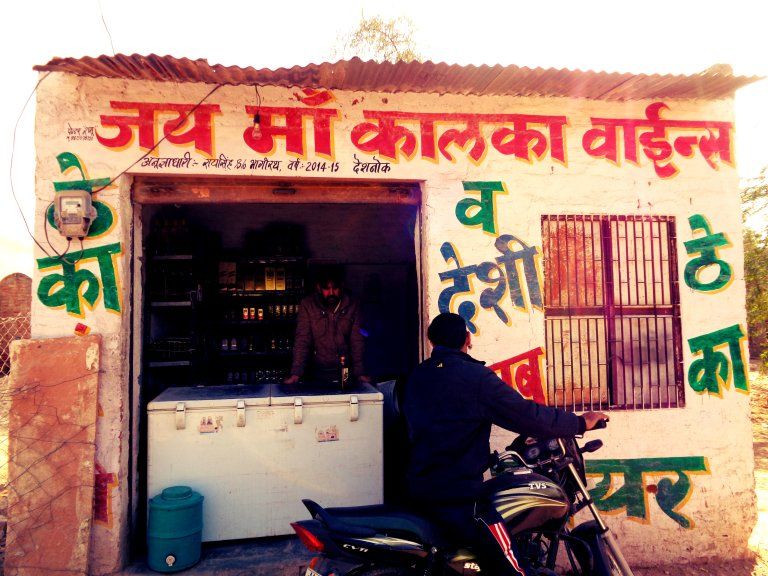 A typical Indian Liquour Shop
"Bhaiyya(Brother) a bottle of Whisky", Manoj asked the Wine Shop guy, as we stopped at one of the English Wine Shops located near the place where Karni Mata has taken her Samadhi.
Karni Mata accepts liquor as an offering. Unbelievable, Isn't it!
Manoj was waiting anxiously for his share of Prashadam ie). The liquor which we had given to the Pandit ( priest ) to be offered to Mataji. But his anxiety turned into anger when we realized that Panditji had taken his share of the alcohol without even asking the owners. Now this is unfair man. Wasn't Bring your own Booze an unsaid rule out here :p
5) Junagarh Fort :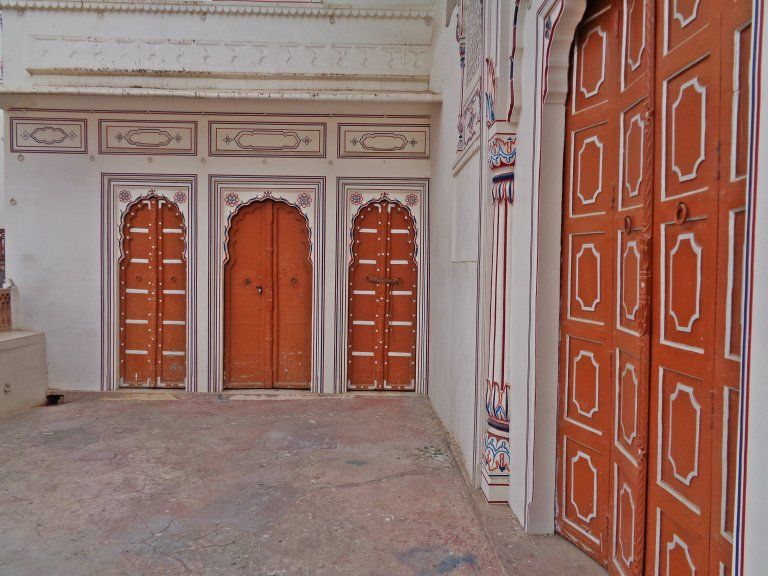 Am I the only one who had heard about Junagarh first in Ekta Kapoor's game changer epic "Kyunki Saas Bhi Kabhi Bahoo Thi" ?
Nevertheless, I mean 'Arararara' :p
The kind of architecture that would amaze even the modern builders, this spectacularly huge fort is built using red sandstone. In 1478, Rao Bika originally built the fort, 100 years after which Raja Rai Singh added some more to it. Subsequent rulers added more to the fort shaping the fort in a way as we see it today.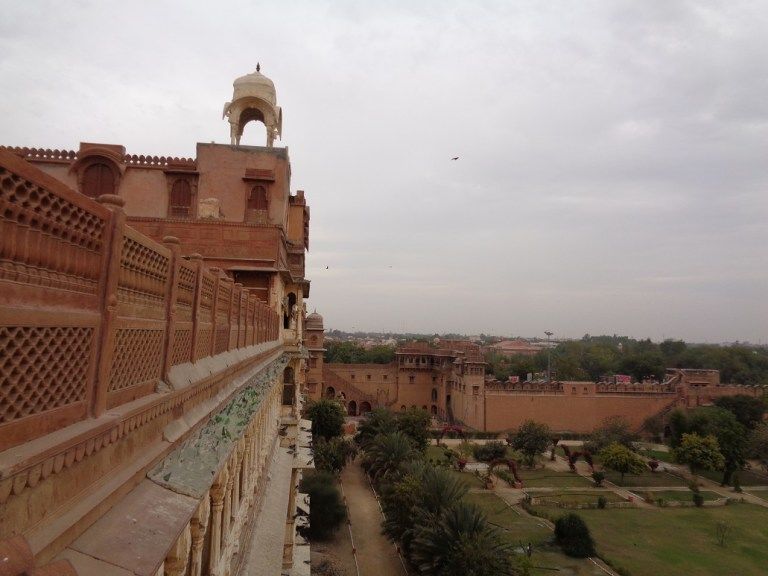 "And thus it's known as Junagarh Fort. Bahut Sare Rajao Ke Dwara Juna gaya hai", (Many Kings have built it) Manoj tells me.
That's Bikaner for you!
A place which takes care of human beings as well as animals.
A place where Ghee is used in the foundation of a temple.
A place where liquor is offered to Hindu Goddess and rats are revered.
A place where you can soothe your senses with the finest Chhena Sweets.
A place so rich in terms of it's culture, diversity and customs.
This place I can truly say, has definitely has much more to it than just Bikaneri Bhujias!!!