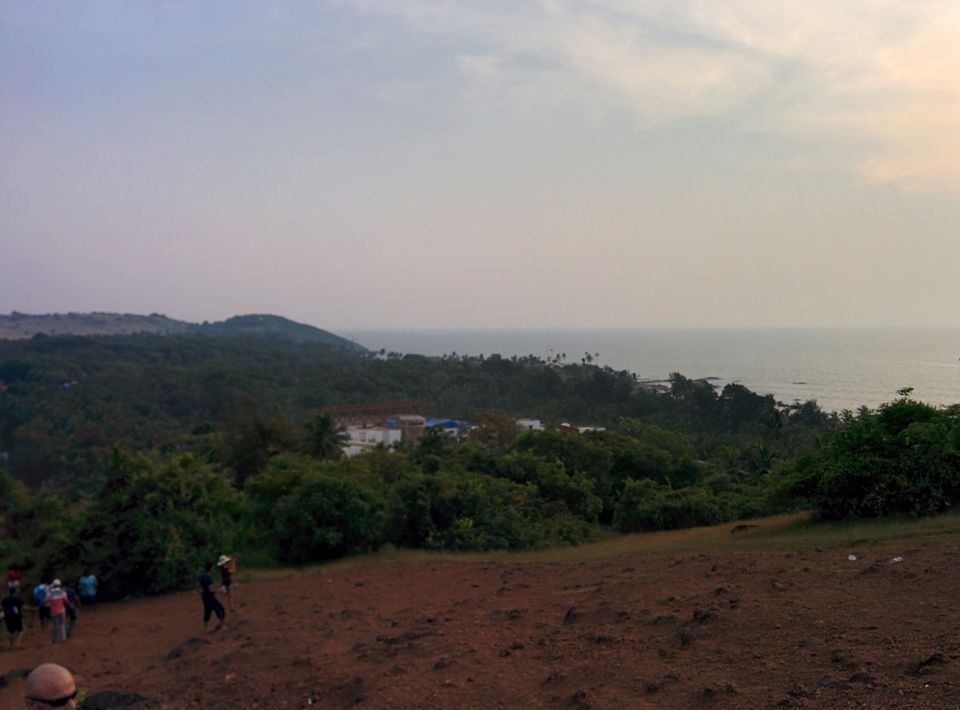 Day 1:
The trip was planned for 3Days/2Night 's . We hired a cab for our travel which costed more ( a bus would be preferred when you have more time). It was 3 PM when we reached Arpora, Bardez as we had booked an apartment there. The apartment was pretty good, and very cheap.
We were very tired but hungry as well. So, headed out to a near by restaurant called "Twenty Three". The food tasted good but turned out to be a bit expensive. After the late Lunch, we did not want to waste any time, so we started to Calangute beach. It was very crowded , but we managed to play on the beach for a little while. We then walked along the beach towards Baga, where we spotted St.Anthony's restaurant at the end. It is quite a task to get a table here and finally we owned one. A lot of food and drinks ordered, when we were full, it was time for some dance until our energy got completely drained.
Day 2:
A very anticipated day, filled with fun and energy. Since we had less time, we wanted to make the best utilization of this day. We decided to play water sports in Candolim beach as we knew this place was cheap compared to others. We hired bikes ( which cost Rs.500 for an Activa that particular day), and started riding as if we would conquer Goa. One can ride bike as much as they wanted to (you must have a driving license though) and the way they wanted to. There were a lot of foreigners riding bikes as well. And riding bike is enjoyed so much here, riding to a beautiful destination with your lovely clothes and hats, what a wonderful feeling!
The water rides in Candolim cost us Rs.1250/- per head which included four rides - Parasailing, bumper ride, motorboat riding and banana ride. It was fairly good. If you need a dip in parasailing, you have to pay extra Rs.200 and if you ride the motorboat on your own, you again pay Rs.200 extra. Bumper ride is a little scary and you must be courageous to take it. Banana is a fun ride with a surprise. The best experience is something you get with no money :) which is why we enjoyed the most when we just played with the waves, pushing one another and it was the most memorable of all.
Time for lunch and we decided to go to "Starlight" restaurant in Arpora (though there were places in Candolim itself) but we had decided it would be Starlight. We ordered Special fish thali which turned out to be absolutely delightful and cheap as well.
We then started towards Vagator beach. Oh! the ride to this place makes you feel you must ride on forever. Its a beautiful road with old buildings and trees, and everybody wants to show off their style and speed of riding. We reached the top of Vagator beach and when you stand there, you are awe-struck. A very beautiful and colorful view , and there are steps that lead down to the beach. We wanted to visit the Chapora fort close by, so started off towards the fort without really spending some time with the beach. The Chapora fort is 5km away from Vagator beach, and then you will have to climb a hill to reach the fort. The fort is just walls on the four sides with some nice gaps to take some photographs. Behind the fort, is a beautiful landscape and has a breath-taking view. One could spend hours taking pictures here and you would be in love with all your pictures.
It was then time to visit Anjuna beach, and yet another beautiful ride. Anjuna is famous for the Flea Market with a small trail having shops on either sides. As you pass through the Market, you can find restaurants painted beautifully and every restaurant has a beach view, wonderful for a candle light dinner. As you walk further, you finally reach the beach. It was late evening when we reached Anjuna, so all we did was buy the laser bands ,put them on hand and head,and play in the water.
Day 3:
We had missed to make use of the pool at the apartment, so we headed out to play in the swimming pool in the morning. After an hour in the pool, we realized that it was our day to leave Goa. Finding south Indian breakfast in Goa is a tough task. We managed to find a hotel that served south Indian, and it turned out to be quite good.
It was a short trip with a sudden plan. We still had lot of things to do in Goa ( South-Goan beaches, churches and some crazy stuff). But our 2 days were fun and it left us craving for more of Goa. Goa is definitely waiting for more of me!! Love to call it a "Paradise".