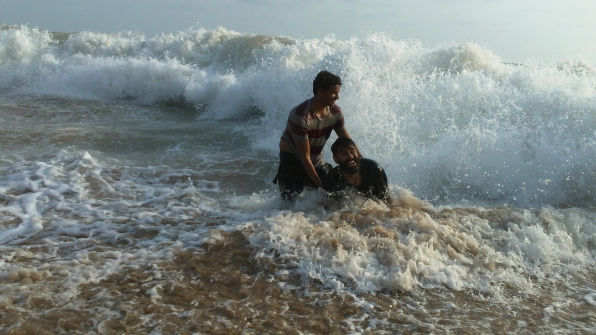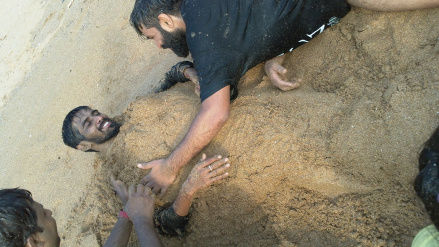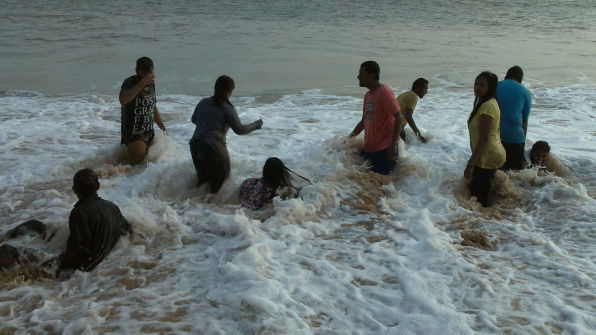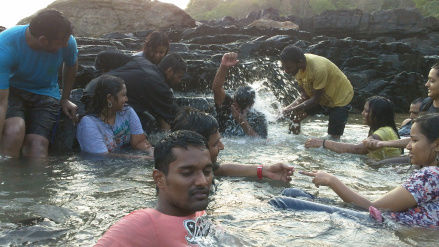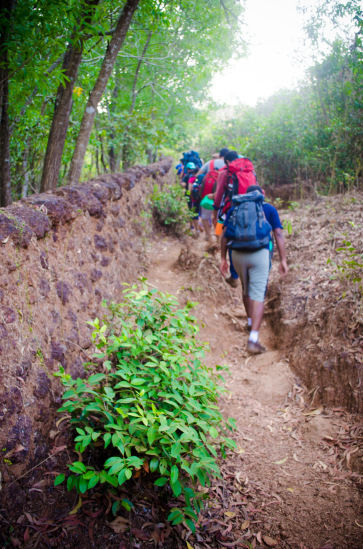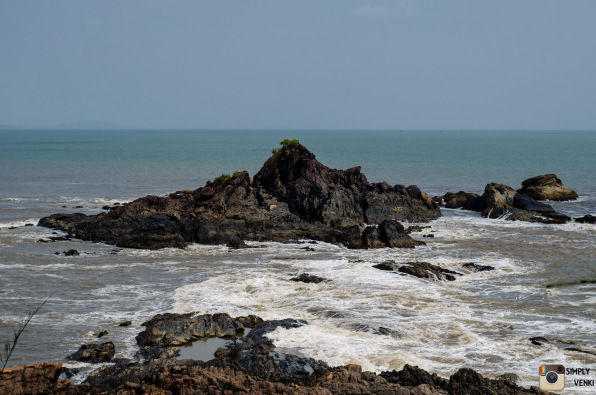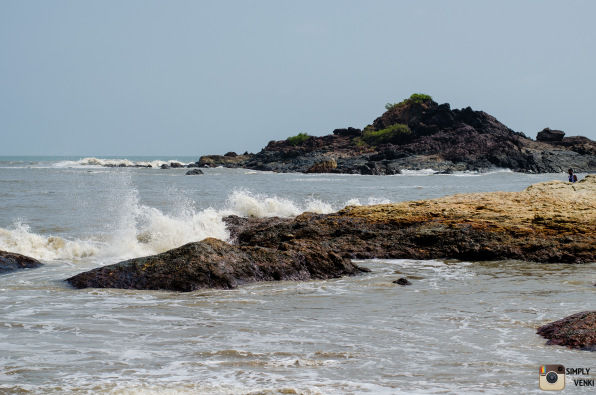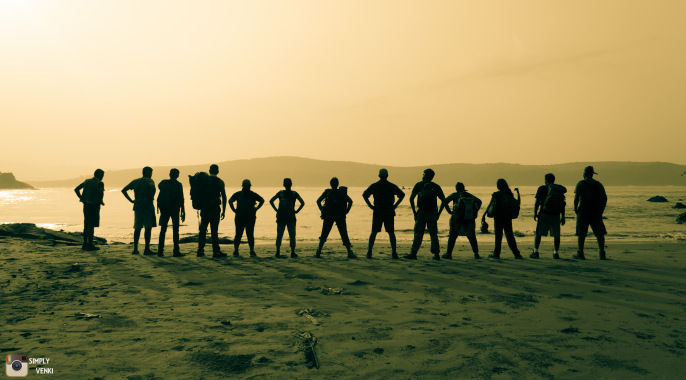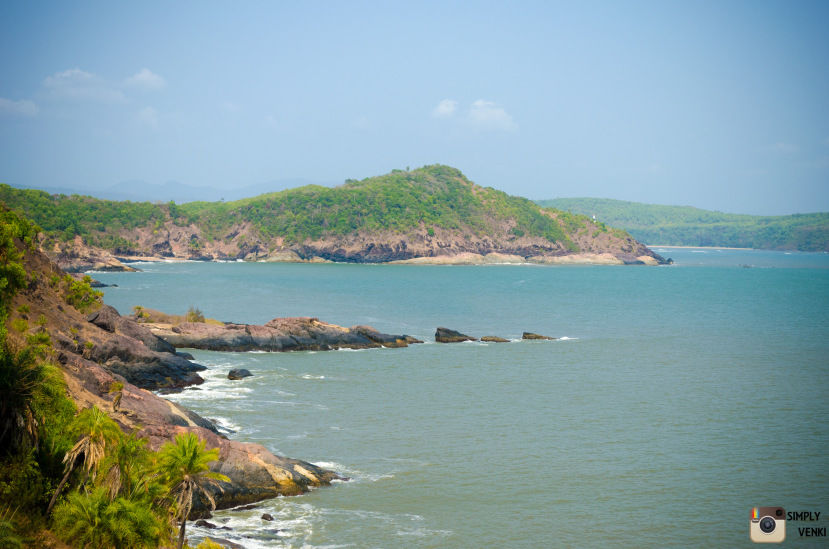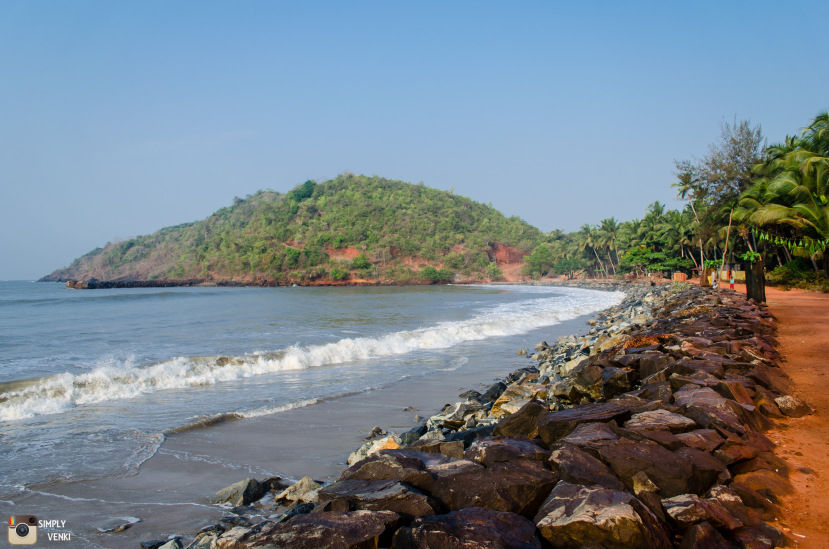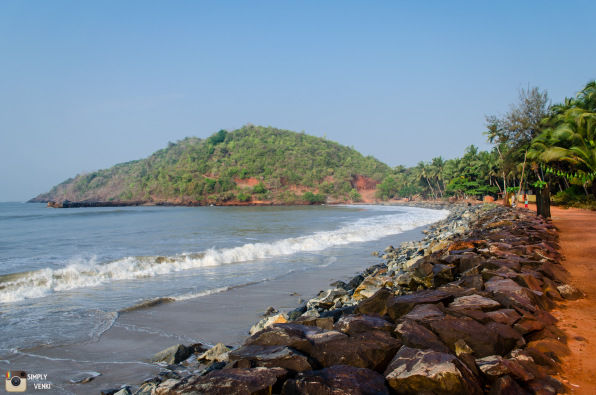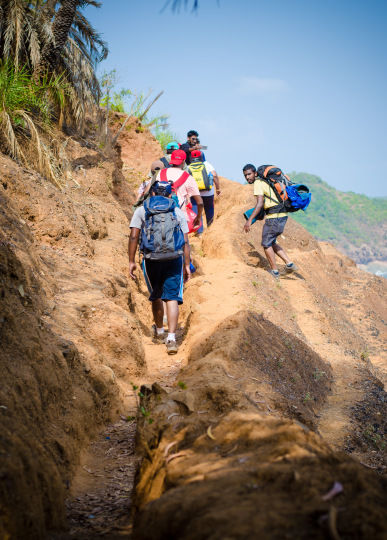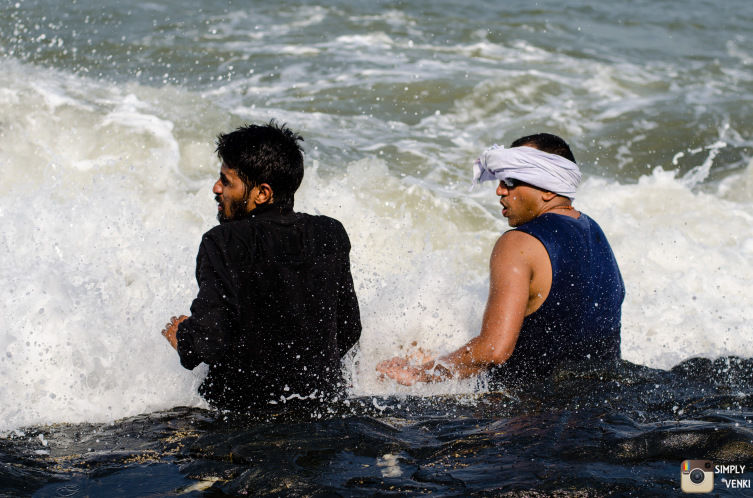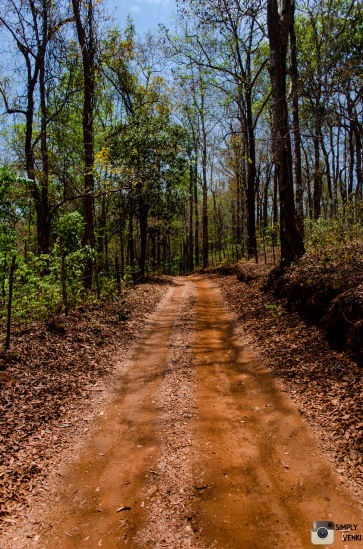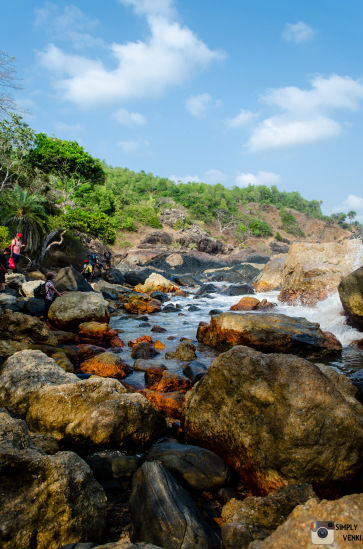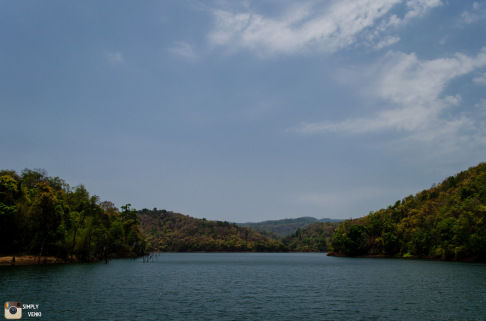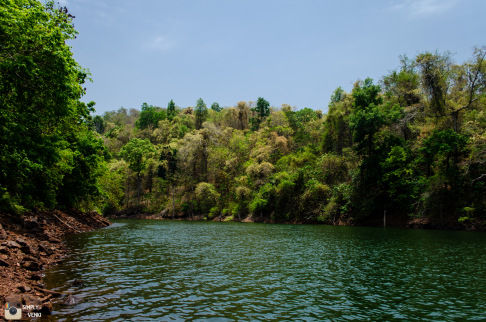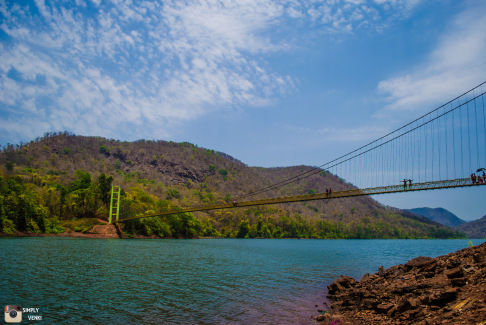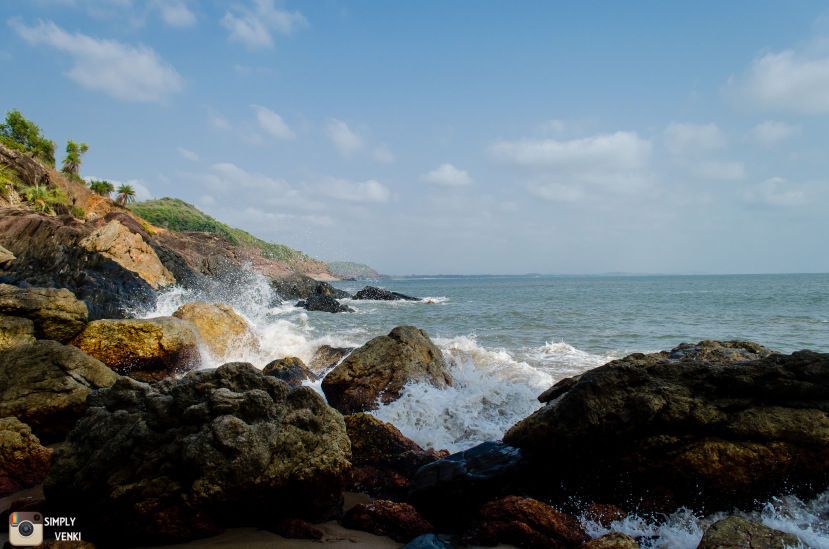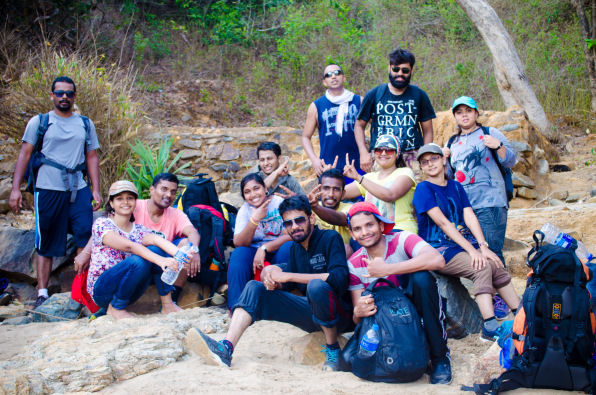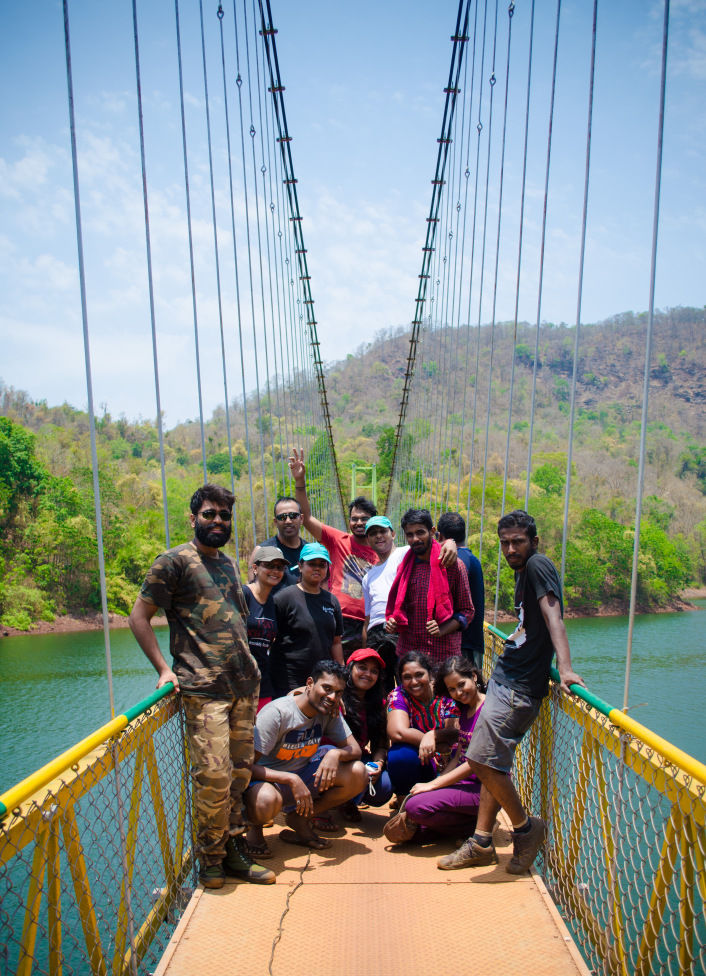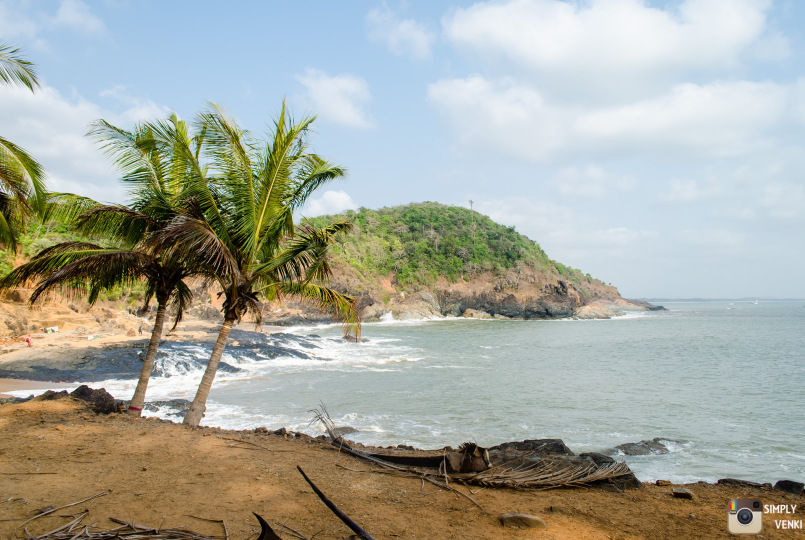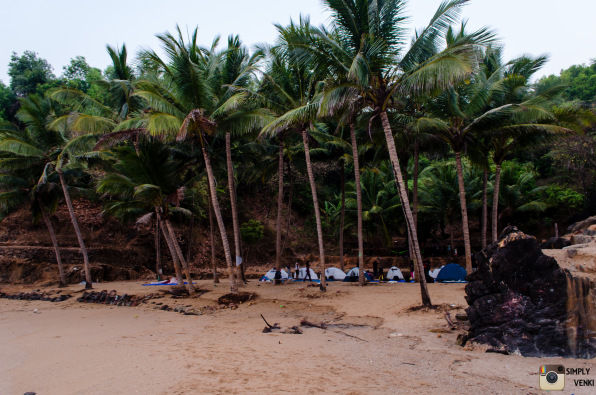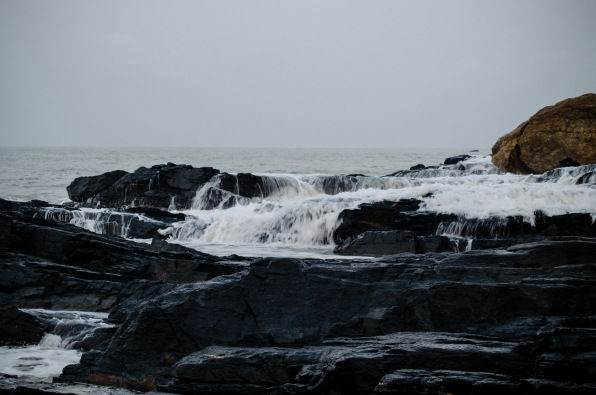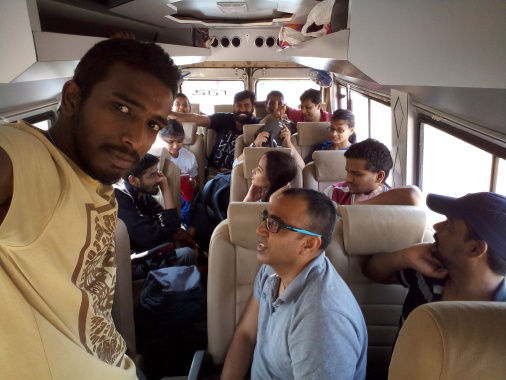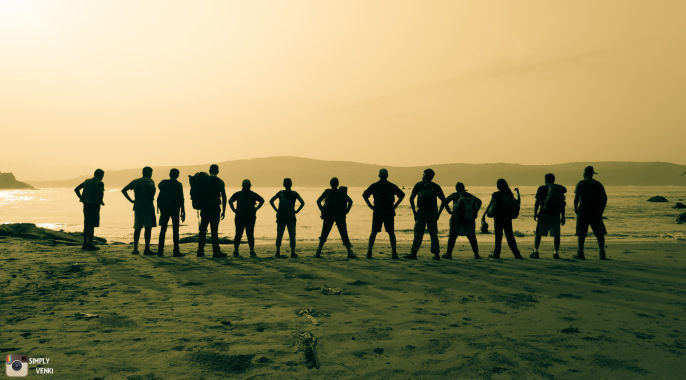 2days.. 13 strangers.. trek that goes thru edge of hill with a view of far stretching Arabian sea.. a swim in the beach.. a walk in the woods.. a night stay in the private beach surrounded by coconut trees.. sleep with the nature.. OK now don't get confused, that's a brief introduction of what I have done in Gokarna. The first thing that strikes you after reading the above one is 13 Strangers??? Yes you heard that right, "STRANGERS". Strangers! People I have never met, never spoken! With anxiety clinched to my heart, I have made my mind to travel with some really cool, full of loving strangers, who I can now call "FRIENDS".
I was completely bored and really wanted to take a break from my daily routine. Then I came across this MeetUp group Hyderabad Adventurers and Trekkers Group, in short HATS. Once I joined the group, I could see the very first post to be "Untouched Beaches - Gokarna - Paradise Beach". Without a second thought I called up the organizer if they have any more slots available. And as you see in the movies, there was only one slot available and I filled it up. That's how it began. I wasn't too much excited about the trip. I really wanted to go somewhere and be myself. But then at that moment, I don't know that am going to have an experience that I will cherish for the rest of my life.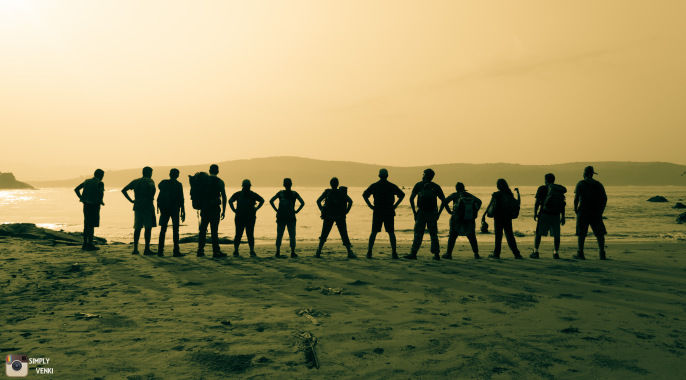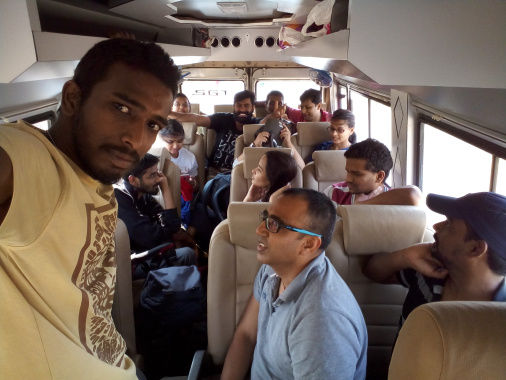 It's Friday, and I have packed my bags and the most important one my CAMERA. We left on Friday night from our offices, took the Volvo bus, from MGBS. The bus was a sleeper one, with good AC. Half of the bus was filled up with our trekking group. Am not that good at starting conversations or getting along with new people. So I had taken my berth and started sleeping. We have reached Hubli the next morning, where we had our breakfast and then started to Gokarna in a mini bus. It was around 3 hour's journey, and during this time, we woke up the singers within. We had sung N number of songs, and that is how I got comfortable with the rest of the group. We reached Gokarna before noon, where we had our lunch and packed our dinner before starting our beach trek. Gokarna's main attraction is its beaches, where people come to chill and soak up the sun. As Gokarna is one of the most sacred holy towns for Hindus in south India, there are also some important temples to see.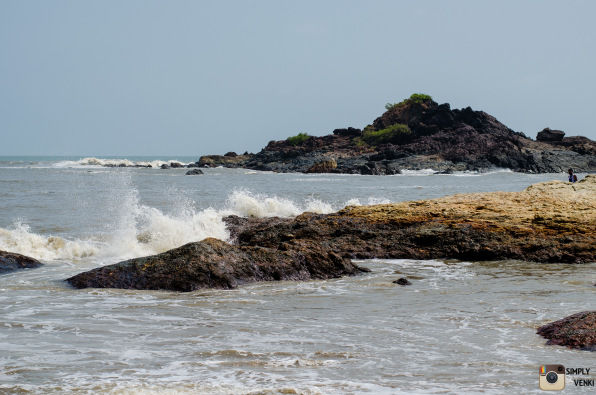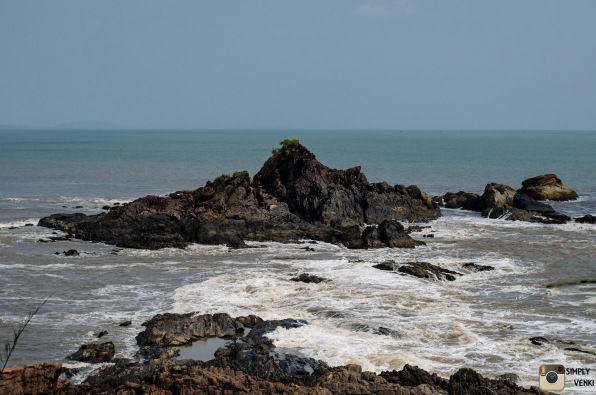 Gokarna town has its own beach that's popular with pilgrims. However, the beaches that are of most interest to tourists are located one after another, a short distance away to the south. There are four of them - Kudle Beach, Om Beach, Halfmoon Beach, and Paradise Beach. Each has its own appeal. Om Beach is the most happening beach, and is the only one that's reachable by a vehicle. Halfmoon and Paradise are to the south of Om beach. They're a scenic 30 minute hike away from each other through the hills and over rocks, or a short boat ride away. Paradise Beach, the last beach, isn't much more than a tiny protected cove that's a patch of hippie paradise. To get to the beaches beyond Om (Half moon and Paradise) generally you have to walk from Om. Om beach is so named, because the shape is like that of the Hindu religious symbol "OM". We started our trek, walking beside the beach enjoying the view. The terrain was a mix of beach walk and hills. The best thing was that the trek trail had the best mix of beaches and hills, as soon as we felt tired trekking on the hills, there were beaches to relax.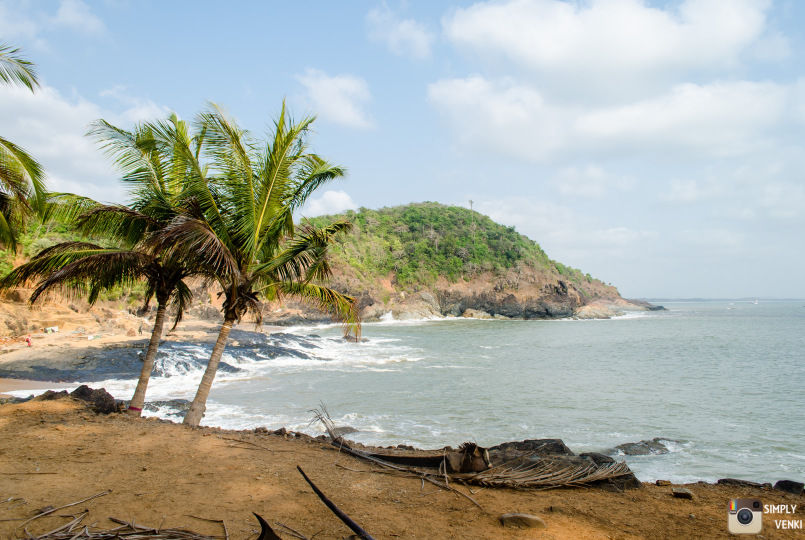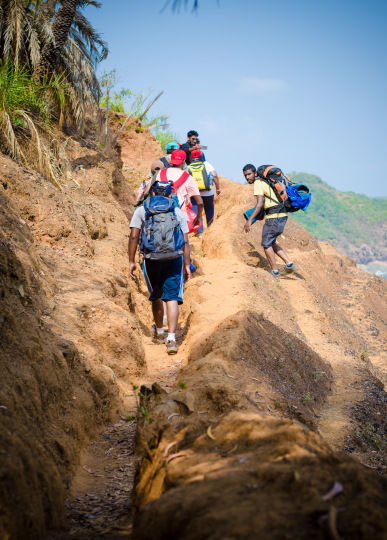 At the end of the OM beach, there is a path going up the hill. Here one has to get around a hillock to reach Half-Moon beach. Take this trail, and when you reach a fork in the trail, take a right for the coast route, and left for the forest route. We had many hurdles even before we reached the hillock, some of them have started to feel the scorching heat of the sun, there were almost two bottles of empty glucose in the next 5 minutes. So, now the discussion started on to which route to take. As per our organisers the coast route is bit difficult to trek with the sun directly above our head, but we will be missing the beach view if we take the forest route which is shady because of the trees.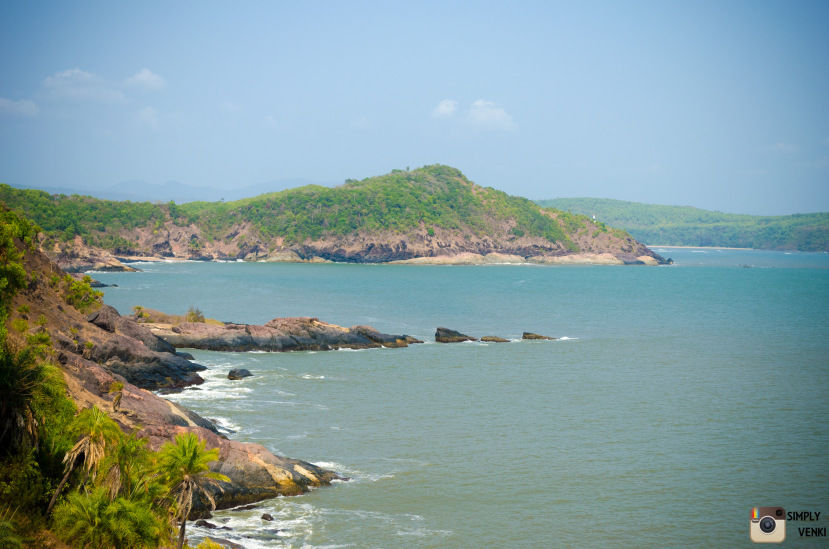 After so much of discussion we decided to take the coast route, as we don't want to miss the beach view. So we started our trek again, and guess what. Just after few min of trek, we had this amazing view of the beach. We had to stop here for some time, to get those memories captured. After some time, we finally reached the Half Moon beach. In between one can take a diversion and take some rest below a palm tree on the edge of a cliff, from where one can try to catch a glimpse of the horizon. We had a small rock pool in the beach. After reaching here, the only thing that was in my mind was to get into the beach, and that's exactly what we all did. But we had to cut this short to just 15 min, as we have to reach paradise before the light falls.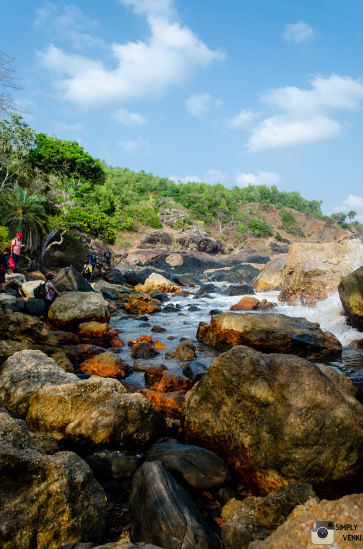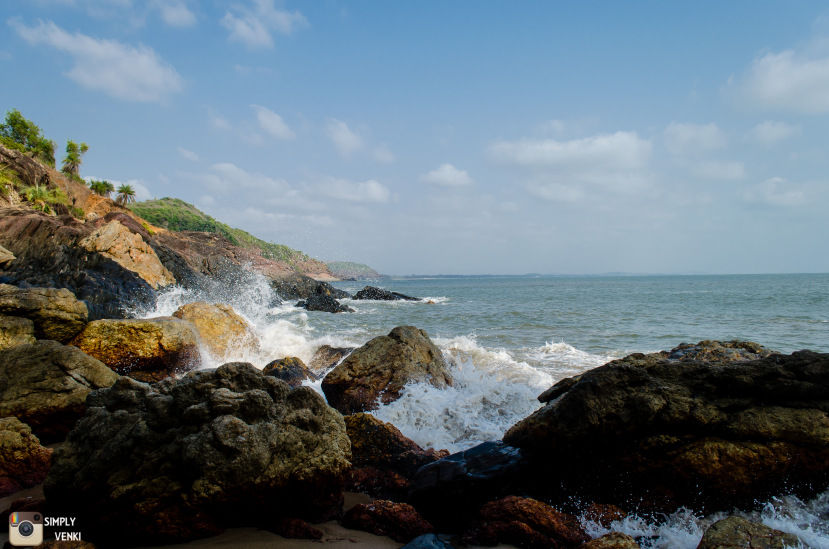 At the end of the half-moon beach, a small trail leads to Paradise beach. It's around 20 minutes walk from Half-moon beach. Pretty much isolated from the crowd, Paradise, the name suits this beach well. It's an absolute PARADISE! It's a very rocky beach, with sand in between. Once we reached here, the very next thing we did was to jump into the blue waters of the Paradise beach. I can't even begin to explain the reactions my friends and I experienced after stepping into this beach. The waves were high and we could see a beautiful view of the beach and the mountains from here. We were completely surrounded by beach on one side, mountains on the other two sides.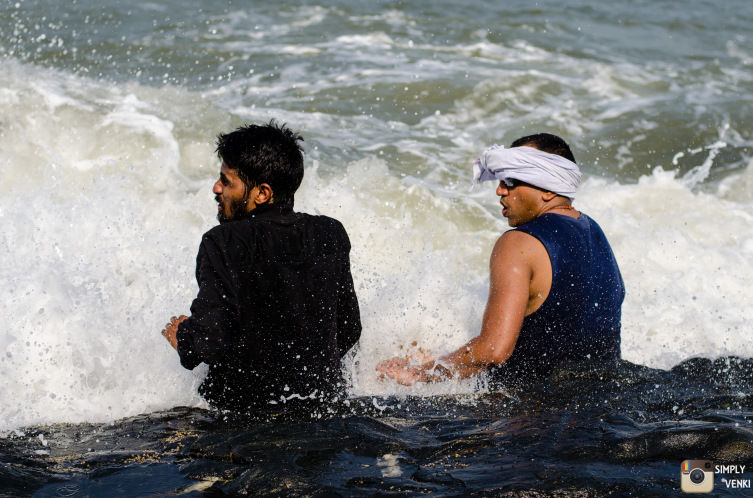 The light started fading out, so now we got out from the beach, the next thing on our list is setting up the camp, and we pitched our tents first and then started collecting some firewood to build a bonfire. Night camping won't be fun, without a bonfire right? Sitting around a bonfire is the perfect time to know more about one another, and so we started telling stories about ourselves. Typically, it's the most quality time we spend together as a group, actually enjoying each other's company instead of shouting over loud music at a bar or party. With no cell service, phones are off, minds are present and the rest of the world just sorta fades away.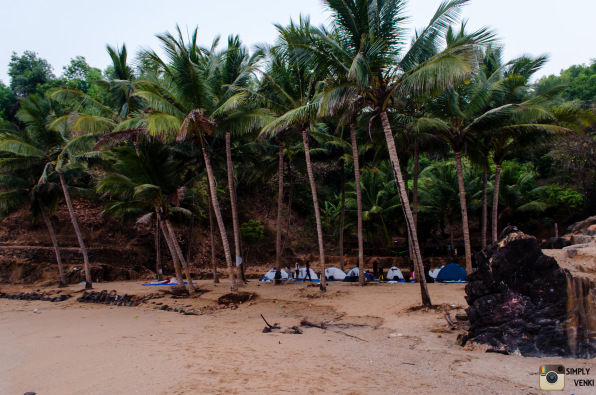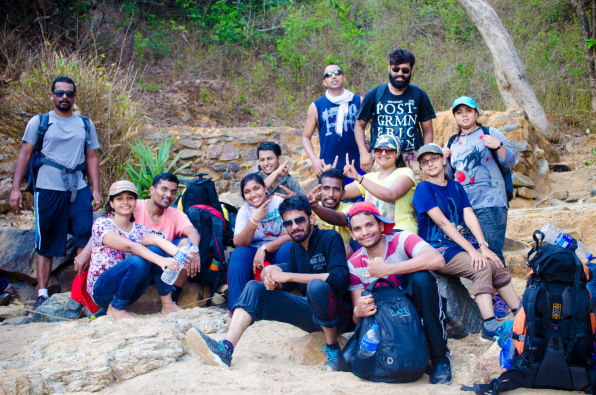 There's nothing quite like looking up at the night sky to make you realise how small and insignificant you really are, and how grateful you should be for your life. Seeing the moon reflected in the water was something that I will never forget. Spread out a blanket on the sand and go to sleep right on the beach instead of in your tent! Happiness here is sought in simple things, like lying down on the sand and hearing the gushing sound of waves, looking up at the stars sparkling in the sky. The moon would be shining in your city as well, the same stars will be twinkling above your head back home. But it's an overwhelming feeling looking at them from here. I suddenly realised that life is lived in these little moments, not in the cubicles around you.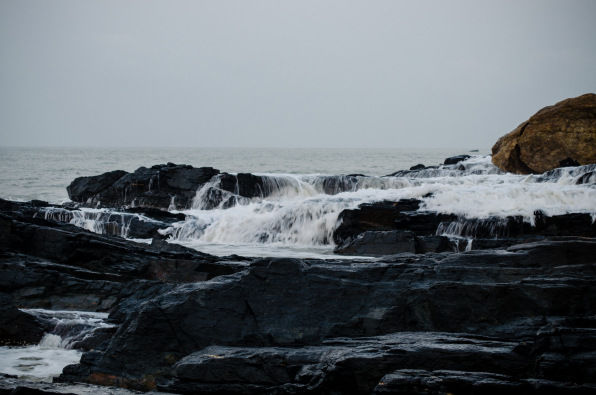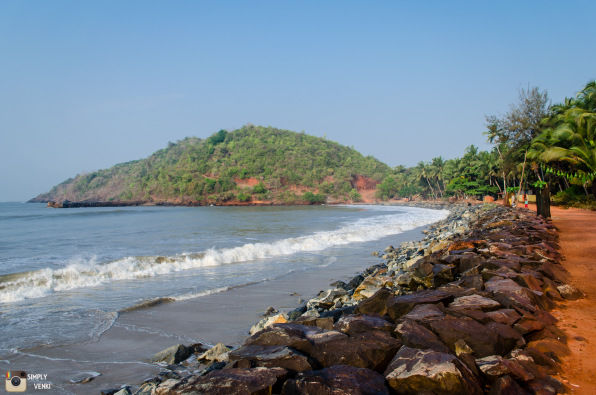 We really don't know at what time we slept, but woke up again at 6:00 A.M. and started packing up things. Our next destination was Sathodi falls, we started our journey again and it will take around 3hours from our place. We almost reached the place and to our surprise, the road was blocked for vehicles as it's under construction. We had to trek all the way to the falls if we want to reach there. But we don't have enough time, as we have to catch our return train. So we decided to turn back and visit Gangavali River nearby. We need to, walk in the woods to reach this place. It took us around 20 min.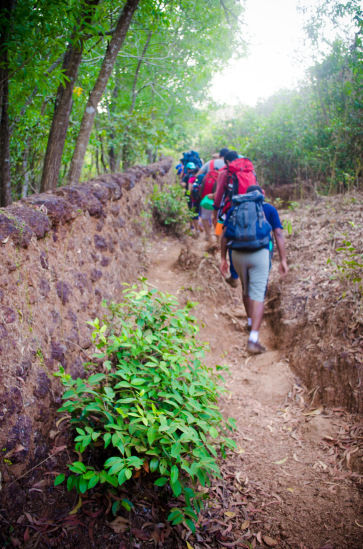 Am not sure how Sathodi falls look like, but this place was really amazing. There was a river with clean and transparent water, and completely surrounded by lush green trees. And we could see those reflections in the water, which made the water look green. There was a beautiful hanging bridge which was about 200 meters long, and built across this Gangavali River. People not only walk through the bridge but they even ride two wheelers as well on this. Oh boy!! I forgot to mention, there was a film shooting going on at this hanging bridge as well during that time. After spending some time in here, we headed back to the railway station to catch our return train to Hyderabad.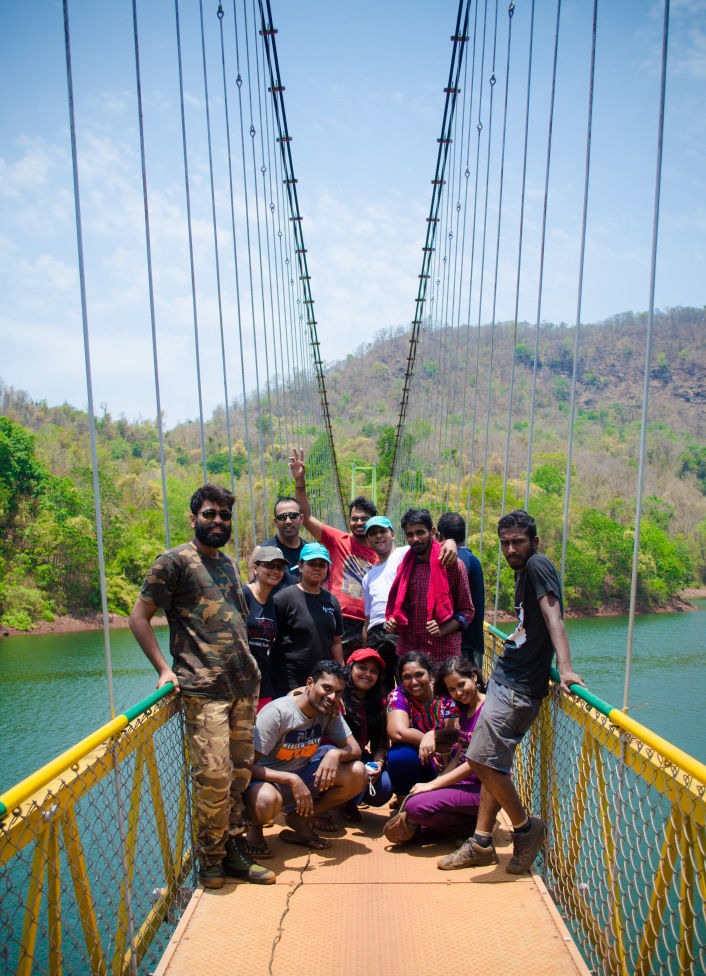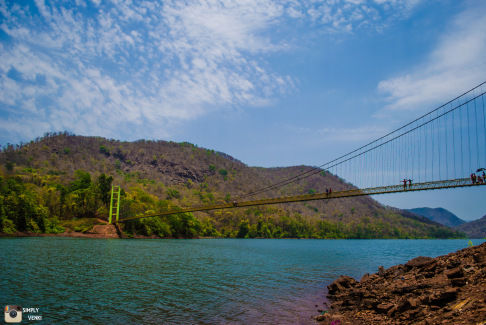 These trips always seem to go by so fast. I know after reading this most of you wanted to go for this trek, my suggestion for the first time travellers, Make your first experience easy and short like two days, one night and build from there. Oh, and remember to leave the campsite and any other areas you visit cleaner than how you found them. If we all do that, camping will be more enjoyable for all of us.
You can watch, our memorable experiences in the YouTube video. This was shot by Ravi, isn't it Amazing???