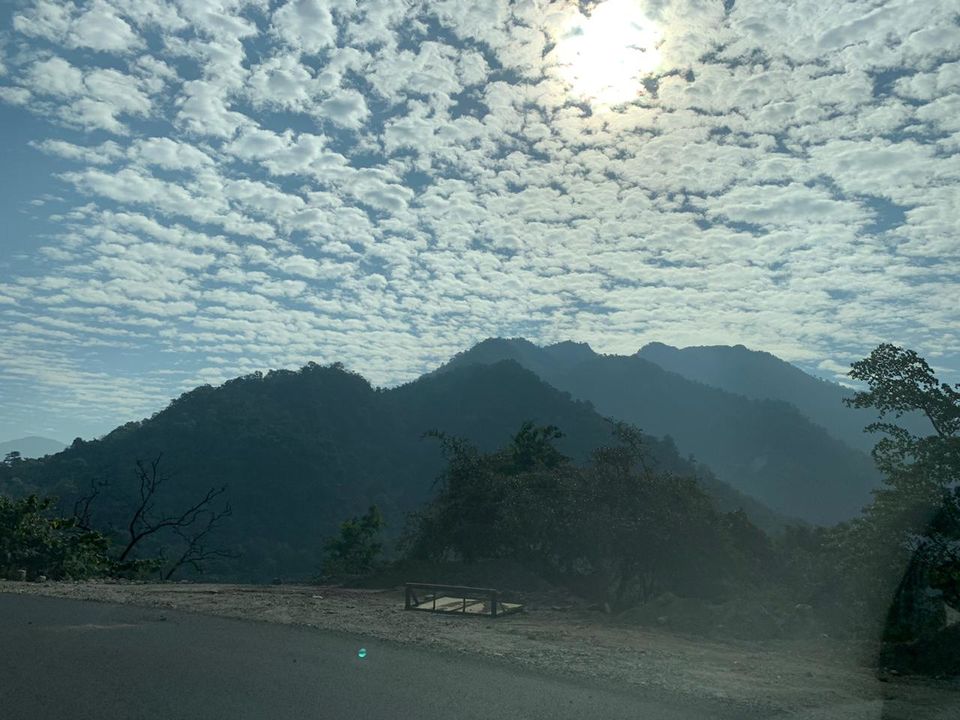 An Adventurous Refreshment.!!!!
"Hum Chalte gaye aur Karwaan banta gaya" just came true for me. So here I was planning a Solo trip from Delhi that eventually turned out to be an Adventurous Refreshment. I was to attend my school mates wedding at Noida and travel to Hardiwar and Rishikesh.
But this destiny you know..always have other plans as well. A solo trip turned into a school mates trip and then adventure summed up with the trip of lifetime.
So we 4 frnds started from Bandra terminus. (PS: All the bookings were made in advance.)
We got down at Delhi Cant next day at around 12 noon. We were to head towards Pahadganj in Delhi. We had plans to visit at Bangla Sahib Gurudwara and Akshar Dham temple. But unfortunately Akshardham temple is closed on Mondays. So went to Jama Masjid as even Red Fort was closed too.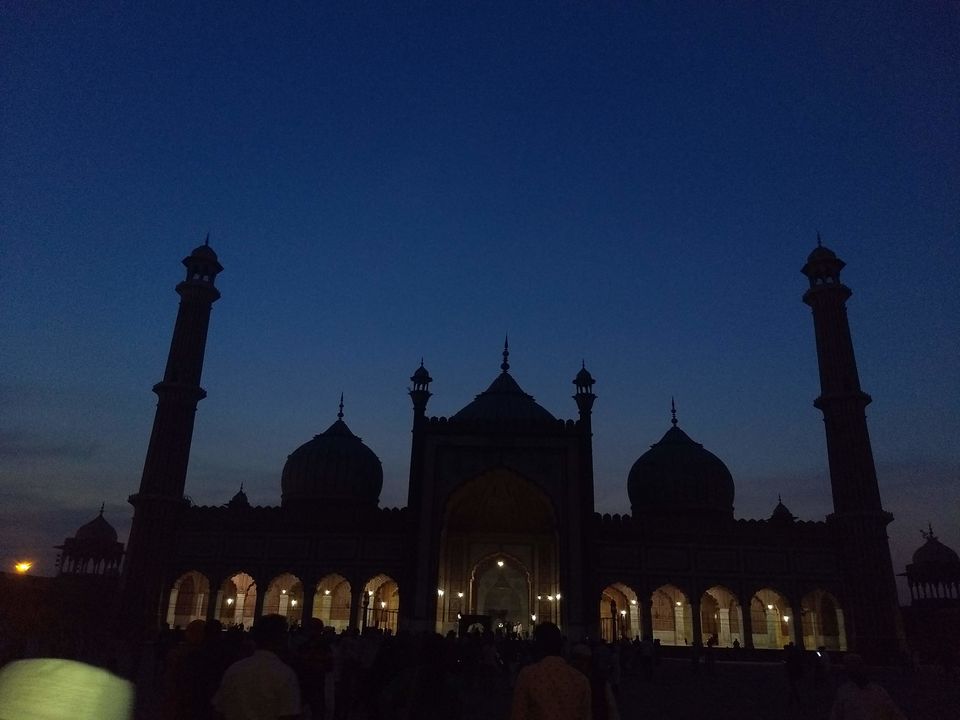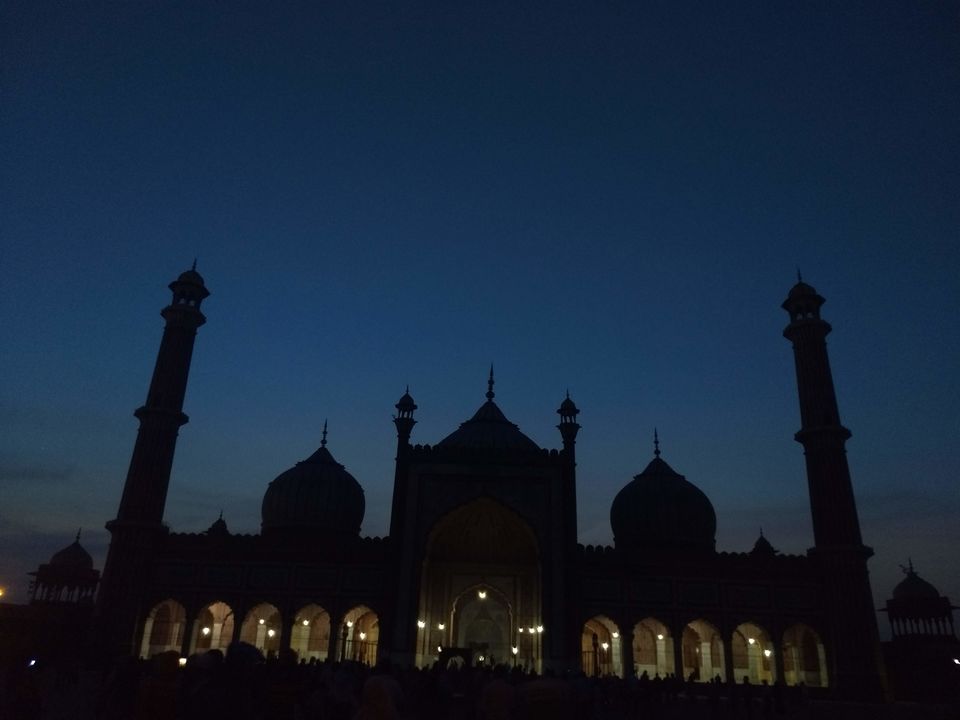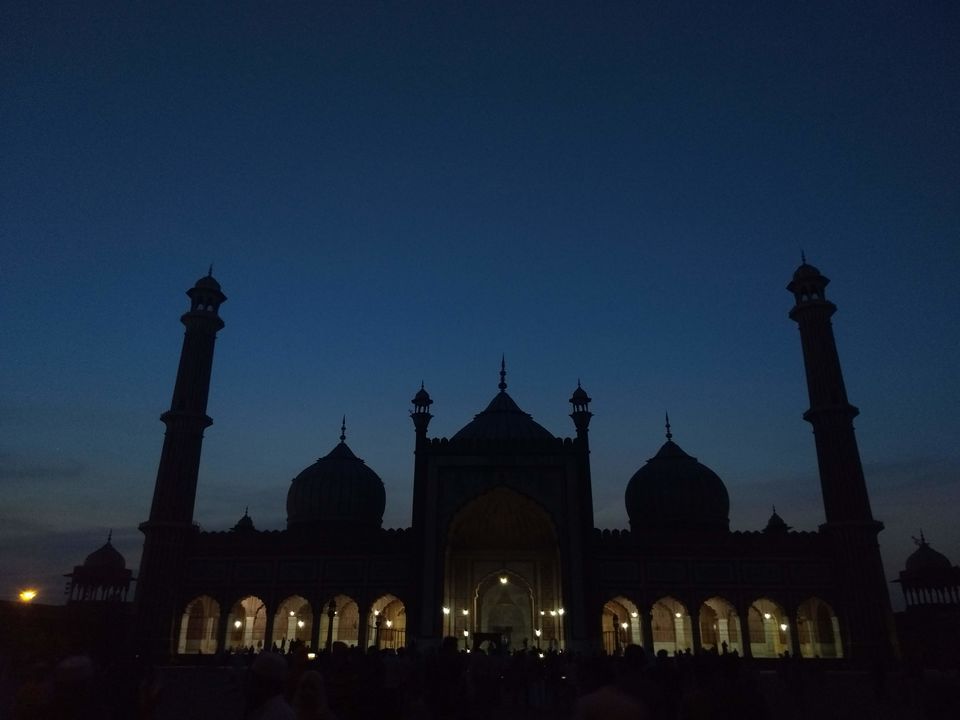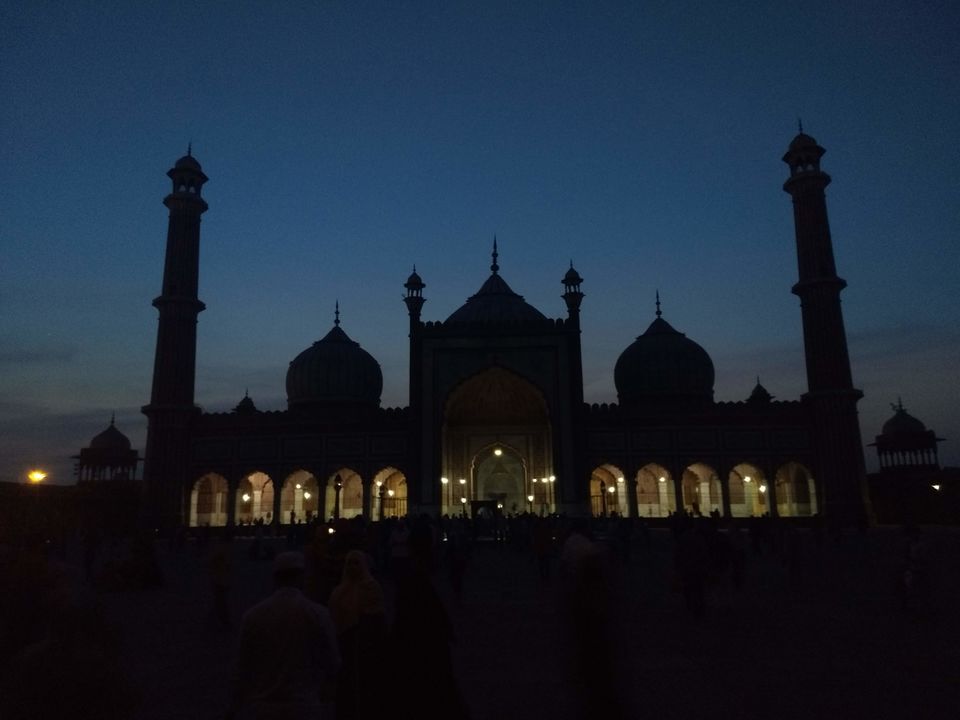 We had a good one days site seeing in Delhi. Street Food and places has always amazed me a lot. We roamed the typical markets of Pahadganj, ate this typical Delhi street food and were back to hotel at night. Next day we were to leave for ISKCON TEMPLE at Noida. This was the first instance when i went to ISKCON temple. Beautifully sculptured, serene, the tranquility during the day and immense spirituality. One must at least spend an hour in this temple.
After we attended wedding the next day, we left for Haridwar by the can that we had book previously. We were to take route via Roorkee and reach Haridwar. We started our day early at 7 and reached Haridwar by 2:30 pm.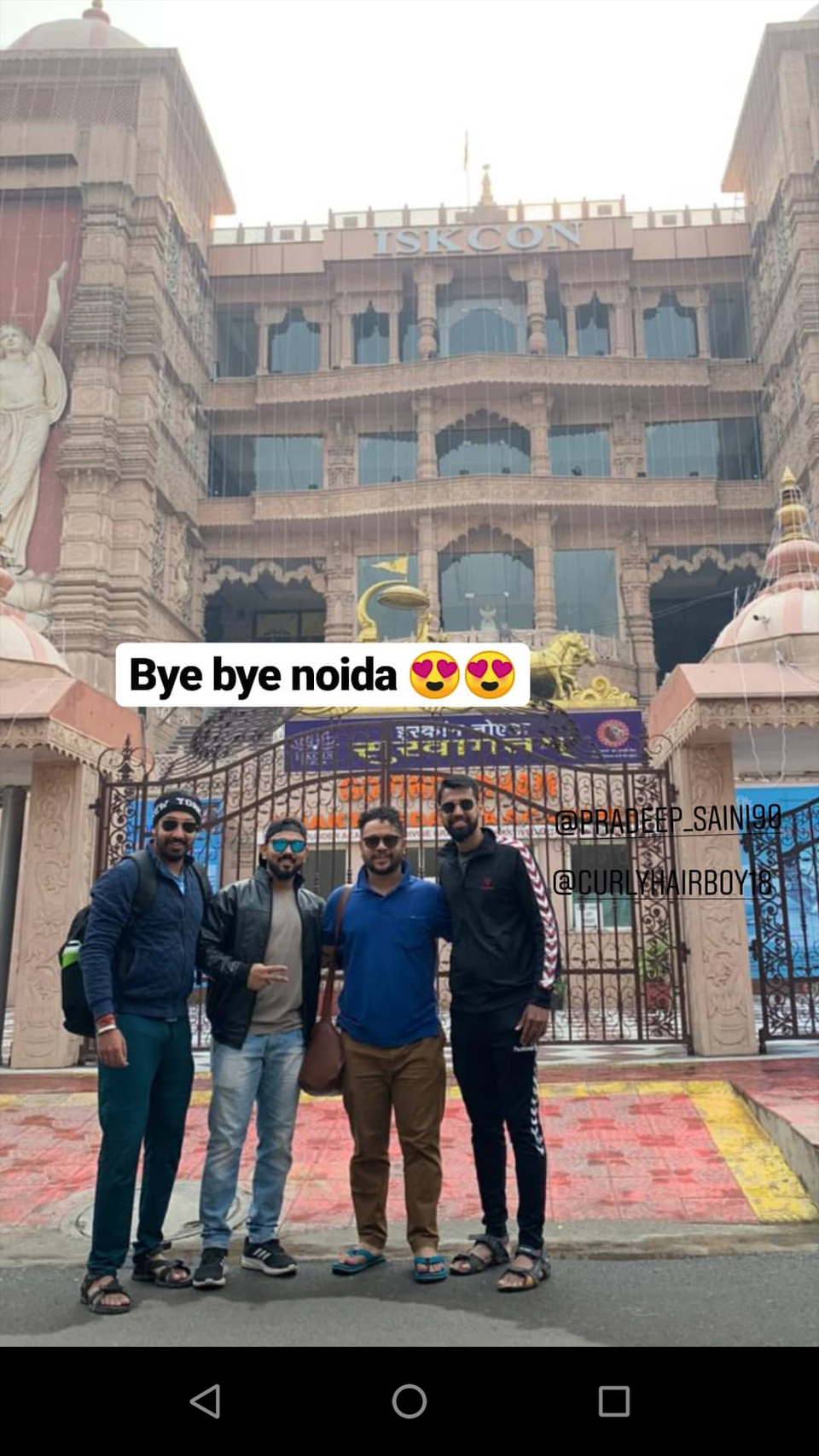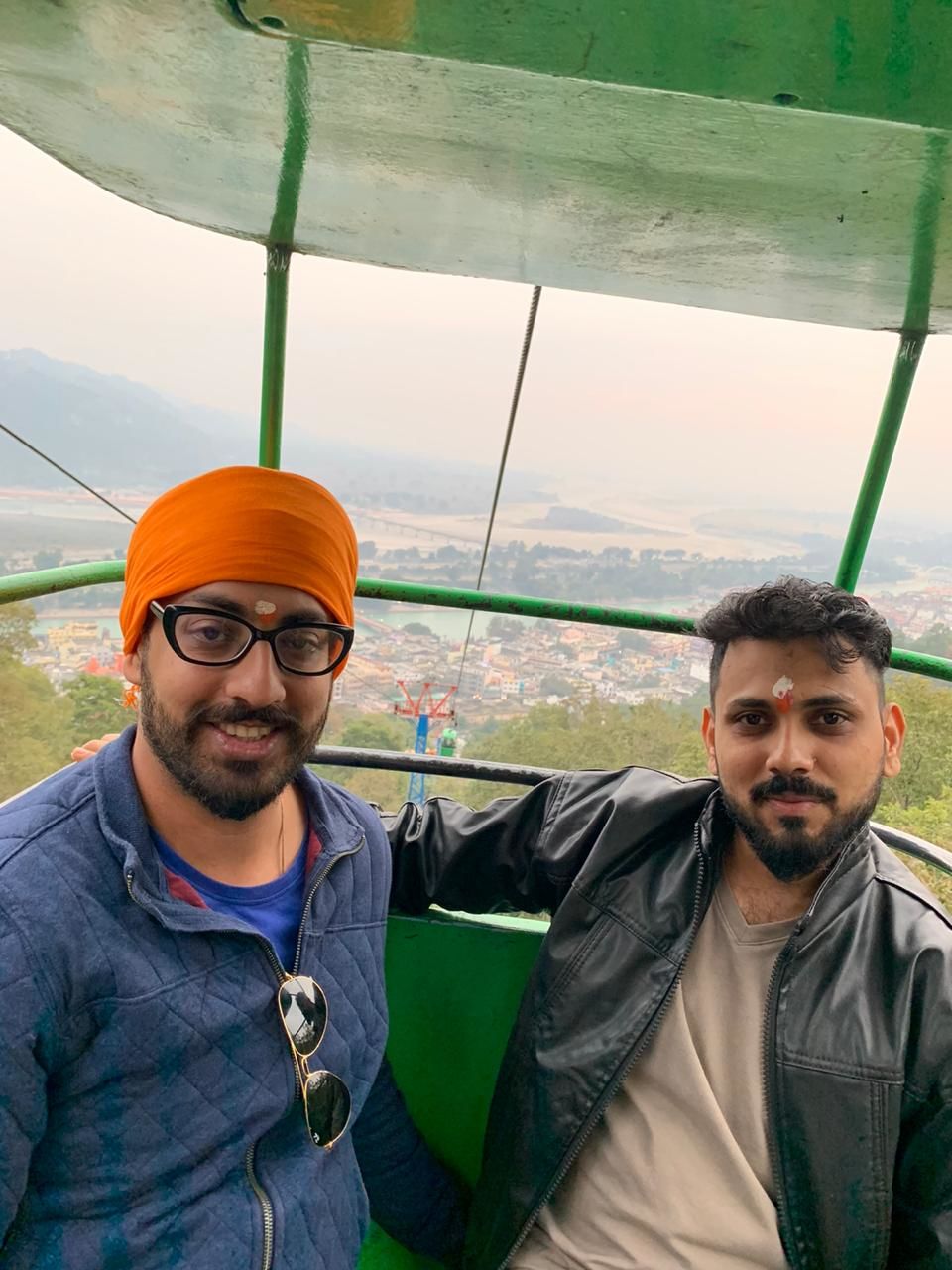 After Mansa Devi temple we went to attend Ganga Aarti . We reached late hence we were disappointed that we could not record or click any front view pictures.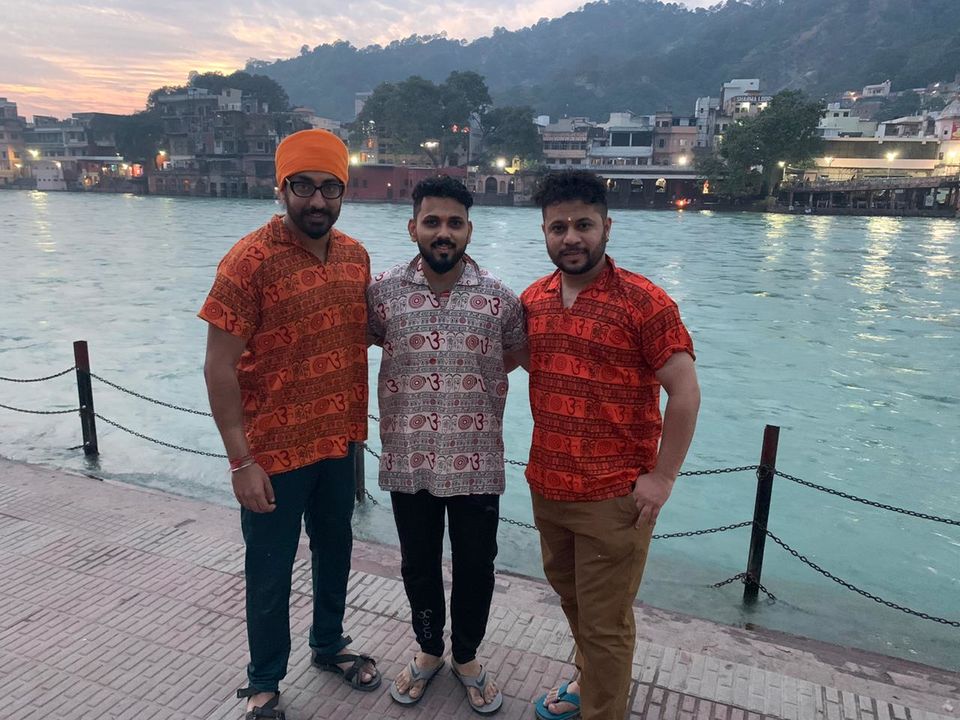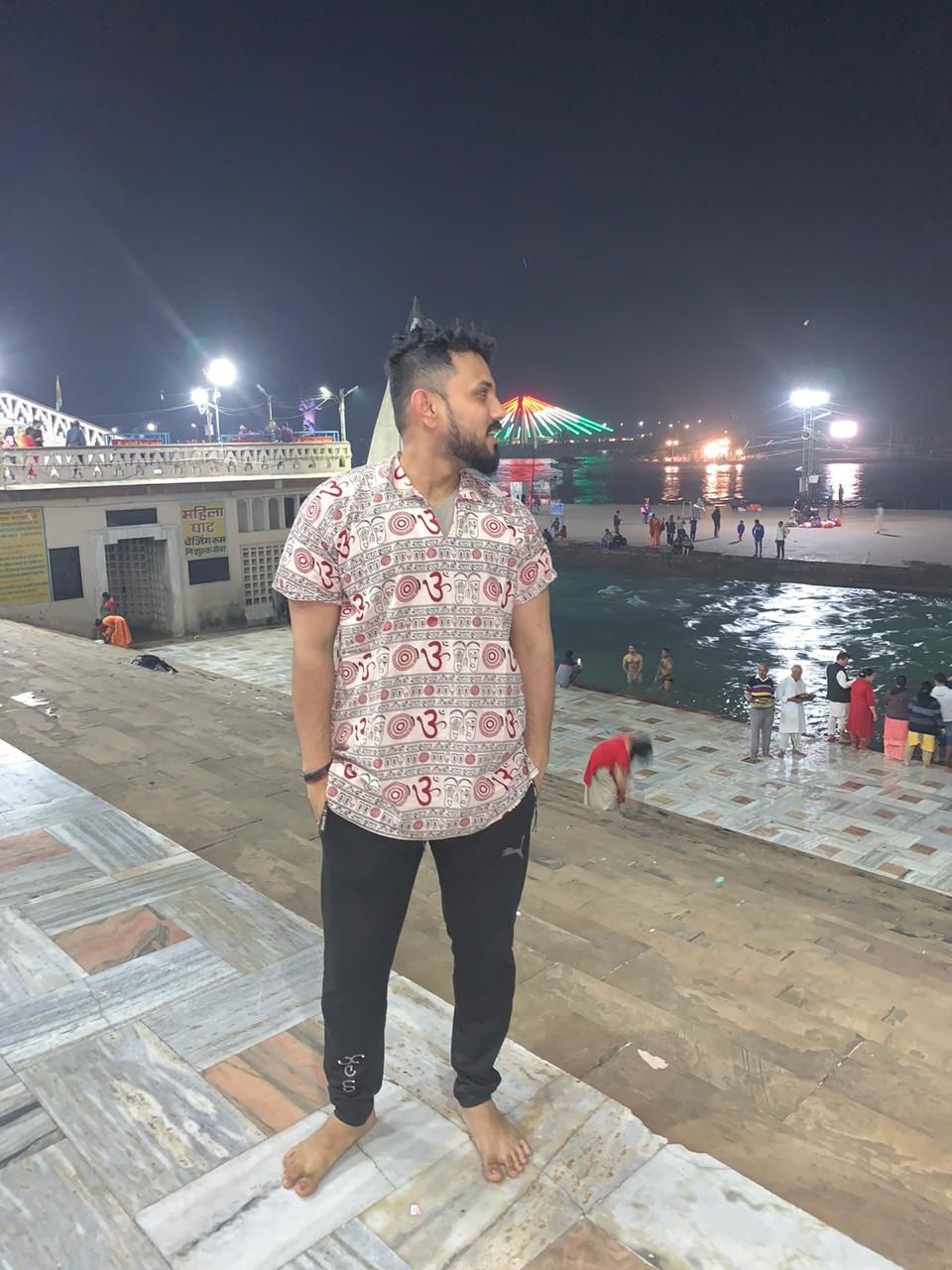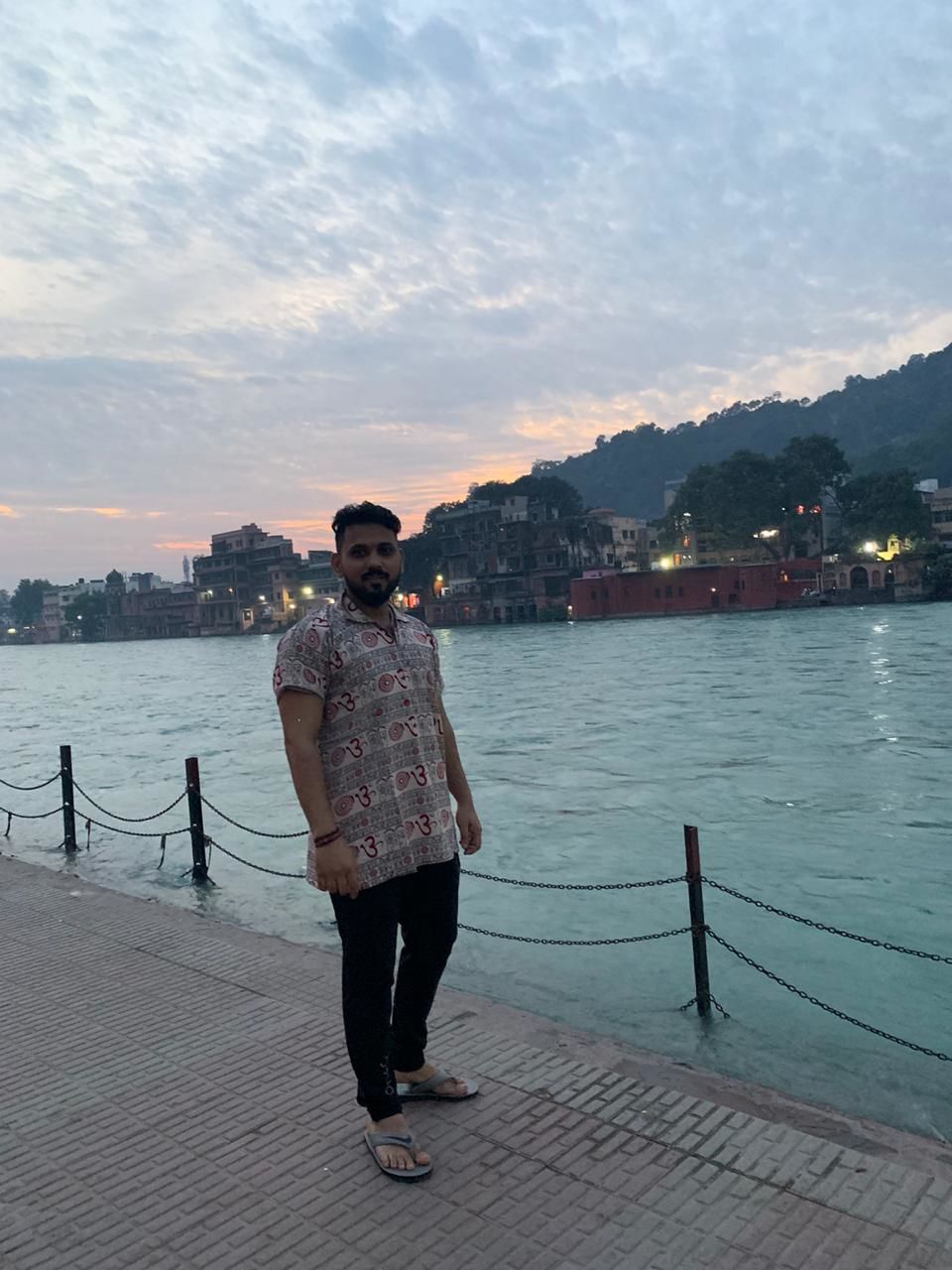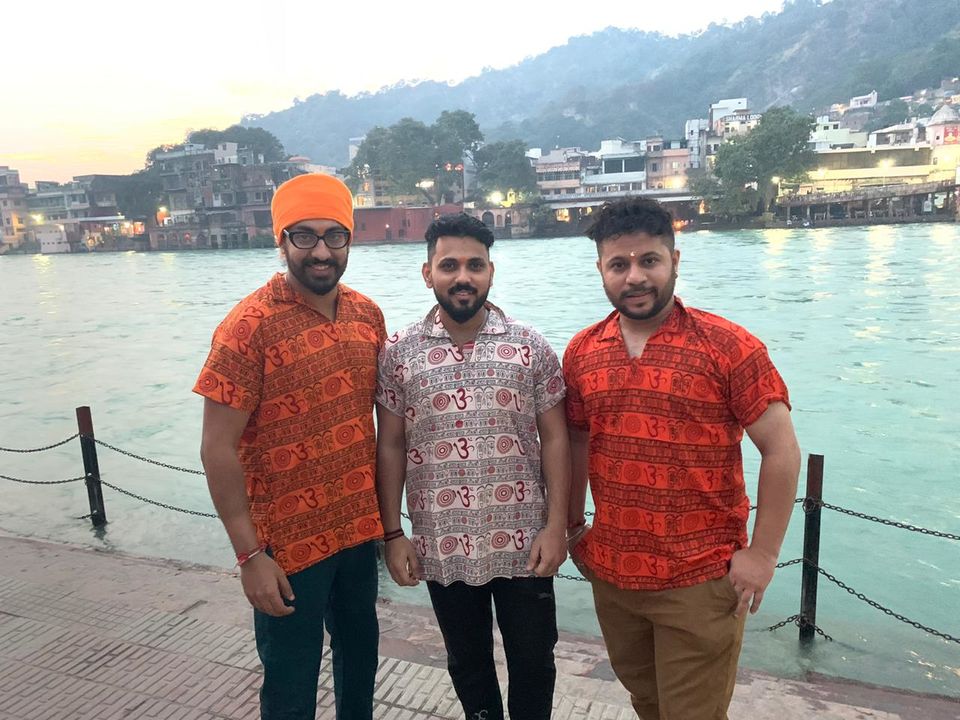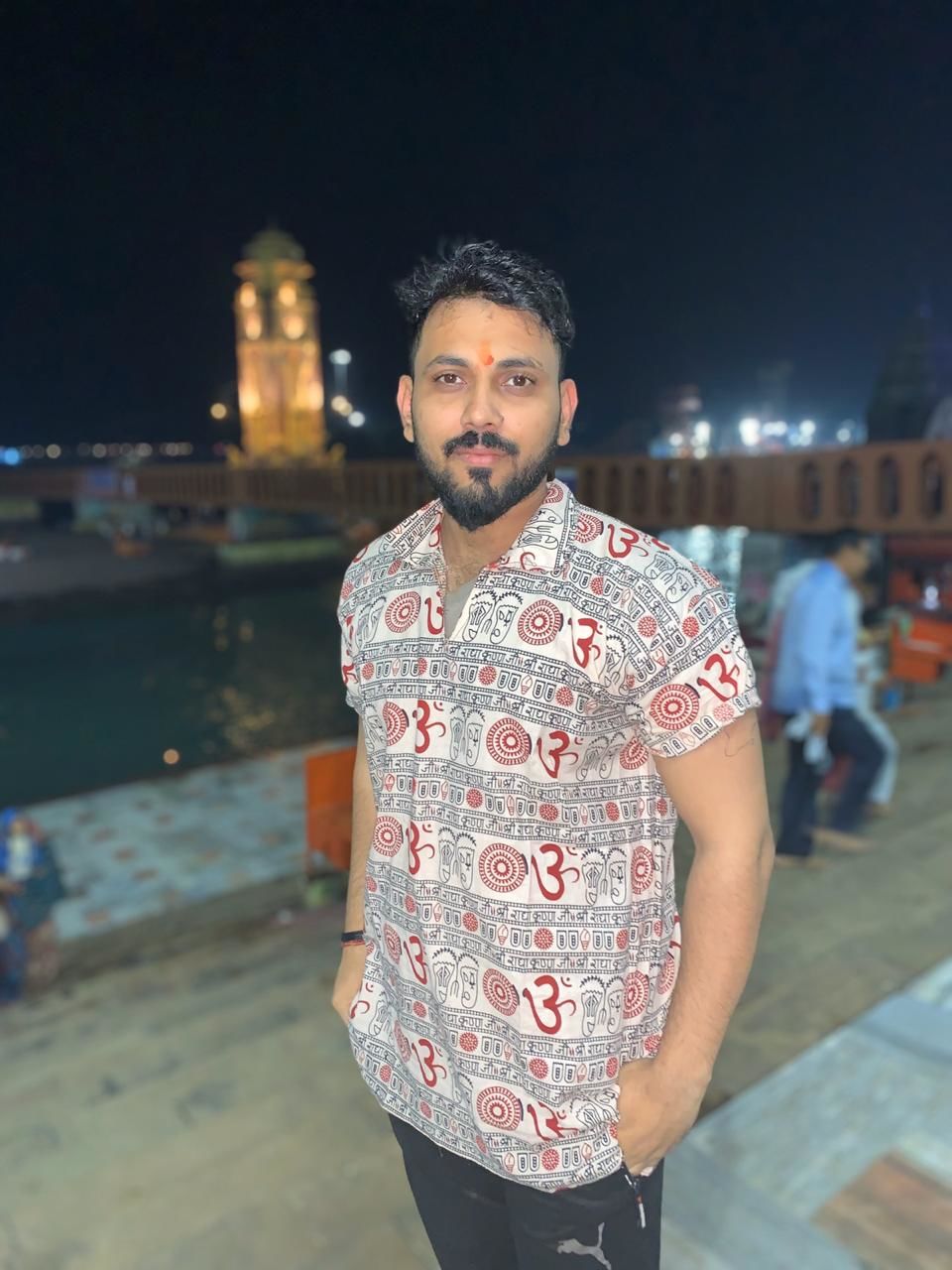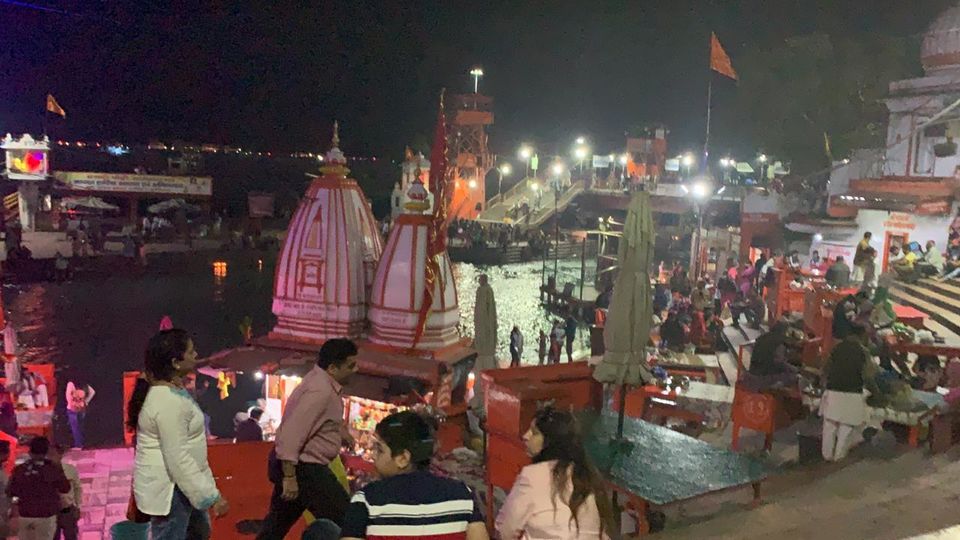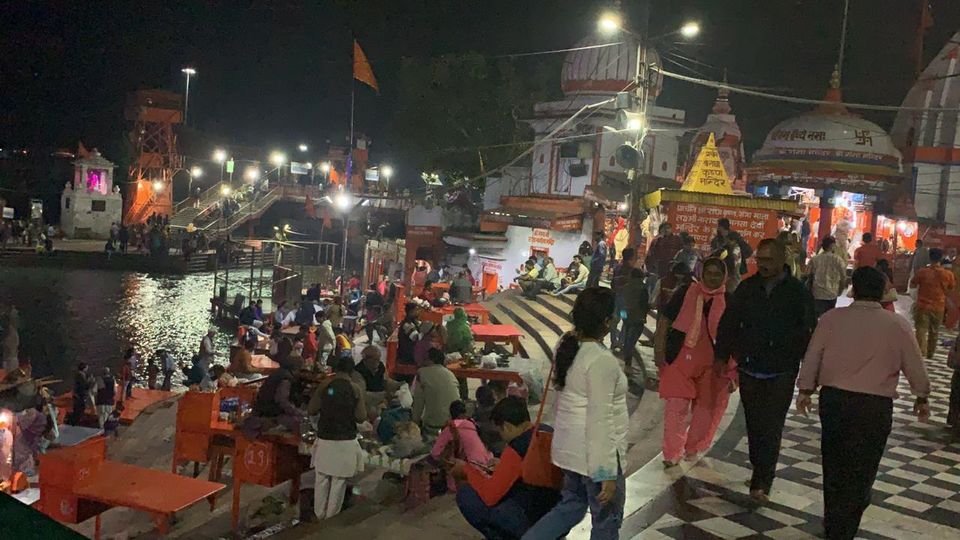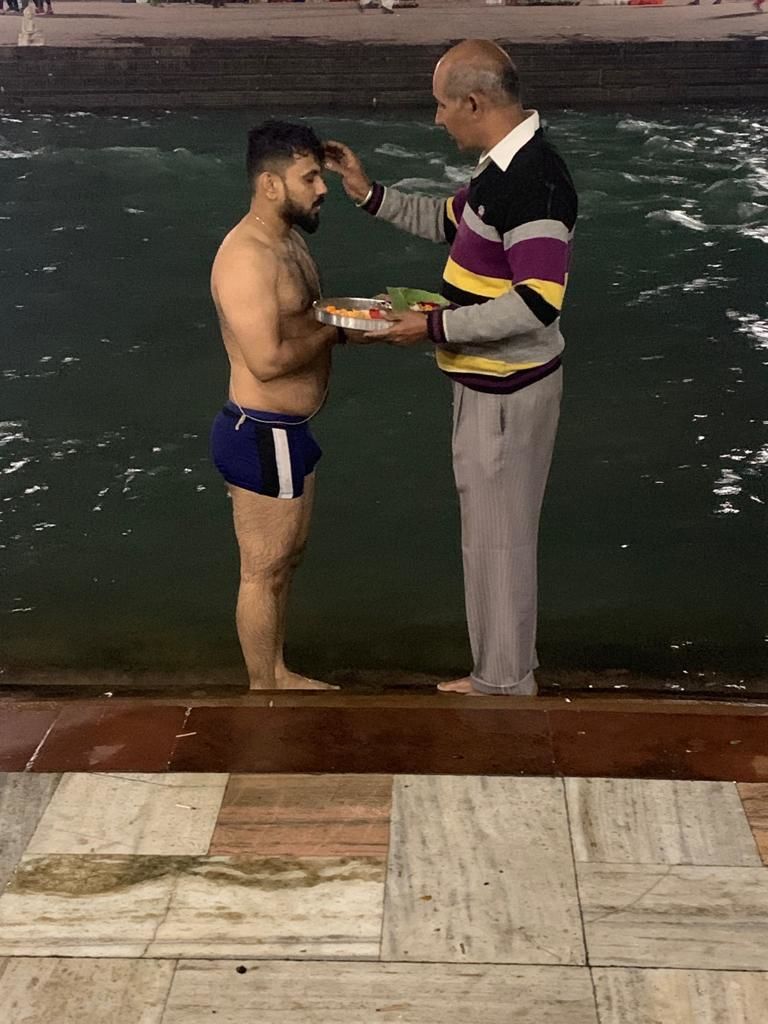 Next day was going to bring us more memories and much of Adventure. Before leaving Hardiwar, Sky offered us such a beautiful view to click.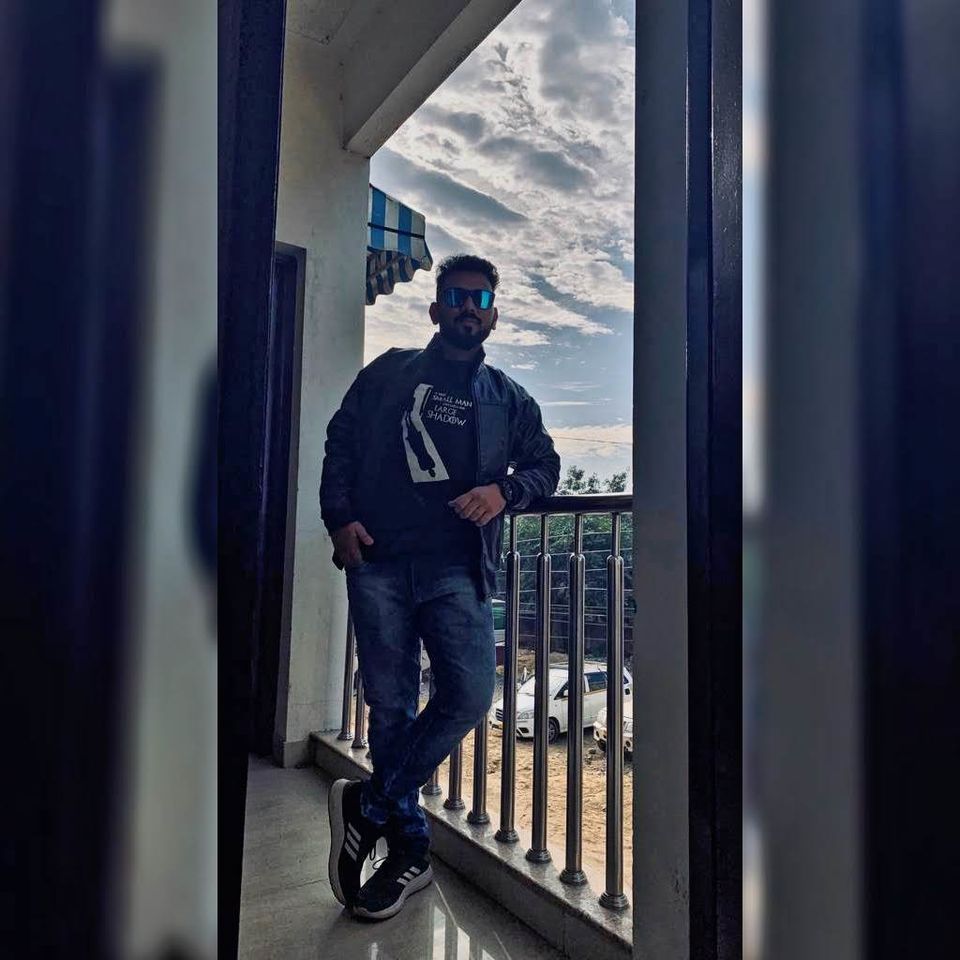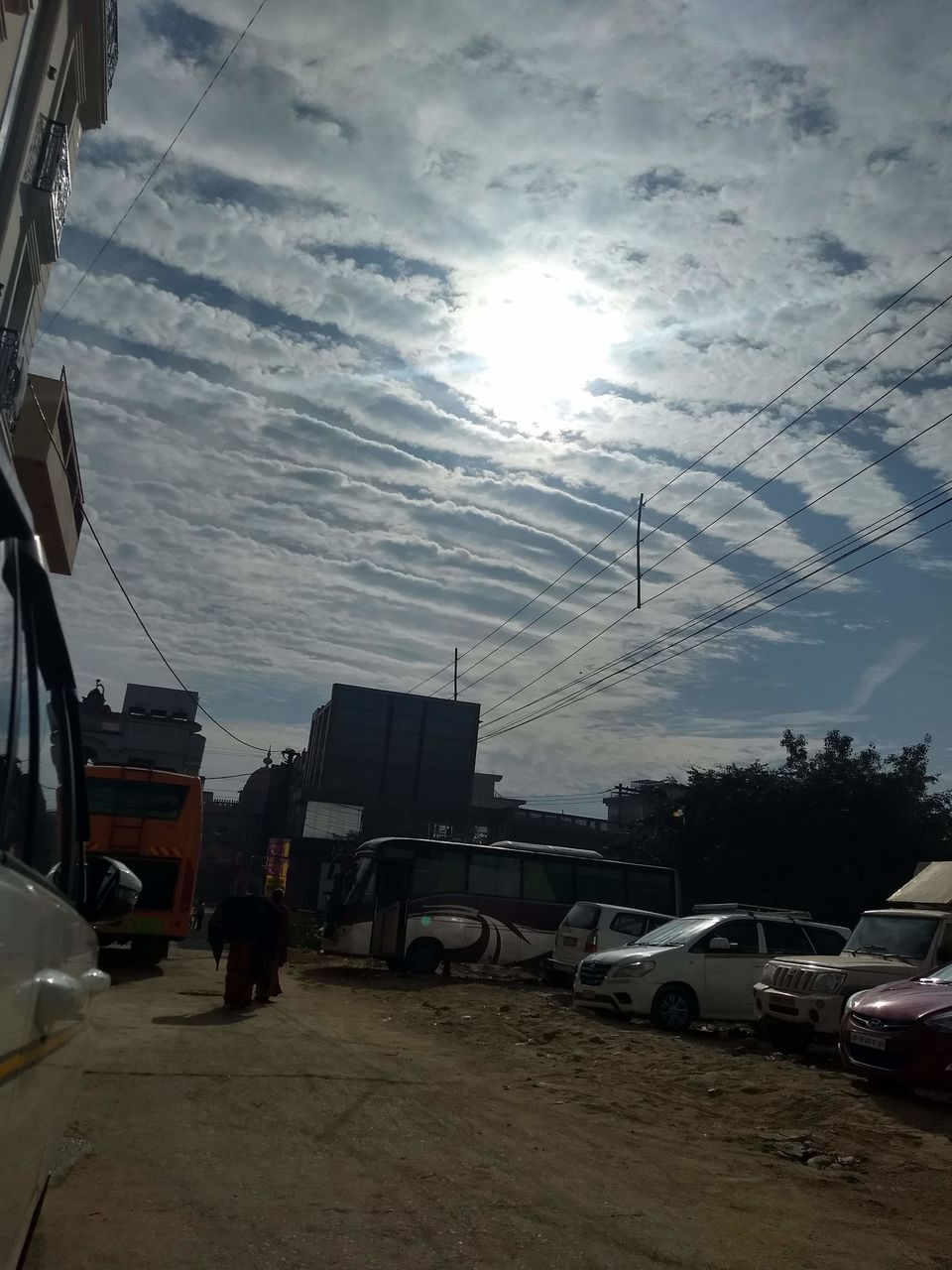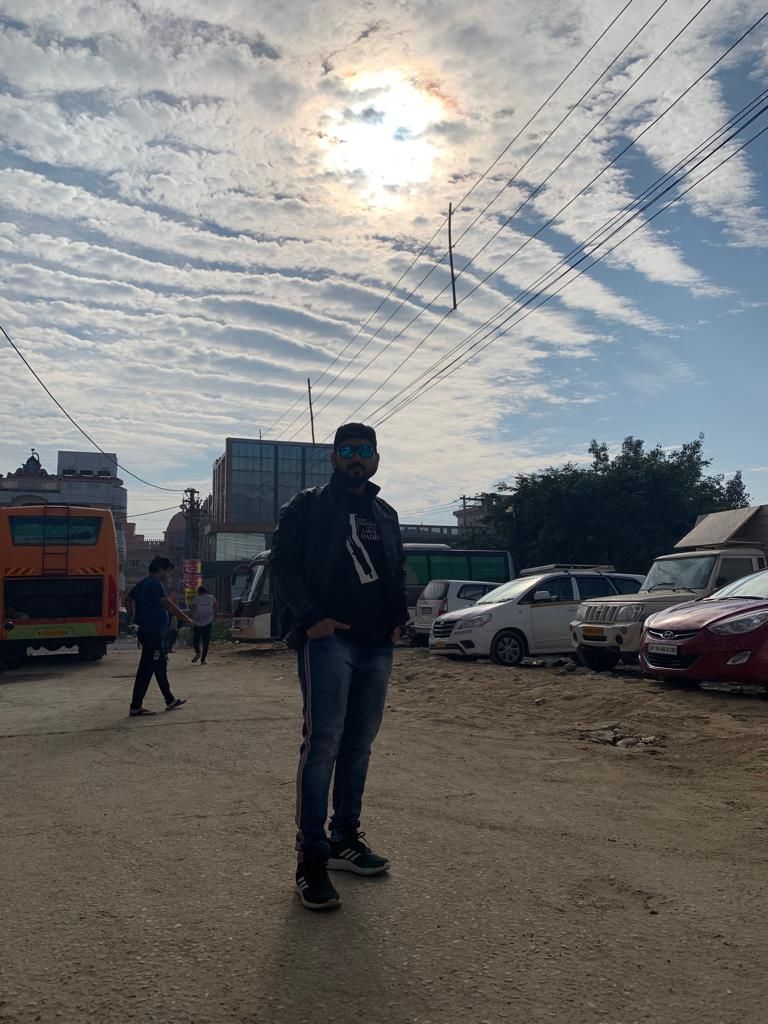 We left for Rishikesh and reached directly to a point where the Bungee Jump was waiting for us. But but but these Uttarakhand roads brings you mesmerizing views of voluptuous mountains and carved roads with the serene view of River Ganga. One cannot just miss this road trip from Haridwar to Rishikesh for it brings loads of memories. Here are some glimpses of the trip.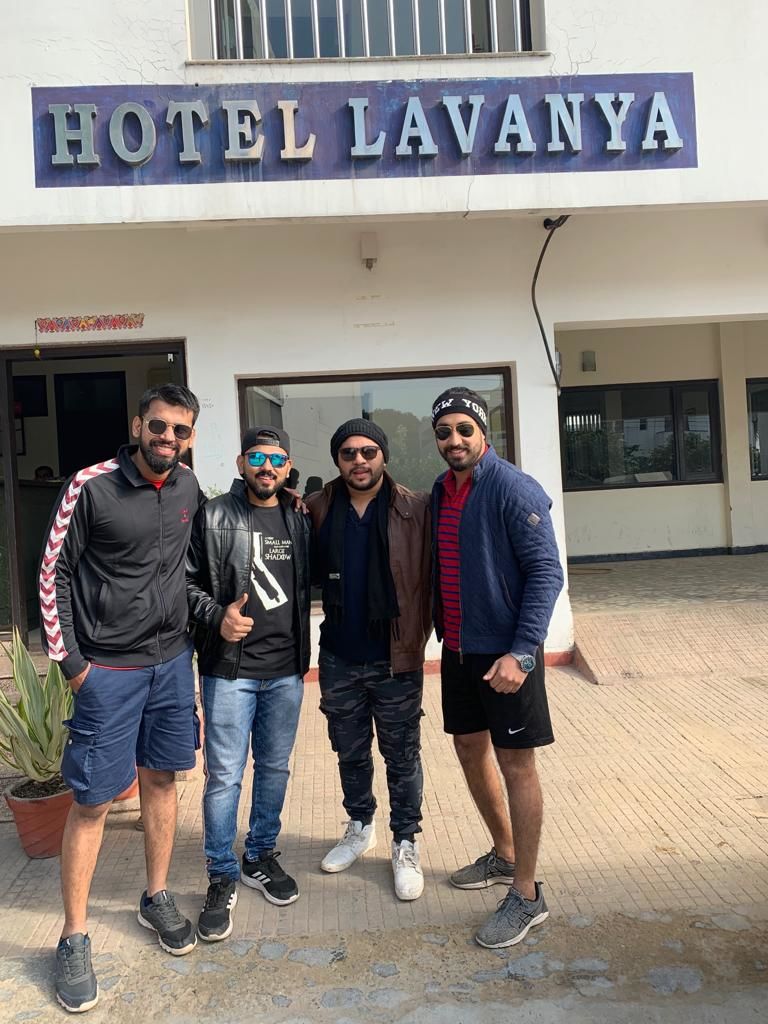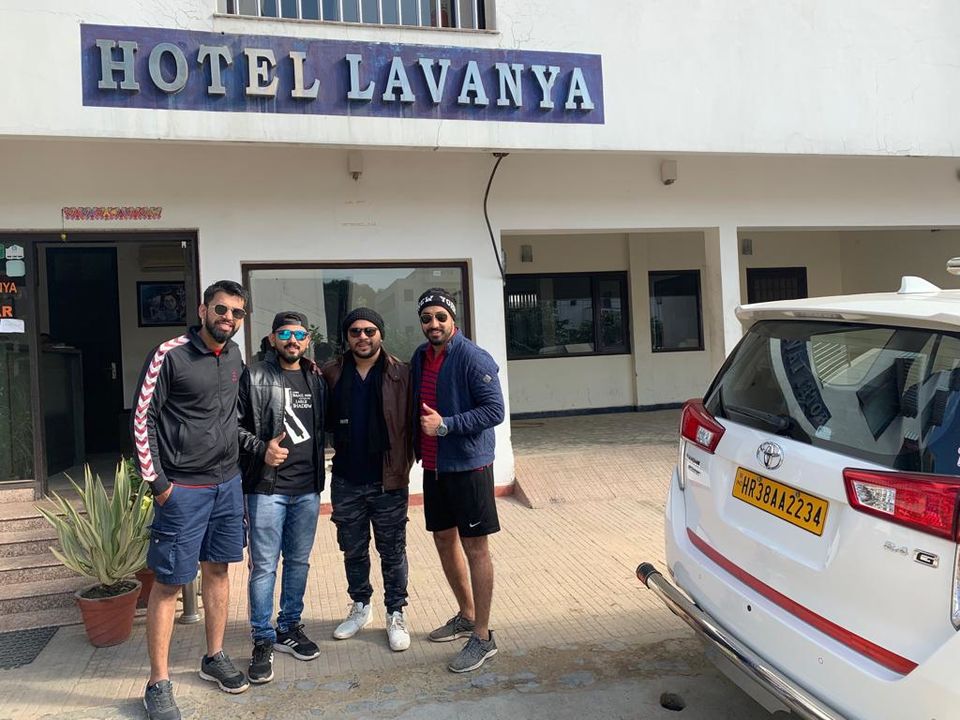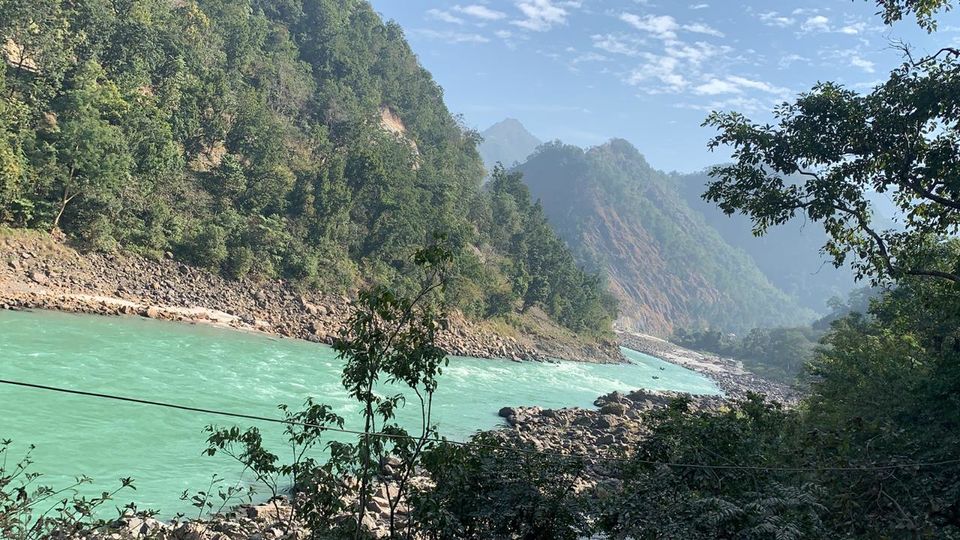 When we reached the point where we had booked our Bungee. Jumping heights was its name. Now we were briefed about Do's and Don'ts of Bungee Jumping. That mixed feeling of Excitement and fear is known as Adrenaline rush. And i was experiencing this for the first time. To Bungee Jump from 83 m height was indeed going to be fun but then mind does its work of releasing Cortisol and adds up to fear and Self Doubt. Best thing to do before bungee jump is definitely laugh and crack jokes and keep telling your mind 83 is just a number less than 100. You are going to do it. This thing can be done. Start thinking past the time when you will be posting the video saying " I have the Guts" "I did this" "That's what adventure brings you 'ADRENALINE' ".
I did this boss. I wanted to jump and i did it with a smile. No negatives only with the fear , but that's what Adventure is. If u are not afraid then its not an adventure. Then you cant experience that Adrenaline Rush in you.
See the pictures after the jump. A proud feeling.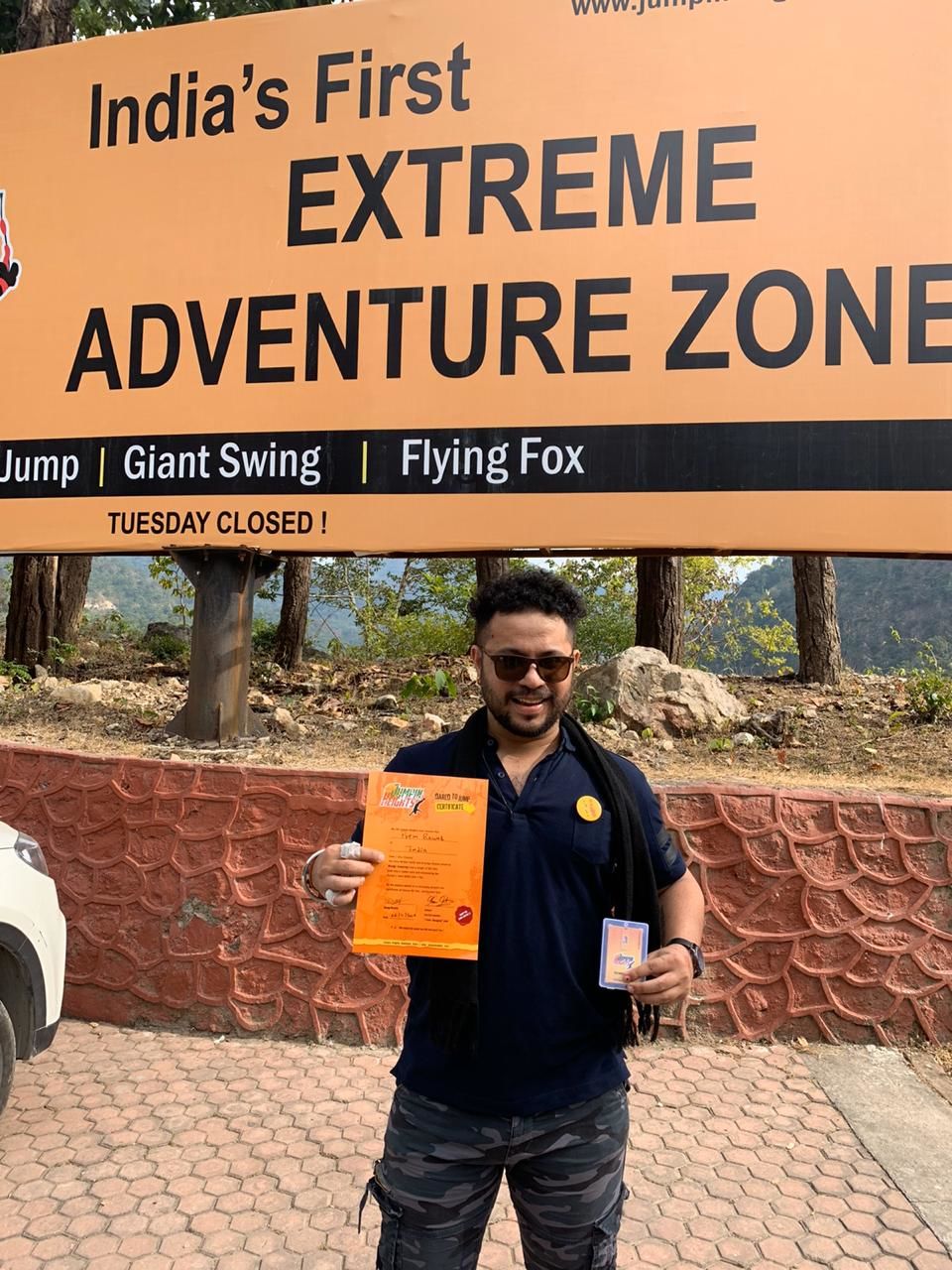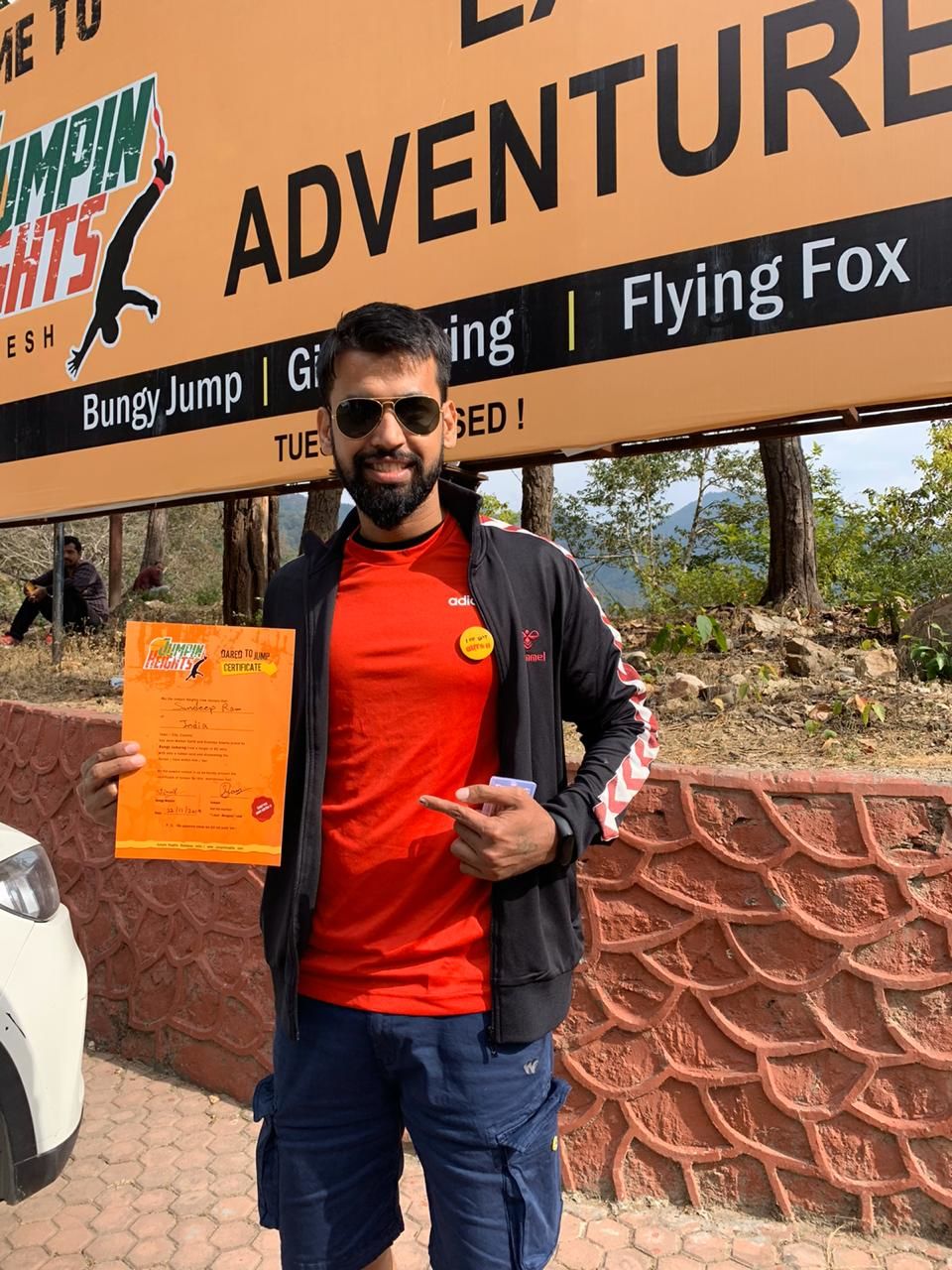 After this heartfelt adventure we were excited for "off-days" camping a little far from a small village near the banks of River Ganga surrounded all 4 sides by mountains and little cold night with bonfire around. A Gharwal food, Bonfire, River Ganga and Mountains, what else one would ask for on this adventurous trip.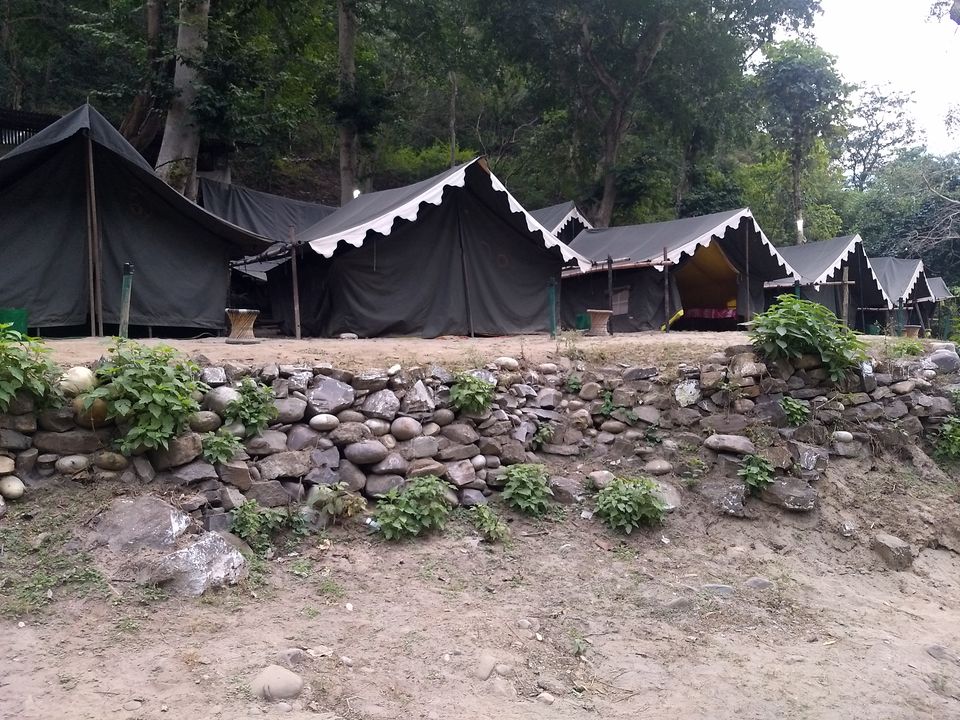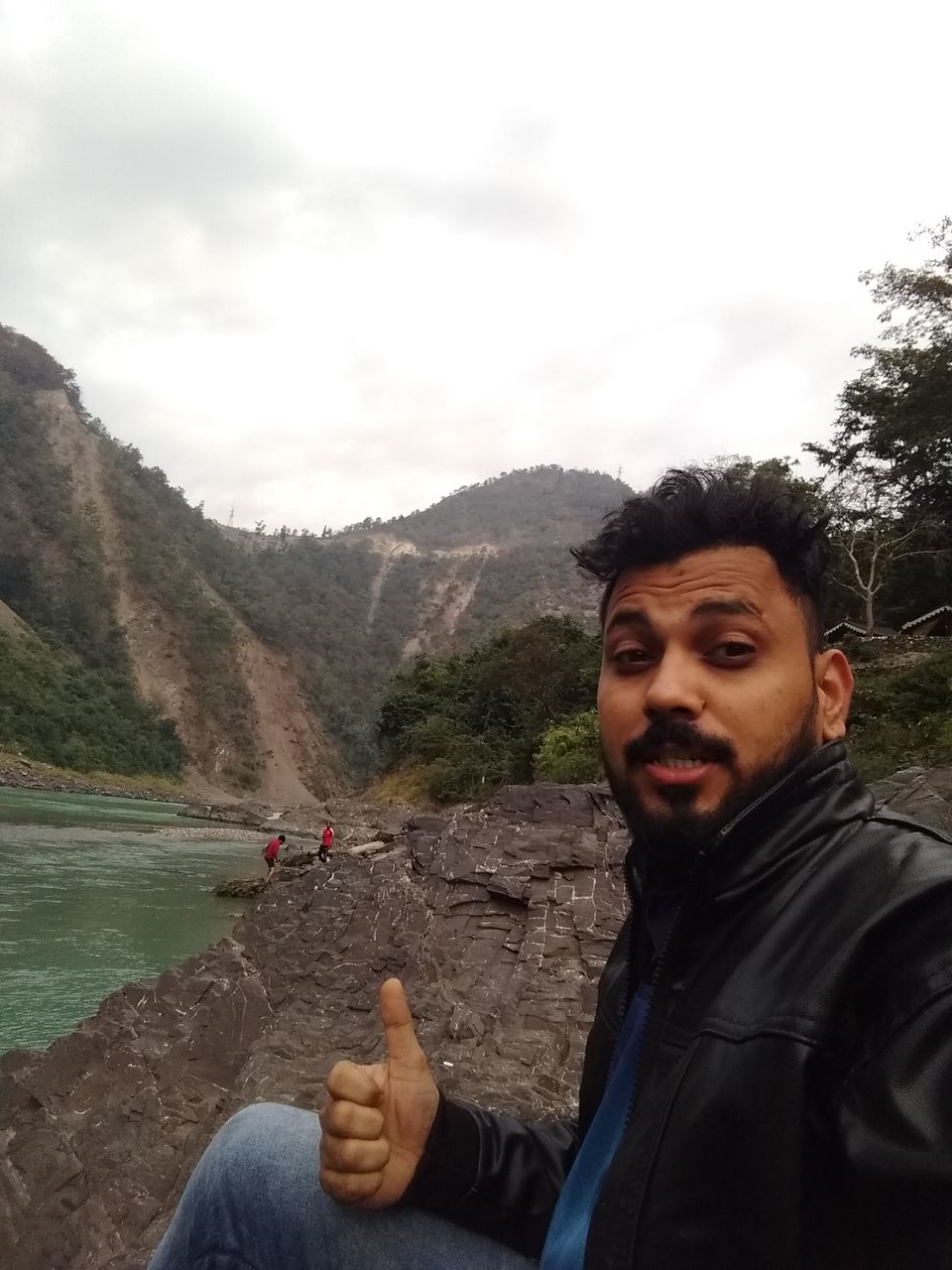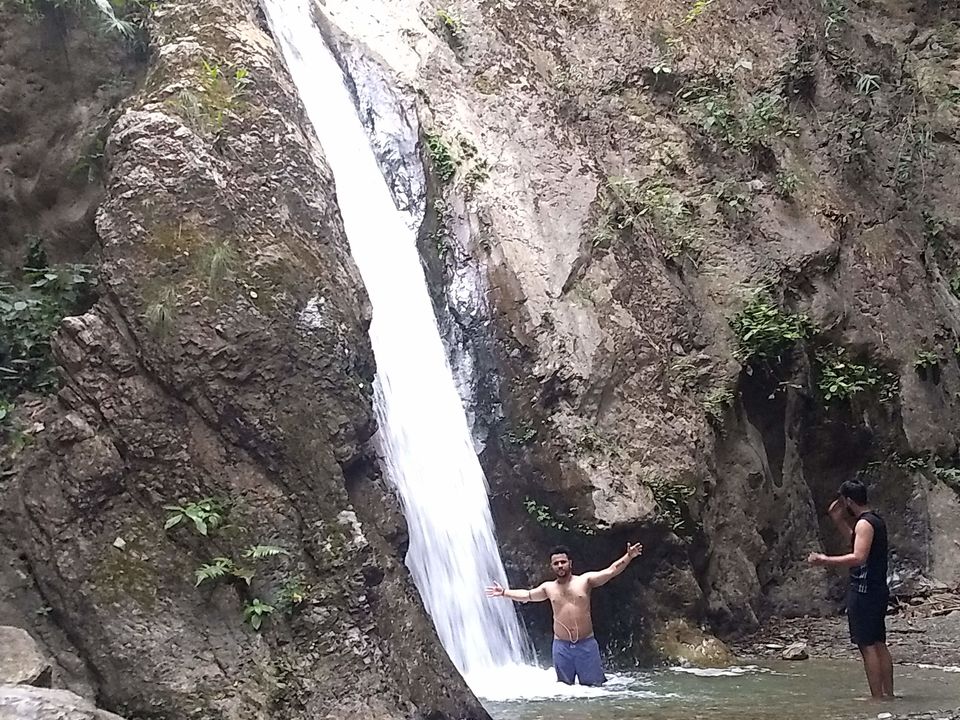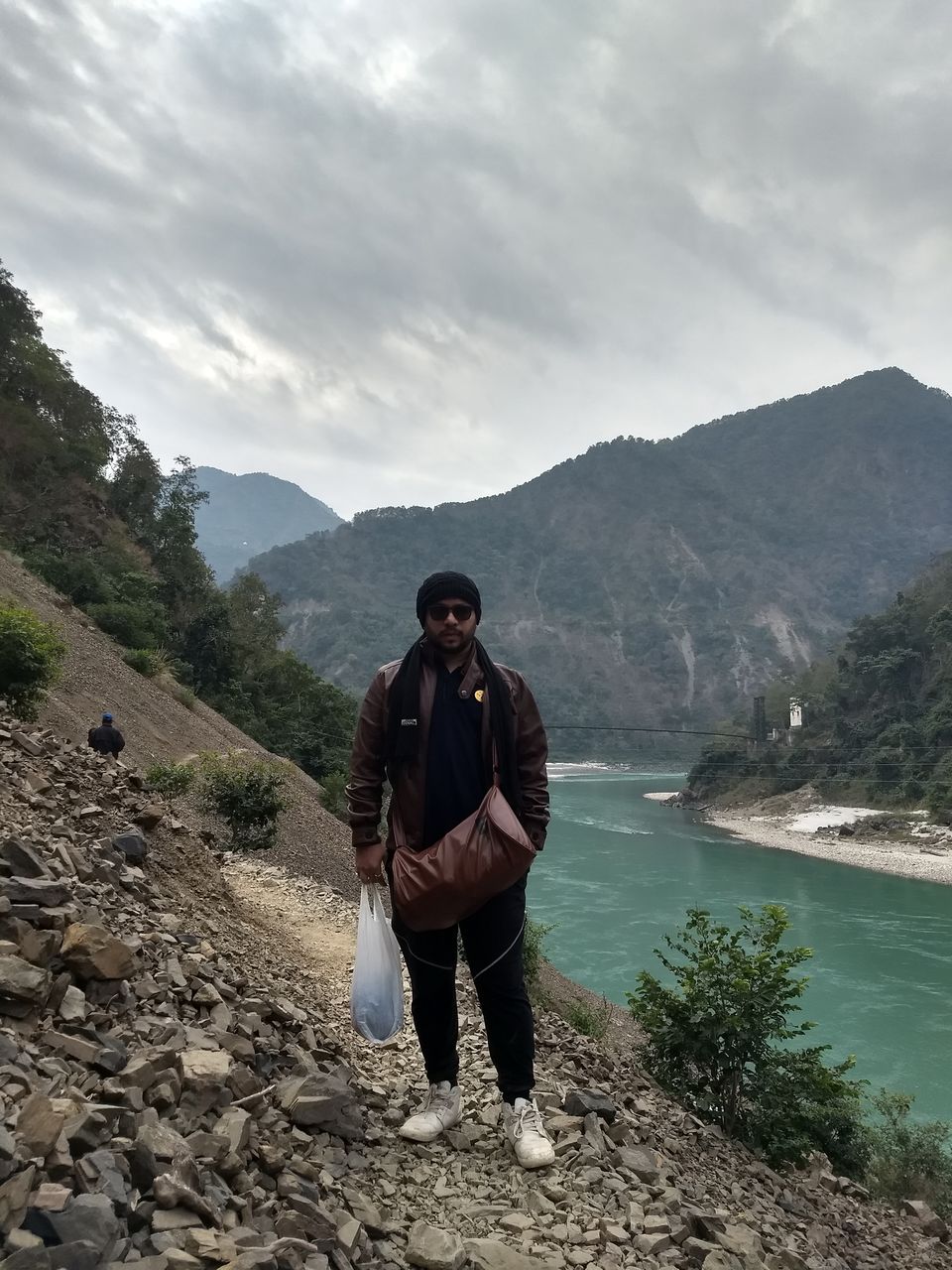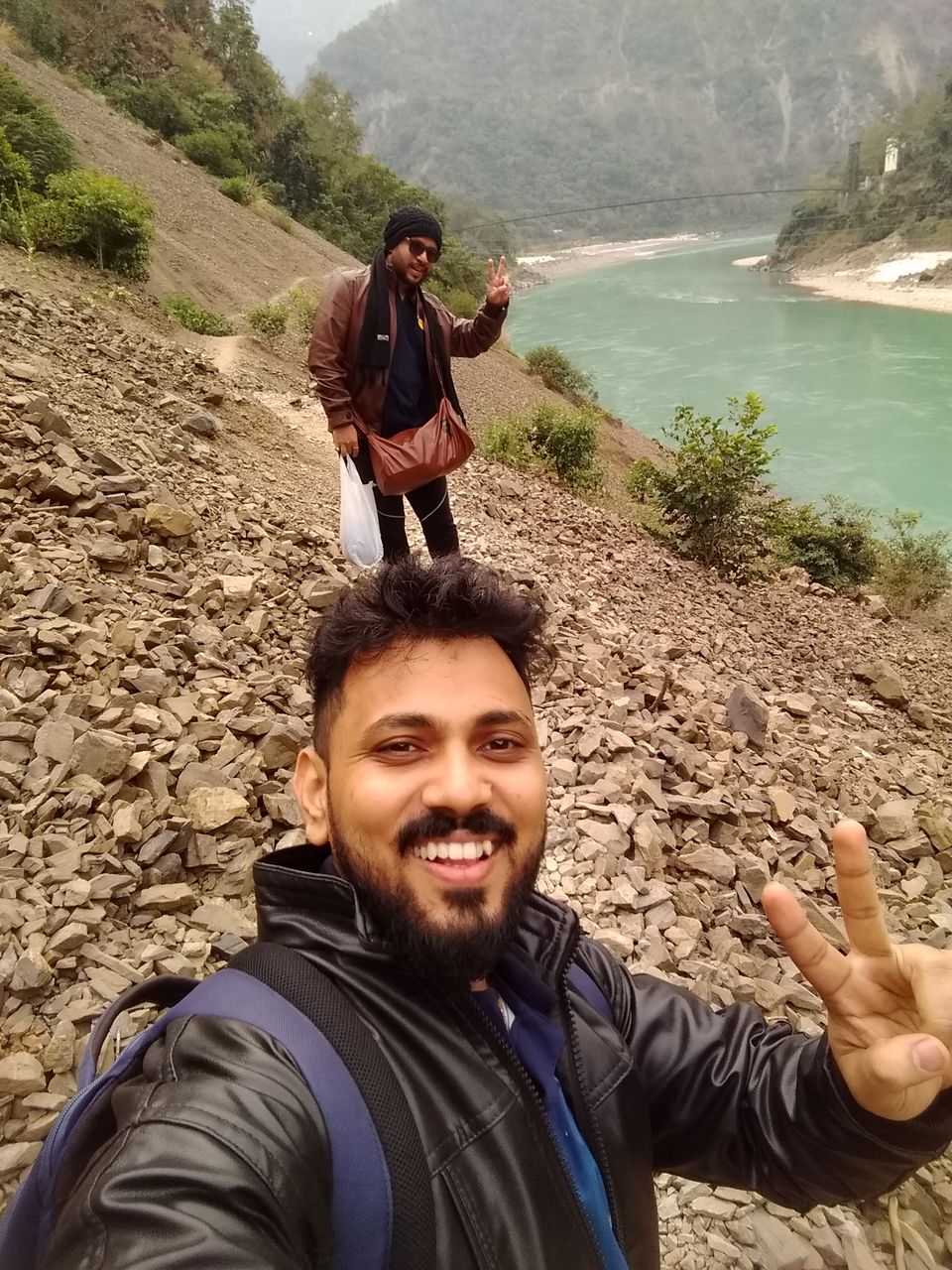 We experienced this river side camping here and as it was Friday, only we 4 people were here. It was cold night here but the warmth from Bonfire kept us charging. We sang, we talked, we Clicked and had 2 most wonderful companions with us. The two little black dogs who ensured our safety by alerting us.
Next morning we left for yet another adventure. The White Water Rafting. NO words to describe this feeling. Pictures below will tell you 'Once u start enjoying it, there is no going backward'. Adventure brings the best out of you. Believe me.!!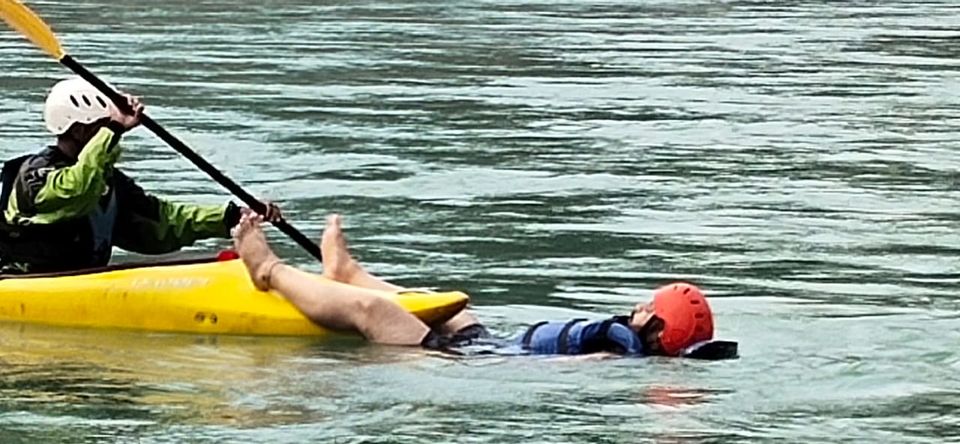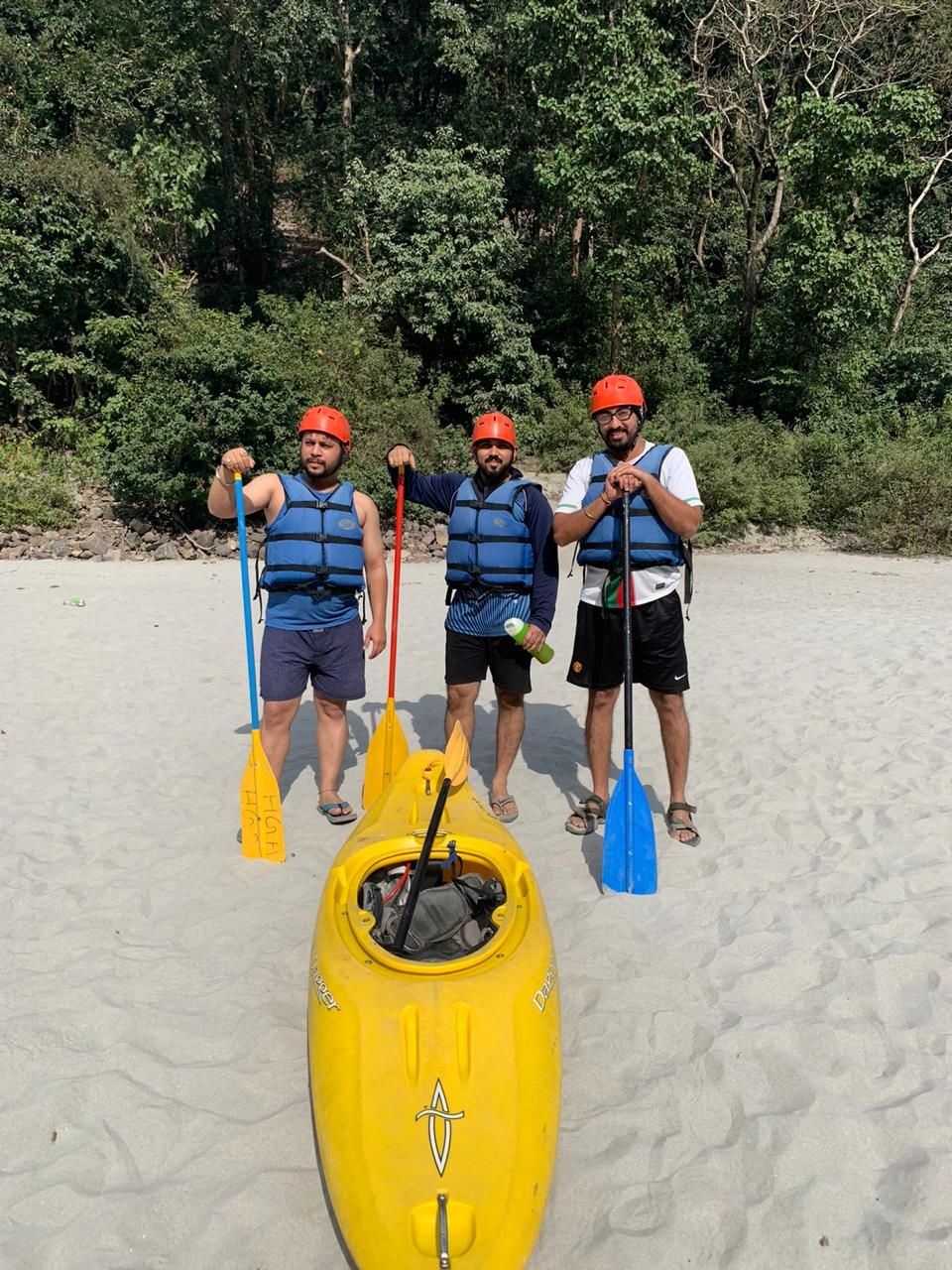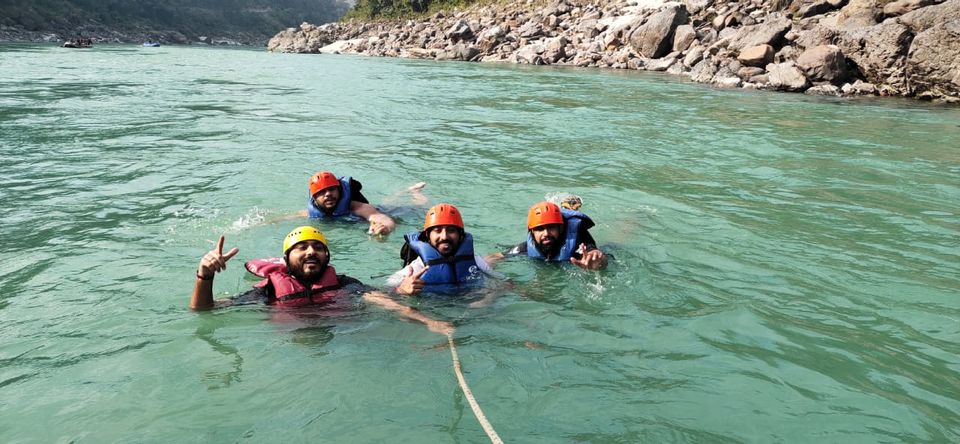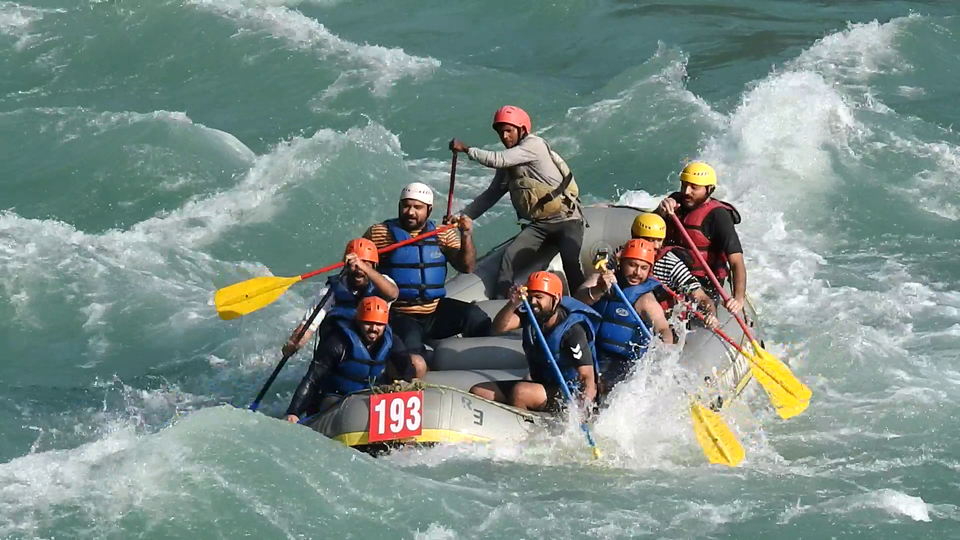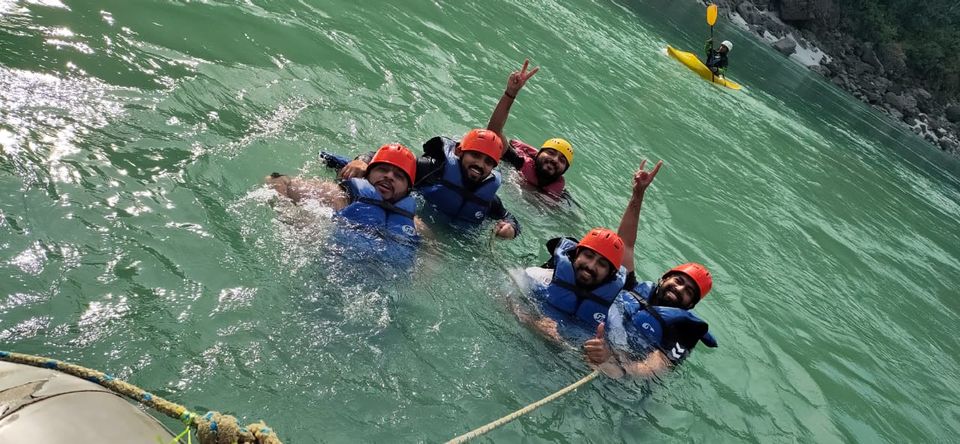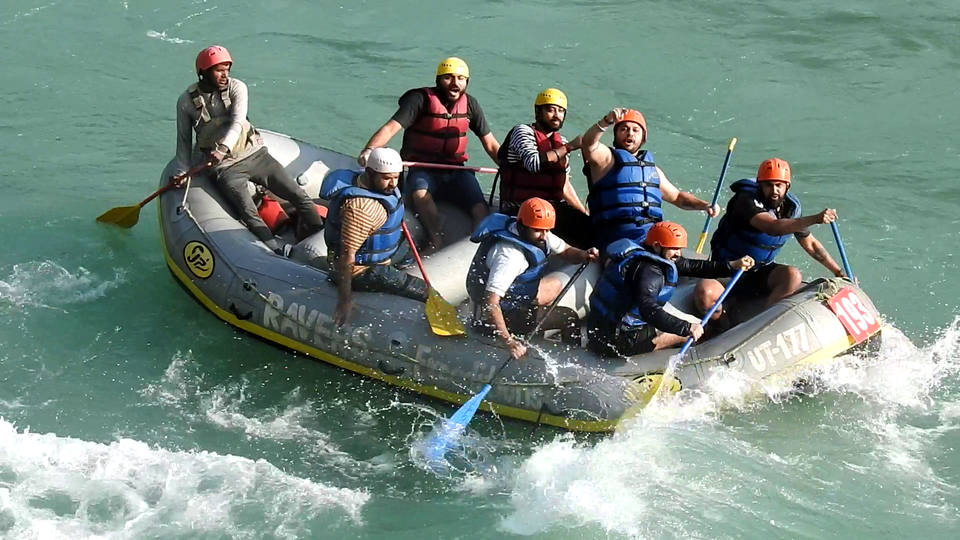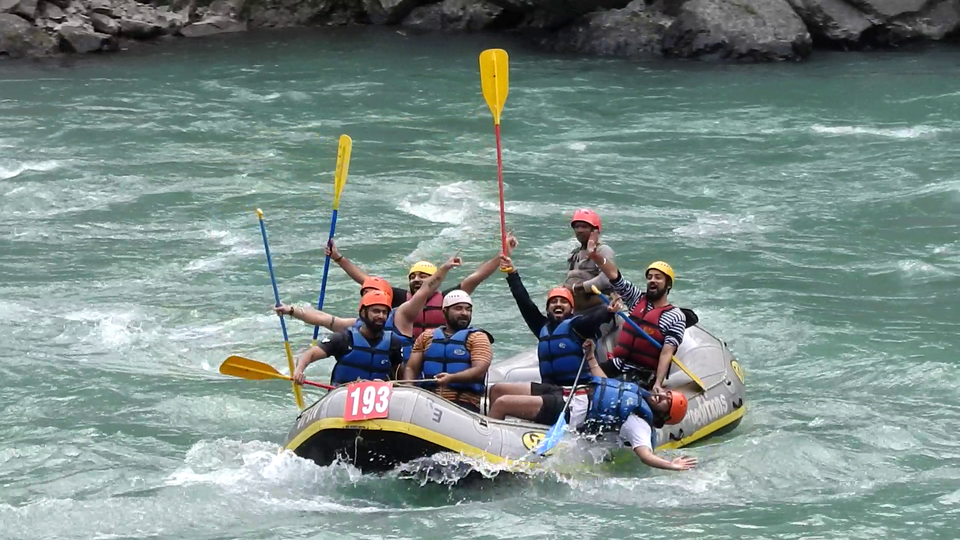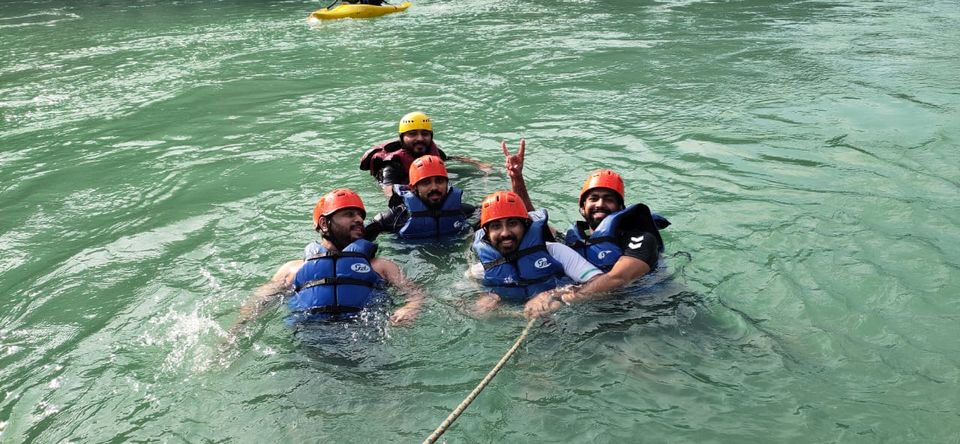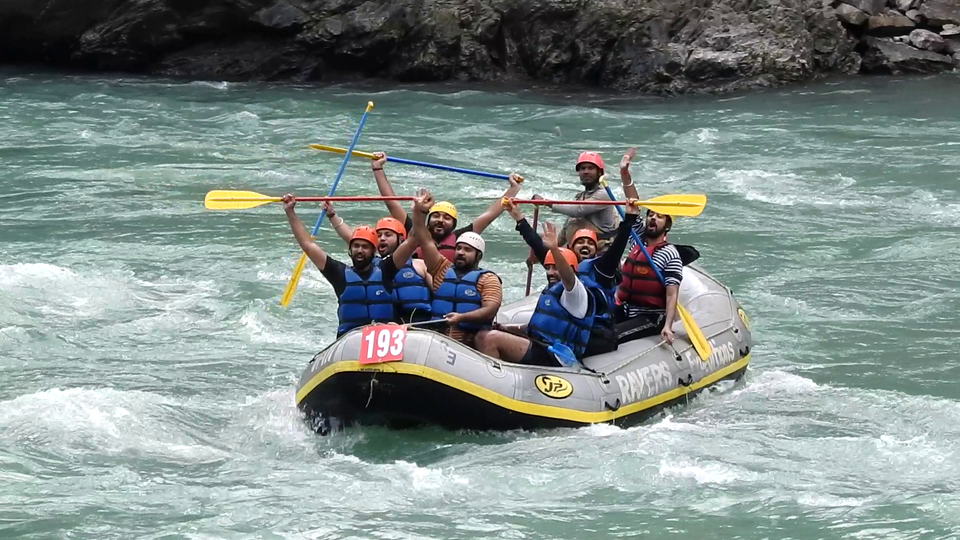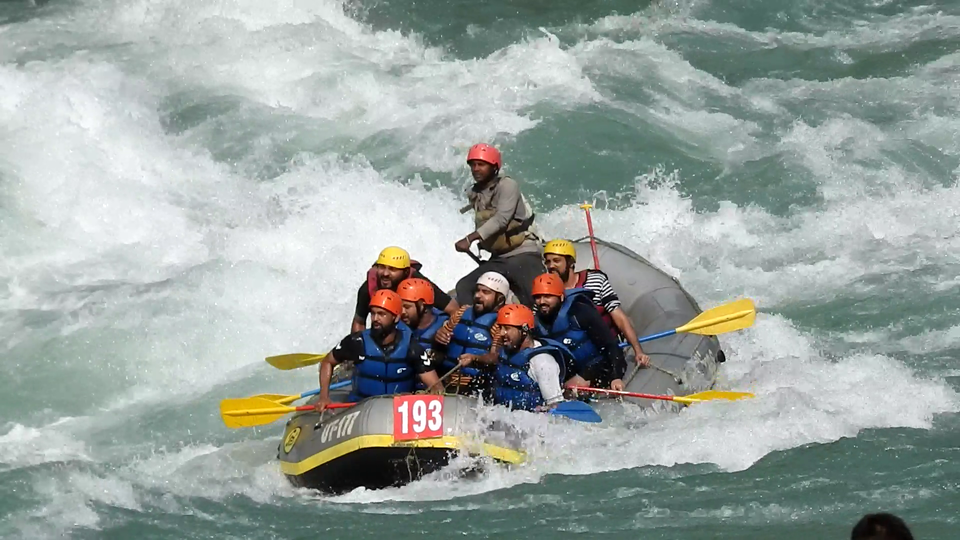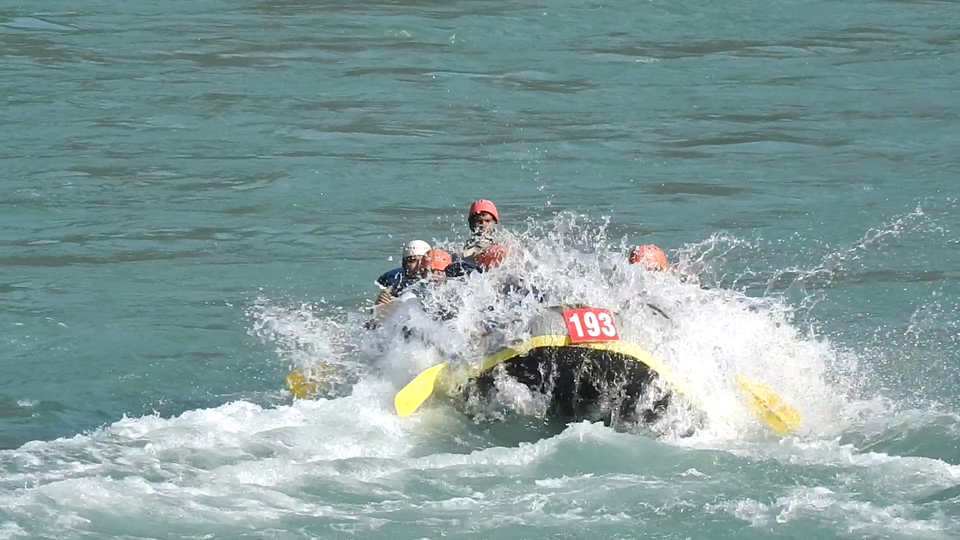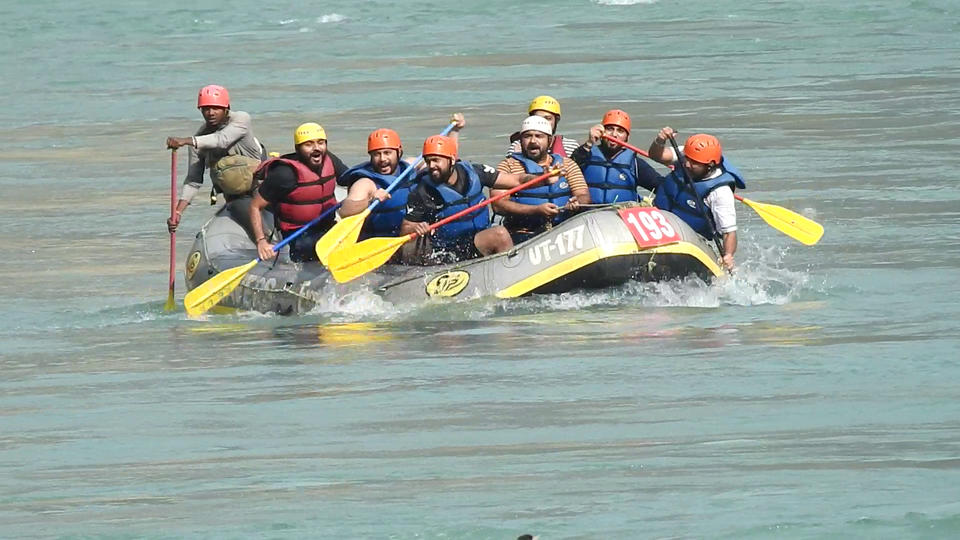 After completing our White Water Rafting we checked in the hostel that we booked. Cheap Clean and good way to cut the cost trip and then began our site seeing in the evening. It was now the time to compensate for the Ganga Aarti we missed in Haridwar. But Triveni Ghat did not disappoint us. Neither with the view nor with the aarti. If u are even slightest of spiritual then this thing will not only excite you but at some point you will see your tears of ecstasy.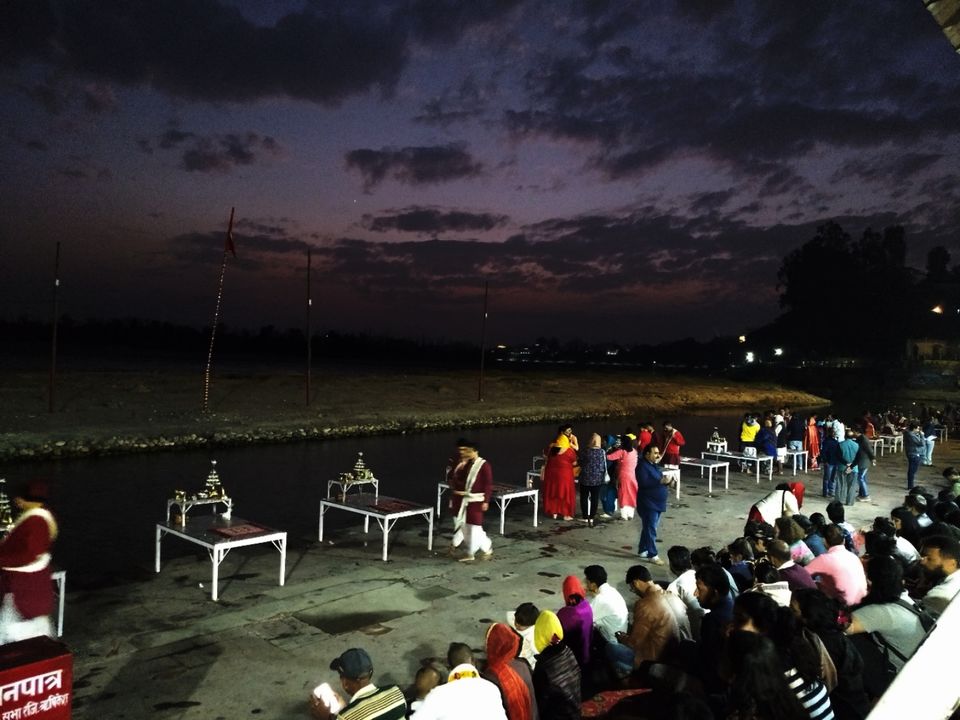 After Triveni ghat it was time to visit some other places near by. We started from Gurdwara Rishikesh (Sri Hemkunt Sahib Trust). As we all have passed our Secondary Education from Punjabi School we all have that attraction for Gurudwara.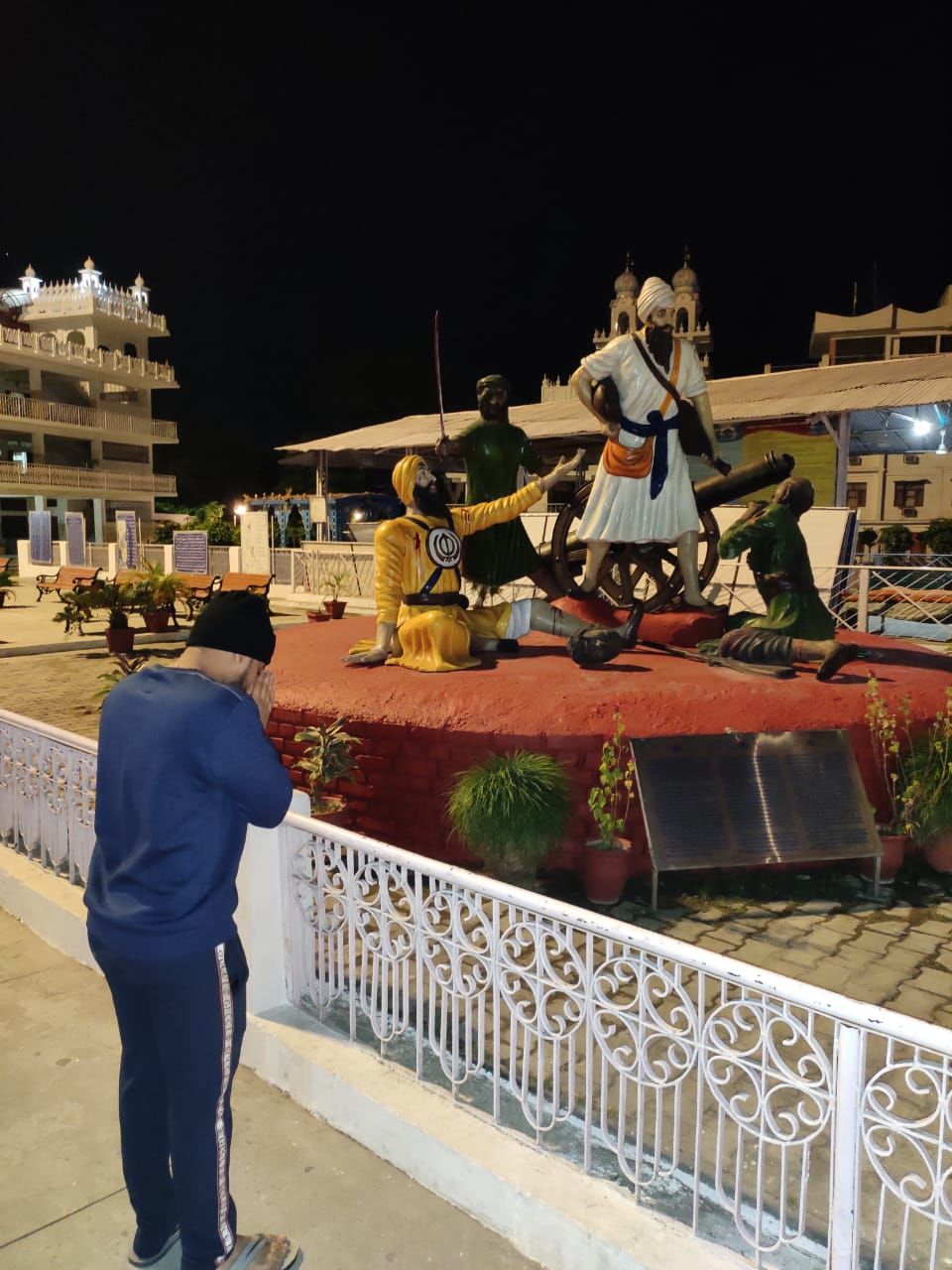 Some other places to be at were Lakshman Jhoola and Ram Jhoola.
We ate at Rawat Restaurant and went to our hostel. Next morning we left for Jim Corbet National park.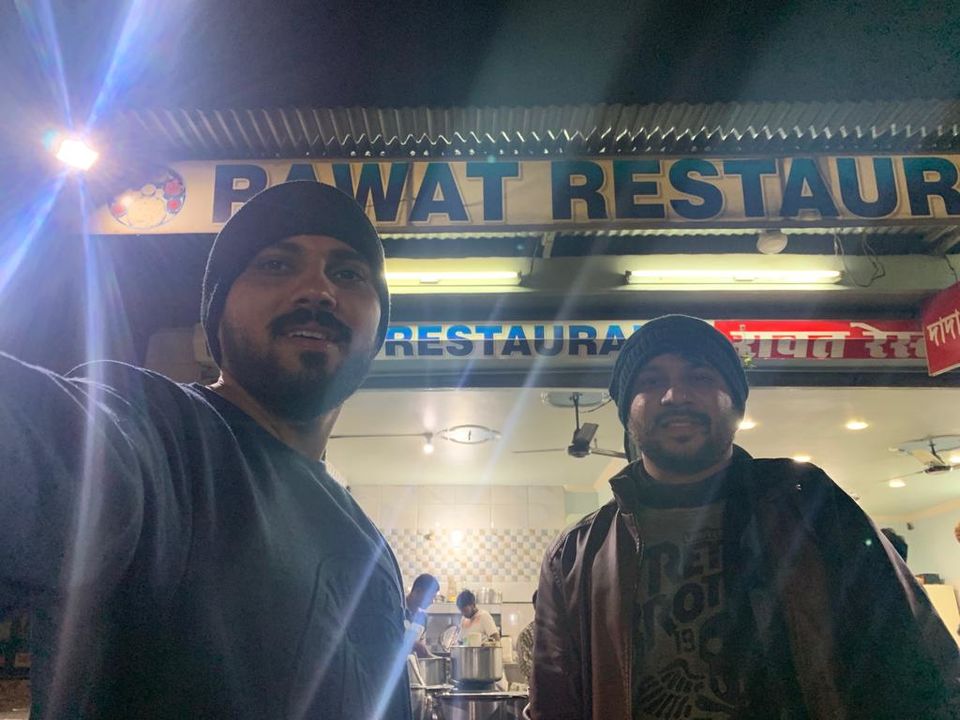 Apart from being know for India's first National Park, Jim Corbet area is one of the most beautiful areas of the country. Passing roads between the jungle and all of a sudden you experience the group of deer hopping and running. We booked 2 safaris here and were disappointed from the first one. But the early morning safari did not disappoint us as we were greeted by our beloved Hosts. The Tiger (not Shroff) family showed up and we ended our little adventurous trip successfully.
We left next morning to Delhi via Hapur and Ghaziabad. It was a lovely trip and we all were home with lifetime memories.