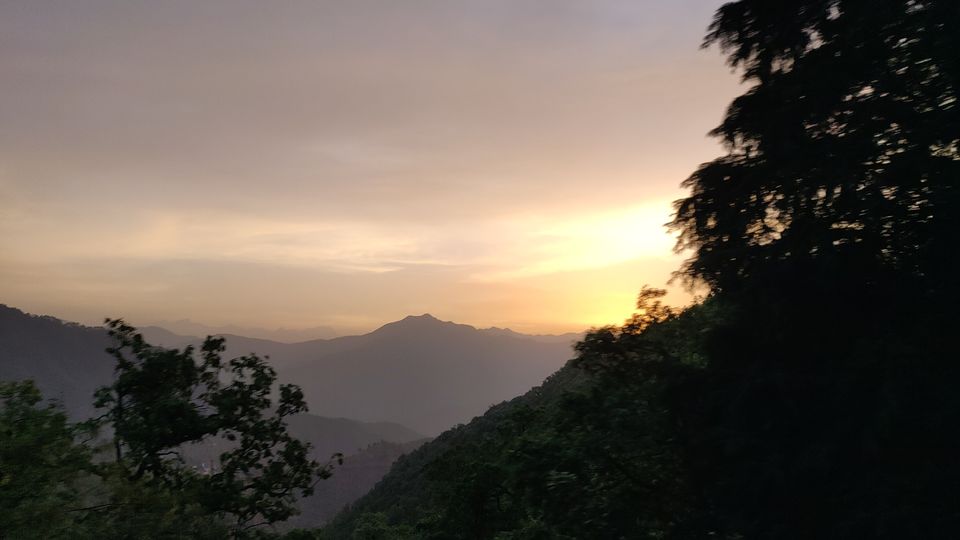 We all know Rishikesh is known as Devbhoomi or the centre for Yoga and meditation. But, today Iwe're going to see the insights of the other side of Rishikesh, the adventurous side! There are many adventure companies there offering camping, rafting and many other activities. This time I opted for a bit of adventure and had a great experience. Let's check out the blog and the itinerary. The overall cost was 26k approx. including food expense, travel expense, airfare, bungee, rafting and camping cost.
Day 1 - Left from Valsad for Surat in train, my flight was from Surat airport till Delhi. As I started, I found out that the flight got delayed, ughhh yeah..that's a spoiler, I never faced issues with Spicejet earlier but in this trip my flight initially was delayed by an hour then it got delayed by 2 more hours, I was the first one to reach when I booked the ticket; however, with this delay I reached last around 11:30 pm! Thanks to SpiceJet! While returning from the trip the same thing happened. This kind of delays completely changes our plans and schedules and sometimes, it's a big......headache. Finally, I reached Delhi, all my friends were waiting for me, they went around nearby places and we had booked our seats in advance in a private bus online . Boarded in the bus around 3:00 am in the morning.
Valsad to Surat - Train fare - Rs. 130
Surat station to Surat airport - Ola fare - RS. 340
Airfare :Rs.5430
Delhi Ola cab fare : Rs. 800
Bus to Rishikesh : Rs. 500
Reached Rishikesh in the morning around 8:00 am. We stayed there in a Hostel which was a really nice place to live, very clean. After resting for a bit at the hostel we left for the biggest adventure we were going to do in our lives and I was totally excited till I reached at the final destination of that day. It was the bungee jumping day and I was totally excited I was so charged up untill I was at the edge of the bungee site and by mistake I saw down that's when I got frightened. Although I'm afraid of heights I thought I will easily jump and do it bcz their safety lines are perfect. I knew nothing could go wrong but trust me even if you are very confident once u reach at the edge u might lose that confidence. Well I was the first one to jump so I lost my confidence, took a little time but hey guess what??? I did it yes.. the guy there, the trainer he really convinced me to take the chance and not lose it. We talked for about 5-6 mins, he kept on convincing me, once he even that ur friends will make fun of u..???? I was like Haan Haan Ur right. It was like a 2-3minutes jump but that 2-3 min of my life gave me an amazing lifetime experience and lifetime memory. The height of this bungee site is 83 metres. Jumping Heights is situated in Mohan chatti, Uttrakhand about 25-30kms from Rishikesh. One can either travel by their own vehicle or choose the transportation facility Jumping Heights provides. We chose the transportation facility and trust me the ride was amazing ???? it was a bumpy road but quite scenic route. After bungee we went back to Rishikesh to stay overnight in a hostel.
Transport fare : Rs. 400
Bungee jumping cost 3500 + bus 300 + entree fee 100 + 800 for the CD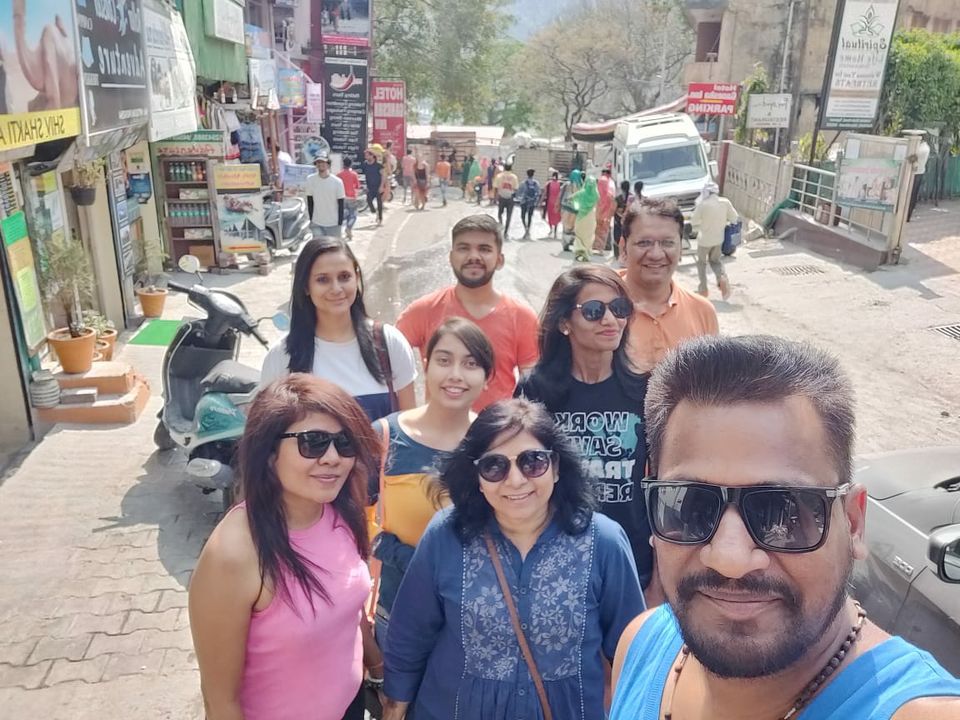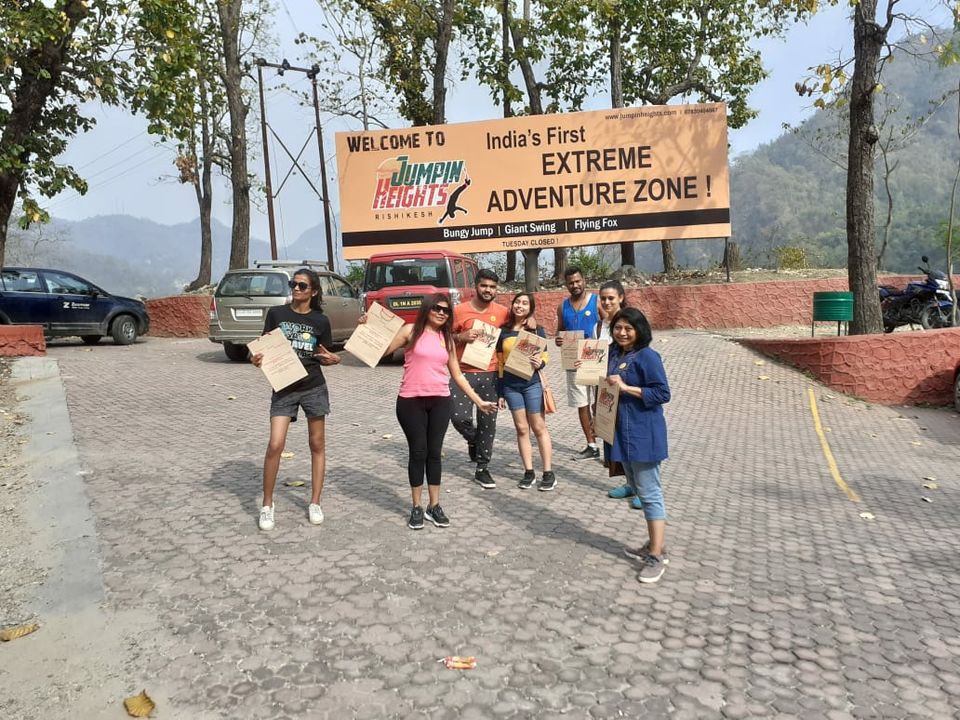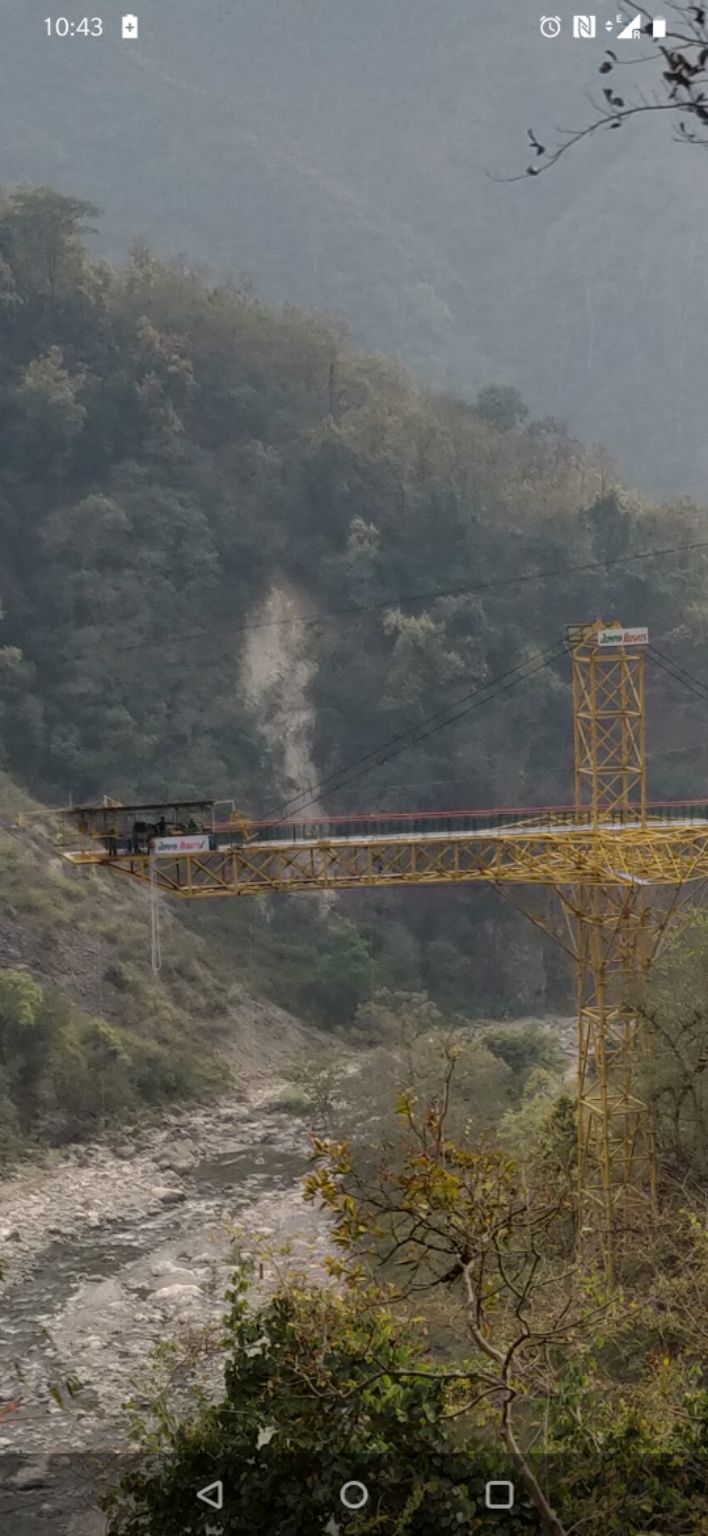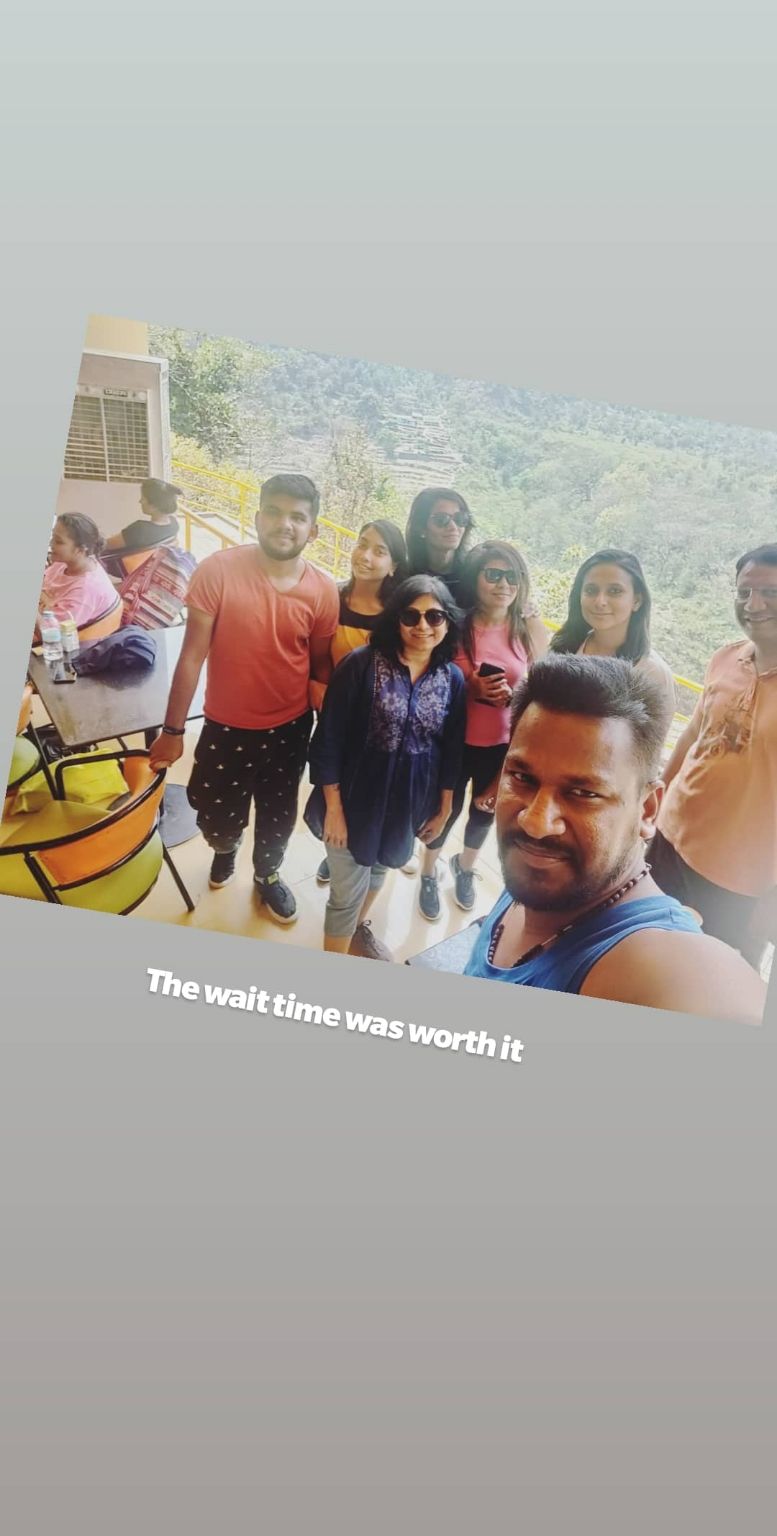 So after Bungee Jumping we headed back to Rishikesh to rest for that day.
Day 3 : We headed for the camping site which is about 40 kms approx from Rishikesh. The name of the place is Kaudiyala. We had booked everything online, the name of the camp was camp crossfire. Since we were 8 in a group, we hired a taxi from Rishikesh. The driver was really friendly, shared a lot of details and information about other places we can go to the next time we visit.
The pictures below are of the camping site we went. It was so peaceful there, I could just sit all day and night listen to the sound of the water going through the river Ganga. So we reached before 1:00 pm and they welcomed us with a drink, I think it was Tang. I really liked the tents too as it had clean bathroom..... yes, for me this is the most basic requirement :D I like my bathroom and the sleeping area clean. Fortunately, everything was good here from the tents, the water, the food and ofcourse the staff too. I remember one of my friend was not hungry and one the staff insisted her to eat as he said they would feel that there's something wrong in the service or maybe they did not like the food. The food was also really good, we enjoyed the evening snacks and tea as well. Before the evening snacks, they took us to a nearby place to see a waterfall, it was a small trek. After that at night we had a fun night with friends. At night they arranged a bonfire for us and guys it does gets cold at night. We sat for almost 1:00 or 2:00 am as the weather was lovely and since we were all friends, we enjoyed talking and also the sound of the water flowing was just too soothing. It was really a memorable fun night. Next day was our rafting day
Camping cost : ₹2800 including rafting and ₹800 for rafting videos and pictures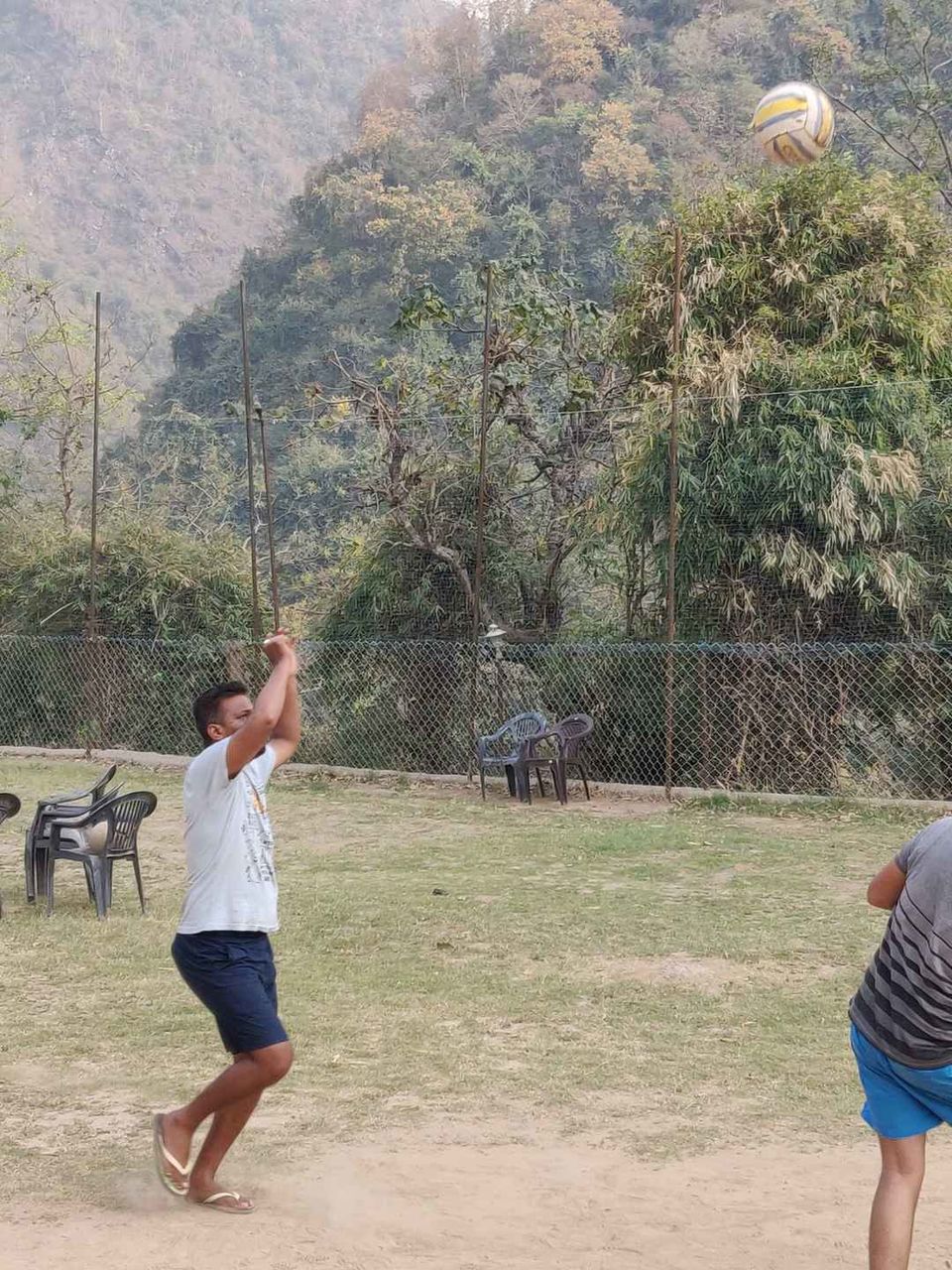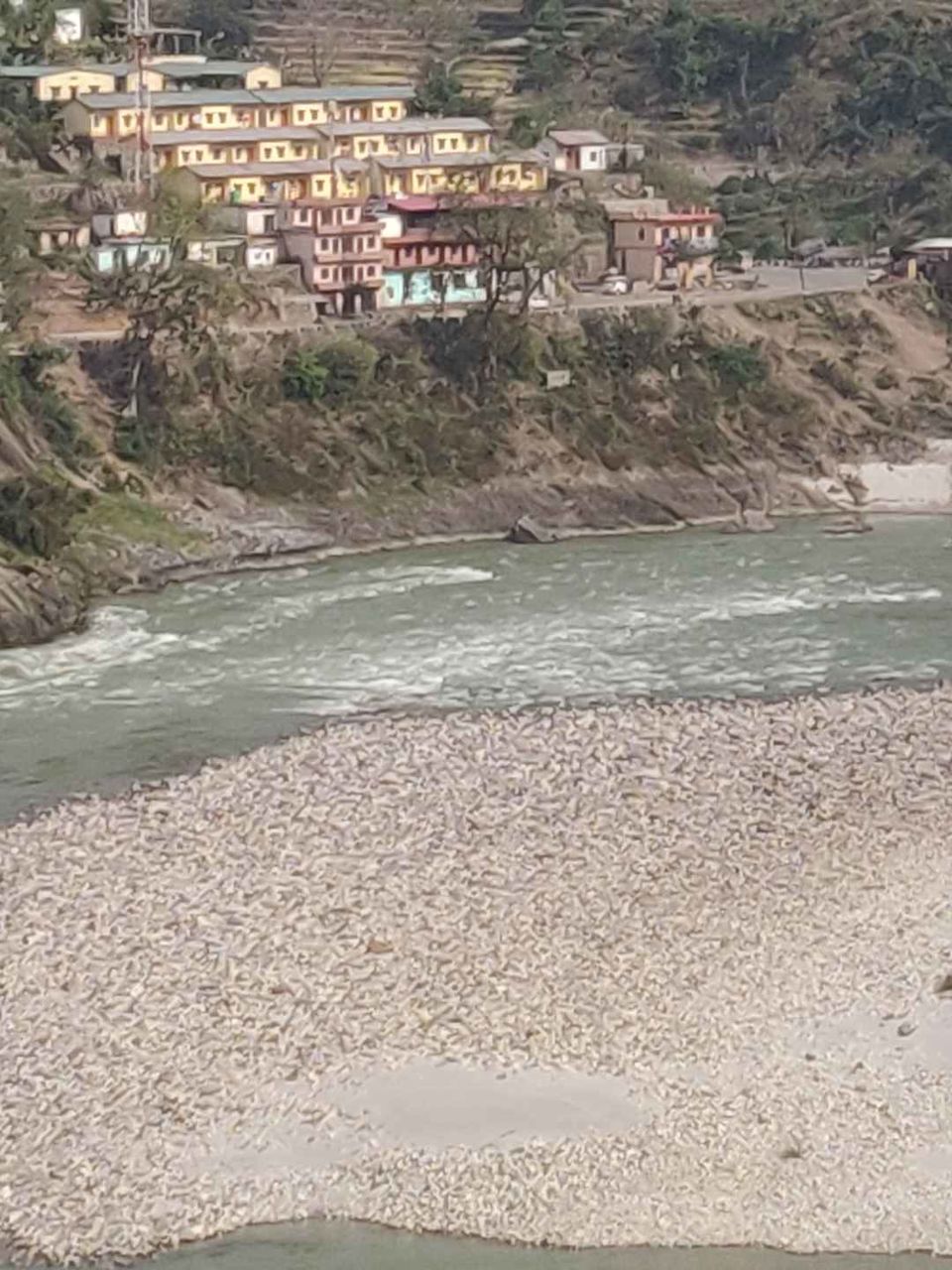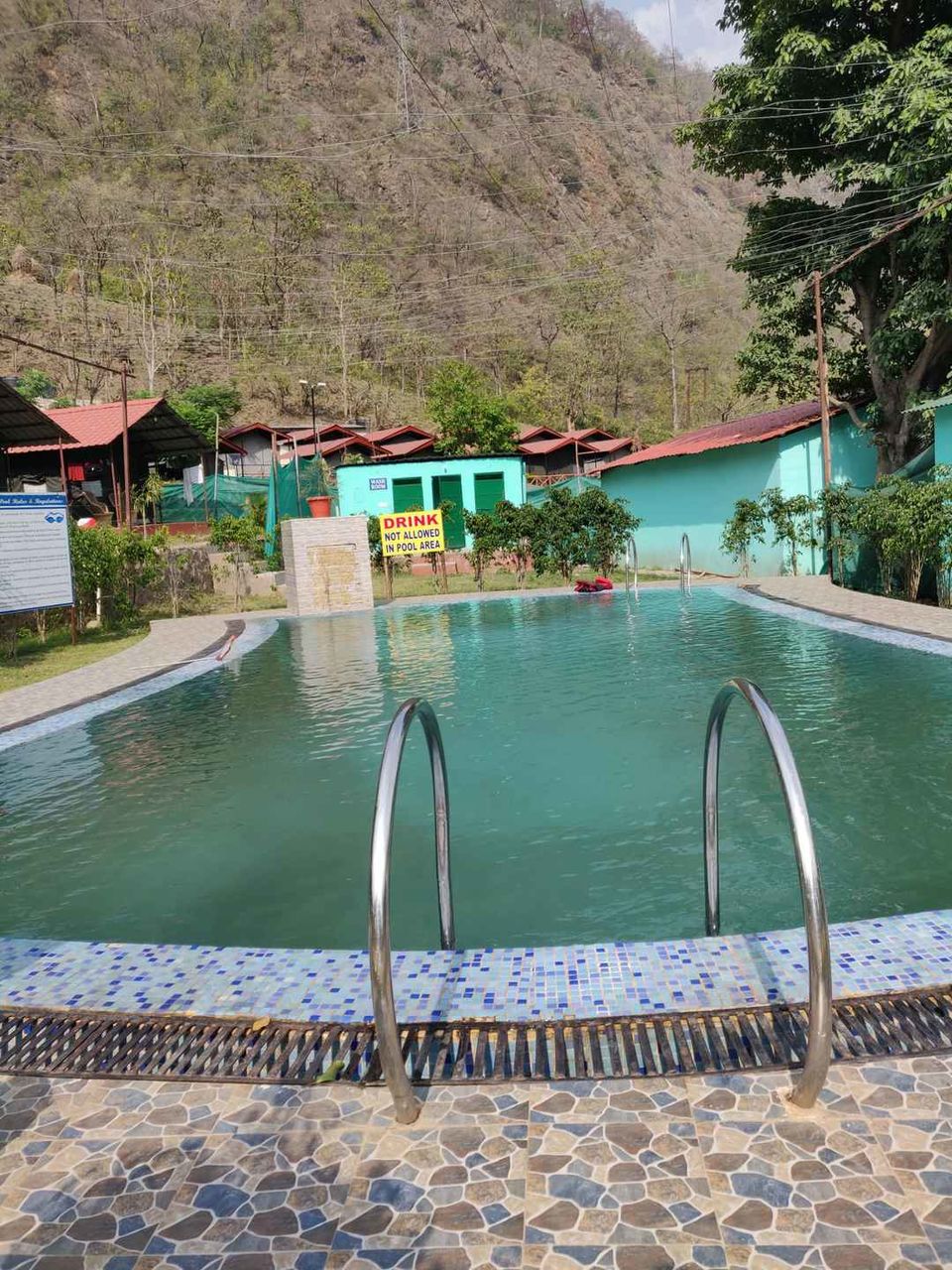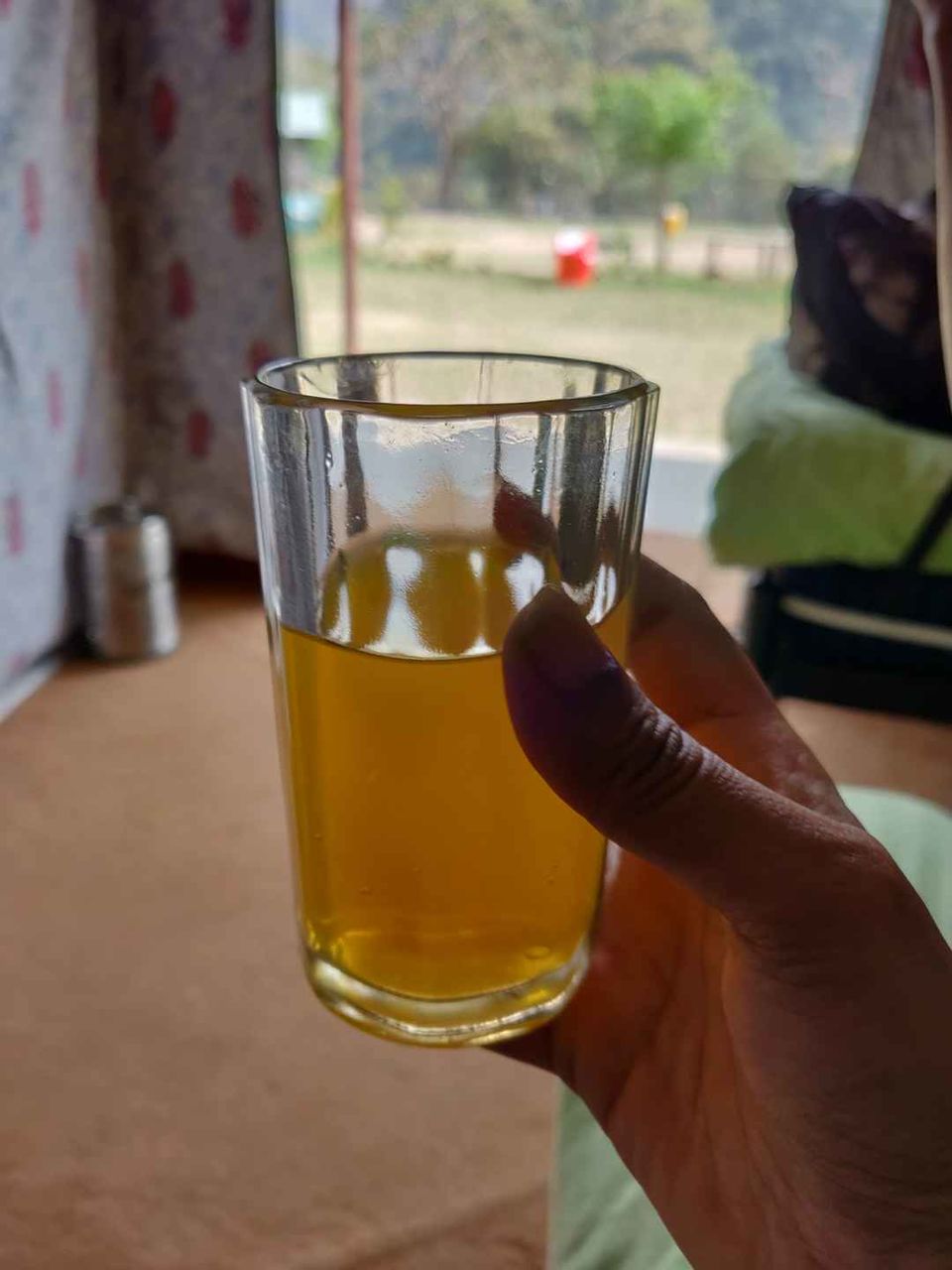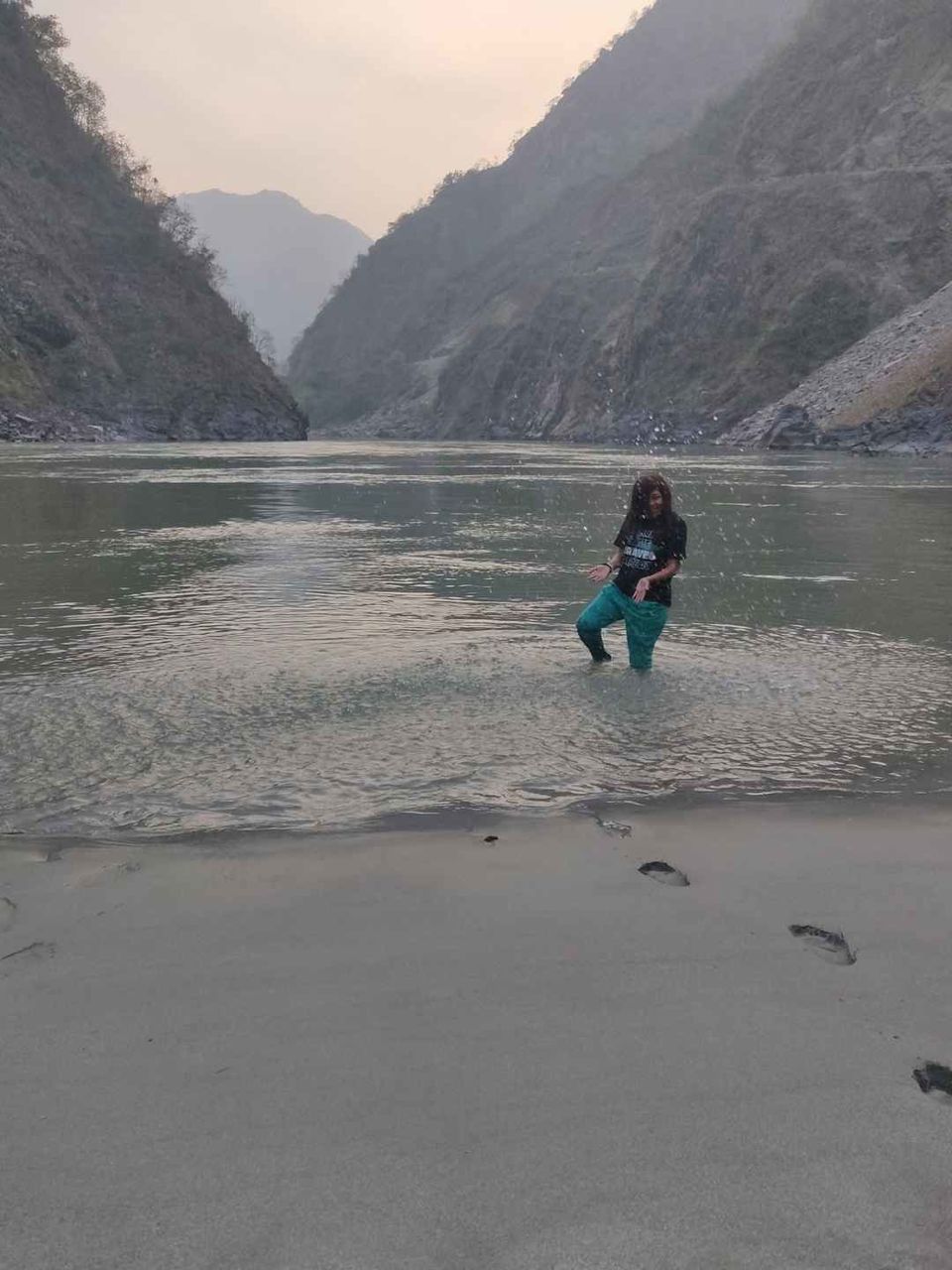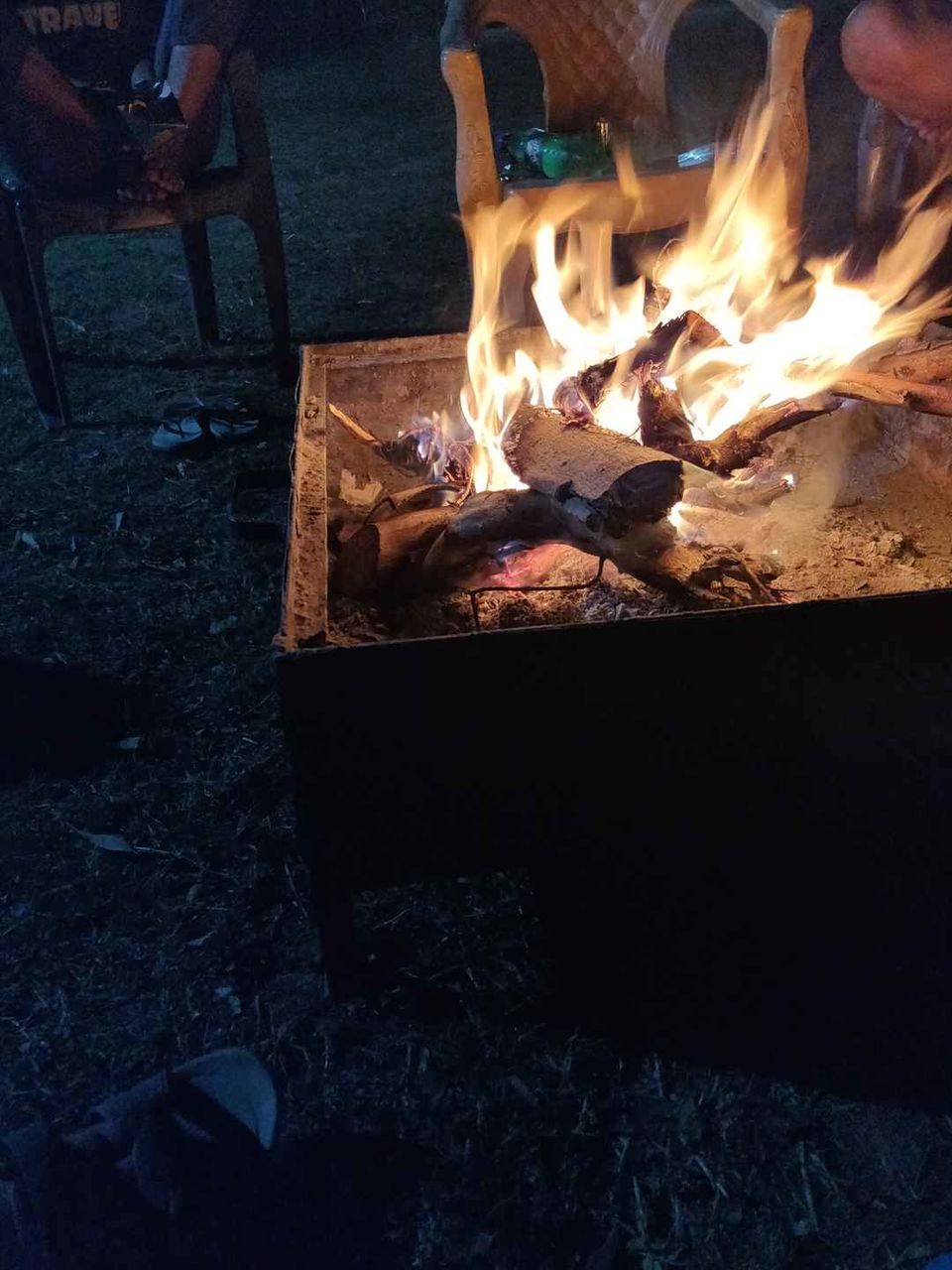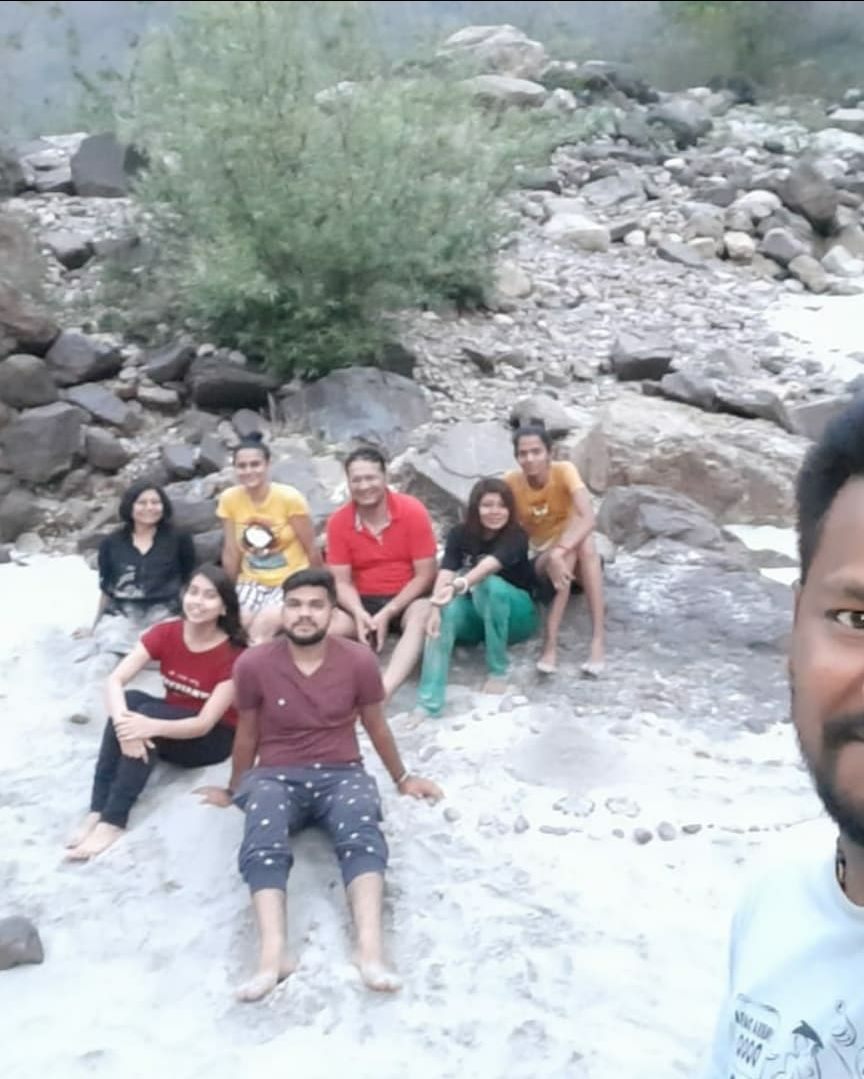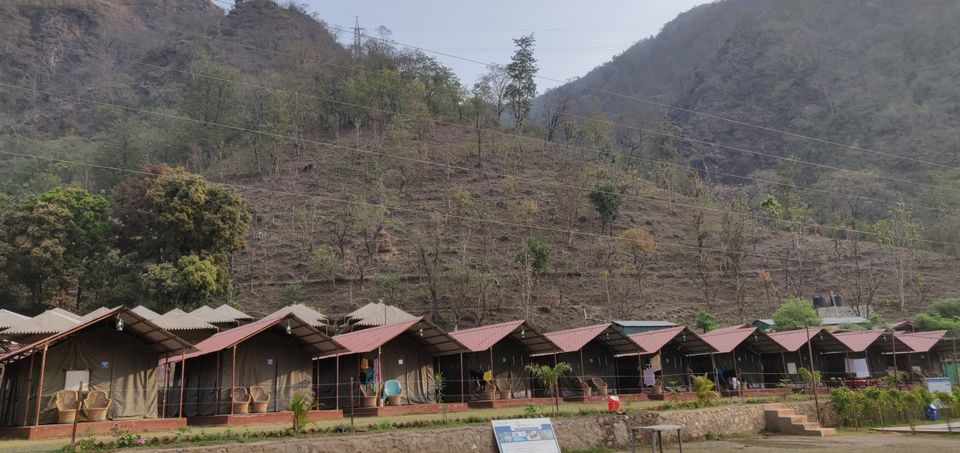 Rafting
So Day 4 it is... We were so excited and just like I'm afraid of heights I'm also afraid of water as I have had my own funny adventures in past and have gone through some situations so basically in Bungee I wasn't scared from the beginning but here I was worried about like months before the trip was planned. We reached to the rafting site where we met our guide cum trainer Santosh, quite funny lil guy. Before going to the water he gave us all the basic instructions and gave us the safety guidelines. That itself gave me a lil butterfly feeling but then we had to do it so we sat in the raft cheering up : the main sutra was "Ganga Maiya Ki Jay" we must have said this almost till we reached to where we ended and yeah there's another story about it too. We crossed almost 6 rapids and were at the Maggi point. The weather was getting a bit moody and I saw the clouds coming towards our direction. Santosh, here asked if we wanted to go further but he explained at the same time that it could be risky if it starts raining. Well, well! We still left from there and it started to rain, not just rain, it actually poured! Fortunately, we were close to the bank so got out of the river quickly but the weather was going crazy, it was so windy felt like storm, we couldn't even stand there as it was raining, it was cold and on top of that it was windy, it was like a sand storm. Our guide and the cab driver were trying to handle the raft and tie it on the taxi but it was so windy that it was getting difficult for them too. Somehow, we all got into the taxi also helped one old couple who had to go back to Rishikesh. Some of my friends got totally drenched as they couldn't sit inside the car while coming, they were standing till we reached to our hostel. They said they enjoyed the ride, and had a different fun experience.
Now about the Rafting, o well well..........We started off with their sutra Ganga Maiya ki Jay....and at many points our rafting guide would ask us to say it, it is not just said for fun but he mentioned that it is said to give respect to the river Ganges. Let me tell you that it is real adventure and real fun; one should definitely go for rafting once in a lifetime, a must must and a must thing to do or whenever they can go just go for it. It is very much safe unless you don't play with water. Keep in mind the safety guidelines and you'll enjoy each rapids. The rafting starts from Kaudiyala to Rishikesh. Btw remember, I said I was scared of water, but after the first rapid passed, I was having hell lot of fun... I was screaming and enjoying the cool waves and the water. I was so so happy that I decided I will do as many times as possible if get a chance in future. Not just that, we even dived in the water all of us until the instructor said there are crocodiles in the water :)) & by far even this instructor Mr. Santosh also asked me if I was a Nepali or a pahadi, he was the second one to ask so far and by the end of the trip, I was asked by almost 8 people if I was an Asian, Filipino , Chinese or from northeast but no one asked me where do I come from and even after telling them I'm a gujarati...they couldn't believe, seriously!!! I'm an Indian people..c'mon :D
Overall camping and rafting cost : Rs. 2800 including food.
Campsite : Camp Crossfire
Transportation cost will be additional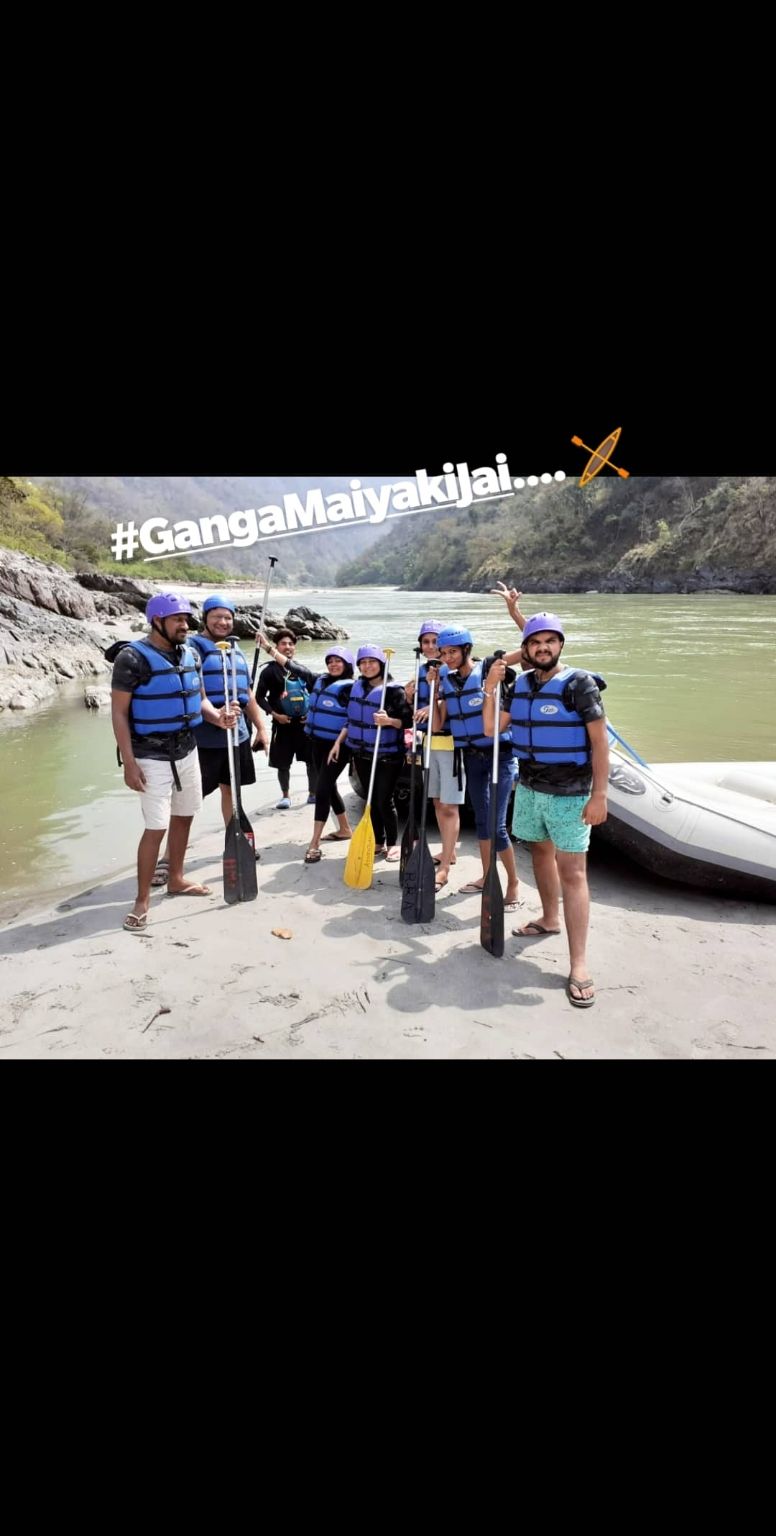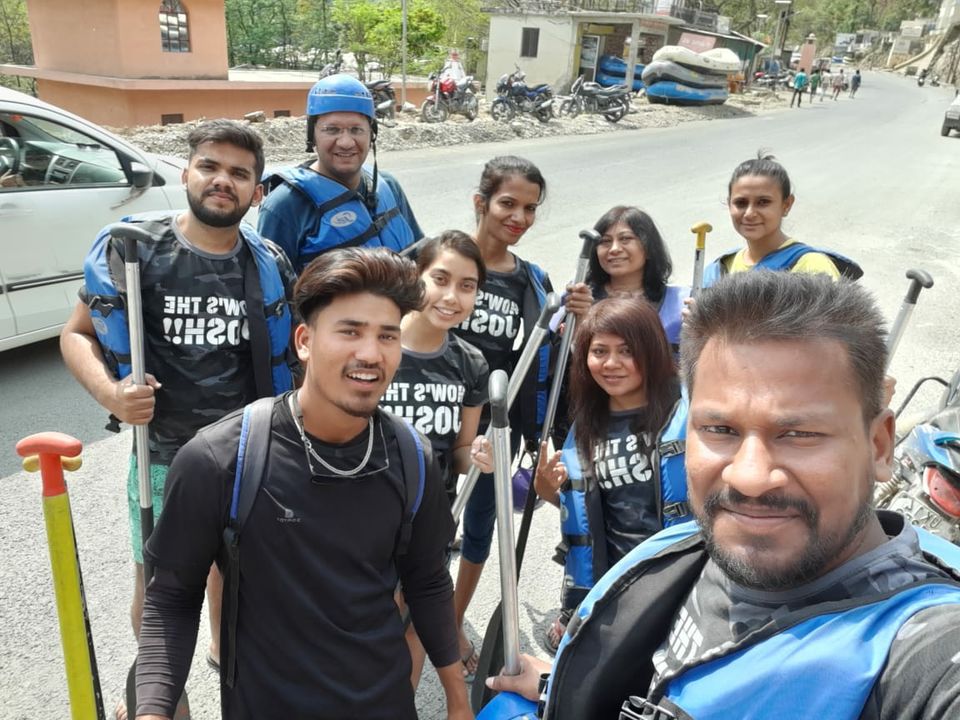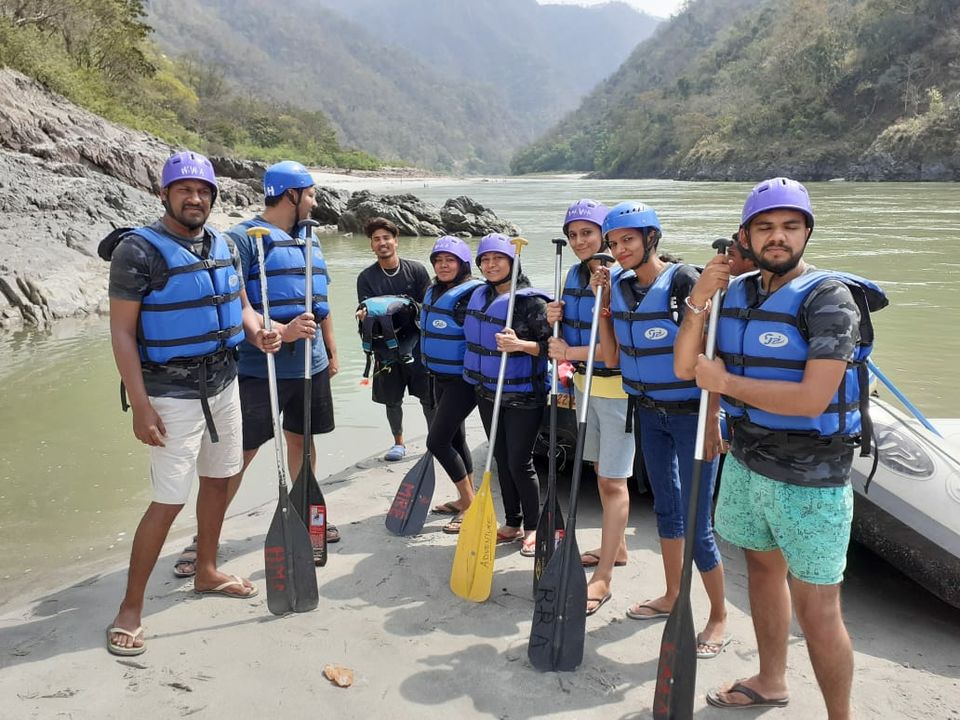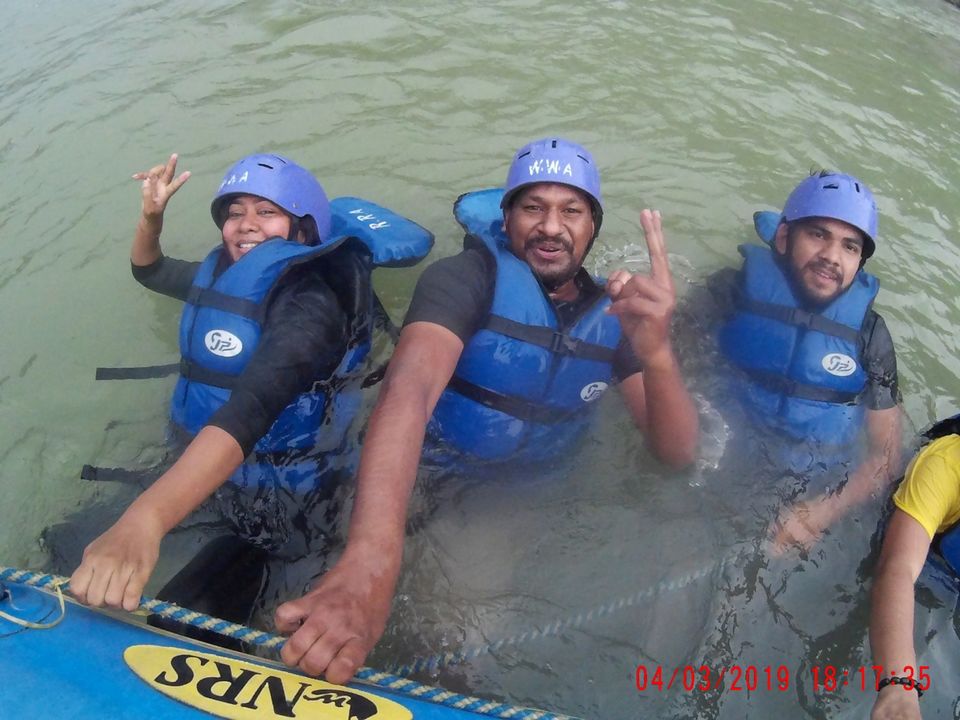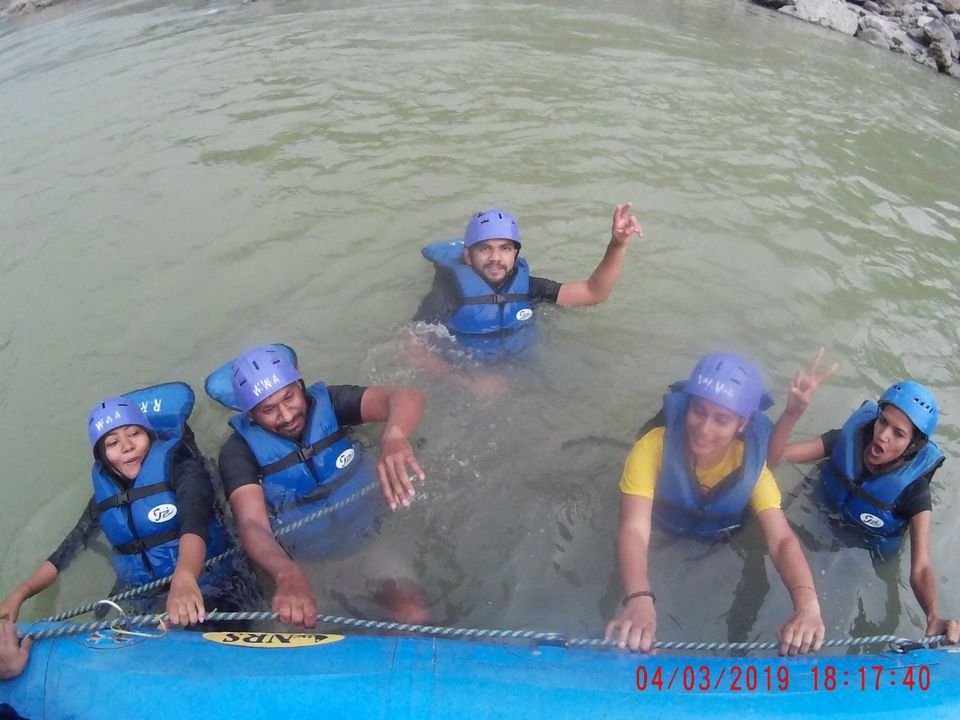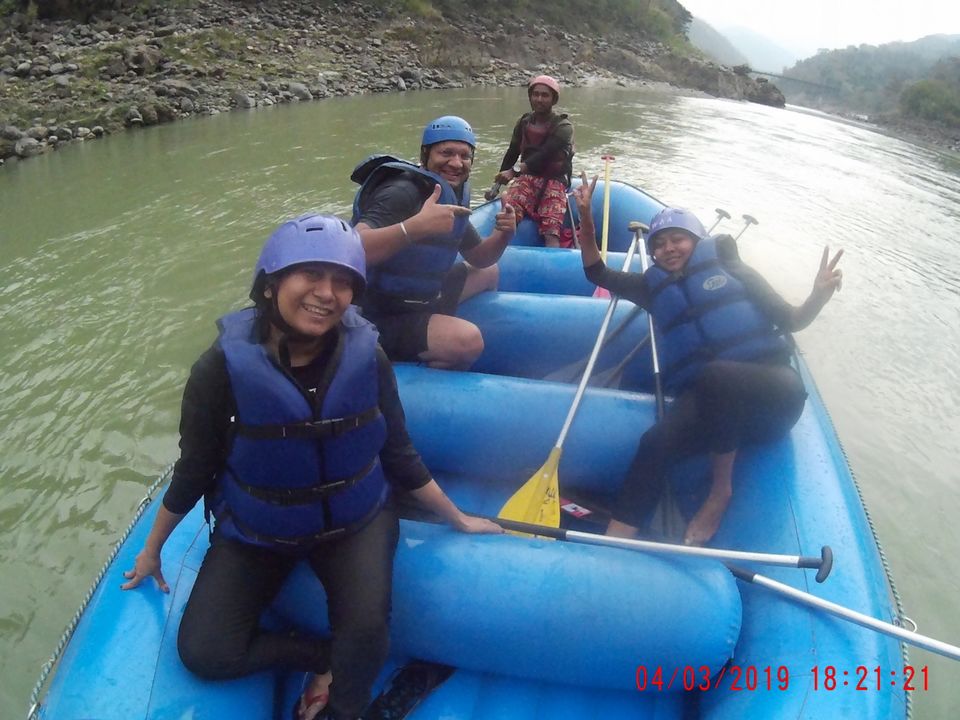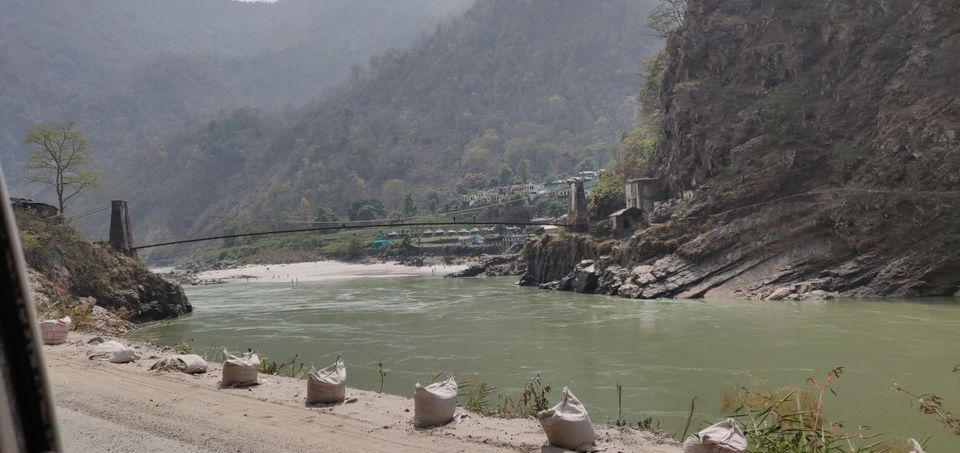 Rest
Day 5 - 2 of the members left for home and our plan was only to rest that day. Although, we still went out for a while, we had rented Scooty and Activa to explore the nearby places. This day was relaxing, spent time in the hostel and the cafeteria there. In the evening, we went out for Ganga Aarti at Triveni Ghat. The Ganga Aarti in Rishikesh is one the best and not to be missed, the Aarti is performed by the local Pandit's so beautifully, that attracts the crowd, yes..let me tell you that the place would be crowded but it's still safe and people don't misbehave so nothing to worry there, people are actually glued watching and listening to the Aarti, the feeling and the aura of that particular time is completely divine. After the Aarti, we went for the dinner and then later at night, we went at the ghat nearby laxman Jhula, spent some time with the holy Ganges and I don't know why but it is just too peaceful out there. There's a different positive vibe I get, I wish I could go there everyday and spend my entire life there. FYI: It's very safe going to the ghat at night;however, we should always be careful. While sitting at the ghat, the sound of flowing water felt like meditation music. It was simply elysian ♥️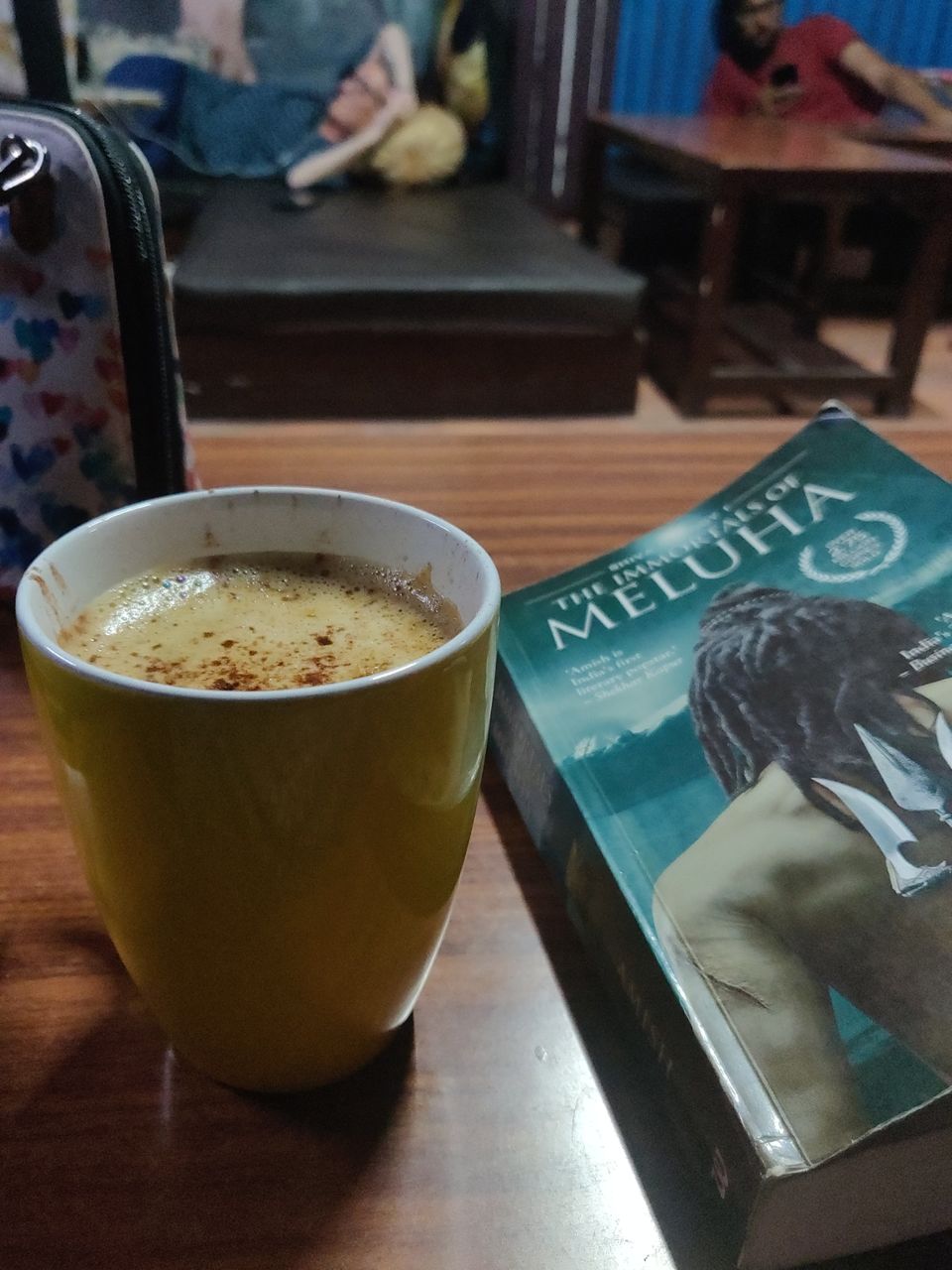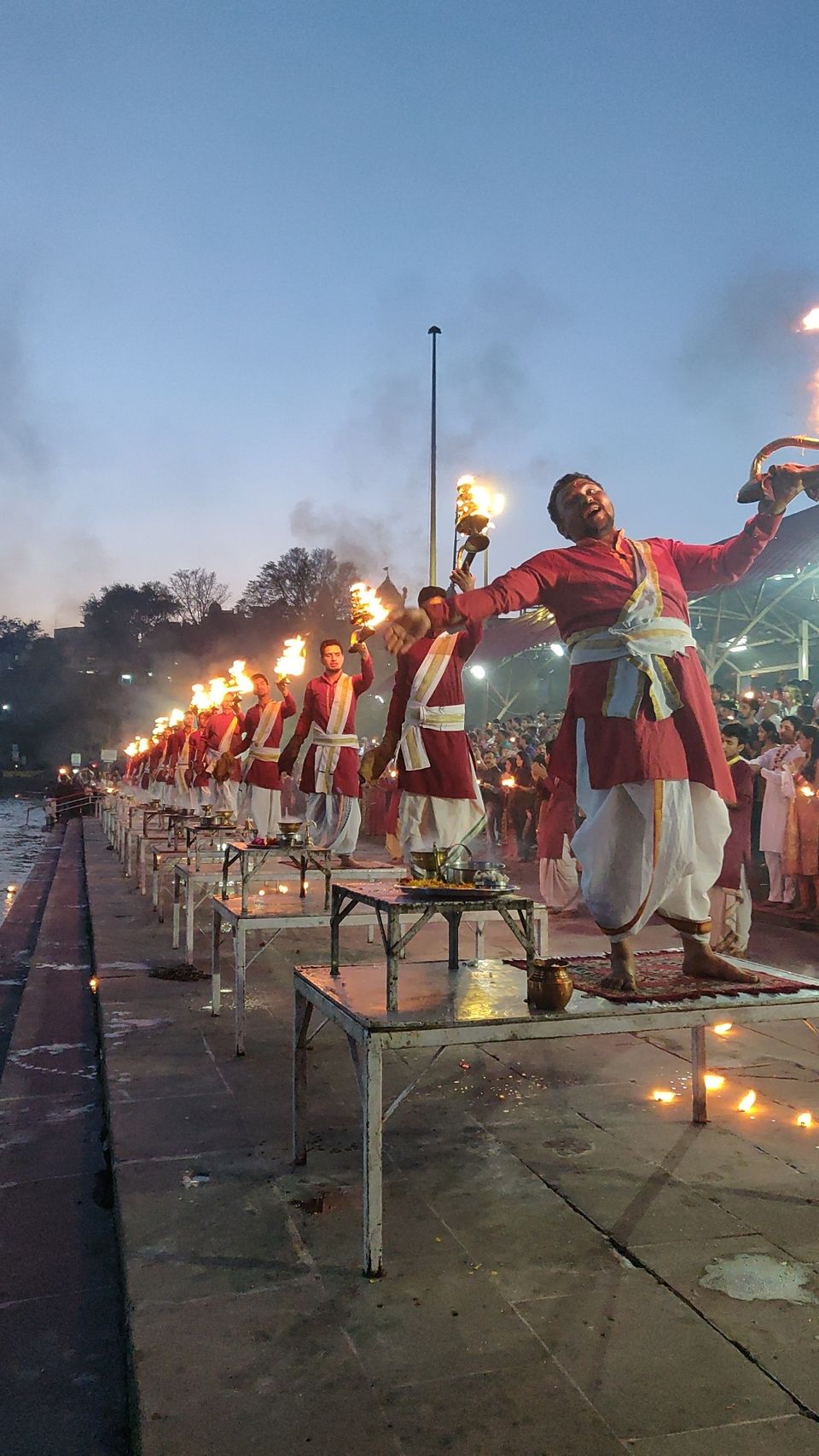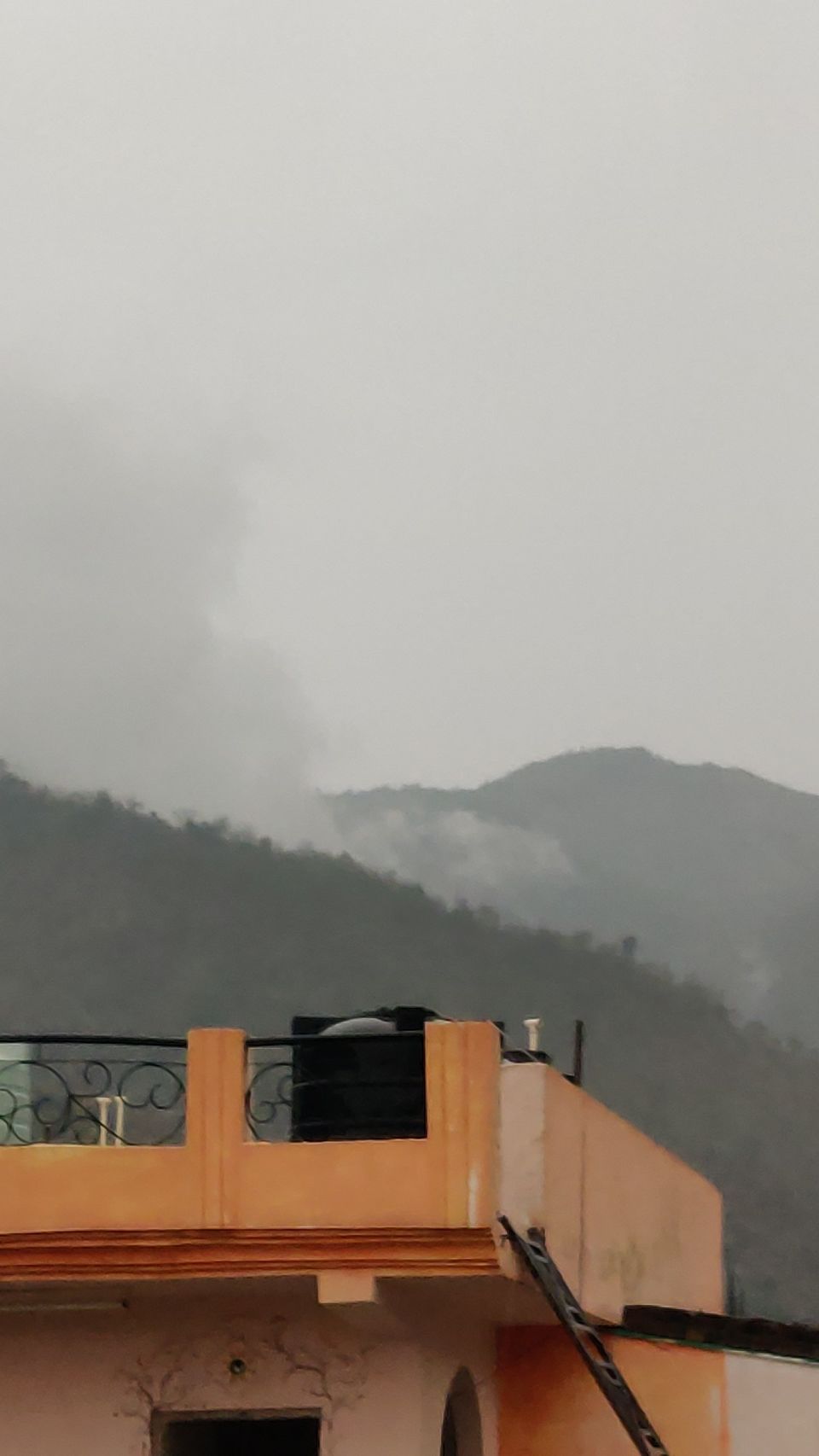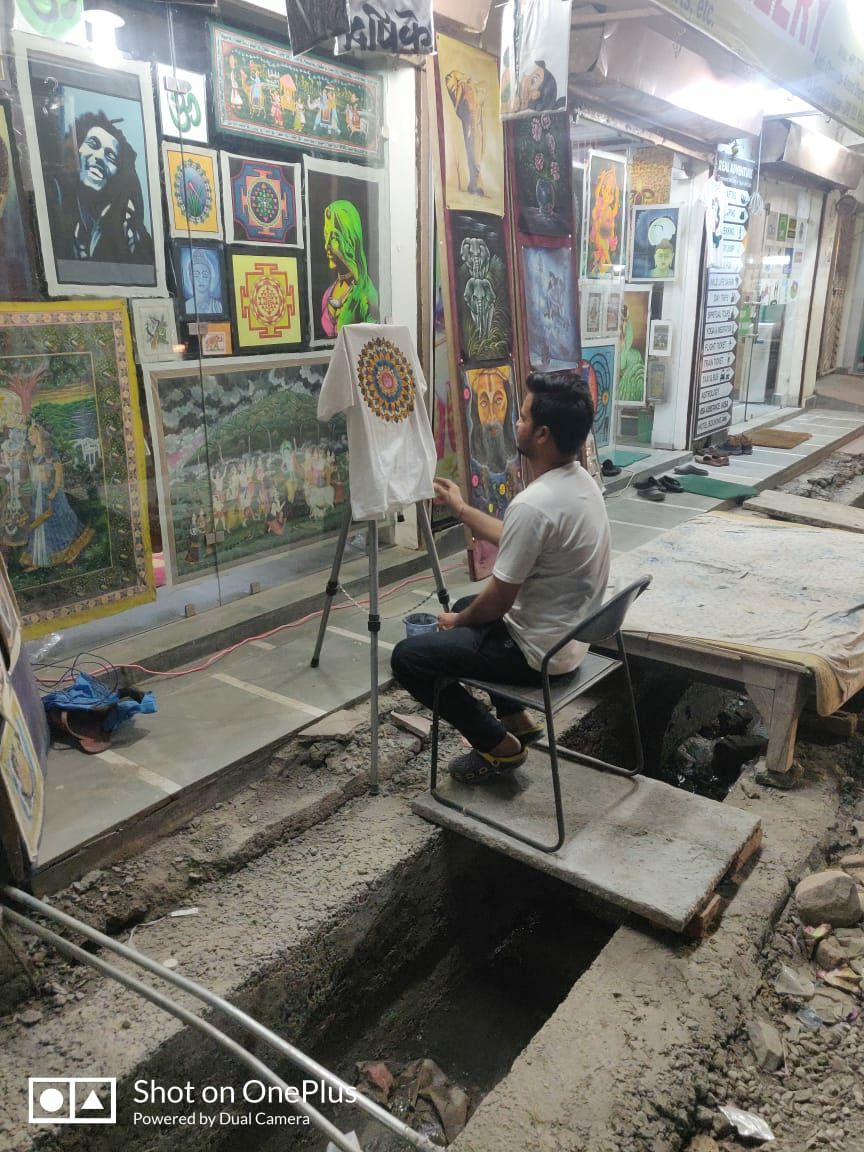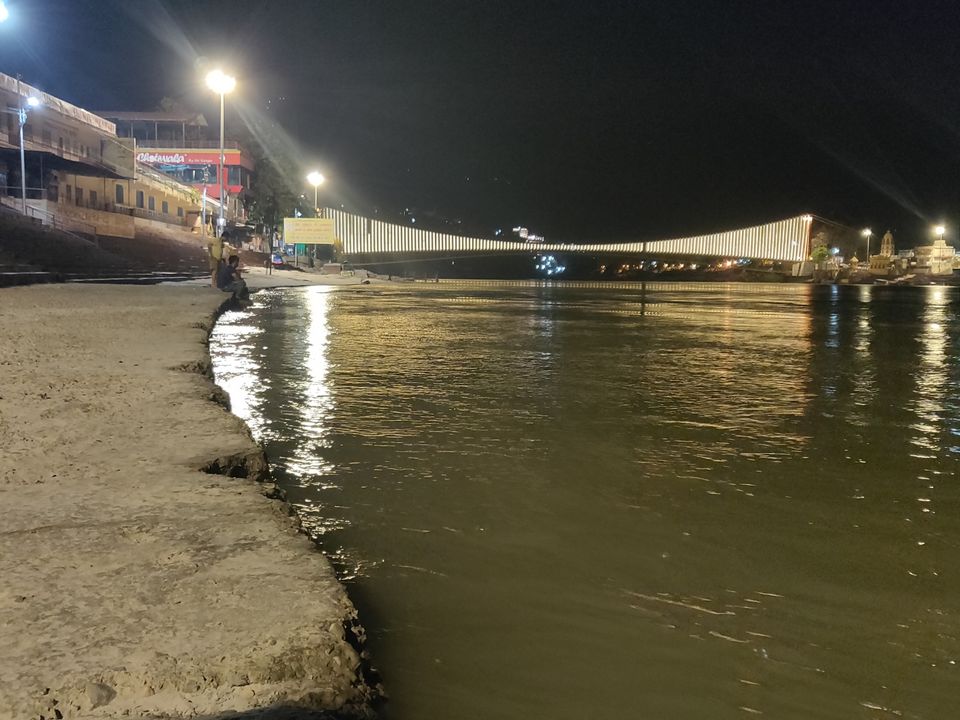 Well well It was day 6 and I woke up sick, no idea what happened as soon as I woke up, I puked a couple of times, I waited till the shops would open, there was a medical shop right outside of the hostel, I took the medicine and the ORS powder so I can have that water all day to keep myself hydrated. Although it was a tough day, I urged to go out, me and another friend of mine, went out and it wasn't that hot that I would fall sick so I just did not want to waste any time. First, we went to the Chaurasi Kutiya and to the Beatles Ashram inside the Rajaji Tiger Reserve. There's a entrance fee of Rs.150 for Indian tourist and Rs. 600 for the foreigners. The Chaurasi Kutiya was earlier knows as "The Maharishi Mahesh Yogi Ashram". As the name itself suggests that Maharishi Mahesh Yogi must have visited the place and then built these small pods or huts. The only thoughts I was getting in my mind "How in the world" they would have built this place! As even right now its quite difficult to get materials to even build apartments. There are many steep stairs we have to climb to reach to these huts and the place was built in 1960 somewhere when there was no transportation facility or zero technology. Now the whole place is managed by the military and it was kept quite clean when we went. We explored a bit of Chaurasi Kutiya, there are 84 caves inside the place and I could feel the peace and tranquility of the place. The sound of the water flowing in the Ganges river. Went ahead to explore the place more and saw the beautiful views of the river. Back then it must have been the most enchanted place. It seems it must have been the best place for meditation for yogis and all those people who got the privileged to live in these kutir's. Now if you see I mentioned about the Beatles Ashram, yes even the Beatles were blessed to stay here. 84 Kutiya is also popularly known as Beatles Ashram, as this is the place where the Beatles stayed when they visited Rishikesh to learn Transcendental Meditation from the Maharishi. They composed a lot of their songs here. It is believed their stay in early 1968 at the Ashram was one of their most productive periods as musicians. There's a photo gallery inside where we can get more information about the place and ofcourse about the stay of the famous band. The area of this location is called Swarg Ashram and it definitely must have been like heaven in those times.
Chaurasi Kutiya is open from 9 AM to 4 PM daily.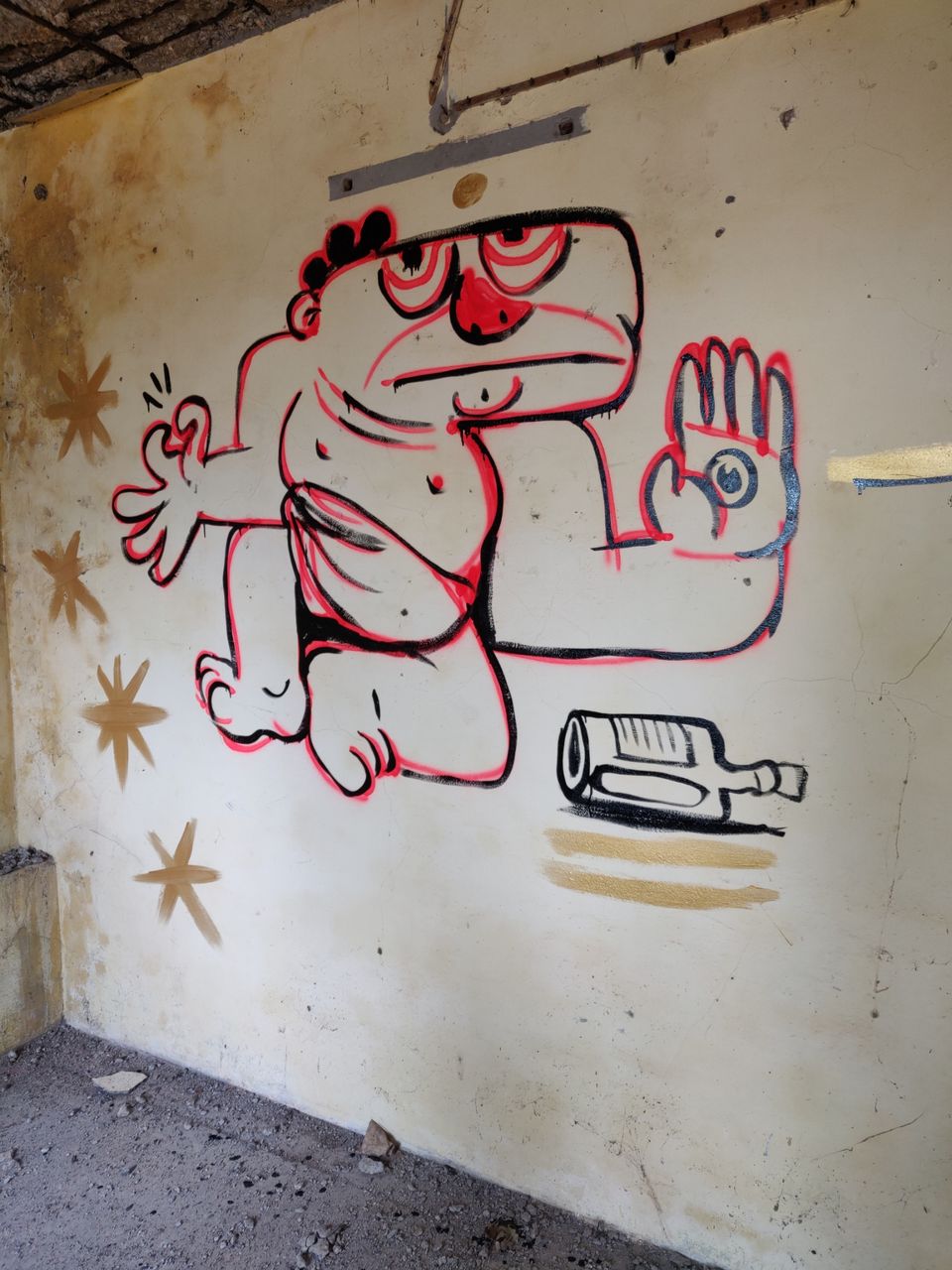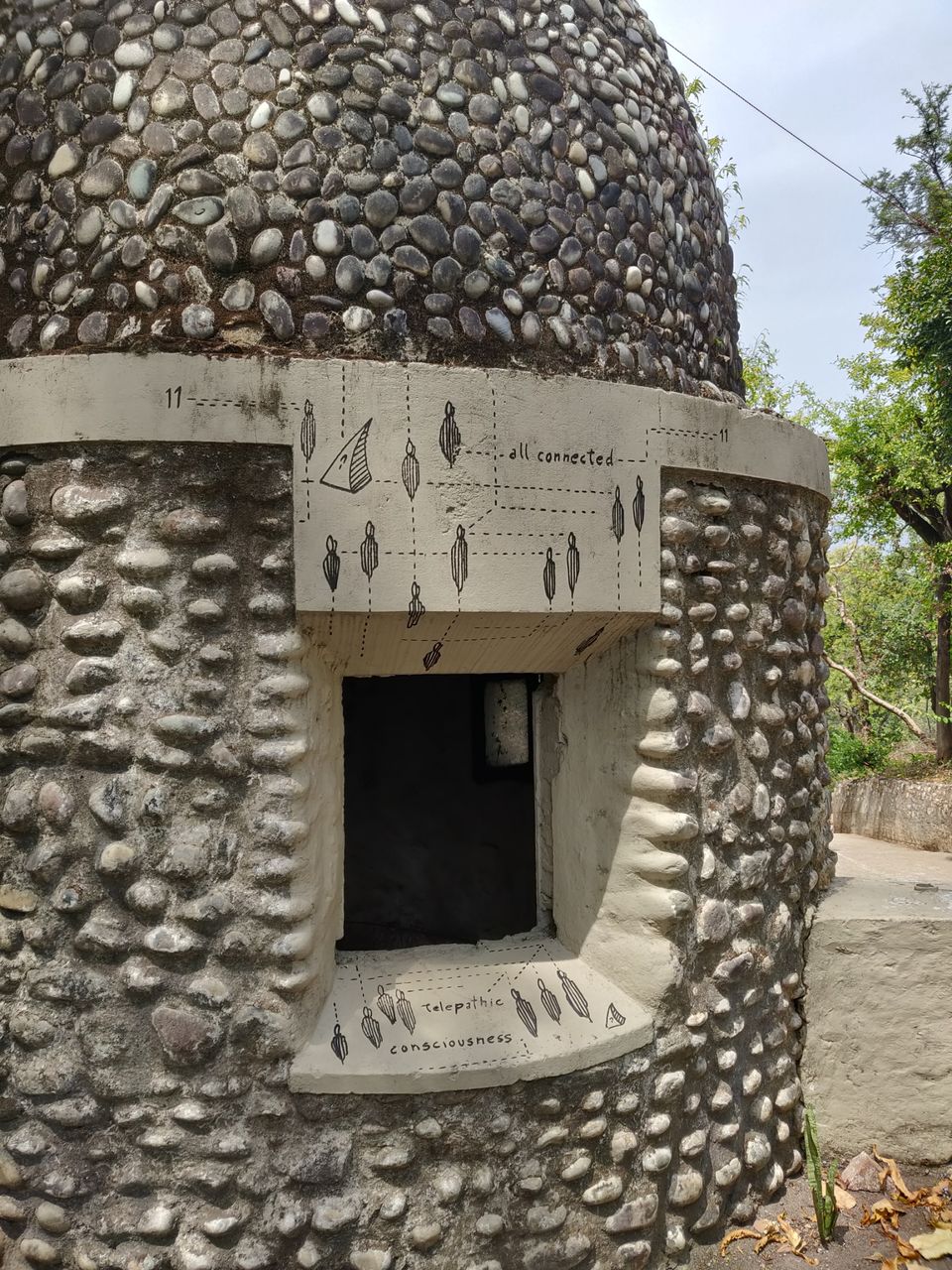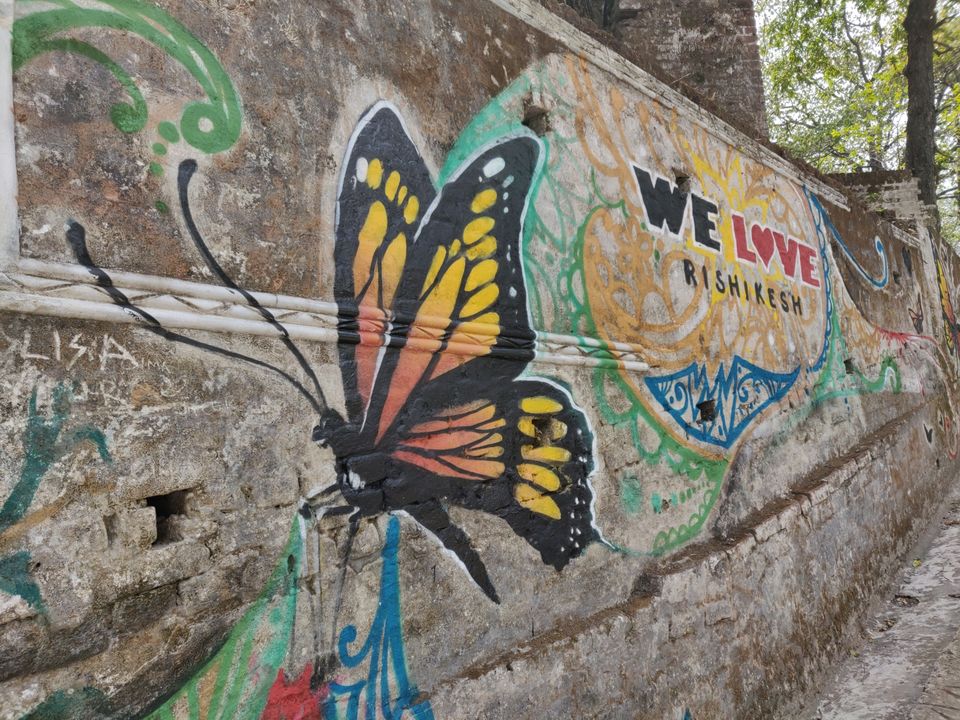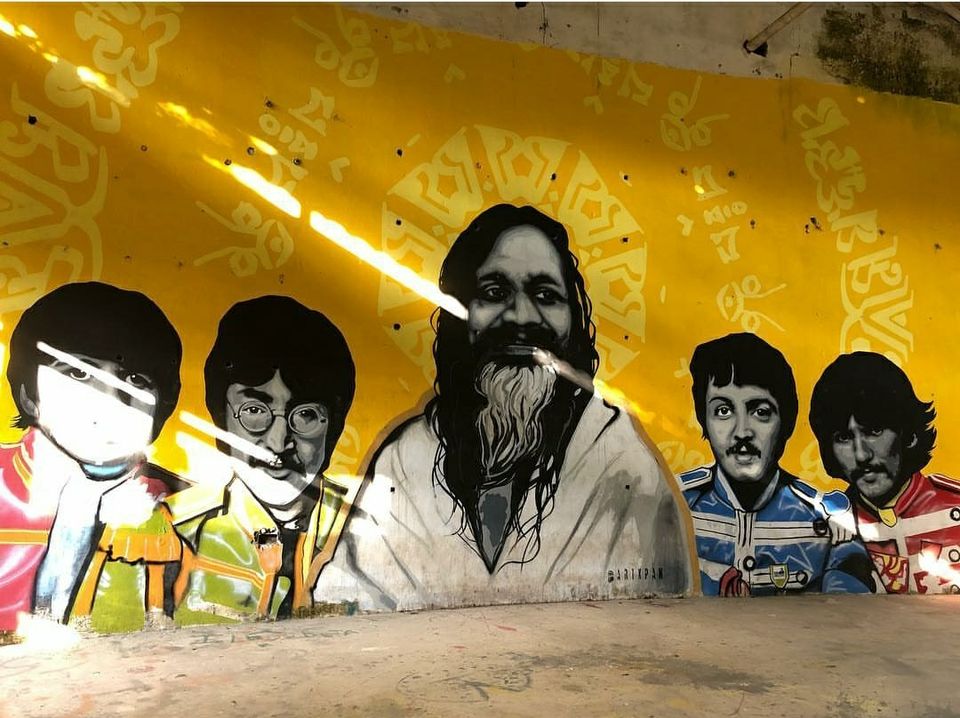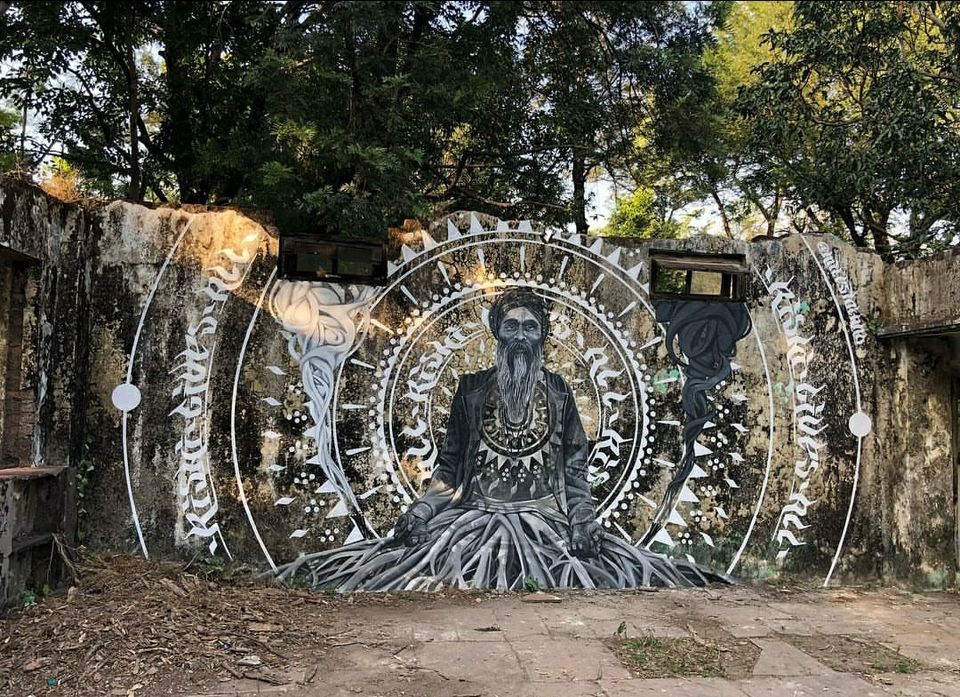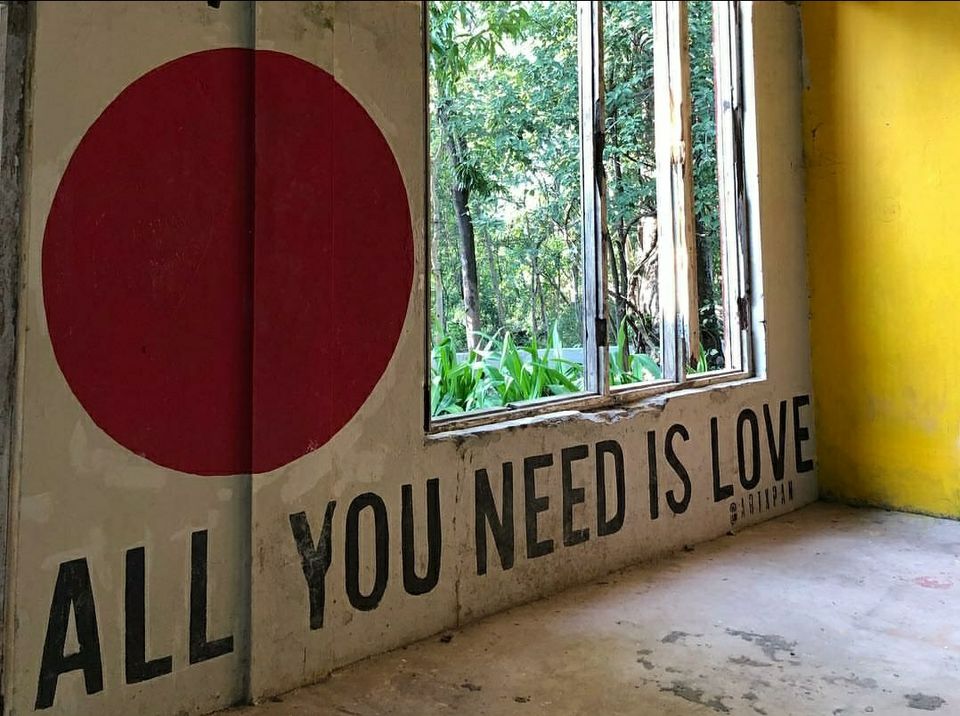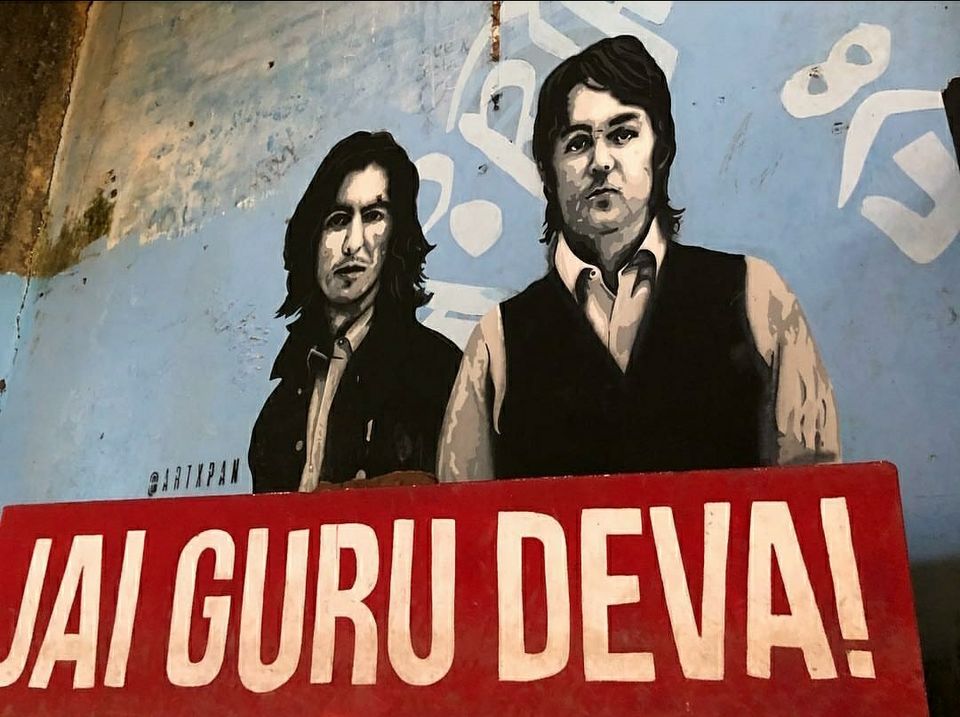 Haridwar - After visiting the beautiful Beatles Ashram, we headed for Haridwar; however, we received a call from one of our friends who wanted to join so we took another turn and went to the triveni ghat. It was almost 1:30 or 2:00 pm and let me tell you even at this hour, we couldn't feel the heat there. My friend and I sat there for a while, there were many people sitting and resting there. Although there were people talking around we could feel the peace and positivity around the place. We sat there almost an hour, had tea and then headed to Haridwar. I couldn't eat as I was sick but hey even though I was sick I wasn't feeling the sickness and I was not even bringing the thoughts that I was unwell. Anyway, well it takes about 30-40 minutes to reach Haridwar from Rishikesh on bike. Bike ride is always fun on these roads, you will pass the jungle areas and that looks beautiful and at every few minutes you'll see boards alerting you to be careful not of Tigers but of Elephants, o Yes, we saw 2 wild Elephants luckily they were not on the roads. They say these Elephants can harm you but it didn't look like they would harm, they looked so calm like they always do. So after reaching there, my friend who was riding the bike saw some rabdi wala and Gol Gappa and who would stop oneself of eating gol gappa!!! I was sick but I really wanted to eat as I just love gol gappa, we call it pani puri here and I ate atleast 3-4 from their plate. Feeling of eating pani puri is just something we can't express haha! After the eating session, we headed to Har Ki Pauri for the Ganga Aarti. We saw it was getting crowded, there's a lot of crowd and more than we saw in Rishikesh. We had to take a place to get the views of the pandits performing the pooja and aarti. The aarti started and everyone got their places, there people pushing as well and yeah there were few people roaming with a receipt book asking for charity. This was one thing I observed there were so many people going around and asking for money that way, it was quite annoying as they were coming while the aarti was going on. Otherwise the overall experience was really good. The place was also clean and I saw that the water flowing through that channel was heavy, one could even flow in that water whereas in Rishikesh, the water is quite calm and I don't think anyone can be drowned in that water at Triveni Ghat. So after the aarti session, we all headed back to Rishikesh, it was quite late, we even got stuck in the traffic. We had our dinner after reaching back to Rishikesh and rested for a while at the hostel. Oh wait, while we were on our way to have our dinner, we saw a baraat going, don't worry we didn't join the baarat :p but I wish and luckily we went to the same hotel for dinner where even the wedding was organised. The music was so loud and we came to know that a local guy was marrying a foreigner and everyone in the wedding were looking so gorgeous in the Indian attire esp. the people who came from bride's side I guess as most of them were foreigners, the Indian look on them was just so beautiful, they were enjoying every bit of the wedding and we could see everything from the place we were sitting at. We even danced a bit on the Punjabi music, the owner of the hotel saw all of us enjoying the music and then he came to us, told us many things about the local traditions and about the groom and the bride, how the arrangements were made etc., Next day we had planned to checkout some nearby places like Neer waterfalls and few other small places.
Below are some random pics of Haridwar - Har ki Pauri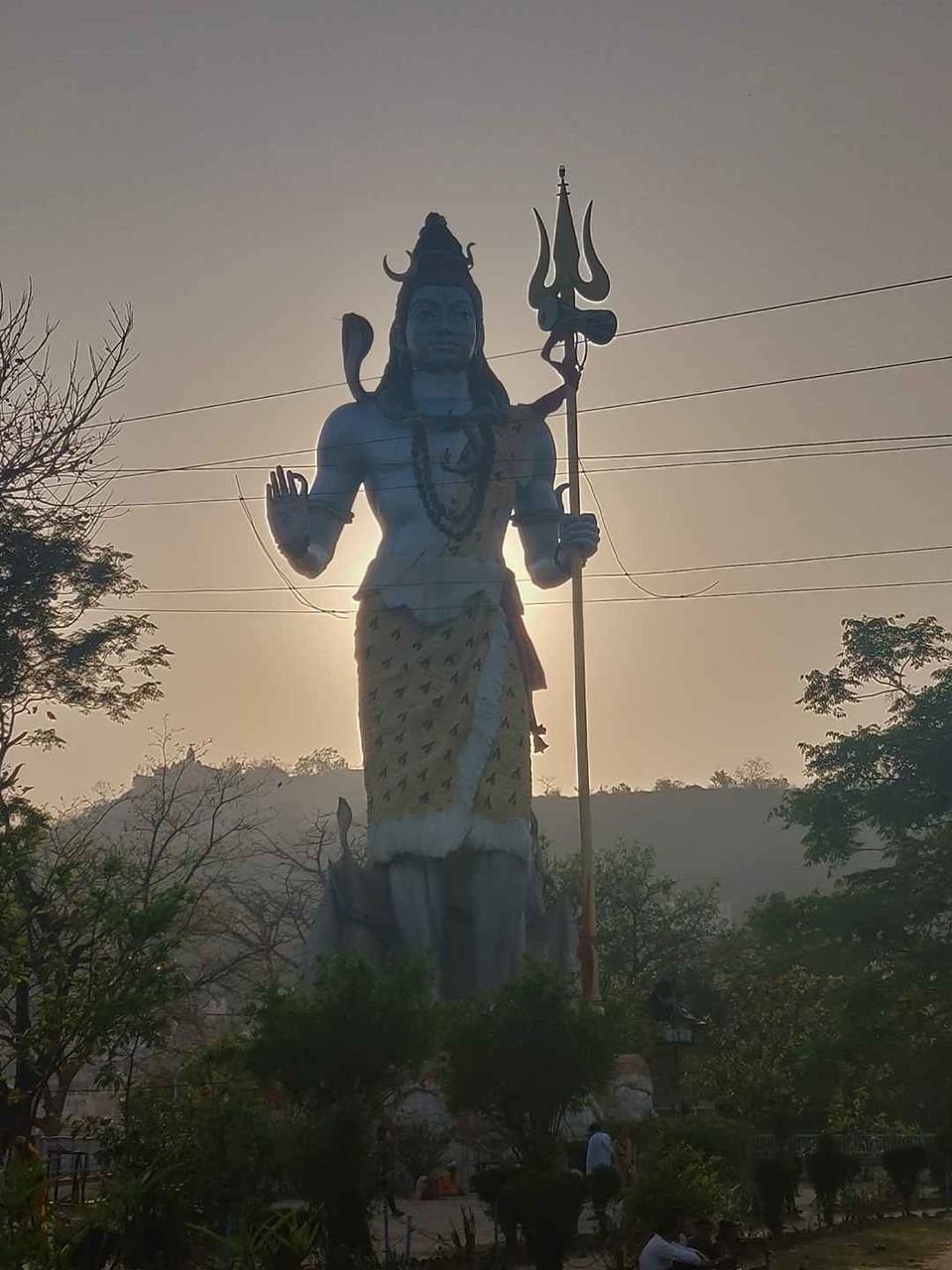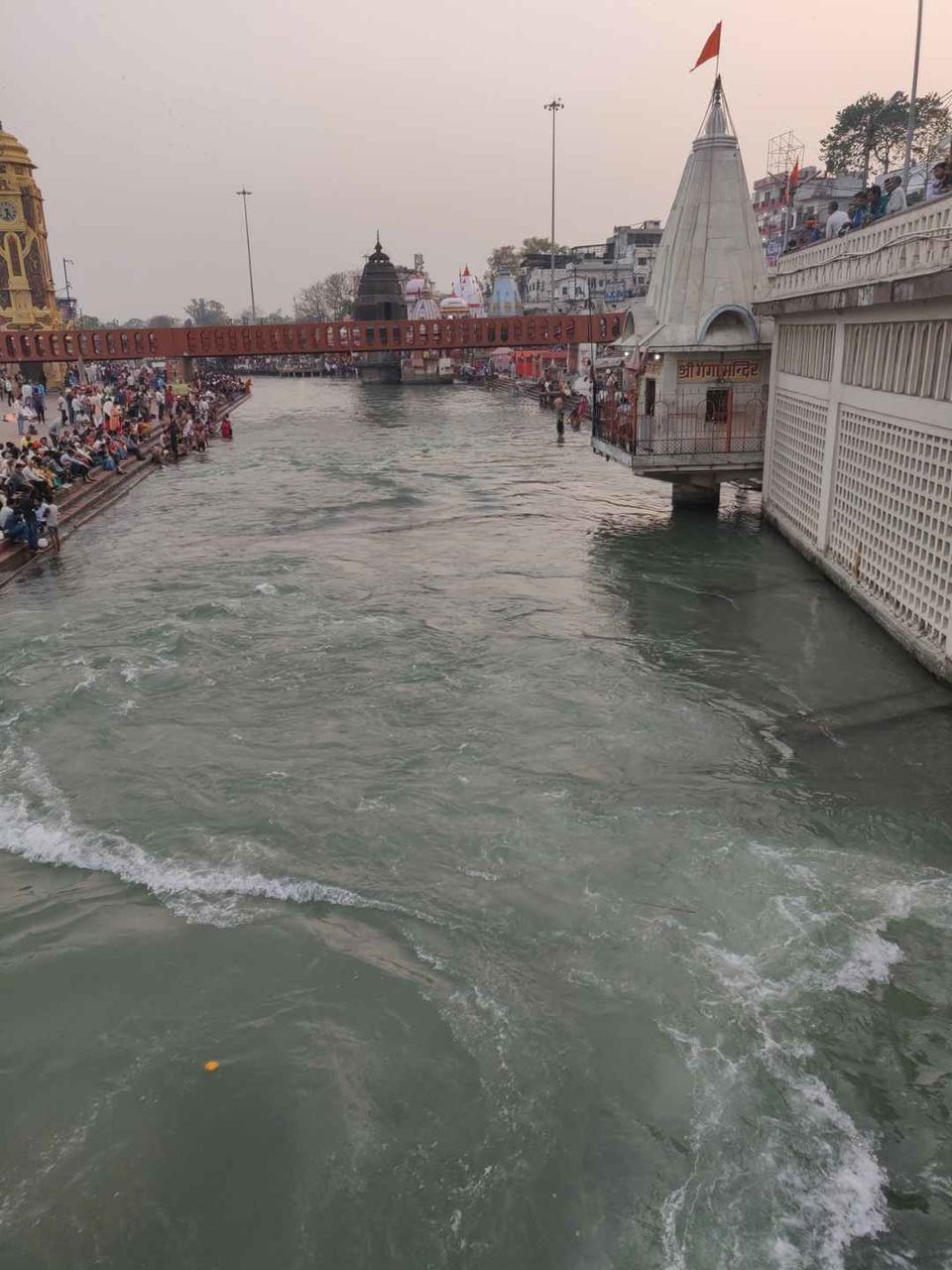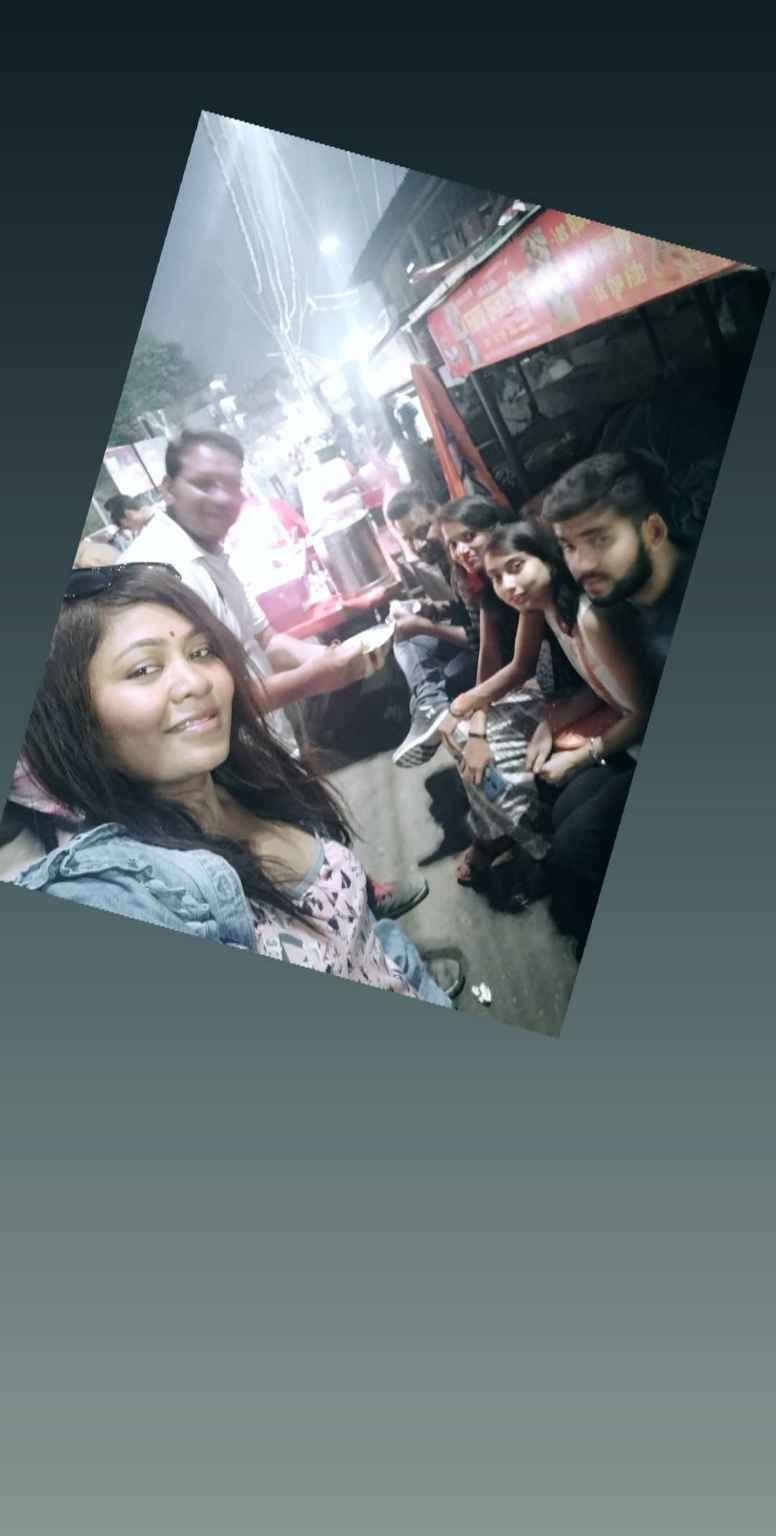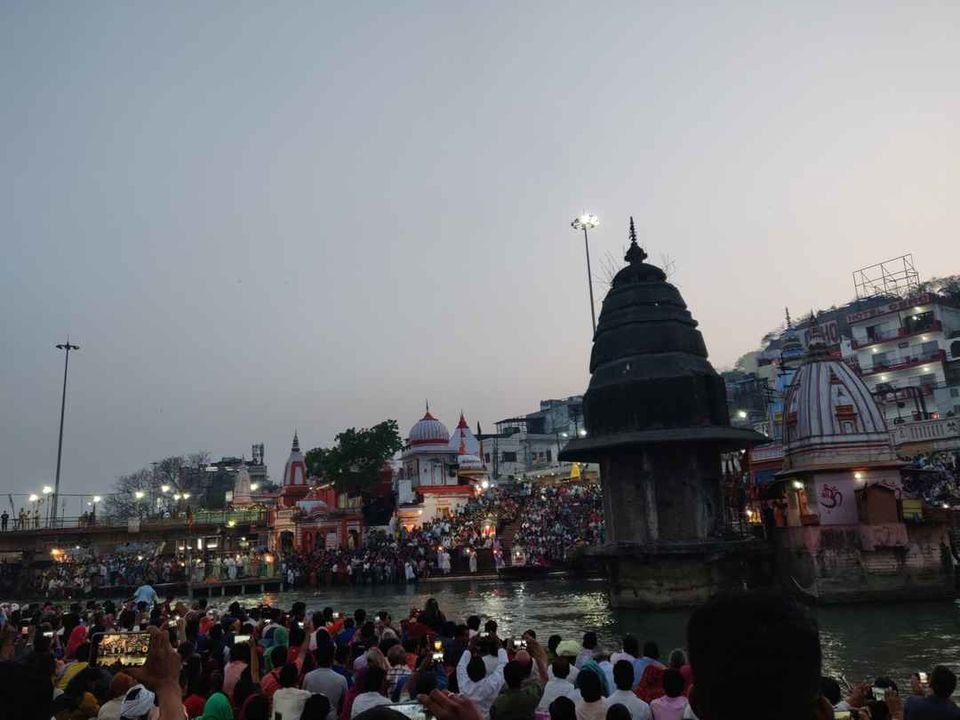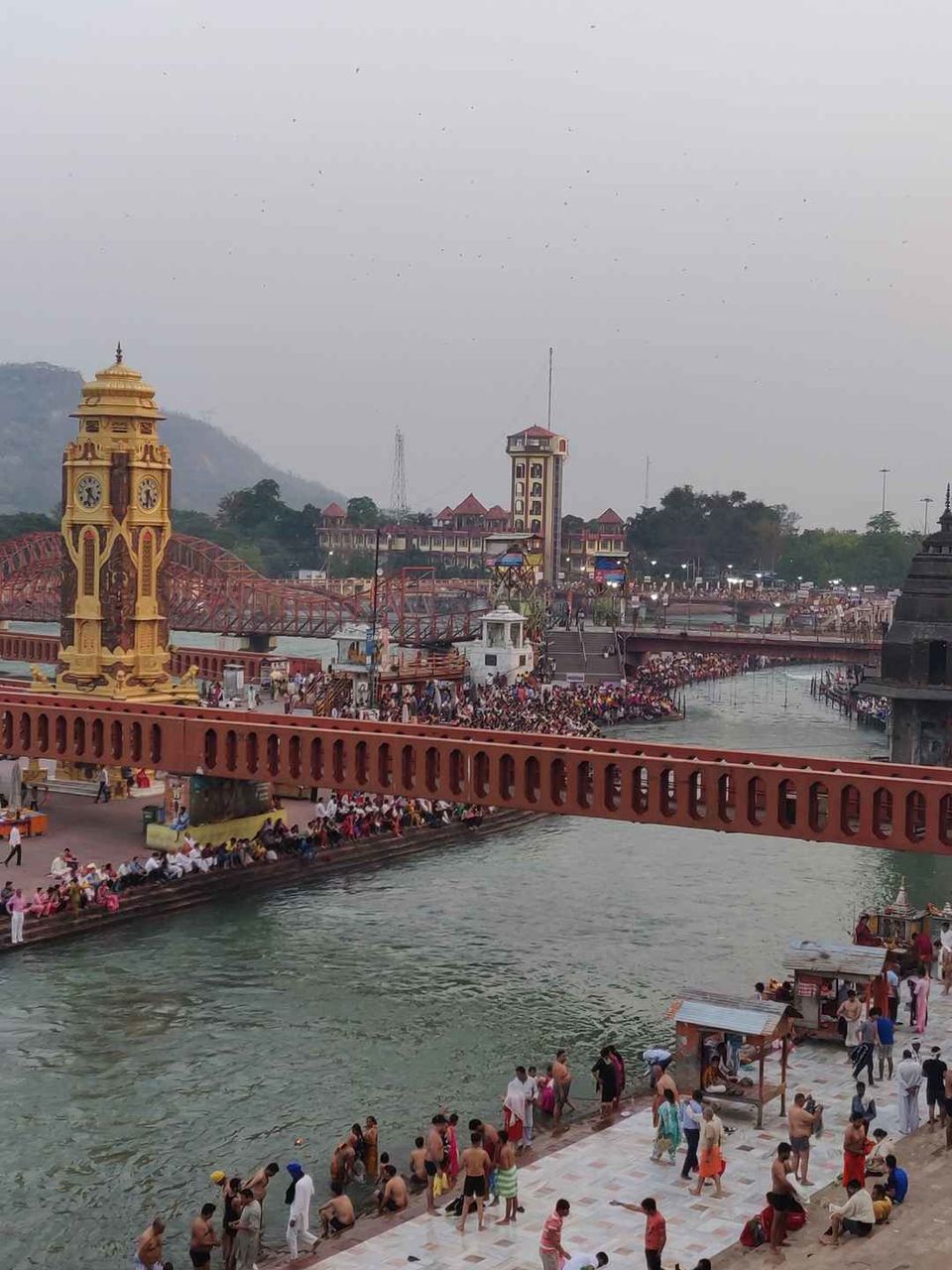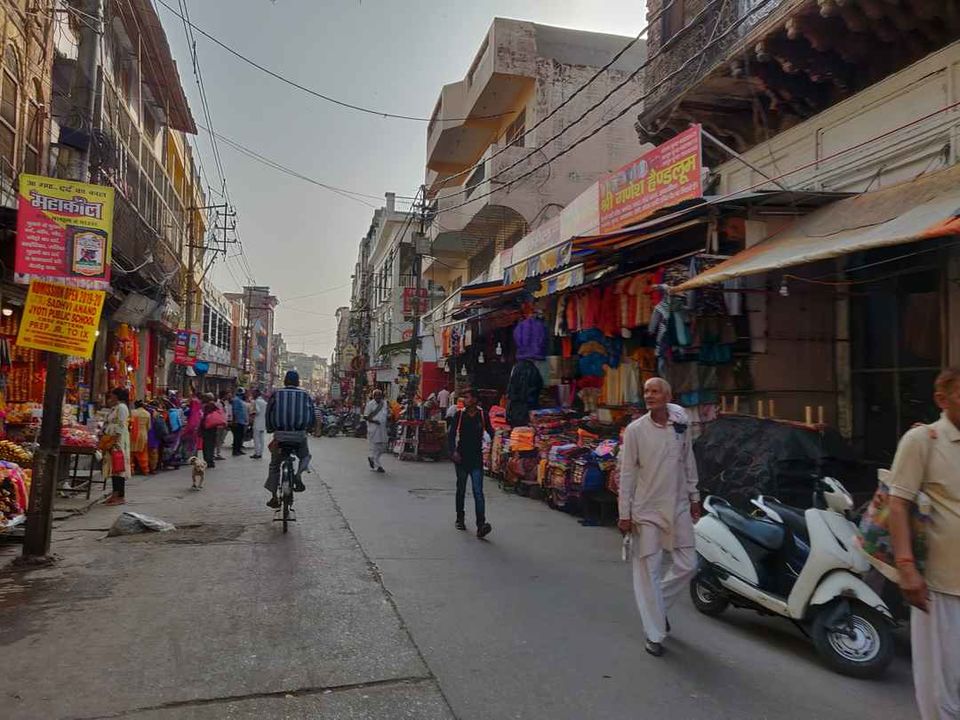 Neer waterfalls - Neer waterfall is very close to Rishikesh townside. It is 5 km from Lakshman Jhula, Neer Gaddu or Neer Garh Waterfall is a natural water fall situated on Rishikesh - Badrinath Highway in Uttarakhand. This is one of the popular tourist places to visit in Rishikesh.
Neer Gaddu Waterfall is a famous waterfall for small trek. The water flowing from natural rocky cliffs tempts the holidaymakers to take a cool dip in the narrow stream. The trekking to the waterfall is an adventurous activity as it involves walking through the jungle on narrow trails. This is a beautiful waterfall and is extremely refreshing to stand near the waterfall.
This is a two tier waterfall with two bathing pools. There is very small waterfall after 200 m trek from the road where visitors can also take bath in a small pool. Further 1.2 km trek will take you to the bigger and main waterfall which has a large pool.
There are two bridges on the waterfall and few resting stops. Butterflies of different species are seen fluttering around the wild flowers, adding beauty to this wonderful spot. Water, soft drinks, noodles and tea are available here in small shops; however, there's just one drawback, the visitors don't take care of the environment, it is such a beautiful place but people litter and throw the waste there instead of throwing in dustbins.
Entry Fee: Rs. 30 per person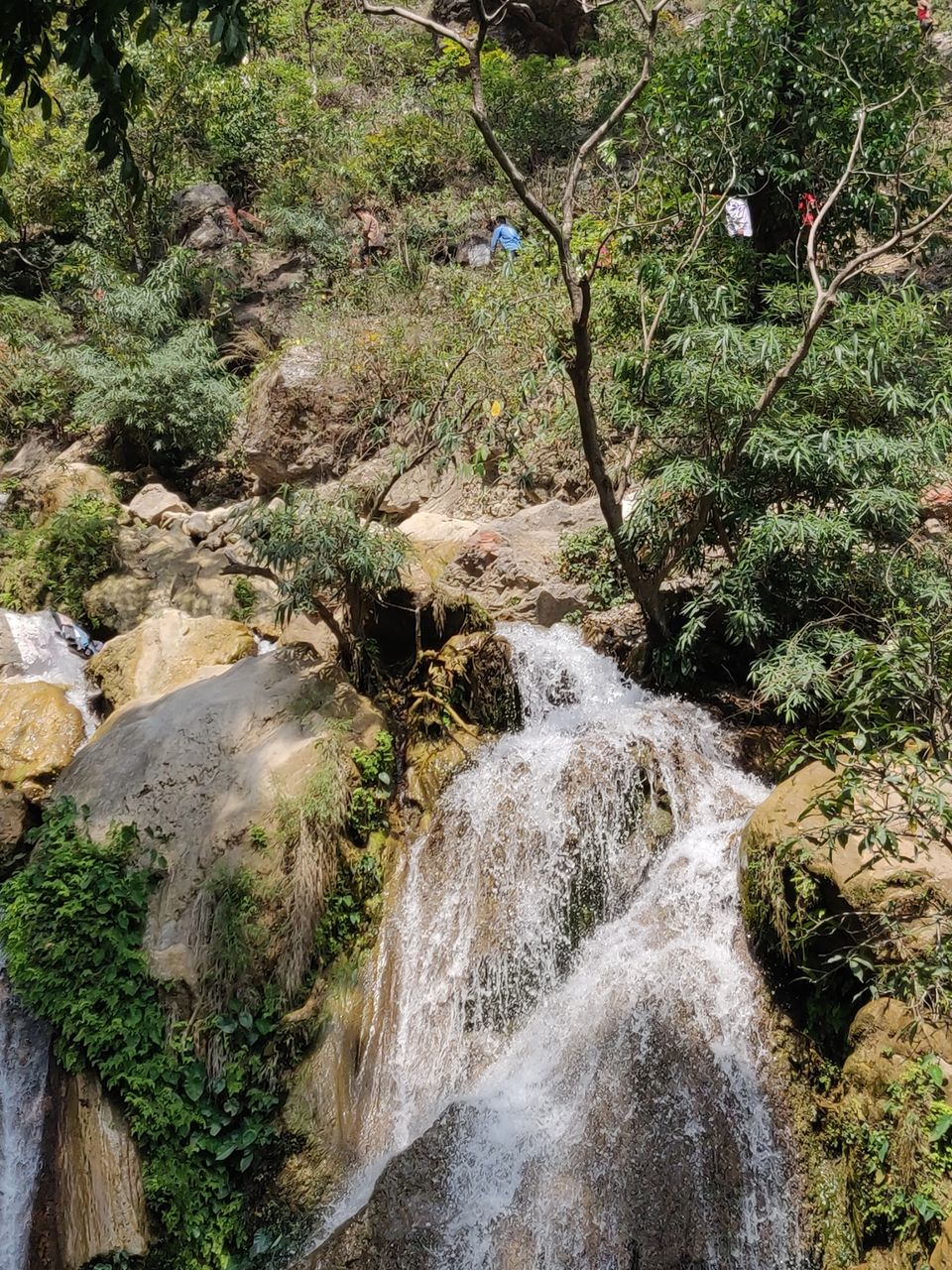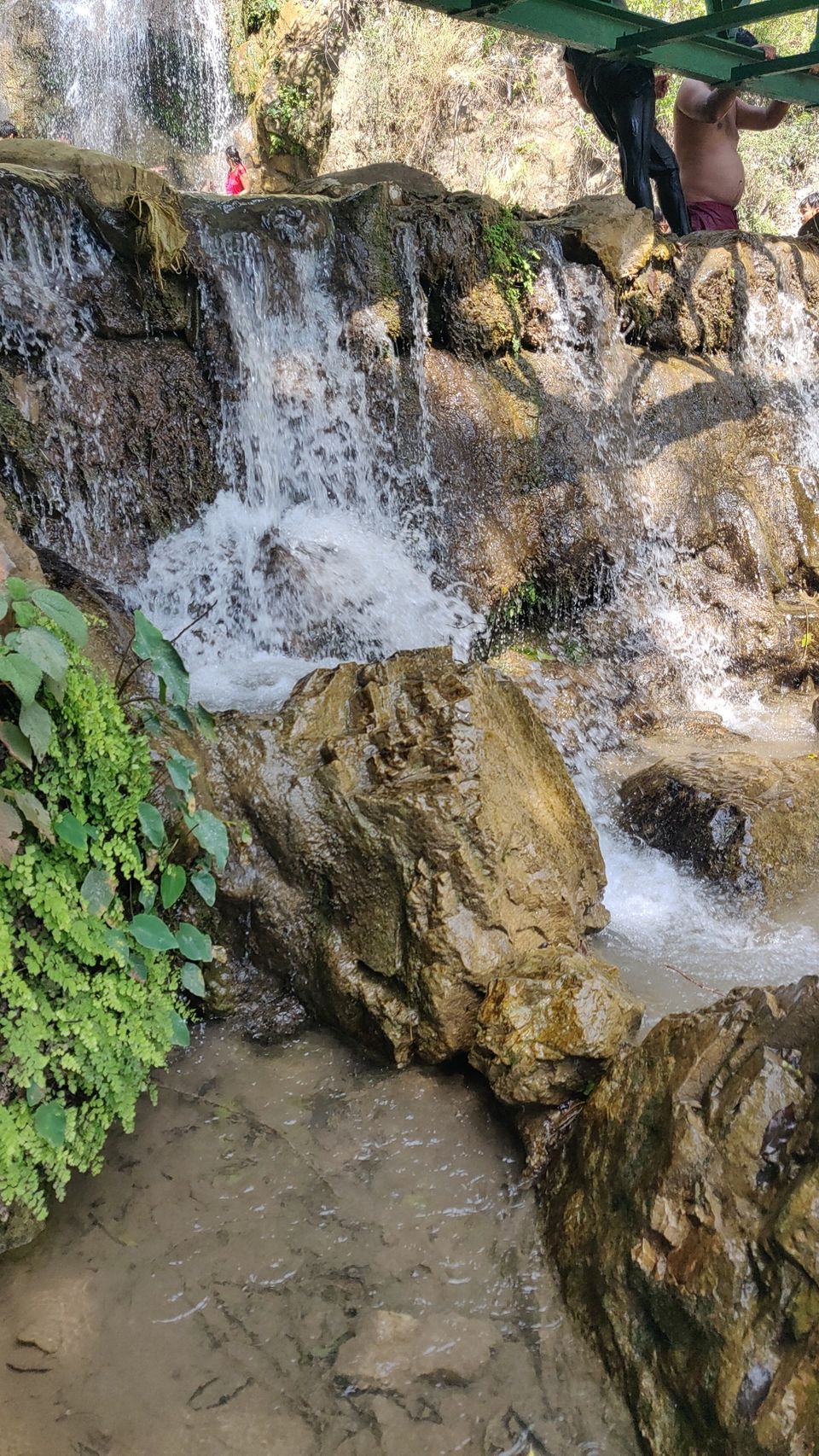 About Kunjapuri temple : Kunjapuri Devi Temple is sacred temple of immense importance in Hindu religion. Located at an height of 1676 mtrs on a hill, Kunjapuri Devi Temple is one of the 52 Shaktipeeth in Uttarakhand. Here at Kunjapuri Devi Temple, it is said that the chest of burned Sati had fallen. Kunjapuri Devi Temple also offers panoramic views of snow capped mountains and peaks such as Swarga Rohini, Gangotri, Banderpunch and Chaukhamba. Kunjapuri temple is one of the best visit places of Tehri Gharwal. Be prepared to climb around 300 steps, I tried and finally made it but trust me it's worth it. I got to see the beautiful and the most awestruck view of the sunrise. The pictures I click through my oneplus 6T were just the best pictures I could get through this camera. I had many complaints with this camera as compared to Oneplus 6 cam, Oneplus 6T result is not that brilliant. It was the first time I felt my investment on this phone was worth it. The video too came out spectacular. Since it was my last day in Rishikesh, I really wanted to go to Kunjapuri, I had decided to visit this place but as a group we couldn't wake up as early as we should for Kunjapuri. If you are staying in Rishikesh town side then it is a must that you wake up around 4 am and leave for Kunjapuri to get the most beautiful sunrise and capture the sunrise in your cam. So yes, finally me and another friend of mine, we woke up and left early, just two of us left on the scooter we had hired and the entire route was amazing, we wanted to stop at many places and click the pictures; however, we didn't stop as we had to reach to the destination first. It was really worth waking up at 4:00 am! So next time if you visit Rishikesh, please add Kunjapuri Temple to your list. You can also hire a taxi in advance, they will take you to Kunjapuri early in the morning. This was my last destination and I was already thinking that my trip is about to end and almost ended, I wasn't upset though but I just did not want to leave the place. Rishikesh is absolutely magical I would say. I wonder if Rishikesh is this heavenly how the other parts of Uttrakhand as well as Kashmir would be! The name as it's said DevBhoomi, it is absolutely Dev ki bhoomi!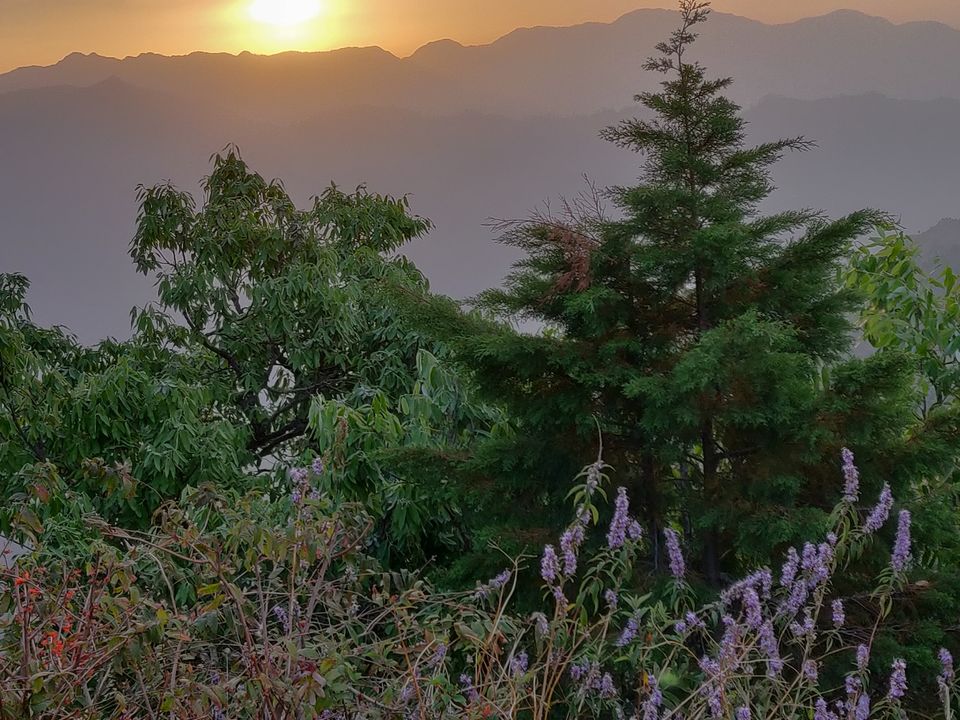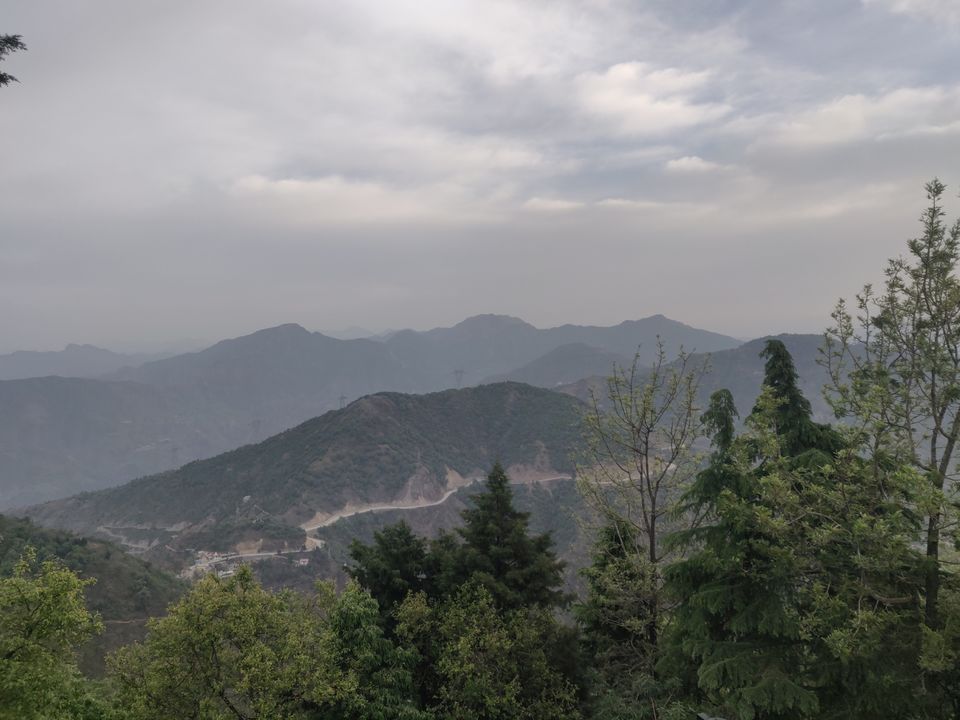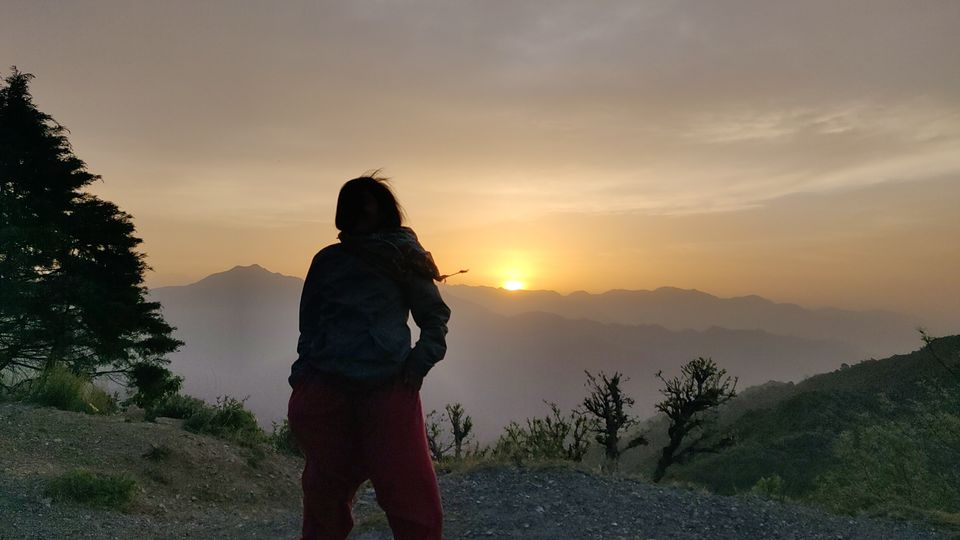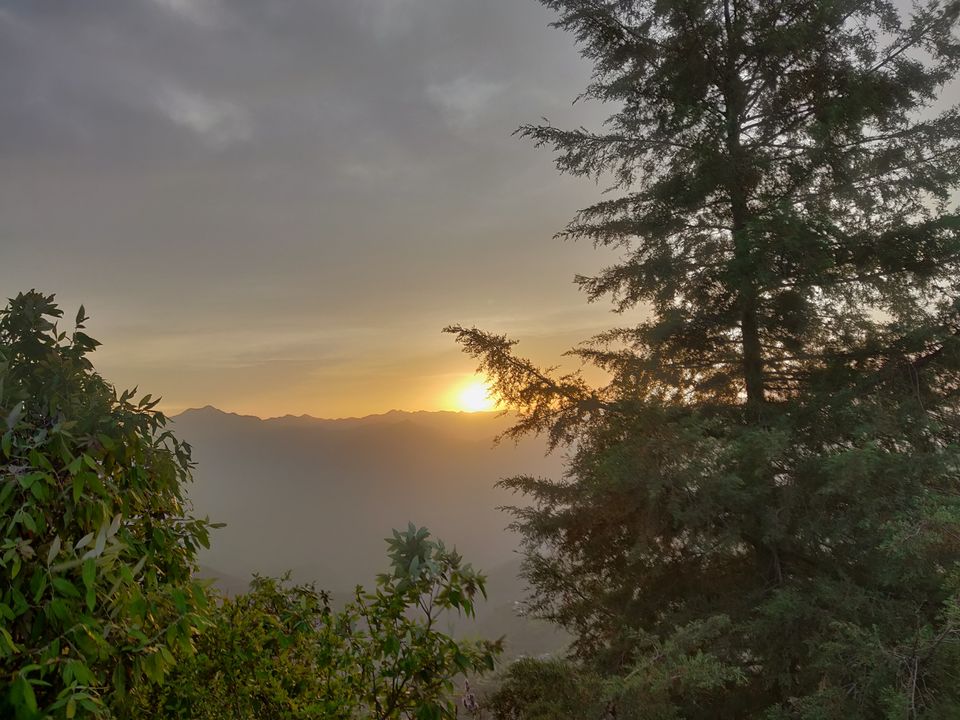 After we were back from Kunjapuri, had to pack my bag, did that as quickly as I could as I had to catch a bus from the Rishikesh Bus Stop to Delhi. I was returning alone as my other friends had to leave in the evening. Finally, I boarded the bus and reached Delhi. From Kashmiri Gate, I decided to take the Metro to the Airport but I did not have a clue how to commute, I reached to the Metro and took help of few people, had to change the trains twice but it was a great experience as well. I did not feel tired at all in this entire journey, I was carrying almost 8kgs of bag and yeah again I was asked by two of the security people how I was carrying the bag 😁 I said I'm a strong woman 😆😅 lol and at home I am a big cry baby when I have to do household work haha! Anyway did I even have a choice there!
So now I was finally somehow reached at the airport and again not everything can go right.....right? Yupp so the security guy stopped me and informed me that the flight has already departed and I'm like what??????? how's that even possible, I received a message that it was delayed, the CRPF guy was not ready to understand and asked me to go to the Spicejet counter and get it cleared. I went to the counter and the attendant there was not even explaining me about why did the guy stop me and she kept on telling me that I will have to get a print out of Rs.100 and that will have the new details of the flight, of the same flight that got delayed. I was so much frustrated with that behavior but I'd no choice, took the print of the flight details, thank god that I did not miss the flight! If I had missed the flight due to their miscommunication I would maybe would have sued them 😁I felt this frustrated anyway I kept cool as there was no point of arguing there. It was fun for a while though 😁 So finally I boarded my delayed flight and reached Surat. I reached Surat so late that there were not much options left for me to come back home. There were only 2 trains for me and now the OLA guys....I booked the cab and two of them cancelled, I tried for the third time and this person came; however, I missed 1 train because of him and had to select the last train which meant I would reach Valsad around 1:00 am! Left with no choice again! I got the ticket from the Surat station then as I could not make reservation earlier because of flight delays, I had no clue when I would reach Surat so I did not book any tickets. Moreover, the distance between Surat to Valsad is max one hour so I do not prefer to book the tickets in advance but for this day, I felt I wish I had done that but anyway, I got my ticket went ahead and people were staring me as I was carrying all the luggage and actually I don't know why a lot of people were starring at me. I just ignored, I was a bit scared as sometimes the place is not safe and the train I was going in was also not considered very safe as even the ladies compartment becomes like a general boogie. I still got into the train, and kept on talking to my friends till I reached Valsad as there were only few people in the bogie. Finally I reached Valsad station and I could now take a deep breath and relax. When I got down at the station, I was at ease and I can't express the feeling. This about one hour journey was totally scary for me and bit risky too. In my entire journey I never felt unsafe but for this one hour. Anyway, my nephew came to pick me up and now I could say that the journey came to an end and it was the most amazing adventurous journey I had from many of my other adventurous trips I had in the past.
With this journey and in this trip I felt that I now fully ready for my solo trips and I was already making plans for my next destinations while I was traveling back home; hopefully I will be doing my next trip soon and I'm sure it will be a "Solo" trip. Guys...if you haven't been to Rishikesh it's should be in your bucket list. These are just few places I've listed and there are many other places to explore. The beauty of the Rishikesh and the views of the holy Ganges will leave you mesmerized 💕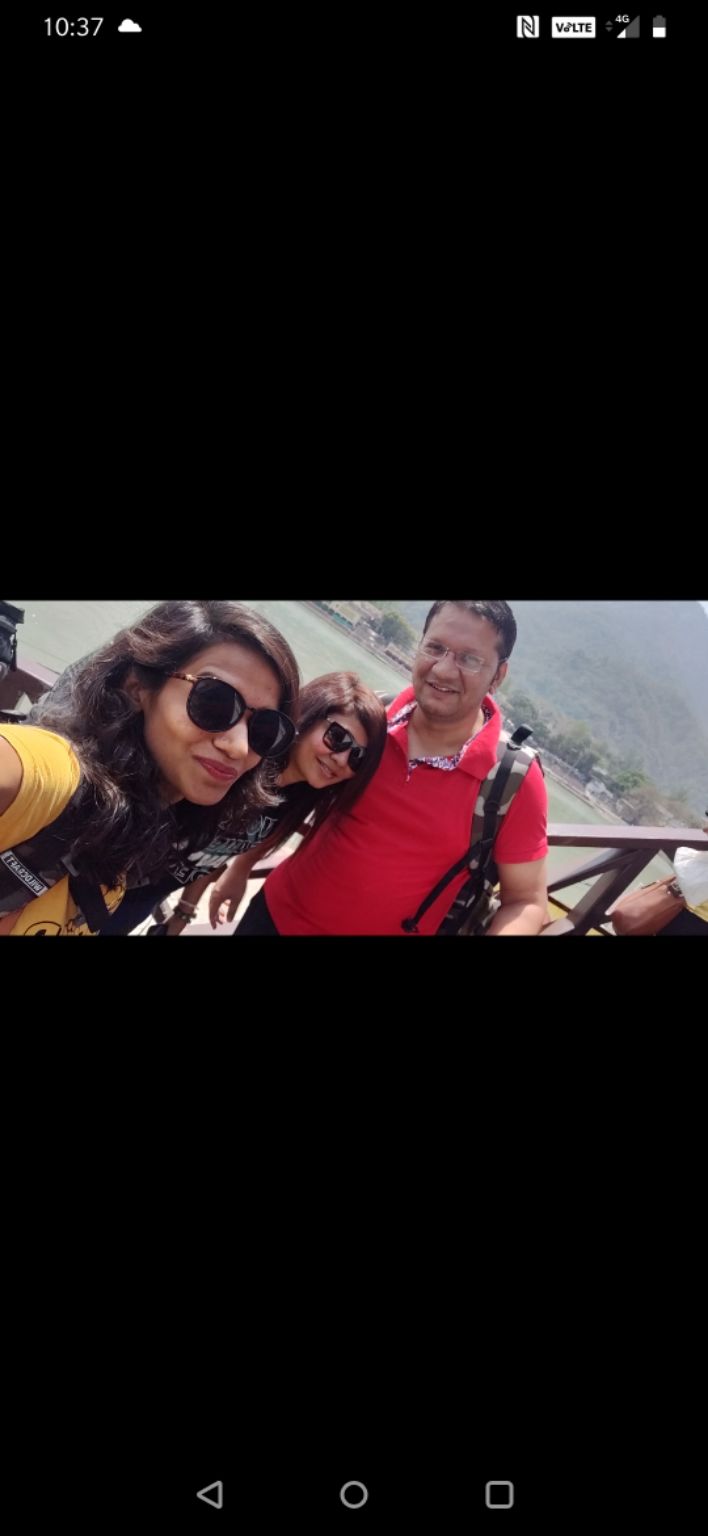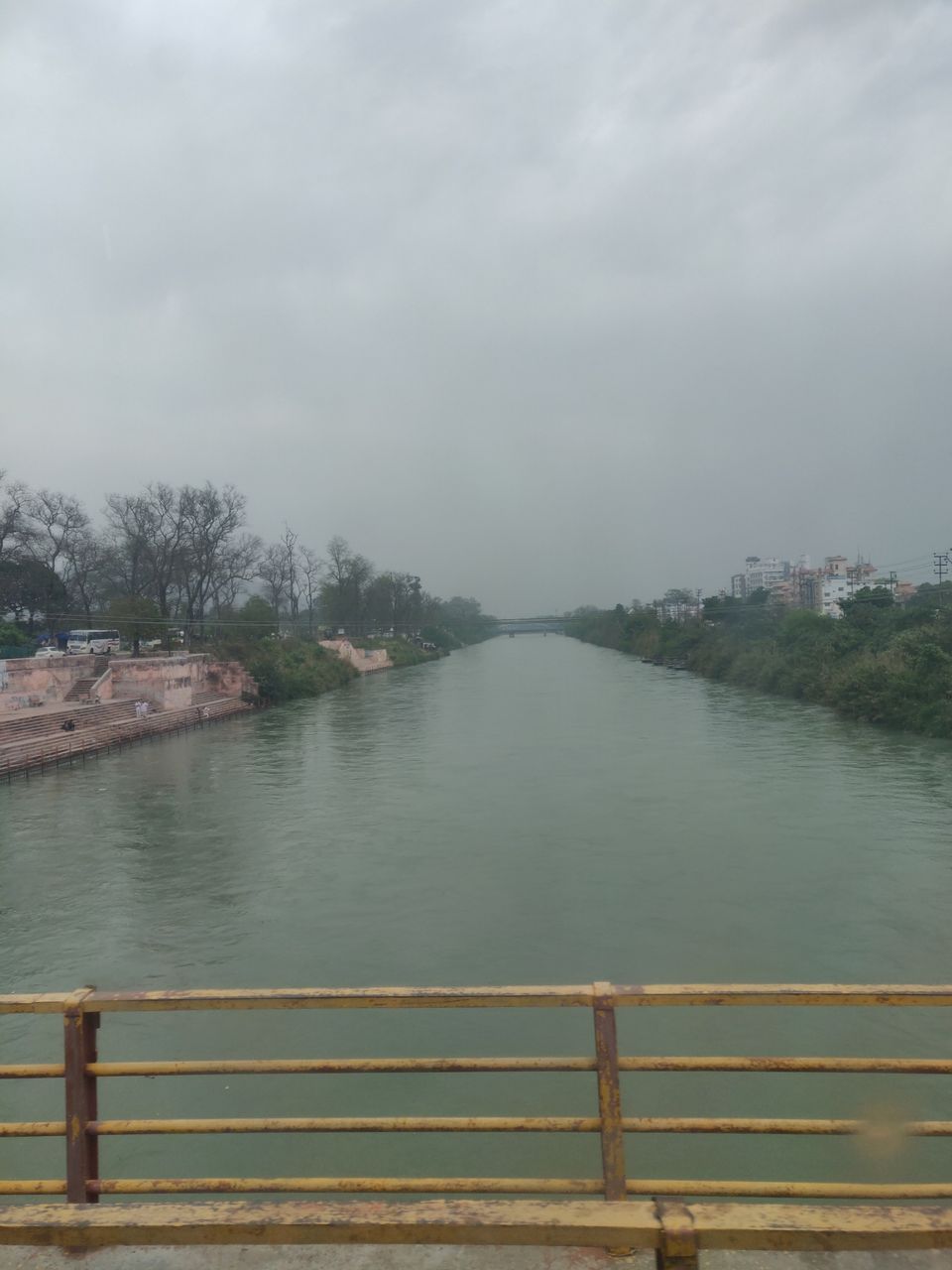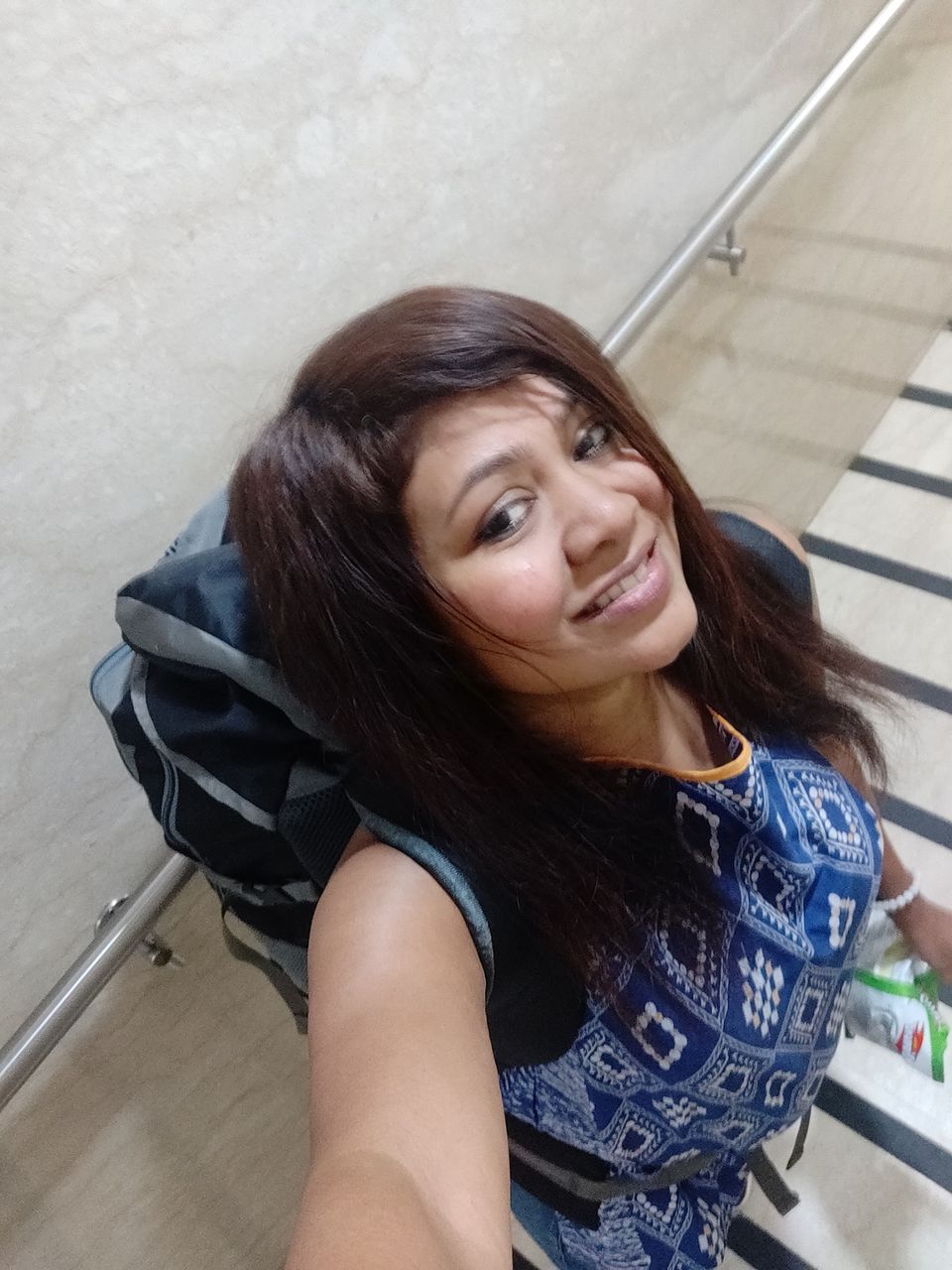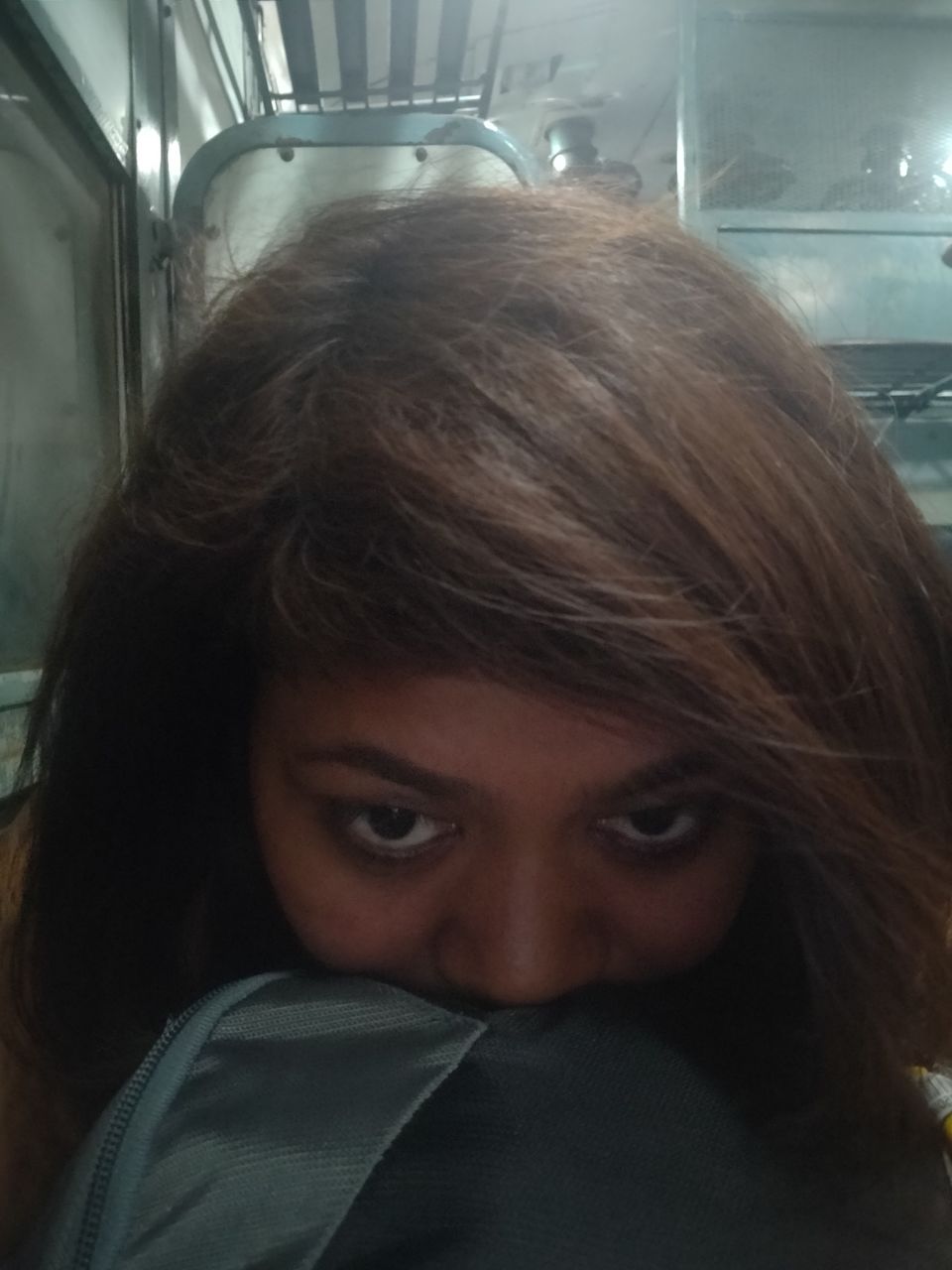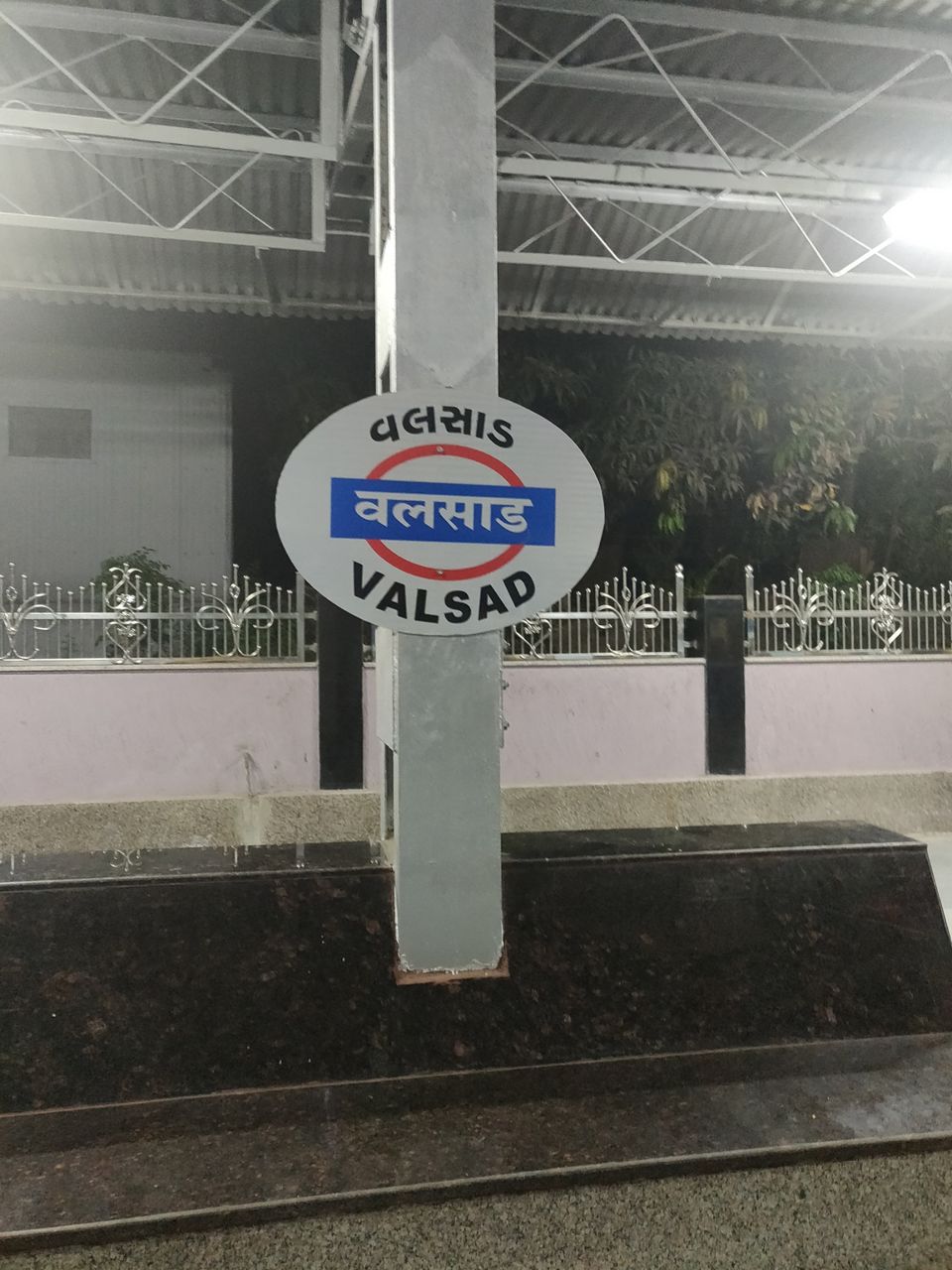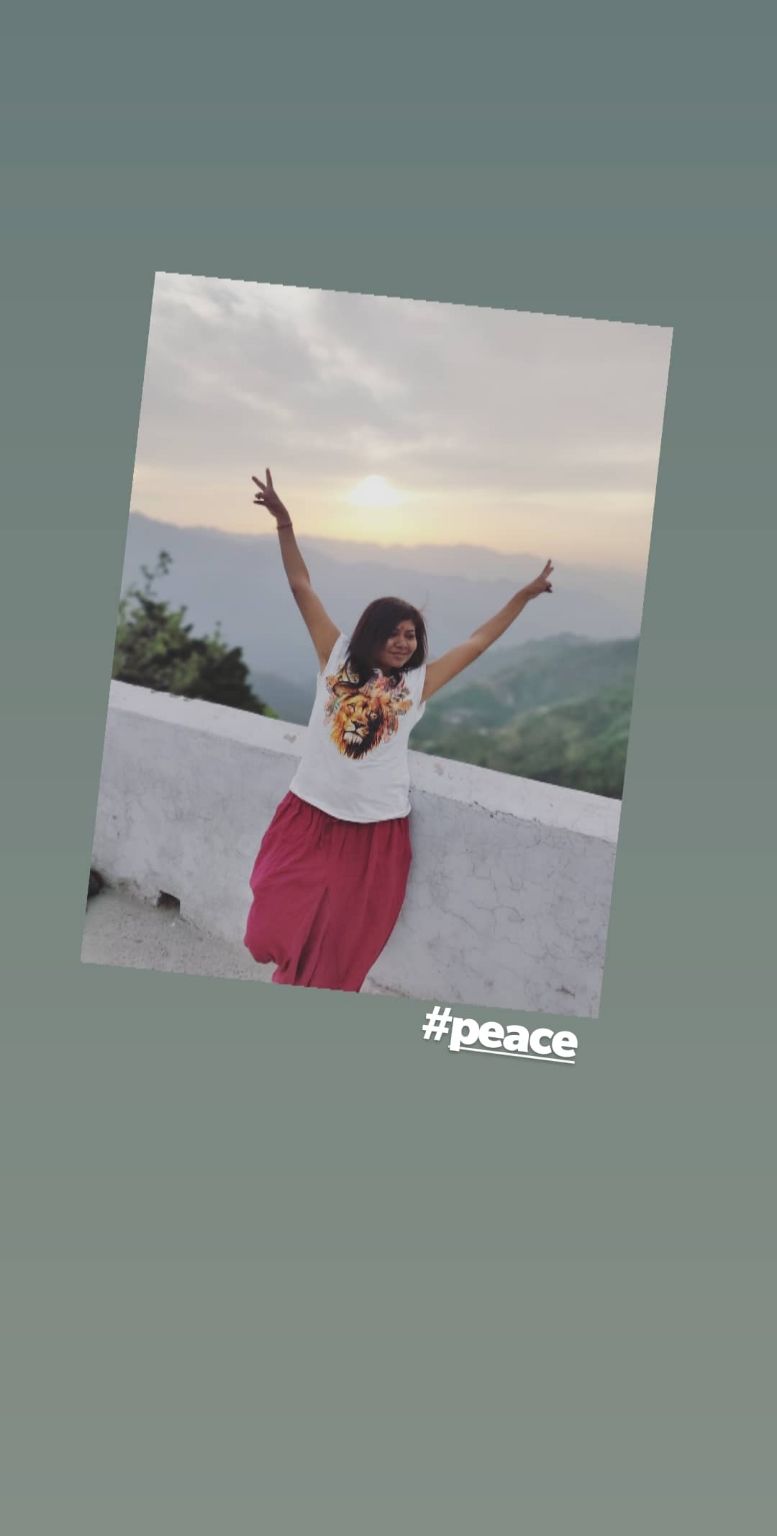 Frequent searches leading to this page:-
adventurous trip in rishikesh, rishikesh tour from delhi, rishikesh trip package from delhi, haridwar to rishikesh tour package, haridwar rishikesh dehradun mussoorie tour plan